As one of the most frequently utilized rooms in the home, bathrooms should not be overlooked when it comes to design and decor.
I believe they should feel like mini-retreats. There's nothing quite as soothing as turning your bathroom into a personal spa haven, and an effective way to achieve that is by introducing calming spa like paint colors for bathrooms.
When chosen and applied correctly, the right color palette can transform an otherwise standard area into a serene oasis.
Not only would it invigorate you at the beginning of your day, but it would also promote relaxation at night after a long workday.
This personal tranquil space can easily be achieved with a masterful blend of relaxing hues which I'll share in this article.
What are Spa Paint Colors?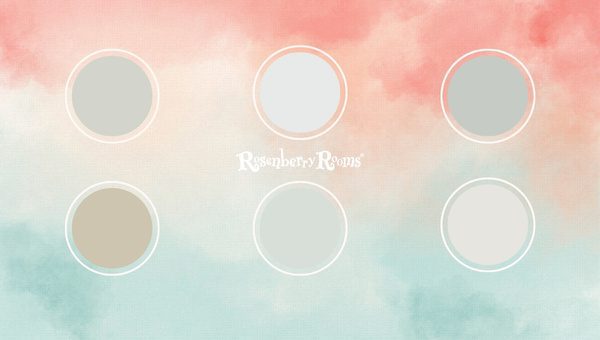 Spa paint colors, as the name suggests, are inspired by the tranquil ambiance of a spa. Imagine that calming, peaceful environment where stress is replaced with serenity. Well, that's what these uplifting colors aim to bring into your living space.
They typically include natural colors like cool blues, gentle browns, restful grays, and refreshing greens.
These hues draw inspiration from elements like water bodies, pebbles, sea glass, and healing plants, which are synonymous with most spa settings.
Due to their soothing nature, these 'spa' tones evoke a sense of tranquility and can transform any room into an oasis of calm.
Incorporating these calming hues in your bathroom is the first step towards creating an intimate retreat. So why should you select these specific color schemes? Let's delve deeper.
Why Choose Spa Paint Colors for Your Bathroom?
Designing a bathroom comes with its own set of unique challenges. Unlike other areas in your home, bathrooms have a specific function, and it's pretty crucial to keep this in mind when deciding on the color palette.
Here are some compelling reasons why spa paint colors can be an excellent choice for your bathrooms:
Calming Influence: Soft natural hues inspire relaxation. They help create an environment that encourages stress relief and rejuvenation, just like a day at the spa.
Versatility: These neutral-color tones blend well with almost any existing bathroom fixtures and decor. Whether you have a modern, minimalist design or more of a rustic look, these colors will effortlessly enhance the overall aesthetic.
Size Deception: Lighter shades can make even small bathrooms appear more spacious than they are. Choosing cool hues like blues and greens can give an illusion of expanded space.
Increased Home Value: Well-crafted, aesthetically pleasing bathrooms can add significant value to your home. A toilet that resembles a personal spa experience is a selling point!
Remember, your bathroom's color scheme shouldn't be an afterthought - it plays an integral role in setting the room's mood and overall vibe.
By choosing soothing, natural spa-like paint colors for your bathroom, you're designing much more than just a functional space - you're creating an everyday retreat.
Where Can You Use Spa Colors?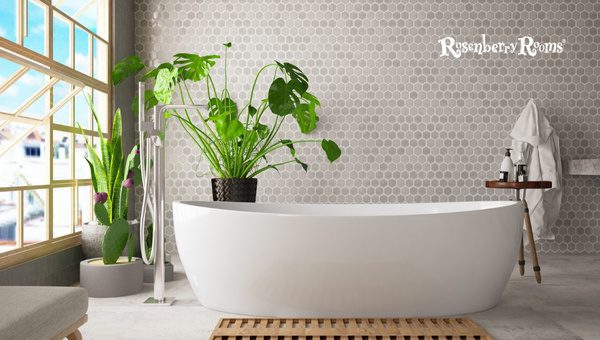 Elevating any space in your home to that of a soothing retreat seems like a dream, doesn't it? With spa-like hues, this aim can be accomplished with ease.
Imprinting your surroundings with these refreshing shades will be a calming escape from the regular hustle and bustle.
We usually associate such relaxing experiences with bathrooms. However, several other rooms can also benefit from these serene palettes.
Bathroom
Your private sanctuary, the bathroom, is often an overlooked area for design and decor, yet we constantly seek solace after a long day. Hence, bathrooms are the perfect spots for introducing spa colors.
Paint your walls with comforting blues reminiscent of crystal clear water springs, or opt for earthy tones inspired by nature.
Coupling these discrete hues with minimal items and clean furniture lines will further enhance that sense of tranquillity.
Bedroom
Next on our list is the bedroom - your haven where you unwind at the end of each day. Inducing spa-like colors here can prove exceptionally comforting.
Soothing grays or calming greens would blend beautifully with various decorative styles while offering an underpinning of calmness.
Adding tactile fabrics such as linen or velvet in complementary shades will add an extra note of relaxation.
Home Office
The home office has become increasingly significant due to the dramatic rise in remote work practices. Its decor should encourage productivity while alleviating any undue stress.
Integrating serene greys or restful blues would stimulate focus while bringing that 'spa' feeling into play.
Incorporating spa colors in these areas elevates their aesthetic and impacts our overall well-being positively by promoting relaxation and peace better than you might think.
Remember, before applying the paint all over the wall, it's advisable to try out samples initially. This method ensures you're content with your color selection based on how it appears in various lighting situations throughout the day.
Here is my recommendation: sample pots from your paint store are ideal! Brush some swathes on different walls around the room and observe how they morph as natural light increases and decreases during the daytime until nightfall before deciding on 'The One'!
Try A Sample Before the Whole Paint Color
Before embarking on your color journey, I highly recommend trying samples first. This small step can save you time, money, and the potential disappointment of an ill-chosen shade.
Why Try A Sample First?
Testing the Waters: The process lets you visualize exactly how the color will look in your bathroom's lighting and environmental conditions. What looks good in a swatch or on a screen may not translate well onto your walls.
A Matter of Perspective: Colors also have this uncanny knack for appearing differently under artificial and natural light. Moreover, they tend to change their tonality throughout the day. By testing with a sample, you get a true sense of what they might look like at different times of the day.
Color Coordination: You can better align your chosen hue with existing fixtures and furnishings for a complementary and harmonious aesthetic.
How To Test Your Sample?
Invest in some sample pots of your selected hues.
Apply the paint liberally to patches on all four walls of your bathroom.
Allow it to dry thoroughly – most paints deepen in color when dry.
Observe these swatches at different times throughout the day.
If you're unsure where to begin when choosing paint colors for your bathroom, remember that numerous online resources offer spa-like colors, making it easy to try before deciding on one hue or another.
The 15 Best Spa Like Paint Colors for Bathrooms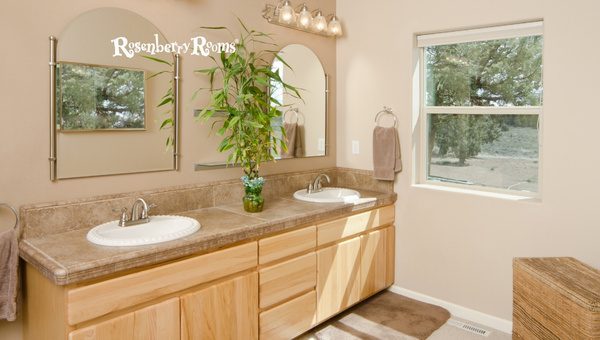 Creating a serene, spa-like atmosphere in your bathroom starts with the right color palette. Here are some of the best paint colors to help you transform your space into a soothing bathroom oasis.
1. Gray Owl by Benjamin Moore OC-52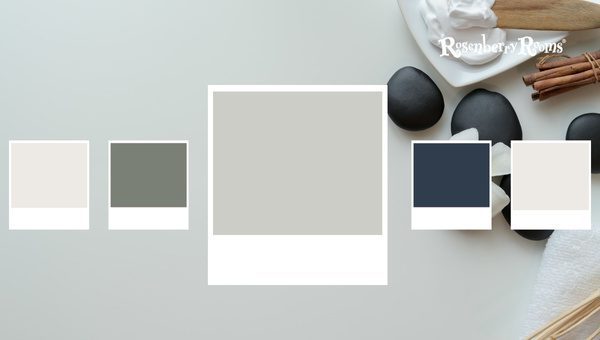 There is something innately soothing about the color Gray Owl by Benjamin Moore. It's a gentle yet crisp light gray paint that comes highly recommended if you're aiming to create a fresh, clean, and modern look.
Versatility: This lightened hue is perfect for small and large bathrooms, making smaller spaces appear more prominent and adding freshness to bigger rooms.
Sophistication: The subtle undertones of green and blue make this paint color elegant.
Neutral backdrop: It provides a neutral backdrop which means other elements in the bathroom, like tiles, bath rugs, or mirrors, can truly stand out.
2. Sea Salt by Sherwin Williams SW 6204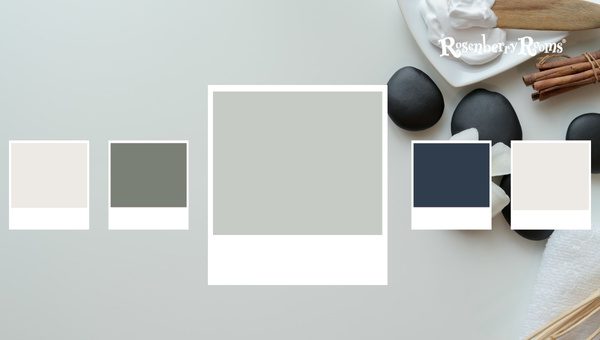 Imagine bringing oceanic vibes into your bathroom with a hint of this tranquil Sea Salt by Sherwin Williams paint color.
Captivating and serene, this hue makes you feel like you've stepped onto a sandy beach each time you enter your bathroom.
Oceanic Feel: With green and gray undertones, this shade evokes the feel of salty sea air, which can instantly relax your senses.
Light Reflecting: Its lightness lets it reflect natural light beautifully, instilling energy and brightness into the room.
Compatibility: It matches well with whites or creams for trim or cabinetry; hence it works efficiently with most decor styles.
Choosing spa-like paint colors for bathrooms can be pretty relaxing once you see how inviting they make your personal space.
Don't stop experimenting until you find what feels 'just right.' Enjoy transforming your bath area into your very own meditative retreat.
3. Decorator's White CC-20 by Benjamin Moore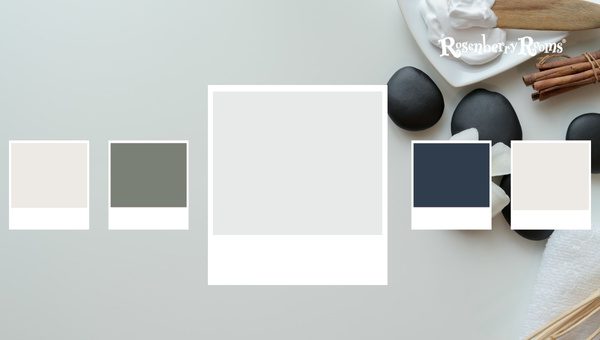 When you think of serene spa colors, a bright, crisp white often comes to mind. And what better choice than the sophisticated Decorator's White by Benjamin Moore? This subdued hue offers a blank canvas for building your tranquil bathroom space.
Vibrancy: One of the distinctive features of this color is its vibrant freshness. It's a refreshing shade that never feels cold or sterile, using its inherent charm to breathe life into bathrooms.
Versatility: This versatile color can be combined with virtually any palette you choose for your fittings and decor elements. Whether you go for warm wood, sterling silver accents, muted ivory tiles, or sky blue mats - every option seems more attractive with Decorator's White.
Illumination: It can reflect light well, which, even in small or less illuminated bathrooms, provides a sense of expanded space.
4. Grant Beige HC-83 by Benjamin Moore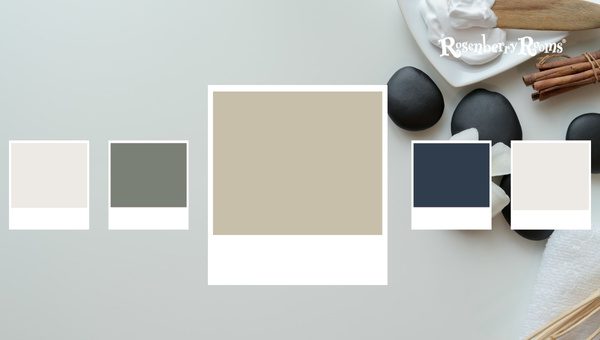 Grant Beige is the perfect neutral backdrop to grace your bathroom walls. Its homely warmth strikes just the right balance between comfort and refined luxury.
Warm Undertones: Grant Beige has warm undertones that lend it a comforting familiarity. It feels like coming home to a warm hug after a long day!
Elegance: Despite its familiar comfort, it also holds onto an understated elegance essential in creating a polished appearance.
Harmonious Blend: This color blends harmoniously with other earth tones and pastel hues. It also perfectly complements bronze and rose gold for fittings and decor.
5. Window Pane SW 6210 by Sherwin Williams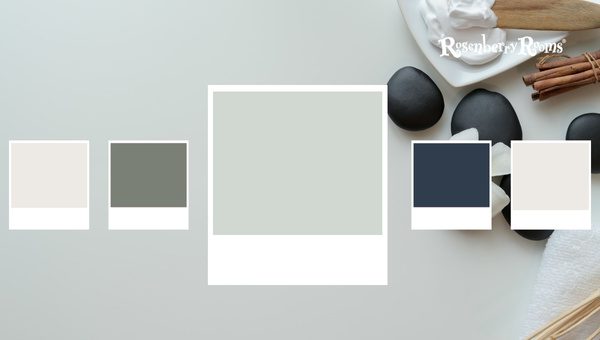 Making a gentle whisper into your decor is the delightful Window Pane by Sherwin Williams. The beautiful quiet blue hue takes you on a blissful journey through calm sea waves while staying indoors.
Cool Tones: The cool tones of this blue-gray invoke feelings of calm and relaxation making it the perfect choice for those wanting to soothe their senses every time they're in their bathroom.
Mood Enhancement: Being in a room painted this soothing color has been known to reduce stress levels and enhance mood.
Nature-inspired: Much like nature itself - open skies, ocean waves - Window Pane provides an innate sense of peace and tranquility that subtly whispers 'serenity' through every brushstroke.
These three spa-like colors could be your key to unlocking the ideal refreshing bathroom experience that revives all your senses.
6. Pure White 7005 by Sherwin Williams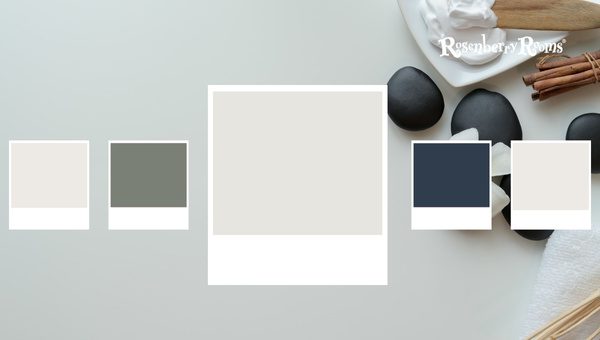 There's a timeless charm to Pure White by Sherwin Williams. This clean, enduring shade can complement any distinct style, making it an excellent choice for any room - but especially for your bathroom oasis.
Simplicity: The color is straightforward and lucid, providing a beautiful, crisp canvas with which to work.
Versatility: Pure White works seamlessly with an array of other colors. It creates an elegant balance with bolder hues, adding a calming influence.
Brightness: This shade reflects light wonderfully, instantly adding life and brightness to your bathroom space.
Easy integration: Whether your bathroom features modern fixtures or antique furnishings, Pure White easily complements various decorating styles and elements.
7. Silver Strand SW 7057 by Sherwin Williams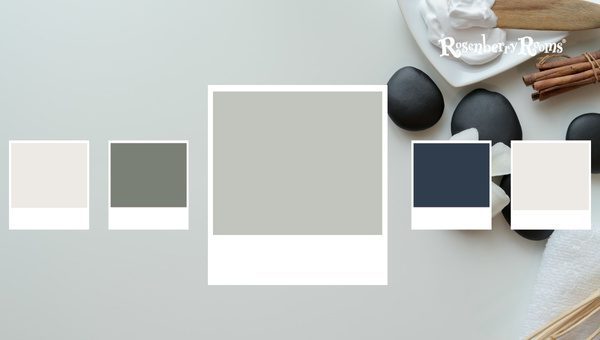 Next in line is another innocent yet impactful hue — Silver Strand by Sherwin Williams. With its beachy solid vibe that's invigorating and refreshing, it's like bringing the freshness of the sea right into your bathroom.
Subtle undertones: Silver Strand has undertones of green and blue-gray, hinting at coolness balanced by warmth brought on by hints of beige - an exquisite blend that soothes the senses.
Adaptive nature: Under different light conditions, this color appears unique each time – gray in some moments while looking more bluish-green in others.
Unobtrusive elegance: While its neutral foundation adds chic sophistication to your bathroom decor, it doesn't draw attention away from other featured elements.
8. Green Tint 2139-60 by Benjamin Moore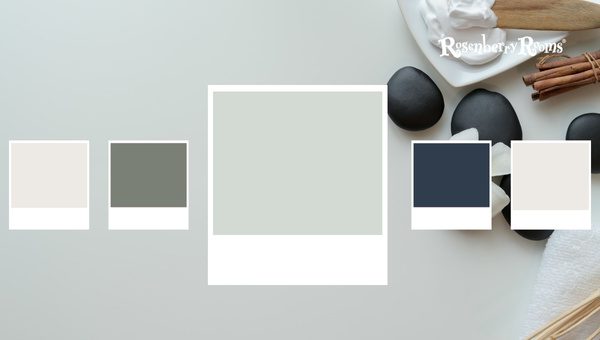 Green Tint by Benjamin Moore is a remarkable shade that brings the tranquil essence of nature right into your home spa retreat - ensuring every unwinding session feels like you're secluded deep within forest bounds.
Nature-inspired: There's something naturally serene about the color green, and Green Tint beautifully captures this calmness with its muted palette.
Soft Luminescence: Compared to bolder greens, this soft tint glows gently under natural light creating a soothing ambiance - perfect for bathrooms where comfort is key.
Refreshing Aesthetic: The tinted color is fresh air amidst typically neutral-hued bathrooms.
Versatile Undertone: This pale green doubles up as almost white under certain lighting conditions, making it a versatile choice when unsure about committing to stronger green shades!
This spa-like paint color brings their unique tranquility, offering various stylistic options and allowing new perspectives for bathroom decor, boasting an impressive calming effect!
With careful selection and imagination, these colors can help you achieve your sanctuary right within the confines of your home.
9. High Reflective White 7757 by Sherwin Williams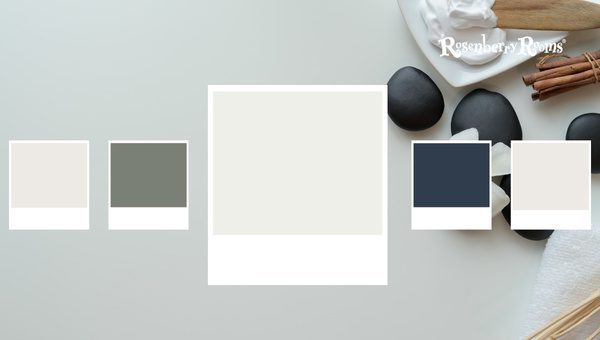 High Reflective White by Sherwin Williams epitomizes purity: Bright, crisp, and revitalizing. This hue is as close to pure white as we get from any paint manufacturer.
It brings a feeling of calmness and clarity, instantly illuminating any space with its reflective properties.
True Neutral: This color has no underlying hues. It's white that doesn't lean toward cool or warm tones. This allows you to use it freely with other colors.
Light-Reflecting: As the name suggests, this paint's high reflectivity means it can abundantly enhance light flow in your bathroom, making it appear more spacious and airy.
Versatility: It can be used for wall paint and trim color because it pairs well with many other chromatics.
Clean Aesthetic: Its unadulterated tone creates an impression of cleanliness – an essential element for any bathroom.
10. French Macaroon CSP-335 by Benjamin Moore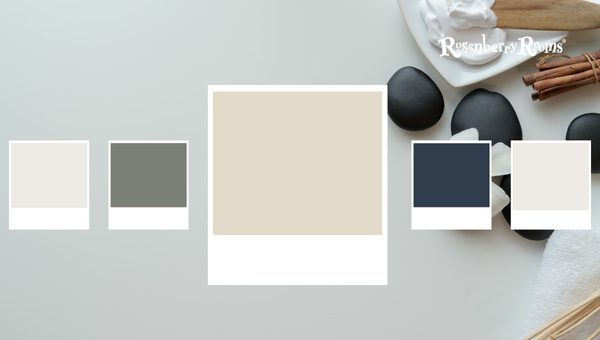 A creamy pastel rose color, French Macaroon by Benjamin Moore is reminiscing of delightful pastry shops in Parisian alleys. This soft pink hue conjures a cozy yet luxurious charm that makes your space feel like an indulgence.
Warm Tone: It has buoyant warmth that gives it a rich and elegant feel without overpowering the visual aspect.
Relaxing: Pink hues have been linked with feelings of compassion and nurturing – perfect for a warm bath after an exhaustive day.
Harmonious Pairings: This rosy tint pairs beautifully with grays, beiges, or muted greens, creating harmonious contrasts.
Chic Look: The bold yet restrained presence gives your bathroom a stylish, inviting look.
11. Passive SW 7064 by Sherwin Williams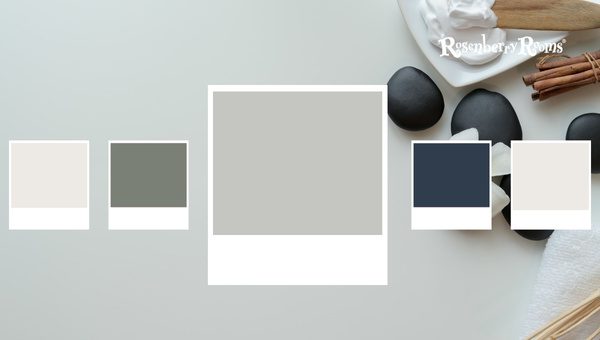 Imagine waking up and walking into a room painted in shades reminiscent of a peaceful morning sky - yes, we're talking about Passive by Sherwin Williams.
Treading on the safe lines of neutrality but carrying depth simultaneously makes it ideal for creating serene spaces.
Hints of Blue: The gray backdrop encompasses faint blue undertones which breathe tranquility and peace into the space.
Cool Undertone: The cool undertones offer an elegant note to balance out warm accents or neutral-colored elements in your bathroom design.
Light-Enhancing: It brilliantly captures nature's light-enhancing brightness while maintaining its soothing vibes throughout the day.
Versatile: Its adaptability makes it work well in various aesthetic settings, whether with contemporary fixtures or classic decors.
This spa-like paint color transforms your bathrooms visually and infuses them with the atmosphere – making them feel like modern-day sanctuaries amidst concrete jungles.
12. Lullaby SW 9136 By Sherwin Williams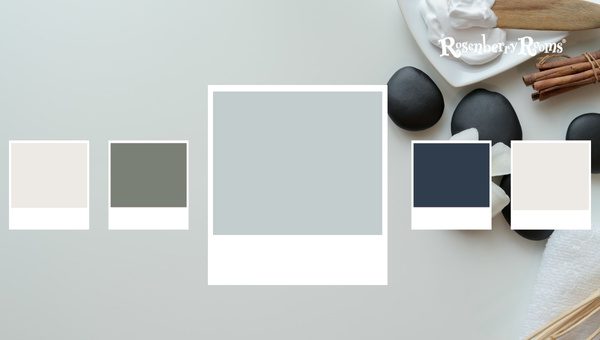 If ever a color enveloped warmth and tranquility, Lullaby by Sherwin Williams would be it. This enchanting mild pink hue exudes resplendent comfort akin to a soft lullaby whispering in your ears.
It's an excellent choice for anyone desiring that relaxing spa ambiance right in their home.
Subtle Undertones: Lullaby boasts subtle undertones of peach fused with salmon, resulting in a soft and pleasing aesthetic.
Light Reflecting: Sporting a beautiful light reflective value (LRV), this shade reflects ambient light quite extravagically. The light bouncing off the walls adds depth to the room.
Versatility: This pastel hue works splendidly across varied interior styles from vintage to contemporary, boho-chic to minimalist.
Pairings: You can pair Lullaby with heavier, darker colors or soft neutral shades to significant effect.
13. Windy Sky 1639 by Benjamin Moore
Blow some cool calm into your bathroom with Windy Sky by Benjamin Moore. This muted blue color is reminiscent of a soft, breezy sky on a clear day—bringing in the outdoors for an ultra-relaxing environment.
Cool Tones: Windy Sky portrays cool tones with a grey undertone that infuses calmness into spaces.
Spacious Feel: Its ability to make small rooms appear more significant is another great selling point of this soothing shade.
Complements: It works exceptionally well with lighter shades of white or gray for trim or cabinetry, offering numerous options for your bathroom's overall design aesthetic.
14. Shoji White SW 7042 by Sherwin Williams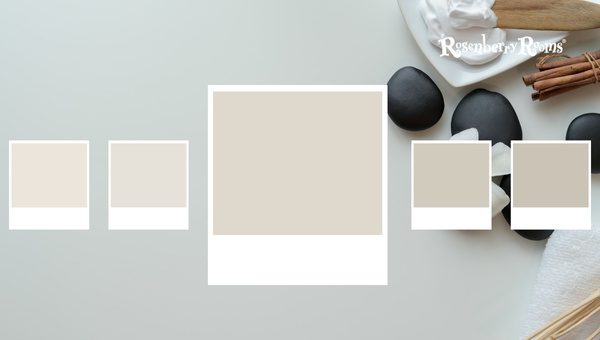 Immerse yourself into the peaceful retreat with Shoji White by Sherwin Williams. This creamy, warm neutral paint evokes memories of pristine Japanese shoji screens rending a Zen-like atmosphere right at home!
Neutral Palette: What sets Shoji White apart is its neutral palette—it serves as an ideal backdrop allowing other elements in the room to pop out nicely.
Balanced Undertones: Offering balanced beige undertones, this color maintains enough warmth without becoming too yellow—perfect for those who want neutrality without coldness.
Adaptable Nature: Its flexible nature means it pairs well with almost anything—from bright-colored art pieces to décor elements - making it highly versatile and ideal for achieving that harmonious balance one often finds in spas.
15. Tradewind SW 6218 by Sherwin Williams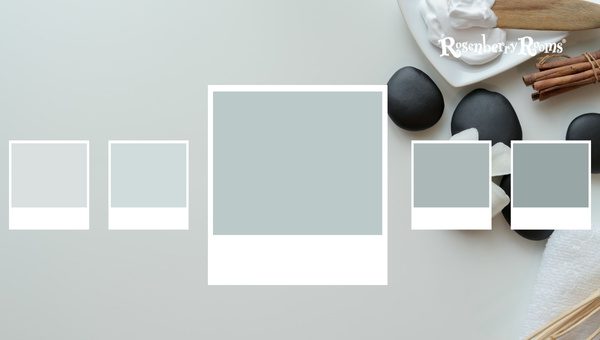 Imbue your bathroom with the cooling tranquility of an ocean breeze using Tradewind by Sherwin Williams.
As refreshing as its name suggests, this unique shade provides the perfect setting for a mini-seascape at home!
Oceanic Undertones: Tradewind is primarily characterized by greenish-blue undertones evoking images of soothing ocean waves lapping at your feet—an immediate stress buster!
Soothing Aura: It instantly creates a tranquil feeling, transforming showers or baths into rejuvenating experiences, like resting seaside under beach umbrellas.
From airy whites to refreshing blues and calming neuter hues—all these colors offer the boundless potential for turning your regular bathroom routine into experiential spa-like ceremonies that both revive and relax simultaneously.
FAQs About Spa Like Paint Colors For Bathrooms
Why would I choose spa-like paint colors for my bathroom?
Spa-like paint colors can create a calm, soothing environment, helping turn your regular bathroom into a tranquil home spa.
Can I use these colors if I have a small bathroom?
Lighter spa-like paint colors can make small bathrooms feel larger and airier.
Do all spa-like paint colors work with any decorating style?
Generally, yes. These versatile color choices typically pair well with most decor styles due to their neutral and muted selection.
What if I don't like the color after applying it to the whole wall?
Try a sample before painting the entire wall to ensure you're satisfied with the choice.
How well do these lighter paint colors hide flaws in walls?
Lighter spa-paint colors may not hide wall imperfections as well as darker hues. It's advisable first to prep your walls correctly before painting.
Conclusion
Creating a spa-like retreat in your bathroom begins with selecting the right color palette. From serene blues from the ocean breeze to peaceful grays and warm creams, you can introduce an uplifting atmosphere that will kick start your day positively and invigorate you at night after a tiring workday.
This list of bathroom paint colors is about creating a calming space where you can unwind, de-stress, and honestly relax.
Remember that it's not merely about choosing the 'trendiest' hue or sticking with everyday neutrals but selecting the shade that speaks to you personally.
Stick with what soothes you and create your serene escape right at home.