If you've been searching for the ideal color to give your living space that perfect touch, look no further. We've all had those moments where we're convinced that gray is just what our home needs for an elegant, chic, yet timeless appeal, right? I decided to help make this daunting task a tad bit simpler by making a list of the best Benjamin Moore gray paint colors.
The classy Benjamin Moore grays are some of the most versatile globally; they are refined and effortlessly elevate any room in your home!
These hues never go out of fashion and always manage to contribute depth and character to big and small spaces.
Exploring the world of grays from Benjamin Moore, there's this striking balance between too warm and too cool while ensuring plenty of liveliness in place of any potential drab vibe. So join me as I share my favorite Benjamin Moore gray paint colors and why I chose each one.
How To Choose Grey Paint Color?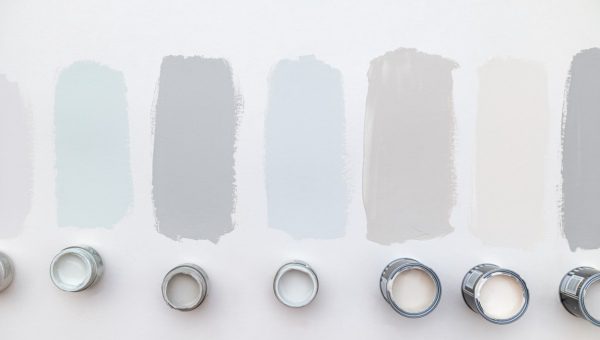 Choosing a grey paint color can be daunting, mainly because of the numerous hues available. However, with careful considerations and guidelines, you can effortlessly pick the ideal shade for your space. Here are some tips to guide you through:
Understand Light Conditions: Always consider how light will affect your chosen color. Lighter grays are ideal for rooms that do not get enough natural light, while darker grays can give an intimate feel to large well-lit areas.
Stay Complementary: Consider the other colors in your room - flooring, furniture, and accessories - while picking a gray hue. You'll want something that complements these tones rather than clashing.
Test the Color: It's always wise to purchase a small amount of paint in your chosen gray to apply on walls in different room areas. This way, you can see how it looks under various lighting throughout the day before making a total investment.
Go by Mood: Do you want a serene, relaxed atmosphere? Opt for cooler grays. Looking for something more dramatic? A dark charcoal could be what you're after.
So, instead of jumping on the first gray hue that grabs your attention, keeping these pointers in mind would help ensure your choice does justice to aesthetics and practical functionality.
Where You Can Use Gray Paint Color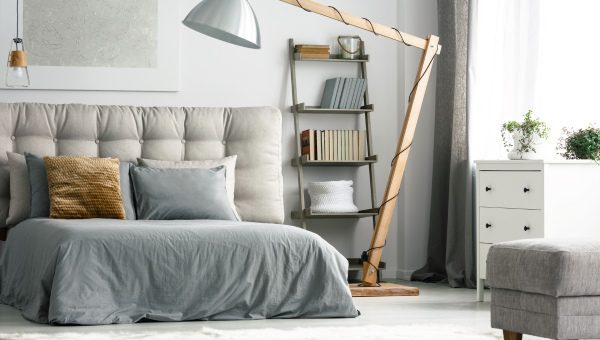 Gray is an incredibly versatile color, offering a myriad of tones and undertones. Depending on your shade, it can add depth, sophistication, or coziness to any room.
The versatility allows it to be ideally used in modern homes and classic designs. Here are my favorite ways to incorporate the best Benjamin Moore gray paint colors throughout your home!
Living Room
The living room is often the center of a home, where we gather, celebrate, and relax with loved ones. Benjamin Moore's gray hues lend themselves perfectly to this space.
A warm gray can create a cozy atmosphere for those movie nights, while a cool gray with blue undertones adds a modern touch.
Bedroom
Regarding the bedroom, nothing says calm and tranquil like beautiful shades of gray. Light grays give an airy spaciousness to smaller bedrooms, while dark gray gives off a dramatic yet sophisticated feel in larger rooms.
Kitchen
Add a dash of contemporary luxury with Benjamin Moore grays in the kitchen. From dove grays for crisp presentations to charcoal grays for your cabinetry, the result would be mesmerizing!
Bathroom
In the bathroom, shades of Benjamin Moore pale fog-gray can evoke serenity similar to your favorite spa!
Dining Room
Let's not forget the dining room. Gray paint here adds impeccable class! A mid-tone gray could create that chic dining ambiance perfect for making every meal feel like an event.
20 Best Benjamin Moore Gray Paint Colors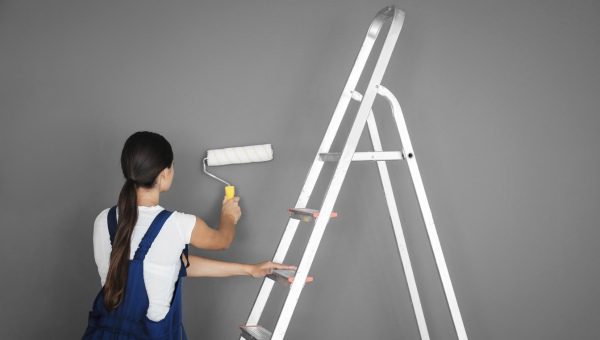 The beauty of decorating with gray is its sheer versatility. These paint colors offer a spectrum of hues, from soft and subtle to bold and creative, fitting every style type and design preference. Benjamin Moore grays are a beautiful addition to any home color palette.
1. Benjamin Moore Chelsea Gray (HC-168)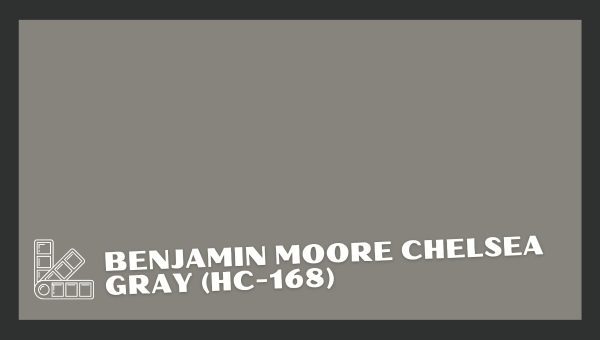 If you want a rich, full-bodied gray color, meet your new favorite: Benjamin Moore's Chelsea Gray. This warm gray requires natural light for the right balance - it provides depth without being overwhelming. This shade is perfect for cozy living rooms or luxurious bedrooms.
One of my favorite ways to utilize Benjamin Moore Chelsea Gray is as an exterior paint color; it's exquisite and bold.
Insider tip: The darker shadows can bring out more blue tones in this paint – so always test this hue in your lighting conditions before committing.
2. Benjamin Moore Coventry Gray (HC-169)
Next on our palette is Benjamin Moore Coventry Gray. This classic medium-light hue emphasizes the cooler side, distinguishing it from Chelsea Gray. Even though it's not overly 'blue,' it undoubtedly carries enough undertone to lean towards chillier vibes.
Again, natural light plays an important role here; when paired with a lot of sunlight, the colors open up beautifully, giving a serene feel to rooms like kitchens or bathrooms.
Insider tip: With its cool undertones, Coventry Gray pairs wonderfully with crisp whites and metallic finishes!
3. Benjamin Moore Revere Pewter (HC-172)
Let me introduce you to one of Benjamin's selling grays: Revere Pewter. This warm light-gray shade feels soft and amiable without risking much on either too-beige or too-gray features - exactly why it works wonderfully with almost all color schemes!
Want a calming, serene bedroom? Or maybe a classy yet inviting living area? Revere Pewter never disappoints!
Insider tip: Revere pewter pairs well with earthy colors – think wood tones! It works well with dark mahogany furniture and lighter pine or oak items.
Down to pick up paintbrushes yet? I hope so because these three stunning shades from among the best "Benjamin Moore gray paint colors" gave us severe decoration goals! Roll some grays on those walls without further ado, and make your interiors speak sophistication out loud!
4. Benjamin Moore London Fog (1541)
The elegance of London Fog is in its simplicity. This warm, sophisticated shade of gray from Benjamin Moore has beautiful brown and taupe undertones that lend a soft, inviting vibe. It's perfect for almost any room, instantly infusing warmth balanced by the coolness of gray.
Benefits
Creates a sophisticated atmosphere without becoming overwhelming.
Flexible for any room - living rooms, bedrooms, kitchens, and more.
It offers depth to a room without making it feel smaller.
Complements a wide range of interior styles.
LRV (Light Reflectance Value): 56.44
Availability: As part of Benjamin Moore's Classic Color Collection, London Fog is widely available online and through physical retailers.
5. Benjamin Moore Wish (AF-680)
Falling under the umbrella of greige hues, Wish subtly draws from the best characteristics of grey and beige to create an inviting presence in any space. This versatile shade offers a hint of green undertone, making it unique.
Benefits
Excellent choice for open-concept homes due to its transitional nature.
Enhances natural light when paired with light furniture and decor.
It helps cover wall imperfections due to mid-range depth.
LRV (Light Reflectance Value): 58.58
Availability: Another admirable choice from Benjamin Moore's Affinity Color Collection is Wish. You can find it online or at your nearby Benjamin Moore retail location.
6. Benjamin Moore Stonington Gray (HC-170)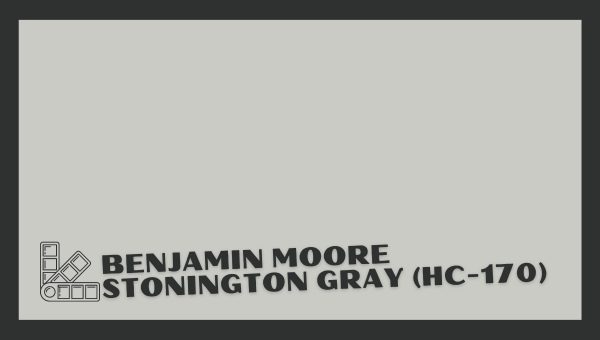 Stonington Gray has a magical way of staying crisp and cool while bringing abundant warmth into the space. Subtle blue undertones set this gray apart, making it feel remarkably fresh.
Benefits
It balances cool and warm tones well, making it versatile for various design schemes.
Ideal for bathrooms or laundry rooms because blue undertones are pronounced in artificial light, providing a serene feeling.
It pairs excellently with white trim creating visual contrast without being too stark.
LRV (Light Reflectance Value): 59.36
Availability: Belonging to the Historical Color Collection from Benjamin Moore, Stonington Gray can be easily purchased through modern conveniences such as online or their scores of physical stores spread throughout North America.
This gray paint color from Benjamin Moore offers a refreshing palette filled with warmth, sophistication, and neutral aspects that leave them versatile enough to adapt to any mood or feeling you want your space to embody.
7. Benjamin Moore Edgecomb Gray (HC-173)
Lying on the lighter end of the spectrum, Benjamin Moore's Edgecomb Gray is a soft, muddy gray that exudes sophistication. This color is more of a greige, a beautiful blend of beige and gray that lends an affluent air.
Benefits
Universally appealing due to its neutral undertones.
Works wonders in areas with lower natural light exposure.
Its earthy tone fits perfectly with both modern and traditional decor styles.
LRV (Light Reflectance Value): 63.09
Availability: Being an integral part of Benjamin Moore's Historical Color Collection, this paint can be found online or at any local store.
8. Benjamin Moore Gray Owl (OC-52)
One cannot speak about the best grays without mentioning one named after the bird – Gray Owl. It's perfect for bringing some lightness into your space without making it too stark or chilly.
Benefits
It has hints of green and blue giving it a uniquely relaxed vibe.
It can immensely brighten spaces even before adding additional light sources due to its high LRV.
Matches effortlessly with white trims resulting in exemplary contrast.
LRV (Light Reflectance Value): 64.51
Availability: This particular shade lies within Benjamin Moore's Off-White Color Collection and can comfortably be purchased online or at any Benjamin Moore dealer.
9. Benjamin Moore Gray Cloud (2126-60)
Gray Cloud is a lighter, more excellent gray paint color with subtle blue nuances. It leans more towards the 'blue grays' rather than 'warm grays,' making it particularly alluring for those seeking to infuse some tranquility into their space.
Benefits
The slightly cool tinge makes rooms feel clean and fresh.
Excellently mirrors natural light for open, airy feeling spaces.
Complements metallic finishes and crisp white accents perfectly.
LRV (Light Reflectance Value): 69.7
Availability: Part of the Classic Color Collection by Benjamin Moore, this shade can easily be obtained through various online platforms or physical stores across North America.
10. Benjamin Moore Silver Satin (OC-26)
Silver Satin from Benjamin Moore is a subtle gray with warm undertones that lean towards a beige in certain lights.
This subdued hue perfectly balances the two colors, making it look elegant for walls.
Benefits
It gives off a polished look while retaining warmth making it suitable for formal areas like dining rooms and studies.
Works wonderfully as the backdrop for artworks or bold furniture pieces as it doesn't compete visually but complements instead
Acts as an illusionist in smaller spaces creating an illusion of larger room size because of its incredible light-reflecting properties.
LRV (Light Reflectance Value): 74.9
Availability: Silver Satin is also part of Benjamin Moore's Off-White Color Collection,, which means you'll have no issues finding it at your nearby store or ordering it online.
There you have it! A comprehensive list of some of the best grays from renowned brand Benjamin Moore with all their intricate details ranging from LRVs to availabilities!
Whether you're looking to give your home interiors sophistication, warmth, tranquility, or elegance, these colors got you covered.
11. Benjamin Moore Collingwood (OC-28)
When you come across Collingwood, warmth is the first thought that crosses your mind. This captivating gray-beige, or "greige," uniquely blends warm greige undertones. It offers a sense of coziness while maintaining charm and sophistication.
Benefits
Warm and inviting: Ideal for creating a cozy atmosphere.
Flexible: Complements various textures and hues, highlighting their qualities.
Soft and subtle: It's a relaxing choice for bedrooms or living rooms.
LRV (Light Reflectance Value): 62.16
Availability: This belongs to Benjamin Moore's Off-White Color Collection and can be purchased online or from numerous physical retailer locations.
12. Benjamin Moore Balboa Mist (OC-27)
Balboa Mist brings coolness to your space while infusing delicate warmth with its rosy undertones. This exceptionally versatile paint shade strikes the perfect balance and makes a stylish statement in any space.
Benefits
Serenity-inducing tone: Beautiful choice for bedrooms and bathrooms.
Mirrors natural lighting: Changes throughout the day adapting to ambient light.
Sophisticated touch: Best suited for interiors looking for calm elegance.
LRV (Light Reflectance Value): 65.53
Availability: Being part of the Off-White Color Collection by Benjamin Moore, you can get Balboa Mist from both their online store and trusted retailers nearby.
13. Benjamin Moore Metropolitan (AF-690)
Metropolitan is genuinely modern, refined, poised, and undeniably gray. This soothing hue was chosen as Benjamin Moore's color of the year in 2019!
With enough depth to make a statement without being too overwhelming, Metropolitan adds depth without absorbing all the light.
Benefits
Neutral backdrop: Sets an elegant stage for bold furniture and art.
Versatility at its finest: Can be placed anywhere — living room to bedroom to kitchen.
Relatable pastel touch brings out an "at home" feel immediately upon application.
LRV (Light Reflectance Value): 49.96
Availability: As an essential member of Benjamin Moore's Affinity Color Collection, Metropolitan reaches homes through online orders or physical stores throughout North America.
Each of these fantastic gray paint colors by Benjamin Moore fits seamlessly into any style narrative. Whether you are into contemporary minimalism or love a good vintage look — Balboa Mist's excellent warmth, Metropolitan's sleek modernity, or Collingwood's cozy aura could be exactly what your room needs.
14. Benjamin Moore Thunder (AF-685)
Thunder rides the stormy line between gray and beige, creating a magnificent hue that is moody yet warm. It's an excellent choice for those who love the idea of a relaxing space drenched in sophisticated allure.
Benefits
It provides the perfect setting for bright colors to pop and shine.
Works perfectly as an all-over house color due to its versatility.
Marries well with both modern and traditional decor styles.
LRV (Light Reflectance Value): 47.58
Availability: Thunder can be easily obtained from any Benjamin Moore store as part of its Affinity collection or ordered online.
15. Benjamin Moore Silver Satin (856)
Silver Satin is a quintessentially classic shade of gray, boasting subtle blue undertones. Its elegant appeal goes beyond just how it looks, it speaks volumes about how it transforms the ambiance of any area it applies to.
Benefits
Gives your room a sophisticated and high-end look due to its silvery, shimmery finish.
It harmonizes well with other colors, making it ideal for home staging.
Thanks to its light body, smaller spaces receive expanded visual volume.
LRV (Light Reflectance Value): 74.09
Availability: Silver Satin comes from the Benjamin Moore Classic collection. You can snap it up from any authorized dealer nearby or order online.
16. Benjamin Moore Horizon Gray (2141-50)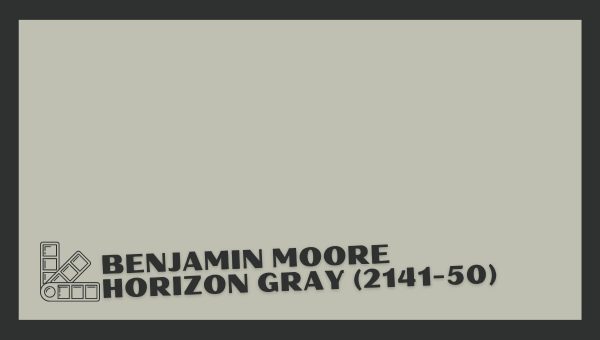 Horizon Gray offers an inviting warmth cloaked in a calm exterior - entrancingly enigmatic, isn't it? The understated elegance this smoky gray brings will make you feel like you have stepped into a photo shoot for a home decor magazine!
Benefits
Its soothing tone makes spaces appear more extensive and more open than they are.
It pairs excellently with warm wooden furniture or metallic accents.
Given its translucent essence, light absorption gets enhanced incredibly well - perfect for those sunshine-filled rooms!
LRV (Light Reflectance Value): 50.68
Availability: As part of the Classic Color Collection from Benjamin Moore, Horizon Gray is easily accessible across multiple platforms.
17. Benjamin Moore Amherst Gray (HC-167)
If dark shades are more your style, then meet Mr. Amherst Gray! With robust depth underlined by warm red undertones, this gray breathes life into spaces by balancing brightness and adding character layers.
Benefits
It excels at providing sharp contrast against white trim or lighter furnishings.
The ideal gray for outdoor exteriors due to its striking presence and resilience under different lighting conditions.
Works well in professional settings offering a refined aesthetic to office spaces or businesses too!
LRV (Light Reflectance Value): 18.08
Availability: Part of Benjamin Moore's Historical color collection – Amherst Gray can be procured online or in-person from any authorized dealer!
As we journey deeper into the world of grays brought forth by renowned brand Benjamin Moore - we begin embracing their uniqueness; one envelops us in stormy allure while another betrays glimpses of a mysterious horizon – genuinely compelling!
18. Benjamin Moore Nimbus Gray (2131-50)
Nimbus Gray is more than just a simple gray. This complex color from Benjamin Moore comes with subtle undertones of blue, conveying a calm atmosphere reminiscent of cloudy skies. Inviting and versatile, this color works well in a variety of settings.
Benefits
It enhances coziness when used in bedrooms or bathrooms.
Neutral shade makes it great for modern and traditional design styles.
Complements both dark wood shades and white.
LRV (Light Reflectance Value): 41.78
Availability: You can find the comfortable sophistication of Nimbus Gray as part of Benjamin Moore's Color Preview collection online or in their numerous retail locations.
19. Benjamin Moore Wickham Gray (HC-171)
Wickham Gray stands out by being both sophisticated and charming at the same time. It delivers a pleasant light blue undertone that never feels cold but evokes a serene freshness.
This airy shade brings elements of subtle sophistication that do not overpower but gently grace any room it's used in.
Benefits
Transforms small spaces into inviting, spacious areas.
Flexible enough to fit diverse decor styles from modern to rustic.
Blue-green undertones offer an earthy feel perfect for beach homes or coastal interiors.
LRV (Light Reflectance Value): 67.87
Availability: As part of the Historical Colors collection, you can buy Wickham Gray at any reputable Benjamin Moore dealer or on their website.
20. Benjamin Moore Classic Gray (OC-23)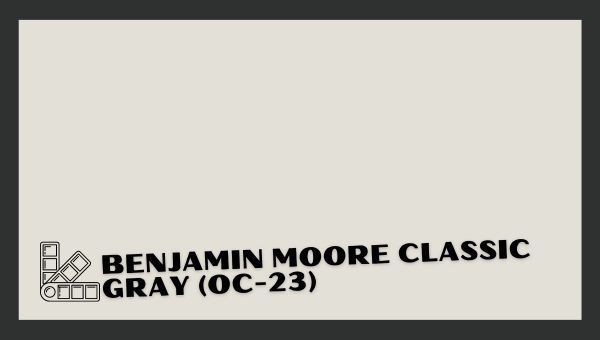 If there's one word that epitomizes Classic Gray from Benjamin Moore, it's brightness. Despite being the palest on this list, it retains an undeniable depth thanks to its warm undertones.
Considered true gray due to its neutrality, especially under artificial lighting, Classic Gray exudes timeless elegance.
Benefits
An excellent choice for dark or north-facing rooms due to the brightening effect.
It pairs wonderfully with crisp white trim for a stunning contrast.
It offers an elegant simplicity good for minimalist or Scandinavian designs
LRV (Light Reflectance Value): 73.67
Availability: As part of the Off White Collection from Benjamin Moore, you can pick up your Classic Gray makeover companions online or at your local store.
Choosing the perfect hue might seem intimidating, but armed with specific color details like LRV, understanding how each shade works under varying natural lights can make all the difference!
Each one of these gorgeous grays from Benjamin Moore surely offers something unique!
Consider the depth you want in your space while accounting for variables like direction faced by rooms and incoming natural light before settling on "THE" gray paint color from our list above! Now go ahead and paint some joy into your homes.
FAQs About Gray Paint Colors
What are some of the best Benjamin Moore gray paint colors?
Some of the best Benjamin Moore grays include London Fog, Wish, Stonington Gray, Nimbus Gray, Wickham Gray, and Classic Gray.
Is Benjamin Moore's Stonington Gray a warm or cool tone?
While Stonington Gray has a touch of warmth, it primarily leans more towards a cool gray due to its blue undertones.
Is Nimbus Gray a good color for a bedroom?
Yes! With its soothing blue undertones, Nimbus Gray can create a cozy and calm atmosphere making it an ideal choice for bedrooms.
Can Classic Gray brighten up a dark room?
Absolutely! Classic Gray is well-loved for its brightening effect on dark or north-facing rooms.
Are Benjamin Moore's gray paint colors versatile with different design styles?
Definitely! Whether your style is modern, traditional, rustic, coastal, or minimalist, a Benjamin Moore gray enhances your space.
Conclusion
As we conclude this illuminating journey through the versatile palettes of Benjamin Moore grays, it's clear that this color is anything but boring.
Each shade is unique, offering sophistication, warmth, neutrality, and depth.
Furthermore, understanding elements like LRV and how different shades interact with varying light conditions can be incredibly helpful in perfecting your home's look.
Don't forget; your space is an expression of you! So pick a color that suits the specifics of your home and resonates with your style.
Be it the calming Nimbus Gray for a peaceful bedroom vibe or the bright Classic Gray to cheer up that north-facing living room, you've got a Benjamin Moore gray for every need.
So explore these shades to create interiors that stand out with character and timeless elegance.