If you have been searching for the perfect shade to freshen up your space, your search ends here. I present the Caldwell Green HC-124.
A tasteful choice rapidly gaining popularity among interior design enthusiasts throughout the U.S. This serene shade will effortlessly induce tranquility and relaxation into any space.
The Caldwell Green HC-124 is more than just a color; it invites endless aesthetic possibilities. Though subtle and unassuming.
This humble hue carries a remarkable ability to transform living spaces into sanctuaries of calmness and balance.
The descriptive journey that follows aims to introduce you to this unique color and inspire your next interior decorating endeavor. Let's dive right in!
Discover the Benjamin Moore Caldwell Green HC-124
Caldwell Green HC-124 is a stunning addition to Benjamin Moore's Historical Color Collection. With its unique hue family - green with values of 46.972 and 7.157 at 158.186°- this shade reminisces the classic deep mossy greens in historic homes and landscapes.
Significant is its Light Reflectance Value (LRV), which stands at 16.27. This means the Caldwell Green isn't overtly bright but has a muted, calming effect, making it ideal for spaces where tranquility is desired.
Aesthetically speaking, Caldwell Green carries a rich warmth despite being often categorized as a 'cool' color. This duality makes it incredibly versatile and suited to various interior styles, from classic to contemporary.
Its formulation comes well crafted within the Historical Color Collection, a curated range by Benjamin Moore with time-honored hues deeply rooted in American architectural tradition.
Both as an accent or primary color scheme, Caldwell Green HC-124 beautifully complements other shades and textures, acting as an anchor that unifies various elements within an interior space. This resultantly gives your room a pop of color and adds depth and character to your area.
No doubt, adopting this fascinating green can remarkably elevate your home's aesthetic in ways you probably never envisioned.
Benjamin Moore Caldwell Green: Understone and LRV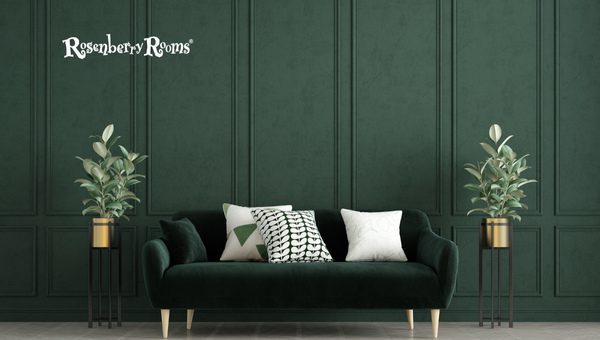 The term 'undertone' refers to the paint's underlying color or base color. It's an essential aspect that influences how a color is perceived under different light sources and can significantly impact the overall look and feel of the painted space.
Understone
In the case of Caldwell Green HC-124, the undertone is observed as a soft blue-green. The following points highlight crucial aspects of its undertone:
Blue-Green Undertone: Blue in this predominantly green shade imparts an enhanced layer of depth.
Universally Appealing: This undertone marries well with warm and cool palettes, making it versatile for varied design aesthetics.
Subtle Coolness: Despite warmth due to its high degree of saturation, Caldwell Green exhibits subtle coolness due to its blue-green undertone.
Light Reflectance Value
Light Reflectance Value (LRV) measures the light a paint color reflects. It's expressed on a scale from 0 (absolute black) and 100 (pure white).
Caldwell Green has an LRV of 16.27, implying it is more absorbed than reflected. This lower LRV offers:
Warmth & Cosiness: The limited reflection creates an intimate and cozy atmosphere within the painted space.
Expanded Perception: The deep shade visually expands smaller spaces by adding dimension.
Subtle Elegance: Because most light gets absorbed, imperfections on your walls are less visible, resulting in an overall elegant look.
So whether you're looking for sophistication or serenity, Caldwell Green's remarkable undertone and LRV make this shade timeless.
Caldwell Green HC-124: Is it Warm or Cool?
Deciphering whether a paint color is warm or cool can be pivotal in choosing the perfect shade for your space.
It influences how the painted room will feel and what mood it'll set. Here's a detailed look at where Caldwell Green stands on this spectrum.
Warm
Comforting Presence: Typically, warmer shades are associated with a lovely, inviting feel. While essentially green, Caldwell Green carries an inherent warmth predominantly contributed by its high degree of saturation.
Versatile Role: This warm characteristic enables Caldwell Green to seamlessly blend with earthy, warm tones such as deep browns, rusty oranges, or yellows, bringing a cozy ambiance.
For an inviting space: If you aim to design a space that feels welcoming and snug while also looking vibrant, don't second guess by choosing this comforting warmth of Caldwell Green HC-124.
Cool
Concurrently, the magnificent Caldwell Green demonstrates remarkable cool characteristics:
Relaxing Undertone: The blue-green undertone imparts Caldwell Green, a subtly cool attribute that amplifies the relaxing ambiance.
Complement to neutrals and blues: This quiet coolness in Caldwell Green pairs well with other cool shades like silvery greys or marine blues, creating calm surroundings.
For enlivened serenity: Consider this shade if your decorating goal is to achieve balanced serenity with a hint of invigorated freshness.
In conclusion, don't get puzzled by labeling it strictly 'warm' or 'cool.' Embrace the beautiful duality of the Caldwell Green HC-124 – its bright warmth and gentle coolness open doors to endless style possibilities for your haven.
Revitalize your Spaces with Caldwell Green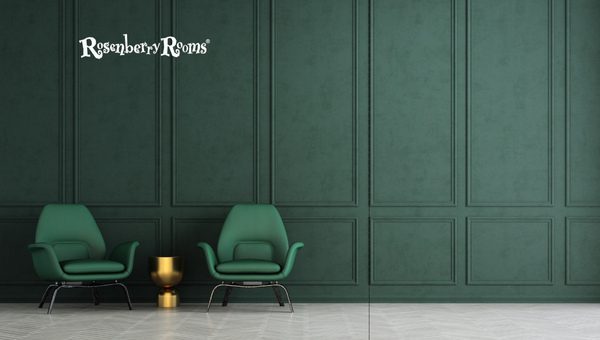 Caldwell Green HC-124 is delightfully versatile. From creating a soothing sanctuary in your bedroom to adding a dash of nature-inspired elegance to your kitchen, this shade can transform various spaces within your home.
Bedroom
For most of us, bedrooms are sanctuaries, a space for relaxation and unwinding. Imagine infusing this personal escape with the serenity of the Caldwell Green.
Touch of Nature: Painting your bedroom walls with Caldwell Green can immerse you in the soothing hues of nature – think tropical leaves or forest foliage.
Ambiance: Its deep undertones create an unsimilar atmosphere in a luxurious spa retreat.
Living Room
The living room often serves multiple functions – from being a communal space for family gatherings to hosting friends or simply lounging on a lazy Sunday afternoon.
Incorporating Caldwell Green into this dynamic setting can foster balance and harmony.
Bold Statement: Using Caldwell Green as an accent wall can be a conversation starter during social gatherings.
Cozy Corners: Pairing it with warm neutrals or wood finishes creates cozy nooks perfect for curling up with your favorite book.
Bathroom
There's been an emerging trend of treating bathrooms as personal spas—and what better way to replicate that tranquil spa-like ambiance than using Caldwell Green?
Luxury Spa Feels: With textures like marble or chrome accents, Caldwell Green works wonders in elevating your bathroom's aesthetic levels.
Soothing Aura: Its fresh and calming vibe can aid in starting your day on a refreshing note.
Board & Batten
Board & Batten style is gaining popularity for its unique blend of rustic charm and modern simplicity—the perfect canvas for our star shade!
Rustic Charm- The rich depth complements natural wood aesthetics, increasing the rustic charm of board & batten walls.
Home Office
Now more than ever, home offices need to be functional yet inspiring. A quiet sophistication permeates any workspace dressed in Caldwell Green.
Productivity Boost- Scientific studies highlight that green hues promote calmness and efficiency—making Caldwell Green ideal for maintaining productivity.
Aesthetic Appeal- Whether paired with modern furniture or traditional office decor, this charismatic color ensures work feels less like work!
Kitchen Cabinets
Timeless yet trendy, painting kitchen cabinets in deep tones has been all the rage lately, making our muted green a fantastic candidate.
Retro Revival- Vintage-inspired appliances paired with Cunningham green cabinets create an unforgettable look that returns to a retro-chic aesthetic.
Natural Harmony- Any kitchen will benefit from this earth-inspired tone, ensuring harmonious coexistence with other bold colors or patterns within the kitchen space.
Benjamin Moore's Caldwell Green HC-124 is an attractive choice because of its versatility and capacity to upgrade any space into one brimming with tranquility and warmth. Regardless of where you use it, be ready welcome home to elegant coziness.
Trim Colors: The Inviting Complements to Caldwell Green
Choosing the right trim color can make or break your room's overall look, but fret not, here are a few that complement the Caldwell Green HC-124 perfectly.
White Dove OC-17: Benjamin Moore's White Dove is an off-white shade tinted enough to provide an exciting contrast against Caldwell Green while maintaining its classic, clean look. Universally loved for its soft, versatile appeal, White Dove lets Caldwell Green hold center stage while softly framing it.
Cotton Balls OC-122: Cotton Balls provide a slightly warmer contrast than White Dove. It highlights Caldwell Green and creates a timeless and cozy atmosphere in any living space or exterior surface.
Super White PM-1: If you're leaning towards a crisp, modern aesthetic, then Benjamin Moore's Super White matches you. Highly reflective and pure, it brings out the luminosity in Caldwell Green HC-124, creating a vibrant feel in your room.
Ultimately, it's about coordinating shades that best reflect personality and aesthetic preferences. With these options and a fresh coat of Caldwell Green HC-124 ready, transforming your living spaces can be as effortless as pie.
Lighting and Cardinal Directions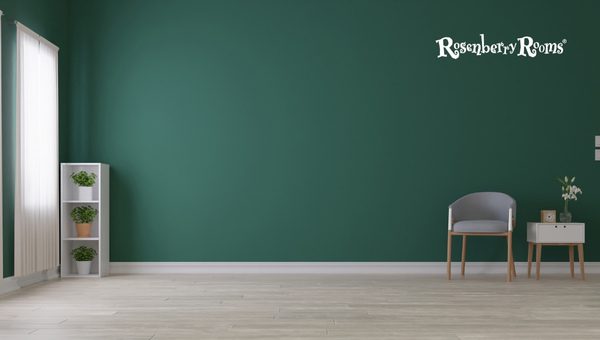 When selecting a paint color for a room, one vital aspect that decorators often overlook is the direction of light entering the space.
The direction your room faces can significantly influence how a paint color appears at different times of the day, with dramatic variations across north, south, east, or west-facing rooms.
North-facing Rooms
Rooms facing north present a unique challenge when selecting paint colors. Since the natural light tends to be minimal and often cooler in tonality, colors appear slightly duller in such rooms.
Painting Tip: Choose Caldwell Green HC-124 for north-facing rooms to create depth and warmth. This deeper hue will help counteract the coolness of northern light, casting a delightful balance in your space.
South-facing Rooms
With plenty of warm natural light flooding throughout the day, south-facing rooms can positively exploit nearly any color on the spectrum. The sunlight's warmth will enliven and enrich any shades applied to these walls.
Painting Tip: Caldwell Green HC-124 can sublime its depth here and exhibit an incredibly vibrant personality.
With its richness and versatility, it'll effortlessly play along with the sunny charm of these rooms, conjuring up an inviting and charming ambiance.
East-Facing Rooms
The quality of light in east-facing rooms changes dramatically throughout the day. The morning sun casts warmer tones, while the afternoon brings cooler hues.
Painting Tip: Given this peculiarity, choose Caldwell Green HC-124 for east-facing spaces to create a versatile, equally appealing look under varying lighting conditions.
Including blue-green undertones will ensure your room looks fresh during morning hours while offering a calming aura when evening light falls upon it.
West-Facing Rooms
West-facing spaces bask in the afternoon sun, making cool and warm colors look warmer as sundown approaches.
Painting Tip: If you're dealing with too much warmth due to voluminous natural sunlight, consider applying Caldwell Green HC-124 to inject much-needed freshness into the room's atmosphere.
The directional orientation of your room should indeed be a deciding factor when choosing paint colors because each hue responds differently under varying lighting conditions.
Understanding this dynamic is crucial to achieving ideal results with Benjamin Moore's Caldwell Green HC-124 or any preferred color choice.
Coordinating Colors of Caldwell Green HC-124
When pairing Caldwell Green HC-124 with other colors, the possibilities are endless! Here are some winning combinations to elevate your decorating game:
Gray Sky 2131-70: This soft, airy shade from Benjamin Moore forms the perfect contrasting backdrop for Caldwell Green. Its pale blue undertones mirror those within Caldwell Green, creating a harmonious balance in the space.
Pale Oak: A warm, creamy beige with subtle hints of gray creates a comforting environment when paired with the boldness of Caldwell Green. Ideal for producing a modern yet cozy atmosphere.
White Dove: White Dove is a warm white that complements Caldwell Green beautifully by providing a crisp, clean contrast that enhances the depth and richness of this robust green.
Silvery Moon 1604: This light, almost ethereal shade adds sparkle and lightness to your room when paired with Caldwell Green—a perfect pair to capture elegance and sophistication.
Black: Dramatic and classic; pairing black with Caldwell Green brings intensity and drama into any room while keeping it grounded and stylish.
Ballet White: This slightly pink-toned off-white works wonderfully as trim to highlight the boldness of Caldwell Green HC-124.
Soft Chamois: With creamy overtones, Soft Chamois helps to bring warmth into rooms painted in cooler tones like Caldwell Green.
Mayonnaise 2152-70: An ever-so-slight yellow undertone differentiates Mayonnaise from traditional whites offering delicious contrast when coordinated with our hero color.
Gray Owl OC-52: A soft grey-green neutral color that enhances the calming effect when used alongside the harmonious Caldwell Green.
Castle Walls 1573: Its serene gray tones prove an exquisite combination branching out the versatility of this green superstar
Revere Pewter: Perfectly loft-balanced gray, adding cohesiveness while giving us an eye-watering contrast, led the ensemble.
To sum up, every color boasts its strengths bringing about dynamism and personality when coupled right against our showstopper: Caldwell green HC-124, promising that every combination would be nothing short of perfection!
All these colors can be perfectly aligned on a palette together resultantly, giving us an array of options keeping in mind one's aesthetic sensibilities translating into an enchanted space.
Is Caldwell Green Good for Interior and Exterior?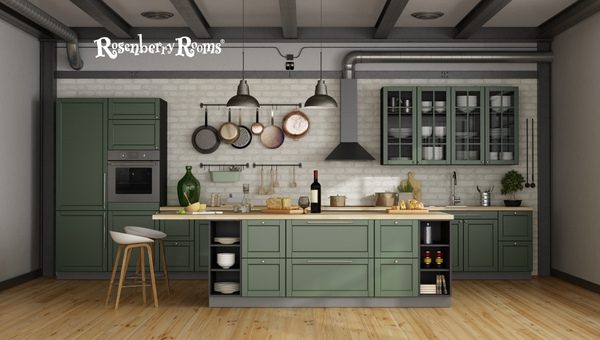 Absolutely! Caldwell Green HC-124 is an exceptional choice for interior and exterior applications. Let's dig into how this color can be employed in diverse spaces:
Interior Spaces
Living Room: An accent wall in Caldwell Green offers a fresh take on a classic design. It pairs exceptionally well with white, beige, or wooden furnishings.
Bedroom: Owing to its calming quality, it creates a serene ambiance. Suitable for walls, headboards, or even wardrobes.
Kitchen: On kitchen cabinets or islands, it conjures up a statement that's stylish yet grounded.
Exterior Spaces
Caldwell Green works like a charm on exterior surfaces too! This heartening shade adds instant curb appeal, whether siding, roofs, doors, or trim. Colored exteriors go beautifully with white trims, making it an inviting sight.
Bold Presence
On the facade of your home – paired with contrasting colors like white/ivory on windows and doors – Caldwell Green stands out and provides your abode with a bold yet sophisticated presence.
Whether you want to bring calmness indoors or revamp your home exterior into an eye-catching sight – Benjamin Moore's Caldwell Green HC-124 is the way to go.
The Importance of Testing Paint Samples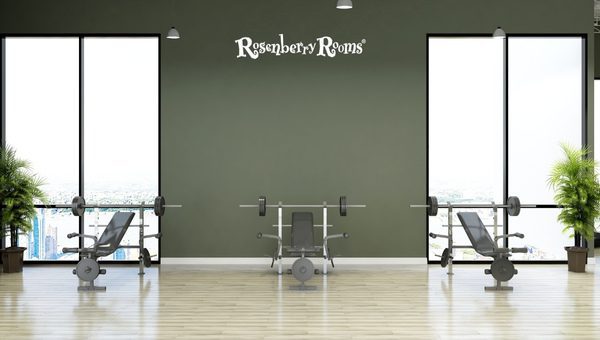 Before fully committing to paint color, sampling is an essential step. A myriad of factors can influence how a paint color appears on your walls and thus impact the overall ambiance of your space. Here's why sampling could be the game-changer in your painting journey:
Understanding Light Influences: Paint colors can morph daily under varying light conditions. Neither a paint swatch nor a digital image can accurately capture this effect. You can observe these shifts by applying a sample to your walls.
Special Effects: Depending on the size and layout of the room, paint colors give different perceptions of space. Sampling helps you gauge if the color amplifies or suppresses these aspects.
Color Harmony: Matching wall colors with existing furnishings, decor elements, or adjacent rooms requires visualization - that's where samples turn handy.
Eliminating Guesswork: Painstakingly choosing amongst thousands of shades, only to witness an unsatisfying result can be disappointing. Sampling eliminates uncertainty and ensures peace of mind.
By investing minimally into samples before buying gallons of paint, you safeguard your time, money, and efforts from potential painting mishaps.
Viewing these samples under different lighting, during various times of the day, against all corners of your room will surely guide you towards making an informed final decision.
FAQs About Caldwell Green HC-124
What is the Light Reflectance Value (LRV) of Caldwell Green HC-124?
The LRV of Caldwell Green HC-124 is 14.67, which absorbs more light, creating a cozy and intimate atmosphere.
Is Caldwell Green considered a warm or cool color?
While its undertone carries some coolness due to the presence of blue-green, Caldwell Green is generally seen as having a warm appeal because of its high saturation.
What spaces would suit Caldwell Green the best?
Caldwell Green HC-124 works perfectly in bedrooms, living rooms, home offices or kitchen cabinets for an empowering yet serene environment.
Can I use Caldwell Green HC-124 on exterior walls too?
Yes, this shade's versatility and timeless elegance also extend to exterior applications – pairing well with natural elements like stone and wood.
Is it essential to test a paint sample of this color before using it?
Absolutely! Testing out paint samples helps visualize how the color would look under different lighting conditions & alongside decor items, reducing your chances of painting regrets.
Conclusion
Caldwell Green HC-124 is much more than paint. It's an expression of elegance, tranquility, and timeless charm.
The unique blend of cool undertones within a predominantly warm shade sets this color apart, giving every room its distinct mood and personality.
Its versatility in harmonizing with diverse interior styles and natural elements makes it the perfect choice for creating serene yet powerful spaces.
So whether you wish to transform your bedroom into a restful sanctuary, your living room into a cozy gathering spot, or desire a sophisticated kitchen revamp – remember this humble hue!
With careful consideration for lighting and decorative elements, Caldwell Green HC-124 promises to elegantly enhance every corner of your home —or even exteriors. So why not take that sample leap today and see the magic unfold in your space?