I've always loved experimenting with different shades of white in my home decor, using them not just as accents but often as the shining star of a room.
However, out of all the countless white options in the market, I am particularly fond of Benjamin Moore Ballet White. It's the kind of color that is versatile, comfortable, yet sophisticated.
Unique and timeless, Ballet White strikes a delicate balance between warm and cool. This shade effortlessly blends into your home space, creating an inviting atmosphere full of calmness and serenity.
It's neither stark nor overly warm - it sounds like an oxymoron when you say it out loud: a complex white shade? But that's how you feel about it once it comes alive on your walls.
All About Benjamin Moore Ballet White
Benjamin Moore Ballet White, a soft, off-white hue, evokes the delicacy of a dancer's costume. It masterfully sets a peaceful and calming ambiance in the spaces it adorns. Here are the key attributes of this ever-popular shade:
Warm Undertones: Unlike many white shades that veer towards cool undertones, Ballet White leans more on the warm side. This gives it an inviting and cozy feeling.
Versatility: Due to its subdued tones, it pairs beautifully with nearly all other colors. This hue is perfect whether you want to soften a bold palette or harmonize a neutral one.
Optimal Coverage: Benjamin Moore is known for its excellent formulation that offers optimal coverage. A few coats of Ballet White are sufficient to achieve the desired elegance.
Whether refreshing your entire home or just giving your bedroom a new vibe, this color can transform the ambiance.
Do note that lighting conditions significantly affect how this hue might appear. Test the paint in different rooms before committing fully.
Is Ballet White OC-9 Warm or Cool?
The beauty of Benjamin Moore's Ballet White OC-9 lies in its warmth, subtility, and its unique ability to adapt to its surroundings. Let's delve into the details:
Warm Undertones: The primary undertone in Ballet White OC-9 is beige, which classifies it more as a warm color. This makes it an excellent option for creating a cozy atmosphere.
Harmony With Other Tones: Ballet White has this incredible ability to harmonize well with both cool and warm-toned colors. It neither leans too creamy nor stark– a delicate balance that makes it uniquely versatile.
Lighting Influence: Lighting also plays a significant role in how the color appears. Generally, it may seem lighter under bright, natural light with more prominent warm undertones visible. However, it can take on more earthy beige undertones under artificial lighting or in areas with lesser sunlight.
The Undertones of Ballet White OC-9
Equally important as the primary color itself are the undertones that surface depending on the play of light and juxtaposition against other colors in a room.
Dominant Undertone: Ballet White OC-9 from Benjamin Moore has a subtle, warm beige undertone. This underlying layer remains consistent across different lighting conditions and never overpowers the room's look.
Color Consistency: While some paints can react dramatically to different lighting conditions, Ballet White holds its ground under varying degrees of light. You'll notice that its dominant beige tones are ever-present, and it remains consistently soft.
Versatility: Due to its warm and neutral undertone, it plays well with almost all colors. Be it deep blues or bright yellows, this color complements them all!
All these combined make Ballet White a pretty accommodating, welcoming, versatile shade.
You would be hard-pressed to find another shade with this much usefulness. Therefore, whether you're overhauling your entire home or considering a touch-up here or there – Benjamin Moore's Ballet White OC-9 is worth considering.
Remember that testing paint samples in your specific room settings is always a good idea before you commit any significant commitment. It's worth seeing how these beautiful undertones transform throughout the day in your home.
The LRV of Ballet White OC-9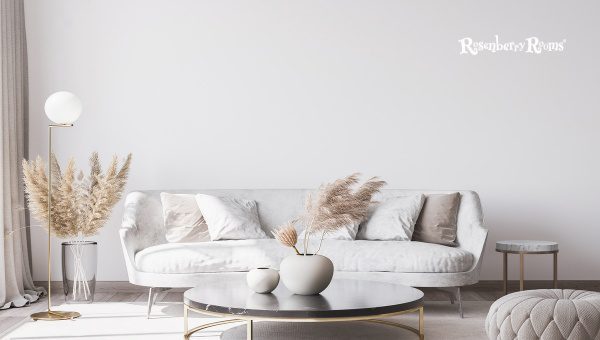 When choosing a paint color, it's essential to understand its LRV or Light Reflectance Value - a measure of how much light a color reflects and how much it absorbs. Here is what you need to know about the LRV of Ballet White OC-9:
Key Facts
High LRV: Ballet White has an LRV of 71.97. This means it reflects a lot of light, making the room appear brighter.
Perception of Space: Light colors with high LRV, like Ballet White, can visually expand a space. This makes it an excellent choice for smaller rooms or areas with less natural light.
Usage Tips
If you want to create an airy, bright feel in your room, using colors with high LRVs, such as Ballet White, will help.
Conversely, if the aim is to make an ample space feel more intimate and cozy, colors with lower LRVs may be more appropriate.
To visualize this in different settings and applications, consider taking advantage of Benjamin Moore's online color visualizer tool. For comparison, it allows you to virtually paint your rooms in various colors, including Ballet White.
Remember that while this metric is important, choosing the right paint involves considering other factors, such as the room's functionality and lighting conditions.
Usable places of Ballet White in the Home
Choosing colors for rooms is an essential part of interior design, as each room has specific functions and requirements. The Benjamin Moore Ballet White adds a touch of panache to several spaces.
Living Room
Sophisticated Aesthetics: Known for its innate aesthetic appeal, Ballet White leads to a classy living room, giving it a sense of poise and charm.
Ample Ambient Lighting: A high LRV helps reflect more light in the living room area, ensuring a bright and inviting ambiance.
Flexibility with Furnishings: It pairs beautifully with just about every type of furniture – leather or fabric upholstery –adding to the overall visual smoothness.
Bedroom
Serene Ambiance: Since bedrooms are meant for relaxation and peaceful slumber, Benjamin Moore Ballet White creates a tranquil environment promoting good sleep hygiene.
Highlighting Decor Pieces: The neutral shade can be a contrasting backdrop for vibrant decor pieces like colorful cushions or wall hangings.
Harmony with Bed Linen: No matter what color bed linen you have, this adaptable shade will wonderfully harmonize with it without causing any visual disturbance.
Kitchen
Sense of Space: Small kitchen? No problem! With its light reflective properties, this shade helps create an illusion of space.
Easy Maintenance: Being considerably forgiving on stains and smudges (compared to stark whites), keeping your kitchen walls spick-and-span becomes simpler.
Pairing With Cabinetry: It's considerably easy pairing this hue with cabinetry in shades of wood, blue, or even mint!
No matter which room you choose to use Ballet White in– whether in your bedroom mimicking clouds scudding across the sky or the flicker of sunlight streaming through your living room window–the color consistently guarantees elegance.
Ballet White: Trim Colors
Utilizing trim colors can enhance a room's design and complement the primary color. Following are some suitable choices when you've opted for Benjamin Moore Ballet White walls:
Hale Navy (HC-154). A deep, rich blue makes a dramatic contrast against Ballet White, giving depth and interest to the overall room scheme. While this choice makes quite a statement, it's intensity frames windows or doors beautifully.
Revere Pewter (HC-172). This warm light gray color works like a charm with Ballet White, as the two share a similar warmth in tone but offer enough contrast to emphasize architectural elements.
Chesterfield Buff (HC-9). This deeper beige adds sophistication and warmth when used with Ballet White on your walls. It's an excellent choice if you prefer a soft monochromatic palette.
Super White (OC-152). Super White is highly recommended for those preferring crisp white trims to pair with an off-white wall. It gives a clean look without competing with the subtle nuance of Ballet White.
Choosing trim colors should tie in well with your overall design guidelines and be consistent with other rooms for visual sync -- it should never be an afterthought!
Remember that balanced coordination between wall and trim color can create the perfect backdrop for your chosen décor style.
Lighting And Cardinal Directions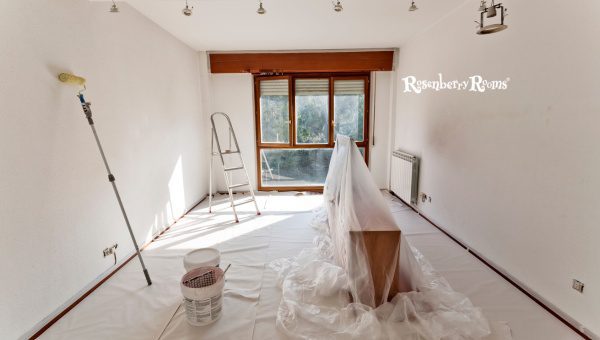 Different homes have different orientations regarding cardinal directions and access to natural light. But why does it matter when you're deciding on a paint color?
Well, the intensity and quality of light that enters your room significantly influence how the hue appears once applied.
So let's analyze how Benjamin Moore's Ballet White would perform under various cardinal directions.
North-facing Rooms
Most prevalent in north-facing rooms is cool, bluish light. This can often make colors appear more muted and shadows more profound. However, Ballet White shines in such settings.
The warm undertones of Ballet White combat the coolness, creating a well-balanced visual appeal.
A touch of beige helps imbue a sense of warmth and coziness into these typically more relaxed spaces.
The high LRV brings out luminosity that aids in brightening up north-facing rooms, which tend to receive less direct sunlight.
South-facing Rooms
Known for their bright, warm light throughout the day, South-facing rooms can accommodate a broader range of colors.
The warm undertones of Ballet White perfectly complement spaces with a south orientation.
Because this hue reflects so much light, it won't overpower your space even under the intense brightness of a south-facing room.
Instead, it provides a soothing atmosphere that is pleasant to be in during brighter hours.
East-facing Rooms
East-facing rooms get the most sun exposure in the morning, leading to an ever-evolving color perspective.
Ballet White may appear slightly brighter in the morning due to the fresh sun rays.
As daylight shifts throughout the day, you'll notice how this striking hue adapts- becoming cozier with a subtle change.
In artificial lighting during evenings, expect some depth revealing comfortable beige undertones.
West-facing Rooms
West-facing rooms bask in the warm glow of afternoon sunlight.
In west-facing rooms lit by late afternoon or early evening sun, Ballet White can take on a richer, warmer ambiance due to its beige undercurrents
Even as natural lights dim over time, it doesn't lose their inherent charm thanks to their high reflective value
In essence, carefully assess your room orientation before picking Ballet White (or any paint color). Locate where your windows face and what time of day the space receives maximum light flow.
Remember: test first before diving head-first - paint large swatches on all walls and view them under different times/conditions before choosing.
Can you use Ballet White for the Interior and Exterior?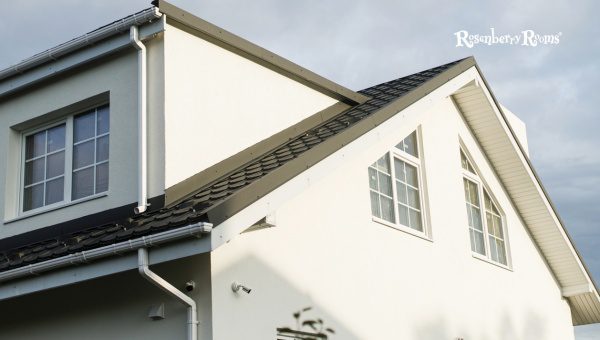 As a paint color consultant, I often encounter clients wondering whether they can use a specific paint color for their home's interior and exterior. The good news is that Benjamin Moore Ballet White serves as an excellent candidate for both inside and outside spaces due to the following reasons:
Interior Specifics
Flexible Application: This shade works not only on walls but also on ceilings, doors, and trims. It is flexible in its application, like chiffon hanging freely in the wind.
Room Versatility: Whether it's your living area, bedroom, or kitchen you want to transform, Ballet White has proven to adapt seamlessly.
Complementary Base: It is perfect for any interior design theme—from modern minimalist spaces to warm rustic interiors.
Exterior Specifics
Timeless Appeal: The slightly warm beige undertones maintain a timeless appeal. They can deliver that perfect glow on an exterior home façade against the morning sun.
Balanced Brightness: On another note, Ballet White doesn't get too bright in high sunlight (unlike some whites), making it ideal for outdoor use.
For any novice, picking out paint colors is daunting indeed. Still, remember that nothing sets aside stress better than realizing that you have picked a color that adapts well to your indoors and embellishes your exteriors— just like Benjamin Moore's Ballet White does.
Importance of Sampling Before Buying the Whole Paint Color
Wherever your home improvement journey leads you, it's always advisable to sample paint colors before taking the plunge. Here are some critical reasons why:
Unpredictable Variables: Every room has unique lighting and individual character influenced by furniture design, fabric, and accessories. A color look may vary drastically under diverse circumstances.
Seeing Is Believing: An applied sample on your wall gives you a realistic feel of the color. It helps to gauge how the shade will act in different light conditions throughout the day.
Avoid Wasted Money: Let's face it. Good-quality paint isn't cheap. Purchasing a full-sized can that doesn't work out isn't very cost-effective.
Build your confidence: Applying a sample can give you added assurance about your decision, reducing any lingering doubts.
As Benjamin Moore suggests, consider purchasing a pint-sized sample pot for a rough idea. Apply these generously on several spots on your wall for better judgment.
The most prudent way is to live with the samples for a few days or weeks to see how they look under various lighting conditions at different times.
So, before buying gallons of Ballet White, ensure you've given it ample trial runs.
FAQs About Benjamin Moore Ballet White
What is the LRV of Benjamin Moore's Ballet White?
The LRV (Light Reflectance Value) of Ballet White is 73.88, a relatively high value, indicating this color reflects more light.
Is Benjamin Moore Ballet White considered a warm or cool tone?
Ballet White is warmer due to its beige undertones, although this paint color balances warmth and coolness.
Can I use Ballet White for both interior and exterior home projects?
Absolutely! The versatility of Ballet White makes it an excellent choice for indoor and outdoor spaces.
Does Ballet White appear differently under various lighting conditions?
Yes, it may seem lighter under bright, natural light, but in less sunlight or artificial light, it can take on a slightly warmer or beige look.
What colors pair well with Benjamin Moore's Ballet White?
Due to its versatile nature, it pairs beautifully with almost every color palette– whether bold, neutral, or pastel shades.
Conclusion
Benjamin Moore Ballet White is an impeccable choice for any homeowner. It does not matter if you aim for a minimalist design, a classic aesthetic, or a chic modern look; this versatile paint color can work wonders.
Its warm undertones bring comfort and warmth to your space, creating a relaxing ambiance that is hard to achieve with other hues.
Remember, lighting plays an integral role in any paint color's appearance, and sampling the color before making a wholesale investment in it can save you from unwanted surprises.
Ultimately, the right color can breathe new life into your home, and Benjamin Moore Ballet White could very well be that perfect shade you've been searching for.
Don't be afraid to explore and experiment—it's all part of the joy of making your space truly yours.