Welcome to this blog on home office paint colors, one of the most crucial yet undervalued aspects of setting up a productive workspace within your dwelling.
Have you ever considered how significant color plays in our mood and productivity? When we dedicate a space within our homes for work, choosing the right shade can truly make all the difference.
In this increasingly interconnected age, home office areas are not merely corners where we occasionally check emails or make a few calls.
It's also a dedicated haven for concentration and creativity. Therefore, selecting the right home office paint colors can contribute significantly to sparking that decisive creative edge or keeping one focused on those crunch tasks.
In this blog post, I will guide you along the fascinating journey of color choices and their remarkable psychological impacts! Let's delve in.
How to choose the best color for a home office?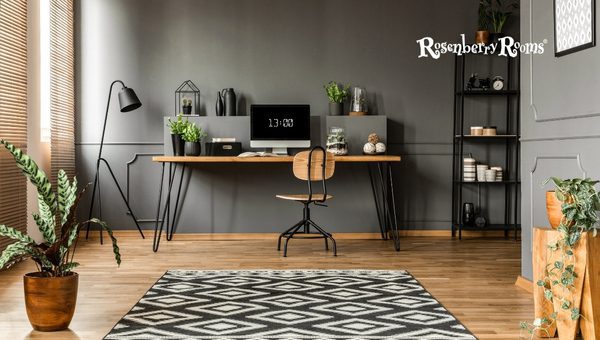 The paramount question is, how does one decide the ultimate shade for their home office? Here are key factors to take into account:
Purpose of the Home Office: First and foremost, it's essential to determine what purpose your workspace serves. For example, vibrant colors like yellow or orange enhance innovation if your work involves creativity and brainstorming.
The Size of the Workspace: If you have a compact workspace, lighter shades can help make the room look spacious; however, with larger rooms, you have more flexibility with darker colors.
Lighting: Bright natural light may wash out some light colors and intensify dark hues; therefore, consider how much sunlight your home office receives before selecting your color.
Personal Preference: Ultimately, choose a color that resonates with you, as different colors trigger different emotions in individuals.
Making such considerations will aid you in pinpointing the best home office paint color for your unique needs.
Remember that online visualizing tools such as Sherwin-Williams' ColorSnap Visualizer can be invaluable aids during this process.
The motive of the Home Office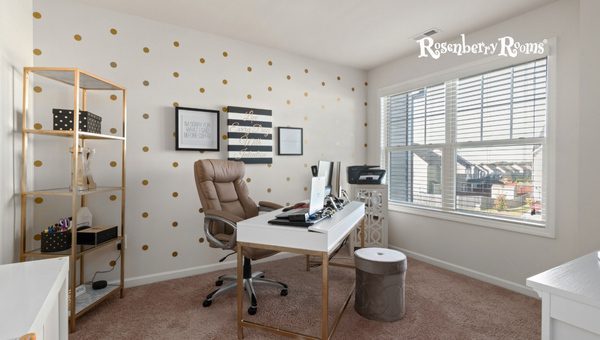 Professionals create home offices for different reasons. The nature of one's work, personal working style, goals, and desired office environment collectively determine the ideal paint color for a particular task or person.
So before choosing, first identify your motives: Are you seeking a calm retreat from a stressful job? Or do you need a lively environment to boost creativity and productivity?
Calm and Focused Work Environment
Soothing colors is advisable if your work requires acute focus and precision. Soft blues or greens usually infuse tranquility and help minimize distractions for prolonged concentration.
Creative Lofty Environment
In contrast, if your profession calls for frequent brainstorming sessions or artistic pursuits, choose stimulating colors that provoke thoughtfulness and novelty. Bright yellows, dynamic oranges, or inspiring purples can potentially enhance creativity.
Hybrid Use
What if your home office serves multiple purposes? Sometimes it functions as an ordinary home office; other times, it transforms into a haven for hobbies or reading.
A neutral palette may be most suitable; hues like earthy browns or versatile grays can easily transition between professional and personal modes.
Understanding the primary function of your workspace is an essential first step in selecting an apt paint color!
Allow this knowledge to guide you towards creating an environment conducive to your work style—after all, our surroundings significantly influence our mental state and productivity levels.
20 Best Home Office Paint Colors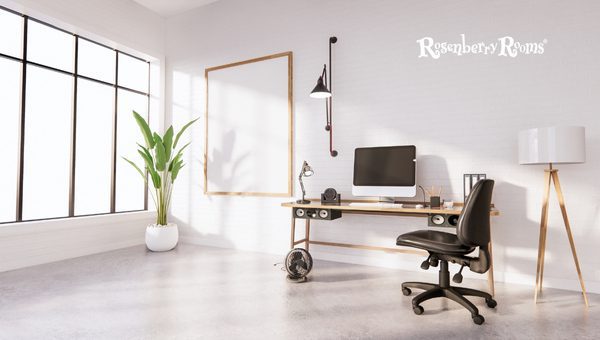 Choosing the right color for your workspace carries more significance than you may imagine. It sets the tone of your environment and affects productivity, engagement, and overall morale.
So, whether you want a vibrant infusion of color to spark creativity or a tranquil hue to induce focus, we have options to help you curate your perfect workspace.
1. Sherwin Williams Naval SW 6244
Allow me to introduce Sherwin Williams Naval SW 6244, a sophisticated mix of deep blue with undertones of gray.
Deemed as Sherwin Williams' color for 2020, it instantly asserts itself as a modern neutral that works splendidly in a home office setting.
Classy Yet Professional: With its lush and abundant aura, this hue oozes class while retaining an air of professionalism. It transforms your workspace into an elegant chamber conducive to focused discussions or brainstorming creative ideas.
Versatile: Mind you, despite its boldness, it's pretty versatile. Coupled with lighter furniture or accents such as cream or beige, it can soften the impact and exude calm while maintaining depth.
Mood Enhancing: Dark tones like Naval create an intimate environment that enhances mood and morale. This balance of comfort and concentration can improve productivity in your home office.
2. Benjamin Moore Revere Pewter HC-172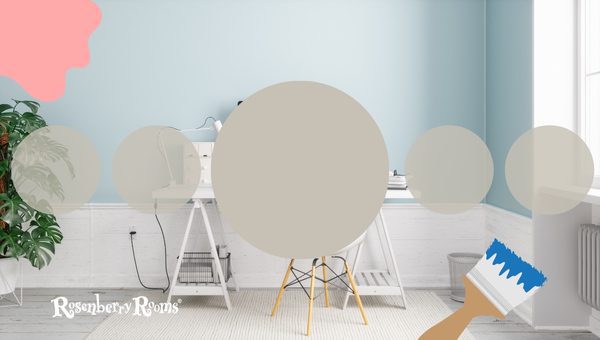 Then we have the ever-popular Benjamin Moore Revere Pewter HC-172. A light gray with warm undertones that blur the line between gray and beige - aptly termed 'greige.' Ideally suited for both small and large spaces due to its chameleon-like character.
Elegance & Subtlety: Light greys are known for their elegance and subtlety; they give off an aura of sleek sophistication without being overly dramatic.
Warm & Inviting: The warm undertones ensure your working space feels inviting rather than cold or sterile - creating an optimal environment for enduring hours of demanding work comfortably.
Pairing Flexibility: This versatile shade can be paired with virtually any accent color without clashing - offering greater flexibility when choosing furniture or decorative pieces.
3. Benjamin Moore Chelsea Gray HC-168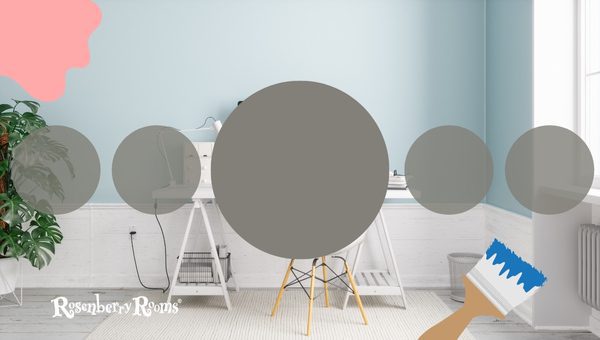 Lastly is another masterpiece from Benjamin Moore – the distinguished Chelsea Gray HC-168. Brimming with panache yet unpretentious – it's a rich medium gray that brings depth and drama into any room.
Versatile Depth: Its deep tone creates versatility by functioning as an accent wall or covering all walls - ideal for striking depth without darkening a room completely.
Showcases Artworks & Furnishings: Chelsea Gray lends a contemporary touch that beautifully highlights artwork or wooden furnishings against its backdrop - thus adding character to your work zone.
Classical Perspective: Its richness offers an incredible potential to turn your office into a classical study-type setting – fostering focus amidst elegance.
Colors considerably transform spaces according to our needs. And choosing wisely could mean making our work-from-home setup less daunting and more inspiring.
4. Sherwin Williams Repose Gray SW 7015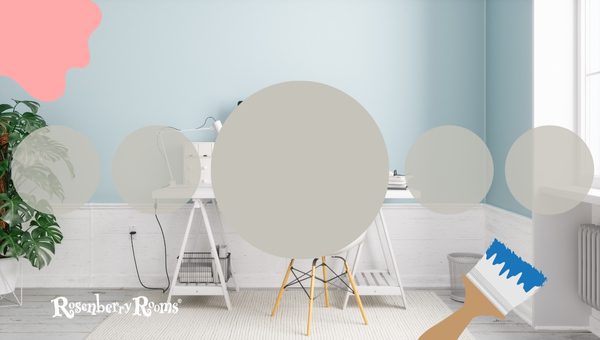 Let me introduce Sherwin Williams Repose Gray SW 7015 in the spectrum of calming colors. This color is a chic light-gray hue with warm undertones that beautifully combines white's serenity and gray's opaqueness.
Features and Benefits:
Versatility: Repose Gray offers unmatched versatility. Its warm undertones ensure it doesn't come off as cold or stark - making it suitable for any room size or purpose.
Neutral Backdrop:
It works as an exceptional neutral backdrop easily complemented by any accent or furniture color, offering incredible flexibility in decorating your home office.
Mindful Mood Setter:
With its soft, peaceful appeal, this color sets a relaxed yet focused mood - great for mindfulness and concentration during working hours.
5. Sherwin Williams Accessible Beige SW 7036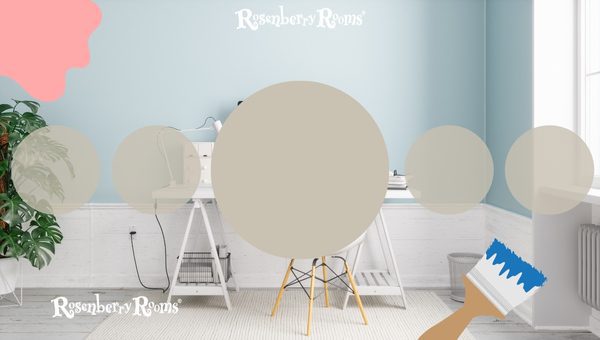 Next up is Sherwin Williams Accessible Beige SW 7036. This delicately balanced color combines the warmth of a beige with the simplicity and modernity of gray to create a comforting tone perfect for cultivating focus.
Features and Benefits:
Warm & Inviting: Accessible Beige has a warm and inviting feel, which is essential in providing comfort during long working hours.
Versatile Blend: The blend of beige with gray allows it to be used in traditional and contemporary-styled spaces without conflict.
Flexible Palette: Its charming balance can blend perfectly with various colors, offering an easy-to-customize palette for your home office setup.
6. Benjamin Moore Kendall Charcoal HC-166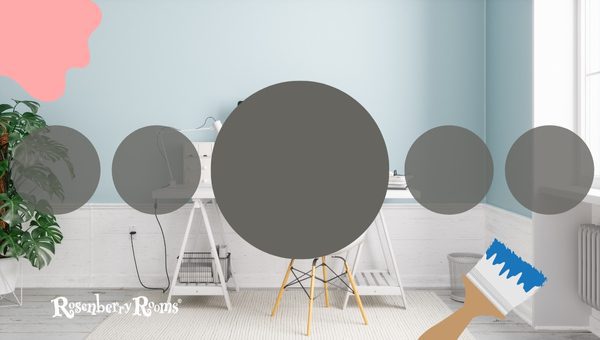 Take unbeaten depth forward with Benjamin Moore Kendall Charcoal HC-166. This deep luxurious shade of charcoal encompasses sophistication and professionalism in your workspace like none other.
Features and Benefits:
Luxurious & Opulent: Kendall Charcoal immediately envelops your home office in luxury upon application. Its opulent feel often excites motivation & productivity.
Complementary Effortlessness: Few colors match Kendall Charcoal's ability to be effortlessly complemented by bright-colored furniture or accents - making it a simple yet effective pick for any workspace.
Depth Provider: When applied wisely, this color provides an unparalleled richness elevating small spaces into looking larger than life.
7. Sherwin Williams Tricorn Black SW 6258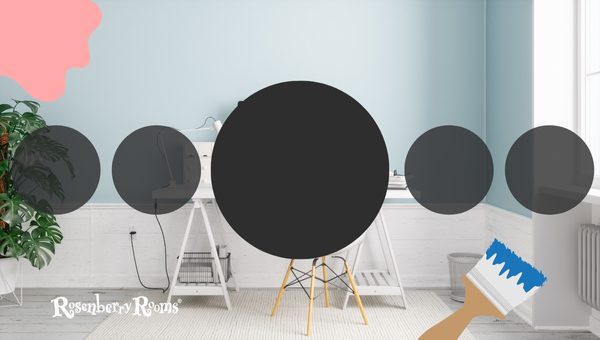 Unlock unmatched elegance at its best with Sherwin Williams Tricorn Black SW 6258. This intense black shade redefines boundaries delivering confidence right onto your walls.
Features and Benefits:
Sophisticated Elegance: Tricorn Black delivers sophistication on another level; whether used at large or sparingly – it instills breakthrough thinking.
Exceptional Accenting Capacity: When used as an accent wall alongside lighter shades – its impact-enhancing properties come alive – making the space profoundly memorable.
Focal Point Creator: It has an uncanny knack for highlighting strategic focal points, useful when highlighting specific work areas.
Every detail of your chosen paint color is crucial in shaping our output. Whether you want tranquility from softer shades or need depth & drama from darker ones – the above-given paint options cater to all demographically versatile requirements.
8. Sherwin Williams Gauntlet Gray SW 7019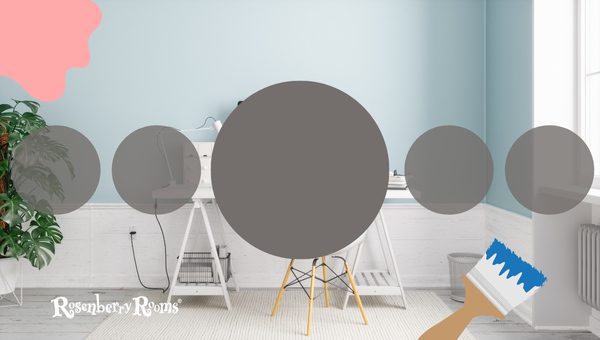 If your workspace cravings revolve around sophistication with warmth, allow me to introduce Sherwin Williams Gauntlet Gray SW 7019.
This medium-dark gray hue emanates elegance and professional class, yet its warm undertones make it welcoming and relaxed.
Features and Benefits:
Warm Yet Professional: Gauntlet Gray balances professionalism with warmth seamlessly. It's ideal for creating a working environment that feels inviting and conducive to high productivity.
Versatile Pairing: Despite its dark nature, this hue pairs wonderfully with various brighter or neutral accents, providing flexibility in workspace decor.
Focus Enhancing: The depth of Gauntlet Gray helps reduce distractions, thus inducing greater focus during work hours.
9. Benjamin Moore Hale Navy HC-154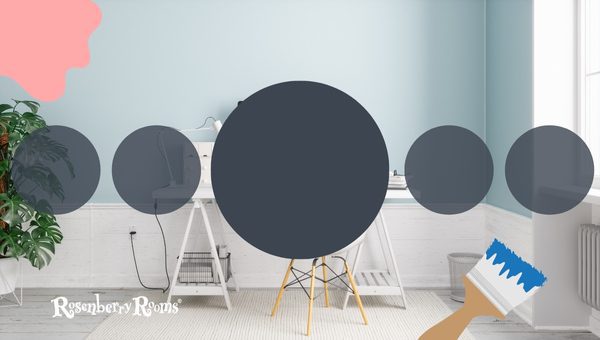 Next up in our journey of colors is Benjamin Moore Hale Navy HC-154, an epitome of strength coupled with sophisticated panache.
This bold yet dark navy blue color stands the test of time by providing an undeniable character to your home office.
Features and Benefits:
Stylish Depth: The remarkable depth Hale Navy lends to spaces adds a rare charm - perfect for making small spaces appear grander.
Inspires Productivity: Its strong presence inspires conviction & drive - ideal for careers requiring decisive actions & productive mindset.
Highly Adaptable: Whether you're veering towards a modern touch or prefer traditional vibes, Hale Navy's adaptability ensures no style is left unmatched.
10. Sherwin Williams Agreeable Gray SW 7029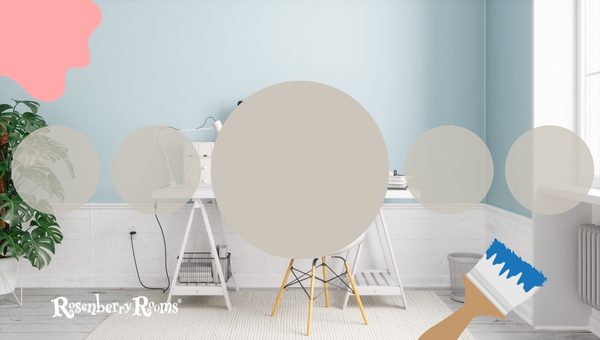 Switching gears towards lighter palettes is the warm and serene Sherwin Williams Agreeable Gray SW 7029.
This light gray shade surprisingly holds warmth; resembling greige it suits almost any type of décor without coming off as dull or cold.
Features and Benefits:
Universally Appealing: Undoubtedly one of the most universally appealing light grey shades - Agreeable Gray's versatility can transform any space into what you envision it.
Soft & Cozy Vibe: Its smooth, cozy vibe is incredibly soothing – making your workspace look good and comfortable.
Optimizes Lighting: Like other light shades, Agreeable Grey optimizes lighting by amplifying natural light's reach – great for those with smaller windows or less sunlight.
11. Benjamin Moore Gray Owl OC-52
Comes Benjamin Moore's Gray Owl OC-52. A light gray-green shade that presents itself as being cool while still carrying undertones of green beige ensures absolute freshness providing much-needed vitality to your workdays!
Features and Benefits:
Revitalizing Undertones: Gray owl's unique blend refreshes tired spirits like rejuvenating greens tend to while ensuring no glaring brightness – so working long hours becomes slightly easier!
Amplifies Space Appearance: Like other lighter hues, this color also tends to visually expand smaller spaces making them appear airy & bigger than they are.
Provides Positive Aura: As per color psychology – green fosters positivity & creativity; paired with unassuming grey – their joint impact could potentially escalate career progression!
Workspace plus Home space mustn't look workplace-like nor too homely! Our balanced range ensures whichever direction your preferences lean toward, you find something matching those preferences wholeheartedly.
12. Sherwin Williams Comfort Gray SW 6205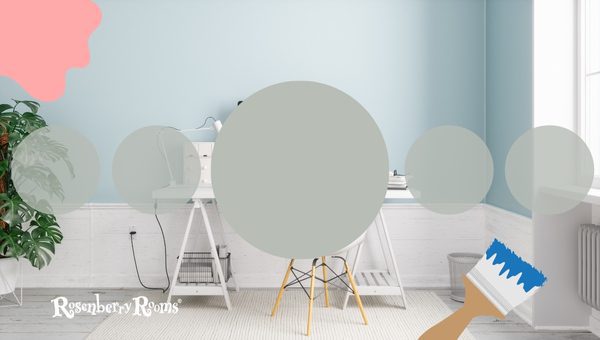 Sherwin Williams Comfort Gray SW 6205 is like a breath of fresh air. As the name suggests, this soothing color envelops your space with an incredibly calming feeling and blends flawlessly into any workspace.
Features and Benefits:
Calming Influence: Comfort Gray has a calming influence that sets a tranquil tone for your workspace—aiding concentration and minimizing distractions.
Versatile Undertones: Its blue-green undertones make the hue much more versatile, adapting according to lighting conditions or complementing decor items.
Coastal Feel: Its slightly coastal feel can remind you of peaceful beach vacations. Such association helps reduce stress levels during demanding work hours.
13. Benjamin Moore White Dove OC-17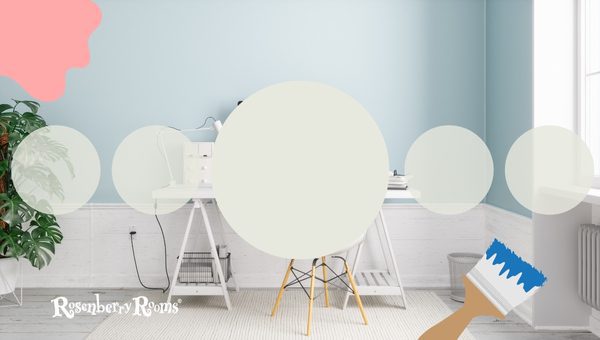 Next is Benjamin Moore's White Dove OC-17, an off-white color that exudes simplicity yet never lacks sophistication. This soft off-white tone instantly lights up any room, keeping it warm and inviting.
Features and Benefits:
Neutral Warmth: Warm undertones save White Dove from appearing sterile or stark. Instead, it projects a refined warmth creating an inviting environment.
Perfect Backdrop: The clean melting characteristics of this shade make it an ideal backdrop suitable for practically any decor style or color scheme. -Classic Favorite:
Over time, White Dove has emerged as a classic favorite amongst designers due to its consistency & adaptability across various application areas
14. Benjamin Moore Metropolitan AF-690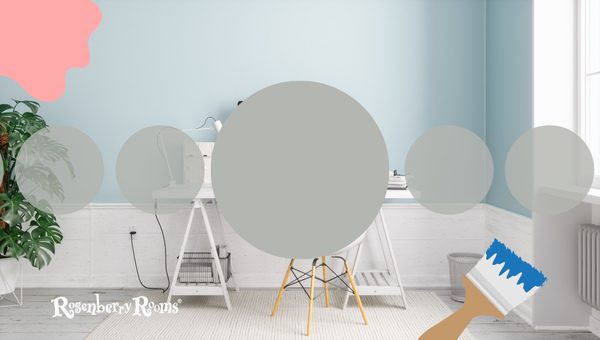 Immerse yourself in urban modernity with Benjamin Moore Metropolitan AF-690. It perfectly balances cool grays and warm beiges, assuring subtle elegance.
Features and Benefits:
Chameleon Quality: Known for its chameleon quality - Metropolitan shifts between gray & beige depending upon the intensity & type of light source it receives.
Sophisticated Simplicity: Reputed for infusing spaces with a feeling of comfort amidst sophistication—making it instead favored amongst color connoisseurs.
Peace Installer: Its muted undertone promotes tranquility making your long working hours feel less exorbitant; thereby ideal for home offices.
15. Sherwin Williams Sea Salt SW 6204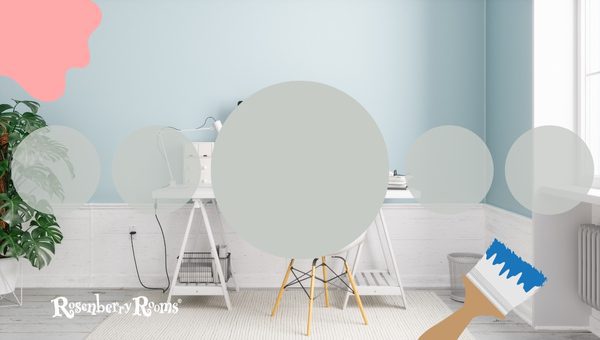 Step into serene depths with Sherwin Williams Sea Salt SW 6204. A remarkable mix cascading between blue, green, and gray, ultimately delivering calmness replicated by none other!
Features and Benefits:
Nautical Vibes: With its muted pastel coloring, Sea Salt transports you to picturesque beach vacation spots—providing fleeting releases from stressful workloads.
Dynamic Undertones: Depending upon lighting conditions, the profoundly dynamic undertones can surface as either blue or green, therefore creating visual interest
Flexible Pairing: Paired strategically with whites or creams—it's capacity to set relaxing ambient settings comes alive—an adept manipulator of mood swings!
16. Benjamin Moore Sea Salt CSP-95
Finally arriving at one that shares likenesses yet is entirely different—the versatile Benjamin Moore's Sea Salt CSP-95.
Its masterly ability to merge gray's steadfast stability with green's refreshing vitality harmonizes mental balance.
Features and Benefits:
Refreshing Appeal: The essence captured through this blend manifests an almost refreshing appeal, an apt energy rejuvenator needed during hectic work schedules.
Immaculate Allusion: In spaces with plenty of natural light, hues appear more greenish, while low-lit areas pull out gray tones—an immaculate allusion!
Warm Undertone: Unlike most cool-toned colors—the warm undertone eliminates starkness while preserving calmness atmosphere—an attribute unrivaled by many
Across every selected shredded layer, it is seen – colors tendentially provoke certain emotions paramount when choosing paint colors for our home offices.
Whether you desire classical elegance produced by white/off-whites or yearn for tranquility delivered by various shades of grey, something aligns with every choice.
17. Sherwin Williams Alabaster SW 7008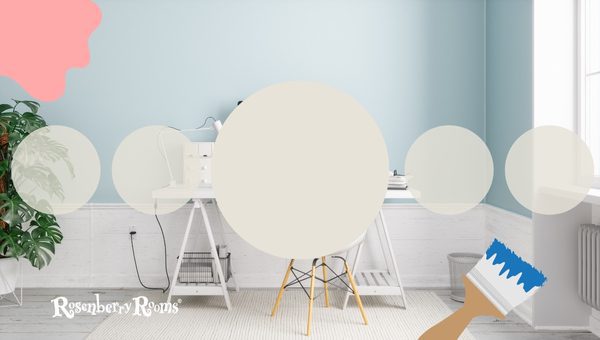 Drench your workspace in an angelic ambiance with Sherwin Williams Alabaster SW 7008. This creamy off-white paint color embodies absolute elegance, is trendy, and exudes ethereal yet earthy vibes.
Features and Benefits:
Serene Charm: Alabaster is remarkable for creating a peaceful atmosphere where creativity can bloom into majestic forms. Its clean and pure charm invokes calm.
Warm Tone: While it's undeniably white, its subtle warm undertones save it from appearing sterile or icy – generating an alert of warmth even in more excellent lighting conditions.
Versatility Extraordinaire: Its neutral character makes it wonderfully versatile. Whether contemporary chic or rustic charm, this color fits effortlessly into any aesthetic, perfectly complementing every style.
18. Benjamin Moore Edgecomb Gray HC-173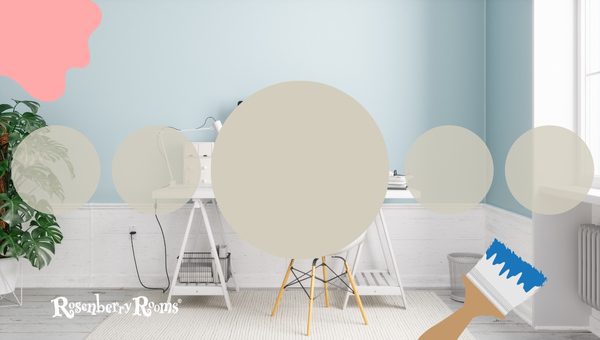 The next masterpiece on our list is Benjamin Moore Edgecomb Gray HC-173. An ultimate greige hue that brings together the best of both worlds - gray and beige - to usher a peaceful aura into your home office.
Features and Benefits:
Soothing Comfort: With its beautifully balanced blend hovering between gray and beige, Edgecomb Gray infuses spaces with comfort & tranquillity essential for productivity.
Attractive Versatility: Neither too cool nor too warm, it is ideally suited to various rooms with different lighting conditions, showcasing attractive versatility regardless of the space size or style.
Elegantly Neutral: As its primary power lies in neutrality, this shade effortlessly coordinates with many other colors – an easy pick for those looking for elegant simplicity.
19. Sherwin Williams Mindful Gray SW 7016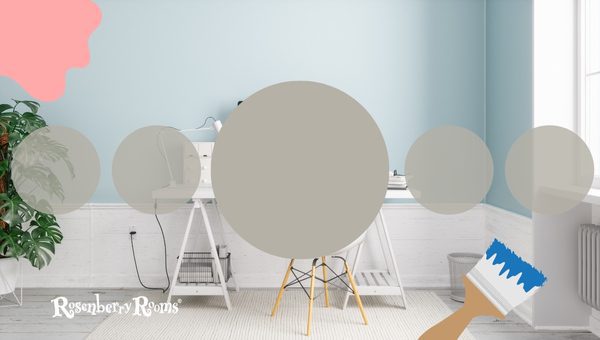 Awaken a sense of mindfulness in your workspace with Sherwin Williams Mindful Gray SW 7016. Positioned comfortably between light and dark gray shades, this alluring paint color fosters focus while adding aesthetic value.
Features and Benefits:
Fostering Focus: With an innate ability to boost concentration & focus, Mindful Gray creates a harmonious environment favorable for tedious tasks.
Harmonious Balance: Striking the perfect balance between lightness and depth adds dimension to your workspace while keeping it light-filled & crisp.
Superb Versatility: It works charmingly with various decor styles & accent colors, making décor decisions feel like a breeze amidst this excellent versatility.
20. Benjamin Moore Simply White OC-117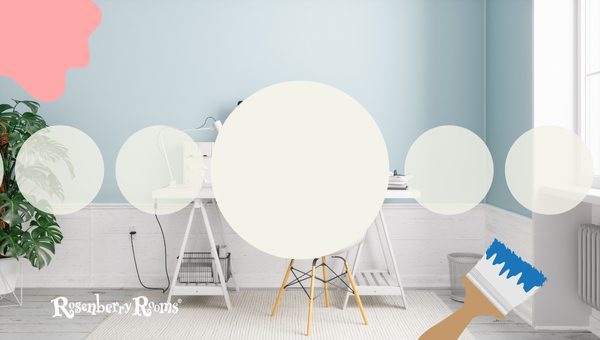 Finally, let me introduce you to Benjamin Moore Simply White OC-117 - no list could be complete without including the incredible unfussed elegance of this classic white shade!
Features and Benefits:
Bright Haven: Simply White transforms the workspace into a brilliant haven filled with positivity – promoting efficiency during work hours.
Striking Pop Effect: When used as trim against more vibrant shades, it creates a striking pop effect bringing out contrast splendidly well.
Ultimate Flexibility: Matching any décor or style seamlessly due to its refined, clean look – hence offering maximum flexibility.
Conclusively choosing the right paint color transforms your home office aesthetically and provides mood-enhancing benefits for boosting productivity! So make an informed choice.
FAQs About Home Office Paint Colors
What are the best colors for a home office?
Blue, green, and gray shades typically perform well in home offices, promoting a calming yet focused environment.
How does color impact productivity in the home office?
Colors can substantially affect your mood and energy levels - cool hues tend to relax and focus the mind, while warmer tones stimulate creativity.
Should I use dark or light color paint in my small home office?
Lighter colors can make a small room appear more extensive and open but don't avoid using darker colors as accents to add depth and richness.
Can I mix different colors within my home office?
Absolutely! Combining different colors can create an engaging visual effect - use darker shades for accent walls or lighter hues to maximize natural light.
Conclusion
Our surroundings hold immense power in influencing our mood, productivity, and overall work experience.
When designing a home office, every detail counts – from the choice of furniture to the shade of whiteboard and especially - the paint colors.
A careful selection that resonates with your job requirements and personal aesthetic can liberate your working hours while improving output noticeably.
The process can seem daunting initially, considering the endless spectrum of colors available; however, being mindful of variables like room size, nature of work, personal preference, and amount of natural light can guide you closer to achieving your perfect workspace.
Remember - you wield the brush here! So give yourself the freedom to explore your unique preferences and let your chosen colors tell their tale. After all, it's about making 'work-from-home' a thing to look forward to daily.