On a warm Sunday afternoon, armed with my painter's smock and synthetic bristle paint brushes, I set off to coat the walls of my home with a fresh layer of Benjamin Moore White Dove OC-17.
Come along as I share my pearls of wisdom about this sublime shade and its transformational effects on any living space.
Everyone invariably would agree with me when I say that white is not just white. It's a myriad palette of tones and undertones, each carrying its own unique character.
Amidst these differing shades, it was the Benjamin Moore White Dove OC-17 that resonated beautifully for me to ignite my creative flame and give life to my much-needed home transformation.
What is White Dove?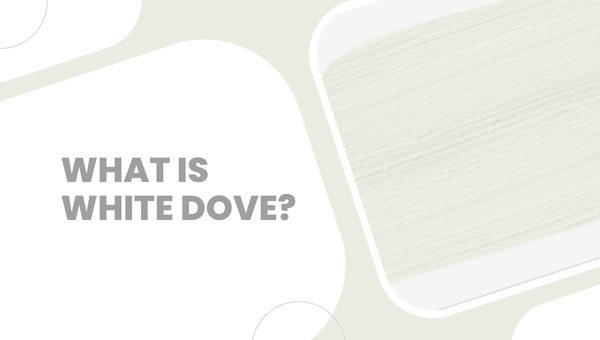 White Dove, formally known as Benjamin Moore White Dove OC-17, is a radiant warm white paint color. Stepping away from the starkness often associated with traditional whites, it boasts a subtle hint of greige undertones.
This beautiful fusion not only softens its expression but also adds a distinct depth and sophistication that shines in any interior design setting.
Starting from Colonial times to the present day, white has been an integral part of American architecture and design. While there are countless versions of white, each with its specific character, White Dove has cinched its place as one of the most popular.
The charm lies predominantly in its versatility. It's complementary to both modern aesthetics and traditional designs. Whether you're aiming for a minimalist vibe or adorning your space with ornate elements, White Dove can effortlessly adapt providing a fresh counterpoint.
Perhaps one crucial aspect worth mentioning is how White Dove responds to light changes throughout the day. With a high LRV (Light Reflectance Value) of 85\%, it reflects substantial light making rooms appear airy and spacious.
But unlike cooler whites that might create an austere ambiance, White Dove, due to its warm undertones maintains a welcoming softness no matter the amount of natural light available.
Warm or Cool? Undertones of White Dove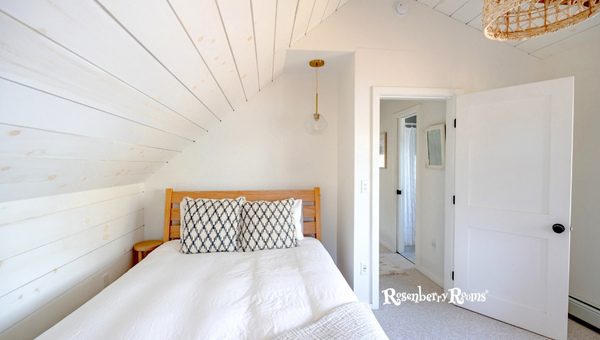 White Dove, Benjamin Moore's enchanting off-white shade, is often categorized as a warm white.
This well-loved hue boasts delicate greige (gray + beige) undertones that stubbornly refuse to subscribe to either fully warm or cool shades.
Instead, it proffers a delightful balance that sets it apart from its other white counterparts.
Subtle Greige Undertones
Delving into the subtleties of its undertone, the charm of White Dove lies in the gentle greige underbelly. Confidence drips from each stroke as neither stark nor overly creamy tendencies float to the surface.
This neutrality is largely why I - and indeed many across the U.S. - am such an ardent fan of this particular paint shade.
The aspect of greige gives this color an understated chameleon-like quality, enabling it to morph suavely within various lighting environments and harmonize effortlessly with a spectrum of accompanying colors.
Adaptability to Lighting Conditions
Proving its prowess as a lighting maestro, White Dove plays well with natural, artificial, and even mixed lighting conditions:
Natural Light: With an impressive LRV (Light Reflectance Value) of 85%, White Dove soaks up plenty of daylight, creating an invigorating yet soft ambiance.
Artificial Light: Under artificial light conditions, such as incandescent bulbs or LED lights, you'll witness a comforting warm glow spreading across your painted walls.
Mixed Light: In spaces where natural and artificial light interplay, expect a serene dance between ever-so-slight grey and warm creamy tones.
Indeed, not many colors can manage their performance under different lights while maintaining their inherent allure quite like our dear White Dove.
If you're looking for a paint color that sits comfortably between warm and cool shades - possessing the rare ability to adapt seamlessly to various settings - let me point you in the direction of White Dove OC-17.
Its warm base married with subtle undertones makes it ready, willing, and astonishingly able to grace walls with elegance befitting any home design dreamer's highest expectation.
Understanding Benjamin Moore White Dove's LRV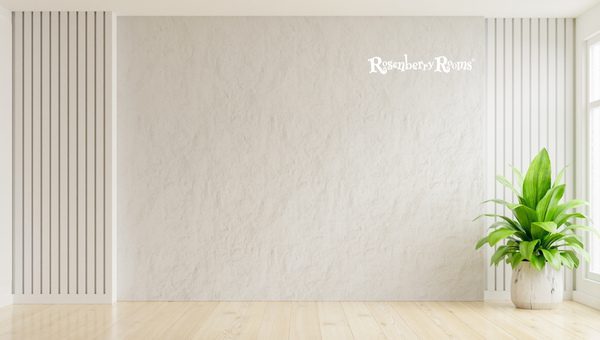 Before diving into whether White Dove appears yellow or gray, it's essential to comprehend the concept of Light Reflectance Value (LRV). Every paint color has an LRV, determining how much light a color will reflect compared to pure white, which has an LRV of 100.
Interestingly enough, our star today, the Benjamin Moore White Dove OC-17, skates in at 85.38. This means it reflects a significant amount of light without making your room overly bright; thus it can bestow upon any room a softly luminous and well-lit glow.
Addressing Misconceptions: Does White Dove Look Yellow or Gray?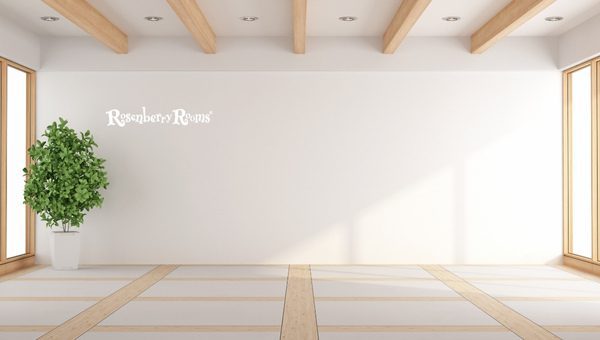 I often hear people debate whether Benjamin Moore's White Dove seems yellow or gray. Well, let me squash this debate right now.
White Dove is an impeccable blend of both warm and cool undertones - not overtly one or the other. While it does have a slight hint of gray to temper the warmth, it's not enough to classify White Dove as a cool color.
On the other hand, despite its subtle creamy warmth that can appear yellowish under certain lighting conditions, rest assured - it doesn't give off an overt yellow vibe.
In fact, the tinge you pick up often relies on different factors including -
The type of light bulbs used in the room
The direction your windows face
The time of day
The coexisting elements and colors within your space.
Sadly though there could be instances where this delightful shade might not play out as expected on your walls, leaving you in a confused state questioning its true nature! But remember folks — colors are like chameleons; they change their appearance influenced by varying surroundings and light exposures.
So before you start questioning if BM's White Dove shows up more gray or yellow on your walls than mine — take a moment to evaluate these factors because after all every home is unique!
With its balanced subtlety that floats somewhere between warm and cool without leaning heavily either way - Benjamin Moore's White Dove OC-17 has earned its rightful position as one of my personal favorite neutrals.
Why White Dove is Popular
In the realm of interior design, the name Benjamin Moore White Dove OC-17 holds a significant place. But what factors led to this soaring popularity? Let's decode the reasons and explore its timeless appeal.
Timeless Elegance
First and foremost, there's something undeniably classic about White Dove. Unlike certain trendy colors that come and fade with time, this shade continues to captivate designers over decades.
The soft white hue imparts a clean, yet inviting look that feels equally at home in a modern loft as it does in a colonial-era farmhouse.
Versatile Undertones
A key aspect that contributes to Benjamin Moore White Dove's popularity is its versatile undertones. While it's unmistakably a warm white paint color, it has just enough gray so it doesn't come off too creamy in most spaces - making it an incredible neutral choice for walls, trims, cabinets, etc.
Lights Up Any Space
With an LRV (Light Reflectance Value) of 85.38, White Dove adeptly reflects light around any room brightening up space further - something that's always well appreciated!
Diverse Application Potential
White Dove doesn't limit you to just walls! It brings a remarkable transformation on kitchen cabinets or as trim work against colored walls. A notable point is how effortlessly it pairs with both cool and warm color schemes.
| Application | Effect |
| --- | --- |
| Kitchen Cabinets | Enhances other colors |
| Trim Work | Creates soothing contrast |
The All-Accepting White
In my personal experiences featuring Benjamin Moore paints, I've noticed that often whites aren't accepted universally simply because they tend to lean towards cooler or warmer sides substantially. This can clash with other design elements in your space.
Now here's where White Dove glows. It tends not to pick a fight with others; instead harmoniously works providing balance to almost any color palette while still maintaining its brightness.
If there were such a thing as the perfect white; one able to work beautifully in any setting or light condition – with perfect warmth without being overly creamy then my choice would undoubtedly be Benjamin Moore White Dove OC-17.
Best Uses for Benjamin Moore White Dove OC-17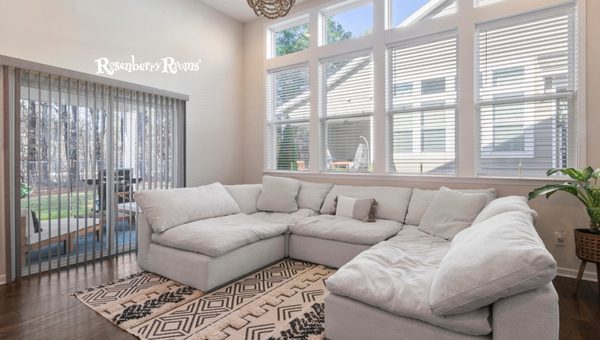 Whether you are looking to brighten a bedroom or add warmth to a communal living space, there is no shortage of occasions to use Benjamin Moore White Dove. Let's take a look at the best potential uses for this versatile hue.
Living Rooms
After recently adorning my living room with this heavenly shade, I've found that it breathes life into this shared space, promoting tranquility and elegance. Its unique adaptability allows it to beautifully harmonize with a variety of decor styles ─ from mid-century modern to cottage chic.
Bedrooms
For bedrooms, I can vouch for the warmth and serenity that White Dove brings. It keeps the room cozy yet sophisticated, creating the perfect backdrop for both light and dark-toned furnishings.
Kitchens
White Dove works wonders in creating light and open kitchens. Connect it with slick metallic accents or wooden finishes; you'll be amazed at its compatibility.
Bathrooms
In bathrooms, White Dove provides the illusion of lightness and expanded space even when applied in smaller or less illuminated areas. The presence of gentle warm undertones ensures that your bathroom doesn't feel icy cold.
Coordinating Colors & Trim Options
I have found that Benjamin Moore's White Dove pairs well with numerous hues due to its balanced white color that isn't too stark nor too creamy.
When choosing the trim color, consider going for shades like Chantilly Lace OC-65 or Simply White OC-117, as both provide crisp lines without any overwhelming contrast against White Dove walls.
Next comes complementary colors. Variations of blue stand in beautiful harmony with the White Dove because they inspire calmness while drawing attention due to their contrasting nature. Additionally, soft sands and beiges help achieve a sophisticated, classic neutrals look alongside the shade.
To assist you further here's a table providing information about these coordinating colors:
| Created By | Color Name | Light Reflectance Value (LRV) | Best Suited As |
| --- | --- | --- | --- |
| Benjamin Moore | Chantilly Lace OC-65 | 92% | Trim Color |
| Benjamin Moore | Simply White OC-117 | 91% | Trim Color |
| Mira Paints | Seaside Retreat ME219 | 60% | Complementary Color |
| Mira Paints | Warm Sand ME092 | 55% | Complementary Color |
Combing decor options and experimenting with various settings is key! Aesthetic preferences may differ from person to person but trust me─ Whatever your style might be, Benjamin Moore's White Dove OC-17 can surely assist in creating your ideal living space!
White Dove vs Other Whites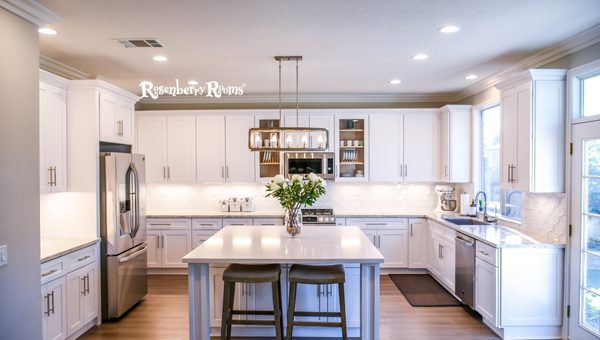 When it comes to choosing a white paint color for any space, White Dove faces stiff competition from other popular shades such as Swiss Coffee, Chantilly Lace, and Simply White.
Swiss Coffee vs White Dove
Swiss Coffee, with its beige undertones and a hint of gray, is an excellent choice if you desire a creamy shade of white that exudes warmth and coziness.
Compared to White Dove which has soft grey undertones with a touch of beige - known as greige, Swiss Coffee often appears warmer and creamier in natural light.
If your room decor calls for a slightly bolder white, Swiss Coffee is for you. While both have their own charm, the choice between the two ultimately depends on your personal preference and your room's lighting conditions.
Chantilly Lace vs White Dove
Chantilly Lace, on the other hand, stands out as one of the brightest whites in Benjamin Moore's paint repertoire.

It is characterized by crispness along with cool gray undertones. When compared to White Dove, which leans towards warmer tones with gritty feel due to its greige undertones, Chantilly Lace appears brighter and cooler.

Thus, if you're aiming for striking contrast or a modern aesthetic feel to your domicile spaces - Chantilly Lace might be a perfect fit.
Simply White vs White Dove
The last comparison we'll dive into is with Simply White. Though it sounds quite modest in its name don't be fooled! Simply White carries an illuminating factor with warm yellow undertones that can make any room glow like sunshine!
Though rated higher in terms of brightness and warmth than White Dove (Soft and subtle hue), so if you are holding torches for modern visuals or contemporary style setups then Simply White could be your way to go.
It all boils down to the aesthetics you wish to create:
Do you want an enticing warmth? Opt for Swiss Coffee.
Are you looking at creating stark contrasts? Go for Chantilly Lace.
Do you want a cozy yet bright ambiance? Choose Simply White.
Or do you prefer understated elegance? Reach out to our unspoken hero of today: Benjamin Moore's 'White Dove' OC-17!
Real Room Examples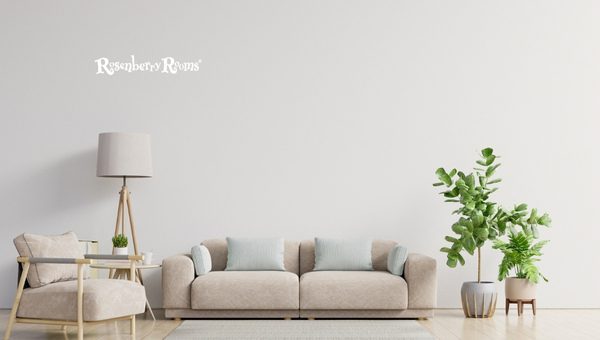 One cannot truly appreciate the transformative effects of Benjamin Moore White Dove OC-17 until one sees it in action.
While describing a paint color can outline its potential, it's viewing it within a space that genuinely brings that potential to life. Explore the diversity and depth of White Dove as we walk through examples in real homes.
Living Rooms
In living room scenarios, two things stand out about White Dove - its unmatched versatility and timeless appeal.
Spaces rich with natural light seemingly illuminate even brighter with White Dove coating the walls, generating an airy tranquility that invites relaxation.
At night, artificial light highlights subtle gray undertones providing warmth and intimacy that's hard to match. It pairs stunningly with natural wood tones, offering a calming refuge from the outside world.
Take for instance this beautiful living room which uses White Dove on the walls. The result is a serene yet modern aesthetic. Its unique ability to adapt seamlessly to changing lighting conditions is truly commendable!
Dining Rooms
As we transition into dining rooms, this adaptable shade continues its showcase of radiance. Whether combined with dark mahogany furniture or aligned with a minimalist style featuring chrome and glass details, White Dove remains unflinchingly charming.
One particular contemporary dining room example has White Dove accentuating its architectural details, brilliantly pairing off against a brilliant blue artwork. The warm white hue balances beautifully against the art's cool undertones, tying the room together seamlessly.
Entry Foyers and Bedrooms
In entry foyers, White Dove creates popping contrast against colorfully painted doors while maintaining an inviting ambiance for your guests right from their first step inside your home!
The stage set here navigates beautifully into bedrooms where White Dove reigns supreme by creating sanctuaries of tranquility!
Its ability to reflect both natural and artificial light makes small spaces appear larger while leaving larger rooms feeling cozy but not overwhelming.
White Dove in Specific Applications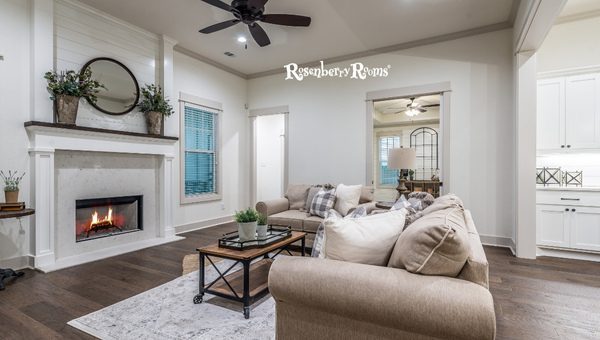 Benjamin Moore's White Dove OC-17 is a knockout punch to drab interiors and it embellishes them with an amplified radiance.
Its exceptional versatility allows for its application on several focal points in a room. Notably cabinets, fireplace mantels, and painted brick fireplaces are areas where White Dove shines.
Cabinets
Nothing livens up a kitchen quite like transforming your cabinets with the hues of White Dove. Despite the color being predominantly used on walls, it makes quite a stunning statement when applied to cabinetry as well.
The beautiful blend of warm undertones complements both light and dark-toned countertops and fixtures marvelously, offering a wide range of options for your design needs.
Fireplace Mantels
When used on fireplace mantels, White Dove breathes new life into your living area or bedroom's focal point as well as gives the room an airy feel.
The creamy consistency allows the texture details of wooden mantels to shine through while giving a nod to classic elegance.
In addition, it enhances intricate detailing and moldings on your mantle without distracting from their artistic beauty. Paired with other neutral tones, like grays or beiges, it creates a harmonious color balance that feels inviting throughout seasonal changes.
Painted Brick Fireplaces
Naturally textured elements, like brick fireplaces, truly spark when slathered in this hue. The softness of White Dove against the rugged brick canvas creates an interesting contrast that becomes an eye-catching statement piece in any living room.
A painted white brick fireplace gives off an appealing vintage charm while enabling you to enjoy its architectural beauty and rustic texture without overwhelming the room's color scheme.
White Dove with Gray Trim: A Timeless Combination
The dance between Benjamin Moore White Dove walls with gray trim is a ballet of color harmony, with just enough contrast to accentuate architectural details without stealing the show. It drapes your rooms in an air of sophistication that's simply undeniable.
Selecting the Right Shade of Gray
Choosing the perfect complementary gray trim is an art all its own. The critical aspect to remember is matching the undertones.
Our star, White Dove, has soft warm undertones. So when sifting through possible grays for your trim, ensure they have a warmer undertone too.
Benjamin Moore's historical colors like 'Revere Pewter' or 'Chelsea Gray' have been beloved by homeowners for their ability to pair well with White Dove's warm glow.
Test Before Commitment
A simple paint swatch could hardly portray how a color will look throughout the day. So, invest in some sample pots and brush them out onto larger areas of your walls or trim.
Watch how it evolves under different lighting conditions–morning sun, afternoon glow, evening dim–to get a complete understanding of its chameleon nature.
An Impact on Room Size
It's worth noting that using darker grays on trim might make your spaces feel smaller - a trick often deployed in expansive rooms where coziness is sought after.
In contrast, if you're dealing with smaller rooms and want them to appear more spacious, keeping your trims light like Benjamin Moore's "Stonington Gray" may be an ideal choice.
Here are some popular gray trim choices:
| Gray Color | LRV |
| --- | --- |
| Chelsea Gray | 22 |
| Revere Pewter | 55.51 |
| Stonington Gray | 59 |
Glam Bedroom and Craft Room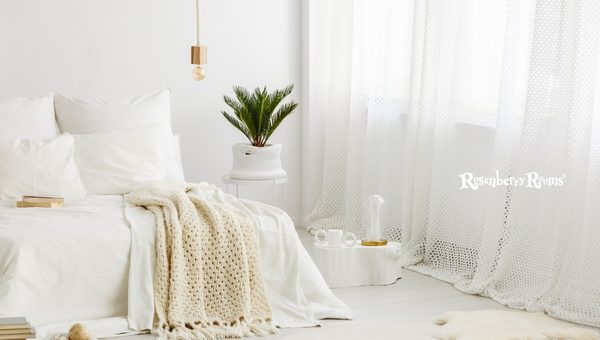 When it comes to crafting a bedroom that flawlessly walks the delicate line between elegance and chic, Benjamin Moore White Dove OC-17 really comes into its own.
This ethereal shade of white hues running throughout the room can conjure an intimate atmosphere. A sense of timeless elegance with modern subtleties is intertwined with the ambiance.
Glam Bedroom
Imagine having an elegantly plush tufted hatbox ottoman at the foot of your bed or perhaps a decadent velvet wingback chair sitting gracefully in one corner.
The gentle yet vivid nature of White Dove would perfectly accentuate these rich textures, adding to their inherent flamboyance without making them look overstated or gaudy.
You could also complement this idyllic color palette using silver, gold, or champagne accent pieces. Think metallic light fixtures, mirror frames, or even door handles and drawer knobs!
Again, with White Dove, you have a neutral backdrop that allows these opulent elements to shine without distracting from the cohesive aesthetic of your room.
Craft Room
Now let's walk across to your craft room - an absolute haven for unleashing your creativity. Choosing White Dove OC-17 as the dominant wall color here would be a great decision.
It's warm undertones and stark clarity act as a canvas for your artistry while also adding a sense of spaciousness.
For instance, if you are into painting or sewing, you would appreciate how this particular shade doesn't compete with the colors of your fabrics or art supplies. It maintains transparency and allows your creative materials' hues to dominate visually.
Moreover, pair up White Dove walls with open wooden shelving or glass-door cabinets filled with vibrant supplies for contrast. With this combination, not only is everything at arms' length but it becomes part of the overall décor as well.
| Room Type | Wall Colour | Accent Pieces |
| --- | --- | --- |
| Bedroom (Glam) | Benjamin Moore White Dove OC-17 | Silver/Gold/Champagne |
| Craft Room | Benjamin Moore White Dove OC-17 | Open wooden shelving/Glass-door cabinets |
To sum it up — whether it's achieving that glamorous look in your personal space or creating an inspiring creative huddle in your craft room; Benjamin Moore White Dove OC-17 indeed stands out as a breath-taking choice!
FAQs About White Dove OC-17
Why is Benjamin Moore White Dove OC-17 so popular?
Benjamin Moore White Dove OC-17 is popular due to its versatility, the warm white hue with soft gray undertones perfectly balances any room's aesthetics, giving it a sophisticated and modern look.
What kind of undertones does White Dove have?
White Dove by Benjamin Moore has a hint of gray and beige undertones, often referred to as 'greige.' It radiates a neutral character, making it easy to pair with other colors.
Does Benjamin Moore White Dove OC-17 appear yellow or gray?
Despite the subtle undertones of 'greige,' White Dove does not predominantly lean towards yellow or gray. It maintains a clean white appearance in most lighting conditions.
Can I use White Dove OC-17 for both interior and exterior spaces?
Absolutely! The adaptable nature of Benjamin Moore's White Dove makes it an excellent fit for both indoor and outdoor applications, including walls, trim, doors, and exteriors.
How does Benjamin Moore's White Dove compare to other white paints?
Compared to other whites like Simply White or Chantilly Lace, White Dove sports warmer undertones which can bring coziness and elegance to your space—making it less stark but equally refreshing.
Conclusion
All in all, the charm of Benjamin Moore White Dove OC-17 lies in its unmatched versatility and timeless elegance.
Its warm, inviting hue creates a serene atmosphere that calms the senses, while also encouraging creative exploration. From lighting up a sophisticated bedroom to fostering an inspiring environment in your craft space, there's no denying the transformative power of this shade.
Choosing the perfect white paint might seem daunting with endless options at your disposal. Yet, White Dove stands out as classic, flexible, and adaptable to varying design schemes.
After my painting quest with Benjamin Moore's White Dove OC-17, I'm convinced you'll find it as enchanting as I do.