Have you ever experienced those unbearable hot summer nights when you can't seem to find a cool spot on your bed, no matter how much you toss and turn?
What about those uncomfortable, sweaty evenings when even the lightest sheet feels too heavy? You, like many others, may be in need of the best bed cooling system.
Imagine the comfort of settling under your sheets at night and feeling a gentle, calculated coolness around your body.
You control not just your room's climate but the very fabric beneath you, promoting perfect sleep conditions. Goodbye, interrupted sleep from overheating; hello, refreshing slumber!
Picking a suitable bed cooling system is not an easy task, given the multitude of options. As we go along this selection journey together, we'll discover what makes some systems stand out from the rest.
Do bed cooling systems really work?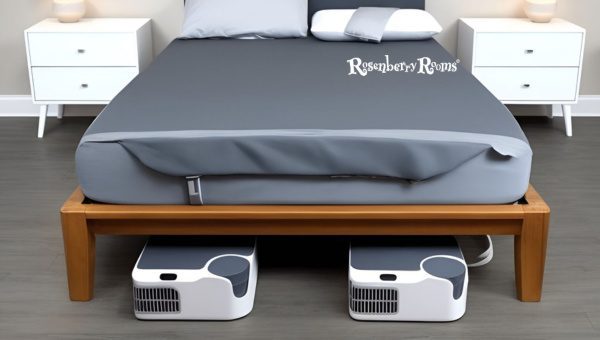 Yes, bed cooling systems do work. They use technology to actively regulate the temperature of your bed actively, making it cooler or warmer based on your personal preferences. This can improve the quality of your sleep by ensuring you remain comfortable throughout the night.
Many bed cooling systems also have features such as timers and automatic adjustments based on ambient temperature changes.
12 Best Bed Cooling Systems of 2023
Overheating at night and struggling to find the perfect sleep temperature is a common issue that many of us face. A good solution to keep your cooling worries at bay is investing in an efficient bed cooling system.
Let us dive into the world of bed cooling technology and explore some of the top products available today for achieving the perfect sleep environment.
Read More: Best Time To Buy A Sleep Number Bed In 2023 [Get 50% Off]
Eight Sleep Pod Cooling Mattress
The first on this list is the Eight Sleep Pod Cooling Mattress, an innovative product that combines comfort and technology. Embedded with AI sensors, it adjusts temperature throughout the night to facilitate uninterrupted sleep, giving you personalized comfort.
It's designed to heat or cool each side of the bed separately, addressing varying preferences between partners. Easy control with an app makes it user-friendly, enhancing your overall sleep experience.
The mattress not only offers excellent thermal regulation but also has five layers designed for pressure relief and supportive contours to add further value for a sound, restful night's sleep.
Pros
Personalized Temperature Control
Enhanced Sleep Quality
Separate Side Adjustments
Continuous Software Updates
CONS
Potential High Cost
Membership Required
Sleepme Dock Pro Sleep System
Comfort and innovation meet in this well-designed product - The Sleepme Dock Pro Sleep System. Aiming for a superior sleeping experience, it encapsulates dual functions: actively heating or cooling your bed based on your preference. Its built-in advanced biometric tracking monitors and analyzes your sleep patterns.
You can remotely manage this system through an easy-to-use smartphone app – giving all controls in your hands – from setting the preferred temperature to tracking your sleeping pattern insights.
Pros
Active Temperature Management
Advanced Biometric Tracking
Remote Smartphone Control
Personalized Sleep Insights
CONS
Possible Privacy Concerns
App Dependency
ChiliSleep OOLER Sleep System
Next up is the ChiliSleep OOLER Sleep System, a revolutionary product aimed at transforming the way you sleep. This system uses hydro-powered temperature control to provide a cool-to-the-touch feel throughout your sleep cycle.
With adjustable controls between 55-115°F, it offers an extensive range that suits everyone's preference. Equipped with an auto-cleaning feature, it promotes hygiene while boosting your sleep health.
Packed with these intricate features, including noiseless technology and app-control support, the OOLER system is all about achieving sleep perfection—every night.
Pros
Wide Temperature Range
Fits Any Bed Size
Dual-Zoned Temperature Control
Machine Washable Topper
CONS
Ambient Conditions Affect Performance
Possible Complexity with Scheduling
Needs Medical Note for HSA/FSA
Chilipad Pro Mattress Pad
The Chilipad Pro Mattress Pad brings a unique blend of technology and comfort into your bedroom. Through a water-based cooling or heating system, this pad can transform your existing mattress into a customized sleeping haven between 55-115°F.
Not only does it regulate temperature for ideal slumber conditions, but it also enhances energy efficiency by reducing unnecessary AC use – promoting a green lifestyle.
The Chilipad design allows you to tailor separate cooling or heating zones if you're sharing your bed - making both you and your partner happy and comfortable.
Pros
Regulated Temperature Control
Improved Sleep Quality
Year-Round Use
Dual-Zoned Option Available
CONS
High Initial Cost
Sleep Tracker Required
Potential Maintenance
Elegear Revolutionary Cooling Blanket
The Elegear Revolutionary Cooling Blanket provides cool relief on hot summer nights and is simple in its use while being highly effective.
This innovatively designed blanket incorporates advanced Japanese Q-Max arc-chill cooling fibers that readily absorb body heat – making you cooler than conventional blankets! The best part? It's dual-sided – one side cools you during those sweaty nights, while the flip side gives warmth in freezing winters.
Just switch according to seasonal needs. It's machine washable and easy to care for, making sure that comfort meets convenience right here.
Pros
Efficient Heat Absorption
Versatile Usage Scenarios
Easy Machine Wash
Dual-Sided Comfort
CONS
Limited Size Options
Possible High Cost
Care During Wash
Eight Sleep Pod Cooling Cover
Craving for a superior cooling experience? The Eight Sleep Pod Cooling Cover comes to your rescue. It's an upgrade to your mattress, turning it into a dual-zone cooling and heating system.
This cover pairs perfectly with any mattress and connects seamlessly to the Eight Sleep app so you can set ideal sleep temperatures for each side of the bed.
That's not all; its advanced AI learns about your sleep patterns and then auto-adjusts the temperature for optimal rest and recovery.
So whether it's brisk winter nights or scorching summer evenings, the Pod Cooling Cover ensures you maintain your perfect sleeping temperature.
Pros
Dynamic Heating/Cooling
Personalized Sleep Experience
Health Metrics Monitoring
Gentle Wake-Up Alarm
CONS
Potential Privacy Concerns
Limited to Two Users
Requires Regular Refilling
Anni Star Water Cooling System
The Anni Star Water Cooling System is another excellent cooling solution characterized by its exceptional use of water-based cooling technology. This system is designed to address overheating by improving your body's thermoregulation.
What sets it apart from others is its adjustable temperature control, where you can easily shift between 75°F to 118°F, depending on what feels comfortable to you.
The double-insulated water hose guarantees safe use without worrying about leakage issues. This eco-friendly system won't just heighten the quality of your sleep but also save energy costs.
Pros
Effective Cooling System
Customizable Comfort
Enhanced Sleep Quality
Safety Features
CONS
Possible Technical Errors (E1 Error)
Maintenance Required (Water Refill)
Potential Noise (Fan Settings)
Thermacycle Water Circulating
Enter a new dimension of comfort with the Thermacycle Water Circulating bed cooler – designed for those who crave ultimate comfort during their sleep hours.
Its innovative circulating water technology efficiently sustains a constant temperature that results in an improved sleeping environment tailor-fit to your liking – from 55°F up to 115°F.
Free from any hazardous electromagnetic radiation, this product promises a safe way to achieve rejuvenating rest night after night.
Appreciated for being noise-free compared to fans or air coolers, Thermacycle also seems an excellent choice when it comes to quiet nighttime relaxation.
Pros
Climate-Controlled Comfort
Reduces Night Sweats
Soothes Muscle Pain
90-Day Money-Back Guarantee
CONS
Single Temperature Zone
Limited Bed Sizes
No Mention of EMF Protection
Mattress Cooler Classic
Get into a cool bed each night with the Mattress Cooler Classic, which robs heat away from your sleeping environment. Its "Chilled Hydronic Pad" is placed on top of your existing mattress and below the sheets, essentially turning your current mattress into a cooling system.
Operating on the principle of thermodynamics, this system uses evaporative cooling to help you sleep comfortably at night without heavy energy consumption.
In terms of affordability and effectiveness, the Mattress Cooler Classic is certainly an excellent value-for-money bed cooling system that can make hot, sweaty nights a thing of the past.
Pros
Effective Body Cooling
Aids Health Recovery
Low Operation Noise
Reduces Energy Expenses
CONS
Regular Maintenance Needed
Potential Overfill/Overflow
Pad Replacement Necessary
Slumber Cloud Performance Mattress Pad
Say hello to dreamy nights with Slumber Cloud's Performance Mattress Pad. Known for its core technology, Outlast, used by NASA, it employs Thermocule technology to absorb and dissipate excessive body heat efficiently.
The hypoallergenic pad adjusts to fluctuations in body temperature to ensure uninterrupted sleep cycles. Plus, it is compatible with any mattress and comes in various sizes.
The quilt-like design adds an extra comfort layer to your bed and ensures that not only does it perform well but also looks aesthetically pleasing.
Pros
NASA-Engineered Temperature Regulation
Ultra Lightweight and Breathable
Proactive Temperature Control
Easy Maintenance
CONS
Possible Comfort Variability
Only Temperature Features
Limited Thickness Adjustment
Brightfootbook Cooling Mattress Topper
The Brightfootbook Cooling Mattress Topper is a fantastic option for those looking for both cooling assistance and added comfort for their bed.
This innovative product uses gel-infused memory foam that regulates temperature effectively while adding softness to enhance the comfort levels of your bed.
It provides stress-relief supporting points, which means not just better sleep during hot nights but also improved spine alignment and added relief from pressure points.
Pros
Continuous Cooling Technology
Eco-Friendly, No Pollution
Energy-Efficient Operation
Integrated Massage Function
CONS
Potential Mechanical Failures
Requires Water Supply
May Have Noise
BedJet 3 Climate Comfort Sleep System
Heat up or cool down your bed in minutes using the BedJet 3 Climate Comfort Sleep System! Designed exclusively for bed use, it's adjustable to suit individual needs throughout all four seasons.
Smart home compatible with Alexa, this system gives comprehensive cooling and heating solutions for those who often feel too hot or too cold during the night.
It also features a dual-zone option for couples with different preferences. With BedJet 3, experience the ultimate in-sleep comfort and wake up refreshed every day.
Pros
Rapid Air-Based Cooling
Universal Mattress Compatibility
Biorhythm Sleep Technology
Free Fast Shipping
CONS
Possible Noise Issues
Potential Power Consumption
Limited International Availability
Types of Bed Cooling Systems
When it comes to striking a balance between a comfortable temperature and optimum sleep, bed cooling systems serve the purpose meticulously.
Choosing a suitable cooling system can become intimidating, given the wide variety available on the market.
There are two types of bed cooling systems available today: Passive and Active. Each comes with unique features and benefits that cater to varied user needs.
Also Read: 10 Best Rollaway Beds of 2023 [Types, Materials, And Price]
Passive Cooling Systems
Passive cooling systems provide an easy and non-powered way to maintain a cooler sleeping environment. They work under simple principles:
Materials: These systems are made up of materials like gel-infused foams or naturally cool fabrics that help dissipate heat.
Operation: Passive bed cooling systems absorb and spread out your body heat instead of actively expelling it.
Types: Cooling mattress pads, cooling blankets, cooling sheets, and cooling pillows fall into this category.
These are usually more affordable than active systems and don't require any setup apart from placing them on your bed.
Active Cooling Systems
When you're looking for something much more efficient in temperature regulation on your bed, active bed cooling systems come into play.
Technology: The active systems use powered technology such as air fans or water pumps to provide coolness.
Operation: They act directly against the source of heat using energetic processes.
Types: Systems that utilize circulating water or air fall into this category.
Though they might involve a more complicated setup process than passive options and cost more initially, the level of control they offer over your sleep climate is unparalleled.
What things to consider before buying bed cooling systems?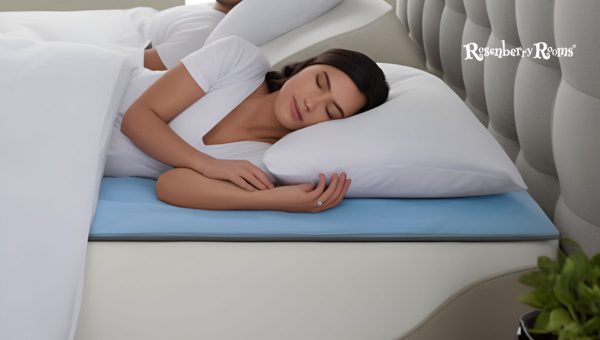 Before diving into the world of bed cooling systems, it's essential to know what to look for. Make an informed decision by considering several important factors.
Whereas one product might tick all your boxes, knowing what specific aspects to prioritize will ensure you find a bed cooling system that suits your sleep needs. Let's explore some of the key considerations:
Also Read: 15 Best Mini Crib Mattresses of 2023 [How Do I Choose?]
Bed Size Compatibility
One of the first things for you to consider when shopping for a bed cooling system is whether it matches the size of your bed.
Ensure that the cooling system is compatible with your sleeping quarters to ensure it provides maximum coverage and effectiveness.
Just like conventional mattresses and mattress toppers, most cooling systems come in a variety of standard sizes, like twin, queen, or king.
However, always double-check dimensions before purchasing, as some variations may occur between brands or even specific models within a brand.
Noise Levels
As peace and tranquility are necessary for a refreshing sleep, noise levels are a significant consideration when choosing bed cooling systems.
While no cooler is completely silent, some can run pretty close. Look for ones that don't exceed white noise levels.
Many high-end products offer ultra-low noise operation by using state-of-the-art technology that minimizes mechanical sounds.
Bear in mind that although active coolers might offer more efficient temperature regulation, they also generally produce more noise than passive coolers due to their operational mechanisms.
Cooling Technology
The effectiveness of a bed cooling system ultimately comes down to its underlying technology.
While some units use fans to circulate air, others use water-based systems for heating or cooling.
Systems incorporated with breathable fabrics or hi-tech materials like gel-infused memory foam can significantly enhance the cooling effect.
Consider which type would be the best fit for your usage and lifestyle. Each has its pros and cons—it's about weighing them according to your preference.
Energy Efficiency
Investing in an energy-efficient bed cooling system not only reduces your bills but also contributes positively to the environment.
Look for a system that consumes less power without compromising on its performance.
Some active systems come with energy-saving modes that reduce power intake after certain hours of operation.
The most efficient systems will balance effective temperature regulation with lower overall energy consumption.
Price and Warranty
Consider the cost factor and warranty policies before making a final decision.
Opting for a budget-friendly option might seem appealing initially, but it's essential not to compromise on quality or durability.
A more expensive model could save you money in the long run if it offers better durability and requires fewer repairs.
Always check out the warranty details—products offering extensive warranties assure their reliability and longevity. A brand that stands by its products is always a good sign.
Explore More: When Do Costco Mattresses Go On Sale In 2023? [Up to 60% Off]
FAQs about the best bed cooling system
Why do I need a bed cooling system?
A bed cooling system can greatly improve your sleep quality by maintaining a comfortable temperature, preventing overheating, and reducing sweat during the night.
Do bed cooling systems consume a lot of electricity?
While they do use electricity, many modern systems are energy efficient and don't consume significant power. Some even come with energy-saving modes.
Can I use a bed cooling system with any mattress type?
Yes. Bed cooling systems are designed to be compatible with virtually all mattress types, including memory foam, latex, innerspring, and hybrid.
Are bed cooling systems easy to clean and maintain?
Most bed cooling systems either have removable parts that are machine washable or require simple wipe-down cleaning.
How long does it take for a Bed Cooling System to change the temperature effectively?
The majority of bed cooling systems begin affecting the temperature immediately but may take several minutes to reach optimal temperature based on your settings.
Conclusion
As you can see, a bed cooling system could be the answer to your sweaty, uncomfortable nights. With variations in size, price, and technology, there's something out there for everyone.
Consider your needs and preferences before investing in one. From passive systems that subtly regulate temperature to active systems that offer meticulous control over your sleep climate, you have plenty of choices.
The good news is modern advances mean these systems are now more affordable, reliable, and energy efficient than ever before. A bed cooling system is truly the Sleep Savior we didn't know we needed!