As your little bundle of joy prepares to make its grand entrance into your home, every detail should be scrutinized to ensure quality and comfort. After all, your baby's wellness is the topmost priority.
Among these priorities is selecting the best mini crib mattress– an essential part that often goes unnoticed.
It's incredibly crucial to understand that not every mini crib mattress is created equal. The choice you make will directly affect your baby's sleep quality, growth, and, most importantly, safety.
Hence, it is vital to pick one wisely that encompasses all the necessary features and fits comfortably in that cute little crib you've got ready for them!
Let us guide you through this process so you may feel confidently equipped in your journey toward optimal baby care.
Does a Mini Crib Mattress promote better baby sleep?
Yes, a Mini Crib Mattress can promote better baby sleep. This is due to its smaller size, which provides a cozier and more secure environment for the baby.
The firmness of a Mini Crib Mattress also plays an important role in promoting better sleep as it gives proper support to the baby's body, thus ensuring they feel comfortable.
Many mini crib mattresses are of high quality and free from harmful chemicals, providing a safer sleeping atmosphere for the baby.
Individual experiences may vary, and it's always recommended to adhere to safe sleeping guidelines proposed by your pediatrician or childcare expert.
What are the types of Mini Crib Mattresses?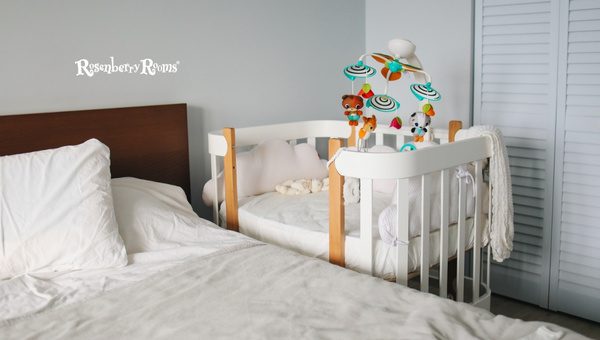 Choosing the right mini crib mattress involves understanding the types available and aligning them with your baby's needs.
A quality mattress not only makes your little one's crib comfortable but also provides a safe environment for their delicate structure.
There are typically two main types of mattresses to consider: foam mattresses and innerspring crib mattresses.
Also Read: Different Types Of Canopy Beds [Top 20 Canopy Beds In 2023]
Foam Mattresses
An ideal foam crib mattress for your tiny tyke would be soft yet firm, lightweight, and provide ample support for their little bodies.
Keep an eye on the foam's density, as you don't want it to be excessively soft, which might impact the baby's posture or sleeping pattern adversely.
Most foam mattresses are made from polyurethane derived from petroleum; however, many manufacturers now lean towards more eco-friendly options such as plant-based or soy-based foam.
It's beneficial to examine the mattress for possible chemical treatments, asking about flame retardants, VOCs (Volatile Organic Compounds), and other potential toxins.
While lighter in weight than other types of mattresses — which can make changing sheets a breeze — foam ones may wear out faster.
Innerspring Crib Mattresses
For long-lasting durability and firmness, you might want to consider an innerspring crib mattress. This type utilizes internal steel coils for support and usually includes layers of cushioning material over the coils.
An important factor here is coil count– more coils generally mean firmer support and higher quality. Typically, anything over 150 is good and provides the necessary support.
A nice feature found in some innerspring models is border rods — these hefty wires that surround the edge of the mattress offer stability, weight distribution, and edge support when a child pushes on it.
Despite being more substantial than foam mattresses — making sheet changes more difficult – they tend to hold up better over time.
Organic Crib Mattresses
If your priority is minimizing your little one's exposure to harsh chemicals, then an organic crib mattress might be just right.
Crafted from natural materials such as cotton, wool, or latex — they avoid using synthetic fibers or harmful chemical treatments.
Many parents find peace of mind knowing their child won't be inhaling any off-gassing fumes from traditional mattress materials. It's essential to understand that the term 'organic' in mattresses can be a bit misleading.
Pay attention to all the materials used and ensure third-party certifications like GOTS (Global Organic Textile Standard) back the claims.
Waterproof Crib Mattresses
A waterproof crib mattress is a perfect choice for those potentially messy nights and can prove incredibly convenient for quick cleaning and hygiene maintenance.
It has a water-resistant outer layer that helps protect the inner materials from potential water damage or absorbed odors.
Some mattresses feature waterproof binding, which means all seams of the mattress are also water-resistant. This can prevent any leakage from seeping inside the mattress threads, thus increasing durability and life span.
Explore More: Waterbed Costs Of Various Sizes At Different Stores 2023
Flippable Crib Mattresses
Flippable crib mattresses are developed with versatility in mind and are designed to adapt as your infant grows into a toddler.
They typically have two sides – one side is extra firm for infants that require more support for their muscles and bones - and the other offers softer comfort suitable for active growing toddlers.
The great benefit of a flippable mattress is its increased lifespan, with each side aligned with different stages of your baby's growth.
Be sure to look out if both sides are clearly marked, indicating which side should be used during respective stages of growth.
Material Matters for Mini Crib Mattresses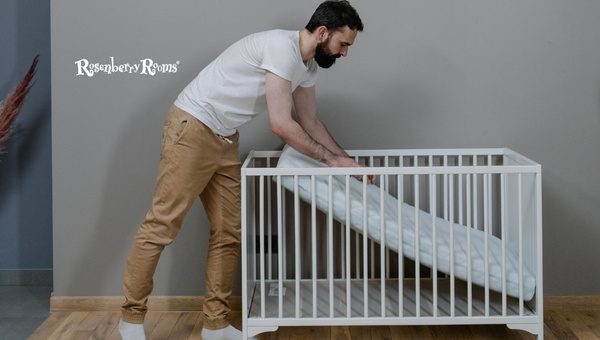 On the journey toward nurturing your baby, you'll encounter varying types of crib mattresses– each with its distinct characteristics.
Selecting the right material can make all the difference in upgrading your baby's comfort and sleep quality. Amongst these materials, foam mattresses are a popular choice for parents worldwide.
Advantages and Disadvantages of Foam
Foam mattresses hold their share of popularity for some key reasons. Stuffed with soft, cushiony material, they offer a cozy nest for your baby to rest in. However, it's essential to be aware of both sides of the coin when considering this type. Here's a quick dive into that:
Pros:
Self-cleaning pores: These contribute to maintaining hygienic conditions within the mattress.
Improved friction: This affords stability and assists in ensuring safe sleep.
Strength & tear resistance: This ensures durability despite regular use.
Varying hardness levels: You can choose the hardness level that best suits your child's needs.
Cons:
Lower shock absorption: They may not distribute weight as evenly as you might like.
Higher densities: Higher-density mattresses may be less comfortable due to their rigidity.
Lower breathability: This can cause discomfort due to heat accumulation.
Less permeability: offers lower moisture resistance, which might equate to lesser longevity.
While foam crib mattresses seem an attractive low-cost option providing decent comfort, their limitations can pose certain challenges. It's discovered that infants tend to sweat more than adults during sleep. Hence, mattresses with high breathability become an important feature while making the purchase decision.
Pros and Cons of Innerspring Systems
Innerspring systems are another popular type of mattress that parents often choose for their baby's mini crib. They've been around for many years, and their longevity is attributed to their durability and reliability. However, like any other mattress type, innerspring systems come with pros and cons.
Pros:
Memory Foam Floats: Some innerspring mattresses come with a layer of memory foam that gives the feeling of floating during sleep.
Budget-Friendly Innerspring: In comparison to organic materials or luxury foam beds, innerspring beds are generally more budget-friendly.
Innerspring Eases Discomfort: Because they are firm yet bouncy, innerspring mattresses can help to alleviate discomfort.
Cons:
Innerspring Lacks Memory Foam Contouring: Unlike pure foam mattresses, innerspring systems lack body contouring features. Instead, they have a more generalized firmness.
Inferior Material Quality: If not well maintained or sourced from unreliable brands, the quality of materials used may not be up to par.
Potential Bed Spring Failures: Over time, the springs within the mattress may wear out or break, leading to discomfort or uneven sleep surface.
Remember that these pros and cons depend on various factors, such as your baby's comfort preferences and your budget.
Organic Materials as an Option
In a world increasingly turning towards sustainability, organic materials present a compelling option for crib mattresses. They offer a myriad of benefits tailor-fit to your wee one's health and the environment.
Organic mattresses are made of natural fibers, free of harmful chemicals or synthetic processing, which makes them ideal for sensitive baby skin.
Key Features:
Hypoallergenic: Organic materials are naturally hypoallergenic, which makes them perfect for babies with allergies or sensitive skin.
Eco-Friendly: The production process of organic mattresses doesn't involve harmful chemicals, reducing environmental pollution.
Breathable: They're highly breathable and help regulate temperature efficiently for a cooler sleep.
Durability: Though more expensive upfront, their superior quality often translates to higher durability.
Remember, though, that not all products labeled 'organic' uphold the highest standards. Always ensure certifications from reputable bodies like Global Organic Textile Standard (GOTS) or GREENGUARD Gold to validate their claims.
15 Best Mini Crib Mattresses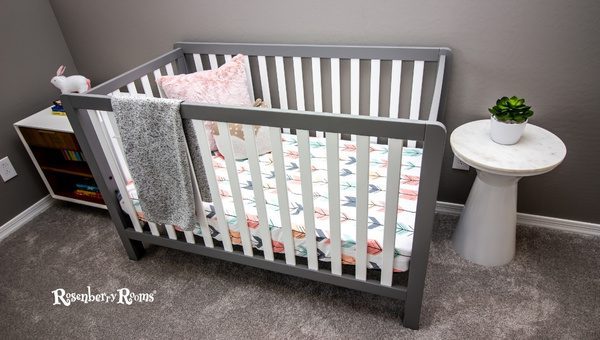 When it comes to setting up a nurturing environment for your baby, the choice of a mini crib mattress is paramount.
Combined with a compact crib, smaller mattresses promote a sense of security in babies and are easy to handle for new parents.
Here's an assembly curated from parent reviews and product features of some of the best mini crib mattresses available today.
Also Read: Mattress Pad Vs Mattress Protector 2023 [Which Is Better?]
GRT Waterproof Mini Crib Mattress Protector
The GRT Waterproof Mini Crib Mattress Protector effortlessly marries utility with comfort. Designed to be compact yet plush, this mattress protector ensures your little one's sleep area remains both inviting and hygienic.
The defining feature is undoubtedly its waterproof capability, which saves the day against any unexpected spills or accidents. Its protective layer doesn't compromise breathability, making sure your baby enjoys cooler and more comfortable sleep.
It's machine-washable, which makes maintaining cleanliness a breeze. With the GRT Waterproof Mini Crib Mattress Protector as an asset in your baby care arms, potential messes pose no threat anymore!
Dream on Me Aden Convertible Mini Crib
The Dream on Me Aden Convertible Mini Crib is delivering value far beyond a typical mini crib mattress—it's an investment into your child's future!
This ingenious product can be seamlessly transformed from a mini crib into a daybed or twin-size bed as your little tyke underscores growth milestones!
It scores high on stability and safety with its robust pinewood build and strict compliance with CPSC standards. With an adjustable mattress height setting, it ensures convenience without compromising comfort.
It exhibits excellent compatibility with many standard mini-crib mattresses and needless to mention—this transformative ability sets it apart from the rest!
It provides flexible accommodation suited to your growing child's needs, rendering obsolete the need for repeated furniture purchases—an all-in-one solution that truly echoes staying ahead!
LA Baby 3" Soy Foam Mini/Portable Crib Mattress
The LA Baby 3" Soy Foam Mini/Portable Crib Mattress happens to be a great choice for parents seeking an environmentally friendly alternative without compromising their child's comfort.
Distinctly featuring soy-based foam, this mattress helps reduce your carbon footprint and gives your baby a comfier enactment of naptime fantasies.
With its hypoallergenic and dust mite-resistant quality lined with a waterproof cover, it not only ensures a clean sleeping zone but also promises longevity.
What's more? The cloth binding sewn with lock stitches guarantees durability even after extended use, making it a smart choice for eco-conscious families.
Dream On Me Snuggles Breathable Mini Crib Mattress
Make way for the Dream On Me Snuggles Breathable Mini Crib Mattress– the mattress is designed with breathability at its core! The innovatively woven fabric promotes air circulation, ensuring your little munchkin invariably experiences comfortable sleep temperatures.
It also features a hypoallergenic core legacy to provide an additional layer of comfort without adding any bulk. Entirely free from toxins like lead or phthalates and complying with flammability standards, safety certification is an assured checkpoint crossing here!
Sporting a waterproof cover for effortless maintenance – 'Snuggles' truly lives up to its name to maximize your baby's coziness!
Nook Sleep Organic Mini Crib Mattress
Want to invest in an organic option that bundles everything conducive to quality baby sleep? Then the Nook Sleep Organic Mini Crib Mattress is what you've been searching for!
Comprising entirely non-toxic materials encased within an organic cotton cover, it stands as a hypoallergenic fortress against potential allergens.
The dual-sided design offers one firmer side perfect for infants while the other softer side caters suitably to toddlers – making this one helluva adaptable and durable mattress!
Optimized to maintain optimal temperature and superior breathability, the Nook Sleep Mattress is the embodiment of organic comfort, affording your baby nights filled with safe, tranquil slumber.
Organic Dream 5" Mini Crib Mattress
When it comes to combining comfort with a commitment to the environment, the Organic Dream 5" Mini Crib Mattress is a worthy contender.
Made from eco-friendly materials, this 5-inch mattress promises nightly comfort for your little one and peace of mind for you.
Its breathable, organic cotton fabric cover keeps warmth in check, and its firm support accommodates your little one's growing body skillfully.
Plus, it's constructed without any harmful chemicals like flame retardants or phthalates, making its health safety score high points among conscious parents.
Naturepedic Organic Breathable Mini Crib Mattress
Packed with cutting-edge innovation, the Naturepedic Organic Breathable Mini Crib Mattress redefines a successful combination of health safety and luxe comfort standards.
Composed of certified organic cotton complemented by a patented waterproof surface stitched with food-grade polyethylene, it ensures ultimate hypoallergenic conditions.
The product's breathability is remarkably elevated by the addition of breathable layers that promote air circulation for a cooler slumber, yet protecting the core from inevitable baby messes or dust mites!
Free from allergens and harmful toxins common in many crib mattresses—it emerges as an optimal sanctuary offering sound sleep for your baby.
Bundle of Dreams Mini Crib Mattress
With the Bundle of Dreams Mini Crib Mattress, your baby gets all-rounded protection paired with supreme coziness—just what their tiny form needs!
Encased within a removable and washable cover is hypoallergenic Bundle Fiber that imitates the comforting traits of foam but excludes toxic materials typically associated with memory foam.
This mattress ups its game by carrying temperature regulation features plus being fully recyclable—it's durable yet mindful of environmental responsibility!
It boasts an ideal blend of firm support essential for babies and cushy softness appealing to toddlers—an adaptable must-have during growing years.
Babyletto Pure Core Non-Toxic Mini Crib Mattress
Babyletto struts to spotlight the Pure Core Non-Toxic Mini Crib Mattress—a breezy blend of safety, comfort, and sustainability.
This mattress is made of 100% natural cotton, providing a delightfully soft surface for your baby's sleep. It is devoid of any toxic materials, which makes it safe even for those junior environmentalists with extra-sensitive skin.
What truly sets it apart is its dual-sided feature—one side is firm for infants, while the other offers cushy comfort to older toddlers.
A remarkable endeavor in responsible manufacturing, this mini crib mattress promises not just happier dreams but a healthier planet, too!
Serta SleepTrue 4-Inch Mini Crib Mattress
Tick all the right boxes of secure and sound slumber with the Serta SleepTrue 4-inch Mini Crib Mattress! Heavy-duty, waterproof vinyl cover protects the mattress from accidental spills or Diaper Leaks, all while making cleaning a breeze!
Its square corners offer a snug fit in your mini crib, so it leaves no room for guesswork! With extra firmness deemed perfect for infants and even body weight distribution throughout, this mattress ensures an inviting sleep area that beckons sweet dreams.
The Serta SleepTrue sticks true to its commitment– delivering not just mattresses but trust in their promise of unparalleled comfort and safety.
Simmons Kids SlumberTime Naturally 4-Inch Mini Crib Mattress
Your quest for mattresses that parallel parenting excellence ends with the Simmons Kids SlumberTime Naturally 4-Inch Mini Crib Mattress! Firm foam construction provides excellent physical support, exercising care to not exert undue pressure on your baby's delicate body.
Cotton fire protection wraps around the mattress, adding an extra layer of security, while organic cotton blends ensure superior breathability and comfort. GREENGUARD Gold certification reaffirms its commitment to delivering safer sleep environments free from harmful chemicals.
So, burrow deep in contentment, knowing your precious child is bestowed with a sleep atmosphere that's equal to comfort, safety, and health with the Simmons Kids SlumberTime mattress.
Newton Baby Crib Mattress in Mini
Newton brings innovation to your nursery with its Newton Baby Crib Mattress in Mini. Its Breathe-Thru Technology allows air to flow freely, proving central to superior breathability.
This minimizes the risk of suffocation and reduces the buildup of heat and moisture, facilitating comfortable slumber for the baby.
The mattress's recyclable 'Wovenaire' core and two-stage design make it one lengthy investment - growing right along with your child.
To top it all off, it comes with a removable cover that can be machine-washed - maintaining a clean sleeper environment is now just a wash cycle away!
Moonlight Slumber Baby Bluebird Mini Crib Mattress
Moonlight Slumber's Baby Bluebird Mini Crib Mattress takes sleep-time comfort to another level. With its dual-sided design, you'll find one side of high-density foam for newborns and a memory foam side best suited for toddlers.
A waterproof, durable stretch knit layer covers this mattress, which is both stain- & odor-resistant, making cleanup a breeze.
Durability is ensured with its quality materials and robust stitching—it sure stands up to any wear-and-tear challenges! For eco-conscious parents, appreciate that this crib mattress is GreenGuard Gold certified.
Lullaby Earth Breathe Safe Mini Crib Mattress
For guardians prizing safety at sleep time above all else, the Lullaby Earth Breathe Safe Mini Crib Mattress might be your perfect fit.
This product boasts safety features such as no harmful chemicals or allergenic materials— ensuring your baby sleeps not just soundly but safely, too!
Notably – their patent-pending Breathable Layer notably increases airflow underneath the baby while atop this mattress, mitigating suffocation hazards and contributing towards regulated sleep temperature. Its waterproof design ensures easy-clean comfort, making maintenance a breeze!
Da Vinci Complete Slumber Mini Crib Mattress
Last but not least, the Da Vinci Complete Slumber Mini Crib Mattress exemplifies value for money! With its hypoallergenic design, the crib mattress promises a safe, clean sleeping environment for your joy bundle.
The standout feature is its dual-sided design: one firm side ideal for newborns and one softer side meant to cushion growing toddlers. Infused with plant oils, the mattress serves durability over the years, minimizing sagging or deformation.
The waterproof cover allows easy cleaning while ensuring the mattress stays fresh and hygienic! Truly an all-around champion in functionality, semaphoring perfect slumber time for your little one!
Read More: What Is The Best Mattress Size For Platform Bed In 2023?
FAQs about Best Mini Crib Mattress
What makes a mini crib mattress the best choice for my baby?
Mini crib mattresses are compact, easily portable, and can fit most small spaces. They provide cozy sleep environments often preferred by newborns.
Is it essential for a mini crib mattress to be waterproof?
While not a necessity, waterproofing is a valuable feature. It ensures easier clean-ups after any spills or accidents.
How long can my baby use a mini crib mattress?
Your baby can typically use a mini crib mattress until they outgrow it, usually around 18 months to 2 years of age.
Can all mini crib mattresses fit every mini crib?
Generally, yes. However, ensure you check the product dimensions before buying to confirm compatibility.
Is it safe for my baby to sleep on an innerspring mini crib mattress?
Absolutely! Just ensure the springs are made from high-quality materials and don't protrude from the mattress.
Conclusion
Choosing the best mini crib mattress is an essential step in your parenting journey. The right choice ensures not just comfort but overall wellness for your baby– paving the way for peaceful slumber nights that feed into their growth and happiness.
So, while you navigate through this exciting period of anticipation and joy, remember to take your time to find the perfect fit.
Your chosen mattress will play a significant role in your baby's early days, forming the foundation of their sleep hygiene.