Imagine turning a corner in your home and being greeted by a versatile, fun-filled, family-friendly space where creativity reigns supreme.
This dream can transform into a cheerful reality when you incorporate a key component into your décor - the nugget couch.
An innovative and customizable fixture, this phenomenal piece of furniture is the perfect cornerstone for every modern living area, providing remarkable nugget couch ideas that will spark joy and imagination in every member of your household.
The nugget play couch is not just an average piece of furniture. It's a gateway to endless possibilities for fun and relaxation in your home.
Whether it's about creating makeshift forts or relaxing reading corners, this creative addition is sparking a revolution in comfortable living spaces across America.
So buckle up and let the nugget couch sweep you off your feet in this journey toward revamping your home ambiance.
What is a Nugget Couch?
A Nugget Couch is a versatile piece of furniture designed with the essence of playfulness and relaxation. Made up of four foam sections - two supportive pillows, a base, and a softer seat, it can be reconfigured in countless ways, providing endless fun for your little ones.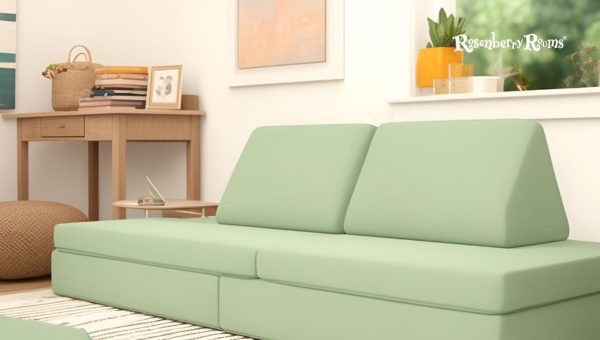 Unlike the traditional couch, the Nugget appears slick and lightweight, making it convenient for spontaneous changes.
Whether it's reinventing a spaceship or constructing a makeshift fort the nugget brings all your child's imagination to life.
While this comfy staple appeals to the childish soul within us all, it does not compromise comfort - ensuring you receive the ultimate lounging experience.
Nugget Pricing: How Much Does It Cost?
Nugget, the incredible play couch, is available in a dazzling variety of 18 unique colors. Whether you're on a quest for something bold and vibrant or subtle and minimalistic, you'll find a hue that matches your home decor seamlessly.
A Nugget Couch will set you back just $249, an investment that promises countless hours of fun and relaxation for your family.
What sweetens the deal is free shipping with every purchase - that's right, this amazing play couch is delivered straight to your doorstep without any additional shipping charges.
How Many Fabric and Color Options Does Nugget Have?
When it comes to choosing a Nugget couch, your options are far from limited. From the type and quality of fabric to the variety of colors available, you're in for a fun ride.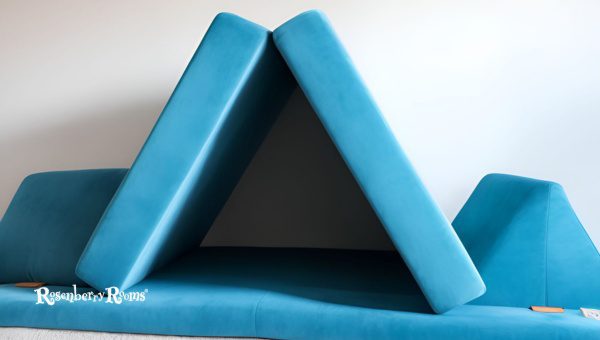 Personalizing your Nugget can be as spontaneous and joyful an experience as the many hours your family will spend on this versatile piece.
Whether it's the heartwarming nostalgia of vintage styles or the need for contemporary hues to complement modern decor, Nugget's got you covered!
Fabrics
As we embark on this journey, you will find that each fabric has been chosen to ensure durability while keeping comfort at its core.
Microsuede
A popular choice for many, microsuede is a breathable yet robust artificial leather product that boasts similar visual appeal and texture. Known for its softness and strength, microsuede discourages pilling and stay clean longer.
Double Brushed Microsuede
Imagine draping your couch with an extra layer of comfort - that is what double-brushed microsuede brings to your Nugget. An upgrade from the standard microsuede, this fabric gets brushed twice during manufacturing, resulting in an ultra-soft touch.
Corduroy
Corduroy is all about bringing that touch of nostalgia in a whole new package. The velvety texture combined with grooves or "cords" makes it cozy and warm to the touch while adding aesthetic appeal.
Colors
Whoever said that Gray was boring never met the folks at Nugget. With a constantly updated seasonal palette coupled with down-to-earth permanent shades on offer, there's never a shortage of choices when picking out hues for your Nugget couch.
Before we venture into our colorful discussion, remember whether you want your nugget to stand out or seamlessly blend into your home decor, there's a Nugget color for everyone.
Blueridge (Navy)
This rich, classic navy boldly stands its ground as one of the three permanent colors. Sophisticated and timeless, Blueridge lends a touch of luxury to any setting.
Koala (Gray)
Koala is Nugget's ode to minimalism. This vibrant yet understated hue fits seamlessly into most color schemes – it's so versatile it can be almost chameleon-like in different indoor lighting!
Harbor (Dark Gray)
Harbor brings warmth and depth to your decor. As the third permanent color offering by Nugget, this dark gray shade has a contemporary charm that works well with bold accent colors.
Nugget introduces limited-edition seasonal colors like Cactus (rich green), Rosebud (warm pink), or Dune (earthy beige) to add a touch of uniqueness to their offerings.
Whatever choices you make today when selecting your Nugget couch are not final because, for every season, there is a new wave of colors ready to revamp your living space.
Also Read: Best Material For Duvet Cover [35 Best Duvet Fabrics In 2023]
Do Nugget Couches Have a Warranty?
You'll definitely be pleased to know that each Nugget couch comes with a 2-year warranty period from the date of delivery. This covers products individually purchased directly from nuggetcomfort.com.
Do take note that this Limited Warranty is applicable for indoor, supervised play where Nugget Fabric is involved. It's important to remember that this warranty does not cover misuse as per the Limited Warranty terms.
There is a 30-day return policy in place if you're not satisfied with your purchase from NuggetComfort. So, you can rest easy knowing you've got ample protection and great customer service on your side.
The Nugget: What Makes it Stand Out?
Setting the Nugget couch apart from the pack is its ability to adapt and transform based on the user's needs.
This seemingly simple piece of furniture is a charming blend of a playground and lounge area. The nugget couch carves out a niche in becoming an indispensable part of every household.
Introduced by a Coworker: Sometimes, the most fabulous finds come from unexpected sources - just like how you may learn about the Nugget couch from a coworker. So, if you're looking for shared experiences or first-hand testimonials, look no further!
Fun for Toddlers: One cannot stress enough how engaging the Nugget can be for kids. Toddlers love to clamber on top, hide underneath, or sprawl across it, reading their favorite storybook.
Multipurpose & Portable: Larger than legos but lighter than most kids' toys - that's your Nugget! Perfect for sleepovers, storytimes, or even lounging around. It moves around when you want it to while complimenting your living area perfectly.
Perfect for Grandparents' House: Easy to assemble and dismantle without any tools required - grandparents won't have a headache storing them when not in use.
Safe Indoor Climbing: Incorporate active play into your child's day with indoor climbing. Your little monkeys can explore and improve their motor skills without any potential risks or hazards that outdoor playsets may pose.
Read More: 10 Best Dust Ruffles Of 2023 [Keep Your Bed Stylish & Clean]
How to Clean Nugget Couch?
Before diving into the nitty-gritty of Nugget Couch maintenance, it's important to understand its construction.
The Nugget is made up of resilient foam wrapped in a soft, durable microsuede fabric cover. This not only ensures comfort but also simplifies your cleaning process.
One of Nugget's standout features is its removable, washable covers. These covers can be easily unzipped and thrown in the washing machine - a godsend feature for parents dealing with messy children.
Removable, washable cover: As a nugget owner, you can navigate past the fear of spills and stains as its covers are machine washable. Just unzip the cover, wash it in cold water on a gentle cycle, and tumble dry at low heat.
Spot cleans effectively: For less drastic messes such as random spots or specks of dust, a simple spot cleaning method efficiently does the job. A wet cloth or sponge dabbed in a mild soap or dishwashing liquid will serve your purpose.
Rarely needs full washing: Thanks to its stain-resistant fabric, it's rare you'll need to do a complete deep cleanse often. Regular spot cleanings and occasional vacuuming will keep your nugget looking brand new.
Designed for easy cleaning: The nugget is consciously designed with ease of cleaning at its core. Every section is separate and accessible, making it painless to manage spill incidents as they occur.
It comes with cleaning instructions: Each nugget comes with care instructions that provide precise guidance for optimal results when you are up against tougher stains.
Owning a nugget couch means stepping into an effortless realm of furniture upkeep while enjoying unlimited configurations that keep both you & your young ones entertained.
Do Nugget Couches Go on Sale?
Contrary to most retail practices, Nugget Couches maintain their price consistency throughout the year.
This means you may not find impressive discounts or flashy end-of-season sales when shopping for a Nugget.
Well, the reason is quite simple - and in favor of the customer. The creators firmly believe in providing an equal shopping experience to all consumers, irrespective of the buying period.
So whether it's the holiday season or a regular weekday- rest assured that you'll get your favorite Nugget at a reasonable and fair price, unswayed by market fluctuations or temporary markdowns.
Explore More: When Do Costco Mattresses Go On Sale In 2023? [Up to 60% Off]
What are Some Nugget Couch Ideas?
The nugget couch is more than just a piece of furniture; it's a tool for fostering creativity, flexibility, and interactive play.
Its design supports an extensive array of reconfigurations, effectively catalyzing the transition from the ordinary to the extraordinary.
Here's a rundown of some fun and fascinating nugget couch ideas that will optimize your imaginative endeavors:
Christmas tree: You can stack and align your nugget sections in an ascending order to mimic the pyramid shape of a festive tree. Not only can this act as an innovative Christmas decoration, but it also provides a whole new level of fun when it comes to holiday-themed games.
House: By rearranging the primary parts of the nugget, you can create a comfortable mini-house structure that can serve as your kids' very own hideaway spot or reading nook.
Pyramids: Challenge your assembly skills by constructing ancient Egyptian pyramids with your Nugget. Not only does this offer endless fun, but it also serves as an educational moment for your mini archeologists.
Movie Angle: You can modify the Nugget into personal recliners or a love-seat style sofa perfect for family movie nights or relaxed weekend lounging.
Camping tent: By propping up one end of the base part against the wall and then covering it with pillows on top, you can achieve a cozy corner tent for indoor camping adventures!
Half-Moon Lounger: Alternate between upright seating and laid-back lounging by turning your Nugget into a chic half-moon lounger that cradles you in its comfy contour.
Ramp: Unleash the sports hero within by converting your Nugget into an exercise ramp for mini-gymnastics sessions at home.
Throne: If your child loves stories about kings and queens, try constructing regal throne chairs using Nuggets. After all, who wouldn't want to feel like royalty in their own home?
Fort or playhouse: Everyone loves a good ol' fort, and you can easily shape one using a few Nuggets. This can be the ideal setup for friendly sieges and heartwarming family games.
Gymnasium: Got a little athlete at home? Use your Nugget to create soft climbing and tumbling structures perfect for indoor training sessions.
These ideas are just the tip of the iceberg when it comes to Nugget configurations. Flex your creativity muscles and see what unique setups you and your family can come up with.
Nugget Couch Age Limit: Who Should Use It?
The Nugget Couch is designed to have a broad appeal, but primarily, it caters to children between the ages of 1-7 years old.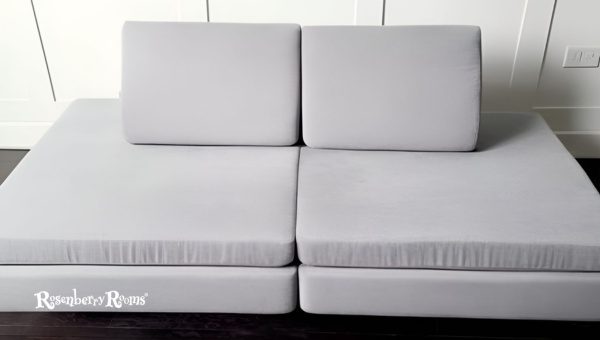 Its structural simplicity and soft materials make it perfectly safe for toddlers starting to explore their surroundings.
The couch's various components can also facilitate their imaginative play, helping them develop cognitive and motor skills.
Older kids, around 7 years, get to enjoy its multisensory benefits too. They can create different layouts for chill-out zones or forts, making the Nugget couch a truly versatile piece of furniture catering to a wide age range.
Do note that while older children and adults can certainly use the Nugget for sitting or lounging, it might not offer the degree of support they might need in a sofa due to its softer structure. Its core audience remains within the youngster's category.
Are Nugget Covers Washable?
Yes< The best part about owning a nugget couch is that it requires little-to-no hassle in terms of cleaning. Each Nugget couch cover is completely removable and machine washable.
This feature ensures your Nugget stays fresh and clean. Just pop off the cover, throw it in the washing machine, and voila! Couch cleaning made easy.
Remember, the Nugget couch itself is not waterproof. Hence, to protect its longevity, ensure it's completely dry before you re-cover it after a wash.
The convenience, practicality, and allure that a nugget couch provides truly make for an all-rounded piece of home decor that parents and kids will love.
Pros and Cons of Nugget Couch
Before investing in a new home addition, it's crucial to weigh its pros and cons thoroughly. Just like any other piece of furniture, Nugget Couch comes with its unique blend of benefits and drawbacks that are important to consider.
Pros
Removable, washable cover
Multipurpose
Endless kid fun combinations
TikTok video ideas
Appeals to various ages
Affordable option
Covers can be purchased separately
CONS
Long wait time for orders
Multiple units for bigger forts
Challenging for grandparents to use
Is the Nugget Couch Worth It?
Yes, The Nugget Couch, with its dynamic applications and unmatched comfort, offers incredible value for money.
Designed for both kids and adults, it's an investment that brings fun, comfort, and creativity into your home.
Its durable build ensures longevity, while its sleek design complements any decor style. So whether you're looking for a playtime paradise or a relaxing haven, the Nugget serves all your needs while becoming a highlight in your space.
Also Read: When Is The Best Time To Buy A Mattress In 2023? [Best Months]
FAQs About Nugget couch
Is the Nugget couch suitable for both children and adults?
Yes, While it's a hit with the kids due to its versatility during playtime, adults will find it perfect for lounging or catching a quick nap.
Can I customize my Nugget couch?
Yes, with a selection of different vibrant colors and fabric options, you can match your Nugget to your interior aesthetics perfectly.
How easy is it to clean a Nugget couch?
Extremely simple! The Nugget couch comes with removable, machine-washable covers.
How quickly can I expect delivery after ordering a Nugget couch?
While delivery times vary depending on location, typically, you can expect your Nugget to arrive in approximately 2-3 weeks.
Can I use the Nugget Couch outdoors?
The Nugget is primarily designed for indoor use; however, it can be taken outside for supervised play on dry, clean surfaces.
Conclusion
After spending endless hours exploring all the exciting possibilities that your Nugget Couch affords, you'll be wondering why that fun-filled and creative piece didn't find its way to your home earlier.
Besides being your child's favorite playground, it serves as a comfy nook where adults can unwind and relish some relaxing moments.
The Nugget Couch effectively marries comfort, versatility, and visual appeal in an affordable package. It adds a dash of whimsy to your space while seamlessly blending with your existing decor. Let the Nugget Couch transform your living experience today.