As an individual with experience in interior design and color schemes, it's been observed that dark wood finishes are unexpectedly returning to trend.
The velvety appeal of mahogany floors, the grandeur of walnut cabinets, and the vintage feel of antique oak furniture can lend any home a distinctive, luxurious feel.
However, the challenge comes when deciding on the right wall paint colors that go well with dark wood.
Considering the importance of creating a harmonious look, it's time to delve into which paint hues blend perfectly with dark wood.
Though it might seem intimidating initially, witnessing how your rooms morph dramatically once they're enclosed by hues that complement dark wood is quite fulfilling.
The secret lies in establishing equilibrium; we're here to help you unravel this mystery using paint colors that go with dark wood.
How To Choose Color With Dark Wood?
Choosing the right paint color to go with dark wood can be tricky. But fear not; with these clear and straightforward tips, you'll paint your space like a pro in no time!
Consider the Undertones: Just like every paint color has undertones - so does wood. Some woods have a warm undertone, like cherry or mahogany, while others may have cool undertones, like walnut. Knowing your wood's undertone will help guide your paint selection process.
Light or Dark?: As a rule of thumb, if you want to highlight your dark wood furniture or flooring, opt for lighter wall colors. Conversely, darker shades might serve you better if you take the focus off the darker elements in the room.
Create Contrast: The best way to show off your dark wood is to create contrast. Light and neutral tones are your best bet for making a beautiful difference.
Stick to Saturation: To achieve a cohesive look, ensure the paint and wood saturation levels are on par. Choose a deeply saturated color for richly saturated woods like mahogany or ebony.
These points will certainly pave the way for you when selecting paint colors that complement dark wood tones.
The Different Types Of Dark Wood
Understanding the unique attributes of various dark woods can help you select the perfect paint color for your space. Here's a closer look at some popular types of dark wood:
Purpleheart: Known for its unique, bold violet color, Purpleheart is one of the most distinctive types of hardwood. This wood becomes darker and more intense with age and exposure to sunlight. The distinct color calls for subtle tones like taupes and greys, allowing the wood to be the star.
Teak: Renowned for its durability and water resistance, Teak is usually a golden-brown shade but can sometimes appear darker. Because of its warm tones, cool colors like blues, greens, or grays complement Teak beautifully.
Wenge: A dense African hardwood, Wenge boasts a dark brown hue with black streaks. Its intense, almost-black coloring works well with lighter colors that can create a stark contrast.
African Blackwood: As the name suggests, African Blackwood exhibits a deep black hue. Pair this opulent wood with neutral tones like beige or white to prevent overwhelming the room visually.
Cocobolo: Cocobolo has an unpredictable range in color, from yellow hues to shades as dark as reddish-brown or black from tree to tree. The best paints to pair with this tropical hardwood are earthy hues or colors picked up from its grain.
Walnut: A luxurious choice for fine furniture designers and manufacturers globally, Walnut ranges from light pale brown to dark chocolate brown. Its depth and warmth vibe quite well with cool blues and grays.
Ebony: Ebony is richly black; yet has subtle undertones ranging from dark brown to olive green under direct natural light. It pairs perfectly well with warm neutrals but could do well with bold, bright colors if you aim for drama!
Mahogany: Mahogany is usually reddish-brown but tends to be darker over time. Its complex undertones make it versatile enough to complement various paint colors - greens, grays, blues, or even deep reds!
Whether incorporating an artful piece of furniture or setting down new floors - choosing what paint goes against your type of wood can make it blend in or stand out dramatically.
Knowing your type of wood beforehand will only add up to creating a comfortable yet elegant living space tailored to your aesthetic sensibilities.
Precautions While You Paint Wood
Embarking on your painting project can be exciting, but safety comes first. Here are some precautions to adhere to when painting wood:
Protect Your Skin and Eyes: Always wear appropriate safety gear while painting. This includes gloves, safety glasses or goggles, and proper clothing. Avoid contact with skin or eyes, as paint can irritate.
Ensure Adequate Ventilation: Ensure the room you're working in is well-ventilated. If painting inside, open windows and doors for proper air circulation.
Be Fire Safe: Never smoke or light a match close to where you are painting. Some paint products are highly flammable.
Proper Disposal of Materials: Dispose of your used materials like empty cans, rags, and brushes properly according to local regulations. They can cause serious harm if not discarded correctly.
Store Paints Safely: Always store paints out of the reach of children and pets.
It's easy to get caught up in the excitement of a new project but don't forget about your safety! Taking these necessary precautions can help prevent unwanted accidents during your overhaul process.
Moreover, it's always better to read the instructions on the back of paint cans - manufacturers often include important advice and preventive measures there too.
How To Paint Wood Like A Pro?
Ever wondered how professionals get that perfect, sleek paint finish on wood? Over the years, I've picked up quite a few tricks of the trade. Let me share some techniques for painting dark wood like you've been doing for ages.
Prepping Your Wood
Clean the Wood: Starting with a clean slate is the key to achieving a smooth finish. So, firstly, wipe down your wood surface with a damp cloth.
Sand the Surface: No need for heavy machinery here - grab some sandpaper and smooth out those rough spots.
Choosing Your Materials
Selecting the Primer: I cannot stress enough how vital priming is! Choose an oil-based primer for the best results on dark wood.
Picking Your Paint: After priming, opt for latex or oil-based paint. While latex is easier to work with and dries faster, oil-based provides a more durable and glossy finish.
The Painting Process
Load your Brush: Dipping your brush in paint, only go about ½ inch deep into the can. This technique will help you avoid drips.
Keep it Even: Whether it's your first or final coat, ensure that your coverage is consistent on each brush pass.
Follow Grain Pattern: A cardinal rule when painting over wood; always follow its grain pattern. It will result in an expert look despite being DIY-ed!
While this mini guide will certainly assist you in getting started on your project, remember this nugget of wisdom – practice makes perfect.
Hence, don't be discouraged if your first strokes aren't as impeccable as you desire. Give it another coat and watch how finely things start shaping up.
Best 30 Paint Colors That Go With Dark Wood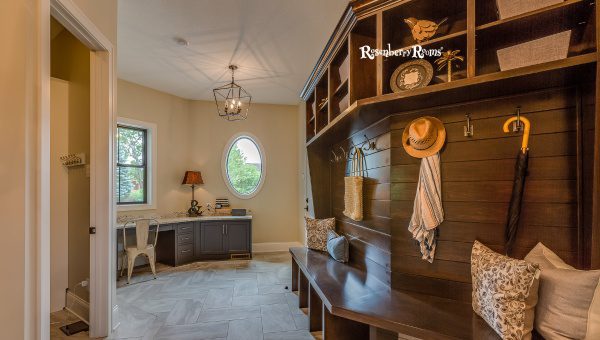 Are you at a crossroads in deciding which paint color best complements your dark wood? This comprehensive list of paint colors presents a beautiful array of options, each special in its way, and they all pair beautifully with dark wood. Find the perfect match for your wooden masterpieces and let them shine in full glory.
1. Collectors Item AF-45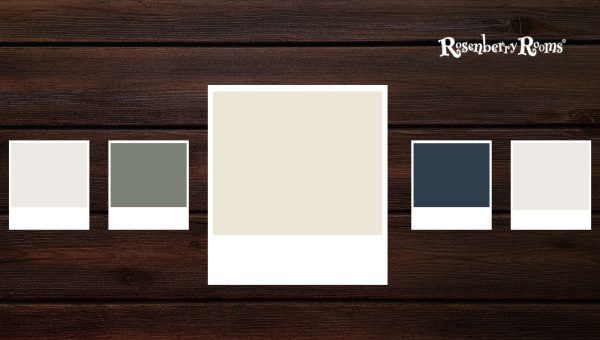 Our first contender is Benjamin Moore's Collector's Item AF-45. This paint color is part of the Affinity Color collection, hand-selected for harmoniously partnered hues.
Collector's Item offers a muted, understated elegance that works exceptionally well with ebony or walnut to strike that delicate balance between light and dark without going overly stark or dramatic. The color skews more toward a beige tone - perfect for creating warm spaces.
Some unique features:
Subtle and elegant: This shade adds a soft touch to any space, allowing your dark wooden pieces to stand out.
Soothing effect: It brings tranquility to any room, giving your space an updated look without making it feel too trendy.
2. Spanish White OC-35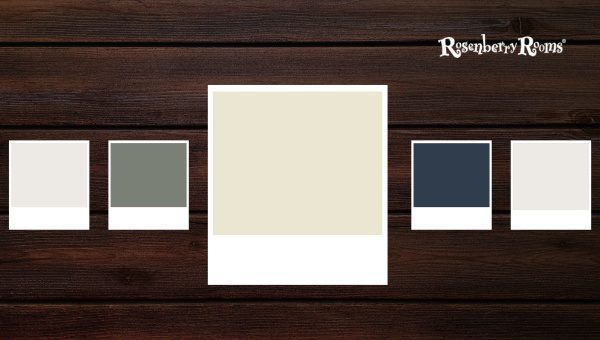 Next up is Benjamin Moore's Spanish White OC-35; this is not just another white shade in the market; Spanish White leans toward the creamier side of the white spectrum, bringing richness to any space it adorns. It pairs heavenly when coupled with rich cherry woods.
Unique facts about Spanish White:
Versatile: One cannot go wrong with this versatile yet unassuming hue that plays well against just about any dark wood.
Classic Touch: This shade adds a classic touch to your old-world charm if you have traditional or antique wood furniture.
3. Cityscape SW 7067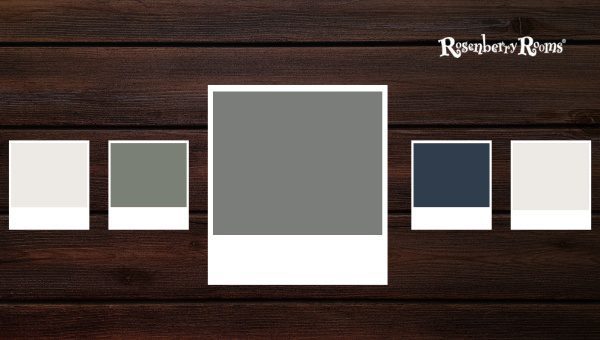 Sherwin William's Cityscape SW 7067 is the visual antidote for pairing up with darker woods like mahogany or wenge.
This moody grey inspired by cityscapes at dusk echoes sophistication while creating depth against your wooden accents.
Here are some things you should keep in mind while using Cityscape:
Modern Edge: This austere gray can give just the right modern vibe if you want urban sophistication with an edge.
Richness & Depth: A medium-dark gray-like cityscape can illuminate the rich undertones in your dark wood elements.
Picking just one color from these gorgeous options may be pretty challenging! But remember, no matter what paint you select, the focus should always be on complementing and enhancing the beauty of your exquisite dark wood pieces.
4. Jack Pine 692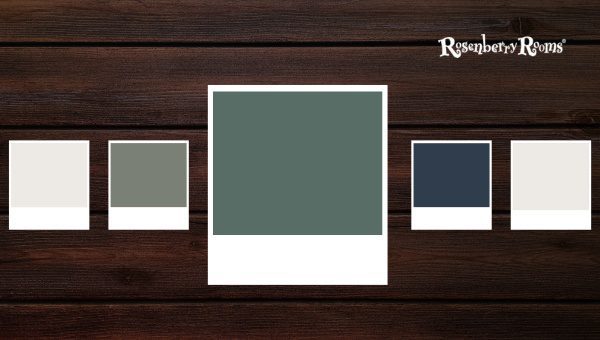 Benjamin Moore Jack Pine 692 is a tempting green with hidden depths. It elicits images of vast, pine-filled forests, making any room feel like a nature oasis.
This medium-dark color complements darker woods such as mahogany and walnut, creating a harmonious and inviting atmosphere.
Critical features of Jack Pine:
Down-to-earth: This natural shade of green is grounding and comforting - it brings the calm of nature into your living space.
Versatile: Can work wonders in any room, from cozy bedrooms to vibrant living rooms.
The remarkable fact about Benjamin Moore's Jack Pine - this color was part of Benjamin Moore's Color Trends 2015 palette, chosen for its harmony with other hues and refreshing appeal.
5. Shadow Gray 2125-40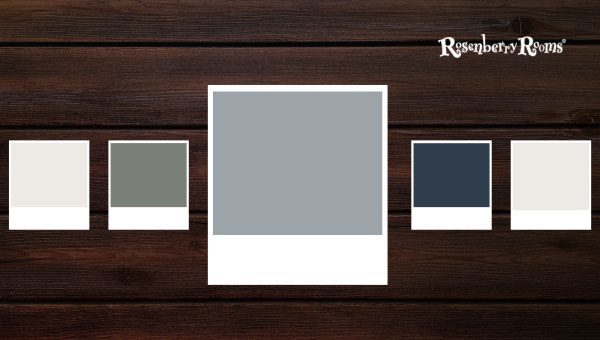 Shadow Gray by Benjamin Moore is another intriguing option for those drawn to more muted tones. This classic gray brings forth feelings of tranquility and introspection.
Teamed up with darker woods like ebony or wenge, the combo screams sophistication.
Prominent features:
Cool undertone: A perfect counterbalance for rooms with overwhelmingly warm undertones contributed by dark woods.
Calming effect: Ideal for spaces meant for relaxation or focus.
Interesting fact: The "shadow" inspiration behind this color suggests a play on the light within the room; as the light changes throughout the day, so will your perception of this paint.
6. Sherwin Williams Sea Salt 6204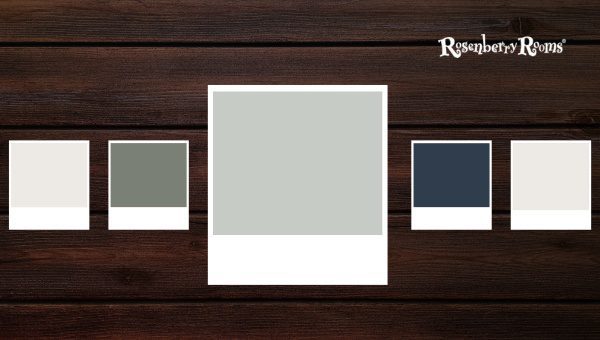 Sherwin Williams' Sea Salt fetches an element from the aqua family into your interiors. Consider Sea Salt as 'white with a twist—perfect to lighten up spaces laden with dark wood without leaning toward stark white.
Key attributes:
Brightness & Freshness: Instantly brightens up spaces dominated by darker elements.
Perfect balance: Walks an excellent line between being bright & colorful yet subtly keeping things understated.
One fun fact about Sherwin Williams' Sea Salt: It has transitional capabilities - it can easily fit into various design styles due to its versatility.
7. Gentle Gray 1626
Benjamin Moore's Gentle Gray is a serene alternative that gives rooms a modern, chic appearance while preserving that homely sensation. Perfectly named, it balances dark elements like African Blackwood or Cocobolo without overpowering their richness.
Essential features:
Sophistication & Warmth: Gives a room a refined touch without stripping away its warmth.
Not too overbearing: Comes across as rich without making your space feel enclosed.
A unique thing about Gentle Gray - despite being 'gray,' it has certain surprising blue-green undertones that come alive under specific lighting conditions!
Venturing out into the wide world of paint colors requires thoughtful consideration; from understanding undertones to considering light sources in your space - these choices can be somewhat daunting yet exciting. So go on, and explore how these elegant shades can enhance your beautiful dark wood treasures.
8. Sherwin Williams Natural Tan 7567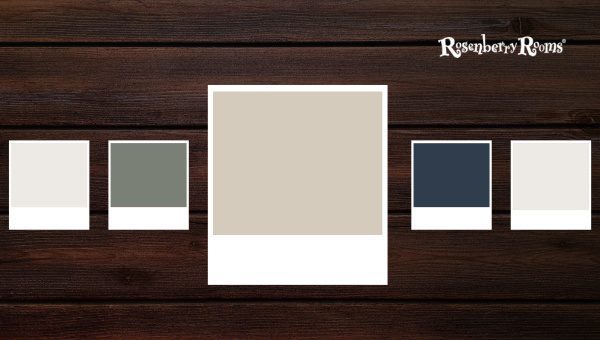 Emanating an aura of warmth and homeliness, Sherwin William's Natural Tan 7567 is a versatile color that can breathe new life into spaces dominated by dark wooden elements.
This amiable shade works wonderfully against darker woods, creating a cozy and inviting ambiance in any living space.
Here are some impressive features of Natural Tan:
Universal appeal: As a mid-range neutral, it can tie in with many different design styles and dark wood tones.
Invites Warmth: Its subtly warm undertone can provide a comfortable and inviting atmosphere around the room.
Optimal for Large Spaces: Particularly effective in large living areas or open-plan kitchens to keep the mood light and airy.
9. Balanced Beige SW 7037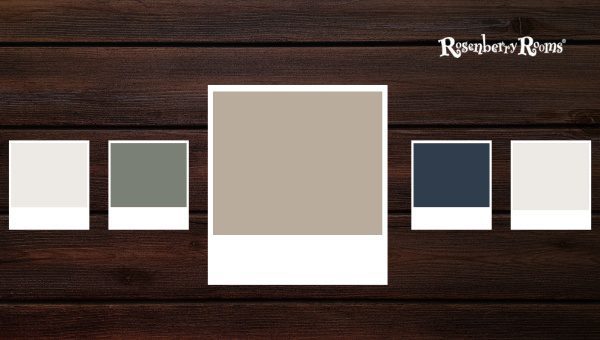 Next on our list is another gem from Sherwin Williams: Balanced Beige SW 7037. This delightful hue justifies its name completely—it's balanced, neither too warm nor excessively cool. It creates an alluring contrast with dark wood without becoming overpowering.
Check out these unique facts about Balanced Beige:
Versatile Match: It pairs remarkably well with antique oak furnishings or mahogany floorings.
Sophisticated Contrast: This beige creates a sophisticated contrast that adds depth to any room when paired with dark wood furniture.
Timeless Elegance: It renders timeless elegance to your space because of its subtle nature and neutral undertone.
10. Saybrook Sage HC-114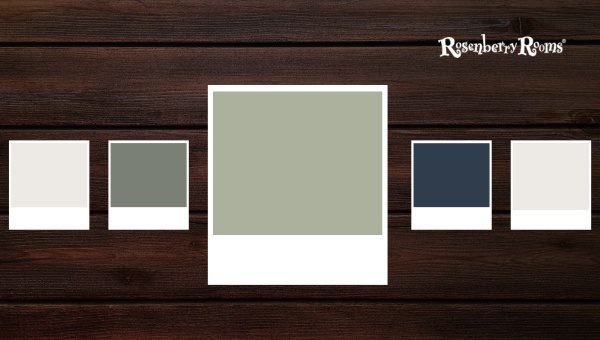 Venturing into the realm of green hues, Saybrook Sage HC-114 by Benjamin Moore captivates the observer.
The gray undertones ensure this soft color doesn't appear overtly green but exudes an understated charm.
This unique sage color provides a soothing backdrop against dark woods like African Blackwood or Cocobolo.
Here are some unique characteristics of Saybrook Sage:
Calm & Tranquil: It evokes calmness and tranquility, ideal for spaces where you want to relax or unwind.
Blends Beautifully: It doesn't compete with your wooden pieces but blends harmoniously to highlight their beauty.
11. Fairmont Green HC-127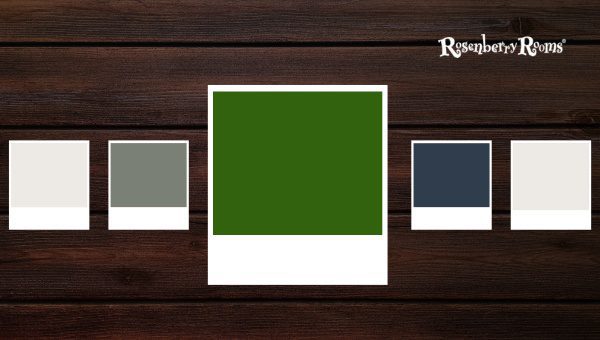 Dare to go beyond conventional colors? Dive into the enchanting world of Fairmont Green HC-127 by Benjamin Moore.
A deeper tone from the Historic Color collection, Fairmont Green brings personality, cooler green hues, and chalky blue undertones.
Teamed with ebony or walnut, this bold color offers depth and drama without overwhelming your space.
Critical features of Fairmont Green:
Cool Vibes: Introducing these cooler tones beautifully offsets lustrous dark wood pieces' warmth.
Daring Contrast: Creates bold contrasts when matched against dark furniture or flooring.
Each paint color featured here brings something unique to your design concept when paired with darker wood fixtures.
Giving ample attention not only to shades & tints but also undertones will make your jobs easier at hand – finding that perfect hue that genuinely complements your cherished wooden accents.
Now, let's delve deeper into some other intriguing shades that can perfectly complement the richness of your dark wood.
12. Samovar Silver SW 6233
Sherwin William's Samovar Silver stands out for its unruffled charm. This cool gray has a slight blue undertone, making it an exceptional choice for rooms with darker hardwood floors or furniture.
Key features and facts about Samovar Silver:
Soothing aesthetic: The tranquil vibe of this color conjures a serene space, reflecting calming energy throughout your room.
Accentuates wooden details: This shade lets dark wood pieces take center stage. Whether you have mahogany cabinets or a walnut bed frame, this color forms the ideal backdrop.
13. Rocky Coast 1595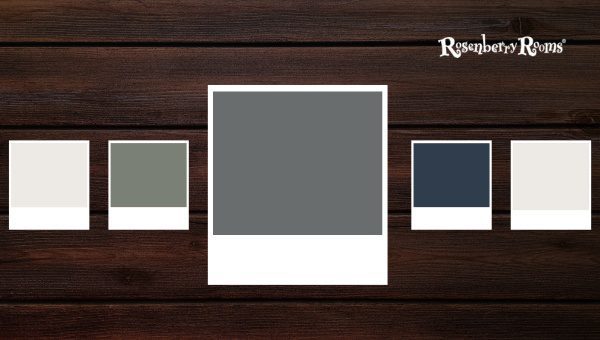 We come across Benjamin Moore's Rocky Coast 1595 on a different spectrum - an elegant choice providing depth without consuming the room.
This color is like coastal fog wrapped in a sophisticated tone that seamlessly matches almost every shade of dark wood.
Features that make Rocky Coast unique:
Dynamic: It's an adaptive color and plays well under varying light conditions - appearing mystically mild during daylight and progressively deep as evening sets in.
Stately appeal: Pair it with intricate wooden furniture for a royal touch—a superior choice for those who adore classics.
14. Slate Tile SW 7624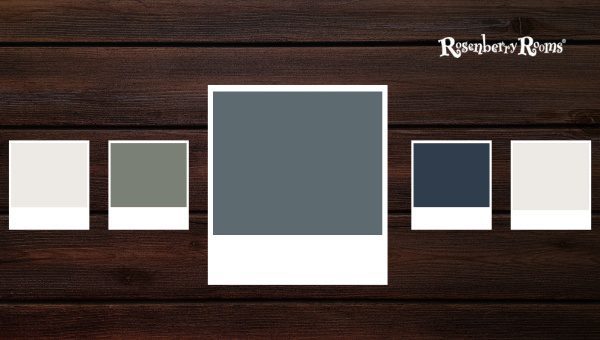 Slate Tile by Sherwin Williams presents an appealing darker hue that serves as an exciting contrast against warm woods like teak or African blackwood.
It can evoke myriad moods ranging from refined elegance to eclectic chic based on the present décor.
What makes Slate Tile stand out:
Bold Character: This deep shade embraces boldness offering rich texture to your rooms
Versatile Backdrop: Perfect for open-concept spaces as it establishes definition while letting wooden accents remain prominent.
15. Knoxville Gray HC- 160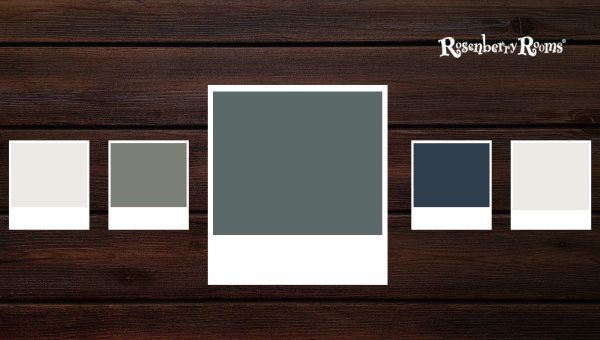 Comes Benjamin Moore's Knoxville Gray HC–160. It's not just another gray variant; this one's tinged with saturated blue-green undertones that lend depth when juxtaposed against warm woods, giving a dramatic ambiance to any living area.
Unique attributes of Knoxville Gray:
Heritage-inspired: Knoxville Gray's sophisticated hue pays homage to American architectural heritage – thus bringing the character to any room.
Accents natural elements: The anchor quality of this nuance not only emphasizes gorgeous wooden aspects but also accentuates raw materials such as stone or terracotta
Each of these paint colors brings about remarkably different moods and styles—catering to varied aesthetics from modern minimalistic to luxuriously ornate interiors.
So what are you waiting for? Use these pointers as inspiration and start painting up those blank canvases encompassing your cherished dark wood pieces.
16. Sherwin Williams White Duck 7010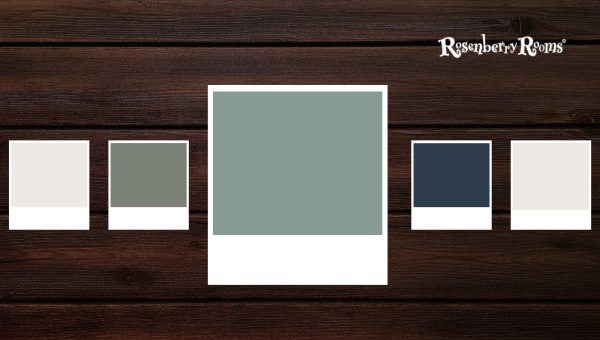 Sherwin Williams White Duck is an off-white color growing in popularity for several reasons. It takes a backseat, allowing your dark wood to take center stage, while its warm undertones give the room an inviting vibe.
This shade has a quiet kind of elegance and simplicity about itself that people find profoundly alluring.
Some exclusive features of White Duck:
Versatility: This shade can work smoothly on walls and trim or exterior sidings. It complements wooden elements beautifully.
Warm Undertones: It boasts creamy, warm undertones, which allow it to work nicely with dark wooden finishes.
Moreover, White Duck tangoes brilliantly with a variety of styles – modern minimalist to rustic farmhouse, it adds the perfect touch no matter where it's used.
17. Azores AF 495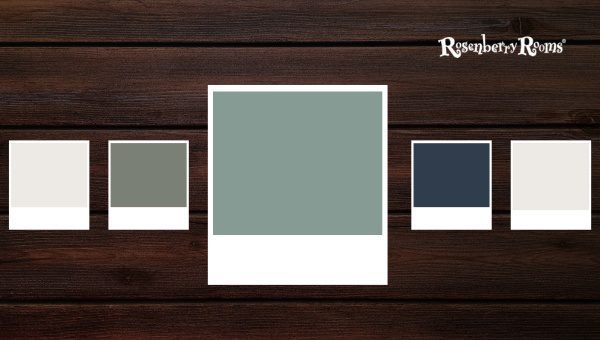 Next on our list is Azores AF 495 from Benjamin Moore. Specially chosen for the Affinity Color Collection for its ability to pair harmoniously with other hues, this vibrant teal blue shade offers a perfect contrast against darker woods like teak or walnut.
Features and unique facts about this inspiring paint color include:
Lively and Bold: The bold character of Azores makes it a fantastic choice when you're looking for something show-stopping.
Versatility: Whether you opt for an entire wall or use it sparingly as an accent, it's versatile enough to enhance any space.
Remember, too, that the boldness of Azores may require some courage to apply, but once executed successfully, it creates striking effects worth admiring.
18. Healing Aloe 1562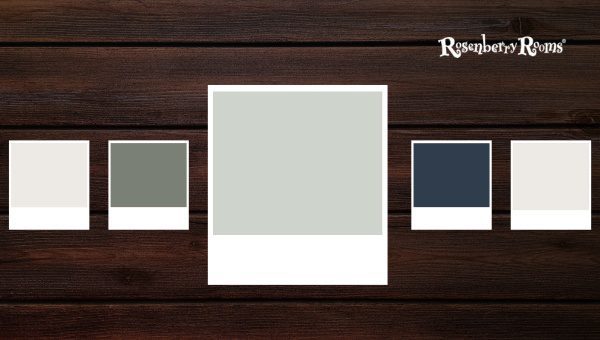 Benjamin Moore's Healing Aloe has a calming effect similar to that caused by its namesake plant. This soft greenish-blue color slots nicely for tranquil settings paired with Ebony or Cocobolo woods.
Here's why you should consider Healing Aloe:
Serene Ambiance: It brings a soothing ambiance, especially great for bedrooms or reading rooms where calmness prevails.
Cool Undertone: The cool undertones balance a warm-toned dark wood masterpiece.
This is the color to look out for if you seek peace and tranquility in your home decor while celebrating your love for dark wood elements.
19. Clarksville Gray HC-102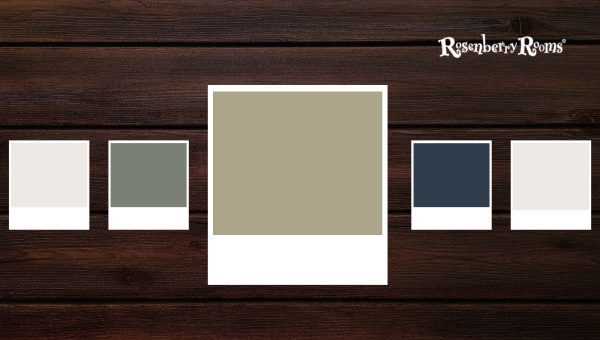 This Clarksville Gray by Benjamin Moore's muted gray hue leans significantly towards the warmer end of the spectrum, making it exceptional at forming harmony with mahogany furniture due to its shared red undertones.
Critical features of Clarksville Gray:
Sophistication: It provides elegance without being too flashy, playing along graciously against any decor style.
Warm Undertone: Warm red undertones make Clarksville Grey more approachable than typical grey shades.
Clarksville Gray exists somewhere between laidback luxury and urban sophistication, making your dark wood items look more sumptuous than ever!
These captivating colors each come with their unique charm readying themselves. Pick the ideal ones for your space and let your beloved dark wooden pieces shimmer under their new colorful companions.
20. Light Pewter 1464
Moving on in our curated selection of paint colors that pair impeccably with dark wood, let's discover the charm of Light Pewter 1464, Privilege Green SW 6193, Buxton Blue HC-149, and White Duck SW 7010.
Each color has a unique personality and special qualities that will seamlessly enhance your dark wood elements while adding depth, sophistication, and ambiance to your space.
Benjamin Moore's Light Pewter is a timeless classic poised beautifully between gray and beige. Not too bright nor too gloomy - an ideal neutral for those seeking a serene setting against a dark wooden backdrop.
Here are some features you'd love:
Classic Neutral: Light Pewter is neither excessively warm nor overly cool, making it a perfect neutral 'greige.' Its understated elegance exudes a classic charm that pairs remarkably well with ebony or walnut woods.
Versatile: Whether your style preference leans towards traditional or contemporary interior design narratives- Light Pewter is an adaptable choice.
21. Privilege Green SW 6193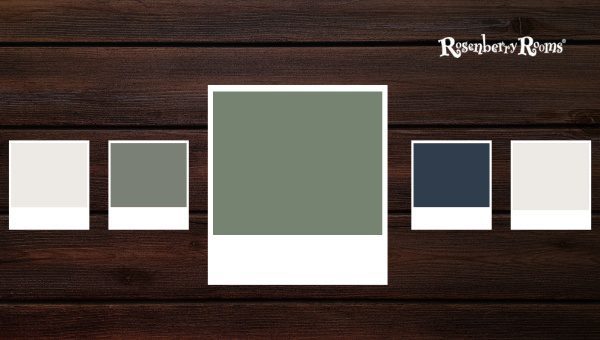 Sherwin William's Privilege Green lends an enticingly fresh perspective for those craving something potent yet soothing.
This peaceful green shade brings in an element of nature and tranquility without being overly stark or vibrant.
Here's what sets it apart:
Nature-Inspired: Working beautifully with stained teak or mahogany furniture - this shade brings a refreshing touch of the outside world into your interiors.
Soothing Impact: Whether used in bedrooms or sitting rooms - Privilege Green offers a calming influence, perfect for any relaxing space.
22. Buxton Blue HC-149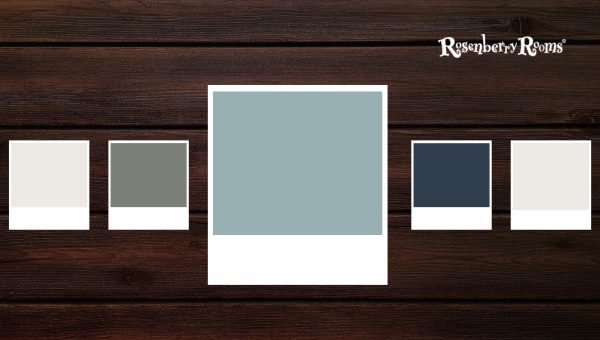 Add some coastal inspiration to your decor with Benjamin Moore's Buxton Blue. A medium-light blue tone that evokes the earthy feel of sky meeting sea while complimenting richly intense wooden variants like wenge or purpleheart.
These are just some reasons why you should consider Buxton Blue:
Earthy Tranquility: Buxton Blue can provide the perfect complementary hue against darker hardwoods if you prefer natural textures and earth-inspired schemes.
Refreshing & Relaxing: The crisp coolness of Buxton Blue lends itself to creating spaces where relaxation is essential- be it bedrooms or studies!
23. White Duck SW 7010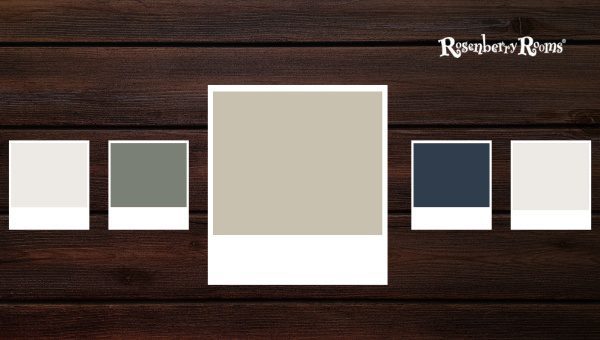 Sherwin William's mid-tone off-white, known as White Duck, is versatile enough to invigorate any space while perfectly offsetting beautifully rich pieces of walnut or Cocobolo furniture.
White Duck accommodates those who want to keep their palette light without resorting to stark white – offering just the right warmth to balance off cooler wooden undertones.
Features that make this paint color stand out:
Warm undertone: Unlike stark whites – White Duck has warm undertones, which add a charming touch against deep walnut and other dark woods.
Neutral Versatility: It's a fail-safe option when seeking freshness minus harsh brightness, making it apt for creating warm spaces without overpowering close-by elements.
Effortlessly bring out the beauty in your dark wood features by opting for one of these inspiring colors! Remember these descriptions as guides but remember - each room and each piece of furniture calls for its unique touch.
24. Williamsburg Wythe Blue CW 590
Cracking the code for the perfect pairing of dark wood with paint sometimes reveals unexpected contenders.
One such delightful surprise is Williamsburg Wythe Blue CW 590, an offering from Benjamin Moore that plays quite well with dark wood tones.
Wythe Blue inherits its name from the historic Brooklyn, New York district. Rooted in this nostalgic essence, it resonates with old-world charm and a dash of contemporary cool.
It's a soft yet rich hue capable of lending itself splendidly to dark woods resulting in a fresh and harmonious appeal.
Key attributes on why Wythe Blue is a top pick:
Warm undertone: Contrary to what you might expect from blue, Wythe Blue carries a warm undertone contributing to cozy room vibes.
Versatility: Its muted tone makes it incredibly versatile. Whether your wood is ebony, walnut, or mahogany, Wythe Blue caters to all.
25. Jubilee SW 6248
Next up is Sherwin Williams's Jubilee SW 6248 - this medium-light shade of gray offers an impressive diversity that accentuates the depth and richness of many types of dark woods without being overly dramatic.
Noteworthy features of Jubilee include:
Sophisticated hue: With Jubilee as your backdrop, you can add an air of sophistication and augment the intense character of your wooden pieces.
Versatility: Jubilee's neutrality makes it versatile; this color pairs equally well with warmer or cooler woods.
26. Rainwashed SW 6211
Sherwin Williams's Rainwashed SW 6211 hits all high notes when coupled with darker woods like Wenge or Purpleheart.
Reminiscent of azure waters after rainfall, its soothing vibe can create lighter spaces without going stark or making rooms feel excessively spacious.
Here are some defining attributes:
Subtle Sherbet Undertone: An infusion of subtle sherbet undertones set Rainwashed apart from other blues.
Refreshing appeal: This serene shade holds the potential for crafting spaces that are rich yet refreshing at once.
27 Benjamin Moore Revere Pewter HC-172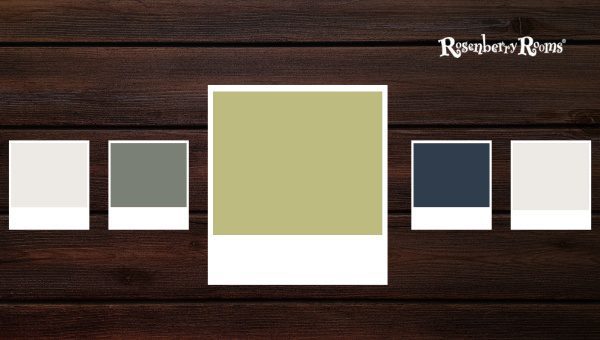 This color is famous for its warm, inviting appeal. Benjamin Moore's Revere Pewter HC-172 is a showstopper with an exceptional ability to mesh well with dark woods like teak and walnut.
Some unique features of this color include:
A Warm Gray Hue: Favoring the warmer side of the gray spectrum, Revere Pewter offers true coziness to your space without sacrificing a contemporary vibe. It's perfect for creating an inviting and relaxed atmosphere in high-traffic areas.
Timeless Appeal: As a tried-and-true favorite, it blends classic beauty with a modern touch, making it suitable for various home styles - from rustic country homes to sleek city apartments.
28. Dill Pickle 2147-40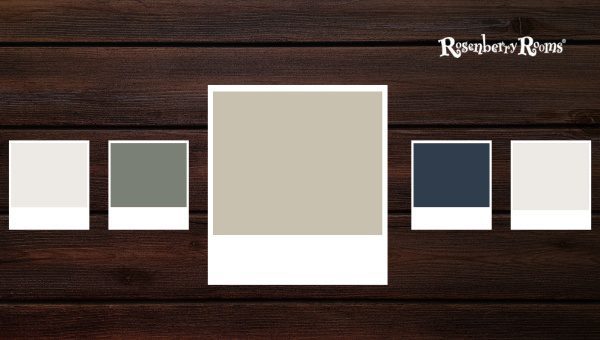 Very much on the nose, Dill Pickle 2147-40 by Benjamin Moore instantly livens up any room. This juicy shade of green adds a playful pop against dark wood tones, such as those found in African blackwood or walnut, for an organic balance.
Here are some features to note about this zesty shade:
Vibrancy: Dill Pickle is bright but not overly so – perfect if you're after some zest and vivacity in your design. It brings nature into your home by subtly reminding you of fresh foliage.
Complementing the Dark: Surprising as it may seem, this shade beautifully offsets dark wood furniture or flooring by lending vibrancy and light without going overly bright.
29. Benjamin Moore Collingwood OC-28
Collingwood OC-28 by Benjamin Moore belongs to the off-white palette but carries nuances of gray and purple undertones. It provides a chic yet delicate backdrop for deeper woods like mahogany and ebony.
Essential traits of Collingwood encompass:
Neutral Charm: As changeable as a chameleon, this color morphs based on different lighting conditions creating dynamic visual interest.
Classy Touch: Collingwood adds subtle elegance that exudes an elegant ambiance when paired with dark woods.
Knowing a little bit more about Benjamin Moore Revere Pewter HC-172, Dill Pickle 2147 -40, or Benjamin Moore Collingwood OC -28 and their unique features, there's undoubtedly something that caters to everyone's taste depending upon what kind of mood they want to set.
Remember, rich colors encapsulate these qualities better than most, from stark sophistication to playful vibrancy, all while enhancing the elegance of your dark wooden elements.
30. Snowbound SW 7004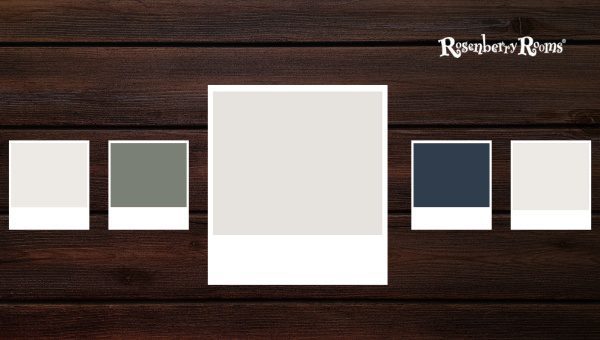 Snowbound SW 7004 by Sherwin Williams - a crisp white paint that adds brightness without overwhelming the room.
Snowbound is an excellent foil to showcase stunning-grained patterns inherent in dark woods.
Unique features offered by this color:
Pure-Bred White: If you're seeking that 'pure-bred' white paint without side undertones' disruption - hunt no further! Snowbound may be your ultimate pick.
Keeping Balance: This color balances between being bright enough to give contrast and providing warmth when paired with darker elements.
Undoubtedly each color has its unique vibe when paired with dark wood surfaces. However, selecting one suiting your style and matching wooden underlay will ensure every corner radiates refined allure symbolizing YOU.
FAQs About Paint Colors That Go With Dark Wood
Can I use bold colors with dark wood?
Yes, bold colors like deep blue or emerald green can create a high-contrast, dramatic look against dark wood.
What color wall paint goes best with dark brown furniture?
Soft neutral shades like beige, taupe, or cream go well with dark brown furniture to create a soothing, inviting contrast.
Should I only stick to light shades if I have dark wood furniture or floors?
Not necessarily. While light shades provide excellent contrast, experimenting with darker but saturated hues like navy blue and hunter green can also beautifully pair with your dark wood.
Can black paint pair well with dark wood furniture?
Absolutely! A black wall can create an aesthetically pleasing contrast, especially when paired with rich, warm wooden elements.
Is mixing different shades of wood in one room okay?
Of course! Mixing up different shades in one space adds depth and texture to your interiors and helps avoid monotony.
Conclusion
Marrying paint colors with dark wood is like creating a symphony. Each shade has a role in highlighting, complementing, and bringing out the richness of your dark wooden elements.
Juxtaposing light tones against dark woods draws attention to the latter's beauty while playing around with saturated shades can create an unexpected yet pleasing contrast.
Ultimately, the goal is to create a living space that resonates with your style. So don't be afraid to experiment; sometimes, unexpected combinations - as unusual as they may seem - end up working spectacularly well.
From warm neutrals to bold hues, a world of colors is waiting for you to explore and pair up with your exquisite dark wooden pieces. Happy decorating!