When it comes to bedroom essentials, nothing compares to experiencing a luxurious stay in a five-star hotel. I don't know about you, but every time I check into a lavish hotel room, I find myself wanting to stay an extra day—for the super-soft bedding and ambient atmosphere alone!
As much as I'd love to indulge in regular stays at plush accommodations, it's just not feasible in my everyday life.
That got me thinking: what if there was a way to recreate that sublime experience right in the sanctum of my own bedroom? With some research and experimentation, I've compiled this list of 25 bedroom essentials that have made me feel like royalty every single time my head hits the pillow.
And now, I'm here to share these discoveries with you, so we can all transform our homes into havens of five-star hotel comforts!
Transform Your Space with 25 Must-Have Bedroom Essentials
It's time to elevate your bedroom experience with these 25 must-have essentials that will give you the five-star hotel comfort you've been dreaming about. In this list, we cover everything from the perfect bed frame to ambient mood lighting, ensuring that your sanctuary is tailor-made for luxurious living.
Moreover, each item we explore adds a touch of elegance and function to your personal space. As we delve into each necessity, I'll share my top recommendations and tips on how to seamlessly incorporate these elements into your bedroom, transforming it into an oasis of bliss and relaxation.
So, let's dive in and curate a space that is nothing short of a dream come true!
1. Bed Frame
A bed frame serves as the foundation of your sleep setup; therefore, it's essential to choose one that not only complements your bedroom's aesthetic but also provides the utmost support and comfort.
For a five-star hotel vibe, opt for an upholstered bed frame or one with a tufted headboard to achieve a plush and elegant appearance.
When selecting a bed frame, consider the following aspects:
Material: Choose from wood, metal, or upholstered materials to suit your style preferences and durability needs.
Size: Make sure to select the right size (Twin, Full, Queen, King, or California King) based on your mattress dimensions and available space.
Storage: If you're working with limited space or simply prefer a clutter-free environment, pick a bed frame featuring built-in storage options such as drawers or shelves.
Weight capacity: Ensure that the bed frame can support both your mattress weight and sleeping habits.
Investing time in identifying your ideal bed frame guarantees that you set the tone just right for a bedroom that exudes five-star hotel comforts.
This crucial piece of furniture will help you create not only an inviting atmosphere but also ensure longevity and security in your heavenly abode.
2. Mattress
A crucial component of luxurious slumber is a high-quality mattress. In fact, it's the foundation of an incredible sleeping experience. There are various types of mattresses on the market—ranging from memory foam to innerspring—and each type has its distinct advantages.
Memory Foam
Memory foam mattresses provide excellent body support, contouring to every curve as they offer extra cushioning where you need it most. These are great for those who experience back pain or joint discomfort.
Innerspring
Innerspring mattresses boast coil springs that provide support and air circulation, offering a slightly firmer and bouncy feel compared to memory foam mattresses.
Hybrid
A hybrid mattress combines the benefits of both memory foam and innerspring systems, providing an optimal blend of comfort and support.
As you search for the perfect mattress, consider factors such as firmness level, size (queen or king), materials, and warranties offered by the manufacturer. Don't forget to read customer reviews—especially from people with sleep needs similar to your own—to make an informed decision when choosing your dream mattress.
Take your time in selecting a mattress that suits your specific requirements while leaning towards luxury-inspired characteristics. Prepare yourself for a new and improved sleep experience tailored to meet the highest standards of five-star hotel comforts!
3. Headboard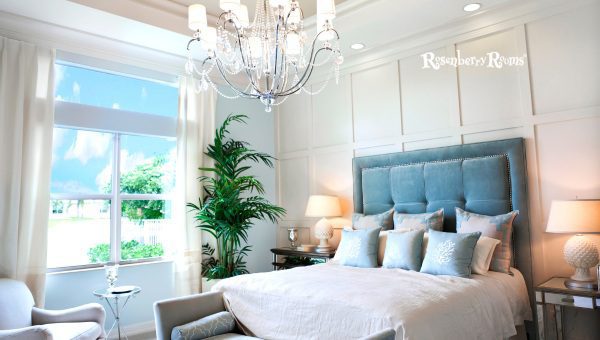 A headboard isn't just a decorative piece, but an essential aspect of your five-star hotel experience. Not only does it add a touch of elegance and sophistication to your bedroom, but it also provides practical benefits for support and comfort.
Design and Material Choices: Headboards come in a wide variety of styles, materials, and shapes, so pick one that complements your existing décor. Popular options include upholstered, wooden, metal, or even DIY versions with reclaimed materials.
Size Matters: Ensure that the headboard is proportional to the size of your bed—whether it's a twin, full, queen, or king. It should be slightly wider than your mattress to create a balanced look.
Functional Features: Some headboards also offer built-in storage for books and other items or have attached bedside tables for added convenience.
Comfort: Upholstered headboards provide additional cushioning and make leaning back on them more comfortable compared to harder surfaces like wood or metal.
Installation: Attaching the headboard to either your bed frame or wall mounting it can provide added stability and safety.
When selecting the perfect headboard for your bedroom sanctuary, prioritize both aesthetics and functionality to best replicate that luxurious hotel vibe you're aiming for.
4. Curtains
Curtains play a significant role in elevating the elegance of a bedroom, while also providing essential light control and privacy. To achieve that five-star hotel feel, opt for high-quality, floor-length curtains that complement the color scheme of your room.
I personally recommend choosing curtains made from luxurious materials such as silk, velvet, or even blackout fabrics for better sleep quality. Moreover, don't forget to invest in a decorative curtain rod with elegant finials to complete the look and add that extra touch of finesse.
Considering the functionality aspect is important too. For example, using double curtain rods with sheer curtains for daytime privacy and thicker curtains for nighttime darkness can work wonders.
Ensure proper installation by hanging your curtains high up on the wall—about 6-8 inches above your window frame—to create an illusion of more space and heightened ceilings. Trust me: these small tweaks can make all the difference when it comes to mimicking that cozy hotel ambiance at home!
5. Duvet
A duvet is a soft, warm, and fluffy quilt filled with natural or synthetic materials, such as down, feathers, or microfiber. It's actually one of my favorite bedroom essentials for achieving that luxurious hotel feel! Here's why:
Comfort: The plush nature of a duvet provides excellent insulation and warmth without making you overheat.
Customizable: You can choose the fill power and material to suit your preferences. For instance, opt for a lighter fill if you tend to be a hot sleeper or a higher fill power for extra coziness.
Style: Duvets usually come in eye-catching designs (similar to comforters) or solid colors, allowing you to create an inviting ambiance in your bedroom.
Practicality: Unlike traditional comforters, duvets make it easier to change your bedding by using removable covers instead of washing the entire quilt. Simply swap out the cover whenever you feel like refreshing your room's look!
Before buying a duvet, consider the following factors that impact your restful slumber:
Size: Ensure it matches your bed dimensions (Twin, Full/Queen, King).
Fill Power: Ranging from 300-800+, this number measures the volume and warmth provided by the fill material.
Material: Choose between natural or synthetic materials according to comfort and budget.
Here are some splendid online destinations where you can find high-quality duvets at various price points:
Investing in an opulent duvet is undoubtedly worth it in terms of comfort and aesthetics - after all, who doesn't want to dive into a cloud-like bed after a long day?
6. Pillows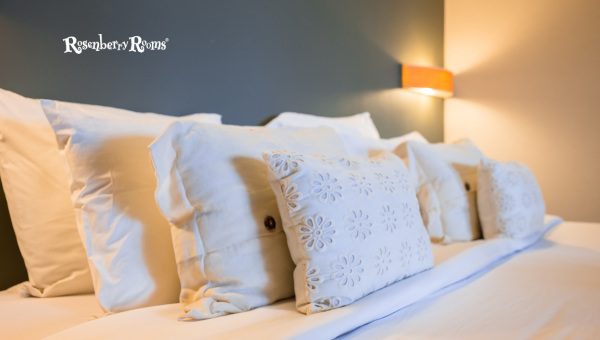 Pillows are an integral part of achieving that five-star hotel comfort. A luxury hotel bed isn't complete without a variety of plush, supportive pillows to suit your needs. Memory foam pillows contour to your head and neck, providing excellent support and pressure relief.
Down pillows offer a soft and luxurious feel, while feather or down-alternative pillows strike the perfect balance between support and softness.
I recommend having at least four standard-sized pillows on your bed (two for each person), with a mix of different materials or fillings that cater to your personal preferences.
Consider incorporating a few decorative throw pillows in various shapes and sizes to add depth and style to your bedding setup. Don't forget to regularly fluff and rotate your pillows to maintain their shape and keep them feeling brand-new!
7. Dresser
Every exquisite bedroom needs a stylish and functional dresser to store clothes and essentials. Whether you're dealing with a small space or want to make a statement in your bedroom, dressers come in various styles and sizes, catering to everyone's tastes. When selecting a dresser, keep your room's size, layout, and design theme in mind.
Consider whether you prefer traditional drawers or modern lines. Vertical dressers, also known as chests of drawers, offer multiple tiers to organize your clothing while saving floor space. Meanwhile, horizontal dressers provide abundant surface area for items like jewelry boxes and decorative accents.
If luxury is the goal, choose high-quality materials such as solid wood or contemporary finishes like lacquered gloss for an elegant touch.
Don't forget about the hardware! Statement handles or knobs can make a striking difference in the overall aesthetic of your bedroom haven.
8. Area Rug
The right area rug can instantly elevate the entire aesthetic of your bedroom, adding that five-star hotel appeal we all love. Not only do they enhance the visual aspects of your space, but area rugs also offer practical benefits like added warmth and insulation for bare feet on those chilly mornings.
Size and Shape: Ensuring you select the appropriate size rug is critical; too small and it'll disappear under furniture, while an oversized one will feel granular and unbalanced. For example, in a typical king-size bedroom setup, a rug measuring 9' x 12' will provide ample coverage beneath your bed and nightstands.
Material: Opt for high-quality materials like wool or silk to mimic that luxurious hotel feel underfoot. If you're aiming for durability and budget-friendly options, look into synthetic fibers such as polypropylene or polyester.
Design: The design of your rug is essential to maintaining the overall style within your bedroom sanctuary. Choose a pattern or color that complements your existing decor. You can even select a statement piece if you want it to serve as the focal point in the room.
Remember that area rugs need proper care to maintain their appearance—regular vacuuming is vital to keep them looking pristine! A high-quality rug pad is also crucial; providing secure footing can extend its lifespan substantially by offering cushioned support.
Incorporating an elegant area rug into your bedroom design may seem small, but it definitely adds immense value by giving just the right touch of grandeur and warmth typically found in five-star hotels. So go ahead, and upgrade your room with a beautiful rug that speaks volumes about sophistication!
9. Storage Bench or Ottoman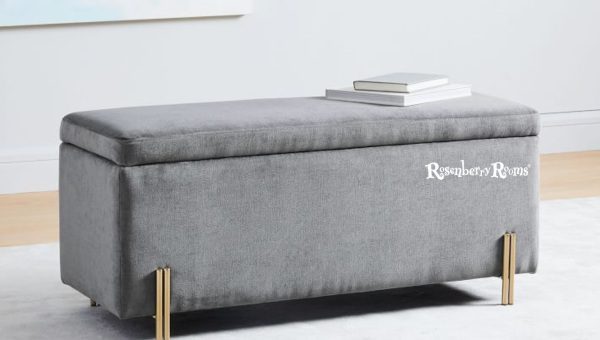 A storage bench or ottoman can be an incredibly versatile addition to your bedroom, providing not only a place to sit but also some much-needed storage space. Many storage benches come with comfortable padded seating and are available in various styles and materials, making it easy to find one that suits your decor.
Here are some key features you should consider when selecting a storage bench or ottoman for your bedroom:
Size: Make sure the bench or ottoman fits comfortably within your bedroom space without causing clutter.
Storage capacity: The main advantage of these pieces of furniture is their built-in storage capabilities, so choose one with ample space.
Upholstery: Consider a fabric, color, and design that complements the rest of your bedroom decor while keeping comfort in mind.
Legs or wheels: Some models have legs, while others come with wheels for easy movement.
When deciding on placement, consider placing the storage bench at the foot of the bed as it creates an inviting ambiance by mimicking the look of high-end hotel beds. Alternatively, you can use an ottoman as a bedside table if space allows.
These chic multifunctional solutions will not only enhance the overall aesthetic but make life easier by offering additional practicality through extra storage and seating options.
To recap:
Choose the right size for your space.
Opt for adequate storage capacity.
Select complementary upholstery.
Decide between legs or wheels.
Consider placement options for added versatility.
10. Accent Chair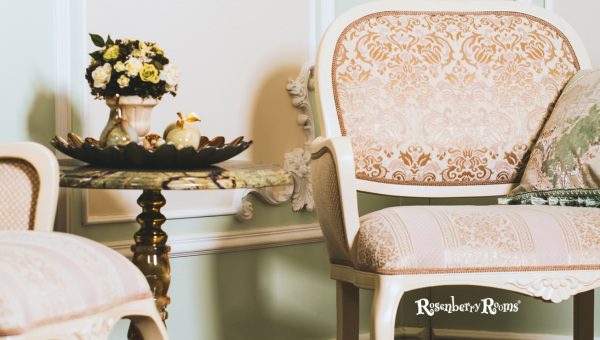 An accent chair is an incredibly versatile piece of furniture that can add both style and function to your bedroom. It not only gives you a comfy spot for relaxing, reading, or watching TV but also serves as a striking visual detail in your personal sanctuary.
Choosing the right accent chair
When selecting the perfect accent chair for your bedroom, consider the following factors:
Size: Measure your space and choose a piece that fits comfortably without overcrowding the room.
Style: Pick a design that complements your existing bedroom décor—whether it's mid-century modern, boho, traditional, or minimalist.
Material: From plush velvet to sleek leather, the upholstery should feel inviting and comfortable while being easy to maintain.
Color: Choose a color that either matches or contrasts with your existing bedroom palette.
Creating cozy nooks
To elevate the five-star hotel ambiance in your bedroom further, add some textured throws and decorative pillows that coordinate with your accent chair. This enhances both comfort and visual appeal.
Positioning
Finding the perfect spot for your accent chair can make all the difference:
Consider placing it beside a floor lamp or near a window with ample natural light for scenic reading sessions.
If you have space constraints, positioning it diagonally from one corner can give an illusion of spaciousness.
You can also use it in front of an attractive console table or artwork on the wall to create an inviting focal point.
Incorporating an accent chair into your bedroom design scheme, you'll enjoy hotel-like comforts while adding an extra level of sophistication and elegance to your retreat from daily life.
11. Vanity
A well-designed vanity can take your bedroom to a whole new level of luxury and convenience. Acting as a personal grooming station, this chic piece of furniture provides an intimate space where you can pamper yourself with ease.
Selecting the Perfect Vanity
To create that five-star hotel vibe, start by choosing a vanity that complements your bedroom's overall style and color scheme. From modern minimalist designs to vintage-inspired models, there's something to suit every individual taste.
Functionality is Key
Make sure your chosen vanity has adequate storage space for all your grooming essentials, like makeup and hair accessories. Most vanities will include built-in drawers or shelves that promote organization and decluttering.
Stylish Accessories
Enhance the experience by selecting an elegant stool or chair specifically designed for vanity use. Further, elevate your space by adding a stunning mirror - either wall-hung or freestanding - as well as adequate lighting (think sconces or lighted mirrors) that highlights both the form and function of this essential item.
Personal Touches
With the basics in place, add some personality to your vanity with decorative elements such as trays for displaying perfumes and cosmetics or framed pictures showcasing cherished memories.
Incorporating all these details into your vanity area will provide the ultimate space for self-care rituals - something straight out of a five-star hotel experience!
12. Sheets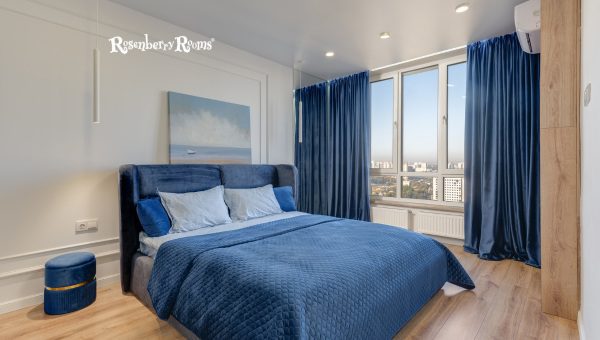 One of the most underrated yet important aspects of achieving a five-star sleeping experience is selecting the perfect sheets for your bed. Trust me, I've learned that investing in high-quality sheets makes all the difference between a mediocre slumber and feeling like I'm sleeping on a cloud.
Material: Sheets are often made from cotton, microfiber, bamboo, or silk. Personally, I find that Egyptian or Pima cotton provides a luxuriously soft and breathable texture reminiscent of hotel bedding.
Thread Count: A higher thread count usually translates to softer sheets, but also remember that material plays a significant role too. Aim for at least 300-400 thread count for optimal suppleness.
Weave: Consider opting for sateen over percale if you prefer sheets with a smoother finish that feel more like silk.
Fit: Invest in deep-pocket fitted sheets to ensure your sheet won't slide off during the night. This helps create that cozy and snug hotel bed experience.
Color & Pattern: While choosing colors and patterns comes down to personal taste, I recommend sticking to neutral shades or picking subtle patterns that complement the overall design of your bedroom.
Remember to wash your sheets regularly (at least once every two weeks) to maintain hygiene as well as the feel and longevity of the fabric. Sweet dreams!
13. Quilt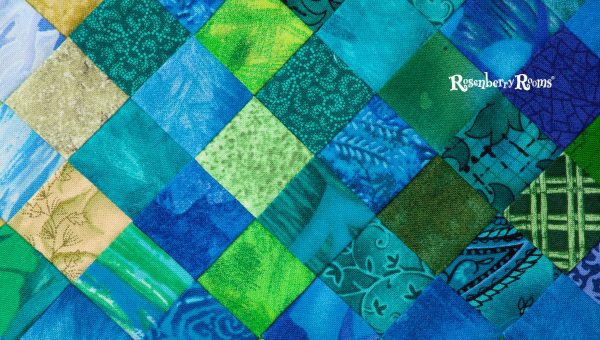 A quilt is not just another layer on your bed—it's an essential piece of functional and decorative bedding that brings five-star hotel luxury to your bedroom.
Traditionally made by stitching together different fabric pieces into a beautiful pattern, quilts add a touch of warmth, elegance, and visual interest to your sleeping space.
When choosing a quilt for that hotel-worthy vibe, consider the following factors:
Fabric: High-quality materials such as Egyptian cotton or silk offer both comfort and durability.
Weight: A lightweight quilt is perfect for summertime, while a heavier one keeps you cozy during winter months.
Construction: Look for quilting techniques like channel or diamond patterns that offer an even distribution of warmth.
Style: Your quilt should seamlessly blend with your bedroom's existing color scheme and design elements.
Be sure to properly care for your amazing new quilt by following the manufacturer's cleaning instructions. With all these details in mind, you'll soon be enjoying restful nights beneath the timeless beauty of a luxurious quilt.
14. Throw Blanket
A throw blanket is not only a cozy and stylish addition to your bedroom but also effortlessly elevates the overall aesthetics of your space. In a five-star hotel, you often find luxurious throw blankets on the bed that add texture and warmth to the room. To choose the perfect throw blanket, consider factors like fabric, size, color, and design.
One popular option is a faux fur throw that adds both comfort and a touch of elegance. For those who prefer lightweight options, cotton or linen throws are an excellent choice for layering. Don't forget to pick a color or pattern that complements your existing bedding and bedroom décor!
To achieve that luxurious hotel feel, drape your throw blanket over the foot of your bed or across an accent chair to serve as both aesthetic appeal and added warmth when needed.
Pro tip: Keep options handy for guests by storing several throw blankets in varying colors and fabrics to cater to different tastes or seasons!
15. Mood Lighting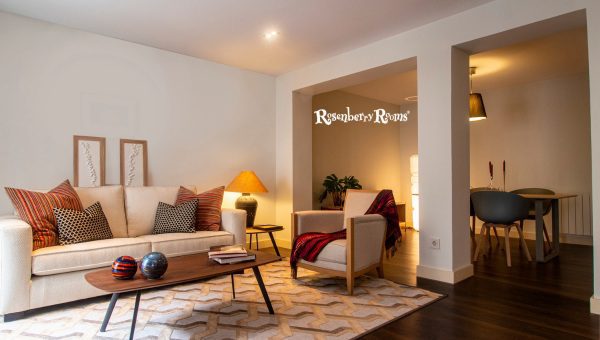 Mood lighting plays a crucial role in elevating the ambiance of a five-star hotel bedroom, and there are several ways to achieve it. Start by incorporating dimmer switches for your main overhead light, which will allow you to control the brightness of the room effortlessly.
Table lamps or sconces flanking your bed can offer a soft and gentle glow for late-night reading or winding down.
Adding string lights or LED strip lights around your headboard, shelves, or even accent lighting can work wonders in creating a cozy atmosphere. You might also consider using smart bulbs that can change colors or mimic sunrise and sunset for a unique touch.
16. Window Coverings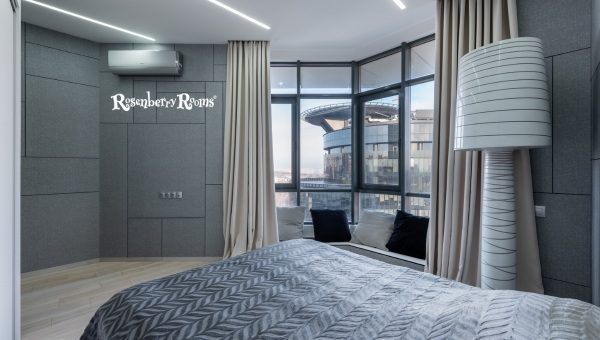 Window coverings are an essential element to consider when trying to replicate that five-star hotel comfort in your bedroom.
They serve both practical and aesthetic purposes, elevating the overall ambiance of the space and ensuring sufficient privacy. Here are some points to consider when choosing the right window coverings.
Types: There's a wide variety of options available such as:
Curtains: A classic choice, curtains come in numerous colors, materials, and patterns to suit any style. They provide an effective light-blocking option, depending on the fabric thickness.
Blinds: These offer an easy-to-clean option while maintaining privacy and allowing for adjustable light control.
Shades: As a versatile choice, shades come in different types like Roman, roller, or cellular shades offering adequate privacy as well as insulation.
Functionality: Choose window coverings that can block light out efficiently for a serene sleep environment.
Aesthetic appeal: Select window treatments that complement the overall bedroom theme or color scheme.
Quality: Look for top-quality fabric options like silk, linen, or velvet that will not only look luxurious but also have excellent light-blocking properties.
With the right window coverings, you can achieve your desired level of privacy, lighting control, and energy efficiency while enhancing the overall design of your dream bedroom haven.
17. Full-Length Mirror
A full-length mirror is not just a vanity item, but a crucial element to enhance your bedroom style and create an illusion of extra space. The reflective surface provided by the mirror opens up the room and helps in making it feel more spacious, amplifying the natural light entering from windows or other light sources.
Moreover, having a full-length mirror makes getting dressed and envisioning different outfit combinations simpler and more enjoyable.
When choosing a full-length mirror for your bedroom, be sure to look for one that complements the overall decor. Opt for decorative frames that suit your theme—whether it's modern, rustic, or minimalist.
You can either mount the mirror on the wall or use a freestanding version with support on the back. A popular choice among decor enthusiasts is leaning large mirrors against the wall for a sophisticated, contemporary touch.
In terms of placement, ensure that your full-length mirror is situated in an area where you'll get ample light when checking out your ensemble or applying makeup. This small addition to your bedroom will undoubtedly elevate its appearance and functionality while giving you that five-star hotel vibe you crave!
18. Wall Decor (paintings, clocks, etc.)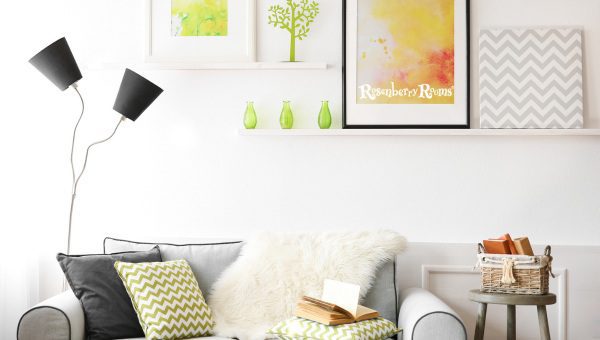 Wall decor plays a pivotal role in elevating the ambiance of your bedroom and creating a space that echoes the aesthetics of a five-star hotel.
Be it through framed artwork, an elegant clock, or decorative shelves—the right wall accessories can tie every element of your design together and express your unique personality.
To create a luxurious atmosphere, opt for art pieces or paintings with subtle colors that complement your bedroom's color scheme. Abstract and contemporary artwork is particularly suited to achieving that plush hotel room vibe. Then consider adding an eye-catching clock with minimalist features to further refine the luxurious ambiance you're after.
Moreover, installing floating shelves provides both functionality (storage/display) and visual appeal. Decorate these shelves with items like decorative vases, books, or small plants for an extra touch of sophistication.
It's about finding the right balance between style and personality in your wall decor—ensuring that every piece contributes to an atmosphere reminiscent of five-star accommodations.
19. Comforter
A truly luxurious experience would not be complete without a cozy and fluffy comforter to envelop you as you sleep. Five-star hotels understand this, sparing no expense when it comes to selecting high-quality materials for their bedding.
To achieve this level of opulence in your own space, invest in a premium-quality comforter that provides ample warmth without being overly heavy or stifling. Opt for a comforter with baffle-box construction–a design that includes internal fabric walls that prevent the fill from shifting, ensuring even distribution of warmth and support.
When considering the fill material, down or down-alternative options both work well. Natural down offers incredible insulation and breathability while being lightweight at the same time. However, if allergies are a concern, a down-alternative made from microfiber or polyester will emulate similar qualities but with hypoallergenic properties.
Don't forget about the thread count of your comforter shell. Aim for a thread count between 300 to 600 for durability and softness combined. Upgrading your comforter will make all the difference in transporting you into a world reminiscent of five-star hotel comforts each time you slip into bed!
20. Plants
Incorporating plants into your bedroom is an excellent way to enhance the aesthetics of the space while also providing numerous benefits. Not only do they add a touch of nature and tranquility, but they can also help purify the air and improve sleep quality.
Choosing the Right Plants: Select plants that thrive in low-light conditions, such as peace lilies, snake plants, or pothos. These species require minimal care and can still provide you with all of their healthy benefits.
Placement: Strategically place plants around your room to create balanced visual interest. Consider options like hanging planters, floor-standing pots, or even a windowsill garden.
Care Tips: Make sure to follow care instructions for each specific plant type, including ideal water, light, temperature requirements (you can find these details on most nursery tags or online resources). Additionally, keep an eye on the humidity levels in your room—many houseplants prefer higher humidity environments which are easy to achieve through regular misting or using a small humidifier.
By thoughtfully adding a few well-chosen plants to your bedroom setup, you'll quickly create an inviting and breathable space where you'll feel like you're sleeping in a five-star hotel amidst nature's beauty.
21. Storage (Baskets/Bins)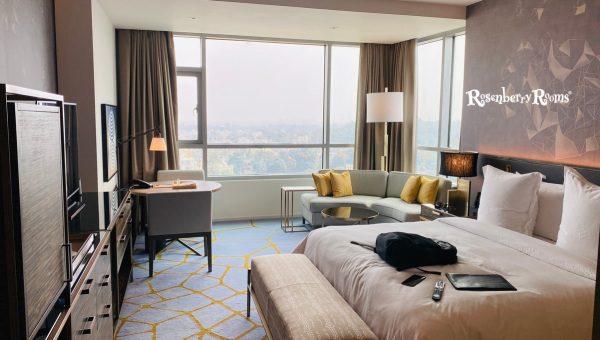 Storage baskets and bins are essential for maintaining a clutter-free and organized bedroom that emulates the pristine atmosphere of a five-star hotel. Unlike typical storage solutions, these containers are versatile, functional, and stylish.
They come in various materials like wicker, fabric, metal, or even plastic—allowing you to choose something that complements your space's aesthetic.
Functionality: Baskets and bins help keep your items organized and accessible. Think about separating your belongings into categories such as seasonal clothes, shoes, or bed linens. That way, it's easier to maintain order in your bedroom.
Decoration: Choose baskets or bins that fit the theme of your room. You can opt for decorative options with intricate patterns or minimalist designs for a clean look.
Placement: Utilize any space you have available by placing these storage containers under the bed, in closets, beside dressers, or on shelves.
Remember that when seeking out the perfect storage solution for your bedroom sanctuary, finding something both practical and aesthetically pleasing will elevate your room's overall ambiance—bringing you one step closer to attaining the luxurious comfort of a five-star hotel experience at home!
22. Alarm Clock
An essential item that might not immediately come to mind when considering luxury is a trusty alarm clock. Sure, we may use our phones for this purpose, but having a dedicated alarm clock in your bedroom helps create a more comforting ambiance while allowing you to establish better sleep habits. Here are some features to consider for the perfect alarm clock:
Aesthetically Pleasing Design
First and foremost, the look of your alarm clock should complement the overall decor of your bedroom. Choose one with a sleek, elegant appearance for that five-star feel.
Gentle Wake-up
Opt for an alarm clock with gradual light or sound settings that simulate sunrise or soothing melodies, easing you into wakefulness without the dreaded blaring tones.
Dual Alarms
If you share your bedroom with someone else or have different weekday and weekend schedules, a dual-alarm feature comes in handy.
USB Ports or Wireless Charging
Modern alarm clocks often come equipped with USB ports or wireless charging capabilities, ensuring all your devices are fully charged and ready for the day ahead.
Ambient Noise Functionality
Choose an alarm clock with built-in ambient noise options such as white noise or nature sounds to help mask external disturbances and create a serene environment for relaxation.
By incorporating these elements in an alarm clock, you can achieve ultimate convenience while enhancing the comfort and sophistication of your room—a true hallmark of five-star hotel accommodations.
23. Shelves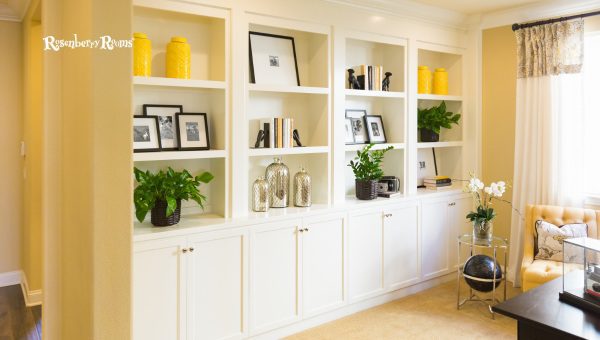 Incorporating shelves into your bedroom setup is a great way to display your favorite books, photos, and decorative items while making the most of your available space. Shelves not only serve practical storage purposes but can also add an attractive visual element to empty walls.
There are numerous types of shelves to choose from:
Floating shelves: These have a clean, modern appearance and meld seamlessly with the wall.
Ladder shelves: A more unconventional option, these lean against the wall and taper in width as they ascend.
Bracket shelves: Offer both simplicity and support through L-shaped brackets.
Visit local furniture stores or browse online retailers to find something that suits your style. I'd recommend going for a quality material like solid wood or metal for increased durability and longevity.
Measure your available wall space to select the appropriate size of shelves, bearing in mind their weight capacity too. After all, it's essential that our precious items remain intact when we're trying to emulate a five-star hotel experience!
24. Candles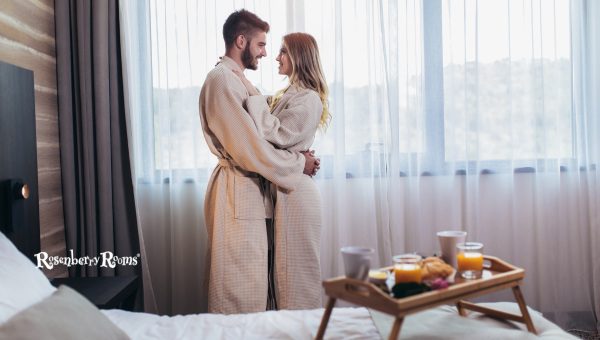 Candles are the epitome of luxury and coziness, offering a wonderful addition to any bedroom. A beautifully designed scented candle can easily transport you into a five-star hotel-like experience while infusing your space with inviting fragrances.
Opt for candles made from soy or beeswax with natural wicks, as these options create less soot and burn cleaner than their paraffin counterparts.
When selecting a scent, look for calming and soothing fragrances like lavender, jasmine, sandalwood, or vanilla—these scents will help induce relaxation while elevating the ambiance of your room. You can also mix and match candles with varying heights and designs placed on a decorative tray to create an eye-catching display that adds a layer of sophistication to your bedroom.
But remember, safety first! Always keep burning candles away from flammable materials and never leave them unattended. Alternatively, try using flameless LED candles for worry-free coziness!
25. Fragrance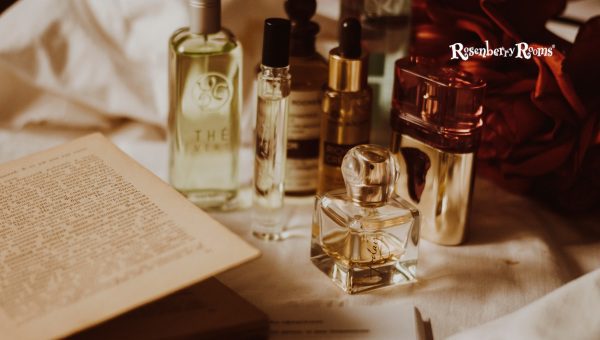 A signature fragrance can elevate your bedroom ambiance, making it feel like a luxurious hotel haven. After all, smell is strongly linked to our emotions and memory recall, so the right scent can transport you to a calming and restful state in no time.
Choose your scent: Opt for essential oils, scented candles, or diffusers that emit relaxing fragrances such as lavender, bergamot, or sandalwood. Light floral or refreshing citrus aromas are also excellent choices for creating an inviting environment.
Safety first: When using candles or diffusers with flame components, always practice fire safety precautions. Keep them away from flammable materials and be sure to extinguish them before leaving the room or going to sleep.
Placement: Distribute the fragrance evenly by placing it at strategic locations around the room—near windows and doors for a gentle breeze, by the bed for relaxation purposes, and in hidden corners to surprise your senses as you move around.
Remember that personal taste plays a crucial role in selecting fragrances. A scent that makes you feel pampered and relaxed is guaranteed to cultivate an atmosphere reminiscent of five-star hotel comforts!
Conclusion
Turning your bedroom into a five-star hotel-inspired retreat is achievable with these bedroom essentials. You don't have to break the bank to get that luxurious feel; instead, focus on investing in quality pieces and adding personal touches that make your space uniquely yours.
By incorporating these essential items into your own personal haven, you can indulge in the comforting experience of a high-end hotel stay without even stepping foot outside your home. Imagine getting that much-needed relaxation at the end of a long day or having a cozy escape for an indulgent weekend staycation—it's time to reclaim our bedrooms and make them the sanctuaries they were always meant to be!
So go ahead, embrace these bedroom essentials and watch as your space transforms into the epitome of five-star hotel comforts. Enjoy those restful nights and blissful mornings as you make everyday life feel like a true getaway!