You're longing to breathe new life into your west-facing room – switching up the wall hues is a great place to start.
But with seemingly infinite shades on the palette, it can be challenging to handpick the best paint colors for west facing rooms. This is where we step in, offering guidance to make your upcoming revamp a sweeping success.
Imagine walking into your west-facing room as the sun begins its colorful descent from the afternoon sky. The right wall color can not only enhance this warm, golden light but it can also help create an intimate ambiance even when daylight fades. Let's get this transformation journey underway!
Interpreting the Role of Sunlight in West-Facing Rooms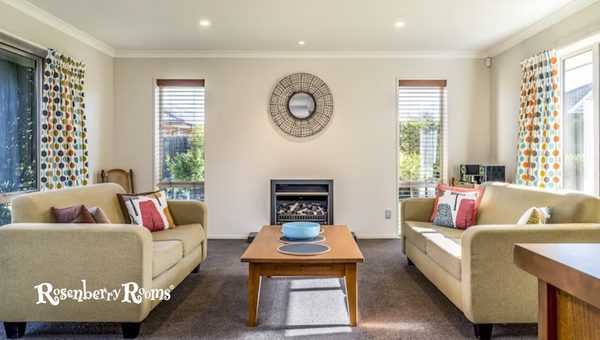 Sunlight dictates how colors appear and behave at different times of the day, making it a crucial factor when selecting paint shades for your west-facing room.
Influence of Light Changes Throughout the Day
In the morning: Rooms facing west get limited morning sunlight, translating to cooler and softer hues.
In the afternoon: As the day unfolds, these rooms become progressively brighter, with indirect sunlight spilling through, warming up hues further.
At dusk: West-facing rooms bask in the full glow of sunset, which tends to bathe objects and walls in a warm golden light.
The Impact of Warm Evening Light
Enhances Warm Colors: The warm evening light deepens reds, oranges, and yellows – making them appear more vivid and lively.
Alters Cool Colors: Cool tones like blues or greens can appear rather washed-out or dull in warm illumination.
Affects Neutral Shades: While neutral shades hold their own throughout the day's varying light conditions, they tend to incline towards warmth under evening lighting.
Being mindful of these influences whittles down your color options meaningfully – enabling you to create just the ambiance you envisage for your west-facing room.
The right color shines through in natural daylight and can maintain its integrity when artificial lights flicker on after dusk!
How to Pick the Best Paint Colors for West-Facing Your Room
Selecting the perfect paint color for your west-facing room comes down to playing up the assets of natural light while achieving your desired aesthetic.
Consider the Mood: Do you want a cozy, intimate space, or are you aiming for a light and airy feel? Your color choice will dramatically affect the room's ambiance. Warm colors may intensify under sunset light, providing a cozy atmosphere, while cooler colors lend openness and calmer vibes.
Think About Functionality: How you plan to use the room can also guide your color selection! A study might benefit from cooler hues promoting concentration and calmness, whereas warmer tones might work excellent for living rooms or bedrooms that get used more in the evening.
Assess Your Existing Décor: What are the primary colors in your furniture, flooring or artwork? You would want your new wall color to complement these existing elements beautifully.
Trial with Swatches: Invest in sample pots or peel-and-stick swatches. Seeing paint samples in situ at different times of day can drastically help you nail down your perfect shade.
Choose Lighting Wisely: Given that artificial light will likely be used during evenings in west-facing rooms, consider which type of lighting complements your chosen paint shade. Soft white bulbs pair well with warmer colors, while daylight bulbs enhance cooler hues.
Making informed decisions helps ensure everything seamlessly ties together, enhancing aesthetics and functionality!
White Paint Colors for West-Facing Rooms: Top Picks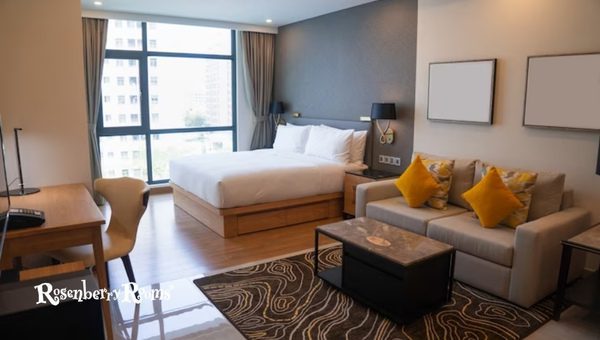 White paint hues are typically versatile across all rooms due to their ability to reflect and enhance light. However, for west-facing rooms, not all whites are created equal.
Let's explore some top picks that would perfectly balance the changing light conditions and keep your room from looking too stark or yellow.
Benjamin Moore Winter White OC-21
This soft white has slightly cool undertones that can adapt beautifully to your west-facing room. It's mild enough not to overpower natural sunlight during the day while offering a calming and airy ambiance even in artificial lighting later in the day.
Benjamin Moore White Wisp OC-54
White Wisp is an off-white selection with subtle gray undertones. During daylight hours, it offers a breezy visual appeal; as evening closes in, it can lend your room an intimate look—creating an elegant balance between brightness during the day and coziness by night.
Benjamin Moore White Heron OC-57
It's an ideal choice if you're aiming for a clean yet warm look in your west-facing space. White Heron is an off-white shade that beautifully maintains its pristine appearance under variations of natural light. Its soft warmth prevents it from turning overly stark once dusk sets in.
Choosing the best white hue depends on whether you want a warm or cool ambiance. The key is assessing each shade at different times of the day to capture how it truly performs under changing light conditions, guaranteeing that you choose just what syncs with your room's aesthetics and vibe.
Also Read About Benjamin Moore Cedar Key 982 / OC-16 [Warm Or Cool: Review]
Gray Paint Colors for West-Facing Rooms: Top Picks
Gray can be a remarkable choice when working with a west-facing room. It's an adaptable hue that offers sophistication and modernity while effectively navigating the evolving light conditions of a west-facing room. Here are some top gray paint picks sure to infuse your space with refinement and singular style.
Benjamin Moore Coventry Gray HC-169
Coventry Gray is an exquisite medium-light gray tone with subtle blue undertones. It works wonderfully on your west-facing room walls, offering balance and harmony. The shade is designed to remain consistent in varying light conditions, making it a steadfast pick.
It reveals its fresh, crisp character in the daytime while maintaining its charming depth during evening hours under warmer light.
Benjamin Moore Silver Chain 1472
Silver Chain is characterized by subtlety – it's a softer gray with slight silver undertones. This understated hue can add depth to your space without being overpowering – even under intense evening light in west-facing rooms.
It emits a gentle sparkle during daylight hours due to its silver note while retaining warmth once the sun dips below the horizon.
Benjamin Moore Moonshine OC-56
Moonshine brings forth an ethereal touch – this shade of gray carries subtle green undertones marked by high reflectivity.
This feature helps balance incoming warm lights during sunset, maintaining coolness and neutrality in your spaces.
Moonshine glows softly under daylight while transforming into a cozier hue, blending seamlessly against night lights.
Explore these suggested gray hues before finalizing your choice! Remember: how these colors unveil their multiple tones depends on how natural light interacts throughout the day.
Highlight them using decor pieces in matching or contrasting tints for an enigmatic flair to sweep through your west-facing rooms from dawn till dusk!
Neutral Paint Colors for West-Facing Rooms: Top Picks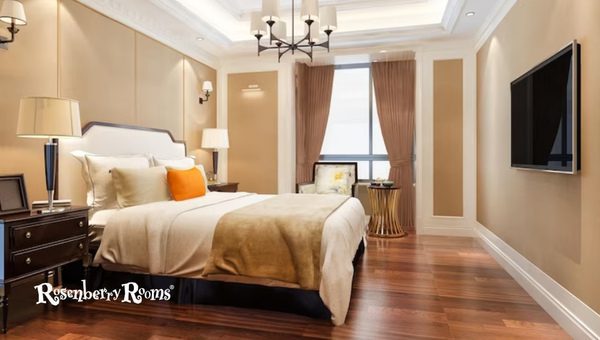 Neutral colors serve as a flexible canvas for west-facing rooms. They're appealing for their ability to blend seamlessly with varying light conditions—shifting subtly from refreshing, inviting hues in the morning to warm, cozy shades at dusk.
Here are a few standout choices that offer both stability and versatility while providing an ideal background against which the character of your room can emerge.
Sherwin Williams Knitting Needles SW 7672
Knitting Needles by Sherwin Williams offers a light-medium gray tone with a soft bluish undertone that keeps it from veering into cold territory.
As daylight shifts in your west-facing room, this hue gets more depth and complexity, making it an excellent choice if you prefer a neutral that isn't too warm or cool. Both modern and timeless, it's subtle enough not to intrude yet possesses enough depth to stand alone.
Sherwin Williams Gray Screen SW 7071
Gray Screen is a cool gray paint color with beautiful soothing blue undertones - conveying a sense of serenity throughout the day.
The relatively high light reflectance value (LRV) allows it to bounce off ample light, yet it also does well when the room's bathed in sunset hues or under artificial lighting. Its understated elegance will make your west-facing space feel stylish and pleasantly peaceful.
Sherwin Williams Canvas Tan SW 7531
If warmer neutrals are more up your alley, Canvas Tan could be your ideal fit. It's a timeless beige that leans towards creaminess rather than overt yellow tones—rendering sophistication while staying neutral.
This paint shade exudes comfort and warmth during daylight and even as evening falls—making your room feel inviting after sundown.
Benjamin Moore Sandy White 2148-50
Sandy White by Benjamin Moore is a delicate mix of beige and gray with a slightly pink undertone. That unique blend contributes to its warmth, making it perfect for your west-facing room.
Whether under the soft morning light or the warm evening glow, it maintains its inherent subtlety–giving off a sense of serenity and soft cheerfulness that can make your space truly inviting around the clock.
Benjamin Moore Stonington Gray HC-170
Stonington Gray has earned itself quite a reputation for its neutrality and adaptability. This clean and contemporary gray color possesses subtle blue undertones that take a backseat. They're enough to add character but not dictate the overall hue too strongly.
In your west-facing room, it'll take on an ethereal quality in the morning of sunlight and transition beautifully into an elegantly poised shade enhanced by the warm sunset light.
Benjamin Moore Gentle Cream OC-96
True to its name, Gentle Cream gives off an inherently soft feel without leaning too much towards yellow or beige territories. Its high ability to reflect light ensures it basks in natural daylight – bouncing off just enough to keep your room feeling light and open throughout the day.
This color will take on a slightly deeper tone as evening descends, maintaining its charm even under artificial lighting.
Benjamin Moore Indian White OC-88
If you seek distinct neutrality with hints of elegance, look no further than Indian White by Benjamin Moore.
It's an organic blend of white and beige hues–transmitting just a dash of depth without overwhelming the space.
Irrespective of lighting changes during the day in your west-facing room, this shade will lend sophistication—achieving a balance between maintaining neutrality and texturing your walls with warmth.
Explore More: Benjamin Moore Bleeker Beige HC-80 [Paint Color Review]
Warm Paint Colors for West-Facing Rooms
The warm shades are naturally set to take center stage in your west-facing room. These hues pair delightfully with the golden evening sunlight, inviting a cozy and rich ambiance into the room.
Here's a curated list of some warm paint colors best suited for your west-facing rooms, adding depth and character while maintaining a harmonious balance with the changing light.
Benjamin Moore Wilmington Tan HC-34
Benjamin Moore's Wilmington Tan HC-34 is an inviting medium tan that radiates warmth. This versatile shade adds depth and richness without overwhelming your walls.
Injected with subtle undertones of orange, it's just the hue to utilize if you aim to promote a sense of comfort and coziness in your west-facing abode.
During sunset, when the soft golden rays beam into your living space, Wilmington Tan turns up its charm by vividly enhancing the room's earthy elegance.
Sherwin Williams Macadamia SW 6142
Sherwin Williams' Macadamia SW 6142 is another remarkable choice for west-facing rooms. As a rich, creamy nut-brown color evoking imagery of decadent macadamia nuts, it exudes an element of understated luxury in your space.
This warm neutral balances beautifully throughout the day - appearing relatively lighter during morning hours and resonating a deep, cozy warmth as dusk sets in - making it an excellent choice for rooms that require a balance between vibrant morning light and softer evening illumination.
Sherwin Williams Lemongrass SW-7732
Sherwin Williams' Lemongrass SW-7732 might capture your fascination if you yearn for something more vibrant yet soothing.
Contrasting its lively name, Lemongrass portrays a muted yellow-green color reminiscent of swaying tall grasses on a lazy summer afternoon.
Although inherently bright, this exciting selection does not overpower any aesthetic. Its naturally warm undertones create an engaging canvas for your west-facing rooms, which beautifully amplify during the vivid sunset, wreathing the entire setting into a golden haven.
Benjamin Moore Light Khaki 2148-40
Looking for a subtle infusion of warmth in your room décor? Benjamin's Moore Light Khaki is an understated brownish-gray tint that could be exactly what you're looking for!
This shade infuses your space with a tactile sense of coziness while complementing virtually any color scheme or décor.
The soft warmth of this color plays nicely with the declining sun's glow, bringing out your room's textures and adding depth without making it feel overwhelmed or overly enclosed.
Benjamin Moore Navajo White OC-95
A charming off-white shade with yellow-orange undertones, Benjamin Moore's Navajo White OC-95 offers a perfect balance between neutral and warm. This selection exudes a rustic charm that pairs wonderfully with wooden fixtures and natural textures.
In a west-facing room, expect this slightly buttery hue to mellow beautifully under evening light – elevating the cozy factor without crossing into overly warm territory, thus ensuring your walls always feel soothing and inviting.
Sherwin Williams Classic Ivory SW-0051
While it carries 'ivory,' Sherwin Williams' Classic Ivory leans towards beige. This warm neutral has an exceptional power to make spaces appear larger while adding profoundly understated sophistication.
As sunlight transitions through your west-facing rooms during the day, Classic Ivory takes on different personas, staying true throughout the day – serene in the cooler morning light and impressively cozy yet retained lightly vibrant under the evening's golden glow.
Cool Paint Colors for West-Facing Rooms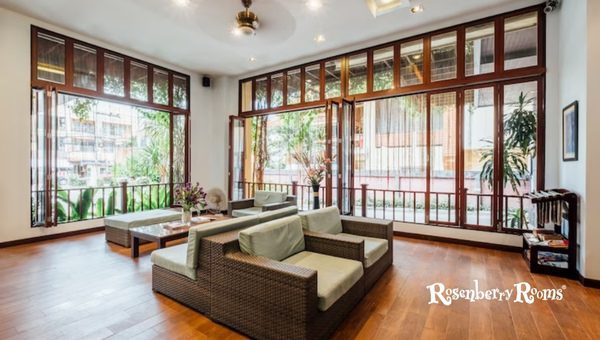 Choosing cool-toned paint for your west-facing room is a bold move, but it offers a refreshing departure from the norm when done right.
These shades tend to balance out the warm evening lighting, imparting a soothing ambiance that persists into the night. Here's a dive into some remarkable cool color options for your west facing rooms:
Benjamin Moore Fernwood Green 2145-40
Seeking to give your west-facing room a touch of understated elegance? Consider Benjamin Moore's Fernwood Green.
This medium-light paint color beautifully offsets the warm light that filters in the afternoon and evening, bringing an airy freshness to your space.
Its gray undertones prevent it from turning overly vibrant or flashy under direct sunlight. Rest assured, Fernwood Green provides a tranquil backdrop for studies and bedrooms.
Benjamin Moore Abalone 2108-60
Abalone is perfect if you're out on a limb for a sophisticated yet tranquil vibe. This grayish purple hue sprinkled with beige undertones exudes calmness while emanating plenty of character and depth – especially under softer lighting conditions typical of west-facing rooms in late afternoons to evenings.
It brings about an interesting dynamic due to its chameleon-like characteristic, appearing more grape-like during daylight and morphing into gray-beige as sunset approaches.
Benjamin Moore Palladian Blue HC-144
Palladian Blue is a classic choice that subtly turns heads, imbuing your west-facing room with tranquility and grace.
This stunning hue features green undertones, keeping it from becoming overtly blue under the evening sun.
Bathed in morning soft light, this color leans more towards a subdued aqua, emanating calm serenity before seamlessly transitioning to a mellower shade as the sun sets.
Benjamin Moore Woodlawn Blue HC-147
Woodlawn Blue walks the delicate line between blue and green, providing you with the best palettes for your west-facing room. It's a light pastel hue that beautifully reflects daylight without fading into gloominess as dusk approaches.
Under the warm glow of evening sunlight, Woodlawn Blue casts relaxed coastal vibes - making it perfect if you aspire for an all-day casual yet fresh feel.
Sherwin Williams Silver Strand SW-7057
Silver Strand is another fantastic cool-tone option for west-facing rooms – a gentle gray shade with hints of green and silver.
In abundant natural light pouring through during daytime, this hue leans more into silvery-gray, sprinkling whispers of elegance.
As sunlight wanes and warm indoor lighting takes over, Silver Strand acquires a subtle greenish tint, further enhancing its charm and depth - transforming your space into a cozy retreat.
Read More: Benjamin Moore Steel Wool 2121-20 [Paint Color Review]
FAQs about best paint colors for west facing rooms
Why does my west-facing room turn yellow at sunset even though I painted it with a neutral shade?
The warm, golden light of the setting sun interacting with your paint color, especially if it has warm undertones, can cause the room to appear more yellowish at sunset.
Can I use cool colors in west-facing rooms with limited natural light?
Absolutely! Cool colors could help balance the softer morning light and rich, warm hues from the evening sun.
What's the best way to determine which paint color will work for my west-facing room?
Experimenting with swatches or small paint samples on your wall is usually a great idea; it gives an accurate sense of how different shades behave throughout the day.
Is white a good choice for a room facing west?
White is versatile and can work well in west-facing rooms, but consider options with cooler undertones to prevent them from looking overly yellow in evening sunlight.
What kind of paint sheen is suitable for west-facing rooms?
Satin or eggshell are often popular due to their low reflectivity and ability to diffuse light evenly across the room.
Conclusion
Choosing the right paint color for your west-facing room can dynamically transform its ambiance throughout the day.
Ground your selection in how natural and artificial light interacts with various hues to create the perfect aesthetic.
From soothing, cool-toned colors that diffuse the sunset's warm glow to rich warm tones that exude tranquility or white shades striking a balance - there's a color scheme that speaks to every taste.
Interior design is all about personal expression. Embrace the light play in your west-facing room and pick a shade that resonates with your style while complementing the room's functionality. Whether you opt for serenity or vibrance, ensure it feels like home to you!