Looking for the perfect color can be like searching for a needle in a haystack. But we might have what you've been seeking. Welcome to our Benjamin Moore Navajo White OC-95 color review.
Yes, it's true; this unique paint shade might be the game-changer you need to breathe fresh air into your home decor.
Painting your home isn't merely about coloring walls; it's more about sending a personal statement about your taste and style.
This often-overlooked aspect is why choosing the right hue becomes essential. The beauty of Navajo White OC-95 is all about subtlety and class, offering an exquisite charm that's hard to resist.
Untouched Keys about Navajo White OC-95
Aside from being known as OC-95, Benjamin Moore Navajo White also carries the codes 947 and PM-29. It's part of the Off White Color collection, which offers a near-limitless spectrum of white hues.
Its seamless blend of white and yellow allows it to cultivate a calm and serene ambiance, radiating warmth and comfort in any application.
Its adaptability makes it popular among professional designers and DIY homeowners due to its rich undertones that make a statement without overpowering.
The Undertones of Navajo White OC-95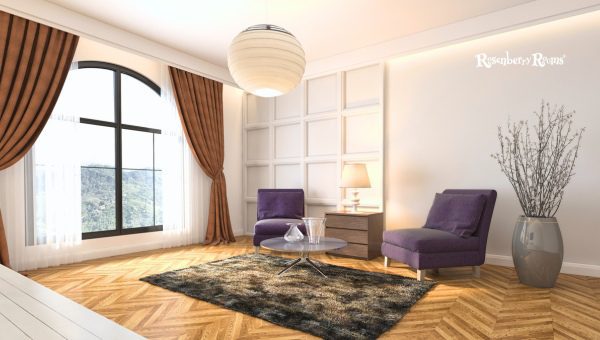 Benjamin Moore Navajo White OC-95 is a popular paint color known for its classic, neutral appeal. The primary undertone of this shade is yellow. This warm yellow undertone gives Navajo White a creamy, inviting quality.
Additionally, the yellow undertone helps to create a sense of depth and sophistication. Whether used in small spaces to make them appear larger or utilized in larger rooms to add a touch of warmth and coziness, this shade is versatile and timeless.
Navajo White OC-95 pairs well with most colors due to its neutral nature. However, it stands out beautifully when used with other warm-toned or earth-toned hues, such as browns and greens. Combining it with crisp whites or darker shades can result in stunning contrasts.
Navajo White OC-95 has a prominent yellow undertone, contributing to its creamy appearance and adaptability in various interior designs. It truly exudes an enduring charm due to its depth and warmth.
The Light Reflective Value of Navajo White
Benjamin Moore Navajo White OC-95 has a Light Reflective Value (LRV) of 78.26. This fairly high LRV reflects significant light and can add brightness to your space.
LRV, on a scale from 0 (pure black) to 100 (pure white), measures the percentage of light a paint color reflects. Therefore, with an LRV of 78.26, Navajo White is nearer to white on the scale, reflecting more light than it absorbs.
It's important to note that colors with high LRVs, such as Navajo White OC-95, often make small spaces feel larger and more open. On the contrary, colors with low LRVs can make a space feel smaller or cozier because they don't reflect much light.
In context to Navajo White OC-95, the creamy off-white tone paired with its high LRV has an exceptional effect in keeping the rooms well-lit and expansive-feeling.
Whether used in naturally well-lit spaces or rooms needing an added brightness boost, this color is versatile enough to complement both settings beautifully.
Also Read About Benjamin Moore Abalone 2108-60 [Paint Color Review]
Benjamin Moore Navajo White: Indoor and Outdoor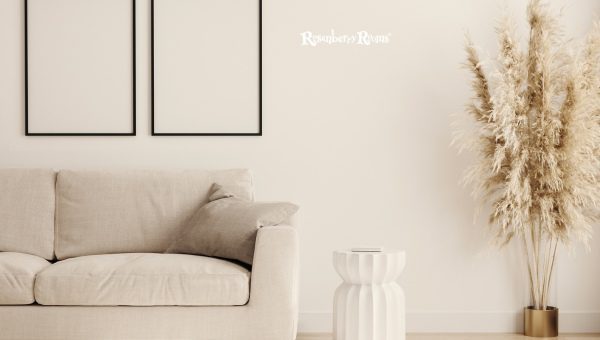 The magic of the Benjamin Moore Navajo White is its versatility. Its warm tint promotes an ambiance of comfort, making it a perfect choice for interiors and exteriors.
The adaptability of this shade allows it to mesh well with other colors, ensuring a balanced and harmonious look.
Whether your décor style leans toward traditional, modern, or contemporary, Navajo White will add that subtle touch to complete your desired ambiance. It infuses warmth and sophistication into any space while easily covering minor wall imperfections.
Indoor
This soothing and elegant hue is highly recommended for various rooms in your home:
Kitchen: When cultivating an environment of warmth and comfort with just the right balance of brightness, Navajo white creates a sophisticated backdrop.
Home Office: This neutral color can be very work-friendly, creating a peaceful yet refreshing environment.
Bedroom: An excellent choice for bedrooms due to its calming effects. When partnered with dim lighting, it cultivates tranquility, promoting deep relaxation.
Entryway: Use this hue to make your house feel welcoming right from the entrance.
Accent Walls: Apply it on accent walls partnered with bolder colors to create a stunning contrast without overpowering the room's overall aesthetic.
Hallway: Perfectly suited for hallways, this shade brings continuity throughout your home.
Dining Room: Create a cozy dining experience with an inviting atmosphere brought about by the delicate warmth of this shade.
Basement: Brighten up often dark corners of basements by using this color; it makes the modest lighting seem amplifying.
Bathroom: Make your bathroom appear spacious and clean by opting for Navajo white, which infuses that natural serenity.
Living Room: Complement any interior theme in your living room; its subtleness perfectly aligns with vibrant patterns and colors on your furniture or curtains.
Outdoor
When thinking of painting outdoors, you are likely considering the overall facade, accent pieces, and small particularities that beg for a touch of color. The inviting warmth of Navajo White OC-95 can dignify any exterior structure.
House Siding: The beauty of this versatile paint lies in its ability to balance aesthetics in broad daylight. As your house siding, it will highlight the architectural design against the stark landscape without being overly dramatic.
Trim: Accentuate your home's unique features by painting the trim with Navajo White OC-95. It creates a charming contrast with other colors while maintaining a seamless blend.
Front Door: A front door painted with Navajo White exudes an inviting appearance. Its subtle creaminess lends a classic yet sophisticated allure that beckons its viewers.
Fence: This lovely shade ensures high visibility for fences while providing an elegant backdrop to your garden or yard.
Deck: Applying Benjamin Moore's Navajo White on your deck gives you a comfortable atmosphere where relaxing and unwinding is easy after a long day. Its soothing warmth offsets overwhelming summer heat or cool winter breezes.
Garage Door: A garage door painted with this mild beige shade can significantly enhance the home's curb appeal by infusing a tranquil elegance into the overall facade.
Outdoor Furniture: Whether it's repainting wooden chairs or wicker pieces, Navajo White adds a chic aesthetic that is enjoyable throughout all seasons.
Shed: Paint your shed in Benjamin Moore's Navajo white and see how it transforms into another focal point in your backyard instead of being an eyesore.
Mailbox and Porch Railing: Highlights such as mailboxes and porch railings painted in this bewitching hue can add instant charm to your home exterior, encouraging harmonious vibes.
After thorough research, we found that Benjamin Moore Navajo White OC-95's warm undertone and high light reflective value make it ideal for various outdoor applications.
Paint is an easy and cost-effective way to enhance your home's exterior, and with Navajo White from Benjamin Moore, you'll love the fresh new look.
Benjamin Moore Navajo White: Matching Colors
Finding colors that work harmoniously with Navajo White can seem daunting. But rest assured, there are plenty out there.
Remember this rule of thumb when pairing other shades with Navajo White OC-95: keep it simple and subdued for best results.
Explore More: Benjamin Moore Barren Plain 2111-60 [Paint Color Review]
Navajo White: Similar Color- Royal Silk 939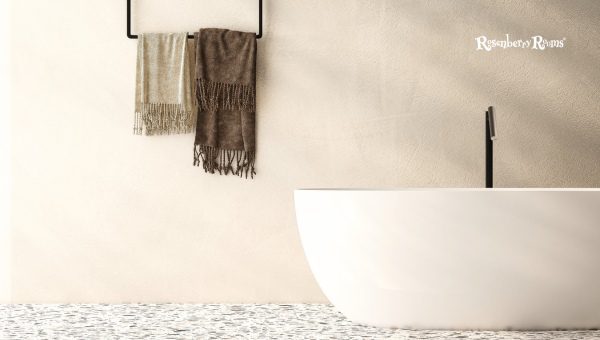 If you want something akin to Navajo White, consider Benjamin Moore's Royal Silk 939. This paint color also possesses a slight yellow undertone, like Navajo White.
It leans more toward beige and gives off a slightly warmer tone. It presents an elegant neutral palette, allowing for versatile style options—whether you're aiming for rustic charm, modern minimalism, or traditional elegance—it all works.
Why Samples are Essential for Paint Selection
Considering paint samples before finalizing your choice is paramount. Lighting can drastically affect how a color appears on your walls, and the dominant colors in your furniture and décor could change the hue's perceived appearance.
Online images may not reflect the paint's true color due to monitor variations. Paint samples applied directly in your space will show you exactly how Benjamin Moore Navajo White OC-95 or any other color interacts with your specific light conditions and décor, ensuring a perfect design.
Is Benjamin Moore Navajo White warm or cool color?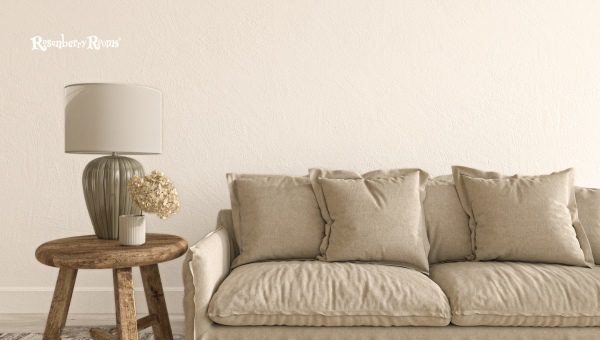 The Benjamin Moore Navajo White OC-95 is considered a slightly warm color. This attribution mostly comes from the subtle yellow undertones present in this shade of white, granting it a creamy and cozy feel.
Warm colors are often associated with energy, brightness, and action. However, slightly warm colors like the Navajo White can carry those positive aspects without being too vibrant or overwhelming.
Slightly warm whites are versatile and can soften a room while maintaining brightness. Navajo White OC-95 benefits from this aspect, being able to subtly enliven a space without stealing focus from other elements. It aids in creating harmonious color coordination within interior spaces, adding a comforting and inviting ambiance.
Read More: Benjamin Moore Moonshine 2148-60 [Paint Color Review]
FAQs about Navajo White OC-95
How does Benjamin Moore Navajo White OC-95 look in low light?
Even in dim lighting, Navajo White OC-95 retains its warm, inviting feel due to its yellow undertones.
Can I use Navajo White for my exterior walls?
Absolutely! Its neutral palette and high reflectivity make it perfect for indoor and outdoor applications.
How does Navajo White OC-95 compare to other white paints?
Unlike stark whites, Navajo White OC-95 offers a softer look with subtle yellow undertones, creating a warm and friendly atmosphere.
What colors compliment Benjamin Moore's Navajo White the best?
Bennington Gray HC-82 or Simply White OC-117 complements this shade exceptionally well, providing balanced contrast while enhancing its warmth.
Is Benjamin Moore's Navajo White a good choice for small spaces?
Yes! Its light reflectance capacity helps enhance natural light, making small spaces appear larger and more open.
Conclusion
Choosing the right paint color is monumental, but you can't go wrong with Benjamin Moore Navajo White OC-95.
Its versatility across various spaces and its gentle warmth and generosity make it an excellent choice for those seeking a warm, humble abode.
Whether dressing up the walls of your new kitchen or giving your exterior a refreshing facelift, Navajo White provides effortless elegance. It is undoubtedly an undeviating companion on your journey to curate the home of your dreams.