Trying to figure out the perfect mattress size for your platform bed? You're not alone. Many homeowners become overwhelmed with the numerous bed dimensions available in the market.
From Twin to California King, it can be difficult to tell which one will give you a restful night's sleep on your platform bed.
In this article, we will remove all the fuss of finding the ideal mattress size for platform bed. We aim to distill this potentially overwhelming process into clear, digestible facts.
By the end of this read, you'll be fully equipped to make an informed and confident decision on which mattress size fits perfectly on your platform bed.
Why is a Good Mattress Size for a Platform Bed?
When securing a restful night's sleep, the size of your mattress plays a pivotal role. An adequately sized mattress for your platform bed ensures you have enough space to stretch and move comfortably during sleep.
It guarantees proper weight distribution and superior support for all body types. The ideal mattress size will also respect the proportions of your room, enhancing aesthetics and enabling efficient use of space.
A properly sized mattress directly contributes to your overall sleep quality, maximizing comfort and reducing the chances of waking up with body aches or stiffness.
Also Read About Platform Bed Vs Box Spring [Which Is Better In 2023?]
The Best Mattress Size for a Platform Bed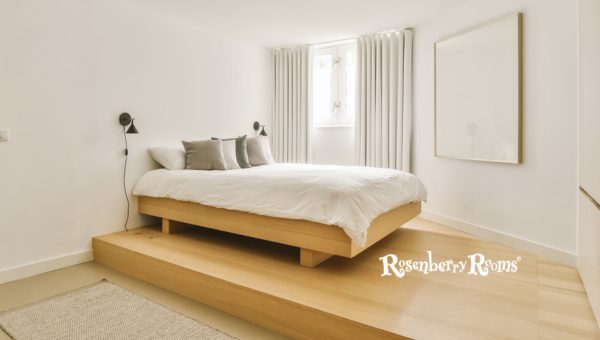 Choosing the right mattress for a platform bed involves evaluating your sleeping habits, spatial needs, and room dimensions. Each mattress size serves unique benefits, and its suitability largely depends on these factors.
Queen Size Mattress for Platform Bed
A queen-size mattress is a trendy choice for platform beds, and with good reason. It offers a perfect mix of ample sleeping space and practical room management.
Measuring 60 inches in width by 80 inches in length, it offers abundant personal space for single sleepers or couples who enjoy close sleeping proximity.
With a queen-size mattress on your platform bed, you can look forward to ample comfort and an aesthetically pleasing furniture piece. It also stands to be a cost-effective option when compared to larger sizes.
Whether you have limited room space or prefer cozier dimensions, a queen-size mattress for your platform bed could be the answer you've been looking for.
King Size Mattress for Platform Bed
If you crave more sleeping areas or share your bed with a partner or kids, the king-size mattress might be your best choice. Its generous dimensions of 76 inches by 80 inches offer abundant space for families or individuals who love spreading out during slumber.
The king size guarantees sleepers won't disrupt each other's rest with their movements during sleep – an appealing feature if you share your bed with an active sleeper!
If you possess a larger bedroom, it helps fill up extra space, thus complementing the room's aesthetic appeal.
Comfort should not come at the expense of style, and dimension should never limit functionality; therefore, consider all factors before picking the ideal mattress size for your platform bed.
California King Size Mattress for Platform Bed
A California king-size mattress, often called a 'Cal King,' is a luxurious choice for your platform bed if you are taller or have ample room space.
With dimensions spanning 72 inches by 84 inches, it's slightly narrower but longer than the standard king size. This extra length provides abundant legroom and is an attractive option for tall sleepers who don't want their feet hanging off the bed.
The Cal King supports a comfortable sleeping surface, ensuring maximum body support during sleep. Designed for more rectangular than square spaces, a California King promises comfort and makes a stylish statement in your bedroom due to its marvelous size.
Remember that its larger frame requires more room space and may not be optimal if you work with constrained bedroom dimensions. The specialized sizing might also make bedding and accessories like sheets or mattress protectors slightly higher priced.
Full-Size Mattress for Platform Bed
Also known as double beds, Full-size mattresses measure 54 inches by 75 inches - smaller than queen or king mattresses but larger than twin sizes.
They provide ample space for an individual sleeper and accommodate two smaller-sized adults or children who don't require much sleeping space.
Full-size mattresses for platform beds are an excellent upgrade from twin sizes for teenagers or adults living alone who desire more sleeping areas without compromising too much bedroom real estate. It allows extra room compared to a twin while leaving plenty of free space in your bedroom.
If you're taller (above average height) or prefer additional sprawling space during sleep, this might feel quite constrained, especially if you share the bed with another person. Lastly, when shopping for bedding accessories, take note of full-size specific products.
Twin XL Size Mattress for Platform Bed
The Twin XL size mattress measures 39 inches in width and 80 inches in length, making it identical in width to a standard Twin but five inches longer. This extra length is a game-changer, particularly for tall individuals who find the regular Twin size confining.
Ideal for adults living alone, teenagers, or college dorm rooms, the additional length provides head-to-toe comfort without sacrificing too much floor space.
When placed on a platform bed, a Twin XL mattress offers an inviting sleep surface that blends well with minimalist bedroom designs due to its compact footprint. Your bedding must match these unique dimensions, so invest in proper-sized sheets and comforters.
Twin Size Mattress for Platform Bed
Measuring 39 inches by 75 inches, a standard twin-size mattress is the smallest dimension readily available next to the crib-sized mattress. It's an excellent option if you have limited room space or are designing a bedroom for one person.
Easy to move and light on the wallet compared with larger sizes, it's also popular for multi-use guest rooms.
This would be ideal for kids transitioning out of cribs or younger children who don't require as much sleeping space yet. Placed on your platform bed, it offers great utilization of space and can fit comfortably even in smaller bedrooms.
It may not provide enough stretch-out space for adults or tall teenagers – unless they enjoy cozy sleeping quarters! Don't forget when purchasing bedding items - you'll need twin-sized sheets and blankets suitable specifically for this size.
Best 12 mattress for platform bed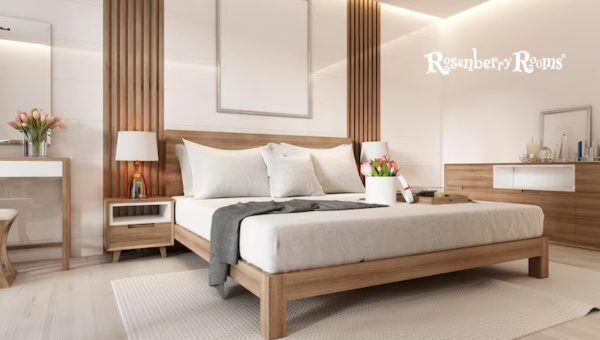 Scouting the market for the perfect mattress to complete your platform bed can get overwhelmingly quick.
With many options offering different materials, firmness levels, and price ranges, it becomes difficult to discern which models offer ultimate comfort and longevity.
To simplify your quest for the ideal mattress, we've narrowed down an exclusive list of the top twelve mattresses that ideally fit your platform bed.
Explore More: Mattress Pad Vs Mattress Protector 2023 [Which Is Better?]
Saatva Zenhaven Mattress
Saatva's Zenhaven mattress is a fantastic choice for anyone seeking a luxurious sleeping experience. Crafted from 100% natural American Talalay latex, this flippable mattress offers two firmness options: Luxury Plush for a more relaxed feel and Gentle Firm for those seeking firmer support.
Its latex material allows excellent breathability and conforms to your body's natural contours to ensure optimal spinal alignment.
This eco-friendly choice does not skimp on luxury; each Zenhaven mattress comes encased within an organic cotton cover embellished with Joma wool, providing enhanced breathability and a cool sleep environment.
Whether you're concerned about staying cool during those warm summer nights or allergies, Saatva's Zenhaven is hypoallergenic and resistant to mold and dust mites.
With its combination of customizable firmness, high-quality natural materials, cooling properties, pressure relief, and eco-friendly ethos—this could be just the mattress you need to top off your platform bed.
Spindle 10-inch Organic Latex Mattress
If you're keen on experiencing personalized comfort in addition to betting on sustainability—the Spindle 10-inch Organic Latex Mattress might hit the mark!
Made from natural Dunlop latex harvested from plantations adhering to stringent sustainable farming practices, this straightforward three-layer design promises extended durability alongside great performance.
It provides ample pressure relief, contouring perfectly to your body weight and shape while facilitating natural spine alignment.
Their 'Comfort Dial' allows you to adjust the comfort layers—thus offering the flexibility of finding your perfect firmness level.
Cloaked with an organic cotton cover filled with natural wool batting, the Spindle mattress is designed to wick moisture and ensure a cool, comfortable night's sleep.
This mattress stands out due to its durability, customizability, and eco-friendly construction—an excellent choice, especially if you're searching for latex mattresses for your platform bed.
Nectar Memory Foam Mattress
The Nectar Memory Foam Mattress is a top-notch option for your platform bed. This 11-inch mattress combines five construction layers, including memory foam comfort layers and high-density polyfoam support.
Renowned for its pressure-relieving characteristics, it offers an ideal balance of softness and support – assisting in maintaining spinal alignment while ensuring weight distribution. It also boasts a cooling cover that helps to regulate temperature throughout the night.
The Nectar Mattress stands out amongst the competition due to its impressive 365-night trial period and a lifetime warranty – offering absolute peace of mind with your purchase.
Layla Memory Foam Mattress
If flexibility is your ultimate desire, let Layla Memory Foam Mattress step in. Its flippable design sets it apart, featuring a soft side and a firm side in one mattress, allowing you to switch according to your sleeping preferences.
Its high-quality memory foam layers are infused with copper gel, providing excellent body contouring capabilities and heat dispersion properties, ensuring you stay comfortable throughout the night.
The Layla Mattress has breathable material covers that further aid in keeping cool. Offering a 120-night trial and a transferrable lifetime warranty, the Layla mattress combines innovation with consumer-friendly policies.
Birch Natural Mattress
Taking sustainability and health into consideration? The Birch Natural Mattress might be ideal for your platform bed. Crafted from natural materials like organic wool, Birch's design ensures breathability and temperature regulation during sleep.
It features sustainably sourced Talalay latex, providing a buoyant sleep surface that hugs body contours while lifting pressure points without sinking excessively—maintaining optimal spinal alignment as you sleep restfully through the night.
With an organic cotton cover designed to let air flow naturally, this mattress promises no overheating issues! Backed by a 100-night sleep trial and a 25-year warranty, the Birch Natural Mattress is a sound investment for sleep hygiene and all-around comfort.
WinkBed
WinkBed is lauded for its bright combination of innerspring and foam, promising a good night's sleep on your platform bed. By design, it provides remarkable support and an agreeable balance of softness and firmness.
It comes available in four firmness options: Softer (4.5 out of 10 on the firmness scale), Luxury Firm (6.5), Firmer (7.5), and (8). This diverse offering means that no matter your sleeping preference or body type, WinkBed likely has a mattress that syncs with your needs.
The company offers a full-replacement lifetime warranty and a generous 120-night sleep trial period — ensuring peace of mind and superior comfort.
Helix Midnight
Helix Midnight is an excellent option for those seeking a medium-firm feel in their platform bed mattresses. Mocked as 'universally comfortable,' this mattress earns its title thanks to a blend of memory foam and pocketed coils that deliver responsiveness, contouring support, and minimal motion transfer — creating a serenely quiet sleeping environment.
The company provides a ten-year warranty and a 100-night sleep trial, reflecting their confidence in this product's performance.
Besides its impressive construction design, Helix Midnight earns admiration for its great edge support, which increases the usable surface.
Bear Original
A pioneer in eco-friendly mattresses, Bear Original is all about promoting healthy sleep through cutting-edge technology known as Celliant technology infused into the mattress cover fabric. This FDA-determined textile aids blood oxygen levels to boost restorative sleep.
The medium-firm feeling caters to most sleep styles while offering soothing pressure relief, particularly to the back and stomach sleepers. Bear Original's construction strategically mitigates overheating concerns by incorporating cooling graphite-gel memory foam combined with responsive transition foam layers for enhanced breathability – ensuring a comfortable, sweat-free sleep.
A fair warranty period of 10 years, along with a 100-night trial, makes this model an appealing choice for anyone seeking a blend of comfort, innovation, and sustainable design.
Nolah Original 10-Inch Mattress
The Nolah Original 10-inch mattress is a versatile option for your platform bed. It boasts a special AirFoam layer, ideal for those who value comfort and firmness in their sleep. This innovative technology ensures even pressure distribution, alleviating back and joint pain.
The mattress features a reinforced high-resilience foam core, providing superior spine alignment and durability.
Unlike traditional mattresses that tend to overheat, the Nolah Original 10-inch mattress is designed to keep cool throughout the night due to its breathable viscose cover.
Given its exquisite combination of firmness and softness, this mattress benefits all sleeper types – side, back, stomach, or combo. It's an eco-friendly choice, too; the company donates returned mattresses to local charities, so your purchase contributes to a good cause.
DreamCloud
Embodying luxury in every fiber, DreamCloud is a delight for anyone seeking refreshing and relaxing sleep experiences. This hybrid mattress flaunts eight layers of comfort, from supportive coils to plush memory foam – offering an unrivaled blend of support and cushiness.
One highlight of this mattress is the cashmere blend cover– it's unbelievably soft and a natural cooling element on warm nights. A gel memory foam layer beneath efficiently diffuses heat throughout the surface, ensuring you stay cool.
While plush enough to cradle you softly to sleep, it's also reliably firm enough for superior spinal support - beneficial, especially for back sleepers or those experiencing lower back pain.
The robust edge support ensures stability across the entire surface area, making it an exceptional choice for couples or bed-sharing families.
Plank Firm
Targeted at people who prefer a firm sleeping base, Plank Firm by Brooklyn Bedding offers two distinct levels of firmness in one mattress: standard firm on one side (7/10 on the firmness scale), and ultra-firm on the reverse side (9/10 on the firmness scale).
This flippable feature allows you to customize your sleeping experience without investing in a new mattress. Constructed with high-density foam, it provides robust support for your back while resisting body impressions over time.
Regarding temperature regulation, the quilted top layer creates a breathable, cool-to-touch surface that aids heat dispersion. Hence, if you are a fan of firmer sleeping surfaces or tend to sleep hot, Plank Firm can be an excellent value proposition for your platform bed.
Titan Plus
The Titan Plus by Brooklyn Bedding is specifically designed with larger-sized individuals in mind. It has additional features tailored to facilitate enhanced support, responsiveness, and cool sleeping experiences even with heavier weight.
Its unique construct comprises a blend of responsive TitanFlex foam combined with robust TitanCaliber pocket springs – delivering optimal bounce, superior motion isolation, and dependable durability.
The mattress employs a gel memory foam for added pressure relief, while its quilted top layer provides a comfortable touch.
What truly sets this mattress apart is its optional cooling panel, which adds an advanced cooling technology fabric surface- giving you cooler sleep even in warmer climates.
With the Titan Plus on your platform bed, enjoy the perfect blend of firmness, comfort, and durability night after night.
Different Types of Platform Beds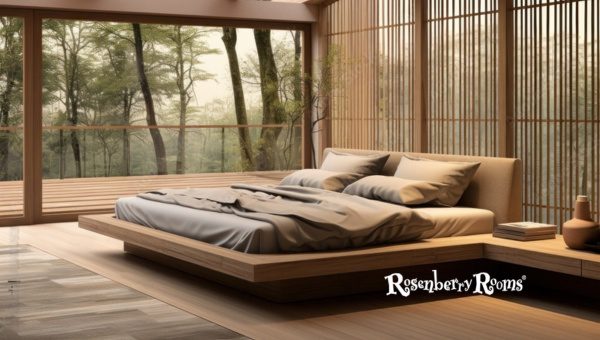 The world of platform beds is as diverse as it is inviting. The options are endless, from practical and stylish to traditional or contemporary. The two most popular types are storage platform beds and canopy platform beds.
While they share similarities in their support systems, each serves unique purposes and offers different aesthetic appeal depending on your stylistic preference and functionality needs.
Read More: Different Types Of Canopy Beds [Top 20 Canopy Beds In 2023]
Storage Platform Beds
Storage platform beds prove to be an ultimate blend of functionality and style. A storage platform bed could be your ideal solution if you're struggling with an overcrowded room or lack the necessary storage space. Featuring under-the-bed drawers or compartments, these beds efficiently utilize every inch of space for neat organization.
These creative designs can considerably declutter your room by integrating storage capacity for anything from bedding to clothes, books, shoes, or off-season items, often occupying too much closet space. This multifunctional piece can significantly transform compact spaces into efficient living areas.
While aesthetics may vary across different design options, each aims to maximize utilization and maintain seamless visual harmony in your bedroom decor. The integration of drawers adds little thickness to the frame, making it a perfect fit for any mattress size.
Canopy Platform Beds
Canopy platform beds offer a distinctive blend of classic elegance and modern design. They boast sleek horizontal lines thanks to their comfortable low-profile design. The platform bed is famous for being intertwined with vertical lines offered by the canopy.
The signature look comes from four tall posts extending upwards from each bed corner, creating a framework that can hold draped fabric or be left bare for simplicity's sake.
It's essentially a four-poster frame combined with the ergonomic advantages of a platform bed - nothing short of a sleep sanctuary!
By featuring an open structure above you, the canopy bed facilitates air movement throughout sleep, fostering cooler nights in the summer months.
Sleigh Platform Beds
The sleigh platform bed is a stylish and versatile bedding option that offers a vintage vibe with its scrolled or curved head and footboard, alluding to the look of an old-school sleigh.
They are often made from materials like wood (for a solid, classic look) or upholstered finishes, which offer a more romantic touch to your bedroom's aesthetic. While traditionally, these beds used to be heavy and less mobile due to their substantial wood construction, modern versions have embraced lighter materials without compromising durability.
What makes them unique is their remarkable design that stands as a statement piece in any bedroom theme, instantly becoming the room's focal point. The sleigh platform bed combines charm with utility, providing space for your mattress while enhancing your room's visual appeal.
Floating Platform Beds
As if straight out of a sci-fi movie, the floating platform bed brings a mix of modernity and illusion to your sleeping space. It achieves this 'levitating' effect by using recessed bed frames, making it appear that the mattress is hovering above the floor.
Apart from its eye-catching design, it offers practical benefits too: The space beneath the floating bed can also function as hidden storage for your belongings.
Whether you're aiming for an open-floor ambiance or wishing to inject some modern flair into your bedroom, this 'gravity-defying' piece will surely create an air of mystique and elegance in any setting.
A floating platform bed is an excellent choice for maximizing room functionality without compromising style.
What are the Sizes, Height, and Frames of Platform Beds?
When choosing a platform bed, understanding the common dimensions can guide your selection process. Platform beds come in various sizes, all suited to accommodate different mattress sizes. Likewise, the height and frame design of platform beds vary widely.
Whether you're looking for a Twin or California King size or fancy a specific frame style or height, understanding the specifics can make your choice seamless and suited to your needs.
| Bed Size | Mattress Dimensions (inches) | Frame Height (inches) |
| --- | --- | --- |
| Twin | 38" x 75" | 12" to 15" |
| Twin XL | 38" x 80" | 12" to 15" |
| Full/Double | 54" x 75" | 12" to 15" |
| Queen | 60" x 80" | 12" to 15" |
| King | 76" x 80" | 12" to 15" |
| California King | 72" x 84" | 12" to 15" |
Platform Beds: Materials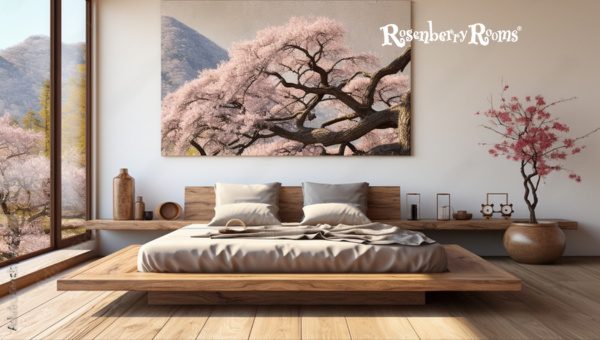 Choosing the right material for your platform bed significantly impacts its aesthetic appeal and durability. To complement the mattress, the platform bed's material should be sturdy, visually pleasing, and match your room decor. Let's look at some prominent materials frequently used in platform beds: wood, metal, and upholstery.
Wood
Wooden platform beds are timeless for their durability, strength, and aesthetic versatility. Notably, different types of wood offer distinct characteristics. Rosewood stands out for its richly hued tone and natural gloss finish. It's resistant to termites, which makes it a long-lasting option.
Mango wood is another excellent choice due to its high-density structure and unique grain patterns. Known for its sustainability, it's a good option if you're environment-conscious.
Mahogany wood is admired for its reddish-brown color, which deepens over time. With excellent workability and resistance to decay, a mahogany platform bed can be an elegant and practical choice.
Teak wood offers remarkable durability and an attractive golden-brown shade. Although credited as one of the most expensive woods due to its strength against rotting when exposed to water or harsh weather conditions, it could be worth the investment if longevity is your prime concern.
Metal
Regarding strength and lasting construction, metal platform beds are a favorite pick. Their sleek lines and trendy designs render a contemporary feel to any sleep space. Metal options include steel or iron frames that come in varieties of brushed bronze, silver, or black finishes.
These frames are compact and very responsive to magnetic mounts, allowing additional storage options and easy assembly/disassembly when moving homes or rearranging furniture.
Whether intricate motifs or minimalistic grids - metal beds offer an expansive array of creative designs that can add a distinct edge of modernism or vintage charm to your bedroom.
Upholstery
Upholstered platform beds are known for their plush, comfortable appeal. With a wide range of fabric choices, such as leather, velvet, faux fur, or linen, you can customize your bed to match the texture and color scheme of your room décor.
Upholstered beds often feature padded headboards, providing extra comfort and support for your sitting or reclining positions. For those who appreciate a refined, classy look or prefer the soft touch of fabric over harder alternatives - upholstered platform beds could be a dream come true.
Each material has unique characteristics with pros and cons, so understanding these can help determine the best-suited one for your lifestyle and aesthetic preferences.
Bamboo
Renowned for its strength and sustainability, bamboo has become a popular material for platform beds. It is essentially hollow grass that undergoes intensive processing to convert into solid form, suitable for furniture construction.
Its lightweight nature renders the finished bed easy to relocate while maintaining sturdiness. Bamboo also boasts a superior moisture absorption rate, significantly reducing the risk of mold or mildew.
Regarding aesthetics, bamboo lends a natural elegance and warmth to your bedroom decor with its unique grain patterns and refreshing shades.
Particleboard
On the other side of the materials spectrum lies particleboard - an engineered wood product known for its affordability. It is constructed by mixing wooden particles, such as wood chips, sawmill shavings, or even recycled paper, with a synthetic resin or another suitable binder, heat-pressed into sheet forms of varying thicknesses.
These boards are made from offcuts and waste wood, so they are a budget-friendly option for those seeking economical bedding solutions.
While particleboard does not match the strength of solid wood or plywood due to its high susceptibility to moisture damage and low load capacity – aesthetically, it can be made attractive with veneers or laminates.
Plywood
Plywood is a middle-ground between Bamboo and Particleboard regarding price range and durability. Comprised of thin layers (or 'plies') of wood veneer glued together under heat and pressure – plywood renders exceptional strength and stability owing to its cross-layered structure where each layer's grains are oriented at 90 degrees to one another.
This structure also minimizes expansion or contraction with changes in temperature or humidity, agreeing well with varied climatic conditions – something solid wood tends to struggle with quite often!
Depending on your budget, plywood beds can still be visually pleasing when stained, painted, or covered with a wood veneer. This material offers a cost-effective and robust solution for your platform bed needs.
Also Read: Can I Use Plywood Instead Of A Bunkie Board? [2023 Guide]
MDF (Medium-Density Fiberboard)
MDF, or Medium-Density Fiberboard, is an engineered wood product commonly used for platform beds. It's created from wood fibers combined with resin and subjected to high temperatures and pressure, resulting in a strong and durable material.
MDF is loved for its smooth and dense surface, making it easy to paint or veneer. It's also resistant to warping and provides a consistent strength that ensures longevity.
It costs less than solid wood, making it an affordable option. However, it can be fairly heavy and isn't as durable as other materials.
Reclaimed Materials
Reclaimed materials represent a conscientious choice for your platform bed. Essentially, these materials have been recovered from old furniture or buildings and given new life to your furniture.
Whether it's barn wood, salvaged metal, old boatwood, or pallets, each piece carries its unique history, adding depth and charm to your space.
Not only do they add an aesthetic appeal with their aged patina, but they also boost the green credentials of your home since you're recycling resources that would otherwise go to waste.
Leather
Leather is a luxurious choice for upholstered platform beds. Those looking for something sophisticated might choose this high-end material for their bed's headboard or footboard.
Leather gives off a sense of richness with its soft touch and appealing sheen. Its durability enables it to withstand years of use while retaining its elegance.
It requires more maintenance than other materials - you must condition it regularly to keep its lustrous appearance intact.
One worth mentioning is that genuine leather can be expensive, but various faux alternatives provide similar looks at lower costs.
Also Read: What Colors Go With A Brown Leather Sofa [2023 Expert Ideas]
Rattan
Rattan lends a relaxed tropical vibe perfect for those dreaming of an island aesthetic or wanting to incorporate minimalist flair into their bedroom decor.
Rattan platform beds boast a lightweight yet sturdy construction, allowing for easy moving and rearranging.
Its natural finish adds warmth and texture, creating an inviting atmosphere that beckons you to your bed. The material is also eco-friendly, renewing much faster than wood and, therefore, less damaging to forests.
Each material has its character and contribution to your platform bed. Ultimately, your choice should reflect your personal style preferences, budgetary constraints, and the overall theme of your bedroom decor.
FAQs about mattress size for platform bed
What is the Standard Size for a Platform Bed Mattress?
The standard sizes for platform beds range from Twin (39x75 inches) to California King (72x84 inches), but Queen (60x80 inches) remains the most popular.
Can You Put Any Size Mattress on a Platform Bed?
No, your mattress size should match your bed frame's dimensions. Always measure beforehand to ensure proper fit and optimal comfort.
Do Platform Beds Require Specific Mattress Sizes?
Platform beds accommodate any standard mattress size, including twin, full, queen, king, and California king.
Does Using a Larger Mattress Than My Bed Frame Size Work?
While usable, a larger mattress than your bed frame will hang over the edges and may not provide optimal support or comfort.
What is the Ideal Space Left Around My Mattress on a Platform Bed?
The ideal space left around your mattress would be at least two inches for sheets or bedding on all sides.
Conclusion
Finding the ideal mattress size for your platform bed can greatly enhance your sleep quality and your bedroom's overall aesthetic appeal.
Whether Twin or California King, remember that your choice ultimately depends on personal comfort, available space, and specific needs.
Whichever size you opt for, proper research and consideration of all relevant factors will be rewarding. Let this guide serve as a starting point in your journey to creating a restful refuge at home with an impeccably sized mattress for your platform bed.