Are you considering a bedroom makeover or just shopping for an elegant, comfortable bed with a classic touch? The sleigh bed is one type of bed that's become increasingly popular in home decor. So, what is a sleigh bed?
It's exactly what it sounds like - a charming style of bed inspired by the design and shape of old-fashioned sleighs. The unique structure and luxurious design make it a fantastic centerpiece for any bedroom.
But there's much more to discuss about sleigh beds and why they could be your ideal fit, from their history to building materials. So stick around as we delve deeper into what makes them so special.
What Is a Sleigh Bed?
A sleigh bed is a style of bed frame that resembles a traditional sleigh or sled, characterized by a curved or scrolled foot and headboard, which give it its distinctive shape.
The design originated from the French-American Empire period in the early 19th century. The aesthetics of a sleigh bed enhance the visual interest in a room, making it a popular choice for main bedrooms.
They come in various materials such as wood, metal, or upholstered variations, and sizes range from twin to king-sized options.
Different Types of Sleigh Beds
Sleigh beds come in myriad designs with distinct appeal and style. Masterfully crafted to suit the variations in individual preference, these opulent furnishings seamlessly blend into any room decor, be it modern, traditional, or eclectic.
The combination of design versatility and a broad range of materials results in several sleigh bed subsets, but today, we're focusing on two popular types: traditional wooden sleigh beds and upholstered sleigh beds.
Also Read: What Is A Murphy Bed? 2023 [Types, Sizes, Pros And Cons]
Traditional Wooden Sleigh Bed
Wood is the most common material for this type of bed owing to its durability and natural charm. A traditional wooden sleigh bed boasts timeless elegance, offering a Rustic or Victorian charm that's instantly recognizable.
This classic design typically features high headboards and footboards with decorative scrollwork at the ends, replicating a "sleigh" shape.
Thanks to the quality craftsmanship involved, wooden sleigh beds are sturdy and can last for several decades when properly cared for.
They are available in several finishes, such as mahogany, cherry, maple, or oak, allowing you to match your preferred style effortlessly.
Upholstered Sleigh Bed
If comfort is your priority, along with aesthetic appeal, the upholstered sleigh bed could be an ideal choice.
Upholstered sleigh beds feature plush fabric or leather-covered headboards and footboards that add a layer of sophistication without sacrificing comfort.
Whether you prefer velvet splendor or linen simplicity, you're assured a cozy slumber experience and an elegant ambiance when choosing an upholstered sleigh bed.
Perfect for those who love reading or watching TV in bed, this type provides added comfort that's hard to resist.
Metal Sleigh Bed
A metal sleigh bed is an excellent choice for a more minimalist or industrial bedroom aesthetic. These beds incorporate the sleigh shape into their design but swap out the traditional wood for metal, typically wrought iron or steel.
They are often lighter and easier to move than their wooden counterparts, yet they offer exceptional durability.
With their clean lines and understated look, metal sleigh beds can add an edgy touch to your room while maintaining the elegance associated with the classic sleigh design.
Modern Sleigh Bed
The modern sleigh bed represents a perfect blend of classic styling with contemporary trends – less opulent, yet elegant in simplicity.
These modern versions take the quintessential scrolled foot and headboard design but give it a sleeker, updated twist to fit seamlessly into today's homes. They lower the footboard and streamline the curves, subtly nodding to its traditional roots while embodying a fresh feel.
The choice of materials varies from solid woods to metals or upholstered versions in various hues, providing great room for personal expression.
Storage Sleigh Bed
If you're strapped for space in your bedroom or love smart storage solutions, a stylish sleigh bed could be right for you.
Combining functionality with elegance, these beds have built-in drawers underneath the mattress area, giving you room to store extra bedding, seasonal clothes, or anything else you'd like out of sight but within reach.
This clever design maximizes bedroom space without compromising on style and comfort that comes inherently with sleigh beds.
Leather Sleigh Bed
Looking for a sleek, sophisticated addition to your room? The leather sleigh bed ticks all the boxes. With its smooth and elegant finish, leather provides a luxurious twist to the traditional design.
Whether genuine or faux leather, this bed will make a bold statement in your space. It offers the perfect balance of durability and comfort.
Combining timeless appeal with modern allure, a leather sleigh bed is just what you need to transform your bedroom into a stylish retreat.
Tufted Sleigh Bed
Elevate your bedroom's glamour quotient with the tufted sleigh bed. This style is characterized by an upholstered headboard with button tufting, which radiates elegance and class. Tufts add a plush texture and create intricate patterns that lend visual interest to your space.
Depending on your preference, it can convey an essence of vintage charm or modern sophistication. Apart from its aesthetic value, tufting ensures the padding stays evenly distributed for optimum comfort.
Low-Footboard Sleigh Bed
If you love the grace of sleigh beds but don't have ample space or are prone to easily knocking into furniture legs, then the low-footboard sleigh bed could be your ideal match.
This design features a shorter footboard while maintaining that distinctive curved or scrolled headboard typical of sleigh beds.
The lower footboard offers an unobstructed view around the room, making smaller rooms appear larger. Plus, hopping out of bed in the mornings is significantly more accessible with this model!
Kids Sleigh Bed
Kids' sleigh beds are a wonderful choice that effortlessly blends style with functionality. They are typically smaller but have the same classic design- curved headboard and footboard, making your kiddo's room more whimsical.
Many even have safety features like guardrails or lower heights for a safe night's sleep. Coupled with playful bedding and accessories, a sleigh bed can charm your child's room.
Also Read: 19 Best Places To Buy Kids Furniture Online In 2023 [Trustworthy Stores]
Sleigh Bed with Trundle
A sleigh bed with a trundle is the perfect solution for those who need extra sleeping space without sacrificing style.
The trundle is conveniently tucked under the bed and can be pulled out whenever an additional sleep area is required.
It's an ideal option for guest rooms or households where kids enjoy sleepovers often. With their practicality and good looks, these beds are becoming increasingly popular.
Antique Sleigh Bed
Antique sleigh beds are where historical charm meets effortless elegance. Often crafted from solid wood such as mahogany or walnut, these beds feature intricate designs, hand-carved details, and an aged finish that exemplifies their vintage appeal.
These unique touches can transform your bedroom into a timeless retreat that exudes character and sophistication.
French Style Sleigh Bed
With its rich history originating from Napoleon's France, the French-style sleigh bed promises luxury in every curve.
This bed is elegant and known for stunning craftsmanship and ornate detailing. The curves or scrolls are more exaggerated than other styles, making them a grander visual statement piece in your bedroom decor.
Surrounded by chic French furnishings and muted tones, this sleigh bed creates an ambiance of luxury that one can't resist sinking into.
Also Read: 21 Best French Country Decor Hacks For A Timeless Look 2023
Pros Of Sleigh Bed
If you prefer a comfortable night's sleep with a dash of timeless elegance, then the sleigh bed is just what you need.
Beyond their iconic design and charm, sleigh beds offer many benefits, making them an unmatched addition to any bedroom.
By strategically choosing the design and material of your sleigh bed, you can ensure it matches your aesthetic preference and functional needs.
Style Versatility: Sleigh beds come in various styles, materials, finishes, and sizes. Whether your home exudes a modern vibe or resonates with traditional charm, there's always an option for you.
Robust and Durable: Particularly if you opt for solid wooden models, sleigh beds are extremely sturdy. With excellent craftsmanship involved in their construction, these beds promise durability that withstands the test of time.
Sophisticated Aesthetic: Elegant curves, rich finishes, and meticulous design detailing instantly elevate your bedroom's aesthetics. Regardless of where you place it – master bedroom or guestroom – a sleigh bed effuses sophistication that's hard to ignore.
Comfort Levels Up: Exceptional coziness is another hallmark feature of sleigh beds. The slightly curved headboard provides sound support to sit comfortably while reading or watching television. Prepare to pamper yourself with luxurious comfort while sleeping or lounging around in this cozy furniture piece.
Cons Of Sleigh Bed
As fabulous as they are, sleigh beds do come with their potential downsides. Considering the drawbacks before investing like this is always a good idea.
Understanding these will empower you to make an informed decision based on your needs and lifestyle.
Not every piece of furniture is a one-size-fits-all solution, and sleigh beds, beautiful as they are, have certain cons that might make you rethink your choices.
Not Suitable for Tall People: This is because of the structure of sleigh beds- with an elevated footboard similar in height to the headboard, which could be restrictive for someone tall. If you tend to stretch out fully while sleeping or prefer unrestricted foot movement during sleep, a sleigh bed might not be the best fit for you.
Heavy to Move: Slight beds can be quite heavy given their solid construction and design intricacy - especially those made of solid wood or iron. This might pose challenges when moving the bed for cleaning underneath or rearranging your room layout.
Limited Under-Bed Storage: Unlike other types of beds that offer plenty of under-bed storage space (think platform or captain's beds), sleigh beds don't provide this same bonus due to their design.
The pros and benefits of owning a grand piece like a sleigh bed often outweigh these points. Always remember that choosing a bed should primarily focus on your comfort and personal aesthetic.
Why buy a Sleigh Bed?
Buying a sleigh bed makes perfect sense if you aim to infuse a touch of drama, class, and timeless elegance into your bedroom decor. Their distinctive curved headboard and footboard design act as splendid statement pieces.
Built to be stylish and sturdy, these beds add quintessential charm, recalling an era of grandeur and sophistication.
Their versatility in materials and design makes them suitable for any decor style – modern minimalism or traditional grandeur you're after.
Comfortable, durable, and visually appealing - a sleigh bed truly is an investment that enhances your sleep quality while elevating the look of your interior.
What Sizes Are Sleigh Beds Available in?
When it comes to selecting the perfect bed, size matters. Choosing the right size will determine your comfort level, and for a bed style as unique as the sleigh bed, you're in luck.
Sleigh beds are highly versatile and come in various sizes catering to individual requirements, whether for single sleepers, couples, or even guests staying over. Here's an overview of the common sizes available:
Single: Ideal for children's rooms, smaller bedrooms, or guestrooms where space is premium. A single sleigh bed measures approximately 39" x 75". They offer ample sleeping space for one person and blend brilliantly with any interior due to their compact nature.
Double: Also known as full-size beds. Double sleigh beds measure around 54" x 75", offering more width than single ones. They're ideally suited for one person desiring more room or comfortably accommodating two smaller individuals.
Compact Double: A smarter choice for bedrooms where you want more floor space without compromising comfort. Being just 4" narrower than regular double beds (approximately 48 "x 75"), the compact double sleigh bed provides reasonable comfort for two persons while economizing on bedroom floor space.
King: If you appreciate luxurious sleeping space, a king-sized sleigh bed might suit you. Measuring around 76" x 80", they offer ample room for couples who prefer having personal space while sharing a bed.
Super King Size: The grandeur of super king-size sleigh beds offers abundant space, measuring about 72" x 84". These are perfect if you prefer extensive legroom or have little ones joining you over lazy Sunday mornings.
Are sleigh beds old-fashioned?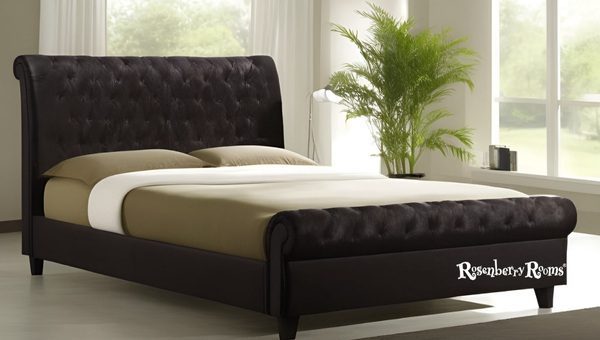 While sleigh beds have a classic and traditional design from the early 19th century, they are not considered old-fashioned.
The timeless appeal of the sleigh bed has allowed it to remain popular in modern times and fit across different decor styles, whether Vintage, Modern, or Rustic.
Many contemporary designs have updated the traditional sleigh bed using modern materials like metal or upholstered fabric, adding sleek lines or minimalist details.
So, although they have a rich history, sleigh beds continue to be a stylish and versatile option for bedroom furniture.
What type of mattress works best with sleigh beds?
Choosing the right mattress for any bed is vital for a night of good sleep. For a sleigh bed, the choice mostly depends on personal comfort preferences since the design allows flexibility in mattress type. Factors like support, durability, and size determine the best mattress.
So whether it's a traditional innerspring or a plush memory foam you're considering, understanding what each has to offer can help make this task less daunting. Let's examine some popular types.
Latex Mattresses
Latex mattresses are known for their perfect combination of comfort and support. They provide excellent body support and pressure relief while maintaining their shape over time, making them an ideal choice for sleigh beds.
The immediate contouring effect of latex mattresses gives you a buoyant feel. It keeps you from sinking into it too much—a common issue with more conforming materials like memory foam.
Innerspring Mattresses
Innerspring mattresses are one of the most traditional types. They use different gauges and spring coil constructions to provide varying support and comfort.
Though they might not be as contouring as latex or memory foam mattresses due to their firmness level, many people still love their bounciness. Besides, the robust structure ensures longevity, which goes perfectly with heavy wooden sleigh beds.
Also Read: Mattress Pad Vs Mattress Protector 2023 [Which Is Better?]
Hybrid Mattresses
Hybrid mattresses combine two or more types—for example, latex or memory foam over an innerspring base—to balance comfort and support features. The soft upper layer provides body contouring while the bottom layer offers rebound from the coils.
Because they share features from several other types, hybrid mattresses could be ideal for nearly every sleeper, proving an excellent fit for sleigh beds.
Cushioning Mattresses
A cushioning mattress provides ample softness and a comfortable sleep experience. This type of mattress is beneficial for those with pressure point issues since it adjusts to the body's contours, offering comfortable cushioning support.
A cushioning mattress on a sleigh bed gives the impression of sleeping on a cloud with its plush and luxurious feel.
Memory Foam Mattresses
Known for its excellent pressure relief and supportive properties, memory foam mattresses are growing in popularity.
These mattresses mold themselves following your body shape and evenly distribute your weight across the surface. That means no more waking up with back pain or stiff neck—even after many hours of uninterrupted rest on your sleigh bed.
How to Decorate a Sleigh Bed?
Decorating a sleigh bed can enhance its aesthetic appeal. Start with bedding: choose comforters, duvets, or quilts in colors and patterns that complement your room's decor. Add several pillows in various sizes for a layered look and additional comfort. For the wall behind the sleigh bed, hang artwork or mirrors that match the bed's scale.
You can also drape throws over the foot of the bed for a touch of luxury. If your sleigh bed is made from wood, consider decorating it with matching wooden furniture for consistency. Pair it with contrasting textures like metal lamps or glass nightstands for an upholstered sleigh bed.
Leave some space around the unique footboard and headboard to let the distinct design shine—avoid pushing it directly against the wall or covering it with long drapes. Remember that less is often more when highlighting a piece as attractive as a sleigh bed.
How To Buy Sleigh Bed?
Investing in a sleigh bed is a great way to introduce class and timelessness into your bedroom. You might wonder what points to consider for such an investment, right? Fear not! We're here to guide you.
Follow these considerations while buying a sleigh bed to ensure you make a sound decision that meets all your needs.
Room Size: Measure your room to ensure ample space for the sleigh bed and other furniture and a comfortable flow of movement. The curved design requires more room than regular beds.
Bed Size: Sleigh beds come in standard sizes like twin, full, queen, and king. Choose a size based on the available space and your sleeping needs.
Material: Sleigh beds are made from wood, metal, or upholstered fabric. Wooden models offer traditional aesthetics and durability but can be heavy. Metal ones are sturdy and lighter with a more industrial look. Upholstered beds provide comfort and various color options but may require extra care.
Design & Style: Look for designs that complement your bedroom's decor. Some sleigh beds have minimalist lines for modern decor, while others have detailed carvings for a classical or country look.
Budget: Set a budget range before shopping to narrow down options.
Quality & Durability: Check for the quality of the material used and how sturdy the construction is - this ensures it will last long.
Ease of Movement: Since sleigh beds tend to be heavy, consider how easy it will be to move around if needed.
Assembly: Some sleigh beds may require assembly after purchase - consider if this is something you're comfortable doing yourself or would prefer professional help.
Purchasing Options Consider buying online for wider choices or in-store to inspect material quality closely before buying.
Warranty/Return Policy - Enquire about warranty duration, what it covers, and the return policy.
Bringing an image of your desired bed style can help sales associates point you in the right direction. Evaluating these factors before purchasing can ensure you choose a sleigh bed that fits your needs, preferences, and budget.
Also Read: How To Hang Sheers On A Canopy Bed In 2023 [15 Easy Tips]
Top 5 Sleigh Bed Options for Your Home
Your home is your sanctuary, and your bed manifests as an oasis of comfort and elegance in that sanctuary.
When choosing a bed design, consider layouts offering aesthetic charm and functionality. Among various design options today, sleigh beds remain timeless for many homeowners.
Traditional Wooden Sleigh Bed: For those who admire the warmth of wood, traditional wooden sleigh beds can exude an unmatched rustic charm. They are strong and durable, sculpted from plywood, hardwood, or engineered wood with various finishes - cherry, oak, or mahogany.
Upholstered Sleigh Bed: Shifting design gears slightly towards luxe comfort and modern aesthetics. Opt for an upholstered sleigh bed. Sporting fabric-covered headboards and footboards (like linen or leather), these beds add sophistication while offering ultimate comfort.
Contemporary Metal Sleigh Bed: If you relish minimalistic charm laced with modernity, metal sleigh beds are a fantastic alternative. Built mostly from iron or steel, these lighter-weight alternatives to their wooden counterparts project a sleek look while maintaining the signature curves of a classic sleigh bed.
Storage Sleigh Bed: Need extra storage without compromising on style? Storage sleigh beds have got you covered! Combining the classic design with extra drawers incorporated into the base area, these efficient furnishing pieces can help you create tidy homes by optimizing available space.
Kids Theme Sleigh Bed: Kids' themed sleigh beds offer whimsy and excitement for little ones who adore theme-based rooms. From princess-themed to race car designs, there's always one to make bedtime more fun!
Each of these models can amp up the ambiance uniquely. So, pick your sleigh bed based on your lifestyle requirements, design preferences, and overall interior theme to create a bedroom space that feels like a 'home.'
FAQs about sleigh bed
How does a sleigh bed differ from a regular bed?
A sleigh bed, characterized by a curved or scrolled headboard and footboard that mimic the look of an old-fashioned sleigh, differs from regular flat-panelled bed designs.
Do sleigh beds need specific types of mattresses?
Sleigh beds don't usually require special mattresses; any mattress corresponding to the bed frame size will work.
Is it difficult to move a sleigh bed?
Sleigh beds are typically heavier than standard beds, especially those made from solid wood; hence, they can be difficult to move.
Can I find a sleigh bed to match my modern bedroom decor?
Modern or contemporary sleigh beds are available in metal and upholstered fabric styles, aligning with chic, minimalistic aesthetics.
What's the typical cost range for a decent-quality sleigh bed?
Depending on the construction material and brand value, high-quality sleigh beds can range anywhere from $500 for simpler designs to over $3000 for luxury models.
Conclusion
Whether you desire a new, cozy bed or want to elevate your bedroom's aesthetic charm, a sleek sleigh bed can be an ideal choice.
Embellishing a room with its timeless appeal yet accommodating modern touches in variations, these beds offer a perfect blend of comfort and style.
Choosing the right sleigh bed comes down to understanding your needs regarding style, comfort, space availability, and budget.
With diverse options like traditional wood models, upholstered types, or those with storage facilities available, there's bound to be one style that best suits both your functional needs and design preferences.
So why wait? Start exploring the versatile world of sleigh beds today; you're just one step away from sleeping in utmost elegance!