Floyd Bed caught my attention a few months back when I was on the hunt for a new, minimalistic bed frame for my bedroom. What really stood out to me was its sleek design and the promise of easy assembly without the need for any tools – which, let's face it, can be a huge hassle!
So, after having it in my life for some time now, I decided to share my thoughts on this product in this Floyd Bed review.
Seeing so many positive reviews online had me hopeful about this bed frame living up to my expectations. Would it really be as durable as they claim? How simple would the assembly process actually turn out to be?
If you've been wondering about the same things before investing in the Floyd Bed, then keep reading: Here's all you need to know from someone who's been using it!
Unboxing and First Impressions of the Floyd Bed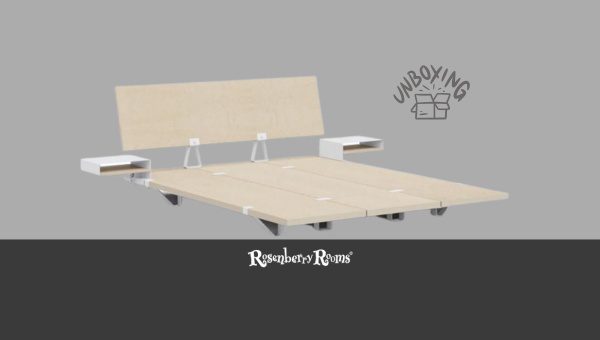 When my Floyd Bed finally arrived on my doorstep, I was eager to see if the packaging would be as impressive as the bed itself.
After all, it's important for a high-quality bed frame to have adequate protection during shipping. So, let's dive into the packaging and presentation aspect of this experience.
Packaging and Presentation
The Floyd Bed arrived in multiple, well-organized boxes depending on which size you order. Each part of the bed frame had its own protective layer or compartment within the box to minimize any potential damage during shipping. The entire package was not only compact but also quite easy to maneuver.
Once I began unboxing, I noticed that all components were carefully wrapped in plastic and labeled accordingly.
The packaging also included a comprehensive instruction manual that guided me through each step of the assembly process - a welcome addition for those (like myself) who might not exactly be pros at assembling furniture!
Initial Thoughts on Material and Design
As I took out each part of the bed, my initial thoughts revolved around two main aspects: craftsmanship and material quality.
Craftsmanship: One could easily tell that meticulous care was put into designing each piece - from smooth edges with no visible screws or sharp corners to precise alignment in its overall construction.
Material Quality: The frame consists primarily of powder-coated steel end supports connected with durable, high-quality birch plywood panels. These materials struck a perfect balance between aesthetics, sturdiness, and longevity.
Additionally, here are some key design elements I noticed during this unboxing process:
Sleek Design: The overall design is minimalistic yet aesthetically appealing. The steel end supports have an attractive matte finish that complements any room style.
Smart Storage: Thanks to its elevated height (7.5 inches from floor to bottom rail), there's ample space underneath the bed that can be utilized in tandem with Floyd's Underbed Storage Add-On or for other creative storage solutions.
No Headboard: Floyd Bed does not come with a built-in headboard. However, you can either purchase their matching Plywood Headboard Add-On separately or simply use an existing one interchangeably.
Adjustable Panel Slots: The end supports feature several slots to accommodate multiple configurations (Twin, Queen, King) depending on your chosen bed size.
Upon unboxing and assessing the different components of the Floyd Bed, I was left impressed by not only the care put into its packaging but also it's sleek design and robust material quality. Based on these initial impressions, I couldn't wait to finally assemble it and put it to the test!
Assembling the Floyd Bed – An Easy Task?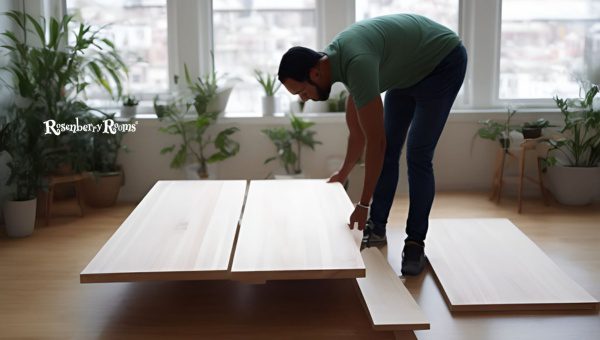 One of the most significant selling points of the Floyd Bed is its claim of being hassle-free and easy to assemble, no matter your DIY skills.
In my experience, I found this claim to be true. Let's walk through the assembly process together in a step-by-step guide, ensuring you'll have an effortless time setting up your Floyd Bed.
Step-by-Step Guide to Assembly
Unbox and spread out all components: To start, lay out all your bed frame's components on a clean surface or floor. The packaging is neat and well-organized, making it simple to keep track of each piece.
Attach corner supports: Place one corner support on each wooden panel end (two per panel), ensuring that they're flush with the top edge and facing outward.
Secure panels with ratchet straps: Slide two ratchet straps into each corner support groove at an angle. When properly assembled, they should form a square or rectangle on the floor, depending on your bed size.
Install the metal legs: Align each leg's hole with the opening in the attached corner supports; then slide them into place. The legs come in two lengths – use shorter ones for Queen size beds and longer ones for King/California King sizes.
Insert tensioning wedges: Position wedges between each leg and wooden panel so that their notches line up with corresponding slots on both sides.
Secure strap connections: Fasten all four connections by extending them into their respective holes at bed corners until they click into place; this ensures everything stays secure in position while using.
Tighten ratchet straps: Pull straps carefully and evenly around the bed frame until snug enough to hold panels firmly in place but not so tight that pressure could damage materials.
Double-check every connection: Go around the bed, making sure each element is secure and in place. This is an essential step to ensure your Floyd Bed's stability and safety.
No-Tool Requirement, Does It Hold True?
Floyd Bed proudly proclaims that no tools are needed for assembly – and indeed, it holds true. While other bed frames might require screwdrivers, wrenches, or even power tools, the Floyd Bed comes together with only its included components and your hands.
The entire process is designed to be user-friendly, with well-fitting parts that connect effortlessly. The ratchet straps replaced the need for screws, bolts, or nails. Securing the corner supports, legs, and tensioning wedges also requires no additional tools or hardware.
Yes! The no-tool claim stands true for Floyd Bed assembly. You can easily put this bed frame together all by yourself without any special skills or extra equipment.
Experiencing firsthand how quick and simple it was to build my Floyd Bed frame without any added hassle of searching for or utilizing tools only bolstered my appreciation for the design.
This not only saved me time and effort but also provided a sense of accomplishment after effortlessly constructing a stylish bed frame on my own.
The Floyd Bed's Design Aesthetics – Style Meets Functionality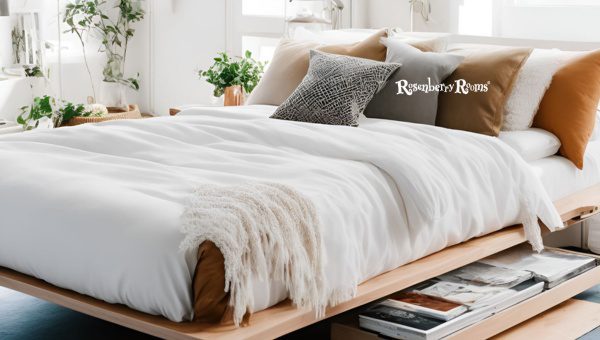 When it comes to bedroom furniture, I strongly believe that design should go hand in hand with functionality. After all, your bed is arguably the most important piece in the room, so it should be both visually appealing and practical.
Good news: The Floyd Bed ticks both of these boxes. Let's take a closer look at the design elements that make it stand out from its competitors.
Minimalistic Design Elements
The Floyd Bed embodies a clean and straightforward aesthetic that is perfect for those who prefer a minimalistic approach to their living space. It has been designed with simplicity in mind; every component has purpose and functionality without compromising visual appeal.
Modular Framework: The bed features an easy-to-assemble modular framework consisting of steel legs and birch wood panels that easily slide into the steel supports, securely locking into place using tension grips. This smart design eliminates the need for screws or other hardware, ensuring a smooth and sleek appearance.
Understated Colors: With only two color options—black and white—the Floyd Bed uses its limited palette strategically to contribute to its understated visual elegance. Pairing these colors with natural birch wood ensures that this bed will blend seamlessly into various interior design styles.
Streamlined Headboard (Optional): For those who wish to add an extra touch of elegance, Floyd offers an optional streamlined headboard made from powder-coated steel blanketed with soft upholstery fabric. Incorporating a headboard can enhance your bed's aesthetic appeal while also adding support for sitting up to read or watch TV in bed.
Customization with Add-Ons
The Floyd Bed invites customization by offering several add-ons that let you tailor the frame according to your personal preferences.
Platform Sizing: The modular nature of this bed allows you to choose between various platform sizes ranging from twin to king beds. Regardless of your selection, each size maintains a minimalistic design while ensuring the platform is perfectly integrated into your chosen mattress size.
Raised Platform: For those who appreciate additional storage space, Floyd offers a raised platform that sits 7.5 inches higher off the ground than their standard version, providing valuable room beneath the bed for items such as shoe boxes or luggage.
Headboard: As mentioned earlier, Floyd offers an optional headboard that complements the bed's minimalistic design. You can choose between two neutral gray fabric options: Fog and Moon.
Under-Bed Storage: To further enhance practicality and address storage needs, Floyd sells under-bed storage units specifically designed for their bed frame. The under-bed drawers slide directly onto the bed's support rails and efficiently maximize space without affecting its aesthetic appeal.
After spending considerable time experiencing the style and functionality of my Floyd Bed, I can confidently say that this frame successfully merges minimalist design aesthetics with practical features to create a truly versatile bedroom centerpiece.
Customizable by nature, it accommodates various options that allow owners to tailor their beds to their personal preferences, making it an excellent investment for anyone looking to make a statement in their sleeping quarters.
The attention to detail in both its design and added features ensures users can enjoy high-quality craftsmanship while maintaining a sense of personal flair in their bedroom—making the Floyd Bed a great addition to contemporary living spaces where function meets fashion.
Comfortability Factor – How Does It Sleep?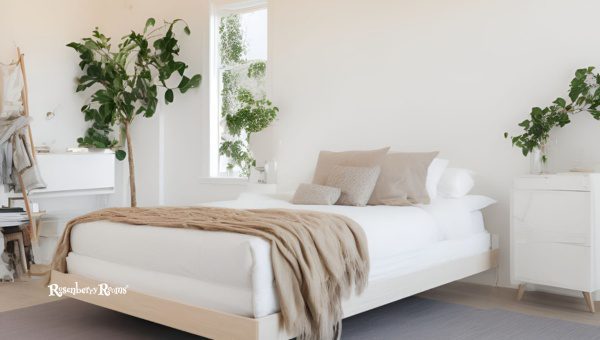 The comfortability of a bed can truly make or break a good night's sleep. In order to give you the full scoop on how the Floyd Bed performs in this department, let's dive into some crucial details like mattress compatibility, support, and ventilation.
Mattress Compatibility
When it comes to mattress compatibility, Floyd Bed has got it covered. The bed is designed to work with any type of mattress without the need for a box spring, which gives you the freedom to use your preferred mattress.
Be it memory foam, innerspring, or hybrid mattresses; all should comfortably fit and perform well on the Floyd Bed frame.
To pick the best-suited size for your needs, they offer options for:
Twin
Twin XL
Full
Queen
King
This wide variety provides you with wiggle room to choose the appropriate measurements and ensures that your desired mattress will fit perfectly on the frame.
Providing the Right Level of Support
An essential factor in achieving peaceful slumber is having the proper support from both your mattress and bed frame. With its sturdy design comprising birch plywood panels and powder-coated steel supports, Floyd Bed promises excellent support.
The materials utilized are not only strong but also considerably lightweight — making it easier when rearranging or moving rooms.
Let me highlight a unique aspect of this bed: modularity. This means that the Floyd Bed is designed with separate components that easily snap together firmly.
It makes adjusting extremely convenient - adding or removing panels has never been simpler! Because of this feature, you can expect consistent support across various sizes and types of mattresses without encountering issues like sagging or instability over time.
Another crucial aspect when considering comfort is ensuring there are no creaks or squeaks while moving around on the bed — nobody wants disruptions during their most vulnerable moments.
With my experience using it so far, I found that the Floyd Bed did succeed in providing me with a creak-free sleeping environment, thanks to its solid build quality.
Ensuring Adequate Ventilation
Proper ventilation is fundamental in maintaining a comfortable sleep setting. A well-ventilated mattress helps regulate your body temperature, allowing for a cooler and more enjoyable sleep experience. It also aids in preventing moisture buildup, which could lead to odor or mold issues in the long run.
The Floyd Bed features slatted birch plywood panels that facilitate air circulation under your mattress. This design not only allows for efficient airflow but also evenly distributes weight across the surface, further contributing to better support and comfort.
Moreover, these slats are spaced just right — not too close together, which can cause some mattresses to sink or sag, and not too far apart as it could lead to discomfort or even damage the mattress over time.
To sum it up, here's a quick overview of what the Floyd Bed offers with regard to sleep comfort:
Mattress compatibility: Works with various mattress types and sizes
Support: Consistent support across all types of mattresses without sagging or instability
Strength: Sturdy materials provide strength and durability without adding much weight
Ventilation: Slatted design facilitates proper air circulation under the mattress
Taking all these factors into consideration, I can confidently say that my experience with the Floyd Bed has been rewarding. The combination of its modular design, supportive structure, and efficient ventilation system makes it an excellent option for anyone looking for an inviting scene for their restful nights.
Durability and Quality Concerns – Will it Stand the Test of Time?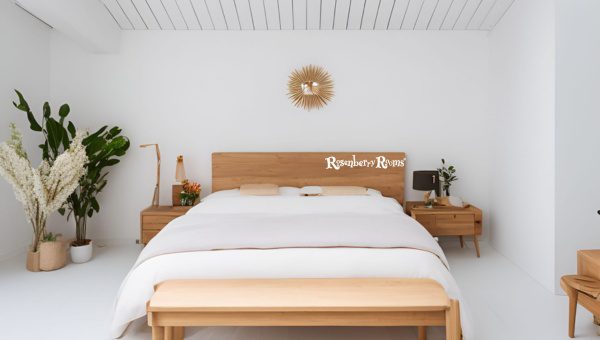 When investing in a bed frame, one of the most significant aspects we look for is its durability. No one wants to replace their bed frame every couple of years or deal with annoying issues like creaking noises.
So naturally, before I committed to the Floyd Bed, I wanted to make sure that it would meet my expectations in terms of build quality.
Assessing the Build Quality
Sturdiness is key when it comes to beds, and I can't deny that my initial assessment left me impressed. The Floyd Bed has a modular design, which ensures that every part fits together securely and forms a stable structure. Here's what caught my attention when evaluating its quality:
The Wood Panels: The Floyd Bed comes with birch plywood panels featuring a veneer made from real walnut or ash wood, depending on your choice. This gives it a pleasing finish, and more importantly, strength.
Powder-Coated Steel Supports: The bed's supports are crafted from powder-coated US steel – renowned for being robust and corrosion-resistant.
Proprietary Tension-Block System: An innovative tension-block system holds everything together firmly; allowing weight to be distributed evenly across the frame.
Evaluating Material Strength
Before I could fully trust this bed with my nighttime slumbers, analyzing the materials used was crucial:
Birch Plywood: These wood panels possess remarkable sturdiness without being overly heavy. This choice favors both longevity and ease of assembly.
Real Wood Veneer: I appreciate how Floyd didn't cut any corners by using faux-wood finish options. The genuine walnut or ash veneer is striking in appearance while also providing an extra layer of durability.
Heavy-Duty Steel Hardware: With steel supports accounting for most of this bed's structural framework, I didn't have to worry about them faltering over time. The powder-coating process enhances the steel's strength as well as its resistance to corrosion and wear.
The Longevity of Floyd Bed Hardware
The innovative hardware used for the Floyd Bed is a crucial factor that sets it apart from other bed frames on the market. Here are some key aspects of how their hardware contributes to its longevity:
Tension-Block Clamps: These clamps play an essential role in keeping your slats aligned and in place. Even when moving around in bed, you can trust these clamps to hold everything together without issue.
Steel Supports: Not only do these supports provide strength, but they also reduce opportunities for squeaking and noise – a common complaint among owners of cheap bed frames.
Screw-Free Assembly: Since there aren't any screws or additional assembly components involved, you're less likely to deal with loose parts that could impact the overall durability of your frame.
My experience with the Floyd Bed has been a positive one regarding durability and quality. The use of high-quality materials like birch plywood and powder-coated steel in combination with innovative design elements set it apart from many competitors.
Though only time can truly attest to its longevity, so far, I remain impressed at how well it has held up despite my daily use.
So will it stand the test of time? Based on what I've experienced and found when closely examining this bed frame - I'm inclined to say yes!
But don't just take my word for it; check out Floyd's website to learn even more about this sleek, minimalistic piece that could very well be the next addition to your bedroom!
Pricing and Value for Money – Is it Worth Your Investment?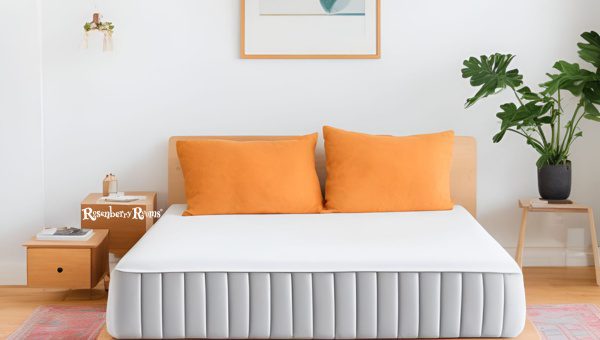 One major concern for anyone considering investing in a new bed frame is whether it provides good value for money. After all, we expect a bed frame to last us a significant amount of time without compromising on comfort or design aesthetics.
In this section, I will break down the pricing of the Floyd Bed and compare it with other bed frames available in the market.
Floyd's Pricing Breakdown
The Floyd Bed is available in different sizes, with each size having its own price point. As an example, here's a breakdown of the base prices for each size available (please note that prices can vary; always check for any promotions or sales on their official website):
Twin: $695
Full/Queen: $795
King: $895
Additionally, Floyd offers optional add-ons which can affect the final cost, such as:
The Floyd Headboard - starting from $365
Underbed Storage Drawer - starting from $225 per drawer
Additional panels - starting from $235
As you can see, while the initial pricing may not seem too steep at first glance (depending on your budget), adding on extra accessories can quickly increase your investment.
The Cost in Comparison to Other Bed Frames
Now that we know how much the Floyd Bed costs let's compare it to some other popular bed frames in the market. Here are a few examples along with their respective price ranges:
IKEA Malm – priced around $199 to $349 depending on size and storage options
Zinus Suzanne – priced roughly between $176 and $333 depending on size
Casper Repose – priced from $395 to $795, depending on size
Tuft & Needle Wood Frame – costs range between $795 and $995 based on size
As you can see from the list above, the Floyd Bed is priced higher than some of its competitors, such as the IKEA Malm and Zinus Suzanne.
However, it could be argued that Floyd focuses on delivering high-quality materials for the bed frame, has a no-tool assembly process, and has a unique minimalistic design that may justify the price difference.
On the other hand, when comparing Floyd Bed with Casper Repose and Tuft & Needle Wood Frame, they're quite similar in their pricing structure.
It's essential to look at each brand's unique selling points such as material quality, design aesthetics, assembly simplicity, durability, and warranty policies to truly determine if it's worth the investment.
Pro tip: Keep in mind that some retailers offer additional "bundle pricing" discounts when you purchase a mattress along with their bed frames.
Although the Floyd Bed might be more expensive than some other options available in the market considering its base price and potential add-on costs; when compared to similarly priced frames like Casper Repose or Tuft & Needle Wood Frame - it stands out due to its unique functional design features and easy assembly process.
If you value a minimalist aesthetic combined with the good build quality and tool-free assembly experience — even though it comes at a premium price — then investing in a Floyd Bed may be an option worth considering for you!
Floyd's Customer Service and Return Policy - Ease of Mind Guaranteed?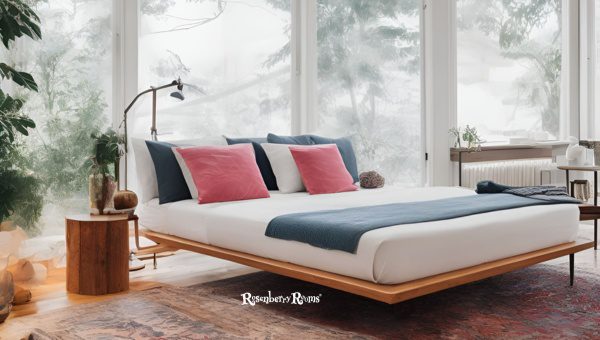 One aspect often overlooked when purchasing furniture is the after-sales customer support and return policy. If you're investing your hard-earned money in the Floyd Bed, you must know that your needs will be catered to in case any issues arise.
In this section, we'll delve into Floyd's customer service and return policies, explaining their warranty period and how the process works for obtaining replacement parts.
The Warranty Period Explained
Floyd offers a 10-year warranty on their bed frame, which indicates their confidence in the product's durability and longevity. The warranty covers manufacturing defects or flaws that could potentially compromise your bed's performance or appearance.
However, it's essential to note that damages caused by everyday wear and tear or improper use are not covered under this warranty. For instance, if you exceed the specified weight limit (600 pounds for a queen-size frame), Floyd won't be held responsible for any issues that may crop up.
Should you wish to claim the warranty, ensure that you have proof of purchase readily available. When submitting your claim request through their website (floydhome.com), they require an order number before proceeding with any resolution.
The Process for Replacement Parts
In case you find yourself in need of replacement parts under warranty due to defects or other covered issues, rest assured: Floyd has a simple process in place! You'll need to follow these steps:
Contact Floyd's customer support team via email at Floydhome. Provide an accurate description of the issue along with photographs demonstrating the problem.
After assessing the situation, Floyd's representatives promptly get back to you with either approval or denial of your claim based on underlying factors like eligibility.
If approved, Floyd will coordinate the shipping of your replacement parts at no additional cost to you. They may also require that you send back the defective part(s).
Floyd's commitment to providing a hassle-free experience doesn't end with its warranty policy. They recognize that sometimes people change their minds or aren't entirely satisfied with their purchase.
To address this, Floyd offers a 30-day return policy wherein customers can return their bed frame for a full refund within 30 days of delivery – no questions asked. However, you should keep the original packaging and ensure the item is returned in good condition. A few important things to consider regarding returns are as follows:
You'll be responsible for return shipping costs.
Medical and other conditions do not affect this policy.
If your item arrived damaged, ensure to inform Floyd within seven days.
Lastly, special attention must be paid to their responsive customer service support team, which makes all the difference when navigating return or warranty claims. It truly speaks volumes when a company reflects its commitment not only through tangible policies but also by rendering timely and diligent assistance throughout your interactions.
When considering purchasing a Floyd Bed, remember that not only are you acquiring an aesthetically pleasing and functional piece of furniture but also a product from a brand that values customer satisfaction.
With clearly defined warranty terms and an easy-to-navigate process for obtaining replacement parts or returns, you can invest in your new bed with peace of mind!
FAQs About Floyd Bed Review
What key points are covered in the Floyd Bed review?
The review discusses assembly, design, comfort, durability, pricing, value for money, and customer service.
Does the review address how easy the assembly is for the Floyd Bed?
Yes, the review provides an assessment of the ease of assembly and evaluates if the no-tool requirement holds true.
Does the Floyd Bed review discuss mattress compatibility?
Absolutely! Mattress compatibility and support is discussed in relation to overall bed comfort.
Are there any durability concerns mentioned?
The review delves into durability aspects such as build quality, material strength, and hardware longevity.
Are Floyd's customer service and return policy discussed in this review?
Yes, this review covers important details on warranty periods, replacement part processes, and return policies for ease of mind.
Conclusion
My experience with the Floyd Bed has been a delightful one overall, and I highly recommend it for anyone looking to revamp their bedroom with a minimalistic yet functional design.
The easy assembly with the no-tool requirement, mattress compatibility, and durability have truly made it a worthwhile investment. Not to mention, Floyd's responsive customer service only adds to the satisfaction of owning this bed frame.
To sum up, this Floyd Bed review, if you're considering purchasing this product for your home, I can confidently say that you won't be disappointed.
From the sleek aesthetics to its built-to-last construction and comfort factor, this bed frame has checked all the boxes as an excellent choice for any modern homeowner.