You've decided it's time for a bedroom makeover, and you're considering one of the most elegant and versatile pieces of furniture – the canopy bed.
As you begin your journey into the world of canopy beds, you'll soon realize this isn't a one-size-fits-all affair; there are different types of canopy beds to suit varying aesthetic tastes and functional needs.
So, are you ready to transform your sanctuary into a luxurious retreat? Let's start by guiding you through the various types.
With the right knowledge, choosing your perfect bed could be more straightforward than you might think.
From learning about the history that shapes traditional styles to understanding contemporary designs drawn from modern sensibilities, colors that reflect distinct personalities, and materials that bestow longevity - each aspect plays a significant role in this decision-making process. Ready to unveil this world covered under canopies? Step right in!
What is a Canopy Bed?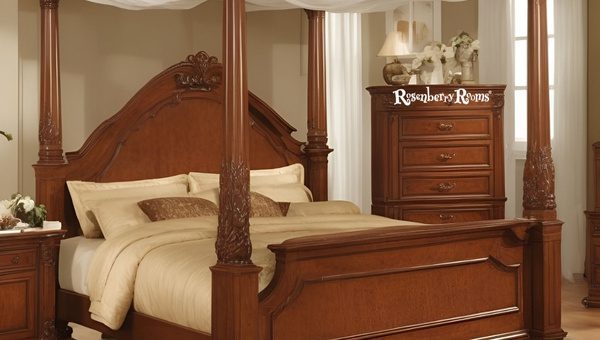 A canopy bed is a decorative style known for its high bed posts at each corner supporting a top frame. This distinctive frame is traditionally draped with curtains or fabric to create a shelter or canopy over the bed space.
Originating from medieval times, the curtains were used for warmth and privacy, but in modern times, they're more often used for aesthetic purposes, adding an elegant touch to bedroom decor.
Canopy beds can come in various sizes and styles, catering to traditional and contemporary design aesthetics.
Different Types of Canopy Beds
Canopy beds come in myriad designs, each bringing unique charm to your bedroom décor. Your choices run the gamut from traditional styles reminiscent of royal quarters to chic and contemporary ones that complement modern lifestyles. Let's delve into two primary categories you're likely to encounter - traditional and contemporary canopy beds.
Traditional Canopy Beds
If you're besotted with vintage design and romantic ambiance, the traditional canopy bed is right up your alley. It's all about embracing that classic Victorian aesthetic evocative of historical grandeur.
Traditional canopy beds often come with either metal rod frames or intricately carved wooden frames. These materials lend themselves well to elaborate designs characteristic of this old-world style.
The bed posts on traditional pieces can be decorated with intricate details, showcasing skilled craftsmanship that often takes inspiration from historic periods.
You'll often find these beds draped in rich fabrics like velvet or silk, enhancing their regal appearance.
Contemporary Canopy Beds
Does your design sensibility lean towards sleek lines and minimalist chic? In that case, a contemporary canopy bed could be just the ticket.
Contemporary canopy beds employ simpler designs compared to their traditional counterparts. These beds typically feature wood, metal, or a combination of both.
Metal frames on contemporary pieces are usually crafted from stainless steel or wrought iron for durability and minimal maintenance. If it's a wood frame you prefer, expect types like oak, teak, or trendy reclaimed wood options.
A defining feature of contemporary canopy beds is the less ornamental and more functional design approach, favoring clean lines over elaborate detailing.
Beyond these two broad categories are other variations like platform canopy beds (offering additional storage space), crown canopy beds (wherein the fabric drapes originate from a central point above the bed), and sleigh canopy beds (with curved headboards and footboards), among others.
Also Read About How To Hang Sheers On A Canopy Bed In [cy] [15 Easy Tips]
What are the sizes of the Canopy Bed?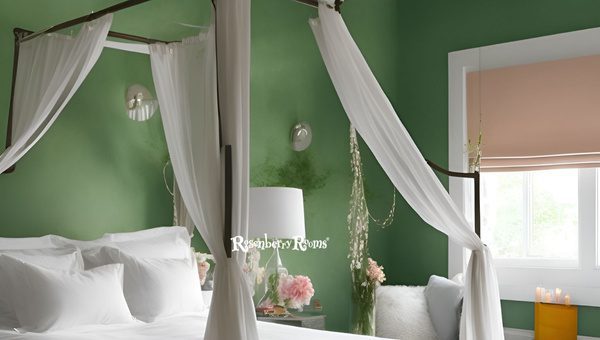 Choosing the right size canopy bed is foundational to creating an inviting, comfortable sleeping area. Simultaneously, you must ensure that it fits well within the room's overall layout and leaves enough space for free movement around it.
Knowledge about standard canopy bed sizes can greatly simplify this task. Let's dive deeper into these dimensions and understand how different bed sizes cater to distinct room setups and user requirements.
Single/Twin Canopy Bed
A Single or Twin Canopy Bed, with dimensions measuring 39" (width) x 75" (length) in inches, or 3ft 3" x 6ft 3" in feet, or 99cm x 191cm in centimeters, is a fantastic choice for spaces aiming to optimize utilization.
| Size | Inches | Feet | Centimeters |
| --- | --- | --- | --- |
| Single/Twin | 39" x 75" | 3ft 3" x 6ft 3" | 99cm x 191cm |
This size is perfect for kids' bedrooms, guestrooms, apartments with limited space, or multi-use areas where the bed might not be the singular function of the room.
Typically designed to accommodate one person, a single/twin-sized canopy bed offers ample sleeping space for children or adults who prefer cozier sleeping areas.
The decorative flair of canopy beds combined with this convenient size option makes it a great sleeping solution and an excellent décor accessory, offering both style and practicality.
Double/Full Canopy Bed
If you've more space and need a larger bed to accommodate two people or prefer having more room while you sleep, consider the Double or Full Canopy Bed size.
| Size | Inches | Feet | Centimeters |
| --- | --- | --- | --- |
| Double/Full | 54" x 75" | 4ft 6" x 6ft 3" | 137cm x 191cm |
The measurements come out as 54" (width) x 75" (length) in inches, which translates to 4ft 6" x 6ft 3" if you're more comfortable with feet measurements. If the metric system suits you better – it's approximately about 137 cm x 191cm.
While providing extra width compared to its 'single/twin' counterpart, the 'double/full' retains the same length. Hence, taller individuals may seek longer alternatives, such as queen or king-sized beds.
Whether you're setting up a teen's room where the bed also plays a role in creating a socializing or lounging space or revamping adults' chambers where comfort is the primary consideration - double/full canopy beds add that touch of sophistication together with ample area for restful sleep.
Queen
A queen canopy bed measures approximately 60 inches in width and 80 inches in length, or when translated into feet, it would be approximately 5ft x 6ft 7". In centimeters, it's about 153cm x 203cm. Widely popular among users, Queen size is a great choice for couples due to its spaciousness.
| Size | Inches | Feet | Centimeters |
| --- | --- | --- | --- |
| Queen | 60" x 80" | 5ft x 6ft 7" | 153cm x 203cm |
The frame is just right for regular rooms with standard dimensions, and it comfortably accommodates two average-sized adults while leaving room for movement.
Queen-size canopy Beds often offer adequate space and elegance that nicely complements your bedroom decor.
King
Next up is the King-sized canopy bed. This luxury-size option measures about 76 inches by 80 inches or roughly translates to around 6ft 3" x 6ft 7". In cm, it equates to approximately 193cm x 203cm.
| Size | Inches | Feet | Centimeters |
| --- | --- | --- | --- |
| King | 76" x 80" | 6ft 3" x 6ft 7" | 193cm x 203cm |
If you're looking for space and don't mind dedicating a significant portion of your bedroom to the bed - king size is your pick! Its generous dimensions make it an ideal choice if you share a bed with a partner and both love having many personal sleeping areas. The luxury of a king-size canopy bed allows you to sleep like royalty.
California King
The most spacious of all standard sizes is the California King Canopy Bed. This size measures roughly around an ample length of 84 inches paired with a width of about inches or, in simpler terms - approximately about 6ft x 7ft; in metric units, it would measure at around 183cm x213cm; mathematically speaking, having more legroom than its contemporaries.
| Size | Inches | Feet | Centimeters |
| --- | --- | --- | --- |
| California King | 72" x 84" | 6ft x 7ft | 183cm x 213cm |
This site was designed keeping tall people's comfort in mind – thus, if you always find your feet hanging off the edge of shorter beds, this could be the solution for you!
A California King canopy bed could transform your bedroom into a personal palace, allowing the most sprawling room and ultimate luxury.
Difference between Wooden vs Metal Canopy Beds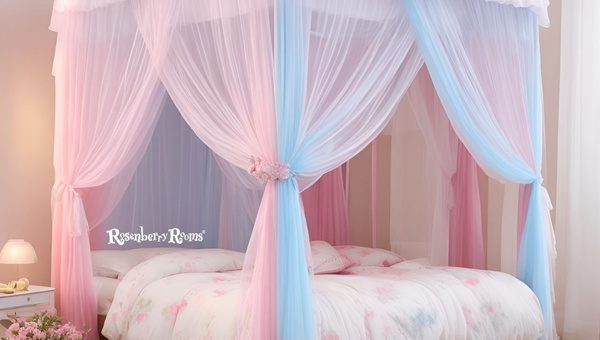 Your canopy bed's construction material significantly influences its aesthetic and functional attributes. Two common choices are wood and metal, each offering their unique appeal and benefits.
As you embark on the decision-making journey, understanding the differences between wooden and metal canopy beds can make the process less daunting.
Wooden Canopy Beds
Wood is a classic choice for furniture and is coveted for its timeless charm and ability to blend seamlessly with various interior styles.
For starters, wooden beds are more expensive than their metal counterparts, given the cost of procuring quality wood and crafting it into intricate designs.
The versatility of wood allows for easy customization - you can carve, paint, or stain it to create inspired designs that match your style.
On the downside, they may require regular maintenance, like polishing or varnishing, to keep them from drying out or showing signs of wear over time.
Wooden canopy beds have a lighter weight than metal versions, allowing ease of movement during room rearrangements.
They endow a warm ambiance to bedrooms with their naturalistic design - think rustic country homes or cozy log cabins.
A range of woods are used in canopy bed construction - from resilient oak for a sturdy bed frame to lavish mahogany gracing luxury interiors in dark hues.
Eco-conscious buyers often prefer sustainable options like bamboo or reclaimed wood. If well-maintained, wooden canopy beds can last decades while adding an earthy warmth to your bedroom aesthetic.
Explore More: How To Decoupage On Wood Furniture [cy] [A Step-by-Step Guide]
Metal Canopy Beds
Metal canopy beds are a popular choice for many style-conscious homeowners. They bring a sleek, modern flair to your bedroom decor at an affordable price. The principal materials used in constructing metal canopy beds are steel and iron, each providing durability and longevity.
Steel and Iron: Canopy beds made of steel or iron are a good option if you're working with a lower budget but don't want to compromise style or durability. Despite their lower costs, these beds offer strength that holds up well over time.
Powder Coating: Metal canopy beds often undergo powder-coating to enhance durability further. This sophisticated technique gives the bed frame a beautiful finish that appeals to the eye and is resistant to scratches, rust, and fading.
Seamless Addition to Modern Decor: With their sleek lines and glossy surfaces, metal beds seamlessly add to modern bedroom aesthetics. They blend well with other contemporary furniture pieces and can often serve as the room's focal point.
Less Customizable: Metal canopy beds might not be as customized as wooden ones due to their manufacturing process. However, they're available in diverse designs, from minimalist frames to those featuring intricate scrollwork.
Maintenance: Another advantage of metal canopy beds is that they require less maintenance than wooden options. A simple wipe-down with a damp cloth keeps your bed looking its best.
Heavier and Sturdier: Metal frames are typically weightier than their wooden counterparts, giving more stability and sturdiness to the overall structure.
By marrying sophistication with affordability, these modern marvels can easily elevate your bedroom's comfort and style quotient without breaking the bank.
While choosing your perfect metal canopy bed, consider compromises on customization, if any, but relish largely on low-maintenance living paired with contemporary allure!
The Best 20 Types Of Canopy Beds
Canopy beds symbolize comfort and elegance, immortalized by countless fairy tales and royalty-inspired movies.
Today, this classic piece of furniture has been interpreted in countless styles, allowing everyone to enjoy its hint of luxury.
Traditional Canopy Bed
The magic of a traditional canopy bed cannot be overstated. These beds are characterized by their historical design elements that emanate a sense of timeless beauty.
Typically, it features tall, ornamented posts constructed from wood or metal, with a connecting framework on top. This design allows for curtains or drapes on all sides, creating a secluded space that's nothing short of regal.
Regarding color options, they range from dark mahogany to lighter hues like oak or pine. If you have an affinity for antique charm and grandeur, a traditional canopy bed will add sophistication and comfort to your bedroom.
Four-Poster Canopy Bed
Four-poster canopy beds are undeniably one of the more popular canopy beds. As the name suggests, these beds have four vertical columns at each corner that can either be disjoined or connected at the top through horizontal crossbeams to support your fabric drapes.
Substantial in its constructed yet sophisticated appearance, it offers privacy and elegance without feeling overly heavy or confining.
Whether you choose ones crafted from dark wood or brushed metal frames or prefer curtains in sheer lace or opulent velvet - this bed style will make a dramatic statement while encapsulating you in cozy wonder.
Platform Canopy Bed
The platform canopy bed offers a perfect blend of style and utility. Distinguished by its lifted base, this design typically includes under-bed storage drawers that provide ample space to tuck away linens, blankets, or seasonal clothing items.
You'll often find these beds crafted from solid wood for durability, while the canopy aspect brings in an element of sophistication.
The lower base combined with the vertical height of the canopy makes platform beds ideal even for bedrooms with lower ceiling heights.
Crown Canopy Bed
A crown canopy bed adds a layer of elegance and regality to your room. The distinguishing feature? Fabric drapes originate from a central point (the "crown") above your bed instead of draping from each corner.
This feature creates an alluring focal point in your room while allowing for an open, airy feel around the sleeping area.
Whether you choose transparent chiffon-like fabrics for a romantic vibe or bold-colored velvet materials for drama, a crown-style bed is truly worth swooning over.
Contemporary Canopy Beds
For those who love minimalistic aesthetics, contemporary canopy beds are the way to go. These designs stray from ornate detailing and evoke simplicity with their clean lines and streamlined structures.
Most contemporary canopy beds employ metal or wood in their construction—either way, they echo a sense of understated sophistication that effortlessly blends with modern home décor themes.
If you're looking for functionality without compromising style, consider this type: a few throw pillows and some light drapes can transform this simple framework into your dream haven.
Sleigh Canopy Bed
If you're searching for a unique blend of tradition and luxury, look no further than a sleigh canopy bed. Characterized by its curved or scrolled foot and headboards, this bed style doesn't just evoke images of Santa's sleigh but effectively brings it into your bedroom.
Made from sturdy materials like hardwood, the sleigh canopy bed features an inherent charm that can add a touch of sophistication to your personal space. Plus, it feels like a cozy and inviting refuge when adorned with dreamy drapes.
Metal Canopy Bed
A metal canopy bed is all about balancing classic elegance with modern sensibilities. Crafted from durable metals like iron or steel, these beds offer unsurpassed longevity and are easy to maintain.
The sleek lines and minimalist appeal of metal canopy beds fit well with various decor styles, from industrial chic to contemporary minimalism.
Opting for a powder-coated metal frame can also add an extra layer of protection against scratches and wear.
Upholstered Canopy Bed
An upholstered canopy bed, on the other hand, speaks volumes about opulence and comfort. By covering the bed frame with plush fabric such as velvet or suede, these beds make a grand statement while also offering added comfort.
Often seen in luxurious master suites or chic boutique hotels, upholstered canopy beds provide endless opportunities to personalize with varying fabrics, textures, colors and prints – ranging from monochromatic designs that ooze sophistication to vibrant prints that ensure your bed is always the centerstage.
Floating Canopy Bed
The floating canopy bed is an adventurer's fantasy come to life. It casts an enchanting vibe with the illusion of suspension as the canopy appears to float in mid-air.
The design employs a concealed or well-structured bedframe that makes the mattress seem like it's levitating, while the canopy extends above.
Whether it's netting, fabric, or even a string of fairy lights, this bed adds a dimension of magical realism to your decor.
Minimalist Canopy Bed
If "less is more" resonates with your style mantra, the minimalist canopy bed could be your perfect pick. Minimalist canopy beds are known for their simple and sleek lines - unadorned frames that serve their purpose without overwhelming your senses.
These beds typically have metal or wooden frames devoid of excessive detailing. The canopies may not include drapes at all, hinging primarily on the visual interest they create by their presence.
Gothic Canopy Bed
Stepping into a room with a Gothic canopy bed feels like being transported into a historical drama. Synonymous with dramatic and ornate designs, these beds often feature dark wood or metal with intricate detailing – think arches and spires reminiscent of Gothic architecture.
The canopies usually include lush fabrics in rich hues that exude decadence, perfect for anyone looking to add some medieval charm to their bedroom.
Farmhouse Canopy Bed
If you're pining for a restful retreat that reflects rustic charm and simplicity, the farmhouse canopy bed is your best bet.
These beds typically use sturdy wood - often reclaimed or distressed - to create an appealing, rustic look. The wooden frames are frequently designed with clean lines and a minimalist aesthetic.
The key here is understated elegance rather than opulence, lending an inviting warmth and homely vibe to your bedroom space.
Read More: Farmhouse Bedding Guide [cy] [Personalize Your Haven]
Victorian Canopy Bed
If it's grandeur and elegance you wish to invoke in your bedroom, the Victorian canopy bed is an ideal option.
Heavily influenced by the Victorian era's design sensibilities, these beds are characterized by intricately carved wooden frames, often made from hardwoods like mahogany or oak.
High posts support a fully draped canopy creating a private, extravagant enclosure—a distinctive touch reminiscent of opulent period drama settings.
Bamboo Canopy Bed
A bamboo canopy bed offers an alternative for those who appreciate eco-friendly furniture without compromising chic aesthetics.
Bamboo's strength rivals traditional hardwoods minus their environmental impact – making it a win-win choice.
Bamboo canopy beds often showcase the natural color variations of this material in elegantly simple designs. The light-weightiness lends itself well to airy designs perfect for tropical or coastal themed spaces.
Wrought Iron Canopy Bed
Wrought iron canopy beds exude a unique blend of strength and elegance, bringing a timeless charm to your bedroom.
They're built to last, showcasing intricate detailed work or chic minimalist designs depending on your preference. The signature feature of these beds is the impressive look fo the wrought iron itself - sturdy, purposeful, yet graceful.
You'll often find beautiful patterns interwoven into the canopy framework, creating an artistic element that's just as functional.
Princess Canopy Bed
Princess canopy beds are the stuff dreams are made of! They are perfect for those aspiring to create a fairy-tale ambience in their bedroom. These beds typically feature an elaborate canopy drape that adds a dash of charm and whimsy.
They usually come in light and airy colors such as pink, lavender or white. The best part? You can add decorative elements like satin ribbons or twinkly lights wrapping the bed posts for that magical twinkle every princess deserves.
Bohemian Canopy Bed
A bohemian canopy bed is all about free-spirited design attributes fused with comfort. If you love a laid-back aesthetic bursting with colors and textures, this type of bed is your go-to choice. Characterized by their artistic finishes and colorful fabric draping, these beds give creativity free rein!
Mix and match patterns or choose eclectic materials to infuse a vibrant energy into your space reminiscent of gypsy-inspired décor.
Industrial Canopy Bed
Industrial Canopy Beds perfectly meld form and function in their design. These beds lean into raw, undefinable elements like bare steel or distressed wood, often resulting in a dramatic visual vibe.
The canopy structure in such beds is typically skeletal - think simple frames made from metals like wrought iron or brushed steel.
A trademark characteristic is the use of neutral colors such as gray, black, or white, which perfectly complement the raw industrial style.
Rustic Canopy Bed
If 'cabin in the woods' is your ideal aesthetic, then a rustic canopy bed could be your dream come true. These beds showcase natural materials like unstained wood or weathered timber, exuding an organic warmth that takes you back to nature.
Rustic canopy beds often feature sturdy wooden posts coupled with minimal drapery lending a serene charm to your bedroom. Some rustic canopy beds might include wrought iron details to enhance their robust and earthy appeal.
Mid-Century Modern Canopy Bed
Drawing inspiration from the 50s and 60s design ethos that highly favored functionality and simplicity, Mid-Century Modern Canopy Beds strike an attractive balance between minimalist design and comfort.
You'll often find them boasting clean lines, graceful curves mixed with organic shapes, and iconic splayed legs characteristic of this era's furniture style.
Such bed designs enrich your room with an atmosphere of understated elegance sans unnecessary frills or ornaments.
FAQs About types of canopy beds
Are canopy beds suitable for small spaces?
Yes, you can find various canopy bed styles that are perfectly suited for smaller bedrooms without compromising on style or comfort.
Do canopy beds require special care or maintenance?
The level of maintenance depends on the bed's materials and design, but generally, they need regular dusting and occasional deep cleaning.
Can I customize the décor on my canopy bed?
Absolutely! You can switch out drapes, add fairy lights, or even leave it bare depending on your taste.
Are canopy beds comfortable to sleep in?
Comfort primarily depends on the mattress used in the bed; quality of sleep isn't affected by the presence of a canopy.
Do all types of mattresses fit in a Canopy Bed?
Mostly yes, however, it's always best to check the specific size requirements for each canopy bed model beforehand.
Conclusion
As you embark on your journey to enhance your bedroom decor with an elegant canopy bed, understanding the different types and designs available can make your decision-making process smoother and more enjoyable.
You're attracted to the historic charm of a traditional canopy bed or the sleek minimalist style of a contemporary design, there's something for everyone in this fascinating world of covered beds.
When chosen thoughtfully, a canopy bed doesn't just serve as a piece of furniture; it transforms your bedroom into a sublime sanctuary reflecting your personal style.