Are you one of those people who longs for the sanctuary of a comfortable sofa at the end of a hard day only to find out that your current couch exacerbates your back pain?
It indeed leaves you feeling frustrated. In this article, we are going to discuss the best sofas for back pain, offering you guidance for your most crucial furniture needs.
Ensuring comfort along with style, there's no quick fix here. It's about understanding how your body posture aligns with the sofa and planning accordingly.
A well-selected piece of sitting furniture can help reduce discomfort and enrich your space's look. So, let's discover which sofas can give you a superior lounging experience without neglecting your spinal health.
How A Sofa Can Help With Your Back Pain?
Dealing with back pain is far from pleasant, and your sofa could be a significant part of the solution or problem.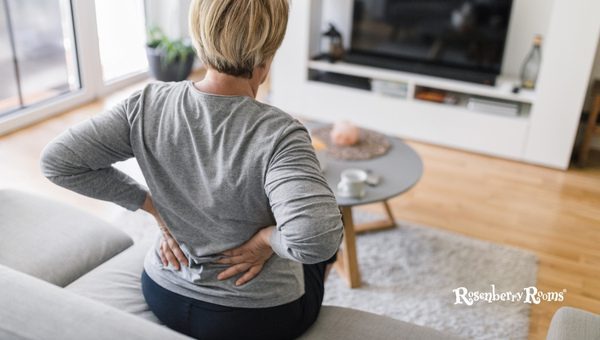 Here's how a well-chosen sofa can help you combat these unpleasant sensations.
Good Posture
A quality sofa will encourage better posture, particularly those designed with ergonomic principles in mind.
They are contoured and cushioned to support the natural curvature of your spine, aiding in maintaining proper alignment.
Lounge furniture that is too soft can cause slouching, while those that are too hard can exert pressure on your sacrum.
The right balance supports your lower back and evenly distributes weight, reducing strain.
Comfortable Cushioning
The cushioning in your sofa plays an essential role in alleviating back pain.
Sofas fitted with high-resilience foam or feather-down blends offer an excellent combination of comfort and support.
Right Height
The height of your sofa can also impact your spinal health. An ideal sofa allows you to sit with your feet flat on the floor, easing pressure off your lower back.
Correct Dimensions
A sofa suitable for back pain should have a deep seat to provide enough room for the thighs while allowing the backrest to support your torso fully.
What You Should Consider Before Buying a Sofa
Before you embark on the journey of finding the perfect sofa for your home, there are numerous factors you need to pay attention to.
This vital piece of furniture can influence not just the aesthetics of your space but also impact your comfort and posture tremendously.
Size and Dimensions: The first thing you want to observe is size and dimensions, considering not only your height and personal comfort but also the size of your room.
Space and Layout of the Room: Your chosen sofa should not overpower or underwhelm your room's dimensions. It should blend smoothly with other furniture pieces and walking spaces.
Sofa Frame Material: Look for a sturdy frame material. Solid hardwood tends to be resilient.
Type of Upholstery Fabric: High-quality fabric lasts longer. Also, consider factors like if it's spill-resistant (especially if there are kids or pets) or sunlight-resistant.
Color and Pattern: This choice comes down to personal preference, but consider its concordance with room colors.
Cushion Fill Material: For people with back pain, cushion quality plays a pivotal role. A combination of high-density polyfoam with some soft layering is advisable.
Comfort and Ergonomics: Besides supporting your back, make sure the seat height aligns well with your legs, and armrests support your arms adequately.
Style and Design: It plays a substantial role in defining room aesthetics. From mid-century modern to contemporary loveseats, pick what suits you best.
Durability and Construction Quality: Research about construction techniques used by manufacturers for reassurance on sofa longevity.
Seating Capacity: How many people often sit on your sofa at the same time? This will help you decide the size or even if you should go for a sectional sofa.
Sofa Bed Functionality: Pressed for space or frequently have guests over? Having a sleeper can be beneficial.
Maintenance and Cleaning Requirements: If it's a high-maintenance fabric, you may want to reconsider should you not have the time. Leather could be an excellent low-maintenance option, for example.
Brand Reputation and Reviews: Always peruse customer reviews, ratings, and brand reputation before purchasing.
Warranty and Return Policy: Focus on after-sale service. What's covered in the warranty? Know your rights as a buyer!
Budget and Price: Properly assess your budget while accounting for other variables like durability, comfort, etc.
Delivery and Installation Options: Some companies offer free shipping & installation. You could save a few bucks here!
Environmental and Health Certifications: If sustainability matters to you or if you're allergy-prone, look for sofas with eco-friendly or hypoallergenic certifications.
Customization Options: Some brands allow fabric type/color, leg style/type selections – great to give your sofa a defying personal touch!
Matching with Existing Decor: You would certainly want your new couch to fit seamlessly into your current decor style to maintain aesthetic harmony.
Although this might not seem essential at first glance, having furniture pieces that retain their resale value could be useful if you plan on changing decor styles frequently or moving houses.
The versatility of design would allow the furniture piece to blend into various styles effortlessly.
Also Read: Cozey Ciello Modular Sofa Review 2023 [6 Month With Cozey Ciello]
15 Best Sofas For Back Pain In 2023
Are you embarking on a journey to discover the best sofa for back pain? It can certainly be overwhelming, given the range of products available in the market.
To assist you in your quest, we have formulated a list of the top 15 sofas that provide optimal support and comfort for those experiencing back pain.
Our first sofa on this list is the Allform Modular Design 3-Seat Sofa.
Allform Modular Design 3-Seat Sofa
Are you longing for a couch that blends style with ultimate comfort? Look no further than the Allform Modular Design 3-Seat Sofa.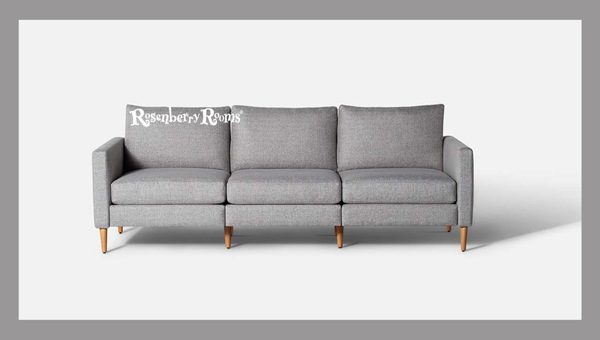 This model comes with a hefty $1,895 price tag, but rest assured, knowing that it promises unparalleled relaxation for alleviating your back pain.
This sofa is stuffed with high-grade Polyfoam and fiber to ensure maximum support and comfort catered to your physical needs.
The upholstery features performance fabric and top-grain protected leather - an impressive combination that gives you both durability and elegance.
With its structure frame made from pine wood, this three-seater sofa ensures stability without compromising on design.
Its tempered steel flexolator grid system not only enhances its overall sturdiness but also contributes towards improving posture alignment - an essential feature when targeting back pain relief.
It comes in nine colors, offering great customization options suitable for any décor style - modern or traditional.
Dimensions-wise, this piece is cozy enough to accommodate three people comfortably while maintaining reasonable space efficiency.
Pros
High-quality materials
Customizable color options
Superior comfort
Reliable structure
Great posture support
CONS
High price range
Might not fit small rooms
Limited fabric choices
Rivet Sloane Chic Mid-Century Loveseat in Pebble Grey
Have you been scouring the internet for a comfortable, stylish, and back-friendly sofa? Your search might end with the Rivet Sloane Chic Mid-Century Loveseat.
Styled with a sophisticated grey sheen, this chic piece can transform any living space into a haven of comfort and elegance.
This loveseat flaunts a mid-century modern aesthetic with its sleek U-shaped silhouette.
With dimensions measuring 35.8" D x 64.2" W x 33.1" H, it doesn't occupy much space but guarantees relaxation and chic.
Crafted with a durable hardwood frame, this sturdy loveseat ensures longevity along with comfort.
The beech wood legs provide excellent support while adding to the overall timeless appeal.
One standout feature includes hand tufting and buttons that add an elegant touch to its sleek pebble-grey upholstery.
It has a 21-inch deep seat that gives ample lounging capacity without compromising posture support.
Despite oozing luxe from every angle, another advantage is that this piece requires no assembly. Unbox it and find your comfort corner right away.
In case you're not satisfied or encounter any issues within the first year of purchase, rest assured, as Rivet provides free returns backed by a one-year warranty.
Pros
Mid-century modern aesthetic
Durable hardwood frame
Comfortable deep seats
No assembly required
One-year warranty
CONS
Higher price point
Limited color choice
Pebble grey may show stains
Read More: 7th Avenue Modular Sofa Review 2023 [98% Positive feedback]
Larkinhurst Sofa
Exuding timeless elegance and comfort, the Larkinhurst Sofa is a must-have addition for anyone grappling with back pain.
Priced at $849, this faux leather sofa, with its weathered look, fits perfectly into a range of décor styles.
Adding to its charm are the earthy southwestern tones that lend it a unique character.
Sporting amazingly generous back and seating support, this sofa is all about inducing comfort while ensuring an aesthetically pleasing appearance.
The smooth blend of classic roll arms and turned feet gives it an irresistible allure.
The Larkinhurst sofa boasts a sturdy corner-blocked frame that promises durability.
Along with attached back cushions, loose seat cushions add to their functionality while imparting flexibility in maintenance.
One distinctive feature that places it ahead in terms of support is the ultra-supportive pocketed coils that add another level of comfort.
This chic sofa brings together functionality and style with two decorative pillows included within the package.
The soft feather inserts for these pillows work as the cherry on top. With nailhead trim adorning it, this sofa has faux leather upholstery further refined by exposed feet with a faux wood finish.
Pros
Durable corner-blocked frame
Ultra-supportive pocketed coils
Generous back and seating support
Two included decorative pillows
Stylish nailhead trim
CONS
Faux leather can wear over time
Attached back cushions limit flexibility
Earthy tones may not suit all interiors
Serta Copenhagen Plush Sofa in Soft Marzipan
The Serta Copenhagen Plush Sofa is a must-check-out option for anyone suffering from back pain, offering comfort and support without compromising on style.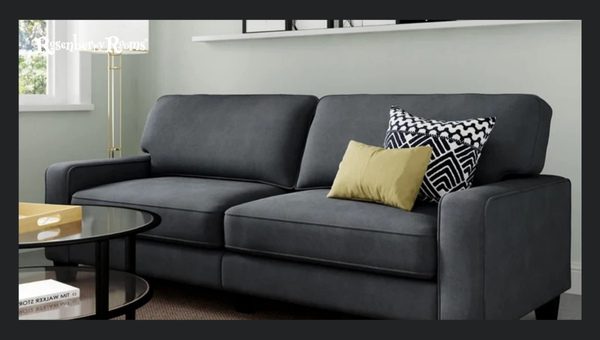 With dimensions of 32.5" in depth, 78" in width, and 35" in height, this sofa fits nicely into small living rooms without crowding the space.
Sturdy enough to accommodate weights up to 500 pounds, the sofa leans comfortably between a standard type and a luxurious lounging item.
What truly sets it apart is Serta's renowned bedding technology that is harnessed to create some of the best sitting furniture.
The seat depth and height stand at a solid 20.5 inches each, ensuring your posture remains ergonomically healthy while seated.
In keeping with its traditional style design, the Serta Copenhagen Plush Sofa boasts soft, rounded arms offering extraordinary comfort for long sitting hours.
It's built with individually wrapped coils that provide an even distribution of support across all areas of contact, plus high-density foam and pillowed back cushions guaranteeing ultimate muscle relaxation.
This plush sofa has a pleasing marzipan color that can bring warmth to your interiors, whether it's a compact apartment downtown or your office's waiting room.
It also coordinates seamlessly with other items within the Copenhagen collection for you to recreate your space harmoniously if required.
Pros
Ideal for small spaces
Versatile usage (apartments, offices)
Comfortable traditional style
High-density foam backrest
Solid weight limit
CONS
Assembly required
Limited color options
Not ideal for large rooms
Tateyama Sofa Replica
The Tateyama Sofa Replica is an embodiment of comfort and luxury. Its plush design, featuring a unique cut-open backrest for easy access, delivers an unrivaled lounging experience that's perfect for those enduring back pain.
Specially designed, keeping contemporary living space aesthetics in mind, this sofa contributes significantly to the charm and appeal of your room.
Comfort goes a notch higher with high-quality D60 foam padding, which users find both comforting and supportive.
Crafted with teddy velvet fabric and stainless steel, the Tateyama Sofa Replica offers long-lasting durability alongside superior comfort.
The integrated side tables, stylishly accented with a metal belt, offer the perfect blend of functionality and elegance.
Bolstered by a high-density oak wood frame, it boasts dimensions of 94.4" L x 45.2" D x 25.5" H, giving ample seating space without overwhelming your room.
Buyers also adore the integrated gold metal side table, a thoughtful addition that enhances the sofa's functionality while adding a dash of class to its form.
Ease your worry about potential damages during shipment; it comes protected by InsureShield.
It offers a considerable 12-month manufacturer warranty plus returns & refunds within 30 days if you're not fully satisfied.
With Monthly Installments options available for payment, you can enjoy the luxury now and pay later, a flexibility many customers cherish.
Pros
Plush, luxurious design
High-quality D60 foam padding
Teddy velvet fabric adds elegance
Stylish integrated gold metal side tables
Protected shipments via InsureShield
CONS
Steep price tag ($3,499)
Limited color options
Not ideal for smaller spaces
Explore More: Article Sofa Review 2023 [Comfort Tested For Up To A Month]
Togo Sofa Replica
Scrolling through furniture catalogs could be dizzying, especially when searching for a sofa that meets aesthetics and wellness standards.
To soothe your back and enhance your living room appeal, one fine option is the Togo Sofa Replica.
This piece of furniture offers an ergonomic design envisioned by Michel Ducaroy back in 1973.
The thoughtfully designed shape supports various body postures, helping to alleviate stress on your spine.
An attractive feature of this sofa stems from its plush, quilted cushions made from five different foam densities.
It's not just about the looks either; these cushions are meticulously upholstered to ensure that they retain their shape over time.
The Togo Sofa Replica presents itself in a variety of top-notch fabrics: suede, corduroy, teddy velvet, and even fiber leather.
You can choose what works best for your aesthetic needs without compromising on comfort or durability.
Its dimensions stand at 53.15" x 39.76" x 28.35", with a seat height of 15.75 inches, an ideal size for both smaller room layouts and larger spaces.
Beyond its physical attributes, the Togo Sofa Replica carries a recommended max weight capacity of 330 pounds.
Pros
Ergonomic design promotes posture support
Plush cushions ensure comfort
Variety of choice in upholstery fabrics
Premium craftsmanship guarantees durability
Suitable for various interior styles
Purchase protected by InsureShield
CONS
Might not fit tighter budgets
Single color option per model
Seat height may not suit all users
Camaleonda Teddy Velvet Replica
Indulge in luxury without forgoing your comfort with the Camaleonda Teddy Velvet Replica sofa.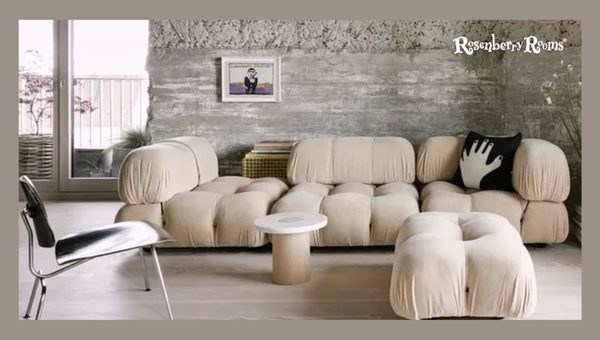 This masterpiece, originally designed by renowned Italian designer Mario Bellini in 1970, has been a timeless addition to living spaces worldwide.
Doll up your home with its modular design and wealth of upholstery options.
Widely acclaimed for its user-friendly modular design, this sofa quite literally molds itself to your space and needs.
You can easily assemble or tweak the elements as you like or find most comforting for your back.
The upholstery is customizable and removable, allowing you the freedom to own a piece that truly resonates with your aesthetic sense.
The comfortable cushions are crafted with a blend of polyurethane foam and goose down, promising absolute relaxation on a plump yet firm seat.
Its sturdy make includes stainless steel clips, ensuring a durable connection.
The dimensions of this sofa are 103.95" W x 34.65" D x 26" H, and it weighs around 233.7 lbs.
A layering of three different densities of shaped polyurethane foam ensures the ideal combination of comfort, support, and longevity, not to mention Teddy Velvet Fabric upholstery, which is soft to the touch yet resilient.
Relish peace of mind with an assured 12-month warranty from the manufacturer, along with a returns & refund option within 30 days of purchase.
Your investment is well-protected by InsureShield during shipment, assuring damage-free delivery right at your doorstep.
Pros
High-quality build
Customizable design
Luxurious comfort
Excellent back support
Durable construction
CONS
Quite heavy
High-end price range
Limited color options
Togo Sofa Fiber Leather Replica
Are you after the synthesis of comfort, luxury, and style all in one that doesn't compromise your back health? You might want to consider the Togo Sofa Fiber Leather Replica.
This well-constructed sofa, renowned for its plush and quilted cushions, is synonymous with excellent relaxation.
Designed by Michel Ducaroy back in 1973, the ergonomic considerations in its design are no less relevant today.
The Togo Sofa's five different foam densities guarantee a well-aligned support system for your body, aiding significant reduction in backaches.
The chic fiber leather upholstery hardly compromises on quality or durability. It promises to retain its shape over prolonged use while continuing to radiate an utterly contemporary vibe in your living space.
It's versatile enough to be used not just at home but is also an asset in reception areas or offices because of its elegant aesthetic.
There is a niche level of meticulousness that goes into the craftsmanship of this sofa that sets it apart from run-of-the-mill furniture pieces; the hand-sewn fabric materials result in a durable and intricate finish.
Despite being sturdy at 50.7 pounds, it still lends itself to easy movement around your space for optimal positioning.
Pros
Plush quilted cushions
Premium fiber leather
Supports up to 330 lbs
12-month manufacturer warranty
CONS
Slightly high cost
Can be heavy for frequent moving
Also Read: Apt2B Melrose Sectional Sofa Review 2023 [My Honest Opinion]
Chubby Sofa
Dimensions (Width x Depth x Height): Sizes vary according to seaters ranging from 3-6 seaters, with an overall depth of 40.5" and a height of 36''.
Making the art of lounging a pleasant experience, the Chubby Sofa is crafted with authentic linen fabric.
Inside, you'll sink into a soft foam and feather blend, providing heavenly comfort for those painful backs.
The frames are built from durable wood to withstand years of use while maintaining its luxury charm.
Upholstery care includes vacuuming left to right and removing stains using mild detergent. To tidy up the covers, remove them and wash them on a gentle cycle.
The natural linen fabric is delicate to sunlight and may discolor if exposed for long periods.
And remember those quirky little creases? You can gently coax them out with a steamer or warm iron.
Each piece is handcrafted with natural materials; this means slight variations give your sofa a unique touch.
Pros
Luxurious Linen Material
Soft Foam & Feather Fill
Durable Wood Frame
Handcrafted Design
Easy Upholstery Care
Variety in Sizes
CONS
Sensitive to Sunlight
May Crease Easily
Price on Higher End
Mopio Aaron Versatile Mid-Century Modern Sleeper Sofa
The Mopio Aaron sleeper sofa, which costs $319, is a winning combination of style and ergonomic design.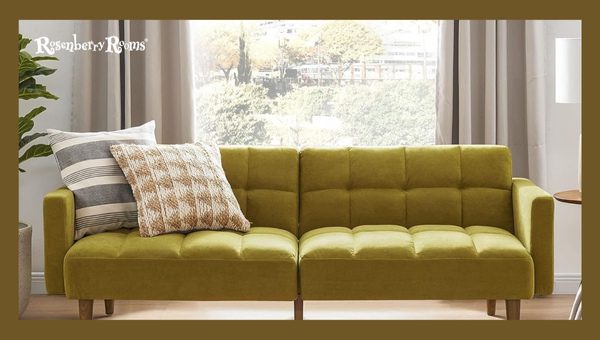 It's built with an intricate mid-century modern inspiration, allowing it to blend into both classic and contemporary spaces perfectly.
One of the many features that make Mopio Aaron appealing to users with back pain is its multi-functional design with a split fold-down backrest for resizable support.
The Prussian blue hue is indeed a sight for sore eyes, besides the gorgeous color and elegant aesthetic appeal.
It also excels in terms of comfort, thanks to its customizable seat angles that can tailor the position based on your needs.
The sofa dimensions are 77.5" W x 33" D x 28.3" H, light enough for stress-free cleaning around it.
Made of faux suede material with soft grain and matte finish, this sleeper sofa has proven it doesn't merely focus on style. It's also committed to your comfort!
Potential buyers should be aware of slight possible discrepancies in both colors due to lighting variables and measurements that can vary up to 0.5 inches.
Pros
Multi-functional with versatile usability
Adjustable seat angles for customizable support
Perfect mix of classic and modern styles
Comfortable seating depth and height
Space-saving design
CONS
Assembly required
Color might differ based on lighting
Measurements may vary slightly
HONBAY Reversible L-Shape Dark Grey 4-Seater Sectional
The HONBAY Reversible L-Shape Dark Grey 4-Seater Sectional combines comfort, style, and practicality into a single piece of furniture.
Sporting a chic dark grey color, this sectional sofa is designed to provide optimum back support for those suffering from back pain.
With a spacious seat depth of 19.7 inches and a height of 17.7 inches, this sofa ensures you have ample space to relax without compromising your posture.
The cushions are firm yet comfortable, adding an extra layer of support to your back while sitting.
Not only does this sofa provide support and comfort, but it also adds a dash of elegance to your living space with its stylish nail-head trim finish.
The added functionality of storage bags and an ottoman makes it more than just a comfortable seating option.
The easy assembly process requiring no additional tools makes it even more appealing for those who dread the hassle that usually accompanies furniture setup.
Pros
Comfortable yet firm cushions
Stylish with nail-head trim
Multi-functional with storage options
Ideal for small spaces
Easy to assemble
CONS
Heavy product weight
Limited color options
Assembly Required
Read More: Article Nordby Sofa Bed Review 2023 [Weeks Later, Am I Still Loving]
Best Choice Products White Tufted Faux Leather L-Shape Set
The Best Choice Products White Tufted Faux Leather L-Shape Set perfectly blends functionality with style and is tailored to meet your living room needs.
Available in an immaculate shade of white that would complement any decor, this modern-contemporary design enhances your space's elegance while giving adequate support to your back.
At $429, it offers a spacious rest zone, with dimensions measuring 84.25" L x 56" W x 33" H.
Being a modular L-shaped sectional sofa gives it the versatility that most homeowners appreciate.
With a weight capacity of 600 lbs, it caters to families both large and small.
Adding to its charm is the matching ottoman that provides additional comfort and utility.
One of the key features is its soft foam cushioning, which ensures maximum relaxation without compromising on your back health.
This sofa is designed to endure wear and tear thanks to its highly durable faux leather material.
Its easy-to-clean characteristic means less worry for you when spills inevitably happen.
Upon purchase, the sofa arrives packaged neatly in two separate boxes, making transportation convenient.
Pros
Spacious seating
Durable faux leather
Matching ottoman
Soft foam cushioning
Easy to clean
CONS
Limited color choice
Two-box delivery
Requires assembly
DHP Emily Sleek Black Upholstered Living Room Sofa
The DHP Emily Sleek Black Upholstered Living Room Sofa is much more than a mere showpiece for your room.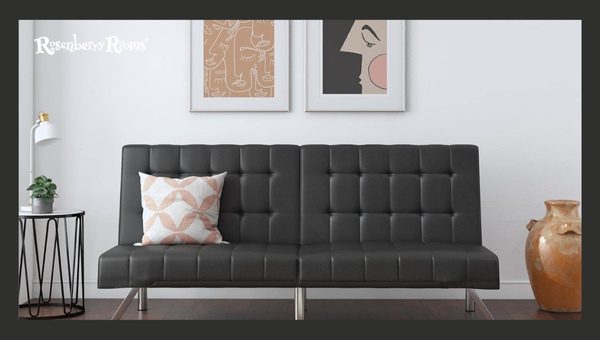 It has both aesthetics and utility balanced in perfect proportion, specially designed keeping your comfort in mind.
This sofa brings a contemporary and mid-century modern design appeal, with its elegantly tufted seat and back cushions adding grace to any living room decor.
The easy-to-clean faux leather fabric scores high on practicality, and the durable frame with black plastic pyramid legs assure longevity.
With product dimensions of 72"L x 32.5"W x 35"H, it's compact yet spacious enough for your comfortable seating needs.
Importantly for individuals with backache issues, this sofa offers a comfortably elevated seat height of 19.5 inches and a depth of 20 inches.
Its sleek design promises superior lounging without any awkward posture misalignments that could aggravate back discomforts.
Despite the sturdy assembly, it weighs about 88.2 pounds, which indicates the use of quality materials to keep it lightweight yet strong enough to bear up to 600 pounds.
Assembly is hassle-free, with no tools required, making it even more suitable if you're inclined towards doing things yourself.
Pros
Mid-century modern design
Easy-to-clean material
Tool-free assembly
Durable framework
Compact size
CONS
Only one color option (Black)
Limited warranty period
Could be too narrow for some tastes
Read More: 15 Best Sofas For Heavy People In 2023 [Sturdy & Comfortable]
FAQs About The Best Sofa For Back Pain
What factors make a sofa good for back pain?
The key factors include high backrest, firm cushions, sufficient depth, and a comfortable height that doesn't strain your back.
Can sitting on a sofa worsen my back pain?
Absolutely, if the sofa's design doesn't support proper posture, it can indeed exacerbate your back pain.
Do reclining sofas help with back pain?
Yes, reclining sofas help maintain a neutral position that can alleviate stress on your lower back.
Are memory foam sofas good for easing back pain?
Memory foam adjusts to the contours of your body, offering enhanced support and pressure relief for your back.
How high should a sofa be to prevent hurting my back?
Typically, a seat height of approximately 18 inches is recommended for lessening stress on your lower spine and hips.
Conclusion
Choosing the right sofa for back pain is a significant decision that impacts both your comfort and health.
It requires understanding what design, configuration, materials, and features would best meet your needs.
An ideal sofa should not only seamlessly blend with your living room decor but also provide ultimate relief and relaxation to aching back muscles.
If you suffer from back pain, don't allow the wrong seating choice to exacerbate the problem.
Remember that better resting times can bring enhanced relief from discomfort.
Select wisely, ensure utmost comfort while sitting, and turn your leisure time into a truly restful experience.