Are you looking for the perfect blend of comfort, style, and sturdiness in your quest for the best sofas for heavy people? This implies more than just a casual furniture hunt.
It calls for a thoughtful evaluation of an array of factors, including strength, durability, and user-friendliness, to pick the right piece.
For those who carry more weight, this search can often prove far from straightforward. As your living room's centerpiece, your sofa should serve as both a comfy retreat after a long day and as a statement piece that adds charm to your decor.
It should also withstand the added weight without compromising on its longevity. To help you in your search, we've rounded up ten options that meet all these criteria impeccably while spoiling you with a plethora of designs.
So grab your cup of coffee, and let's initiate this compelling guide to pick out an exceptional combination for extra weight tolerance and design.
Importance of a Good Sofa for Heavy People
If you're heavier than the average Joe, finding the right sofa is not just about comfort and elegance. It's also about obtaining the necessary support and stability.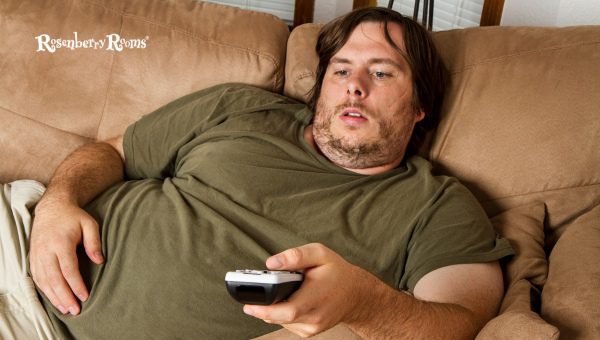 Your sofa is a significant investment, and you want it to last for years while still providing you with unrivaled comfort.
Picking a specially designed, high-quality sofa that can handle extra weight becomes crucial. Here's why:
Enhanced Durability: A robustly constructed sofa ensures long-term durability. The day-to-day wear and tear are significantly reduced.
Adequate Support: Such sofas maintain adequate support for your body, preventing sagging over time.
Improved Comfort: High-density padding offers increased comfort levels, perfect for relaxing or socializing.
Proper Spinal Alignment: They promote healthier sitting postures and protect your spine—no more awkward sitting positions or straining your neck!
Increased Weight Capacity: These sofas can handle larger weights without compromising their structure or appearance.
Long-term Cost Efficiency: Investing in a sturdy piece can minimize future replacement costs associated with damage from excessive weight.
Reduced Risk of Injury: Helps prevent injuries from potential structural failures of less sturdy designs.
Easier Accessibility: Higher seat heights make standing up much easier—a real game-changer for those with mobility challenges!
Tailored Dimensions: Generously proportioned seats offer ample space without making you feel squeezed.
Robust Frame Construction: Reinforced frames ensure the sofa sustains years of heavy usage without losing its charm or functionality.
Stress Distribution: These sofas distribute weight evenly, relieving pressure points—for instance, on your hips and thighs—for enhanced comfort levels even during prolonged seating bouts.
Quality Material Resilience: High-resilience foam or reinforced springs resist deformation far better than standard materials.
Adaptability to Body Shapes: They provide the plump comfort you need, fitting your body shape like a glove for enhanced relaxation.
Minimal Maintenance Hassles: Ensures easy upkeep, as they are designed to withstand more stress, thus minimizing maintenance needs.
Satisfaction and Peace of Mind: Knowing that you've invested in a sofa that meets your specific needs offers peace of mind. It's the confidence that you've chosen right.
A high-weight capacity sofa thus becomes a must-have, not a luxury, offering all the benefits of regular sofas and much more.
So make an informed choice to trade off those niggling worries and discomforts for unrivaled comfort and relaxation.
What things should heavy people consider before buying a sofa?
When it comes to buying a sofa for those on the heavier side, the decision-making process requires some additional thought. It's not merely about whether or not you like the color or fabric.
There's an array of specific factors you need to give your attention to, as these will directly affect the overall comfort, longevity, and usefulness of your sofa.
Weight capacity: Check the maximum weight limit specified by the manufacturer. This can range significantly from one model to another.
Frame Construction: Opt for high-quality materials like hardwood or steel that can endure more weight than cheaper, less sturdy materials.
Seat depth and height: Test what feels comfortable for your size. Too deep a seat might make getting up challenging; too shallow might compromise comfort.
Cushion firmness: A firmer cushion can bear more weight without sagging.
Armrest strength: Armrests should be sturdy enough to support body weight when sitting down or rising.
Fabric durability: Heavy-duty materials are more resistant to wear and tear arising from additional stress and tension on the sofa.
Sofa Dimensions: Make sure dimensions are compatible with body size for optimum comfort levels.
Space and layout of the room: Ensure the chosen sofa fits into your space effectively without making it look cramped or overstuffed.
Support System (springs, webbing, or slats): Different support systems have their pros and cons; choose based on what suits you best.
Reclining mechanisms: If choosing a reclining sofa, ensure mechanisms are robust enough to cope with more substantial force over time.
Ease of maintenance: Look for sofas with removable and machine-washable covers. This would save you from any clumsy spills or stains.
Ease of movement: Both the user and sofa should be effortlessly movable. The user should get up easily; the sofa needs to be light enough for repositioning if needed.
Brand reputation for robust furniture designs: Investigate brand reliability, focusing on whether they specialize in robust designs that cater to heavier individuals.
Testimonials or reviews from heavier individuals: Reading reviews from similar-weight customers can provide a more candid impression regarding the sofa's real-world functionality and durability.
Modularity or sectional options: Modular or sectional designs offer flexibility. You can add extra seats as required or arrange them to suit your space best.
Replacement cushion availability: Over time, cushions might compress or sag due to heavy use. Brands that offer replacement cushions can extend your sofa's lifespan considerably.
Styling and aesthetics that match body proportions: The style factor matters too! Look for sofas that not only fit you comfortably but also match your body proportions effectively to make you look good while seated.
Price point and budget considerations: Balancing quality with affordability is crucial. Consider your budget, but don't compromise on essential features like strength and durability purely to cut costs. A robustly built sofa may seem pricier at first, but it will save you money in the long run by lasting longer.
Also Read: Futon Vs Sofa Beds 2023 [Is It OK To Sleep On A Futon?]
15 Best Sofas For Heavy People In 2023
The search for the perfect sofa that combines both comfort and strength is crucial, particularly for individuals carrying extra weight.
When a standard piece of furniture won't do, it's time to consider special options designed to accommodate and support.
Here is a list of 15 best sofas specifically designed for heavy people, each one tailored to provide a unique blend of durability, sophistication, and remarkable load-bearing capacity.
VANACC Spacious U-Shaped Chenille Sectional with Storage
Vanacc presents a dreamy fusion of modern design and exceptional comfort coupled with an impressive weight capacity that hits even up to 1500 pounds.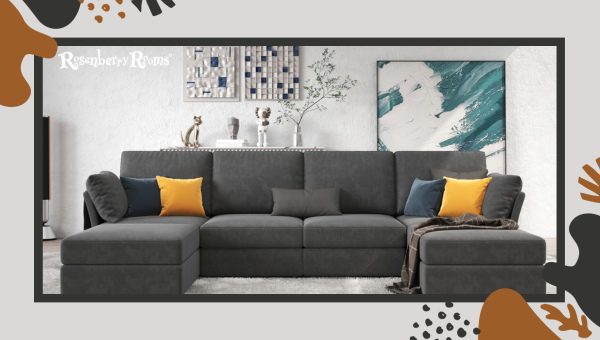 This grand U-shaped sectional sofa spreads over dimensions of 70"D x 102"W x 37"H, assuring you an envy-inducing central piece for your living space.
Constructed from hardwood and steel, this couch has been carefully designed with longevity in mind.
The quality doesn't end at the frame alone but extends into the plush 30D cushions, promising unparalleled comfort every time you sink into it after your long day.
Fractionated into individual seats, each bearing up to a total of 303 lbs., this modular design offers various layout options worth exploring based on your room's aesthetics.
Adding onto its practical elements is the adequate storage space within each seat, which can conceal all those extras that create clutter sometimes.
Given its size, the model is surprisingly easy to disassemble when moving locations, thus saving you from any serious hauling predicaments.
Pros
Vast seating space
High weight-bearing capacity
Ample storage in each section
Comfortable deep cushioning
Strong build quality
CONS
Assembly required
Bulky piece suited only for larger rooms
Pricey compared to smaller models
LEISLAND Chic Chenille Sofa with Detachable Cover
Hopping onto the race of top-notch sofas, the LEISLAND Chic Chenille Sofa provides a strikingly elegant solution for heavy individuals seeking comfort and style in a loveseat.
What's not to adore about its captivating light grey color that spells chic and sophistication?
Not only does it consist of a sturdy, solid wood frame that assures robustness, but it also boasts a high weight limit of 900 pounds.
Its seat depth is a decent 25.59 inches with an accommodating seat height of 17.5 inches, making it an ideal choice for persons with heavy builds.
One feature that sets this sofa apart is its chenille fabric, renowned for its durability yet comforting breathability.
The fabric gives this loveseat both its cozy appeal and practicality as it allows cool airflow - an essential requirement on warm summer days.
The sofa cover is detachable and washable - a feature worth mentioning, especially for homes with children or pets.
If you're not big on assembling stuff, here's the good news - this sofa requires tool-free assembly.
It comes vacuum-packed, ensuring safe transit and easy handling when setting up in your living room.
Pros
High weight limit (900 pounds)
Durable chenille fabric
Washable removable cover
Easy tool-free assembly
Compact packaging
Space-saving design
CONS
Assembly required
Not suited for tall people
May feel firm initially
VanAcc Plush Deep-Seated Modern Grey Sofa
If you're on the hunt for a sofa that spells comfort as much as it epitomizes style, offer a warm welcome to the VanAcc Plush Deep-Seated Modern Grey Sofa.
This beyond-impressive furniture piece is designed with an attention to detail that can meander its way right into all your relaxation fantasies.
This spacious 3-seater features deep seating, ensuring you can lounge comfortably while binge-watching your favorite shows or unwinding with a good book.
The plush chenille fabric upholstery not only elevates its aesthetic appeal but also promises to pamper your skin every day.
Its minimalist design, infused with clean lines, can blend seamlessly into almost any interior setting without sacrificing style or comfort.
A hallmark of this VanAcc beauty is its unprecedented weight capacity. Thanks to its sturdy hardwood and steel frame.
This sofa easily accommodates up to 900lbs - making it an ideal pick for those who prioritize sturdiness in their furniture.
Assembly won't be another chore on your long list as this marvel comes together in just about 15 minutes when assembled by two people.
The inclusion of two pillows stored neatly in the armrests invariably multiplies the user-friendly quotient of this Sofahaven piece- redefining domestic comfort like never before.
Pros
Stylish modern design
Quick and easy assembly
Spacious three-seater
Plush chenille upholstery
Strong hardwood and steel frame
CONS
No leather option available
No extra color choices
Pillows are non-removable
Read More: How To Mix And Match Pillows On A Sofa [2023 Styling Tips]
TYBOATLE Modern Linen Sofa with USB Ports
The TYBOATLE Modern Linen Sofa is a stylish and pragmatic choice that combines superior utility and contemporary aesthetics in one affordable package.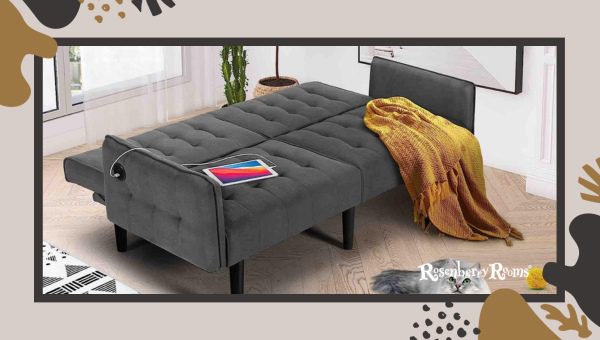 This sofa offers an impressive weight limit of 700 pounds, making it a reliable option for heavy individuals.
Crafted with a solid wood frame and durable 100% polyester upholstery, the durability of the piece isn't in question.
The loveseat also delivers versatility and functionality with its additional storage pockets located conveniently on its armrests.
This sofa features a handy USB charging function on the armrest. This clever feature ensures that you never have to worry about your device running out of power while you relax.
Offering removable back and seat cushions, maintaining cleanliness is hassle-free.
Coming in an aesthetically pleasing dark gray color that is resistant to dirt, this loveseat retains its good looks with ease.
The uncomplicated assembly process requiring just 10-15 minutes is another feather in this product's cap, not that it requires any further endorsement.
Pros
Impressive weight capacity
Integrated USB charging port
Convenient storage pockets
Removable cushions for easy cleaning
Quick assembly process
CONS
Limited color options
Lack of reclining feature
Non-adjustable seat depth
Yaheetech Chic Convertible Sleeper Sofa Bed in Gray
The Yaheetech Chic Convertible Sleeper Sofa Bed in gray is a versatile and stylish piece that combines the functionality of a sofa and a sleeper bed. All for an incredibly reasonable price of $199.
Made with sturdy plywood and metal construction, this sofa bed is durable enough to support up to 772 lbs.
Whether you're lounging on your own or hosting guests, this bed provides comfort, thanks to its blend of premium materials, including foam and linen.
The linen fabric not only adds an elegant touch but is also wear-resistant, extending the sofa's longevity.
The Yaheetech Convertible Sleeper Sofa stands out with its unique, adjustable backrest that can be positioned at 105°, 140° or180°.
This feature transforms it from a couch to a bed in mere seconds using an easy click-clack mechanism.
The sofa also boasts detachable armrests, providing the flexibility to customize your seating experience.
And let's not forget its compact size (78.3"L x 36.6"W x 33.3"H), which makes it perfect for small apartments or living rooms.
Pros
Adjustable and convertible
Durable construction
Stylish design
Wear-resistant linen fabric
Budget-friendly
CONS
Assembly required
Limited color options
Might be small for larger rooms
Stone & Beam Westview Plush Smoke Sofa, Extra-Deep Comfort
The Stone & Beam Westview Plush Smoke Sofa is a perfect pick when it comes to marrying comfort with style and durability.
Retailing at $1,045, this luxurious sofa boasts a seat depth of 42.1 inches and a seat height of 31.5 inches with an overall dimension of 42.13"D x 88.98" W x 31.5"H.
The classy Smoke Grey color blends seamlessly with different decors, highlighting the versatility this sofa brings along.
Manufactured by top-notch furniture brand Stone & Beam, this sofa effortlessly turns your living room into an oasis of comfort and elegance.
Endowed with deep cushions and a solid wood frame, the sofa provides unrivaled comfort and sturdiness, equating to ultimate value for money, an attribute that's synonymous with quality from the renowned brand.
The Westview sofa isn't just about comfort, though; it scores highly on practicality, too.
Wrapped in durable, easy-to-clean 100% polyester fabric upholstery, this beauty is built to withstand everyday wear and tear while maintaining its plush appearance for years to come.
An important consideration is the convenience aspect during setup; this piece offers quick assembly in just 15 minutes, saving you time on installation!
Stone & Beam offers free returns within the first 30 days post-purchase to ensure your absolute satisfaction.
If that doesn't sound like a solid deal already, there's also a 3-year warranty provided.
Pros
Deep cushions for plush comfort
Robust wood frame construction
Luxurious smoke gray finish
Easy-to-clean, durable polyester fabric
Minimalistic assembly process
Reliable after-sales service
CONS
Relatively hefty piece (136.2 Pounds)
Ships in multiple boxes
Limited color range availability
Explore More: Maiden Home Jones Modular Sofa Review 2023 [Customize & Buy]
HONBAY Modern U-Shape Spacious Sofa with Ottoman Storage
The HONBAY Modern U-shaped sofa offers a sophisticated blend of comfort, functionality, and aesthetics.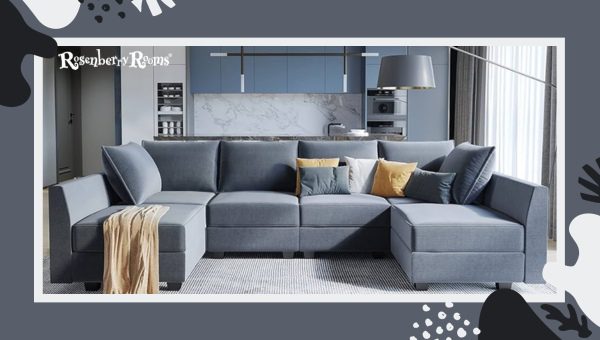 A perfect solution for compact spaces or large family gatherings, this sectional sofa makes room for everyone.
Designed with an engineered wood frame, it's a symbol of strength and resilience.
It's wrapped in breathable polyester fabric, allowing you to sprawl out in comfort for those Netflix binge nights.
Another notable feature is its reversible chaise; you can place it on either side of the sofa that fits your space best.
What doubles the excitement is its conversion into a sleeper sofa. You don't need to worry about hosting your guests overnight; it's big enough to accommodate two adults comfortably.
Under each seat, you'll find hidden storage where you can swiftly stash your clutter when unexpected visitors arrive.
Its sleek grey color is a fine addition, offering the versatility to fit into any decor theme seamlessly.
Pros
High-strength engineered wood frame
Easy assembly process
The sleeper function accommodates two adults
Hidden storage under each seat
Robust yet comfortable polyester upholstery
CONS
Shipment in multiple packages
Potentially staggered package arrivals
Assembly required
ZINUS Josh Effortless Chic Beige Sofa Couch
ZINUS Josh has designed a chic beige sofa couch under the brand CANMOV to provide luxury, elegance, and absolute comfort in your living space.
The product dimensions reach 34"D x 36" W x 41"H, thus ensuring enough space for you to sit or recline as per your preference.
The piece comes with a beautiful black hue and leather material crafted with rich padding that adds to its aesthetic appeal while promising ultimate comfort.
The adjustable backrest and the armrests serve as an added advantage, providing customized positioning that ideally suits you.
Adding to the functionality, this state-of-the-art power electric recliner chair comes with an easy-to-operate two-button reclining function, making it super convenient for usage.
It doesn't end there; it also has dual cup holders on each side of the armrests doubling up as storage spaces, along with built-in USB ports that ensure your devices remain charged while you enjoy your relaxation time.
This couch is designed thoughtfully, keeping in mind not just style and comfort but also utility.
Let's look at the pros and cons so you can make an informed decision:
Pros
Leather material for durability
Overstuffed padding for comfort
Adjustable backrest and armrest
Built-in USB ports
Dual cup holders for convenience
CONS
Limited color options (only Black)
Assembly required
P PURLOVE Sleek 4-Seater Sofa with Armrest Pockets
The P PURLOVE Sleek 4-Seater Sofa with Armrest Pockets provides an excellent blend of comfort and style, making it a great addition to your living room or office.
This spacious 4-seater, clad in a sophisticated dark grey hue, promises high-quality linen fabric constructed from sturdy solid wood and iron frame.
Designed to accommodate hefty weight capacities of up to 330 pounds per seat, its durability keeps you worry-free about regular wear and tear.
The deep seats filled with dense foam offer superior comfort and resilience that help maintain the sofa's original form even after prolonged use.
It showcases additional features like storage pockets on the armrests and detachable cushions that inject functionality into its stylish facade.
Assembly is required for this product. But don't fret! It comes packaged neatly into three boxes to help make setup easier.
This sofa, measuring 104" in length, 32.7" in depth, and 34.2" in height, could be the exquisite centerpiece that your interior is looking for. The loveseat dimensions are an additional luxury at 43.4 * 22.8".
Pros
Comfortably seats four people
Superior durability with a sturdy frame
High-quality linen fabric upholstery
Convenient storage pockets
Detachable cushions for easy cleaning
Good resilience offering long-lasting firmness
CONS
Self-assembly required
Limited color options
A bulkier design might not suit every interior
Also Read: Villa Parker Sectional Sofa Review 2023 [No Assembly Required]
Lazyzizi Convertible Floor Sofa Bed with Washable Cover
This floor sofa bed from Lazyzizi is not just a piece of furniture; it is a stylish, functional addition suited for any setting.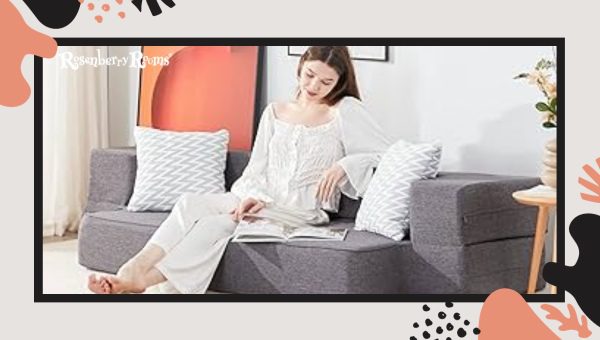 Its elegant grey design makes it an appealing choice for any living room, bedroom, home office, or even your RV.
Measuring 75"D x 39"W x 10"H and weighing in at almost 20 kilograms, its size and weight make it perfect for small spaces.
The unique feature of this convertible floor sofa bed is the CertiPUR-US certified high-density foam.
This ensures that you are investing in a safe product that meets rigorous standards for emissions, content, performance, and durability. The fire barrier lining adds an extra layer of safety.
What sets the Lazyzizi apart from others is its practicality. Its removable cover allows easy cleaning without any hassle, while the added zipper prevents anything from getting trapped inside.
The sofa comes with two free pillows as a bonus! It's not merely a place to sit - it serves multiple purposes.
Ideal for gaming or as a guest bed, this convertible sofa bed will enhance your home's functionality.
There might be a slight foam smell when you first unpack this product. The solution? Simple - let it ventilate for 24-72 hours to get rid of any lingering odors.
Now let's look at some pros and cons:
Pros
Multipurpose utility
Easy-to-clean removable cover
Added safety features
Free extra pillows
CertiPUR-US certified foam
CONS
Initial foam smell
Need ventilation before use
A little on the heavier side
CHITA Spacious L-Shaped Modular Sofa with Storage Ottoman
The CHITA Spacious L-Shaped Modular Sofa with Storage Ottoman bagged a spot on our list for its clever design, comfort, and excellent craftsmanship.
This roomy sectional sofa, priced at $1,499, is ergonomically designed to offer the perfect blend of style and durability, making it one of the best available sofas for heavier individuals.
Weighing in with a weight capacity of 350 lbs per seat and boasting larger seats with a width of 34'', this beauty assures you durability without compromise.
Combining aesthetics and functionality effortlessly, its beige hue pairs smoothly with most interiors.
Its superior construction, featuring a sturdy wooden frame, adds an unmatched sense of robustness.
The luxurious padding with high-density foam used in each seating area enhances the seating experience while ensuring long-lasting comfort. The cushions are CertiPUR-US certified, adding another feather to its cap.
This modular sofa uniquely provides versatile space configuration options. You can easily rearrange the layout according to your liking or space requirements.
The inclusion of convenient storage in the ottoman makes it even more appealing.
Assembling this marvelous piece is as easy as pie, and it comes in 5 separate boxes for hassle-free delivery.
Pros
Comfortable high-density foam
Sturdy wooden frame
Each seat holds up to 350 lbs
Convenient storage feature
Easily reconfigurable
CONS
Assembly required
Limited color options
Potentially bulky size
Read More: Burrow Nomad Sofa Review 2023 [I've Used It For 2 Months]
Belffin Velvet U-shaped sofa with Chic Storage and reversible Chaise
Stepping into your living room and having your sights dominated by this magnificent piece wouldn't be a bad idea; that's what the Belffin Velvet U-shaped sofa brings to the table.
Re-defining sophistication, this sectional sofa offers an ultra-modern design with function and comfort that few rivaling pieces can boast of.
Having a room that pulls off that plush look with ease isn't far-fetched when you have this enchanting velvet green unit stationed at the heart of your decor.
Its build consists of economically designed movable ottomans wrapped around in delightful pet-friendly fabric.
They add versatility to your living space, serving multiple purposes that include forming a long chaise and providing extra storage space.
When it comes to comfort, this furniture goes all out. With removable and washable pillow covers to ensure cleanliness and high-quality sponge filling enveloped within a sturdy solid wood frame, you'd hardly have any issues settling down into its welcoming embrace.
The elegant sectional sofa boasts dimensions of 130.6" (Length) x 63" (Width) x 35.8" (Height), which means it can be an excellent centerpiece for most standard rooms.
It's worth noting that assembly is required upon delivery, although it's fairly straightforward and doesn't necessitate any special tools.
As a further testament to the unit's robustness, its frame is crafted from solid wood, which underlines its impressive durability.
The upholstery material is pet-friendly velvet, which does not easily succumb to wear from frequent rubbing or pawing by pets.
Shipped in seven boxes, the units may reach you at different times, adding to the anticipation of adorning your room with such an exquisite piece.
In conclusion, the Belffin Velvet U-shaped sofa is more than just a seat. It's a complete package offering comfort, versatility, and aesthetic appeal all in one tidy arrangement.
Pros
Space-saving design
Modifiable ottoman set-up
Added storage benefit
Convenient cleaning features
Sturdy construction
CONS
Assembly required
Not armrest-equipped
Multiple shipment boxes
VINGLI Full-Size Futon Upgraded Microfiber Sleeper Sofa
Among the best sofas for heavy people, VINGLI's Full-Size Futon sleeper sofa stands out as a minimalist yet functional option.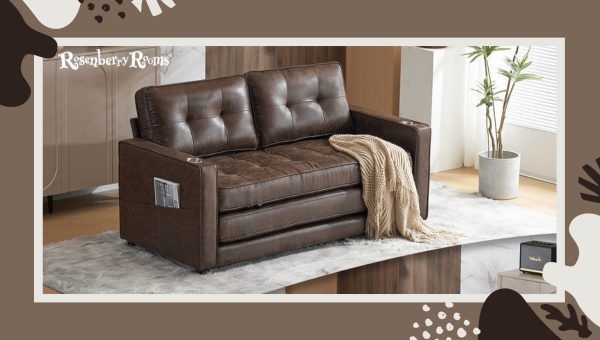 Priced at only $254, it's an affordable and stylish addition that works with any decor style.
Its rustic hue can lend a cozy and warm vibe to your space, tying it all together seamlessly.
The sofa boasts high versatility. Its 3-layer upholstery design ensures added comfort by cushioning you adequately during those binge-watch movie nights.
When it's time to call it a night or when you have an unexpected sleepover guest, quickly convert your sofa into a full-size bed with its easy-to-use mechanism.
It's exceptional how VINGLI merges the functionality of everyday life with appealing aesthetics quite effortlessly, be it through its 6" thick upholstery or the handy cup holder no more awkward balancing of snacks during relaxation time.
Pros
Affordable price
Stylish rustic color
Highly versatile (convertible)
Comfortable 3-layer upholstery design
Convenient cup holder feature
Generous weight limit
CONS
Comes in two separate packages.
Space measurement
Explore More: Article Nordby Sofa Bed Review 2023 [Weeks Later, Am I Still Loving]
AMERLIFE Comfy Deep-Seat Chenille Contemporary Sofa
Affordability-meets-luxury, that is, the AMERLIFE Comfy Deep-Seat Chenille Contemporary Sofa.
Priced at $499, it's a versatile showstopper designed to uplift your living room aesthetics.
Outfitted in plush, creamy chenille fabric that adds a chic flair to its modern silhouette, this sofa bed provides a luxurious experience for lounging or sleeping.
Brought to life by AMERLIFE, it showcases an impressive weight limit of 900 pounds thanks to its robust hardwood and steel frame construction.
With a depth of 23 inches and cushion thickness of 8 inches, you're guaranteed deep seating comfort.
The setup comprises an effortless two-person orchestration that can be accomplished in 10 minutes tops.
The grey hue emanates a neutral vibe, which makes it a versatile piece fit for any decor style.
This package may come in two boxes and allows cushions to spring back into shape for 3-5 days post-unpacking.
Creases on the cover can be ironed flat, which gives you an added edge in maintenance.
Pros
900 pounds weight limit
Deep Seating Comfort
Sturdy Hardwood & Steel Frame
Easy Assembly
Maintenance Convenience
CONS
Delivered in 2 Packages
Crease appearance during unboxing
Serta Copenhagen Cozy Modern Sofa in Rye Brown
The Serta Copenhagen Cozy Modern Sofa in Rye Brown seamlessly blends function and aesthetics.
Known for its exceptional quality, Serta offers this comfortable sofa designed particularly with heavy individuals in mind.
It's a fantastic statement piece that marries style and durability without going overboard on your budget.
This sofa packs a hefty punch despite its compact size (78 inches). It's ideal if you're dealing with limited space but refuse to settle on an average sofa.
Sporting a traditional design, this piece has soft, rounded arms that give it an alluring, old-world charm.
For your comfort needs, the Serta Copenhagen Sofa comes equipped with individually wrapped coils along with high-density foam.
This ensures cozy seating while effectively handling up to 500 pounds of weight.
Its quick and easy assembly requires no tools and saves you from wrestling with confusing instructions.
Its rye brown color adds a warm and earthy touch to your living room decor. If you're eager to add more seating options to your room, you can easily pair it with a loveseat from the same Copenhagen collection.
Pros
Compact yet sturdy
Versatile style
Cozy high-density foam
Tool-free assembly
Pairable with other furniture pieces
Generous weight limit
CONS
Not suit tall individuals
Not ideal for large spaces
Limited color choices
Also Read: Apt2B Melrose Sectional Sofa Review 2023 [My Honest Opinion]
FAQs About the Best Sofas For Heavy People
What makes a sofa suitable for heavy people?
A sofa is suitable for heavy people if it has a sturdy frame, high-density foam, reinforced seating areas, and a generous weight limit.
How much weight can a typical sofa handle?
Most sofas can handle an average weight of around 250-300 pounds per seat. However, models designed for heavier people may support up to 500 pounds or more.
Is there a specific material that's best for sofas for heavy individuals?
Sofas with solid wood or metal frames are typically the most durable and can comfortably support more weight than their lighter counterparts.
Do I need to assemble my sturdy sofa myself?
This varies by model and manufacturer. While some sofas do require assembly, others arrive fully assembled - always check the product description!
Can I find a strong sofa that also fits my decor style?
Yes, With the wide range of styles available today, you should have no problem finding the perfect fit that caters to both your weight needs and your decor preferences.
Conclusion
In your quest for the best sofas for heavy people, comfort doesn't have to come second to capacity.
The market today offers a brilliant range of sturdy, stylish sofas designed to hold up under extra weight while still keeping you comfortable and enhancing your living space.
Whether you're leaning towards the traditional charm of Serta's Copenhagen Sofa or something more modern, remember that durability, ease of assembly, and weight limit are key considerations.