With the myriad of furniture options available today, finding a piece that combines quality, style, and comfort can sometimes be like searching for a needle in a haystack.
My search led me to stumble upon Article sofas, best known for their seamless blend of mid-century charm and modern minimalist aesthetics. In this Article sofa review, I am sharing my personal experience with this brand to give you an insider's look at its offerings.
As I navigated through the wide range of choices available in the market, the sectional sofa from Article caught my eye. With its sleek design soaked in sophistication, it seemed like just what I was looking for; not too decadent but practical and polished.
It was more than just visual appeal that eventually won me over – let me lay out all the reasons why I am head over heels in love with my Article sofa.
My Personal Experience with Article Sofa: Unboxing Initial Impressions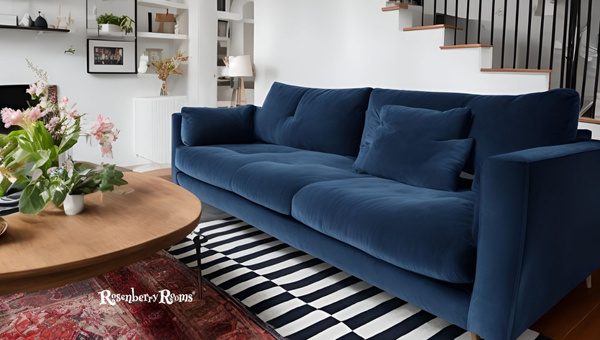 As a first-time owner, unboxing my Article sofa felt like an excited kid unwrapping gifts during Christmas time. Let me take you through the step-by-step journey from the moment this piece of furniture arrived at my doorstep.
The company default's door-to-door delivery had my sofa arrive in perfect condition thanks to its thoughtful packaging.
Once unboxed, I was quite impressed with how easy it was to assemble. The Article website has this incredibly handy assembly guide and with a bit of effort, I eased into having my sofa ready in no time.
Believe me when I say the magic begins when it's unwrapped and settles into your home decor. The sheer elegance of design and sophistication can already be judged by how effortlessly it enhances your living space.
The Effect on My Living Room Aesthetic
The effect of Article's sectional sofa on my living room was transformational, to say the least!
As soon as it found its place in my space, it felt like all the miscellaneous elements suddenly fell into one harmonious scheme. Everything seemed more balanced and in tune, contributing to an overall upgraded look that left guests turning their heads in appreciation. It's such a delight when function meets style so gracefully!
The sofa enjoys a neutral palette that works wonderfully for various themes – whether you're into mid-century modern or Scandinavian simplicity – it complements all effortlessly. The rich leather texture adds warmth without overpowering other elements.
It is what I call a 'style chameleon' blending into different decors while simultaneously making a statement presence.
I must underscore that having an Article sofa isn't simply about owning another piece of furniture; it's about embracing a lifestyle that marks a paradigm shift from ordinary to extraordinary!
Materials and Craftsmanship Behind the Article Sofa's Allure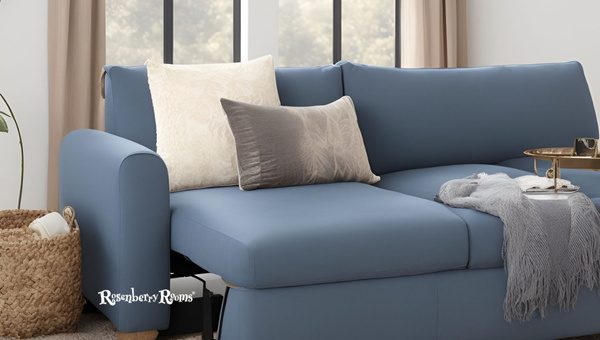 One critical aspect of a sofa that often falls under the radar is the material quality and craftsmanship. The article, however, leaves no stone unturned when it comes to this aspect.
Their sofas are beautifully made with top-notch materials, ensuring both aesthetic appeal and longevity.
Quality of Leather Used
Having experienced the luxury of sinking into my Article sofa for several months now, I can assure you - their leather quality is simply unparalleled. The couches are crafted using full-aniline Italian-tanned leather that exudes an aura of richness and grandeur.
This type of leather is known for its capability to age gracefully, revealing complex patinas over time to provide your piece with its own distinctive character.
And notably, it's not just about how gorgeous it looks or feels; this high-grade leather further reinforces the toughness and durability of the product. Here's a handy guide on how Article sources their raw materials.
Attention to Detail in Crafting Each Piece
But what makes an Article sofa even more unique is the attention given to every detail in crafting each piece. Their sofas are not mass-produced; instead, they incorporate traditional woodworking methods and meticulous craftsmanship to ensure an authentic touch in every stitch and seam.
From shaping the wooden frame to attaching pillow stuffing and upholstering fabrics—each process is nurtured with a keen commitment to ensuring precise tailoring, accurately aligned patterns, immaculate thread match, well-balanced cushion zones, and even distribution of fabric tension.
One standout design element adding novelty to my own sectional sofa was tasteful tufting on one side—a thoughtful detail that has always garnered compliments from guests. And though it may appear minute at first glance, attention to such details significantly amplifies overall aesthetic pleasure derived from any furniture piece.
So if you're in search of a fabulous yet functional conversation starter for your living room—or any space in your house—Article's expertly crafted sofas should definitely make it into your shortlist! It's a harmonious blend of superior materials with skilled artistry which justifies the price point completely.
Because after all, purchasing a sofa is not an everyday affair; hence investing wisely in an object d'art that sits decorously adorning your space could turn rewarding both functionally and aesthetically.
Comfort and Size Considerations of the Article Sofa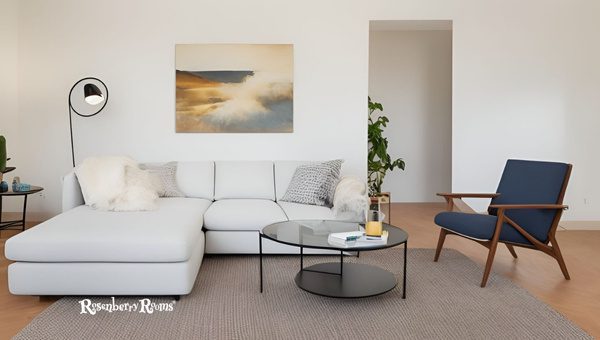 Whether it's just you propped up for a solo movie night, or you're hosting a game night with friends, having a comfortable seating arrangement is non-negotiable. This brings us to a crucial part of our Article Sofa review - the all-important issue of comfort and size.
A sofa should ideally be that perfect spot in your house where you can plop down after a long day and feel instantly relaxed.
Something that won me over about the Article sofas was the thoughtful balance between firmness and softness.
Too rigid a couch can be uncomfortable, while an overly Soft one may not offer adequate support for your posture. Let's delve deeper into this aspect of comfort.
The Ideal Balance Between Firmness and Softness
These sofa seats are neither too hard nor too squishy. Instead, they maintain an ideal equilibrium, ensuring your body gets requisite support without compromising on comfort.
If you're someone like me who enjoys lounging around with a book or prefers napping on the sofa over your bed some lazy afternoons, this balance truly hits home.
An added bonus is the pillows' cushioning quality - snug enough to enfold you but firm enough to hold their shape despite regular use. I can sit or sprawl out comfortably for extended periods without dealing with any discomfort or stiffness afterward.
Calibrating Dimensions For Different Room Sizes
As for sizing considerations, it's essential to understand that one size doesn't fit all. The beauty of Article's sectional sofas lies in their various size options – catering to homes big and small alike.
Each piece has its detailed measurements listed on their website Article. Don't be shy about getting out that measuring tape; it can save you from regret later on!
They have models ranging from compact designs meant to slot into small spaces, to larger sectionals perfect for open-concept living rooms or expansive family rooms.
This variety ensures you'll find something that will seamlessly blend into your space without seeming overbearing or meek.
The beauty also lies in how these different sizes do not compromise on the inherent comfort each one provides - I found my smaller modular option just as cozy as its larger counterparts during my store visit!
Whether your priority is optimal leisure or precise dimensions fitting within your living space - Article's sofas have got you covered!
Evaluating Weight and Design Elements of the Article Sofa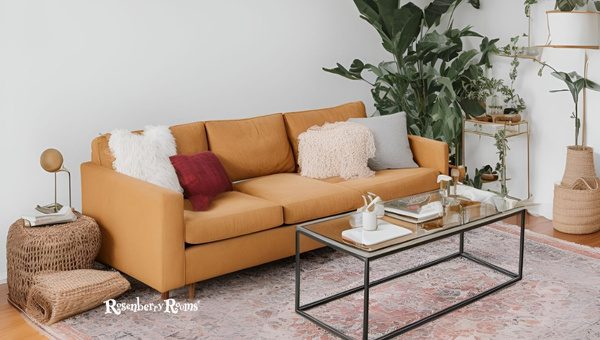 A crucial aspect that adds to the love affair with my Article sofa is its stunning design coupled with manageable weight - cornerstones of its overall attractiveness.
The ingenuity behind creating a piece that boasts both form and function should not be underestimated.
The Thoughtful Design That Makes a Difference
This design-forward approach towards crafting a sofa is evident in every inch of my Article furniture. The sleek, unfussy silhouette presents an inviting look, seamlessly fitting into any decor theme while standing out on its own merits.
The sofa's luxe tufting detail and clean lines spotlight the fine craftsmanship while adding visual interest. It's minimalist by choice yet effortlessly chic.
From luxuriously soft leather to plush velvet, the choice in upholstery style caters to varied taste buds without compromising on aesthetics or durability.
The color palette was another big addition to the smart design element. A balanced blend between subtly muted tones and cheerful pops of color – there's something for everyone, regardless of your room's color profile.
Sofa's Weight Warrants Easy Shifting
The practicality of design is also shown through careful consideration of the sofa's weight. Generally, the mere mention of moving a couch can trigger anyone's anxiety levels; however, I found this wasn't an issue with my Article sofa.
Weighing in at just over 100 pounds (for their standard sectional), it's sturdy enough to give you confidence about its durability but not so heavy to distress every time you want to rearrange your living room layout.
The manageable weight makes spontaneous redecoration more accessible - You can easily keep it fresh by changing arrangements according to your mood or as per different seasons. This undoubtedly adds flexibility for anyone wanting to keep their interior decor dynamic.
I was able to experience this firsthand when I decided impulsively that I'd love to see how my sofa would look opposite my fireplace instead of against the partition wall (and let me tell you, it looked fabulous!).
Whether examining from an aesthetic point-of-view or considering practical implications like mobility within your space, the Article Sofa nails it all.
With thoughtful design features that appeal to varied preferences and weight specifications that allow flexibility around your house/living space layouts – I am convinced this brand has a deep understanding of today's consumers' lifestyle needs.
Upholding Sustainability: The Eco-Friendly Aspects of the Article Sofa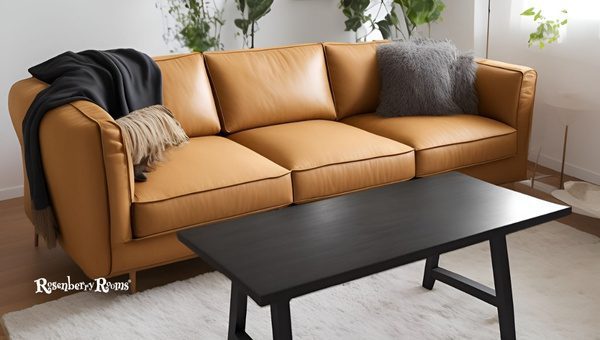 In an era where mindfulness about environmental impact is crucial, every conscious consumer appreciates brands that do their part.
The sustainable practices employed by Article, as I learned, offer more reasons to appreciate them beyond their tasteful aesthetics and finely crafted furniture.
The article is committed to decreasing its carbon footprint, an initiative that shines through in various facets of its operations. Their mission revolves around the conscious delivery of quality furniture while ensuring minimal damage to the environment.
In fact, it was this extra green mile they go that cemented my decision to bring an Article sofa into my living space.
Artisan-Crafted from Responsible Sources
What struck me about the brand's commitment to eco-conscious furniture-making lies in its choice of materials. Every sofa, including mine, is crafted solely from responsibly sourced materials. It provides great comfort knowing that my seating place wasn't born from any forest's reckless violation.
Article collaborates with trusted suppliers who share the same vision for sustainability. These exclusive partnerships ensure only Forest Stewardship Council-certified hardwood finds its way into Article sofas' frame construction.
Additionally, when it comes down to textiles - whether pure or synthetic - the company consistently strives to incorporate recycled and reclaimed options whenever feasible.
Such uncompromising attention towards sustainable sources undeniably elevates respect for Article products manifold in my eyes.
Minimizing Environmental Footprint Through Packaging
Upon receiving my order, I noticed a refreshing difference even in packaging methods adopted by Article. They have designed a smart packaging process that involves minimal material usage without compromising product safety during transit.
Distinctly fewer layers of wrapping were present; yet remarkably, everything arrived intact and spotless!
A noteworthy point is how they strive to reduce reliance on unsustainable Styrofoam fillers and transition towards greener options like corrugated cardboard created from recycled paper products.
Moreover, by eliminating space-consuming individual packaging for fixtures, such as feet and screws (which come pre-installed), a significant amount of unnecessary packing gets reduced.
This shift not only cuts back on plastic pollution but also makes unpacking hassle-free – a delightful win-win scenario! Plus their items are shipped flat-packed which means less shipping volume and thus lower carbon emissions per unit transported.
This close-to-nature approach even extends to their delivery method where they plant trees per order processed via partnered organizations like One Tree Planted!
Isn't it heartening to realize you are contributing positively towards Mother Earth while enhancing your abode's persona?
I'm convinced now more than ever - choosing an Article sofa was indeed one of my best decisions for not just its visual appeal or comfort but also its alignment with my values for global well-being.
Maintaining Your Article Sofa for Enhanced Durability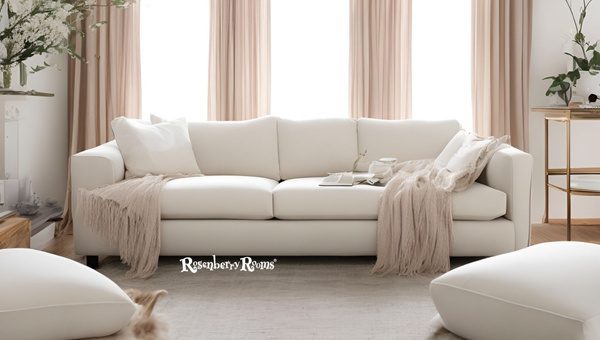 When it comes to preserving the beauty and durability of your Article sofa, a routine care regimen may just be your sofa's best friend!
Regular maintenance and some TLC go a long way in warding off age-related wear and tear and help keep your sofa looking fresh and inviting as if it just stepped out of the showroom.
Tidbits on Cleaning and Care
The key to maintaining the appearance of your beloved Article sofa lies in mastering the art of cleaning. Firstly, it's important to clear up any small spillages promptly, dabbing gently with a clean cloth or paper towel to prevent the liquid from seeping into the sofa material.
Weekly vacuuming keeps dust and debris at bay; consider using a small hand-held vacuum cleaner for those hard-to-reach crevices. You may also plan a biannual professional cleaning session but do confirm with the service provider that their products are suitable for use on Article sofas.
But remember, different materials require different care routines. For example, leather requires conditioner every six months or so to maintain its sheen whereas velvet may need more frequent attention. Pay close attention to manufacturer guidelines regarding this.
Use mild soap mixed with water for spot cleaning instead of harsh detergents or chemicals which can potentially ruin fabric colors or composition.
A Few Must-Have Maintenance Tools
Your arsenal of maintenance paraphernalia should ideally include:
A vacuum cleaner with upholstery attachment - perfect for combating pesky dust particles clinging to your sofa surface.
Soft clean cloths minimize abrasion while cleaning.
Mild liquid soap- when mixed rightly with water, it helps report cleaning without being aggressive on fabrics.
A soft-bristle brush, handy to get rid of stubborn dirt spots stuck between fibers.
Specialized leather conditioner- in case you chose a genuine leather option from the Article range.
Aside from these usual suspects for maintaining furniture pieces such as an Article sofa, there are a few preventive measures that you can take.
Try to avoid direct sunlight as it may cause color fading over time. Rotate cushions regularly – not only does this ensure even distribution of wear but also keeps wrinkles under check!
That's basically all there is – adopting these simple strategies will lengthen the life span of your Article sofa, ensuring you get many more years out of your purchase. So here's wishing you happy lounging on your beautiful article piece!
Is Article Sofa Worth the Investment?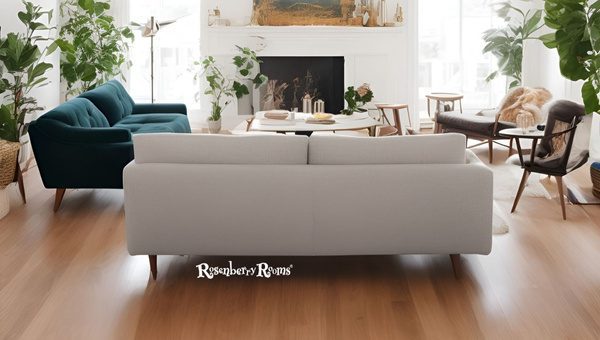 Investing in a sofa is a commitment. And like any commitment, it should be gratifying rather than regrettable.
Article's sofas are no ordinary furniture pieces; their premium price point reflects the emphasis on quality materials, meticulous craftsmanship, and pioneering design.
The question remains: "Is an Article sofa worth your hard-earned dollars?" To answer this, I'll take you through my own pricing analysis and comparative study, weighing up the costs against other market offerings.
Pricing and Comparative Analysis
When you begin your shopping journey to invest in good quality furniture like a sofa, price is invariably a key consideration - and rightfully so. Thus, it's imperative to shed some light on the actual monetary value of an Article sofa.
Given its sophisticated design and superior quality, an Article sofa might seem quite expensive at first glance. However, considering its longevity and timelessness factor as against those fleeting trends that fade away but come with similar price tags, the cost seems justifiable.
To further substantiate this point of view, I carried out a comparative analysis with other staple brands in the market.
Let's take Pottery Barn or Crate & Barrel for instance - while these brands do offer similar styles at comparable prices; it's worth noting that they fall short when it comes to delivering the same level of comfort or durability as an Article Sofa.
Getting Value for Money in Terms of Longevity
Evaluating whether an item is truly worth investing in can't just rely on initial costs alone but must also take into consideration other factors like its lifespan - remember Longevity is the real key here!
One critical element that sets Article sofas apart from others is their exceptional durability built-in from using high-quality materials.
The fantastic construction means less worry about wear and tear along with the decreased need for frequent replacement; thus providing higher value for longer-term investment.
While cheaper sofas may save money up front; over time one may find themselves constantly having to replace parts or dealing with issues related to poor manufacturing.
This could eventually result in higher cumulative costs over time than if one had invested in an expensive yet durable couch such as Article's signature sofa right from the get-go!
Maintenance becomes smoother sailing as well with their thoughtful crafting ensuring easier cleaning processes alongside resilient materials able to uphold against daily use without losing luster.
Valuation also leans favorably towards overall customer satisfaction derived from such purchases which becomes evident through numerous glowing customer testimonials found online gushing about their great experiences sparking joy every time they come home to relax upon their gorgeous comfy couches from Article!
FAQs About Article Sofa Review
Are Article Sofas worth the money?
In my experience, the quality, comfort level, and sustainable design of Article Sofas justify their price point, making them a great investment piece for your living space.
How is the durability of Article Sofas?
The superior craftsmanship and quality materials used in manufacturing Article sofas contribute to their high durability.
What aspects of the Article Sofa impressed you the most?
I was most impressed by its blend of style, comfort, and sustainability along with its ability to seamlessly fit into diverse interior aesthetics.
Is there any particular care required for maintaining an Article Sofa?
Regular cleaning with appropriate tools helps maintain the charm and durability of your sofa.
Does the size of these sofas limit their placement in different room types?
No, Article offers a range of sizes that can be comfortably accommodated in varying room sizes.
Conclusion
Having thoroughly evaluated all aspects, I can affirm that the Article sofa justifies its price with impressive aesthetics, durability, and comfort.
The marriage of impeccable quality materials and craftsmanship, ergonomic design, and sizes suitable to diverse spaces - it's a pleasant confluence.
The attention to detail is remarkable, from the packaging to the way it melds with your living room.
Even more commendable is their commitment to sustainability. Knowing that my decor choices are not adding undue pressure on our environment gives an additional layer of satisfaction.
Above all else, the ability to maintain its charm over a long duration is a prominent USP. As the saying goes, 'the beauty of furniture lies not only in its looks but also in how well it ages'. From my experience, Article Sofa passes this test with flying colors.
In the final analysis, picking out a perfect sofa might still feel like a daunting task; however, armed with this Article Sofa Review, I am confident you'll find a reliable companion for your cozy corners.