In my quest for the perfect living room addition, I stumbled upon the Cozey Ciello Modular Sofa. I was immediately taken in by its modern charm and definite promise of coziness, enough to prompt this detailed review.
My journey with this piece of furniture has been nothing short of intriguing - filled with comfort, unexpected revelations, and an ultimate sense of satisfaction.
Whether you're a die-hard fan of home aesthetics or simply looking for a comfortable spot to enjoy your prime-time TV or avid reading sessions, my personal account with this exquisite piece should provide an invaluable perspective.
Embark on this riveting trip down couch lane as I share my Cozey Ciello Modular Sofa review with you – packed with all you need to know!
My First Impression of the Cozey Ciello Modular Sofa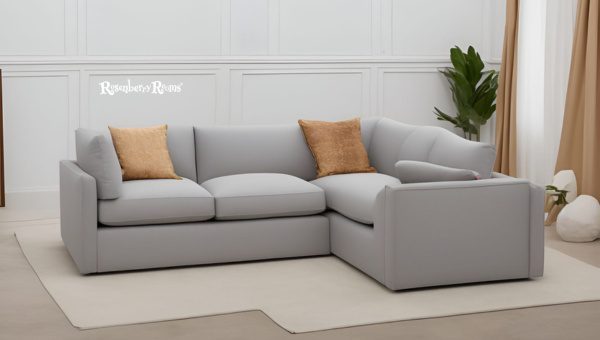 Right off the bat, the packaging of the Cozey Ciello Modular Sofa was truly impressive. It arrived in stacked boxes, each component housed carefully to ensure no damage during transit. From this point on, the unboxing was a delightful experience in itself.
The Unboxing and Initial Setup
As I unpacked each part of this modular couch, I found all components meticulously wrapped in protective covers. Assembly instructions were clear and easy to follow. With just a few uncomplicated steps - securing snap-in-place fittings, positioning cushions, and then adding the final touches with plush throw pillows - my cozy corner came to life piece by piece. Here's a step-by-step snapshot of my sofa assembly journey:
Unpack and lay out all parts on a clean, soft surface.
Follow the detailed assembly instructions mentioned in the guidebook provided.
Start by attaching brackets with easy snap-on fittings.
Secure each block by connecting it to its corresponding segment.
Once your base structure is ready, go ahead and place your cushions as per your design preference.
Add throw pillows for that additional comfortable feel.
This simple assembly process turned into an engaging family DIY project. The best part - no additional tools are required!
Setting Sight on Visual Aesthetics
With its well-crafted layout in place now, I could finally absorb the aesthetics the Cozey Ciello Modular Sofa brought into my living room. Evidently designed with modern living spaces in mind, its clean lines, enticing proportions, and minimalist design added a uniquely charming chicness to my space.
I chose smokey grey; However, colors may vary according to personal taste as they offer several color options such as midnight black, pure white, or desert sand giving one an array of choices to choose from.
More so than anything else though is this: its elegant silhouette. It offered a breath of fresh air from traditional designs incorporating bulky frameworks or overdone designs. Although minimalist in style, it does not compromise on comfort or quality even one bit.
As someone who values prudent craftsmanship coupled with functionality – this modular sofa exceeded all expectations! Be it cozy movie nights or hosting guests – everyone found their favorite spot on this sofa set.
The Cozey Ciello Modular Sofa shed new light on how furniture can transform living spaces into personal sanctuaries where comfort meets style!
Lose Yourself in Unparalleled Comfort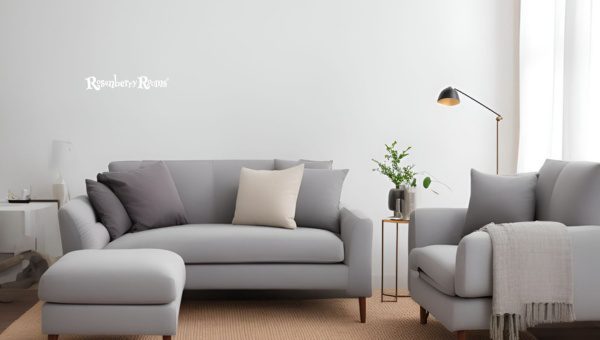 When it comes to the essence of a good sofa, it inevitably narrows down to one main factor: comfort. And let me tell you, the Cozey Ciello Modular Sofa does not disappoint.
Quite the contrary, it enables an exceptional experience, making your leisure time as enjoyable as it can be.
The Unraveling of Plush Cushions
On settling onto the sofa, the first thing I noticed was the plush cushions. They are meticulously designed and filled with swathes of lush foam that ooze comfort.
The soft landing provided by these plush pillows is hard to resist, with their squishable heavenly nature that cradles your body into moments of pure relaxation.
The back pillows are equally impressive and just as comfortable as their seat counterparts. I found that they are generously stuffed, providing a supportive backdrop to lean onto after a long day at work or during those lazy weekend movie marathons.
Dual-Layer High-Density Foam
Next up in our journey through comfort is an important highlight: the dual-layer high-density foam used in crafting this modular wonder.
While designing each section of this sofa, the use of dual-layer high-density foam is worth mentioning. This feature ensures an intriguing combination of both softness and support – attributes that enhance user comfort.
The top layer comprises highly resilient foam which yields under your weight thus providing a luxuriously smooth feeling when you sit down, while also retaining its shape impeccably once you get up – avoiding those unsightly permanent depressions that many other couches tend to develop over time.
On the other hand, the bottom layer packs a denser foam that acts as robust support for the soft top layer. It guarantees prolonged durability for your priceless relaxation moments without compromising on any degree of coziness – much akin to floating on a cloud!
Furthermore, all these layers are enclosed in supremely durable and finely stitched fabric that boasts not only aesthetic appeal but also contributes significantly to long-lasting comfort by preventing premature sagging or wear and tear.
Honestly speaking, this masterfully developed blend of dense and resilient foams caters simultaneously to both immediate opulence upon sitting and long-term durability - characteristics seldom seen in many contemporary sofas.
So next time you're sinking into your Cozey Ciello Modular Sofa after an exhausting day or simply lounging around on a lazy Sunday afternoon with a book in one hand and a coffee mug in another — rest assured — you'll be doing so in unparalleled comfort.
Customization at its Finest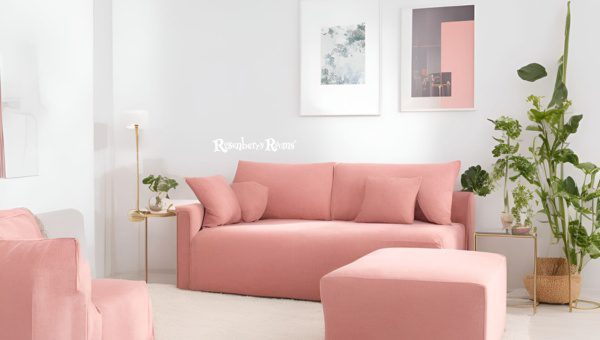 When it comes to home furniture, especially a sofa, one size doesn't always fit all. This is the reason why the Cozey Ciello Modular Sofa's customizability makes all the difference.
With this sofa, I discovered an element that can be called one's own in more ways than one - in terms of design, comfort, and even configuration.
Number of Configurations to Suit Your Preference
Cozey Ciello Modular Sofa is designed with modularity in mind. This means that each piece can be configured and rearranged according to your preference and need.
One evening you may want an L-shaped sectional for a movie night with family while another day you might prefer separating the pieces into single seats for a more intimate setting with your friends. The combinations are limited only by your creativity.
For those who love numbers, let me put it this way - there are 5 management configurations: including a corner piece, middle piece, ottoman, right armrest, and left armrest. Each of these pieces is engineered to work both independently or together - giving you 'n' a number of layout options.
Here is a quick breakdown of modules:
| Module | Description |
| --- | --- |
| Corner | Acts as either a left end or right end depending on needs |
| Middle | Works great individually or between corner peices |
| Ottoman | Works great individually or between corner pieces |
| Armrests | Simply add charm and extra comfort to your desired setup |
It's also worth noting that expanding your Cozey Ciello Modular Sofa is remarkably seamless. More family members? Or moved into a larger living room? Simply order an additional module to supplement your existing arrangement without worrying about mismatched furniture!
Choosing the Right Layout for Your Space
Figuring out how to arrange the modular components requires just a bit of planning. Cozey has made it easier by providing a detailed guide on how to choose layouts that make excellent use of the space available- be it compact apartments or plentiful lofts.
When considering my layout arrangement, I took into account factors like floor space, traffic flow, and primary activities (like watching TV or socializing). Also crucial was aligning the mood I wanted- be it intimate or spacious; which is where variable options came in handy.
For instance:
For a small space with fewer occupants: 1 corner + 2 middle sections + 1 ottoman.
For large spaces geared toward social interactions: 1 corner + 2 middle sections + 1 corner (L-shape)
The simplicity with which I could tailor-make my couch set-up makes using Cozey Ciello Modular Sofa feel not so much like owning just another piece of furniture but instead possessing something personalized; designed explicitly for my indulgence!
Fabrics and Design Options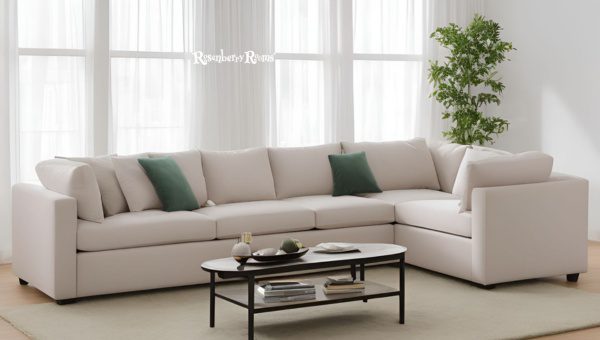 When it comes to the Cozey Ciello Modular Sofa, the fabric choices and design options make quite an impression. This is not your typical modular sofa; it brings a touch of uniqueness and elegance that's simply hard to come by. It is also crafted with practicality in mind.
Easy-to-Clean and Durable Materials
Just upon my first touch, I was instantly drawn to the superior quality fabric that adds a soft-touch characteristic feature. The fabric is polyester, known well for its durability as well as its ease of cleaning, especially for those with an active household or children who love their snacks on the couch!
One feature I have completely fallen for is the removable cushion covers. Yes, you heard right! These cushion covers are totally removable making it far easier to remove dirt or stains than most other sofas I've laid hands on. This takes away a lot of stress, especially during accidental spills at home parties and get-togethers.
How it Blends with Home Decor
In keeping up with the aesthetic appeal of your space, the Cozey Ciello Modular Sofa does not disappoint. Its modern design paired with a classic tone makes it an easy fit into any interior decor style – be it minimalist, country-style, contemporary, or boho-chic.
Available in four beautiful shades: Light Grey, Navy Blue, Ash Grey, and Spicy Coral– each one has its allure which opens up possibilities based on personal preferences or existing home decor schemes.
For instance, Light Grey has become my absolute favorite due to its ability to blend seamlessly into my home setting while adding some charm. It's great because it pairs well with vivid colors or softer pastels allowing freedom to play around with accents like toss pillows or throws.
On the design aspect, the stitching detail is crisp and sharply contrasts the fabric giving it a prim finish that screams sophistication. The legs are made from solid wood which adds to its durability while providing an earthy feel which most decor lovers would appreciate.
Another huge plus that I find irresistible about Cozey Ciello Modular Sofa is its flexibility in terms of layout arrangement. You could play around with this modular piece based on your room's layout, available space, or even mood swings!
Being someone who often hosts casual gatherings at home or likes occasional changes, this customizable feature hits home for me since rearranging my space no longer feels like daunting work.
Thus when you're choosing Cozey Ciello Modular Sofa rest assured you're opting not just for comfort but also versatility in design along with superior built quality.
Durability and Build Quality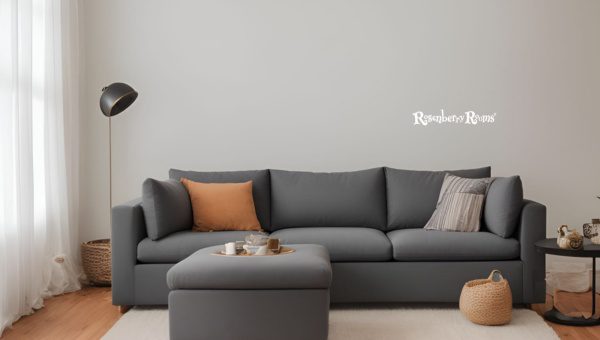 When it comes to buying a sofa, one of my top criteria is undoubtedly the durability and quality of the build.
After all, I'm looking for an investment that promises to stand the test of time, heavy usage, and of course, the occasional roughhousing by my pets. I am pleased to report that the Cozey Ciello Modular Sofa ticks off all these boxes perfectly.
Frame Construction and Stability
Firstly, let's talk about the main structure - the frame. The selected materials for any frame play an instrumental role in determining overall stability.
Here, Cozey Ciello surpasses expectations with a solid wood frame that promises strength. Not only does this provide robust support for daily usage but also ensures a higher weight capacity.
Moreover, each section of this modular sofa is fortified with corner blocks - increasing their endurance against force or pressure. This insightful feature places high points on my scorecard for thoughtfulness in design and user convenience.
As part of its assembly system, Cozey uses sturdy metal brackets rather than conventional plastic clips to put sections together seamlessly.
This augments structural steadiness while making it easy for you to rearrange modules according to your preferences or room dynamics.
Long-Term Usage Review
Now, as far as long-term usage is concerned, I can proudly say that my Cozey Ciello modular sofa has defied time wonderfully! The hardwood frame still stands unbowed after months of rough usage – bearing testimony to its superior workmanship.
One succinct highlight is the resilience of its performance fabric. Despite being subjected to numerous coffee spills and pet exploits over time, it continues to retain its original charm – all thanks to its stain-resistant property coupled with easy clean-up procedures.
Finally - a noteworthy mention about coziness maintenance: even after continuous usage over several months, the seat cushions retain their original plushness - credits going to quality dual-layer high-density foam used inside them. No sagging spots or uncomfortable dents thus far!
To put it briefly,
Frame: Robustly built using solid wood
Corner-Block reinforcements: Bestow extra strength
Metal brackets in assembly: Enhances structural steadiness
Performance Fabric: Stain-Resilient & Easy Cleanup
Dual-layer High-Density Foam in Cushions: Retains shape even after vigorous use
By this review, the Cozey Cielo Modular Sofa is not just another piece of furniture; it's an attractive yet durable addition that offers priceless comfort over an extended period!
Shades and Sizes- Options Galore!
One of the many factors that make this sofa a standout is its diverse range of options to match any interior décor. Even before you position it in your space, I assure you, a delightful dilemma awaits!
Available Color Schemes
Right off the bat, I found that the Cozey Ciello Modular Sofa offers four distinct color schemes.
The first is Ciello Grey, an elegant option that brings an air of sophistication to virtually any interior design style. Then we have Ciello Cream, for those who prefer the warmth and freshness reminiscent of a cozy morning coffee.
For a touch of luxe, consider the Ciello Navy, which happens to be my personal favorite due to its deep, rich blue hue. Lastly, for seekers of minimalist charm and purity, Ciello White has you duly covered. Truthfully, no matter what your color palette or aesthetic preferences are, Cozey has got something for everybody.
Seeing this variety wasn't only refreshing but also quite impressively catered to different tastes.
Understanding Size Dimensions
Now let's talk about size, another significant factor to consider when choosing a sofa for your home. I discovered that with modular pieces like Cozey Ciello's sofa, understanding size dimensions is crucial because it allows more flexibility in fitting into different room layouts.
Cozey offers various options ranging from a cozy armchair that doubles as a single seat (perfect for those limited by space) all the way to a full-fledged 4-seater couch. Each module (either seat or armrest) measures about 26 inches wide and 33 inches deep while obviously varying in footprint depending on their configuration.
To help you visualize better here's a simplified table:
| Measurement | Dimensions (Inches) |
| --- | --- |
| Depth | 33 |
| Width | 26 per module |
This modular concept ensures optimal customization according to available space or preference. You can imagine my excitement realizing I could easily modify my setup from enjoying solo-snuggle movie nights to entertaining guests!
Let it be on record - versatility has never felt so comfortable.
For all interested buyers out there, I strongly recommend [checking out](enter website link here) their detailed dimensions guide before making your purchase. It will assist greatly in sizing up the perfect sofa layout specific to your home!
As each module fits together securely so snugly and so seamlessly - believe me when I say - Cozey definitely lives up to its name.
From a Pet Owner's Perspective
To say that I was nervous about introducing the Cozey Ciello Modular Sofa into my home, a place inhabited by little human tornadoes and fur babies, would be an understatement.
Nevertheless, the experience turned out to be surprisingly pleasant – here's how.
Child and Pet-Friendliness
As a parent to both lively children and energetic pets, I cannot stress enough the importance of having furniture that can withstand their boundless energy.
My anticipation turned to relief as the Cozey Ciello Modular Sofa demonstrated not just robustness but also featured fabrics conducive for high-trafficked areas with inevitable spills or pet hair scenarios.
"How was it with fur," you may ask. The tightly woven fabric, available in multiple colors, effortlessly repelled pet hair ensuring it didn't embed itself into the weave—at which point even the most determined vacuum gives up. Trust me: as someone who knows all too well about pet hair woes - this is a huge plus!
On the kid-friendly front, rounded corners prevented injury while boisterous play; ultimately ensuring that my living room remained a safe playground. What's more? The cushion covers are removable and machine washable - every parent's dream!
Spill Test and Cleanup
Now for everyone's curiosity—how did it handle spills? Here's where I tested out my cup of hot chocolate on the brand-new Cozey Ciello Modular Sofa—a nerve-racking moment indeed!
As fate would have it, gravity took its toll—and so began my 'spill' test. Instantly getting into mom mode armed with baby wipes and stain remover sprays (that never leave my side), I got ready for action—but then something magical happened!
To my delight (and shock), I discovered that instead of sinking in, liquids beaded up on the fabric. Using just a piece of cloth or sponge, messes were quickly wiped away before they could sink in or stain.
It might sound trivial till you come home after an exhausting day to find that your white couch bears no evidence of grape drink spillage from your little one—it's truly a victory worth cherishing!
The Ciello also came through when dealing with dry spills such as crumbs or dust. A simple brush down or vacuuming instantly restored its pristine look.
This spellbinding feature is courtesy of Cozey's performance fabric—a durable tight-weaved polyester fabric designed specifically for easy maintenance and exceptional durability under testing conditions like these.
In retrospect, every element of this modular sofa—from structure to design—makes me realize that much thought has been put into considering various user scenarios including families like mine filled with lively kids and loveable pets.
Budget Friendliness- Is It Worth Your Bucks?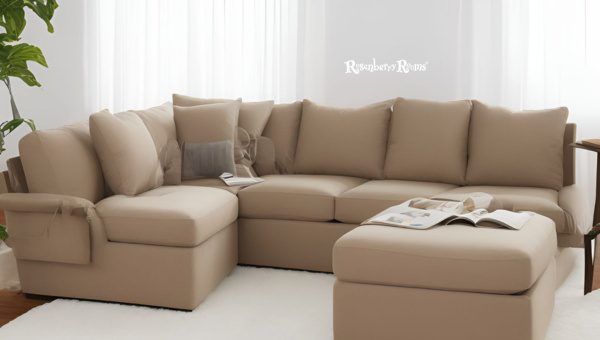 When it comes to purchasing a modular sofa, the budget requirement can serve as quite a detour for many.
However, to my pleasant surprise, the Cozey Ciello Modular Sofa provides a refreshing and attractive proposition in this department.
To truly understand its value-for-money factor, I decided to conduct some comparative research and was greatly satisfied with my findings.
Pricing Compared to Other Sofas in Market
In terms of pricing, I found that the Cozey Ciello Modular Sofa offers an impressive blend of affordability and premium quality.
Samplings of similar sofas from well-known brands like West Elm, IKEA, and Pottery Barn showed highly varying price points that leaned more toward the pricier end.
For instance,
West Elm's modular sofas typically fall in the range of $2000-$4000.
IKEA's versions hovered within $800-$1500.
Pottery Barn had options upwards of $3000.
Our Cozey contender sits comfortably at around $1499 (depending on configuration and custom additions). When factoring in its high-quality construction, design options, modularity, and overall comfort level, I'd say it packs quite the punch for its price tag.
It is decidedly a more budget-friendly choice among its market peers without compromising on features or quality.
Considerations before Investing
Furthermore, there are a few key factors I found worth considering before investing in this modular masterpiece.
Space Suitability: Assess your room dimensions to understand if the size of this sofa would fit or dwarf your living space.
Comfort & Customizability: For me, comfort was non-negotiable! Fortunately, Cozey delivered brilliantly on this front with splendid support and extensive customization options to match my specific seating preferences.
Maintenance Needs: The ease of cleaning and maintaining your sofa should rank high on your priority list (especially for us pet owners!), making fabric choices critical.
Long-term Durability: Ensure you're getting value for money by assessing build quality; upscale components such as robust frames or high-density foam can significantly extend longevity.
The fluidity with Interior Aesthetics: The visual appeal is a make-or-break aspect; be sure your chosen sofa blends harmoniously with other furnishings.
My perspicacious purchase decision heavily favored the Cozey Ciello Modular Sofa on these fronts, proving that something seemingly luxurious doesn't always have to put holes through your wallet - sometimes, they instead add a generous dose of luxury your way at a reasonable investment size!
This cozy throne undoubtedly walks an ideal line between aesthetic appeal and affordability while not skimping out on quality or comfort - making it truly worthy of every single penny spent!
The Cozey Ciello Customer Service Experience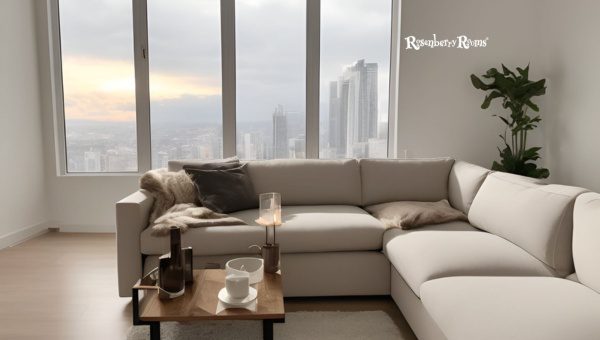 As consumers, we all know the worth of quality customer service. It's one thing to purchase a noteworthy product but another entirely to have a fulfilling experience while doing so. In my interaction with Cozey Ciello, I must commend their customer service.
Delivery, Assembly Assistance, and Returns
From placing the order to having it delivered to my doorstep, the process was as smooth as butter. The delivery was prompt and on schedule, a significant plus for those impatiently awaiting their new sofa like myself!
Upon delivery, what shocked me positively was their assembly assistance offer. Now here's why this is impressive: as much as I love doing things myself, dealing with parts and manuals can be quite daunting at times.
However, they offer an incredible virtual assembly assistance service on request. With step-by-step guidance through video call assistance- you can say goodbye to any setup confusion that may come your way!
That aside, they also have in place an astoundingly simple return policy should you be unsatisfied with your sofa for any reason – another testament to their devotion to ensuring 100% customer satisfaction.
| Service Aspect | Rating out of 5 |
| --- | --- |
| Delivery Timeliness | 5/5 |
| Assembly Assistance | 4/5 |
| Return Policy Simplicity | 4/5 |
Post-Purchase Customer Support
What struck me most about Cozey Ciello's service is its commitment to customers even after the purchase. Had a hiccup with the cushions? Or do you need advice on maintenance? Fear not because their post-purchase support team has got your back.
I had some queries about my modular sofa after using it for a month and reached out to them via email (which I found conveniently listed on their website). Their response was not just prompt but also satisfactory; they addressed my concerns very efficiently!
I would take this opportunity to appreciate their approach towards maintaining consumer loyalty and trust – truly a mark of great brand value.
So if you're as picky about customer service quality as I am, rest assured that the Cozey Ciello team ticks all the boxes under this criterion.
Cozey Ciello not only guarantees a delightful piece of furniture but also wraps up your purchase into an enriching experience.
Customer care extends beyond initial purchase support; expect top-notch service throughout your sofa's life span. Now isn't that exactly what we all wish for while investing in products of significance?
Final Thoughts on Cozey Ciello Modular Sofa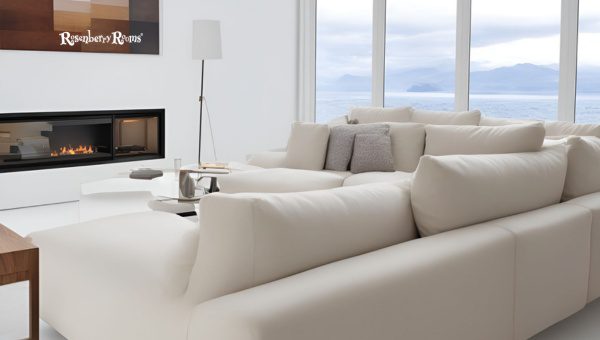 After weeks of engaging experiences and lounging sessions, one conclusion rings true – the Cozey Ciello Modular Sofa is more than just a functional piece of furniture. It's the perfect blend of comfort, style, and flexibility aimed at enhancing your living space.
Making a Lifestyle Statement with Cozey Ciello Modular Sofa
In this era, where we continuously crave self-expression, the Cozey Ciello offers an excellent opportunity. The plethora of customization options allow you to tailor the sofa according to your lifestyle. Whether you're a social butterfly who hosts frequent gatherings or a homebody who enjoys solitude, this modular sofa can conform to any setting and mood.
The ergonomic design accommodating comfort without compromising on style makes it an ideal focal point for any living room. Its aesthetically pleasing presence alone often sparked interesting conversations during my gatherings.
As I navigated through several layouts during my trial period (yes! it's that flexible), I found the Cozey Ciello incredibly functional and apt for any type of arrangement requirement - whether that means adding an extra section for my pet Labrador or moving parts around for more seating during parties.
It's worth noting that the robust durability supports its aesthetic allure too. Even though it's a tad pricier than other options on the market, this sofa presents you with rugged longevity, justifying every penny you invest.
From unboxing to settling down onto its plush cushions every evening, every encounter with the Cozey Ciello Modular Sofa has been gratifying - truly making it an accessory that resonates with life and inspires lifestyle upgrading.
All in all, if you're seeking versatile convenience packed with stylish durability and supreme comfort - then look no further. Your quest might just end here as mine did.
FAQs About Cozey Ciello Modular Sofa Review
Is the Cozey Ciello Modular Sofa suitable for small spaces?
Yes, the modular design means that it can fit into most living spaces regardless of size. You can configure it to suit your specific needs.
How easy is it to clean the Cozey Ciello Modular Sofa?
One of the highlights of this sofa is its easy-to-clean feature. The fabric cover is removable and machine washable, making upkeep straightforward.
Is the Cozey Ciello Modular Sofa pet-friendly?
Yes, it is. The material used on the sofa is both durable and resistant to damage, including scratches from pets.
How comfortable is the Cozey Ciello Modular Sofa?
It's extremely comfortable! With high-density foam cushioning, you'll find it soft yet supportive and very kind to your back.
Is this sofa worth the investment?
Based on my experience, I would definitely say yes! Apart from its stylish aesthetics, customizable configuration, and high comfort level, its durability ensures that you'll be enjoying this piece for years to come.
Conclusion
The Cozey Ciello Modular Sofa is a wise investment for anyone seeking comfort and style in their living space. This piece manages to effortlessly blend functionality with modern aesthetics that can amplify the charm of any room.
Offering a wide range of configurations for personal customization and easy maintenance, it really is flexible enough to complement your lifestyle. Although great furniture comes with a price tag, I personally believe that its benefits are well worth the cost.
However, as with any significant purchase, I recommend taking into account your unique home spaces, decor preferences, budget constraints, and lifestyle before making a decision.
But if you're asking me? The Cozey Ciello Modular Sofa has undeniably made my living room a cozier place to relax and unwind at the end of each day!