When it comes to elevating your space with both comfort and elegance, the best luxury sofas are inevitably a popular choice.
The right luxurious sofa does not just provide a comfortable seating option but also acts as a cornerstone that brings the whole room together.
Whether you're planning to host an effortlessly chic party or curl up with a good book, having the perfect luxury sofa set in your living area gives your space that extra luxury and charm.
In today's hectic life, your home is your sanctuary, a blissful retreat that showcases who you are along with aesthetics and personal taste.
You also want something plush and cozy that invites relaxation for you and those lucky enough to share in its comfort.
Luxury sectional sofas can do just that while adding an impeccable touch of grandeur to your interior decor.
With these factors in mind, we've curated a list of ten of the best luxury sofas out there in this article.
What is the difference between a luxury and a normal sofa?
A luxury sofa and a normal sofa offer distinct experiences when it comes to comfort, style, and craftsmanship.
The difference lies not only in the price tag but also in other essential factors that contribute to the overall experience you have with your furniture. Let's simplify the differences between them:
Material Quality: Luxury sofas are constructed from superior-quality materials. These include top-grade leather or luxurious fabrics like velvet or silk used for upholstery. In contrast, normal sofas may use vinyl, cotton, or synthetic fibers.
Design and Craftsmanship: Luxury sofas boast of exquisite design, fine detailing, and outstanding craftsmanship. They reflect higher aesthetics compared to regular sofas, which are primarily built for functionality.
Durability: Owing to their top-notch materials and superior build quality, luxury sofas generally last longer than standard sofas.
Comfort Level: Luxury sofas often provide unparalleled comfort because they are typically filled with high-density foam or other premium padding materials.
Price: Given the superior materials used, the heightened level of craftsmanship involved, and longer-lasting durability, luxury sofas tend to cost substantially more than their average counterparts.
Branding & Prestige: Often, owning a luxury sofa is associated with affluence and can boost your social prestige due to its designer label or brand reputation.
While both types have their own merits, if you're looking for durability paired with artistry and aesthetics, then nothing quite matches up to the regality offered by luxury sofas.
30 Best Luxury Sofas Of 2023
When you're seeking out that perfect merger of comfort, design, and exclusivity, luxury sofas top the list.
These aren't just pieces of furniture; they are emblems of elegance that transform everyday relaxation into a decadent experience.
Now entering the sphere of luxury, let's commence our journey with the exquisite Sunday Movie Night 4-Piece Modular Sectional.
Sundays Movie Night 4-Piece Modular Sectional
The Sundays Movie Night 4-Piece Modular Sectional appears impressive and inviting at first glance.
With finely curated luxury aspects, practical modular design, and remarkable comfort features, it surely deserves high consideration on your luxury sofa wishlist.
Ensure to calculate and consider the seating capacity and the expense before finalizing the purchase.
Please note that care instructions for spills and stains are present and should be followed meticulously to maintain the look of this high-end sofa.
Adding this comfort generator will stylishly elevate your living space while making sure you look forward to spending more time at home.
Priced at $5,180, this luxe sectional sofa invites you to bask in plushness. It showcases a flexible configuration thanks to its modular pieces that can be arranged and rearranged as per your needs and space.
The generous dimensions offer seating capacity for three individuals while ensuring plenty of room for each one to lounge comfortably.
Designed for a low-profile silhouette bolstered by deep seating, this couch ensures magnificent levels of comfort with its feather-fiber blend cushions.
The superior LiveLife fabrics used are stain-resistant, ensuring the couch looks fresh through any spills or accidents.
The sturdy frame made from solid wood with foam padding lends durability and indulgent softness to the sofa.
And guess what? The upholstery covers are fully removable, making cleaning a breeze.
An exciting feature is the light pebble LiveLife fabric details infused into its design, rendering it both attractive and practical.
For achieving extra coziness or resting your feet after a long day, there's an ottoman cushion zipped into a slipcover.
On purchase (which includes free in-home delivery and assembly), expect 4 boxes.
Pros
Easy to clean
Stain-resistant fabric
Modular flexibility
Plush Comfort
Free delivery & assembly
CONS
Expensive price point
Limited seating
No color customization
Floydhome Sink Down Sectional
The Floydhome Sink Down Sectional sofa offers an unmatched blend of comfort and luxury with its high-quality fabrics, memory foam cushions, and engineered wood framework.
This sectional is not merely a gorgeous addition to your living space but also promises an incredible seating experience.
The memory foam cushions, coupled with the blown fiber pillow top, guarantee a smooth, plush surface for you to sink in after a long day. Now, isn't that just what you need?
The engineered wood framework assures sturdiness and durability, while the high-density furniture-grade OSB contributes to the sofa's robust build.
This luxury sectional sofa comes with options for pre-configurations or custom seating, allowing you to arrange it as per your comfort and styling preferences.
With performance polyester that resists stains, your sofa stays looking as good as new for longer. The heavy-duty metal clips make rearranging your sectional quick and easy.
Your home is a canvas that reflects who you are - why not make it as comfortable and luxurious as possible? With Floydhome Sink Down Sectional sofa, every sitting evokes feelings of contentment and relaxation.
Premium price pairs with premium value - this holds true for this elegant sink-down sectional sofa priced at $2,061.
Now, roll out that rug, arrange those cushions, and sink yourself down into a world of coziness and class with the Floydhome Sink Down Sectional.
Pros
High-quality fabrics
Sturdy engineered wood framework
Custom seating options
Stain-resistant
Easy to rearrange
CONS
Requires spacious living space
Arm height may not suit all
Potential wear over time
Also Read: 15 Best Sofas For Back Pain In 2023 [Chiropractor Approved]
Acanva Luxury Chic Grey Velvet Tufted L-Shape Sofa
Acanva presents its Luxury Chic Grey Velvet Tufted L-Shape Sofa, a high-end statement piece that takes your living space a step above ordinary.
It represents the perfect blend of elegance and comfort that is designed to fit into modern interiors seamlessly.
With its luxurious feel and sophisticated charm, the Acanva Luxury Chic Grey Velvet Tufted L-Shaped Sofa could be the missing piece that could bring together your living room's aesthetics.
This velvet L-shaped sofa from Acanva has an impressive grey color theme that subtly enhances its sophistication.
Coupled with its tufted back design and right-hand-facing orientation, it makes a chic and upscale addition to any home decor.
The sturdy wooden frame, velvet upholstery fabric, tufted cushions, and foam-filled seats all contribute towards providing maximum comfort backed by optimum stability.
Its seat depth of 24 inches ensures spacious seating capacity, comfortably accommodating up to 4 individuals.
This sectional sofa stands out with some special features like UV/Fade resistance that guarantees durability even under long exposure to sunlight.
The pocket spring and sinuous spring suspension type offer superior support for everyday use.
This product can also be used in non-residential settings owing to its stylish look and robust build.
Pros
Elegant Grey Color Theme
Spacious Seating Capacity
Fade Resistance Feature
Superior Suspension Support
Suitable for Residential and non-residential Use
CONS
Expensive Price Point
Assembly Required
Might Take up More Space
Jonathan Leather Extended Side Chaise Sofa
The Jonathan Leather Extended Side Chaise Sofa is a top-end luxury piece featuring superior materials for unrivaled comfort and style.
This sofa's seamless blend of chic design and practicality means it will comfortably fit into any interior décor while offering a high level of comfort.
Constructed with a foundation of Laminated Veneer Lumber and plywood, this sofa boasts robust solidity.
The top-grain leather offers a timeless look, while the foam and fiber filling provide excellent comfort. Non-removable covers are an additional layer that adds to the luxurious experience.
Its sinuous spring suspension ensures the couch maintains its shape and delivers longevity without compromising comfort.
Its significant dimensions make it a great fit for larger spaces or smaller spaces where you want one standout furniture piece.
With its ample seating depth of 24.4" and seating height of 16.1", this is perfect for snuggling up or lounging after a long day.
This luxurious piece comes pre-assembled, ready to elevate your living space immediately after delivery.
Pros
High-Quality Top Grain Leather
Robust Construction
Comfortable Seating
Large Size
Pre-assembled
Excellent Warranty - 3 Years
CONS
Non-Removable Covers
High Price Point
Formaldehyde Warning
When investing in the Jonathan Leather Extended Side Chaise Sofa, you're choosing not just a furniture piece but also an element that adds character and sophistication to your home.
Read More: 15 Best Sofas For Heavy People In 2023 [Sturdy & Comfortable]
Luluandgeorgia Fabienne Sofa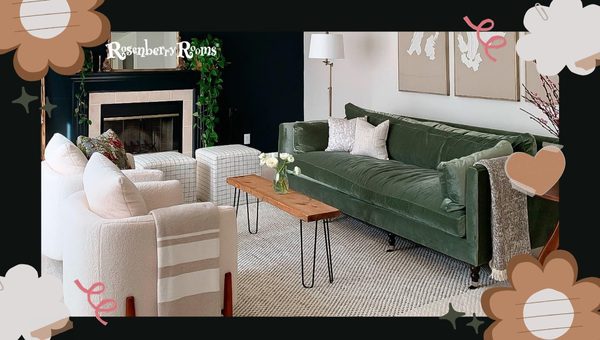 Indulge in an unmatched fusion of luxury and comfort with the Luluandgeorgia Fabienne Sofa.
Priced at $3,998, this made-to-order piece is crafted in stunning blue polyester velvet and available in eight delectable hues, assured to blend with your interior decor seamlessly.
The sofa's construction leans on sturdy hardwood, laminates, and metal caster materials. Its high-resiliency foam core offers unmatched comfort.
The Fabienne model graciously accommodates three individuals, ensuring ample room for everyone.
The sofa dimensions are 90"W x 40"D x 34"H, and it holds a substantial weight of 162 lbs.
With a seat height of 21", depth of 24", width of 68", arm height of 29", arm width of 4", and leg height:7", this eye-catcher leaves no stone unturned when it comes to small details.
Yes, this model has thought about that, too. Equipped with removable legs and cushions, quick customization or cleaning is just a blink away. Each order includes corresponding pillows - bringing you the ultimate luxury.
Pros
Handcrafted, luxury design
High-quality material usage
Offers customization
Requires no assembly
Convenient removable features
CONS
Not returnable
Requires careful maintenance
Longer shipping duration
The Luluandgeorgia Fabienne Sofa is created in Elliston, VA, and requires no assembly post delivery. Ensuring you remain worry-free while adding this gem to your collection.
For upkeep directions: it's best to avoid direct sunlight exposure; spot clean if required and vacuum regularly for maintained freshness.
Behold this impeccable addition that oozes grandeur while catering to your comfort needs immaculately.
Marconi 3-Seater Tufted Green Velvet Sofa
The Marconi 3-seater Tufted Green Velvet Sofa is a remarkable piece of furniture.
This luxuriously designed sofa, crafted by renowned designer Gianfranco Frattini, offers a beautiful blend of comfort and elegance.
Upholstered in an 89% cotton and 11% polyester blend velvet, this piece can effortlessly instill a sense of grandeur in your living space.
The solid FSC-certified American black walnut legs add an appealing touch of durability and class to its overall design.
The cushions are filled with foam and polyester fiber batting, providing optimal comfort for you and your guests.
As BIFMA-compliant contract-grade furniture, this sofa extends dependable durability and safety.
This sofa comes complete with care instructions to ensure its longevity and maintain its pristine condition.
Taking its sustainability factor into account - with FSC Certified wood being used for its crafting- this luxury sofa makes for an eco-friendly choice that does not compromise on style or comfort.
Pros
Stylish Design
Comfortable Seating
Excellent Durability
Eco-Friendly Construction
Easy Maintenance
CONS
High Price Tag
Limited Color Options
Complicated Assembly Process
Extensive research reveals that the Marconi 3-seater Tufted Green Velvet Sofa has consistently received high customer satisfaction rates for its superior quality build and luxurious look, making it a worthy investment for your space.
This luxury sofa is most suitable if you love the fusion of unique design details with premium functionality in your living spaces.
Always remember to check whether it complements the rest of your decor before finalizing your purchase.
Explore More: What Does Your Dream Sofa Cost? [2023 Price Guide]
lumens N701 3 Seater Sofa
The Lumens N701 3-seater sofa by Ethnicraft, designed by Jacques Deneef, is an exquisite blend of style, comfort, and durability.
Sporting a sophisticated design with a quilted back and seat cushions, this plush couch can comfortably seat three people and adds an elegant touch to your living room or office space.
This luxury sofa comes in a range of color options for you to choose from and provides the option for customization to fit your unique taste.
The high-quality Ethnicraft designs utilize solid wood that ensures durability over extended periods of use.
What distinguishes this lavish sofa even further is the commitment to sustainability.
The material used in its construction is responsibly sourced wood. The sofa is also GREENGUARD certified for low emissions, marking it as an eco-friendly choice for environmentally conscious individuals.
Its recyclable design only adds another feather to its green-cap credentials.
The Lumens N701 3 Seater Sofa promises healthy indoor air quality due to its sustained release of low chemical emissions.
The dimensions of Width 82.5", Height 30", and Depth 36" (and Seat dimensions: Height 17", Depth 22") bestow a thoughtfully balanced architecture blending well within most spaces.
It also includes a warranty period covering two years from the time of purchase while being dry cleaned only for maintenance works on spot cleaning or general upkeep rituals.
When considering environmental factors, combined with the aesthetic appeal and comfort factors all wrapped up in one package, this selection seems almost unbeatable.
Pros
Comfortable seating for three
Eco-friendly
Multiple upholstery options
Customizable design
Durable wooden construction
CONS
High price point
Dry clean only
Limited warranty
Interiordefine Maxwell Fabric Sofa
Getting the perfect luxury sofa is about balancing style, comfort, and function. It's not just a piece of furniture; it reflects your personal style and elevates your space.
This sofa seamlessly weaves tradition and modernity. Its unique design gives a fresh touch to traditional silhouette with its thinner frame rail and sleek turned legs, all of which complement the cozy comfort provided by the deep seat layered cushions.
With aesthetics aside, comfort is also paramount: lumbar pillows are included, ensuring optimal relaxation.
The Maxwell Sofa is not about mass production; instead, it offers unique customization options for each buyer.
It is quality-focused, incorporated in every stitch and cushion to ensure you're getting what you paid for a high-end product that speaks elegance and durability.
And if you think this elegance & quality come with complexity, think again! The process is smooth, with a single point of contact throughout your purchasing journey.
You're buying more than just an elegant piece of furniture – you're investing in luxury that lasts.
Pros
High-quality materials
Exclusive Designs
Customized Comfort
Efficient Customer Service
Fair Pricing
CONS
Requires Maintenance
No International Shipping
Limited Stock
Article Olalla Sable Ivory Sofa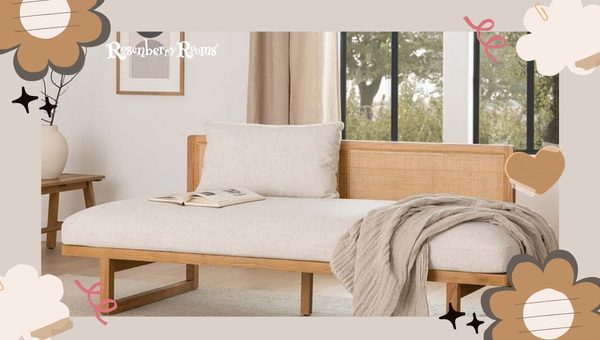 Presenting the 'Olalla Sable Ivory Sofa,' a statement of elegance and sophistication.
With its solid oak construction, its evergreen appeal boasts an impressive structure that's accented by natural cane rattan elements for a touch of organic and coastal charm.
The upholstery is a beautiful ebony ivory linen-blend fabric that's not only stylish but also hard-wearing.
The Martindale test (a measure of fabric durability) rates it for 50,000 rubs. This results in a perfectly soft-to-touch surface that feels like sitting amidst clouds.
The cushions are luxuriously foam and feather-filled, meticulously designed to deliver the ideal balance between comfort and support at a convenient seat height of 17".
The overall dimensions are generous without overwhelming your space: it stands at 32.5" high, stretches 84.5" wide, and extends 35" deep into your room.
And with no assembly required, this beauty is ready to grace your home as soon as you receive it.
Tender-loving care is essential with fluffed cushions, spot-clean fabric, and advised professional cleaning; all these ensure this beauty lasts in your home for many years.
When you invest in the Olalla sofa set, what you get is more than just furniture; it's a legacy piece whose timeless design puts your living space on the map in terms of style, luxury, and opulence.
Pros
Durable Solid Oak Construction
Stylish Linen-blend Fabric
High Martindale Test Score
Effortless Assembly
Luxurious Foam & Feather-filled Cushions
Natural Cane Rattan Accents
CONS
Requires Regular Care
Single Color Option
Not Suit Non-Coastal Decor
Also Read: Futon Vs Sofa Beds 2023 [Is It OK To Sleep On A Futon?]
Maidenhome The Warren
You've been searching for the perfect blend of comfort, style, and durability in a sofa. The Warren by Maidenhome ticks all those boxes.
Crafted with thoughtful precision, this luxurious piece stands out with mitered corners that demonstrate meticulous attention to detail.
With dimensions ranging from 60-120" W and 39" D, it's a generous seat that you can sink right into after a long day at work.
Designed to stand the test of time, its style fits perfectly into both modern and traditional homes.
Its eight-way hand-tied springs offer incredible resilience, ensuring your new centerpiece maintains its shape.
It also boasts a kiln-dried hardwood frame for added longevity. High-resiliency core cushions surround you in unparalleled comfort, making every relaxation session one to remember.
Warren takes things up a notch by offering both fabric and leather upholstery options, making it the perfect fit for different tastes and decor styles. It has hidden cushion tie-downs, maintaining the neat look of the sofa.
With a white glove delivery service provided within 2-4 weeks of purchase, setting up your new classy addition is as seamless as it gets.
Its easy return policy means you can return your purchase within 30 days with just a 10% fee if it doesn't meet your expectations.
Pros
Sink-in comfort
Durable kiln-dried hardwood
Hand-tied springs
Fabric or leather upholstery options
White glove delivery service
Convenient return polic
CONS
Shipping time (2-4 weeks)
Return fee (-10%)
Limited scope for customization
Corbusier Grand Modele Three-Seat Sofa with Down Cushions
The Corbusier Grand Modele Three-Seat Sofa is a stunning addition to any home.
This timeless sofa dates back to 1928 and continues to encapsulate modernist ideals while offering exemplary comfort. It's a unique fusion of aesthetics and practicality.
The externalized frame and thick pillows present an imposing view that effortlessly commands attention.
Designed as a fresh take on the conventional club chairs, its tubular steel structure remains ever-relevant, testifying to its timeless appeal.
Crafted from premium materials like stainless steel, high-quality foam, and pristine leather, the Corbusier sofa is built not only for visual appeal but also for lasting durability.
The combination of these materials ensures a luxurious experience every time you sink into it.
One standout feature of this luxury couch is its removable cushions. This allows for easy cleaning or switching up design styles whenever you desire.
Further enhancing its appeal is its non-toxic and fire-resistant composition that ensures safety without compromising on comfort.
Options for customizing this luxury sofa are available, allowing you to make changes that perfectly align with your tastes or existing decor themes if needed.
Pros
Luxurious aesthetic appeal
Durable build quality
Removable cushions
Non-toxic materials
Fire resistance
Options for customization
CONS
Premium price tag
May be too large for small spaces
Limited color options
If you're seeking a statement piece that perfectly encapsulates luxury, beauty, comfort, and quality all in one package, the Corbusier Grand Modele Three-Seat Sofa might be your perfect choice.
The Mario Bellini Sofa: Velvet-Ash Brown Delight
If you're yearning for something modern yet timeless, Mario Bellini's Combination 009 Velvet-Ash Brown sofa is a great choice.
Priced at $5,229, this luxurious piece of furniture exudes elegance and sophistication.
With compact dimensions of 101.6" W x 75.6" D x 26.4" H and a comfortably low seat height of 15", this opulent sofa comes with rings and carabiners for modular configuration. It offers not only comfortable seating options but also flexible ones.
Crafted from non-toxic, fire-resistant materials, the Bellini sofa's frame is made up of strong merbau wood, while its legs are solid wood, promising an extended life for your beloved couch.
The cushions are richly padded with polyurethane foam that adds a plush feeling consistent with the overall luxurious feel.
Unsurprisingly, this designer piece comes with multiple upholstery options: whether you prefer fabric or want to dress it up in aniline/vintage leather, the choice is in your hands.
To top it all off, along with efficient and seamless delivery options, purchasers can enjoy a 1-year warranty on these sofas and a no-hassle return within 7 days.
Pros
Elegant design
Non-toxic materials
Fire-resistant upholstery
Versatile upholstery options
Modular features
Durable wood frame
CONS
High pricing
Low seat height
Potentially complex assembly
This is just summative information regarding the product; before making any purchasing decision, please look into more detailed descriptions and reviews online.
Read More: How To Mix And Match Pillows On A Sofa [2023 Styling Tips]
Olivia Queen Size Sleeper Sofa Bed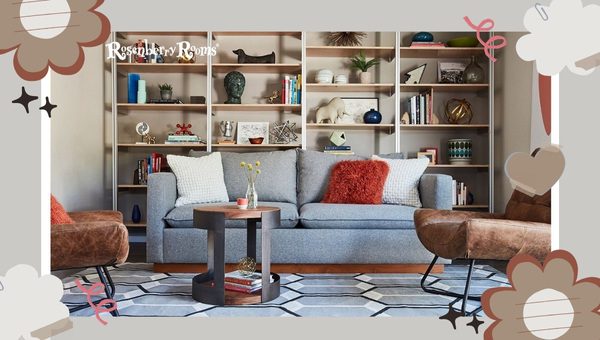 Boasting high versatility, the Olivia Queen Size Sleeper Sofa Bed makes an extravagant statement in style and comfort. This luxury piece comes with a premium price tag of $2878.
Crafted to perfection in the USA, this sofa bed brings local manufacturing pride to your living room.
Hailing from Los Angeles, CA, the sofa bed model represents unique design influences and usability aspects to meet modern lifestyle demands.
Custom-manufactured with eco-friendly construction methodologies, it hosts a solid wood frame promising high resilience as time elapses.
The clean, hypoallergenic fabrics breathe elegance and functionality into your space all year round.
This masterpiece wears reversible flappable detached cushioning backed by high-density foam seat cushions, providing a supreme comfort experience.
Don't be surprised to find yourself sinking into its relaxing plushness after a long day.
Equipped with a 5.5" thick innerspring mattress and an easy-fold steel mechanism, Olivia makes shifting from sofa to bed mode as smooth as you can imagine.
Pros
Eco-friendly quality construction
Breathable hypoallergenic fabrics
High-density foam seat cushions
Easy-fold mechanism for effortless transformation
Lifetime warranty on frame and workmanship
CONS
High spectrum price tag
California-centric brand
The delivery is limited to entryway placement only
Not just meeting your lounge or sleep needs, Oliva stands a class apart, offering free fabric swatches that prove instrumental when finalizing your upholstery selection to match your home decor theme perfectly.
To provide you peace of mind, Olivia comes with free delivery options notwithstanding any geographic distance concerns, along with an encouraging 100-day hassle-free return policy if you aren't completely satisfied.
Suffice it to say, if you are looking to splurge on quality, design, and comfort rolled into one, your quest ends at the Olivia Queen Size Sleeper Sofa Bed. It's more than a furniture piece; it's a lifestyle statement.
Hackney Lounge Compact Sectional
Finding the perfect blend of traditional and contemporary design in a luxury sofa can be quite a task. Enter the HAY brand's Hackney Lounge Compact Sectional.
This sleek, modern, and stylish sectional is part of the lauded Hackney Lounge Collection. It brings together functionality, luxury, and aesthetics for your space at an attractive price point of $6,596.
This modular reversible sectional comes with a smaller size but doesn't compromise on comfort.
It features plush foam and fiber-filled cushions that melt away your worries as you sink into this cloud-like oasis after a long day.
The compact size makes it a versatile addition to various living spaces. Whether you are living in a sprawling suburban home or a cozy urban apartment, this compact sectional will fit right in.
One of the key distinguishing aspects is its wooden frame, enhancing its durability while adding an earthy charm to its modern look.
Pros
Modern and traditional design
Plush foam and fiber-filled cushions
Versatile size
High-quality wood frame
In-home delivery
CONS
Slightly higher price point
Limited return period (only 3 days)
When it comes to maintaining this piece of luxurious comfort, it's fairly easy breezy.
Vacuum it regularly to remove dust, smooth out fabric wrinkles by hand gently, spot clean any spills immediately, and keep up with professional cleaning as needed.
Knowing that your purchase includes warranty coverage for HAY products - ensuring that if you have issues with your piece down the line, assistance is available.
Burrow Union 5-Seat Sectional
The Burrow Union 5-Seat Sectional is the epitome of luxury and ultimate comfort.
With its price tag of $4399, it mirrors the innovative craftsmanship and remarkable aesthetic appeal that your house needs.
Measuring 102.75"L x 102.75"D X 31.5"H, you can be sure that these dimensions perfectly fit your interior.
Its upholstery, made from high-quality polyester chenille, makes it a great blend of durability and beauty.
The seat height and seat depth are 17.125" and 27", respectively, providing a sophisticated seating experience.
One defining feature of this sectional is its modular design that allows for easy expansion if you ever feel the need for more room on your sofa.
The assembly is a breeze, with all parts fitting perfectly without any need for additional tools.
It's constructed of stain-resistant polyester chenille that is both durable and maintains its sheen over time.
The company offers free shipping on this large seating system, making this a deal no one can resist.
Pros
High-quality upholstery
Easy assembly process
Free shipping included
Stain resistant
Durable construction
Expandable modular design
CONS
Substantial investment
No customization options
Might be too large for small spaces
Selecting this luxury sofa will give your living space an extraordinary touch of class and comfort for years to come.
It's an investment in quality and visual appeal that offers unrivaled style along with practical benefits.
Explore More: Maiden Home Jones Modular Sofa Review 2023 [Customize & Buy]
Roveconcepts Dresden Open End Sofa with Side Table
Transform your living space into an oasis of elegance with the Dresden Open-End Sofa. This premium Roveconcepts piece, priced at $3749, epitomizes luxury furniture.
If color is your seasoning of choice for interior design, you're in for a treat - this sofa is available in a spectrum of 30 delightful colors.
In line with the globally renowned Dresden modular collection design, this sofa boasts a sleek, low-profile frame and grand cloud-like seat cushions that beckon you to sink into its comfort.
The interchangeable side table insert allows flexibility to modify the setup according to your needs, adding convenience with style.
Central to its look are those lustrous cast stainless steel legs and a kiln-dried hardwood frame.
Covered with soft-padded polyurethane foam on an 8-gauge sinuous spring construction, it also offers high-density foam cushioning in three layers.
Peek inside, and you'll find premium goose feathers, ensuring an unmatched comfort level where rigidity has no room.
The package also includes an armless sofa and an ottoman. You have options between preset or custom modular configurations and the Soft Feel upholstery aspect, which adds more value than meets the eye. Take note that the legs require light assembly after delivery.
Inclusivity is scattered across its design, where a walnut storage table features a push-to-open drawer.
A subtle yet striking design element that elevates functionality while preserving aesthetic cohesion.
Pros
Quality Goose Feather Cushioning
Customizable Modular Configuration
Interchangeable Side Table Insert
Choice Among 30 Color Options
Inclusion of an Armless Sofa & Ottoman
CONS
Light Assembly Required
Slightly Higher Price Point
Limited Style Variations
Urbanoutfitters Greta Recycled Leather XL Sleeper Sofa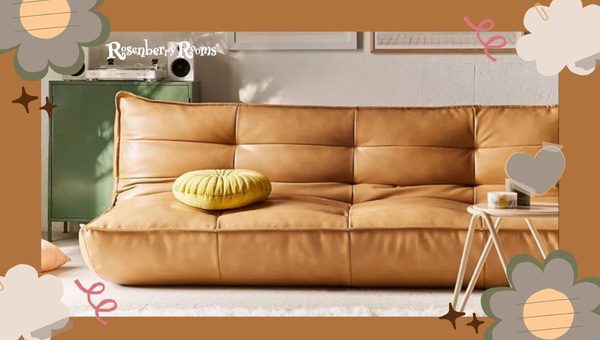 If you're on the lookout for a good blend of style and functionality, Urban Outfitters' Greta Recycled Leather XL Sleeper Sofa must be on your radar.
This sofa effortlessly transitions between couch and bed modes, providing you with value like no other.
Crafted with recycled leather upholstery, this stunning sofa is as sustainable as it is stylish, demonstrating that luxury doesn't have to come at the expense of the environment.
The pin-tucked cushions filled with recycled foam not only add an aesthetic charm but also guarantee a comfortable seating or lying experience.
At 82" long, it provides generous seating, ensuring everyone in your home has their spot.
Supported by a sturdy metal frame, the sofa stands up well under daily use. Its robust design means minimal wear and tear, so you remain worry-free regarding constant replacements and repairs.
Its legless design allows the couch to recline into a relaxing bed in seconds. It's ideal for hosting overnight guests or creating additional sleeping spaces in small apartments without compromising on style.
You can expect your order to arrive within 2-4 weeks with Urban Outfitters' efficient delivery service operating throughout the US.
To top it off, there's a flat-rate truck delivery fee, so there will be no unexpected costs levied upon arrival.
Pros
Spacious design for ample seating
Eco-friendly materials
Durable build quality
Stylish appeal
Multipurpose usage
Reasonable delivery time
CONS
Limited international availability
Require assistance for moving
Flat-rate truck delivery charge
This eco-friendly and multipurpose beauty with reliable durability could be just what your chic city apartment needs.
Allmodern Arlo Genuine Leather Sofa
The Allmodern Arlo Genuine Leather Sofa is an excellent centerpiece for any living room or office.
Its standard sofa design combines both modern and classic elements, resulting in a timeless style that will enhance any decor.
The sofa is upholstered in top grain, vintage brown genuine leather, giving it an authentic and sophisticated look.
The seat is designed with a single cushion construction that's tufted for added comfort and aesthetics.
This luxury sofa stands sturdy on solid wood legs finished in a complementary brown color that adds to its overall elegant appeal.
The frame is made of durable plywood, which, when combined with the corner-block-reinforced joining method, gives the sofa an impressive weight capacity of 750 lb.
For added luxury, the Arlo Genuine Leather Sofa comes with two toss pillows upholstered in genuine leather, filling the space with a soft, welcoming aura.
It's also equipped with a removable back cushion for easy cleaning and maintenance.
Pros
Upholstered in Top Grain Genuine Leather
High Weight Capacity
Comes with Toss Pillows
Corner-Block-Reinforced Joining
Removable Back Cushion
CONS
No Recline Function
Assembly Required
Not resistant to Fire
Bear in mind that while this luxury sofa ticks many boxes, it falls short when it comes to reclining functions. Some users may miss this feature for ultimate relaxation or nap times.
The Arlo luxury sofa measures 34'' H X 88'' W X 38'' D overall and requires a minimum door width of 24" W for delivery purposes.
Make sure you clean it only using water-based agents (Cleaning Code: WW) to maintain its classy appearance over time.
Whether for residential or non-residential use, the Allmodern Arlo Genuine Leather Sofa makes an impressive statement in any space it occupies.
A 30-day return policy for a refund or store credit is available, offering you the peace of mind to invest in this high-end sofa.
Also Read: Villa Parker Sectional Sofa Review 2023 [No Assembly Required]
The Essential Sofa
The Essential Sofa is a perfect example of minimalist design and functional elegance.
Priced at $1,445, this luxury sofa offers immense comfort and durability. It's beautifully designed with an SFI-certified wood frame that adds a dash of structural strength.
Upholstered in exquisite recycled fabrics, the sofa sports a cool modern look while contributing positively to the environment.
The Essential Sofa focuses heavily on user health, as evidenced by the non-toxic aluminum legs and the absence of toxic flame retardants or formaldehyde. It boasts CertiPUR-US certified foam to ensure your utmost safety and health.
Comfort is king with The Essential Sofa. Filled with 100% recycled fiber-fill pillows, it promises unmatched coziness for those lazy family evenings or exciting movie marathons.
The maple wood legs add to the sofa's stability while seamlessly blending with your interior décor.
This fantastic luxury sofa is also very accommodating when it comes to color options. With eight available colors, you can pick one that best enhances your interior aesthetics.
Pros
Non-toxic materials
Eco-friendly manufacturing
Comfortable and durable
Multiple color availability
Certified foam and wood
CONS
Standard shipping times
Limited style choices
High price tag
As far as shipping is concerned, delivery times are quite standard for both US and Canadian residents.
If you cherish peace of mind over exuberant styles or flashy designs, then The Essential Sofa could be just what you're looking for.
Colette Performance Velvet Sofa: A Stretch of Luxury
The Colette Performance Velvet Sofa, priced at $2,995, is not just a furniture piece; it's an experience.
Crafted exclusively for One Kings Lane, this slope-arm sofa brings a touch of elegance and utmost comfort to your space.
Forget the hassle of maintaining loose cushions; its design is smart and captivating.
Adorned with water-repellent, stain-resistant velvet upholstery, it promises longevity and freshness. You don't need to worry about spilling coffee or wine anymore.
Comfort is taken care of with the firm, high-resilience foam cushion fill. Not only does it enable the sofa to retain its shape, but it also provides unmatchable comfort.
The kiln-dried hardwood frame assures the sofa stands tall on durability testing, serving you for years to come.
Available in ten different colors, it allows you to choose a shade that fits your décor style.
Have a specific color scheme in mind? It can be customized and made to order just for you.
Care instructions are simple – spot clean, vacuum occasionally, and keep away from direct sunlight.
Pros
Stain-resistant
Custom color options
Kiln-dried hardwood frame
High-resilience foam cushion
Easy maintenance
CONS
Higher price point
No loose cushions
Avoidance of sunlight
According to research conducted by Jamacor Group International (JGI), customers prefer products that provide both luxury and value.
The Colette Performance Velvet Sofa fits this preference perfectly with its blend of timeless design, premium materials, and high-end appeal.
This particular model ranks highly in consumer satisfaction due to its long-lasting construction quality along with its personalized customization options - truly making it a worthwhile investment.
Do remember that even luxury furniture requires proper care for maximum longevity.
Follow the care instructions carefully to enjoy the luxury experience without any constraints. This sofa is recommended for those who want an elegant yet practical solution.
Choose the Colette Performance Velvet Sofa and let it become the captivating centerpiece of your space.
Dwr Outline Sofa, 2 Seater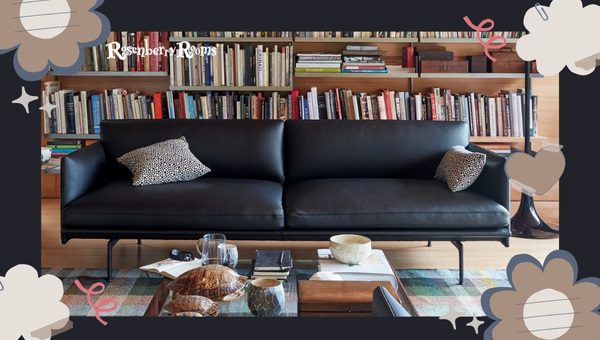 The Dwr Outline Sofa, 2 Seater is an eye-catching combination of modern architecture and sleek comfort.
Priced at $4,195, the sofa provides both leather and fabric upholstery to match the luxury preferences of its users.
The sofa features cold-cured molded foam cushions and a polished frame made with a blend of steel and solid hardwood, contributing to enduring firmness.
Its powder-coated aluminum legs ensure durability without compromising aesthetics.
Made in the Slovak Republic, this luxurious piece was renowned in the Outline Collection (2016) for its eloquent representation of modern thought and craftsmanship.
Measured at 28"H x 67" W x 33"D, it easily fits into various living spaces without making them feel cramped up.
To ensure your utmost satisfaction, Dwr offers in-home delivery services & a 3-day satisfaction guarantee.
Along with this, there's an impressive 5-year warranty attached to this product.
Pros
Modern design
Long-lasting build
In-home delivery
5-Year warranty
High-quality materials
Leather or fabric upholstery
CONS
Higher price range
Limited color options
Size might be small for some spaces
The Dwr Outline Sofa is known for blending ravishing style with lasting comfort, which makes it one of the best luxury sofas in its price range.
Read More: Article Nordby Sofa Bed Review 2023 [Weeks Later, Am I Still Loving]
Extrasoft Low Profile Modular Block Sofa
The Extrasoft Low Profile Modular Block Sofa brings a breath of fresh air to contemporary seating, delivering a seamless balance of comfort, aesthetics, and functionality.
Crafted by master designer Piero Lissoni, this stunning piece of furnishing embodies class and sophistication at its finest.
One of the key features of this luxurious sofa is its natural Merbau wood frame, devoid of any chemicals. This contributes to the rigidity and durability of the sofa without compromising on its ecological imprint.
To further enhance your comfort, the sofa comes packed with feather-wrapped mixed-density foam cushions, which offer an elevated seating experience.
Adding to its brilliance is the height-adjustable PVC feet allowing you to customize your seating experience as per your preference.
The use of metal hooks for element connection ensures long-lasting structural integrity, proving that this luxury sofa is as practical as it is beautiful.
The available upholstery options encourage personalization while ensuring optimum cohesiveness with your existing interior decor.
Pros
Feather Wrapped Cushions
Mixed Density Foam Comfort
Merbau Wood Frame
Guaranteed Durability
Non-Toxic, Fire-Resistant
Materials Ensure Safety
One Year Warranty
7-Day Hassle-Free Returns
CONS
Not fit all budgets
Limited color options
Heavyweight
The price tag attached to the Extrasoft Low Profile Modular Block Sofa stands as a testament to its supreme quality, design finesse, and uncompromising craftsmanship delivered through efficient and convenient methods straight into your living space.
When considering every element of style, comfort, and luxury rolled into one grand masterpiece.
We believe the Extrasoft Low Profile Modular Sofa deserves its place among the best luxury sofas around, offering an unrivaled blend of sophistication and value-for-money.
Crowd Pleaser Sofa With Bumper
Priced at $3,967, the Crowd Pleaser Sofa with Bumper is an undeniably fashionable and comfortable choice for your living space. Its size measures an ample 85", and the upholstery features premium Blake Natural fabric.
The cushions are a down alternative, providing a medium-soft comfort level that's perfect for long lounging sessions.
Sitting atop stained walnut legs, this sofa emanates a warm and inviting aesthetic with a slight hint of vintage charm.
The elegant yet relaxed design of the deep seat ensures maximum comfort and support for the users.
Constructed with kiln-dried hardwood and furnished with sinuous spring seats, its durability is hard to beat.
A trillium wrap adds to the exquisite workmanship of this handcrafted piece from USA-based artisans.
The overall dimensions make it a versatile choice for most room sizes without overpowering your space while offering ample seating space.
Delivery could be expected within two weeks via Threshold or White Glove options.
Customers have up to 100 days to return the product if they are not satisfied but are subject to a 10% processing fee.
Pros
Ample Seating Space
Premium Natural Fabric
Medium-Soft Comfort Level
Durable Hardwood Construction
Elegant and Relaxed Design
CONS
Pricey Shipping Cost
Return Processing Fee
Limited Colour Options
Always remember that when investing in high-end furniture like luxury sofas, every detail matters, right from fabric quality & color choice to delivery options & post-purchase service.
Potterybarn Cameron Square Arm Leather Sofa
Starting at $2,699 and going up to $3,699, depending on size and add-ons, the Potterybarn Cameron Square Arm Leather Sofa offers not only a luxurious lounging experience but also an elegant appeal.
With a size that accommodates any room of choice at 97-inch width, you can be assured of the ultimate comfort this leather upholstered suite has to offer.
The main highlight here is the dual-tone leather fabric. In Molasses or Statesville color, this sofa instantly adds depth and beauty to your living space.
It is adorned with three meticulously crafted cushions, which increase comfort exponentially.
Upon purchase, delivery details are taken care of meticulously by Potterybarn. They provide delivery straight into the room of your choice.
Once delivered, Professional workers will unpack and assemble the sofa in your preferred location within that room.
Once all is set to go, any packaging material from your newly purchased sofa will be recycled and removed from your premises.
Pros
Durable leather upholstery
Spacious seating arrangement
Exceptional color tones
Hassle-free delivery process
Easy assembly system
CONS
Limited color options
High-end price range
No additional features
This Potterybarn piece is more than just a sofa; it is an investment in luxury living.
Your queries about style or comfort end here as this elegant suite brings both in plentiful amounts directly to your living space with no extra burden for setup.
Westelm Leo Motion Reclining Sofa
Redefining the fusion of comfort and luxury is the Westelm Leo Motion Reclining Sofa with its plethora of satisfying features for $2,496 - $4,695.
An instant recline functionality that comes with a mere button press ensures an optimal relaxation experience.
Its low-slung silhouette exudes its own laid-back charm, while the promising addition of Contract Grade guarantees this couch's top-notch durability.
An integral element of this luxury sofa set is its high-quality cushion support that provides medium seat firmness, striking just the right balance between plush comfort and a firm structure.
To enhance convenience, the sofa seamlessly integrates plug-in Power Recliners alongside an adjustable headrest that steadfastly enhances the overall user experience.
Imported from Thailand, this model conciliates durability with its sturdy solid wood frame and plastic legs.
Its transferability makes it suitable for commercial use as well. Moreover, White Glove Service is available for those requiring premium delivery options, including unpacking and assembly.
An easy return policy within 30 days ensures you can invest in this piece with peace of mind.
Pros
Instant Button Recline
Solid Construction
High-Quality Cushion Support
Adjustable Headrest
Plug-in Power Recliners
CONS
Relatively Expensive
Plastic Legs
Specialized Cleaning Needed
The care instructions are comprehensive to maintain the model's luxe appearance.
It's advised to conduct regular cleaning using a dedicated fabric cleaner or seek professional help when necessary.
Explore More: Apt2B Melrose Sectional Sofa Review 2023 [My Honest Opinion]
FAQs About The Best Luxury Sofas
What are some top brands for luxury sofas?
Some leading brands include Potterybarn, West Elm, Restoration Hardware, and Roche Bobois.
On average, how much can a luxury sofa cost?
Luxury sofas typically range from $2000 to $10,000 and up, depending on the brand and design.
What features should I look for in a luxury sofa?
Features like high-quality materials, sturdiness, comfort, longevity, and optimistic reviews are key when choosing a luxury sofa.
Are there eco-friendly options among luxury sofas?
Yes. Brands such as Cisco Brothers and Lee Industries offer sustainable luxury sofas with environment-friendly practices.
What is the lifespan of a good quality luxury sofa?
A well-crafted luxury sofa can last between 7 - 15 years, depending on its use and maintenance.
Conclusion
Finding the perfect luxury sofa boils down to personal preferences and individual needs.
A sofa doesn't just offer comfort and relaxation - it's an integral part of your home's aesthetics and personality.
Our selection offers a wide range of options to match any style or need. Whether it's a modern silhouette or a classic plush recliner, you're spoilt for choice.
With design styles that cater to all tastes and high-end materials to ensure durability, these 30 luxury sofas promise to add a dash of sophistication, creating an inviting and appealing space in your home.