I've always been a bit picky regarding my living room furniture. After all, it's the heart of the home. This time, I decided to splurge on a Maiden Home Jones modular sofa, and I think it might just be one of the best decisions I've made for my home recently. Let's dive into the detailed Maiden Home Jones modular sofa review.
I was eyeing this beauty at Maiden Home for quite a while before finally deciding to take the plunge. I mean, who can resist those clean lines and modern look, not to mention the flexibility of its modular design?
To put my new purchase to the test, I decided to write about its charms and maybe a few quirks that lurk beneath its pretty surface so you can make an informed decision should you consider bringing one into your home.
Awaiting the Arrival of the Maiden Home Jones Modular Sofa
In today's digital age, shopping has certainly taken on a whole new form. Considering my purchase of the Jones modular sofa was entirely online, I wasn't sure what to expect.
Amidst all the uncertainty, one thing was clear: Maiden Home had a promising reputation for beautiful designs and excellent quality, and their attentive customer service.
The ordering process was smooth and straightforward. The website is well organized and includes numerous high-quality photos that do justice to the painstakingly crafted details in each product.
The anticipation following my purchase was almost akin to waiting for Christmas morning as a child. You know you're getting something pretty awesome; you can't see or touch it yet!
Several weeks they were passed with genuinely satisfying email updates from Maiden Home about my order's progression through their manufacturing process.
The delivery date arrived quicker than expected! That afternoon, I could hear the rumble of a large vehicle outside my house. As I peeked out the window, there it was, Maiden Home's delivery van looking sleek and professional, parked on my driveway!
The Excitement of a New Furniture Purchase
Let me tell you: there's nothing quite like that first moment when you look at a much-anticipated furniture piece ― especially something as central to your home as your living room sofa. Holding my breath in anticipation (okay, maybe not literally), I answered the door.
The two delivery men were dressed neatly, masked up (it IS the era of COVID-19, after all), and extremely cordial throughout their visit. They handled everything with care – easily unloading from their truck and shedding only minimal packaging before bringing in each piece one at a time.
And there it was: My Jones modular sofa by Maiden Home nested beautifully in its temporary cocoon-like upholstery covering. Time seemed to slow down as I took in every detail―the perfect seams lined up just so and the beautiful fabric color that seemed even more stunning against natural sunlight flooding through my living room windows.
Unboxing and First Impressions
Unboxing a grand furniture piece as the Maiden Home Jones modular sofa is indeed an experience that's far from ordinary. The initial inspection of the sofa parts sparked my excitement even more.
I could easily see why they believe their approach to furniture construction is 'a cut above.' There are clear differences here; this isn't your run-of-the-mill, mass-produced, off-the-shelf living room seating.
Each module was thoughtfully packed, minimizing any possibility of transport-related damage. As I unwrapped each section, virtually no assembly was required to combine the modular pieces.
However, I noticed some hardware included, possibly for reinforcing stability if required. The stature of the Jones Modular Sofa established an appealing presence in my living room from the get-go.
Each component felt sturdy and heavy reassuringly - suggesting it was not going anywhere anytime soon once I finally decided where to place it.
It quickly became apparent that Maiden Home hadn't cut corners with materials or construction quality. Its frame made from kiln-dried hardwood provided an undeniable assurance about its durability.
The promise of its resilience against sagging or warping calmed any hidden worries that might have been lurking until then.
`The' fabric material also met all expectations—impressive right out of the box. The texture was soft but substantial—holding promises of coziness during relaxing weekend movie marathons and suggesting endurance against spills, stains, or clawing pets. Every stitch on those clean-lined box cushions spoke of careful craftsmanship.
Judging the Sofa's Initial Appearance and Feel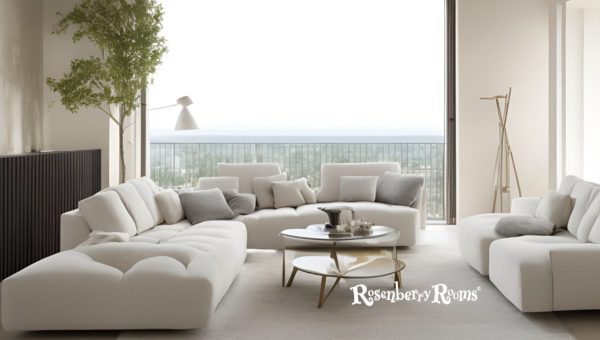 As I soaked in my first vision of the modular sofa in all its chicness, it emitted a profound modern vibe without coming off overly sterile—a tantalizing blend between contemporary and invitingly homely if you ask me!
The color transformed under different lights throughout the day—modern greige taking on deep hues at sunset while turning into a soft neutral as day rose again—weaving magic through simple light play!
Cautiously easing myself onto it for that first feel test was nothing less than exciting! The cushions provided just enough give while offering firm support underneath—a promising win-win for both comfortable lounging and maintaining good posture!
This modular sofa squarely established itself as well-thought-out modern seating solution with initial impressions hitting all high notes! But real comfort and long-term use would be unveiling shortly after - come back for more insights.
The Jones Sofa Design and Material Examination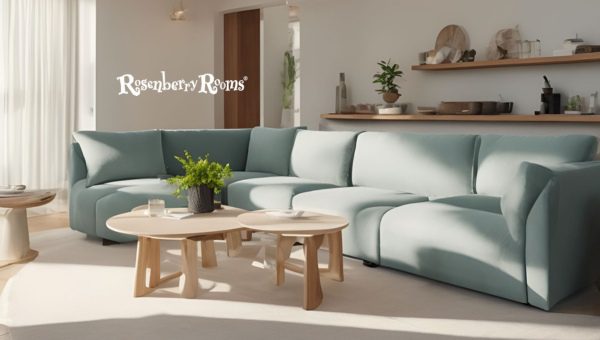 It was time for me to take a closer, detailed look into the design and material construction of the Maiden Home Jones modular sofa. Where true craftsmanship meets high-quality materials, art is born, and let me tell you—this piece of furniture was nothing short of a beautifully curative art form!
The aesthetic design of the Jones Sofa seamlessly blends modern minimalistic style with a nod to mid-century lines for a timeless appeal.
With its low-profile and neat button-tufting on the backs, it has a tailored look that's both classic and relevant—a symphony in fabric, foam, and wood that strikes a beautiful balance between style and comfort.
The modules offered me various configuration possibilities—language flexibility on how I wanted my living space to function.
The pieces include both corner modules (perfect for creating those coveted L-shaped setups) and single chair-like modules that can either stand alone or lock in seamlessly with others.
Combine this with its 'just right' dimensions — not too large yet generously accommodating —enough to house quite a gathering!
It's fascinating how Maiden Home prioritized quality by incorporating handcrafted elements into an affordable price point, setting them apart from many competitors in the market.
Each sofa module is meticulously constructed with old-world techniques such as eight-way hand-tied springs making it more durable for more extended usage.
One mustn't overlook its hypoallergenic down alternative cushioning either. The fill offers luxurious softness while retaining its shape over time—no fluffing or rotation is required! All these upscale details position Maiden Home's Jones Sofa as truly a cut above.
A Peek into Its Aesthetic Allure And Quality Components
When we delve deeper into the materials that make this modular puzzle come together magically, we find thoughtful choices dictating every decision at Maiden Home.
Starting from within—the frames are made of kiln-dried North American hardwood—an absolute non-negotiable for well-crafted sofas ensuring durability over the years!
Each armrest exhibited a pleasant firmness sure to hold up under constant use (or possible abuse!) without causing discomfort when lounged upon—a clever blend between function and indulgence!
Equally crucial was fabric quality, playing an undeniable role in comfort, appearance, longevity—and cleaning (should accidents happen!). Rest assured—Jones didn't skimp in this area either! The 'Performance Tweed' fabric quickly won me over.
Not only did it look divine but it was super soft-to-touch while offering inherent resistance against stains or spilling accidents—potentially extending its lifecycle beyond expected years.
The cushions feature reversible covers to ensure fabric endurance against constant wear further. This means you can flip them over if one side shows signs of excessive use—an absolute lifesaver that doubles your usage before requiring professional help!
From all indications during my close inspection—it appears that the Jones Modular sofa has been designed to keep discerning feature hunters like myself pleasantly engaged – with aesthetics marrying strength at every corner!
Assembling this Maiden Home Star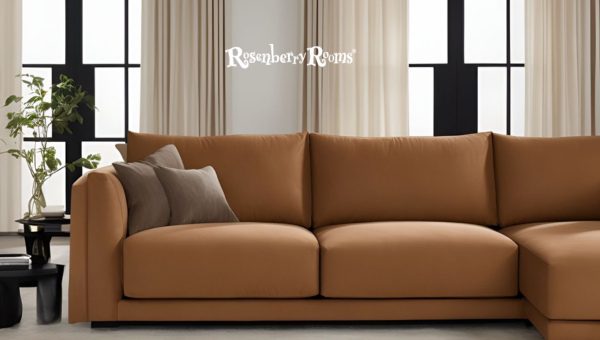 Having laid my hands on several furniture pieces over the years, I've learned that assembly is often the make-or-break moment of the entire purchase experience.
Struggling with complicated instructions, missing screws, and unwieldy parts can test one's patience! Thankfully, this was one area where Maiden Home had me pleasantly surprised.
The whole philosophy behind modular furniture is to provide flexibility and adaptability. And that includes the assembly process.
What stood out with the Jones Modular Sofa was that each piece arrived separately wrapped in a protective layer, each designed to lock into another or stand alone pretty effortlessly.
Arguably my favorite part about assembling the couch did not need many tools or additional help. No need to call in favors for muscle help.
Each section cleverly fitted with another in a jigsaw pattern, making it feel like a satisfying game rather than an exhausting chore—it was almost like I was building it Lego-style!
They even supply you with minimal hardware—attachers if you will—that ensures your sofa arrangement stays firm and well-aligned. On closer inspection, these connectors weren't just basic latches - instead they had been engineered for efficient functionality—a testament to Maiden Home's dedication towards thoughtful solutions to consumer irritations.
The genius design doesn't stop there; removing the cushions made maneuvering parts substantially easier — lightening the weight of modules even further while setting up.
Moreover, separating each component meant easy experimentation with the layout without straining your back or scratching up your floor—could rearranging any be simpler?
The cushion covers also came pre-assembled and zipped—another check into Maiden's simplified-assembly experience—saving significant time during which I could whip up some popcorn and settle down on my freshly set-up Jones instead!
Just putting things into perspective—all this precision started making increasingly more sense considering how each sofa undergoes '65 rigorous quality checks before it finally receives clearance from their North Carolina factory!
Experiencing the Ease of Installation
As I mentioned, each Jones unit is strategically designed for simple installation—or should we say 'coupling', fitting together much like interlinked elbows-with-arms—and are equally easy to disconnect whenever required!
All one needs to do is line them corner-to-corner (precise alignment aids smooth linking), latch on those sturdy metal connectors snugly, ensuring stability during use.
The process took me around 30 minutes, probably stretching onto half an hour at best—in sharp contrast against half-day project nightmares most furniture assemblies end up being!
What added cherry onto my assembling ease-cake were casters underneath more extensive sections allowing smooth sliding when rearranging design configurations—a small detail indeed—but huge stress relievers dribbled across assembly highlights.
Maiden Home Jones Sofa - The Comfort Test
After my new Maiden Home Jones Sofa was assembled, it was finally time for what I like to call the "comfort test." This is perhaps the stage where expectations and reality meet.
And I must confess, the initial plop-down onto these cozy cushions was a uniquely rewarding experience!
The first thing that struck me was how well-balanced and welcoming it felt regarding padding. The cushioning gives you a pleasant mix of firm and cozy, allowing you to sit for extended periods without slouching. Considering I work from home most days, this feature became essential to my fondness for this sofa.
What surprised me instantly was how well the back cushions conformed to my body shape—I almost felt hugged by them! It could be the fluff inside, or perhaps it is designed like that - either way, yay, Maiden! The seat cushions felt uniform yet squishy enough right out of the box—a sign that promised many comfortable lounging hours ahead!
It's worth noting that each cushion has a dry-fast foam core wrapped around with a hypoallergenic down alternative—it also boasts feather-softness that relies heavily on air for its super-light feel.
Besides offering me undeniable comfort while sitting, I noticed how quickly I could switch positions without disturbing others on the couch — score one more point towards considerate design!
Resting my arms on its armrests further affirmed their solidity masked under soft padding—an aspect already establishing itself as Jones's unique strength—uncompromised comfort paired meticulously with solid durability.
Measuring Coziness for Everyday Use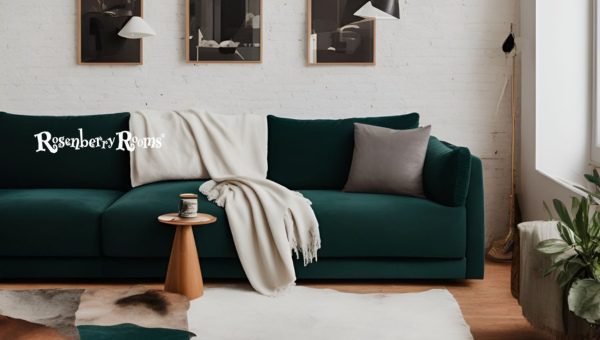 To further test out its real-world suitability, over the next week or so, I played host to…well…myself! I worked on my laptop sitting crossed-legged one day.
Next up - leaning comfortably against one arm while flipping through channels another evening and even sprawled out catching a quick nap.
During each experiment—the Jones Sofa held its own superbly each time, whether adapting to multiple positions during extended use or springing back into perfect shape soon after.
Its ideal seat depth coaxed hours-long conversations while playing host during weekend get-togethers, effortlessly proving its worth as definite conversation-starter seating!
Also, credit must be given where due—the side tables from Maiden Home proved handy additions flanking this modular wonder—they were just high enough to keep drinks within easy reach while keeping disrupting motion at bay when scouting around for them mid-movie-marathon!
The clean-lined ottoman also doubles wonderfully as a footrest during lazy weekends or playfully as 'it' during kids' tag-you're-it games. It reminds us how seamlessly comfort mars adaptability in modular setups.
Throughout this comfort-testing phase, it ensured no 'breaking-in period' messing up schedules, a rarity even among high-end sofa options today.
Thus far-Jones seems like that friendly companion who understands varying mood dynamics below surface-level familiarity and embraces you lovingly each time, assuring comforting consistency, and isn't that what actual homes symbolize?
The Maintenance and Durability Test Run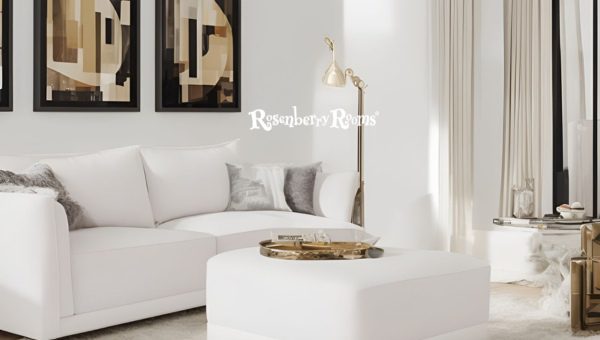 While the Maiden Home Jones Modular Sofa isn't exactly a "low cost" piece of furniture, its reasonable price point does make it an excellent investment.
That being said, any investment needs proper care and maintenance to ensure it ages well, right? I decided to conduct a maintenance and durability test run to comprehend if this lovely sofa is just as easy to maintain as it's comfortable to sit on.
I was keen to find out how the beautiful fabric holds up under strain, how easy it is to keep the Jones sofa clean and looking brand new, and, importantly, how daily wear and tear will affect its longevity.
I spent days intentionally spilling small amounts of beverages, testing pet interaction with the upholstered finish, stress-testing cushion resilience with prolonged seating periods, and scrutinizing each module's durability under various loads. Here is what I discovered.
Cleaning, Caretaking, and Longevity Assessment
For all the parents or pet owners out there — rejoice — because cleaning the Jones Sofa was a breeze! Regarding spills (think hand sanitizer or soda), they beaded up on the surface courtesy of Maiden Home's performance fabrics, enabling quick wipe away. Hidden miracles within those beautiful fibers indeed.
In terms of overall upkeep over time – gentle vacuuming maintained its neat appearance over months of use, helping keep dust mites at bay while extending the overall product lifespan. Another noteworthy feature: The cushion covers are effortlessly removable for dry cleaning when necessary.
Unintentional trials with my two resident felines delighted me — their less-than-occasional scratching left no notable damage, while casual layabout hours caused minimal fur deposits.
While durability boils down mainly to material quality and construction strength - I have noticed how Jones somehow ages elegantly without sagging or losing that oh-so-cozy bounce!
The upholstery quality has proven itself consistently against constant wear while its sturdy wooden framework strengthens belief in their 'built for lifetime' claims. So far, degradation feels minimal - but like a good wine—only time can tell how well aged it is!
Considering most family-loving sofas undergo decades-long lifespan transitions—we might still be playing wait-and-watch here. But initial impressions hint towards this maiden star being around making memories – long enough for graduating 'investment-worthy' status.
My Verdict on Maiden Home Jones Modular Sofa Review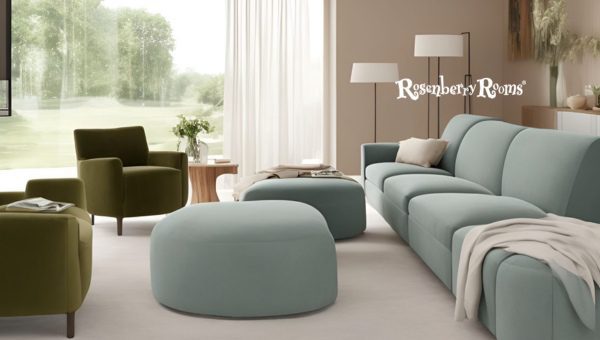 Considering everything, the show-stealing moment of the Maiden Home Jones Modular Sofa was its perfect blend of form and function. The timelessly charming appearance seamlessly fits into most living spaces, while the versatile configurations allow you to customize it.
The high-level construction quality, coupled with premium materials, assures a promising lifespan and durability, making it an ideal choice for both compact spaces and larger households.
Let's talk about comfort—a crucial factor we often compromise on with stylish furniture. Rest assured, this is where Jones emerges as a heart-stealer! Whether working from home, hosting movie nights, or just plain lounging, the Maiden Home Jones Sofa serves up a luxury comfort experience that's hard to resist.
Its hypoallergenic cushioning strikes that tricky balance between staying plush enough for comfort without losing shape-shifting back soon after use. Concerns about handling spills or pet-related issues can take a back seat with the performance fabrics used.
The assembly experience was delightfully smooth—a far cry from most flat-pack nightmare scenarios we dread! Maintenance over months hasn't demanded extensive effort, making this maiden star a low-maintenance addition to any household!
Is it Worth the Investment?
Now for the quintessential question—Does it align with your budget while justifying its value proposition? Let's break down some numbers!
The price range for Maiden Home's modular sofas spans approximately between $3100 and $5550 depending on various factors like upholstery material choices:
Merino: $3,100
Performance Melange Weave: $3,300
Performance Woven Chenille: $3,300
Performance Linen: $3,400
Performance Velvet: $3,550
Performance Chevron: $3,550
Performance Tweed: $3,550
Performance Basketweave: $3,550
Performance Bouclé: $3,600
Performance Stonewashed Linen: $3,650
Pebbled Leather: $4,600
Tuscan Leather: $5,150
Italian Bouclé: $5,550
Clearly illustrated - yes, there's quite a swing within range, but having personally lived through owning one - I feel there's undeniable value packed into each penny spent! Its elegant aesthetics combined with everyday practicality seems like an investment primed towards future-value benefits.
FAQs About Maiden Home Jones modular sofa
What is unique about the Maiden Home Jones Modular Sofa?
The Jones Modular Sofa offers a perfect blend of timeless aesthetics, luxurious comfort, and unyielding durability all wrapped in quality materials. Its modular components provide versatility to suit various living spaces.
How easy is it to clean the Maiden Home Jones sofa?
Simple spills can be quickly wiped away due to the performance fabric's stain-resistant properties. Regular vacuuming can keep it dust-free while removable cushion covers offer hassle-free dry-cleaning options.
Is the Maiden Home Jones sofa pet-friendly?
Indeed! The upholstery quality has proven its resilience against minor pet clawing and hair accumulation. Also, the sofa's sturdy build assures it remains robust against playful pets.
Can the configuration of the Jones Modular Sofa be rearranged easily?
Absolutely! Thanks to its brilliant design, reconfiguring your sofa layout can be done without straining-- a bonus for revamping your living space vibe or accommodating additional guests.
Does Maiden Home's Jones Modular Sofa offer genuine value for money?
Without a doubt! Considering its superior design, premium materials, highly comfortable seating experience, and impressive durability potential—the investment promises many cozy lounging hours justifying every penny spent.
Conclusion
In wrapping up my Maiden Home Jones Modular Sofa review, it's safe to say that it has met and exceeded my expectations on all fronts.
Whether it be the gorgeous aesthetics, comfort levels, assembly process, or long-lasting durability, this modular marvel ticks all boxes convincingly.
Factor in the flexibility of configurations and options for future rearrangement—Jones emerges as a modern seating solution par excellence.
Despite its wide price range, every dollar spent appears well justified promising returns in long-term value. Maiden Home has crafted a winning star in the modular seating sphere!