When looking for reliable, stylish, and affordable furniture, many people turn to Ashley Furniture. This well-known company has a long history of crafting high-quality pieces for every room in the house.
In this Ashley Furniture review, you're going to find a detailed analysis of their products, customer service, pricing, and more.
Before making any hefty investment, it's prudent to tap into the experiences of past customers through reviews.
So, we've collected various reviews for Ashley Furniture from all corners and will distill them down into this handy guide for you.
Whether you're on the brink of a major home revamp or merely considering a small refresh, our objective is to equip you with the necessary insight into the world of Ashley Furniture so that your next purchase is well-informed and satisfying.
What is Ashley Furniture?
Ashley Furniture Industries, Inc., more commonly referred to as Ashley Furniture, is a well-established brand in the home furnishings market.
The company was founded by Ronald G. Wanek in 1945 and has its headquarters nestled in Arcadia, WI. Over the years, they have persevered through generations to now stand as one of the leading furniture manufacturers worldwide.
Currently, as per the data of 2022, the company boasts a commendable revenue of USD 10.3 billion.
With six state-of-the-art manufacturing facilities across America in Wisconsin, Mississippi, Pennsylvania, North Carolina, and Florida, Ashley Furniture takes pride in offering American-made products with an unwavering commitment to quality.
Ashley's vast lineup includes comfortable and stylish furniture suitable for living rooms, bedrooms, dining rooms, and kids' rooms, making it a one-stop shop for all your home furnishing needs.
To garner a position of leadership that spans over seven decades is no mean feat; it's an exemplary testament to their ability to deliver consumer satisfaction and adapt to the evolving lifestyle trends.
Don't be taken aback if you find a vast crowdsourcing community singing praises about Ashley's style-forward furniture that balances quality with affordability.
What are the Furniture Options with Ashley?
Ashley Furniture flaunts a diverse variety of furniture for every room in your house. One impressive feature of shopping with Ashley online is their Room Builder tool.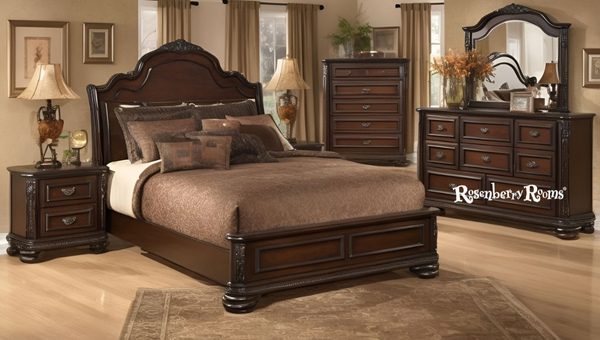 This allows customers to virtually position and size furniture, giving a real sense of how it will look and fit in their space before purchasing.
Living Room
Every piece of furniture in your living room should be perfect as it's the centerpiece of your home, a place where friends and family gather.
Ashley offers a range of high-quality sofas, loveseats, coffee tables, accent chairs, TV stands, and more.
If you're looking for sectionals to sprawl out on during movie nights or chic accent chairs that add a splash of color, Ashley has got it all.
The variety extends from modern designs to traditional pieces, giving you an array of style options to choose from.
Their assortment spans various materials like leather, fabric, wood, and metal, each promising durability along with aesthetic appeal.
Bedroom
The bedroom is your sanctuary, that one place where comfort meets serenity. For this space, Ashley Furniture extends options for beds, dressers, nightstands, armoires, and benches, which are both functional and stylish.
From king-sized beds that provide luxe comfort to children's bunk beds that make bedtime fun, you're sure to find something suitable for every member of your household at Ashley's.
They offer an array of simplistic designs as well as intricate patterns with touches like upholstered headboards or storage drawers built into the bed frame.
Whether you're keen on dark wood finishes or prefer light colors with a contemporary touch- there is an option catering to everyone's taste.
Mattresses
At Ashley Furniture, there's nothing overlooked - not even your sound sleep. In their collection, you'll find an array of comfortable mattresses that complement your sleeping style.
From pillow-top to memory foam, firm to plush, Ashley has a variety of types to cater to your comfort quotient. They also offer adjustable base beds for the luxury of customized sleeping positions.
With brands like Tempur-Pedic, Sealy, and their own Ashley Sleep range in the mix, you are sure to find something that matches your preference and budget.
Also Read: 8 Most Comfortable Mattresses [Sweet Dreams Guaranteed]
Kitchen and Dining Room
Whether you're a home cook who enjoys elaborate meal preps or someone who uses the kitchen occasionally, Ashley Furniture accommodates all.
Their selection for kitchen and dining room includes functional yet stylish dining sets, barstools, servers & buffets, and more. They also provide counter-height tables for those preferring an informal dining setting.
From rustic farmhouse tables to modern glass tops with metal frames, every piece is designed keeping in mind various tastes and requirements.
Baby & Kids
Ashley Furniture truly offers something for every family member, including the youngest ones. Check out their inviting array of baby & kids' furniture, guaranteed to make bedtime stories more enchanting. The collection offers everything from cribs and toddler beds to bunk beds and lofts.
To accompany these, they also have kids' dressers, nightstands, and storage units designed keeping in mind safety requirements alongside fun aesthetics.
Each piece is crafted with care so it's not just loved by kids but trusted by parents, too.
Read More: 19 Best Places To Buy Kids Furniture Online In 2023 [Trustworthy Stores]
Home Office
Ashley Furniture features a wide collection tailored for efficient home offices. You'll find versatile desks with ample storage room suitable for computer setups or conventional writing tasks.
Whether your taste leans towards a wooden rustic charm or modern minimalistic metal design, they've got it covered.
To ensure undistracted work hours, they also offer ergonomic office chairs that are both comfortable and stylish.
You can also explore functional bookshelves, filing cabinets, and lampstands to complete the setting for your perfect work-from-home spot.
Home Decor
Ashley Furniture ensures your home isn't just well-furnished but is also aesthetically pleasing. Their vast selection of home décor items offers you the chance to add a personal touch to every corner of your home.
Be it stylish vases, exquisite wall art, elegant mirrors, comfortable throw pillows, or charming tabletop décor, there's something for every style.
Whether you're into rustic charm or sleek modern designs, Ashley's home decor section allows you to create a space that speaks volumes about your style.
Rugs
A beautifully designed rug can tie a room together, and Ashley Furniture has an extensive range of rugs to choose from.
Their collection spans various styles, from traditional Oriental designs to bold, contemporary patterns. Whether you want a runner rug for your hallway or a large area rug for your living room, Ashley covers it all.
Many of their rugs come with stain-resistant technology and are crafted from durable materials to ensure they stand up well to daily wear and tear.
Explore More: 30 Best Places To Buy Rugs Online In 2023 [Affordable & Premium]
Lighting
Good lighting can make or break the ambiance in any room of your house. Ashley Furniture's impressive range of lighting fixtures brings functionality coupled with a style that will illuminate and add elegance to your home.
Whether you're looking for floor lamps that create soft mood lighting or chandeliers that drip drama from the ceiling, look no further.
The line-up also includes sleek table lamps and unique pendant lights, which can make striking focal points in any room.
With numerous styles, finishes, and sizes options available at Ashley's, you're sure to find just the right light fixture that meets both your lighting needs and design aspirations.
Entryway Benches
An entryway bench can be a standout feature and the first impression of your home's interior. Ashley Furniture offers an assortment of benches that are functional while adding a decorative touch to your entrance area.
Their collection ranges from simple wooden benches for minimalist spaces to upholstered ones with storage options for homes that require extra space.
You'll find varying styles and designs to fit both narrow and spacious entryways.
Investing in an Ashley entryway bench means you're investing in robust furniture that not only serves practical purposes but also gives your entrance space a uniquely inviting ambiance.
Duvets
A duvet can redefine comfort and luxury in your bedroom, and Ashley's selection of duvets won't disappoint you.
The duvet collection at Ashley Furniture comes in a plethora of colors, patterns, and fabrics, allowing you to coordinate it perfectly with the rest of your bedroom decor.
They offer everything - from solid colors for minimalistic lovers to floral prints for those who prefer a touch of nature in their sleep space.
All their duvets are designed thoughtfully, keeping aspects like comfort, durability, and easy maintenance at the forefront.
By choosing an Ashley duvet, you're practically ensuring yourself a warm, comfortable, and stylish wrap for a peaceful night's sleep.
Also Read: Parachute Organic Cotton Duvet Cover Set Review 2023 [Latest]
Pillow Shams
Ashley Furniture takes pillow shams to another level by offering them in numerous designs and patterns that exude style without compromising on the snug quotient.
Whether you're fond of traditional damasks or prefer modern geometrics, there's something to cater to everyone's preference.
These pillow shams come with various features such as envelope closures and tie-backs which make these not just delightful soft touches but highly practical accessories too. What sets these shams apart is their high-quality fabric, ensuring longevity while conferring comfort.
To sum up, when purchasing pillow shams from Ashley Furniture, it's not just about buying a product; it's about introducing a piece of functional art into your bedroom.
Ashley pillow shams are not just embellishing pieces but provide significant enhancement to your comfort and overall sleep quality.
Ashley Furniture Warranties
When you're investing in furniture for your home, the warranty details are a vital factor to consider.
It's heartening to see that Ashley Furniture values your trust and provides extensive warranty coverage for its products. They strive to ensure the longevity of each piece with their customer-care-centric approach.
You'll find the detailed warranty information in the table below (to be inserted). Before making a purchase, it's advisable to go through these specifics carefully to secure a smooth post-purchase experience.
| Product or Part | Limited Warranty Duration | Labor Coverage |
| --- | --- | --- |
| Frames Used In Upholstered and Leather Products | Limited Lifetime Warranty | 1 Year |
| Springs and Webbed Seating System | 5-Year Limited Warranty | 1 Year |
| Recliner Mechanisms | 3-Year Limited Warranty | 1 Year |
| Sleeper Mechanisms | 1-Year Limited Warranty | 1 Year |
| Sleeper Mattress | 3 Year Limited Warranty - Pro-rated | 1 Year |
| Cushioning | 1-Year Limited Warranty | 1 Year |
| Top of Bed | 30 Days | 30 Days |
| Finishes and all Other Furniture Products | 1 Year Limited Warranty | 1 Year |
Exchanges and Refunds policy of Ashley
One area that cannot be overlooked while evaluating Ashley Furniture's offerings is its exchange and returns policy.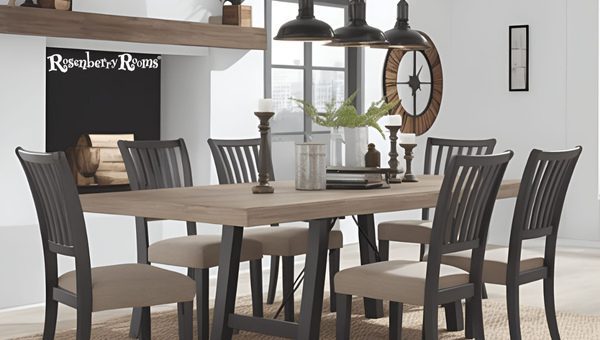 After all, purchasing furniture involves a considerable amount of investment; it is paramount to ensure there are transparent return policies in place in case things don't turn out as expected.
Online Purchases
In the digital era, shopping online has become commonplace. Convenience is critical, and when ordering from Ashley's website, they have you covered with clear and informative policies regarding returns.
Any items that arrive damaged or defective must be reported within 72 hours.
Subject to verification and approval, Ashley Furniture will arrange for a refund (excluding original shipping cost), repair, or replacement if the issue is reported within 30 days.
For manufacturing defects noticed after the first 30 days from the delivery date, it's recommended to consult your furniture's warranty for coverage information.
Return shipping fees apply unless the return is a result of Ashley Furniture's error.
You can always get in touch with their customer care at 866-436-3393 if you run into any issues or queries.
Please note not all purchases are returnable, so scan through product-specific return policies provided during checkout.
Choosing online shopping delivers a level of convenience unmatched by any in-store experience. Do remember to carefully check your package upon arrival and report issues immediately to ensure these comprehensive return policies protect you.
Explore More: When Do Costco Mattresses Go On Sale In 2023? [Up to 60% Off]
Home Delivery Return
Are you considering investing in Ashley Furniture and getting it shipped right to your doorstep?
Well, their Home Delivery Return policy is quite straightforward and might come as a boon for those having second thoughts about their purchase or facing any unforeseen issues post-delivery.
Right after the delivery of your order, ensure you not only bask in the joy of new furniture but also take time to inspect it thoroughly.
The reason is if you notice any damage or issue with the quality, Ashley enables you to report it within 72 hours.
This report needs to be ideally placed through a customer service representative over the phone.
Once you place a complaint, Ashley Furniture offers three alternatives: repair, replace, or return. You can choose to have the item repaired or replaced depending on its condition, or if you're dissatisfied altogether with your purchase, returning the product is also an option.
In cases where manufacturing defects arise after 30 days from the date of delivery, one must consult and follow Ashley's warranty.
In-Store Purchase Return
Is it buying straight from Ashley's brick-and-mortar store? Here's what their In-Store Purchase Return policy looks like. It might seem a bit different than online because, ultimately, each store holds reign over its return rules.
Being privy to your nearest store's return policy can save a lot of headaches in case you regret rushing into that impulse buy later.
Store policies entirely depend upon that particular store's management, so that they may vary. It could range from offering exchanges alone or even full refunds at times.
Even though each Ashley Furniture store has its unique return policy in line with specific business instincts and demographics understanding, all customers are provided complete assistance regarding their grievances and support queries through direct contact with the respective stores.
Mattresses and Foundations Return
Any mattress or foundation from Ashley Furniture can truly transform your sleeping experience. Still, sometimes you might find yourself with a defective item or one that's not quite a match made in heaven.
With Ashley's return policy for mattresses and foundations, you're not left stranded in an uncomfortable sleeping situation.
If your mattress or foundation is damaged or defective upon arrival, don't hesitate to contact their attentive customer service within 72 hours.
Should you notice any defects after the initial 72 hours have passed, don't lose hope just yet. You need to dig out the warranty information that came with your purchase. Your next step should be guided by what's stipulated in the warranty, whether it's a replacement, repair, or specific coverage.
Also Read: Costco Mattress Return Policy 2023 [Online And In-Store]
Return Requirements
Ashley Furniture has outlined certain requirements to make their returns process as smooth as possible.
These rules are designed to ensure fairness and prevent misuse of their liberal return policy while preserving good relationships with valuable customers like yourself.
Any items you intend to return should be in new and unused condition. But if you're thinking about repacking that king-size mattress back into its tiny box, pause.
Make sure all accessories and parts are present. Nothing should be missing from when you received your shipment.
If the original packaging was disposed of during In-Home delivery, don't sweat it; Ashley takes this into account.
Be aware that clearance items are final sale - in other words, they can't be returned.
Remember that return shipping fees may apply depending on the specifics of your situation.
Each Ashley Furniture purchase comes loaded not only with the potential for transforming a space but also with the peace of mind of knowing that they stand behind their products.
So whether it's for an update, repair, exchange goal at heart, or total satisfaction on your end, the hope is always to provide furniture that fits seamlessly into your home and life, but if it doesn't, at least you know you're not stuck with it.
Exchanges and Refunds Policy
Following a purchase, if you've noticed any damage or defect in your recently acquired product or changed your mind.
Ashley Furniture has a clearly delineated exchange and refund policy to keep you worry-free. They aim to ensure maximum satisfaction with each item they sell.
They recognize that occasionally, things may not go as planned; thus, their return process is designed to be as hassle-free as possible.
Inspection upon Receipt - Upon delivery of your order, it's crucial to inspect the items carefully. This allows you to report any damages or discrepancies promptly.
Exchanges, Credits, and Refunds - If your goods are damaged during transportation or found defective within 30 days of receipt, Ashley Furniture offers exchanges or refunds. If a refund is decided upon, it will be processed back to the original mode of payment used at the time of purchase. Alternatively, store credits may be issued, allowing you to try another item from their vast collection.
Taxes Refunded - Per state law in the U.S., taxes paid on the original purchase will also be refunded when an item is returned.
Non-refundable Charges - Please note that all shipping and handling charges are nonrefundable. Return shipping or pickup fees may apply based on your location and the product's size.
Refund Timeline - You can expect a turnaround time of about 7-10 working days for your refund after Ashley Furniture successfully receives and inspects your returned product.
It's always beneficial to visit their official website or call their customer service for personalized assistance related to exchanges and returns.
Being informed about such details can help in availing seamless after-sales service.
While every company strives for perfect deliveries every single time, occasional slip-ups are unavoidable. What truly sets a business apart is how it handles such situations. With Ashley Furniture, you're in capable hands.
Ashley Orders & Delivery Process
Furnishing your home should be both exciting and stress-free. To ensure a safe and swift journey of your chosen piece from their warehouse to your doorstep.
Ashley Furniture has streamlined its order and delivery process. From ordering your favorite items to delivery methods and potential unforeseen circumstances, we've got you covered with every detail.
The Delivery Process begins once you place an order. The method of delivery highly depends on the size of the item you purchase. Smaller items are typically delivered via courier or mail service.
To keep you in the loop, Ashley Furniture sends a Notification upon Shipping. This enables you to manage your schedule accordingly to accommodate the arrival of your new home addition.
Some larger items may require light assembly after being delivered to your home. However, if assembly seems daunting, they provide professional assembly services for an extra fee during the checkout process.
For those who have urgent furnishing needs or cannot wait to see how that new couch fits perfectly into their living room, Ashley delivers. With their expedited 1-day and 2-day shipping options, your wait time drastically reduces.
One key thing you need to keep in mind when considering these fast shipping options though–Business days exclude weekends–which means orders placed late on Fridays will generally not be processed until the following Monday.
While Ashley continually strives to deliver a seamless shopping experience, there can sometimes be delays due to inventory shortages, capacity issues at delivery hubs, or other unforeseen circumstances that might affect precise delivery dates.
Your excitement about furnishing your house is understandable! With its efficient ordering and delivery operations.
Ashley Furniture works hard so that all this fantastic furniture finds its place in your rooms just as quickly as it found a spot in your heart.
Is Ashley Furniture Good Quality?
Ashley Furniture is renowned for its good quality products that span a myriad of categories. Local buyers and experts alike appreciate this for the well-crafted items that are built to last, offering real value for money on your investment.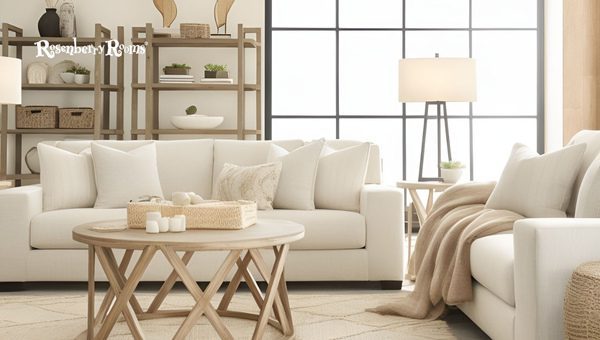 What's more, in the world of retail, price can often be a deciding factor. If you're wondering, "Does Ashley furniture price match?" the answer is yes.
In fact, Ashley Furniture's helpful customer service team will match any advertised selling price of the same product from another store provided it meets certain terms and conditions.
So, not only does Ashley provide high-quality furnishing options, but they do so while keeping an eye on affordability and competitive pricing.
You can take comfort in knowing that your purchase won't lead to any post-shopping regrets.
With such dedication to quality and pricing assurance, it comes as no surprise why many customers continue to turn to Ashley Furniture for their home decor needs.
They appear to have achieved an equilibrium between cost and affordability, offering the quality you want at a price that suits your budget.
Where is Ashley Furniture Made?
When you buy furniture from Ashley, you're purchasing a piece of American craftsmanship. Wisconsin, which serves as the company's headquarters, is home to several of its manufacturing plants.
Other states where manufacturing takes place include Mississippi, Pennsylvania, North Carolina, and Florida.
Ashley Furniture has shown a dedicated commitment to domestic production, which sets them apart in an industry where many companies outsource manufacturing overseas.
Quality checks and standards are maintained at a superior level within US borders, ensuring each product meets the brand's guarantee.
As a testament to their dedication towards sustainable practices and commitment to U.S. jobs, all the wood used in their products is sourced from responsible forestry management.
Your purchase not only contributes to job growth in America but also supports industries that follow eco-friendly practices.
When buying Ashley Furniture, you're not just getting a piece of furniture but also contributing towards the growth of the American economy and its sustainable practices.
Pros & Cons of Ashley Furniture
Pros
Stylish, current furniture trends
Reasonable prices, budget-friendly
Wide furniture selection
Price matching available
Large variety of choices
Affordable options
Room Builder tool for customization
CONS
Durability issues
Poor customer service experiences
Short return period
Extra cost for assembly
Explore More: 10 Best Medium Firm Mattresses [Balance Comfort And Support]
FAQs About Ashley Furniture Review
What are customers' thoughts on Ashley Furniture's quality?
The majority of the customers commend Ashley Furniture for its stylish designs and fairly good build quality, especially considering its competitive pricing.
How does Ashley Furniture handle product deliveries?
Ashley Furniture ships smaller items via mail or courier, notifying customers upon dispatch. Larger items require a home delivery setup.
Where is Ashley Furniture manufactured?
Most of Ashley Furniture's products are made in six major facilities spread across Wisconsin, Mississippi, Pennsylvania, North Carolina, and Florida.
Is there a price match guarantee at Ashley Furniture?
Yes, Ashley Furniture offers a price match guarantee on their products ensuring you get the best deal available.
How responsive is the customer service at Ashley Furniture?
The response to customer service varies greatly among users; while some appreciate the promptness and resolution provided, others have mentioned their issues took a while to be addressed.
Conclusion
Ashley Furniture stands as a reputable choice for anyone seeking stylish, well-made, and cost-effective furniture.
Their expansive variety caters to a range of tastes and budgets, while their Room Builder tool makes it easier for you to envision how different pieces will come together in your space.
Bear in mind the aspect of durability and customer service experiences, which could be touch-and-go according to past users.
As with any major purchase, it's recommended to do thorough research before committing to a choice.