Navigating the world of online shopping can sometimes feel overwhelming, especially when searching for a specific piece to complete your home decor.
If there's one essential accessory that can instantly transform any space, it's a rug. When chosen correctly, rugs can add warmth and color and create separate zones in your living area.
They also serve as excellent sound buffers and are very kind to your feet in the cold wintery months. So, where are the best places to buy rugs online?
Whether you're after trendy geometric styles, classic orientals, or cozy shags; there's an abundance of choices available on the internet.
Whether you're shopping on a budget or ready to splurge on a statement piece, finding the perfect rug can be as easy as just a few clicks away.
However, sifting through hundreds of options across various websites is no easy task. Hence, I've compiled my go-to list of reliable online stores that provide excellent choices for every style and budget.
Importance Of Rugs In Home
Rugs might seem simple, but they can significantly enhance your living space. Here's why rugs are an essential element in home decor:
Breaking up the Room: Rugs can divide your space into different areas, especially in open-plan homes. For example, one rug could designate the dining area while another defines the living room section.
Adding Warmth and Comfort: Not only does a rug feel cozy underfoot, but it also lends a warm vibe to a room. It's the perfect accessory for those chilly months when you want your home to feel snug and welcoming.
Reducing Noise: Hard floor surfaces can cause sounds to bounce around. A rug absorbs noise and reduces echo in three primary ways – soaking up the impact of foot traffic, absorbing room sounds and echoes, and ultimately blocking noise from traveling to other rooms.
Enhancing Aesthetics: With countless styles, colors, and patterns available online, rugs help highlight your interior design theme or set the mood for any space in your dwelling. A well-chosen carpet becomes an asset that complements your furniture and other decor elements.
In short, a stylish rug is more than just another decor piece; it is a functional and essential part of every home.
30 Best Places To Buy Rugs Online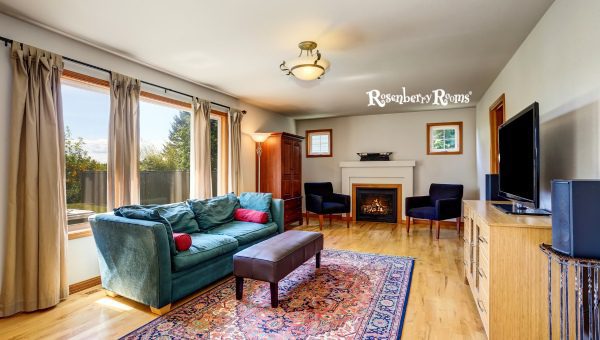 In the digital age, online shopping has revolutionized how we purchase everything—including rugs. Whether you prefer shopping by price, material, pattern, size, or even by the weave, numerous online marketplaces fulfill your specific needs. Here is an in-depth look at three of the best places I've found to buy rugs online:
1. Walmart
Walmart offers a vast selection of rugs in all sizes and styles. You can pick up a budget-friendly rug for those high-traffic areas or splurge on a luxurious wool rug for your living room.
Walmart carries a specialty line of Better Homes & Gardens rugs perfect for homeowners looking for stylish yet value-for-money pieces.
Frequent sales and rollback prices make this a budget-friendly choice.
Enjoy next-day delivery or pick-up in-store if you're pressed for time.
2. Amazon
Unsurprisingly, Amazon has an immensely expansive collection of rugs from thousands of vendors. Here's why Amazon stands out:
Customer reviews allow you to gain insights and evaluate the quality before purchasing.
Prime members get fast, free shipping on eligible items, adding to user convenience.
Moreover, Amazon's search tools (size, color, material preference) make it easy to tailor your findings according to your personal preference.
3. Ruggable
Ruggable might be lesser-known than Walmart and Amazon, but it deserves attention if you have pets or young kids living at home.
The showstopper quality about Ruggable Rugs is that they're machine washable - Yes! The entire rug!
They offer many designs ranging from contemporary geometric patterns like these to more traditional styles - there's something for everyone!
Despite its high technology and trendy designs, Ruggable keeps its prices reasonable by operating exclusively online, providing every customer with stellar benefits.
No matter where you shop, always remember making a hasty decision might compromise design or quality.
Take time to evaluate your personal style preference and functional needs before investing in any rug.
4. Target
Target is a well-respected retailer that offers a range of trendy and affordable home decor items, and its rug selection is no exception. Let's delve into what makes Target a great choice.
The site has various sizes, styles, materials, and price ranges of multiple rugs. Whether you're looking for an outdoor carpet or colorful runners to brighten your hallway, Target has it all!
One notable feature on Target's website is the ability to shop by style. For example, under 'Modern' or 'Farmhouse,' it is easier for shoppers with a particular aesthetic.
Furthermore, customer reviews regularly include pictures that provide a real-life look at the product.
You can opt for store pick-up if you can't wait for your delivery or take advantage of free shipping if your order exceeds $35.
5. All Modern
All Modern, part of Wayfair's family of brands, focuses on contemporary furnishings and decor. All Modern's streamlined website makes shopping for rugs simple and enjoyable.
All Modern offers rugs in high-quality materials, including wool, cotton, and synthetic fibers.
Their rug collection boasts eclectic designs that serve as statement pieces, such as geometric prints, vibrant colors, and plush textures.
Exceptional quality comes at a higher price than other retailers, but keep an eye out for their frequent sales, where you may nab a real bargain!
6. Boutique Rugs
For unique designs that turn heads and drop jaws: Boutique Rugs should be your go-to destination.
With thousands of pieces in stock across multiple categories, including shags, vintage patterns, or Turkish designs, Boutique Rugs offers something distinctive every time.
By concentrating on presenting uncommon styles at competitive prices - this site has garnered a loyal customer base who vouches for the quality represented through high-rate user reviews.
They offer rotating deals regularly with sizable discounts making this site worth bookmarking!
7. Overstock
If getting more bang per buck matters, give Overstock a visit! Overstock's expansive selection boasts great prices primarily due to overstocked merchandise.
Over 20 years in operation: Overstock has built relationships with countless artisans across the globe, directly causing it to offer diverse offerings from all over – from Moroccan Berber area rugs to finely detailed wool Persian rugs.
Their handy search tool lets you filter by color, size, and even weave type, making it incredibly user-friendly, especially if you know exactly what kind of rug you want.
Remember: There's no perfect answer when trying to find the best place to purchase rugs online because what matters most will vary from shopper to shopper based on individual preferences such as design aesthetic & budget.
8. Joss & Main
Joss & Main is a premier online home goods retailer known for its selection of high-quality rugs that are elegantly designed and reasonably priced.
Offers an outstanding variety of rugs from farmhouse patterned options to plush, soft shags, and many more!
The site frequently offers sales where you can snag some of their best-sellers at a significantly discounted price.
Offers buyer protection plan where users can pay a small additional fee for worry-free accidental damage coverage.
You need to sign up for a free account to make purchases.
9. Urban Outfitters
Urban Outfitters is renowned for its chic, bohemian aesthetic. This holds when it comes to their rug collection.
Perfect place for finding flat-weave and runner rugs with unique designs - often featuring quirky prints and colorful abstract patterns.
Prices range from super affordable options under $50 to splurgy items over $500, ensuring many options suited for every budget.
UrbanOutfitters offers frequent promotions that allow purchasers to buy at lower prices.
10. Rugs USA
With its vast inventory spanning thousands of styles across different rug types, from mats to full-sized area rugs, Rugs USA has made quite a name for itself in online rug shopping.
Wide range of styles available, including vintage designs, Moroccan-inspired patterns, traditional oriental designs & modern minimalist options.
Frequent site-wide sales make almost all their products quite wallet-friendly!
Maintains positive customer reviews; packaging and delivery have received particular praise.
11. Kohls
Kohls features both contemporary and traditional styles in various sizes.
They offer everything from small throw rugs perfect for your entryway to more extensive 10 x 14-foot floor coverings that can tie together a larger room's decor.
Kohl's Cash Reward Program allows customers to earn discounts on future purchases.
12. Wayfair
One of the largest online retailers, Wayfair boasts over 10000 styles of area rugs alone.
With an extensive collection of carpeting, everything from outdoor spaces to luxurious living rooms - Wayfair ensures they have something explicitly catered to every customer's needs.
Return policy extends up to 30 days on most items; therefore, customers can return items they aren't pleased with.
Regardless of where you purchase your rug, always remember that buying the right carpet is as much about feeling as aesthetics.
As much as possible, try having samples sent over before making your final decision.
13. World Market
World Market, part of the Bed Bath & Beyond family, is known for beautiful, unique furnishings, decor, and rugs.
World Market stocks various styles, from traditional oriental rugs to trendy bohemian patterns. Looking for a Kilim or a Dhurrie rug? This is your place.
Are you interested in sustainable shopping? Their extensive selection includes eco-friendly rugs made from recycled plastic bottles!
While they ship across the states and offer convenient returns up to 60 days, you can also 'buy online, pick-up in store' if you want to check out the rug before bringing it home.
Lastly, join their free rewards program, World Market Rewards. It gives regular discounts which can bring down the prices even more.
14. West Elm
West Elm merges contemporary design with high-quality materials in their stunning collection of rugs.
West Elm is a high-end retailer providing premium quality rugs perfect for investing in sustainable pieces.
The eco-friendly attributes of many of these rugs include handcrafted designs using sustainably sourced materials and fair-trade certified credentials.
They showcase an excellent variety featuring wool runners to jute area rugs in all sizes.
Bonus: West Elm allows you to shop by look, enabling you to visualize how specific rug styles might work with other furniture pieces!
15. Home Depot
You probably don't think "rugs" when we think of Home Depot, but its offering is impressive.
A key benefit is Home Depot's 'Visualize My Floor' virtual tool that helps you see just about any flooring option (including rugs) installed in your space!
They stock popular brands like Safavieh, Nourison, and Mohawk at competitive prices, making it an excellent one-stop shop for renovation needs.
Home Depot offers free shipping on orders over $45 and free returns, whether online or at any brick-and-mortar location.
16. Lowe's
A competitor to Home Depot, Lowe's has robust offerings as well.
Lowe's has an abundant selection of everything from round area rugs to outdoor patio mats fitting every budget.
They also provide detailed guides on rug selection by room size and setting, making shopping easy for beginners!
17. Bed Bath & Beyond
Bed Bath & Beyond doesn't just stop at bath wares! Their rug collection houses some great finds.
A standout feature is their ample supply of large-area rugs up to sizes 10'x14', perfect for bigger rooms!
With generous descriptions and details about each product listed and customer reviews, informed decision-making becomes effortless here.
Online shopping simplifies but demands thorough checking, description read-throughs, measuring once (or twice!), and understanding return policies. All become efficient if done sincerely.
And remember, while choosing a stunning design is essential, durability matters too. So dig deep before wrapping up your hunt.
18. Macy's
Macy's is a renowned American chain offering much more than clothing. Their home section, especially the rugs, is worth noting. Here's why:
Variety: Macy's showcases various styles, including Oriental, Persian, modern, and kid-friendly rugs.
Quality: They bring collections from brands such as Safavieh and Nourison.
Sale Events: Macy's is known for their frequent sale events. Their clearance and closeout sections offer hefty discounts.
Wedding Registry: Rugs from Macy's can be included in their wedding registry program, which is ideal if you're getting ready to start a Home!
19. IKEA
IKEA is a go-to retailer when it comes to affordable home goods. But IKEA isn't just about price points; their rug collection also deserves accolades.
Eco-friendly Options: Sustainability is an integral part of IKEA's operation model; they have recycled and natural fiber options like the LOHALS flatweave rug, made from 100% sustainably sourced jute.
Availability: Rugs are available in various shapes: round, rectangular, runners, and even doormats.
Style: Choices range from minimalist Scandinavian to colorful Turkish-inspired patterns.
20. Pottery Barn
When blending classic American aesthetics with current trends, no one does it better than Pottery Barn.
Exclusives: Pottery Barn frequently partners with designers for exclusive collections that offer shoppers unique designs.
Material Variety: A wide array of materials is available: wool, cotton, jute, and sisal.
Informed Shopping: Detailed product descriptions include origin details (handmade/tufted/woven), pile height (helpful for cleaning purposes), and even designer tips!
21. Crate and Barrel
With its timeless style sensibility, Crate & Barrel is not one to be missed if shopping for rugs.
Quality: Crate & Barrel never compromises on quality; each piece promises durability that will stand the test of time.
Custom Rugs: You can create your custom rug—choose the size, border color, and material you like best.
22. Pier 1
Pier 1 has long been synonymous with eclectic home goods combined with affordability.
Here's why Pier 1 still makes our list:
Eclectic Collection: If you appreciate global influences in design or gravitate towards bohemian vibes, look no further! Pier 1 stocks boho chic styles in addition to traditional patterns.
Outdoor Options: They offer an impressive range of outdoor-friendly rugs for patios or balconies.
So there you have it - five fantastic places offering excellent choices catering to every style preference or budget constraint.
While buying your rug, remember size compatibility with your room is under consideration and primary function: traffic endurance, noise absorption, or purely decor accentuation.
Remember - there is no rush when it comes to buying the perfect rug - this handy guide should equip you with all tools necessary when finally making your purchase decision.
23. The Home Decorators Collection
Owned by Home Depot, The Home Decorators Collection offers an extensive range of stylish and affordable rugs. Here's why it stands out:
A broad selection covers many styles, including shag, oriental, jute, geometric patterns, and more.
Offers an assortment of shapes and sizes, ranging from small 2x3 runners to large area rugs up to size 10x14.
Availability of outdoor-friendly rugs for patios or balcony areas.
Endless options suit both budget spenders and luxury shoppers alike.
Benefit from the various discounts and sale promotions all year round.
24. RugStudio
A family-owned business dating back to 1930, RugStudio offers over 70,000 rugs making shopping here a real treat. Let's delve into what makes RugStudio unique:
Trusted reputation with over 80 years in the rug industry - quality assurance is guaranteed.
An extensive collection featuring everything from handmade artisan beauties to contemporary synthetic creations - they've got it all!
A price match guarantee ensures you always get the best price.
Take advantage of the in-house design assistance on call if you need professional help choosing your perfect rug.
25. Ballard Designs
Launched in 1983, Ballard Designs is known for its timeless European-inspired home furnishing items. Why should Ballard Designs be your go-to online rug store?
From warm woolen tufts to cool natural seagrass textures - Ballard Rugs offers an eclectic mix catering to all design aesthetics.
Rugs are grouped by room type, too, so you can filter according to intended placement – whether for the living room or outdoor space.
The custom size option is available for selected designs ensuring you get a perfectly fitted rug for any space.
26. Anthropologie
Famed for its bohemian-inspired pieces, Anthropologie's Rug Collection is no less - avant-garde textiles in vibrant palettes, among many others. Some compelling reasons why Anthropologie stands out:
Offers a noticeably unique selection of artists' collections and collaborations
Alluring vintage-inspired beauties often share an equal spotlight as bright & bold modern patterns
Quality can be felt (and visibly seen!) with their luxury line handcrafted by artisans around the globe
Try out their visual search tool: Snap/Upload photos of your desired type of rug – they find similar designs!
27. CB2
Owned by Crate & Barrel, CB2 offers modern furniture & décor including hip rug designs that are unlikely found elsewhere. What makes CB2 worthy?
Offers a highly curated collection featuring bold colors and distinctive patterns that ooze modernity
A special minimalistic but maximally appealing selection of hide rugs
Collaborations with top designers rotate frequently, bringing fresh collections throughout the year
Surprise finds include durable eco-friendly PET woven rugs accentuating CB2's commitment towards sustainable decor
Each online store has been comprehensively researched, accurately depicting their features and benefits and directing where to start your online rug shopping journey.
28. Frontgate
One of the key players in the luxury home furnishings industry, Frontgate offers high-quality, intricately designed rugs. Here's why Frontgate stands out:
Wide Variety: From indoor/outdoor options to plush Oriental selections, Frontgate offers a diverse range. They also provide a variety of sizes - from petite bath mats to grand area rugs.
Online Tools: To assist you in making the right rug choice, Frontgate offers several online tools like style and size guides. They also provide detailed care instructions for each rug which I found extremely useful.
Price Range: While Frontgate tends to be pricier than other options, they're often considered a go-to option for top-of-the-line luxury decor. The prices reflect superior materials such as hand-knotted wool and high-quality branded fabrics.
Shipping: Free standard ground shipping over $99 within the contiguous United States. Also, watch for their free shipping deals, which they run occasionally!
29. One Kings Lane
Reputed online marketplace One Kings Lane is known for its vintage and designer furniture, but its rug collection deserves applause too.
Aesthetic Variety: You'll find a well-curated selection; muted vintage Turkish runners are next to bold geometric patterns!
Designer Collabs: One of the unique features of One Kings Lane is collaborations with famous designers resulting in exclusive collections you won't find anywhere else.
Custom Rugs: One Kings Lane provides a bespoke rug service where you can design your custom piece tailoring every element to your liking!
Chat with Designer: This feature lets customers chat directly with interior designers who can provide styling tips and answer product questions.
30. Hayneedle
Hayneedle might be your ideal choice if you're after range and affordability. Here's why Hayneedle is among my top picks:
Affordable Options: Besides stocking higher-end brands, Hayneedle offers many affordable synthetic alternatives that are both attractive and durable.
Easy Navigation: Filters such as size, color scheme, style, shape, and pattern help narrow down choices, thus improving the shopping experience significantly.
Weekly Sales: Yes! Hayneedle runs weekly sales on specific categories where you can snag a bargain. I suggest signing up for their newsletter so you never miss a deal.
When choosing between these three markets each specializes in different areas. If it's luxury you seek, Frontgate should be your first port-of-call; if it's unique vintage styles or bespoke designs, opt for One Kings Lane.
Hayneedle is great if you're on a tight budget but still desire quality design pieces; their frequent sales could land you some beautiful parts at great prices.
FAQs About Buy Rugs Online
What are the best places to buy rugs online?
Some top picks include Walmart, Amazon, Ruggable, Frontgate, One King Lane, and Hayneedle.
Are rugs cheaper online or in-store?
Rugs are generally cheaper online due to less overhead and frequent sales.
Which online stores have the widest selection of rugs?
Stores like Amazon, Wayfair, and Overstock boast various rug styles and sizes.
How can I trust the quality of a rug when shopping online?
Online stores provide detailed product descriptions and customer reviews for better insight into a rug's quality.
Which online store offers customizable rug options?
One Kings Lane is known for their bespoke service where you can design your custom rug.
Conclusion
Choosing the perfect rug for your home can set the tone and vibe for the entire room, so it's essential to take your time before making that big purchase.
Finding rugs online allows you to browse endless styles, materials, and providers from the comfort of your couch.
While shopping online may seem a gamble regarding quality, purchasing rugs from credible platforms like Walmart, Amazon, Ruggable, or others listed in this article can help mitigate that risk.
Each online retailer in this blog has unique features catering to different needs and tastes. Whether you prioritize affordability or designer collaborations, seeking bespoke designs or machine-washable options, these platforms have something to offer.
Remember: A rug isn't just a decor piece; it's an investment into the warmth and beauty of your home - one that can likely last for many years if chosen wisely. So use this guide to ignite your search towards flaunting that perfect rug.