Like most people looking to spruce up their living room without breaking the bank, I decided to delve into the world of affordable, yet stylish furniture. What caught my eye was the much-hyped Burrow Nomad Sofa.
Now, being naturally curious and a bit sceptical of anything receiving too much praise, I decided to see what all the fuss was about and give it a thorough review.
Trust me when I say this; picking out the perfect sofa is not easy! It's almost like searching for your soulmate.
The sofa is, after all, the place where we spend countless hours streaming our favorite shows, indulging in gossip with friends or quite simply curling up with a good book on a lazy Sunday afternoon.
Considering such important life moments take place around it, I believe my Burrow Nomad Sofa review will be well worth your while if you are on a similar hunt.
Unveiling the Burrow Nomad Sofa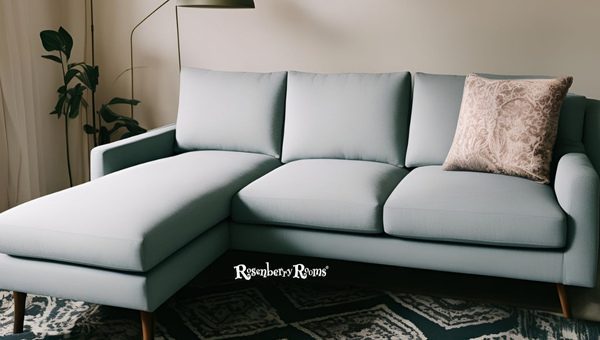 Right from the get-go, I realized that purchasing the Burrow Nomad sofa was indeed stepping into a world of elegance and sophistication.
From its minimalist packaging to its neatly folded cushions, my first look at the sofa was enough to tell me that this was going to be a unique experience.
First Impressions upon Unboxing
There's something uniquely gratifying about unwrapping a new piece of furniture. It's like Christmas morning, except better because you're allowed to rip open the packaging without any reprimands from Mom.
My first impression upon unboxing was that of sheer admiration for how compact it all was. Despite being packaged with meticulous precision, everything seemed excitingly accessible.
The color scheme I chose was just as depicted on their website - a warm, inviting navy blue that felt like it had jumped straight out of a luxe lifestyle magazine.
Another thing that struck me as I delved into unboxing my new perch was its modular nature. Each piece, cushion, support frame and armrest were individually wrapped and neatly labeled for ease of understanding during assembly. This brings me back to my initial point - even unboxing this beauty screams 'effortlessly chic'.
I must admit, the anticipation made me feel lightheaded with excitement by now! The sleek lines and discreet stitching assured me that here stood an object designed not just for functionality but also high aesthetics.
And this brought me an intriguing realization - The Burrow Nomad Sofa is no ordinary couch but a well-thought-out piece of art waiting to unfold.
What reassured me about my new investment though were small details like the delivery box being made out of 100% recyclable cardboard and nearly 95% post-customer recycled materials in the couch itself. Albeit subtle, such green credentials left a lasting impact on my mind.
After unboxing came assembly, and when I say this- everything up until this point had been heaven… but assembling any new furniture is where we find if 'perfection' has any flaws or not! We'll dive more into that in our next section.
Diving into the Design and Aesthetics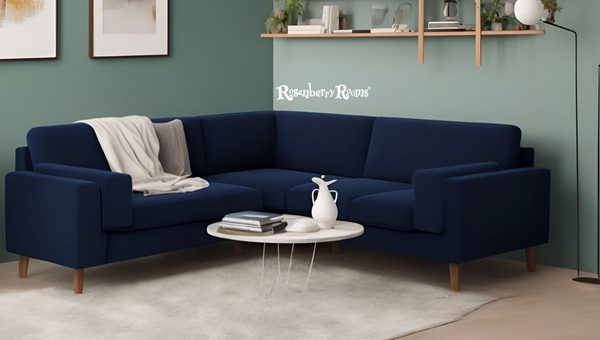 The Burrow Nomad Sofa design truly encapsulates a blend of modernity and classicism. This elegant piece stands on sturdy, walnut-colored wooden legs that lend it an air of sophistication.
Intricate detailing on the armrests serves to punctuate its minimalist design, thereby striking a perfect style balance.
The Luxurious Feel and Look of the Nomad Sofa
From first sight, there's no denying the luxe vibe radiating off the Nomad Sofa. This particular version that I opted for was upholstered with high-performance fabric in navy blue (options include leather as well), which married well with my other furniture pieces.
Step up closer, and you'll notice an impeccable diamond tufting on the backrest - a classic feature that adds an element of plushness to this modern sofa. The cushions are firm yet comfortable - they give that satisfying poof when you sit but don't deform over time.
Material:

The fabric itself is impressively stain-resistant and highly durable, which means it's also very pet-friendly for those of us with four-legged friends lounging about.

Cushions:

The cushions are filled with a mix of responsibly sourced down feathers (80%) and fiber filling (20%).

Legs:

The legs are constructed from sturdy hardwood adding to its sleek design.
| Feature | Description |
| --- | --- |
| Material | Stain-resistant fabric or leather |
| Cushions | Mixed fill - down feathers (80%) & fibre filling (20%) |
| Legs | Sturdy Hardwood |
You can always explore more color options available at Burrow depending upon your room aesthetics.
A noteworthy point here is the fact that this sofa isn't just about good looks, but also about smart functionally designed features which we'll discuss later in detail.
In summary, the Burrow Nomad Sofa strikes an impressive line between luxury and practicality, making it a worthy addition to any living room space.
Assessing its Comfort and Durability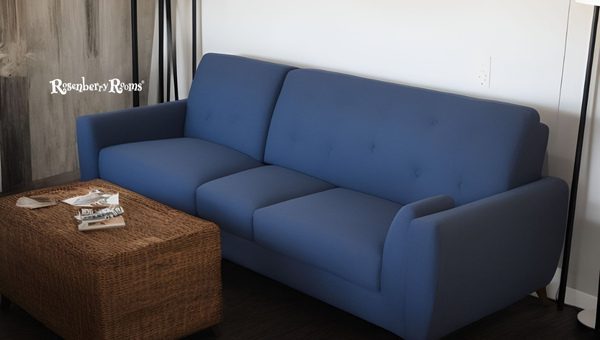 Investing in furniture isn't just about how easy on the eyes it is, but also about how comfortably it fits into your lifestyle.
In order to be 100% satisfied with my choice, I put my Burrow Nomad Sofa through the wringer — everything from pleasantly lazy afternoons to friendly gatherings.
Can the Nomad Sofa Stand Up to Everyday Use?
It's commonplace for sofas to lose their shape over time. However, after weeks of recurrent use, I noticed that the Nomad sofa's cushioning remained as pristine as on day one.
The seat cushions are not just comfortable but extremely durable, mainly because they are filled with a mix of soft yet resistant material.
The triple-layered foam with fibre makes the seat sturdy and maintains its form but doesn't compromise on comfort.
What was impressive is that even after routine usage, I could see no visible dents or sinking in the foam. Instead, it sprung back into its original shape as soon as I got up.
Here's a quick look at some of the Nomad's key comfort and durability factors:
Seat Depth: A critical factor when considering comfort is the seat depth. With an approximate 22-inch depth, I found the seating area to be quite generous.
Back Support: The backrest provides ample support due to its firmness, ensuring a comfortable sit each time you snuggle down.
Upholstery: The heavy-duty fabric doesn't pick up stains easily and can withstand spills and small accidents without showing any wear or tear.
Frame Durability: Its framework is made from Baltic Birch – lending exceptional stability and a robust feel to this charming couch.
| Aspect | Ratings |
| --- | --- |
| Seat Depth | 5/5 |
| Back Support | 5/5 |
| Upholstery | 4/5 |
| Frame Durability | 4/5 |
After having spent significant time using this sofa in everyday activities like curling up with a book, doing some work on my laptop or hosting friends - one thing became clear; The Nomad Sofa definitely stands up to everyday use!
From the sturdy frame structure down to its tidy upholstery, each aspect speaks volumes of its exquisite craftsmanship focused on durability and longevity.
Although only time will tell how well it holds up in years to come based upon my experience so far; I can confidently say that this piece exudes an overall high-quality endurance factor which can tackle practically anything thrown at it!
Moreover, if you're someone who likes changing things around once in a while like me then you're going to love the modular aspect of this couch (more on that later).
At this point in my Burrow Nomad Sofa journey, all signs pointed towards satisfaction! But hold your horses; we aren't quite done yet.
This discovery tour had more delightful surprises lined up ahead… But first - let's talk about those extra features that got me thrilled.
A Closer Look at Its Practical Features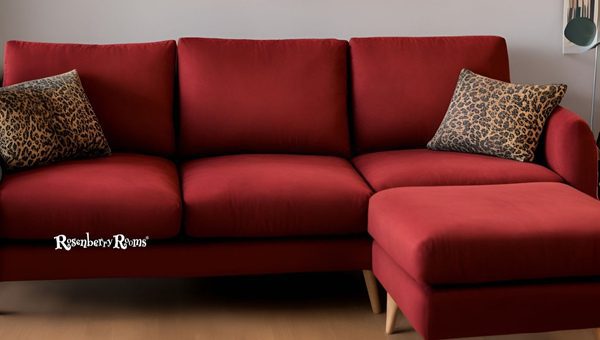 A sofa is more than mere seating. It's a lifestyle choice incorporating comfort, design, and functionality. The Burrow Nomad Sofa does not disappoint in bringing together these elements with practical features that enhance user experience.
So without further ado, let's explore what truly sets this piece of fine furniture apart.
What Makes the Nomad Sofa Stand Out from Other Sofas?
Modular Design: One of the most versatile features of the Nomad Sofa is its modular design. This gives you the ability to add more sections to your sofa as needed or change its layout with ease - as per your lifestyle needs or space considerations. This adaptability certainly makes it stand out from other traditional sofas.
Built-In USB Port: Moving on to convenience - the built-in USB port in this couch was like a cherry on top! No longer did I need to worry about being near outlets while chilling on my comfy seat. This clever feature ensures that your devices are always within arm's reach and are never low on battery!
Stain-Resistant Fabric: Any couch preys to accidents - spills from coffee mugs or juice spills by playful kids (or adults!). The Burrow Nomad sofa comes with magic fabric that resists stains splendidly! Bonus - the fabric is also scratch-resistant, great news for pet owners!
Fabric Swatches: Unsure about which fabric would fit best for your living space? Fear no more! Burrow offers free swatches you can order before making a decision.
Variety in Choices: Another noteworthy aspect is that Burrow offers multiple options for sizes, armrests, leg finishes, and fabric types resulting in a truly personalized sofa experience.
| Features | Ease of Use |
| --- | --- |
| Modular Design | ★★★★★ |
| Built-in USB Port | ★★★★☆ |
| Stain-resistant Fabric | ★★★★☆ |
With every little detail thoughtfully planned out to improve user convenience and increase functionality, my Burrow Nomad Sofa shines bright amongst other generic sofas I've ever encountered.
I must admit all these added gizmos made me feel like I'd stepped straight into some high-tech lifestyle app - but all within reach of cosy cushions & warm throws!
Also of extreme importance was the fact that such purposeful add-ons didn't impose upon aesthetics at any cost (that was quite a winner!).
Efficiency beautifully married elegance in this delightful setup, creating an unexpected yet pleasant alchemy sure to allure anyone searching for 'intelligent' comfort.
Moving ahead on this nomadic journey towards smart comfort innovation… next up came – Assembly (the game player!). Another meaningful hurdle was yet to be jumped – it wasn't as scary as usually deemed.
Evaluating the Assembly Process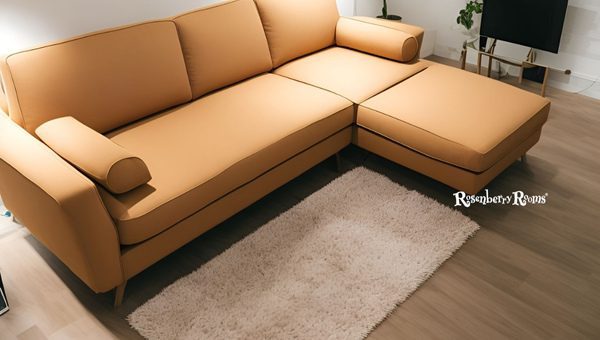 Now, here's where things start to get exciting! Setting up the Burrow Nomad Sofa promised to be an effortless task - at least according to what I had read. I must confess; I was a bit apprehensive about assembling a whole sofa alone, but the Nomad made simplicity its main selling point.
The click-clack-hook system ensured smooth sailing, or should I say 'building', with no tools needed. Let me walk you through my assembly journey:
The Ease of Setting Up and Moving the Nomad Sofa
The Nomad Sofa essentially comes in four boxes - one with the seating base, one with the arms, one for the backrest, and finally a box containing the legs and hardware.
The idea is straightforward: everything slides into place or snaps together. Here's a straightforward step-by-step guide to getting this splendid couch up and ready:
Unbox Everything: First off, I had to unbox everything - that took about 10 minutes (mainly because I was trying not to rip anything!). Every piece was well-packaged and labeled.
Attach the Legs: Next up - I had to screw on the legs. This was pretty simple as there were pre-drilled holes in place on both ends of the seating base.
Slide in the Arms: Then came fitting in the arms. Thanks to their unique design, they slide easily into slots on either end of the seating frame.
Attach Backrest Now it was time to latch on each section of the backrest which fits easily onto sections protruding from the seat frame. Lastly, slot in cushions into desired places.
And voila! In roughly 20 minutes (give or take a couple), my brand new Burrow Nomad Sofa was assembled successfully!
Every activity – from unpackaging its parts, reading through their clear-cut instructions punched with illustrations, down to attaching every element – appeared effortlessly easy because it WAS effortlessly easy.
Plus, for those times when I would fancy a different living room orientation or simply need more space for an indoor workout session - de-assembling parts also scored high marks! It turns out; moving this sofa around takes as little an effort as assembling it.
So far on my Burrow Nomad sofa review, assembly turned out surprisingly smooth - quashing all my initial nerves about setting up this chic sofa by myself at home!
Monetary Considerations of Owning a Burrow Nomad Sofa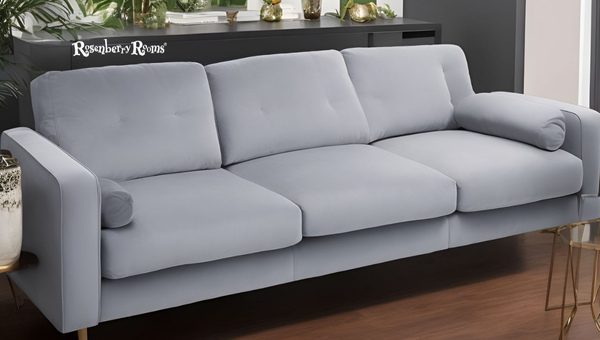 As with any piece of furniture, the price tag on the Burrow Nomad Sofa needs careful, holistic consideration.
After all, investing in a good sofa isn't just about checking off a décor needs list; it's also about making sure you're spending your hard-earned money wisely.
Is It Worth Your Investment?
The Nomad sofa is priced bracketed reasonably at around $1,395 to $1,695 (depending upon what size and fabric you choose) according to the current pricing listed on Burrow's official website.
Here are some key monetary aspects worth considering:
Quality vs Price:
The quality of the Nomad sofa is indeed at par with other high-market brands known for their quality and craftsmanship. While it might cost slightly more than conventional big-box store sofas - this couch offers mid-to-high range quality with its robust frame, durable upholstery and comfortable seating.
Unique Features:
It goes beyond being just an aesthetic piece of furniture by offering user-friendly features like modularity for easy moving or change, hidden USB ports for charging your devices, along with sturdy construction and maintenance-free fabric.
Shipping & Returns:
Plus point here is that Burrow provides free shipping within the U.S., which can save extra bucks! They also offer a 30-day return policy if you're dissatisfied (hopefully not!) after assembly.
Life Span & Maintenance
Based on its manufacturing details and user reviews over time, one can predict that it would have a significantly longer lifespan compared to other lesser-priced sofas out there - hence offering fair value for money.
Paying slightly higher initially yet reaping comfort benefits over an extended course of time can indeed make this investment worthwhile!
In my eyes, the cost of this particular sofa was undeniably justified by what it offered not only in terms of aesthetics but also overall convenience & durability. So, 'Is the Burrow Nomad Sofa worth your investment?' In my candid opinion - Yes!
My Final Thoughts on This Burrow Nomad Sofa Review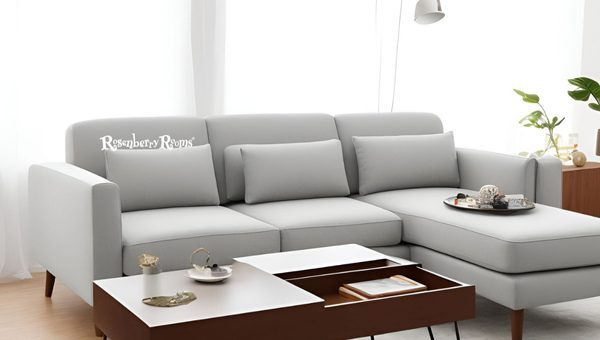 After a thorough and exhaustive examination of every attribute, feature, and factor, my journey as a proud owner of the Burrow Nomad Sofa has been rewarding.
It's been an adventure, one filled with plenty of lounging hours enjoying the comfort this couch delivers.
The sofa stood up remarkably well through all kinds of activities from day one. From binge-watching my favorite shows to reading through long pages of a good book, or even turning into an office space during work hours - everything felt super comfy.
One pertinent aspect of this entire process was how transparent the brand Burrow is about their products - everything from its making to its doorstep delivery.
In an era where sustainability is more than just a buzzword, knowing that my sofa has not negatively impacted the environment is indeed a comforting thought.
Let's acknowledge that no investment comes without its set of considerations. The initial pangs of doubt and questions like - Is it worth it? 'Will it be durable?' or 'Will it be comfortable enough?' are pretty common.
But after weeks of testing this product inside out, I feel confident enough to recommend the Burrow Nomad Sofa with promises for longevity and supreme comfort.
Here are key points that stood out for me in this entire review:
Quality craftsmanship: From fabric stitching to overall structure design, everything reflected high quality; promising durability and longevity.
Easy Assembly: A tool-less assembly process without any taxing physical effort was indeed a delightful experience.
Comfort: The perfect blend of firmness and plush makes it great for lounging comfortably for hours together.
To wrap up this Burrow Nomad Sofa review, if you're looking out for a piece that infuses luxury with practicality – then do give this cozy perch serious consideration.
Don't forget - best things take time! But in case you're not too keen on waiting for your sofa to arrive; don't fret! Burrow takes care of timely delivery too.
FAQs About Burrow Nomad Sofa
How comfortable is the Burrow Nomad Sofa?
The Burrow Nomad Sofa radiates comfort right from its plush cushions to its supportive backrest. Its balanced blend of firm and soft makes it perfect for long lounging hours.
Is the Burrow Nomad Sofa durable?
Yes, it is! The robust frame structure, high-quality upholstery, and firm cushions all contribute to a durable design capable of withstanding everyday use.
How easy is it to assemble the Burrow Nomad Sofa?
One of the highlights of this sofa is its tool-less assembly process. The clear instructions and smart design make setting up this furniture piece a hassle-free experience.
What material is used in making the Burrow Nomad Sofa?
The sofa's structure uses Baltic birch hardwood, while its comfortable cushioning pairs down feathers with fiber filling for durability and comfort.
How sustainable is the production of the Burrow Nomad Sofa?
The Burrow brand takes sustainability seriously; their packaging uses 100% recyclable cardboard, and they use nearly 95% post-customer recycled materials in each couch.
Conclusion
Choosing a sofa is all about considering comfort, durability, aesthetics, and of course, price point. In this regard, the Burrow Nomad Sofa impressively checks off all of these boxes.
Its design appeals to both modern and traditional taste profiles. It's tremendously comfortable for hours of lounging, reassuringly durable for everyday use and has a simple assembly process that's a cakewalk for even those not much into DIYs.
Plus, It doesn't hurt that it hits the balance between luxury and affordability. If you're considering rejuvenating your living room with a new perch, give this one some serious thought. To wrap it up - the Burrow Nomad Sofa might just be what your home needs!