Have you ever found yourself staring at your bed, wondering how to elevate its aesthetics while also hiding those under-bed storage items from sight?
The answer could be as simple as finding the best dust ruffles. Practical and decorative, dust ruffles are a must-have for any chic bedroom.
Their ruffled skirt adds that touch of elegance, yet their design serves a purpose by concealing unwanted visual clutter. Your bed is not just a place for sleep, but it's also an important piece of your decor.
Choosing the ideal dust ruffle requires consideration of both fashion and function. Don't worry, though; finding this perfect balance doesn't have to be a strenuous task.
Keep reading to discover top choices that tick all the boxes for the best dust ruffles on the market today.
We'll guide you through key features to keep in mind before making a purchase and provide some high-quality recommendations to transform your bedroom into an inviting haven.
Why Are Bed Dust Ruffles Important?
Whether you're a seasoned interior decorator or a novice looking to spruce up your bedroom, dust ruffles are an invaluable addition to your decor.
Not only do they add charm and elevate the aesthetics of your room, but they also camouflage under-bed storage, providing a cleaner look.
Above all, dust ruffles serve an important function - they prevent dust from accumulating under your bed.
This little detail keeps the mattress more hygienic and gives you a healthier sleeping environment. In essence, a dust ruffle is both functional and fashionable- something we all want for our homes.
What are the benefits of Dust Ruffles?
The world of bedding is vast, with many elements contributing to a good night's sleep and an inviting bedroom aesthetic.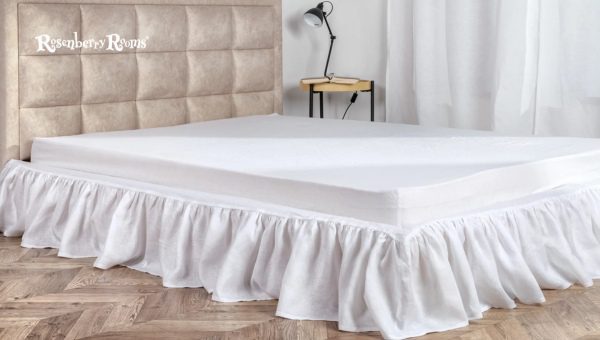 The dust ruffle, while often overlooked, packs a punch in both functionality and design. Let's delve into why dust ruffles are not just an unnecessary frill but prove advantageous in several ways:
Aesthetic Appeal: Dust ruffles add a touch of elegance and refinement to your bed. Whether your style leans towards classic, contemporary, or minimalist, there's a dust ruffle to suit every taste.
Conceals Storage: If you use the space under your bed as storage, a dust ruffle is perfect for hiding those unattractive under-bed bins from view.
Dust Protection: As the name suggests, dust ruffles can help keep the dust at bay. Many of us don't realize how much dust accumulates beneath our beds.
Adds Elegance: Nothing brings charm to an ordinary bed like a beautifully tailored dust ruffle. It's an effortless way to lend sophistication to your bedroom decor.
Reduces Wear: Over time, the area around our beds experiences plenty of foot traffic, resulting in wear and tear. A resilient dust ruffle can protect your bed from these impacts.
Insulation: Besides adding style and covering up storage space, did you know that dust ruffles also provide insulation? Yes! They form an additional layer that helps retain warmth within your bed during cold months and maintain coolness during warm periods.
Easy To Change: Unlike other components like duvet covers or fitted sheets that require some effort and finesse to change, replacing or washing a Dust Ruffle is quite simple.
Protects Bedding: A clean bedroom not only looks great but also promotes sleep hygiene by keeping allergens like dust mites away from the bedding. This indirectly contributes toward better health.
Cohesive Design: No matter what your color scheme or bedroom theme, chances are there's a dust ruffle that complements it beautifully. This results in a cohesive and designed finish.
Increases Lifespan: By safeguarding your bedding from dust, dirt, and wear and tear, dust ruffles end up prolonging the lifespan of your mattress and box spring. This advantage makes them a wise investment in the long run.
So, next time you're looking to improve the aesthetics of your bedroom or keep it cleaner, consider adding an appropriate dust ruffle to your shopping list.
It's not just about styling; it's about reaping multiple benefits. The right dust ruffle elevates your bed from ordinary to extraordinary while providing several functional benefits.
10 Best Dust Ruffles
A dust ruffle can make all the difference in your bedroom, transforming it from an ordinary space into a stylish, clutter-free haven.
Picking the perfect one from a myriad of choices can be overwhelming, though.
To simplify this task for you, we're here with a comprehensive list of the top 10 dust ruffles available in the market.
Also Read: Bed Skirts For Adjustable Bed [Buying Guide & Top 5 Picks]
Biscaynebay Wrap Around Adjustable Elastic Dust Bed
Reinventing convenience and elegance, this dust ruffle by Biscayne Bay allows you to dress up your bed without lifting your heavy mattress - wrap it around your bed.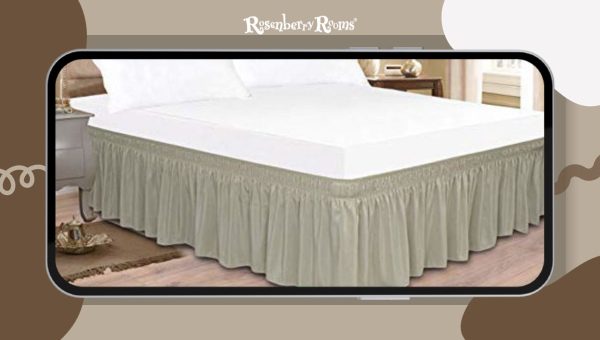 The easy-on, easy-off design makes changing a breeze, saving both energy and precious time.
Numerous Color Options: With 25 exquisite colors available, you'll definitely find one that matches your decor perfectly.
Fabric: A unique blend of polyester adds its charm with an incredibly soft touch and beautiful drapes. A standout feature is its intricate ruffles designed using special equipment to provide even, attractive cascades.
Versatility: This particular dust ruffle is versatile enough to conceal any frames, platforms, or storage items under various types of beds (except those with footboards or posts).
Sizing: Offering sizable accommodation for king beds (80" L x 78" W) and Cal King beds (84" L x 72" W), boasting a drop length of 22". Customizable tension brought about by special adjustable elastic belts sets it apart.
Practicality: Hassle-free maintenance includes machine washing and quick drying tumble dry low setting. Its significant fade-resistant attribute, coupled with resistance to wrinkles, enhances its durability.
With this cost-effective range of $15 to $19, you'll be making an investment that won't disappoint.
Pros
Convenient easy-on, easy-off design
Versatility across bed types
Wide range of color options
Soft, durable, and attractive fabric
Matches King and Cal King beds
Features adjustable elastic belts for customization
Hassle-free maintenance
CONS
Not suitable for beds with footboards or posts
Require occasional adjustment
Could seem too long for some beds
Color may vary slightly from picture
Considering all these incredible features and benefits, the adaptability of Biscaynebay's dust ruffle makes it a favored choice in numerous households.
Utopia Bedding's Immaculate Soft Quadruple Pleated Ruffle
Are you planning on amping up your bedroom with a dose of elegance? Utopia Bedding's Soft Quadruple Pleated Ruffle might be the answer.
Supreme Comfort - Designed with 100% brushed microfiber polyester, this bed skirt is cozy and breathable. Its plush texture directly contributes to giving your room a luxe appeal.
Universal Fit - This dust ruffle comes in different sizes, accommodating Twin, Full, Queen, King, and Cal King beds. Its generous length ensures a neat finish that complements various types of beds (except those with metal frames or posts).
Attractive Design - The key attraction lies in its detailed quadruple pleating on the front corners and sides, which presents an elegant visual treat.
Durability - Courtesy of high tensile strength, it can withstand wear and tear over time without easily ripping. It also boasts fade resistance, holding its charm for long.
Color Choices - With ten stunning shades available, you can select one that matches your bedroom decor seamlessly.
The care instructions for this product aren't precise; machine washing on a low-temperature cycle followed by tumble drying works perfectly fine. Ironing at low temperatures helps keep it crisp-looking.
An easy-to-clean feature only adds to its advantages. The closely knit microfiber fabric resists stains and water effectively. If attended immediately, any stains vanish without leaving any traces behind.
Pros
Comfort with brushed microfiber
Fit for various bed sizes
Attractive design with detailed quadruple pleating
High tensile strength increases durability
Fade-resistant fabric retains charm
A wide array of color choices
Easy to clean and stain-resistant
CONS
Care instructions are imprecise
Ironing necessary for crisp appearance
Not compatible with metal frames or posts
For only $9 to $15, this queen bed skirt is indeed worth considering for a space-enhancing makeover.
CGK Unlimited Wrap Around Dust Ruffle
Imagine transforming your bedroom aesthetics with a single stylish addition, the CGK Unlimited Wrap Around Dust Ruffle.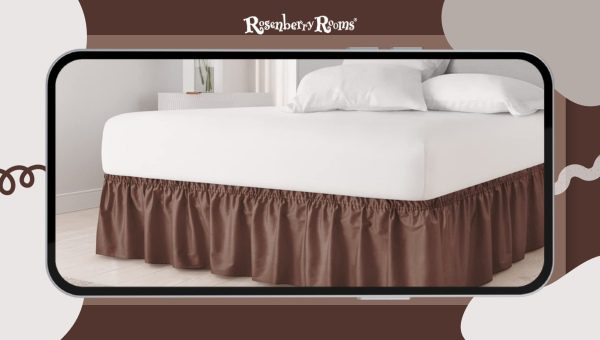 This beautifully designed bed skirt not only adds an element of elegance to your decor but also tactfully hides unsightly box springs, bed frames, and under-bed storage items that often detract from the overall charm of your sleeping quarters.
One of the most outstanding features of this king-size dust ruffle is its exceptional longevity. The quality construction material, premium brushed microfiber, ensures it remains resilient over time.
No need to worry about it tearing or shrinking - even after numerous washes! Plus, its color remains vibrant and unaffected by extensive use.
How many times have you tried adjusting your bed skirt because it shifted with minor movements? With CGK's innovative Elastic wrap design, you're in for a change.
It guarantees that the dust ruffle stays firmly in place regardless of how much tossing and turning occurs on the bed.
Installation is another breeze with this dust ruffle. It offers an easy setup: no need for Herculean strength to lift your mattress or seek extra help just to put it on or take it off.
Now brace yourself for an array of choices as this elegant wrap-around dust ruffle comes in a stunning selection of 19 color shades. Select one that blends seamlessly with your bedroom's theme and decor.
Colors: 19 variants available
Material: Premium brushed microfiber
Brand: CGK Unlimited
Pattern: Solid
Durability: Resistant to fading and shrinkage
Design: Elastic wrap style maintains position
Ease of use: Simple setup and maintenance
Price range: $22 - $37
Pros
Premium brushed microfiber construction
Robust and durable material
Color does not fade
Elastic wrap style for non-slip fit
Easy installation and removal
Available in 19 color variants
Great value for the price
CONS
Some may find it thin
Requires frequent adjustments
Not drape beautifully on some bed types
Price varies widely depending on the hue
Embrace this unique blend of functionality and style in the form of CGK Unlimited Wrap Around Dust Ruffle, an investment that's worth every penny.
Read More: Bed Skirt Height And Buying Guide 2023 [Determine Bed Size]
Utopia Bedding Elastic Bed Ruffle
Give your bedroom a makeover starting from the bed - the focal point of any bedroom. What better place to start than with the Utopia Bedding Elastic Bed Ruffle?
Catering to every size, this dust ruffle brings a practical yet stylish solution to your under-bed concealment needs; not to mention, it's quite easy on the pocket, priced between just $9 and $12.
Fit: This bed ruffle comes in Twin, Full, Queen, and King sizes, ensuring there's an ideal fit for your bed. However, it's designed to work best with standard platforms and box springs rather than metal frame beds or those with footboards or posts.
Color Variation: Outstanding with its minimalist solid pattern design. Plus, you get four different shades to pick from.
Material: The dust ruffle is manufactured using brushed microfiber fabric and is known for its durability and elegance.
Design: The king-sized bed ruffle dimensions are 78" x 80", sporting a 16" drop. This mitigates any visible under-bed clutter.
Elasticity for Easy Process: A distinctive feature of this dust ruffle is its elastic edges, which simplify the installation process without the need for mattress lifting.
Durability and Maintenance: High tensile strength implies that it's tough enough for long-term use and resistant to tear or fading. Additionally, maintaining it is effortless as it can be easily machine-washed in cold water followed by low-heat tumble-drying.
If you're hunting for style coupled with functionality when decking up your bed - the Utopia Bedding Elastic Bed Ruffle could be your go-to option.
Pros
Available in all sizes
Affordable price range
Multiple colors selection
Brushed microfiber fabric
Elastic edges for easy installation
High tensile strength
Machine wash and dry
CONS
Not suitable for metal frames
Limited to solid pattern design
Not ideal for beds with posts
It offers convenience in installation and uncomplicated maintenance rolled up within a reasonable price range.
PureFit Wrap Around Ruffled
If you're on the hunt for the perfect dust ruffle to complement your queen or king-sized bed, you can't go wrong with PureFit's wrap-around ruffled bed skirt.
Known for its perfect fit and easy application, it uses an adjustable elastic strap that beautifully encompasses your mattress without requiring any heavy lifting.
Being available in 24 elegant and fade-resistant colors, it allows you to choose the one that goes flawlessly with your bedroom's theme and sparks joy every time you enter your space.
Material: This dust ruffle boasts a luxurious silky satin-like microfiber fabric that gives a tailored yet romantic feel. The best part? It's 100% dust and stain-resistant, wrinkle-free, and exceptionally soft.
Sizing: The bed skirt measures 60"80"22", indicating it's designed to fit most queen and king-sized beds perfectly.
Easy Installation: Crafted with a platform-free, easy wrap-around stretch & elastic adjustable construction, it streamlines the installation process where lifting the mattress isn't required.
Generous Drop Length: This design offers a generous drop length of 22 inches. It easily reaches the floor and conveniently hides any under-bed storage or unsightly box spring; it muffles any stray dust particles aiming to settle underneath your bed.
Things are made enormously simple with this machine-washable piece. All it needs is a gentle cycle wash with like colors and tumble drying on low heat.
If needed, non-chlorine bleach can be used for a thorough cleaning. Thus showcasing not just luxury but practicality as well.
Pros
Perfect fit for king-sized beds
Easy application, no heavy lifting
Range of 24 elegant colors
Luxurious satin-like microfiber fabric
Dust, stain, and wrinkle resistant
Platform-free, easy wrap-around design
CONS
Might not fit unconventional bed sizes
Limited pattern designs available
Not ideal for shorter beds
Requires gentle cycle wash only
PureFit's dust ruffle shines out as one of the top contenders in the market. At a pocket-friendly price range of $11 to $22, this dust ruffle offers notable value.
RIMELA Elastic Wrap Around Dust Ruffle
Experience the harmony of functionality and design with the RIMELA Elastic Wrap-Around Dust Ruffle.
This exclusive piece, aimed at enhancing your bedroom aesthetics while ensuring practicality, is widely favored for its high versatility and affordability, ranging from $11 to $22.
Dimensions: Designed to flawlessly fit King-size beds with dimensions up to 80" L x 78" W and California King beds measuring up to 84" L x 72" W. The drop length is an impressive 21".
Color Varieties: Available in an array of eleven visually appealing colors, including a serene Sky Blue shade.
Material & Design: The dust ruffle is crafted from 100% polyester, giving it a silky allure with a subtle sheen when exposed to sunlight. Its beautiful ruffles and fold texture exude an innate elegance and simplicity.
Practicality: Effectively hides your bed frames, platforms, mattresses, or under-bed storage items for a clutter-free look and simultaneously acts as a dust repellent.
Ease of Installation: Features an easy-to-adjust elastic band that eliminates the need for moving heavy mattresses. Installation is literally a cakewalk.
Maintenance: For ongoing freshness, wash in regular water at room temperature and hang out to dry; no bleaching is required. Moderate ironing maintains its crisp appearance.
RIMELA prides itself on robust customer service; rest assured they will have your back if you encounter any queries or issues during usage.
This top-notch dust ruffle is not just about safeguarding your bed from dust; rather, it accentuates the beauty of your room while providing functional utility, all bundled at an unbeatable price range.
Pros
Superb Fit for King Size Beds
Rich Color Variety
Silky, Lustrous Material
Effective Dust and Clutter Shield
Hassle-Free Installation
Easy Maintenance
Strong Customer Service
CONS
Less Suitable for Smaller Beds
Limited Texture Options
Potential Fading Over Time
Not Suitable for Bleach Cleaning
With all these advantages rolled into one product, it's no wonder why many regard RIMELA's Elastic Wrap-Around Dust Ruffle as one of the best available in the current market.
Explore More: Are Bed Skirts Outdated In 2023? [Alternatives To Bed Skirt]
MEILA Elastic Dust Ruffle
If you're seeking a dust ruffle to elevate your bedroom's elegance, look no further than the MEILA Elastic Dust Ruffle.
It's a superb blend of utility and style. With pricing from $15 to $23, this dust ruffle is an economical choice that offers you numerous advantages.
Material: Made with smooth microfiber polyester fabric, the MEILA Dust Ruffle is more robust than cotton. Its beautiful, intricately designed ruffles add a luxurious aesthetic touch to your bedroom.
Fit: This dust ruffle adjusts to fit Queen-sized (60" x 80") beds as well as King (76" x 80") and California King beds (72" x 84"). Its versatility allows it to conceal any under-bed frames, platforms, or storage. (Not compatible with beds having footboards or posts)
Ease of use: The smart design has one elastic side and three fabric sides. Installation is simple; wrap it around your bed. There's no need for complex maneuvers or lifting the mattress.
Care instructions: For optimal beauty, you're encouraged to wash it gently on a cold cycle and steam iron on a low setting before first-time use.
Available in an impressive array of 16 different colors, this dust ruffle can solidly match your existing decor while adding a chic touch of its own.
Pros
Budget-friendly
Durable microfiber polyester fabric
Adjustable size fits multiple beds
Easy installation (no mattress lifting)
Machine washable for easy care
Impressive array of color choices
Luxurious aesthetic
CONS
Not compatible with footboards/posts
Ironing required for optimal look
Limited thickness might show under-bed items
Elastic might wear out over time
Only available online
Beyond looks and utility, the MEILA Dust Ruffle makes for an ideal gift option for various occasions like birthdays, anniversaries, or holidays.
MIYE Pleated Waffle Weave Bed Ruffle
The MIYE Pleated Waffle Weave Bed Ruffle redefines elegance with a seamless blend of aesthetics and practicality.
This dust ruffle is constructed with 100% polyester brushed microfiber fabric. And why does fabric matter?
Polyester offers unrivaled durability and a smooth texture, surpassing even the benefits of cotton while maintaining a gentle feel against your skin.
Design: The waffle weave pattern, coupled with the pleated corners, provides an ideal finishing touch to complement and enhance any style of bedroom decor. The solid neutral color options ensure easy coordination with any bedding set.
Fit: The dust ruffle comes in various sizes to suit any bed (60" x 80" for queen-size beds, 76" x 80" for king-size beds, etc.), ensuring a perfect fit every time. Regardless of bed type - be it regular or metal-based - this bed skirt guarantees a neat look by neatly covering items stored underneath.
Maintenance: Maintaining the dust ruffle's look is pretty straightforward – simply machine wash in cold water and dry on low setting to keep it fresh as new.
The MIYE Pleated Waffle Weave Bed Ruffle is indeed an exemplary blend of durability, elegance, and convenience, priced between $14 to $32. It's more than just a decorative piece; it's an effortless upgrade to your bed aesthetics.
Pros
100% polyester brushed microfiber
Elegant waffle weave design
Pleated corners augment aesthetics
Comes in various sizes
Easily machine washable
Durable material and construction
Affordable price range
CONS
Limited to neutral color options
May not fit irregular bed frames
Drying requires specific setting
Polyester may pill over time
Shop Bedding Split Corners Bed Ruffle
If you're someone who appreciates high-quality bedding materials, then the Shop Bedding Split Corners Bed Ruffle should definitely be on your radar.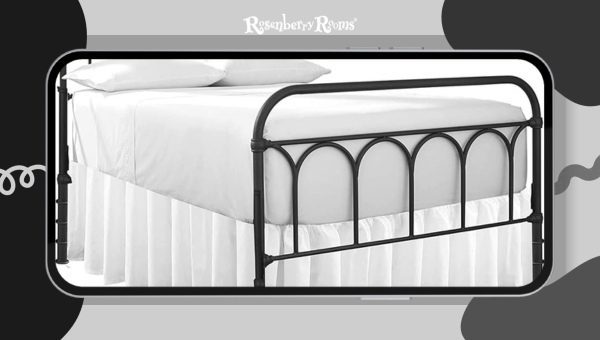 Crafted from a combination of cotton and polyester, this premium bed skirt emphasizes durability with its robust 200-thread-count fabric. With a price range of $31 to $39, it's an affordable investment in long-lasting quality.
Material: Its primary fabric is cotton, promising comfort and breathability besides durability.
Colors: It flaunts a palette of 14 enticing shades. You can choose one that best suits the color scheme of every room in your home.
Sizes: Available in all bed sizes, from Twin to California King. This ensures you find an ideal fit for your bed size.
This dust ruffle not only brings elegance to your bedroom decor but also offers practical functionality. The platform integrated into its design assists in holding the bed skirt firmly between the mattress and box spring.
A unique feature is its beautiful ruffles gracefully draping around three sides of the bed. It blends effortlessly with most bedding ensembles and notably works best on beds with footboards or posts.
What sets this dust ruffle apart is that it doubles as a stylish concealment for your under-bed storage space while presenting your bed with a refined look.
Pros
High-quality cotton
Polyester material
Pleasing 200-thread-count fabric
Affordable without compromising
14 colors
Available in all bed sizes
Machine-washable
Easy maintenance
CONS
Not be ideal for beds without footboards
Color might differ slightly from online visuals
Potential for wrinkles after washing
Require ironing to maintain crisp look
Caring for this bed skirt is effortless due to its machine-washable nature, adding convenience to sophistication. It's wrinkle-resistant, which saves you the trouble of ironing while keeping it neat at all times.
Sheets & Beyond Solid Microfiber Luxury Ruffle
Are you looking for an effortless way to add a dash of elegance to your bedroom while hiding clutter under the bed?
Your solution lies in the Sheets & Beyond Solid Microfiber Luxury Ruffle. Enhancing your bedroom decor is easy with this fashionable and functional bed skirt.
This dust ruffle doesn't just excel in appearance but also scores high in utility. The ruffled look elevates simple beds into a statement piece, all while creating additional storage space by hiding items stored underneath from view.
The advantage of the gathered design is that you can shift around items without disrupting the look of your dust ruffle, making storage easier and more efficient.
Material: Crafted with super soft material, the bed skirt doubtlessly offers luxury and comfort.
Color Variety: This product is available in 13 distinct hues, allowing you to match it with any decor style or color palette effortlessly.
Design: The solid patterned ruffle gives a well-tailored finish, adding a classic touch of style to your bedding ensemble.
Price Range: Affordability is key here, priced at only $17-$20.
If you're seeking an easy, wallet-friendly, yet sophisticated way to upgrade the overall aesthetic of your bedroom, then consider adding a Sheets & Beyond Solid Microfiber Luxury Ruffle to your shopping list.
Pros
Effortlessly elegant
Hides under bed clutter
Accommodates shifting storage
Multiple color options
High-quality material
Stylish design
Wallet-friendly price
CONS
Require frequent adjustments
Color inaccuracy possible
Not stain resistant
Might wrinkle easily
Its blend of elegance and functionality ensures perfect sync with your decor, enhancing its appeal further.
Also Read: 6 Best Sheets For Tempurpedic Mattress 2023 [Find The Best Deal]
FAQs About best dust ruffles
Why should I use a dust ruffle on my bed?
Dust ruffles enhance the aesthetic appeal of your bedroom while concealing under-bed storage and reducing the accumulation of dust under your bed.
Are dust ruffles hard to maintain and clean?
Not at all! Most dust ruffles are machine-washable and quick-drying, making them fairly easy to care for.
What material should I look for in a good-quality dust ruffle?
A blend of cotton and polyester is usually recommended as it provides durability while also maintaining softness and elegance.
Can I find a dust ruffle to match my bed size?
Absolutely! Dust ruffles come in various sizes, so you'll definitely find one tailor-made for your bed- from twin size to Cal King.
How many colors can I choose from when buying a dust ruffle?
This can vary by brand, but some companies offer as many as 25 different colors, so you can be sure to find the perfect shade for your bedroom's decor.
Conclusion
The elegance of a well-decorated bedroom is undeniably enhanced with the perfect dust ruffle. Beyond its aesthetic appeal, a dust ruffle helps to maintain the cleanliness and organization of your room.
With numerous options available on the market, finding a high-quality dust ruffle with just the right blend of durability, softness, and style has never been easier.
So go ahead and explore choices that align with your tastes and needs. Your perfect bed setup could be one well-chosen dust ruffle away.