Shopping for your home can sometimes be overwhelming, but it's always worth the effort when you find that one gem of a product.
For those of you that are lucky enough to own a Tempurpedic mattress, getting the best sheets is a decision that should never be taken lightly.
These mattresses provide unmatched comfort and support, so why not compliment this luxury with sheets that only amplify their benefits?
Elevate your sleep experience by investing in the best sheets for tempurpedic mattress. Not only will the right choice enhance the luxurious feel, but it can also contribute to maintaining your mattress in top shape for longer.
Let's face it: after a long day, nothing beats sinking into a comfortable bed topped with quality bedding. Sounds like a dream? Read on to make it your reality.
Fabric Type Breakdown for Tempurpedic Sheets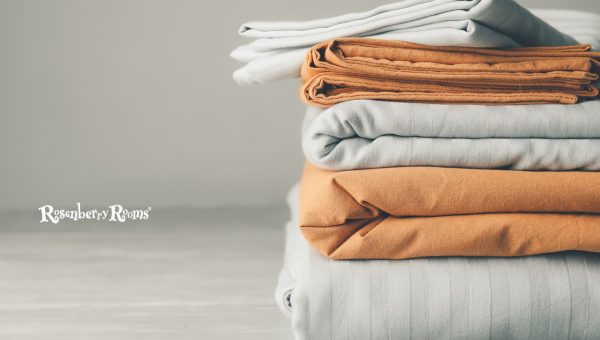 When it comes to choosing sheets for your Tempurpedic mattress, it's not only about the feel. The fabric type plays a major role in the sleep quality, comfort, and durability of your bedroom apparel.
Let's delve into the three most popular options: Cotton, Microfiber, and Bamboo.
Cotton - Classic Comfort and Breathability
Cotton is often a safe bet because it is widely known for its ultimate comfort and breathability.
Comfort: Pure cotton sheets are extremely comfortable. They have a soft feel against your skin that promotes relaxation.
Breathability: Cotton promotes good air circulation, reducing sweat during the night by allowing heat to dissipate away from your body.
Durability: These sheets typically last long if regularly cared for appropriately.
Hypoallergenic: It's great for those with sensitive skin as it rarely causes allergies.
Keep in mind that not all cotton sheets are made equal; their quality can largely depend on their thread count and weave type.
Also Read: Parachute Organic Cotton Duvet Cover Set Review 2023 [Latest]
Microfiber - Affordable Softness and Durability
Microfiber is a synthetic substance known for its affordability while offering impressive softness and durability.
Cost-effective: Microfiber offers good quality at an affordable price point compared to higher-end materials like Egyptian cotton or silk.
Softness: Known for its lusciously smooth surface, which makes slipping into bed a joy every night.
Durability: These sheets resist wrinkles, fading, and shrinking remarkably well if looked after correctly.
Maintenance ease: They're machine-washable and usually dry faster due to their thin yet dense fabric structure.
The downside of microfiber could be less breathability compared to other fabrics. However, premium quality microfibers may offset this flaw with special weaves or blends.
Bamboo - Eco-friendly Luxury with Cooling Features
Bamboo bed sheets have been gaining well-deserved popularity thanks to their eco-friendly production method and luxurious feel.
Eco-Friendly: Bamboo requires less water compared to cotton, and it grows back much faster, making it a fantastic sustainable choice.
Luxurious Feel: They are incredibly soft, sometimes even compared favorably to sheets made of cashmere or silk.
Thermoregulating: Bamboo sheets are known for their cooling feature. They draw moisture away from your body, keeping you cooler in summer and warmer in winter.
Hypoallergenic And Antimicrobial: These properties make bamboo sheets a great option for people with sensitive skin or allergies.
While bamboo sheets carry a higher price tag, their luxurious feel combined with environmental benefits render them worth every cent.
What Makes a Good Sheet for Tempurpedic Mattress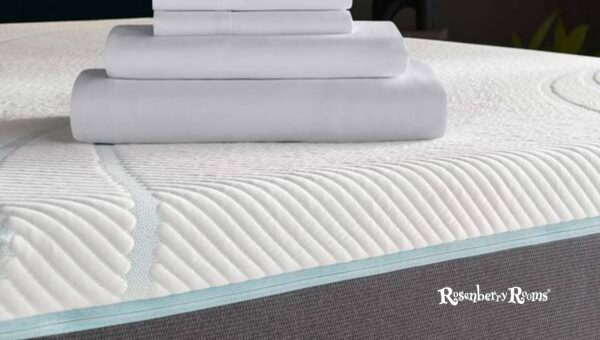 When it comes to sheets wrapping around your Tempurpedic mattress, not just any will do. You've invested in one of the best mattresses available, and it's critical to pair them with sheets that augment their qualities.
But wondering what exactly should you be hunting for? Here are the two primary aspects that can smoothen your quest for perfect bedding.
Stitching Quality and Durability
The first telltale sign of a good sheet is its stitching quality. Ideally, when shopping around, you want sheets with strong, well-sewn seams and hems.
Sheets are going to be washed frequently, and they need to withstand the rigors of laundering without fraying or unraveling.
LilySilk's seamless silk flat sheet or Brooklinen's Luxe Core Sheet Set are ideal examples of boasting high-quality stitching.
Keep an eye out on the ply count as well. Single-ply fabrics usually offer superior durability compared to multi-ply ones because they are made from long-stapled cotton or microfiber strands woven closely together.
Breathability and Comfort
Another critical ingredient in choosing perfect sheets for your Tempurpedic mattress is breathability and comfort. Higher breathability implies better temperature regulation during sleep- no more fighting summer sweats or winter chill.
Sheets made with natural materials like cotton, bamboo fibers, or Egyptian cotton are excellent for this purpose due to their inherent breathability feature.
Pinzon by Amazon Cotton Flannel Bed Sheet or BAMPURE Organic Bamboo Sheets showcases top-notch breathability catering to ultimate comfort.
Comfort-wise - let us emphasize here temperature regulation is just part of the context; tactile comfort matters.
Aim for softer fabrics that feel good against the skin and add depth to your sleeping experience rather than cheap fabrics that feel rough or synthetic.
Your sheets lay the foundation for your good night's sleep. Making an informed choice can surely enhance your Tempurpedic mattress's performance, leading you towards a sleep sanctuary of dreams.
6 Best Sheets For Tempurpedic Mattress
Upgrading your Tempurpedic mattress with the right sheets can be a game-changer. You want to ensure the sheets bring out the best in comfort, breathability, and durability.
We sifted through countless options and handpicked six top-quality sheets that are ideal matches for your Tempurpedic mattress. Let's take a deeper look at these bedding gems.
SHEEX Active Comfort Sheet
The SHEEX Active Comfort Sheet sets itself apart by using specially designed breathable cotton. Priced at $124 in queen size, these sheets are an investment in quality sleep and wellness thanks to the comfort they provide.
They come exclusively in a sophisticated pewter color with a simple solid pattern, making them suitable for any bedroom aesthetic.
The chosen material for this set is not just your regular cotton; it's designed to allow maximum airflow, keeping you cool all night long.
The SHEEX brand is also known for its products' quality and durability, meaning this sheet set will last you years without significant wear or tear.
Considering its luxury price tag, some may find it on the higher end of their budget. Another potential downside could be its limited color variety – being available only in pewter might not suit everyone's taste or bedroom theme.
Investing in SHEEX sheets equates to investing in your well-being – better sleep translates into improved health and productivity throughout your day.
Pros
Breathable material
High-quality cotton
Classic design
CONS
Higher price tag
Limited color options
CGK Unlimited Split Breathable & Cool Sheet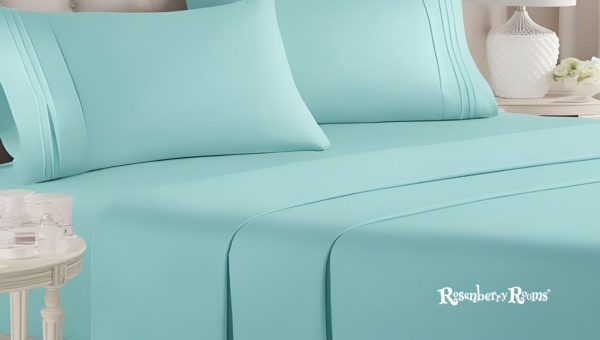 Imagine sinking into your Tempurpedic mattress, draped with a set of CGK Unlimited Split Breathable & Cool Sheets at the end of a long day.
This high-quality bed linen is not just functional, but it also adds an element of luxury and style to your bedroom.
At an affordable $37 to $59 price range, these sheets are a steal. They don't just fit perfectly on any Tempurpedic mattress but are available in six different sizes, from twin to split king size.
Not only do they cover various dimensions, but they also cater to different aesthetics with a massive pallet of 45 colors ranging from classic white to vibrant hues.
The material itself is premium microfiber, known for its superior breathability and soft texture. The light grey color offers a beautiful and understated elegance. They have a timeless, solid pattern that's guaranteed never to go out of style.
CGK Unlimited is a brand that prides itself on producing high-quality bedding essentials. These sheets showcase their commitment to offering products that seamlessly blend comfort, durability, and design.
Pros
Breathable microfiber material
Extensive color options
Reasonably priced
CONS
Color may fade over time
Require careful washing
When you pair these sheets with your Tempurpedic mattress, you'll understand the luxurious comfort one can only dream about before.
California Design Den 100% Cotton Sheet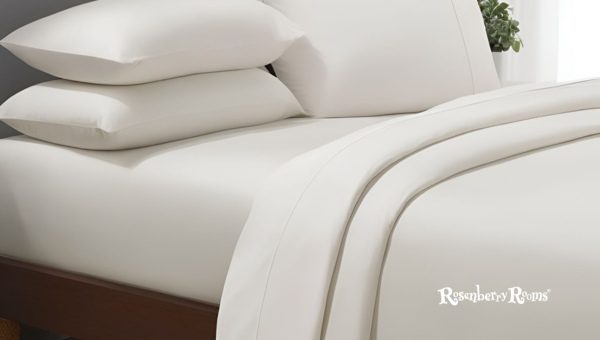 The California Design Den 100% Cotton Sheets are an excellent choice for those of you with a Tempurpedic mattress.
Priced between $44 and $82, these sheets offer a luxurious, smooth touch that complements your mattress perfectly.
This high-quality bedding set comes in various sizes, including Twin, Twin XL, Full, Standard/Queen, Queen, King, and California King, ensuring they have the perfect fit for your bed.
You'll be impressed by the selection of 11 different color options on offer. Their 'Bright White color adds a crisp and clean aesthetic to your bedroom space.
An undeniable pro of this sheet is its material. Made from pure cotton, the California Design sheets promise incredible softness and excellent breathability. This results in cooler nights' sleep and prevents any discomfort caused by excessive body heat.
This sheet ensemble comprises not just fitted or flat solutions but also pillowcases. Their styles vary from solid sheet sets to striped pillowcases, catering to individual preferences and interior design considerations.
Pros
Exceptional Comfort
Versatile Sizes and colors
Complete Bedding Solution
Suppose you want an upgrade in luxury for your Tempurpedic mattress while enjoying optimal comfort during your sleep time. In that case, California Design Den sheets are worth considering seriously despite their few cons.
Always prioritize what matters most to you when deciding whether it's comfort, price, design, or fabric. And with that, sweet dreams.
Read More: Sijo Eucalyptus Sheets Review 2023 [100% Austrian Eucalyptus]
Mellanni Extra Deep Pocket Sheet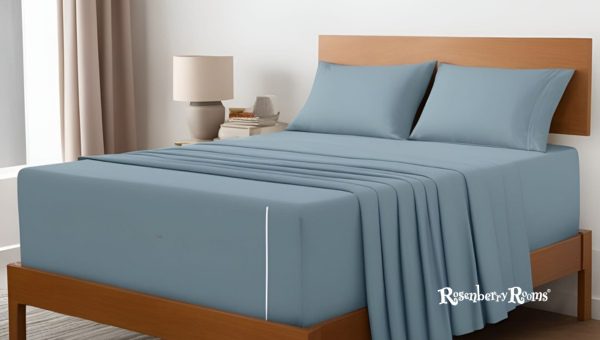 Imagine slipping into a bed cloaked in soft, breathable sheets after a long, tiring day. Sounds heavenly. Your search for the perfect bedding ends here with the Mellanni Extra Deep Pocket Sheet.
This bedding option comes in a wide size range from Twin to Split King Set. Whatever your mattress style or preference may be, whether it's Twin XL size, Full size, RV / Short Queen, Queen size, King or California King - Mellanni has you covered.
The entire line is made out of premium microfiber material that lends the sheets their plush feel and durability.
With a solid pattern and available in 40 different color options, you can easily find a match that suits your bedroom palate.
Pros
Superb Size Range
Color Versatility
Quality Material
CONS
Not 100% Cotton
Potential Color Fading
The extra-deep pocket design of the Mellanni sheet ensures that it fits securely around your Tempurpedic mattress so it won't pop off during your sleep.
If you value having a variety of color options to choose from when decorating your bedroom interior, these sheets offer an impressive palette!
While slightly pricier than some other options on the market, remember, you're not just buying a sheet - you're investing in a good night's sleep. And believe us when we say it's worth every penny.
The Mellanni Extra Deep Pocket Sheet offers an all-around quality and comfort that we truly value and know you will, too.
Now it's time to hop into your shopping cart and give your Tempurpedic mattress the bedsheet it deserves.
DeaLuxe Fitted Bed Sheet
Ideal for a range of mattress sizes, from Twin to King, you'll find the DeaLuxe Fitted Bed Sheet is designed to enhance your sleep quality.
Available in 19 different colors and ranging from $29 to $35 in price, there's sure to be one that fits your style and budget.
A superbly soft microfiber that not only feels incredible against the skin but ensures a snug, fitted cover for your Tempurpedic mattress. With the capability of fitting a 21" deep full-size mattress, this fitted sheet offers unique versatility.
Their light baby blue option gives your bedroom a calm and welcoming atmosphere - perfect for ensuring restful nights.
Don't let the solid pattern deceive you; this sheet provides an understated chicness that complements any modern bedroom decor.
Pros
Highly Versatile
Quality Material
Varied Color Options
CONS
Deep Fit
Potentially Warm
Diving deeper into the pros, versatility ensures you'll find the right fit for any bed size thanks to its inclusive range from Twin up to King-size beds. The high-quality microfiber material offers exquisite touch sensitivity and durability.
Like with all products, there are potential drawbacks. Its deep fit may cause slipping on thinner mattresses; it only comes as a single fitted sheet without accompanying bedding items; and although comfortable, microfiber can potentially retain heat more than other materials like cotton or Tencel.
Bedsure Easy Care Microfiber Cooling Bed Sheet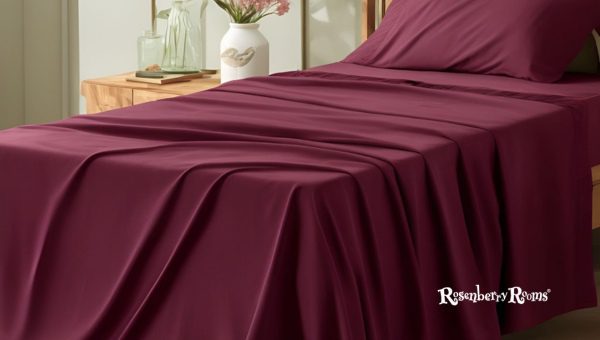 Bedsure is a brand that has carved a niche for itself in the field of home essentials. Their Easy Care Microfiber Cooling Bed Sheet stands as a testament to their commitment to providing quality products.
This bedsheet has been specifically designed for those who prefer sheets that are cool to the touch, making it caringly suitable for your Tempurpedic mattress.
With its wide range of colors—25 options to be exact—you can choose the perfect shade to match your room décor. From classical white and dark grey to more vibrant hues like red and teal, you'll have plenty to pick from.
The wide array of sizes—including Twin, Twin XL, Full, Queen, Cal King, King, and Split King—ensures that no matter what size your Tempurpedic mattress is, there's a perfectly fitting bedsheet waiting for you.
Made predominantly from polyester fabric, these sheets are durable and resistant to wrinkling. Moreover, they are breathable and excellent at wicking away moisture—perfect for those hot summer nights or warm sleepers!
Retailing between $19 to $23 depending on size and color preference, Bedsure sheets provide value without compromise.
Pros
Affordable and Value for Money
Large selection of colors
Cooling Polyester Material
CONS
Wrinkle easily when compared
Less Soft than Cotton Sheets
Remember that while this product does offer fantastic benefits like affordability and variable size options, it might not be as soft as cotton sheets; it may wrinkle easily, and its color might fade after continuous intense washing.
Suppose you value breathability and moisture-wicking qualities that can help lower your body temperature during the night. In that case, the Bedsure Cooling sheets are a stellar choice for your Tempurpedic mattress.
Explore More: Nest Tencel Bedding Sheets Review 2023 [After 30 Nights, I Reveal]
FAQs about the Best Sheets For Tempurpedic Mattress
What material is best for Tempurpedic sheets?
Breathable fabrics like cotton, bamboo, or microfiber perform well with Tempurpedic mattresses due to their cooling and moisture-wicking properties.
Should I get specific sheets for my Tempurpedic mattress?
Yes, getting the right sheets can enhance your bed's comfort and longevity by allowing the mattress to work at its full potential.
Do Tempurpedic mattresses need deep pocket sheets?
If your mattress is greater than 14 inches thick, you should consider deep pocket sheets to ensure adequate coverage and fit.
How often should I wash my Tempurpedic mattress sheets?
It's recommended to wash your sheets every one to two weeks; however, this depends on individual use and preference.
Are sateen or percale sheets better for a Tempurpedic mattress?
Both are great choices as percale provides a crisp, cool feel while sateen offers a smoother and more luxurious touch. Your choice would largely depend on personal preference.
Conclusion
Finding the perfect sheets for your Tempurpedic mattress can significantly enhance your sleep experience. A good choice not only adds comfort but it can also improve your mattress's longevity.
While considerations such as material, sizing, and color are essential, always ensure that your final pick matches your comfort preferences and complements the unique features of a Tempurpedic mattress. Your dream sheets are out there.