The soft bustle of everyday life inherently begs for the tranquility of a well-fashioned home. There begins the quest for a paint color that not only exemplifies elegance and simplicity but also presents a soothing reprieve from the chaos outside.
Whenever I am called upon by friends, family, or merely my own inspiration to breathe new life into a living space, my mind always veers towards one exquisite shade - Benjamin Moore Thunder AF-685.
It's like stepping into the calm after a storm, where everything is fresh, serene and inviting. With Benjamin Moore Thunder AF-685 on your walls, your living room can embody that very tranquility.
It's a versatile grey that speaks of sophistication while delivering an enveloping warm hug to any space it graces.
Every brushstroke promises transformation - an escape into an oasis of calm and class within your very home.
What Color is Benjamin Moore Thunder?
Benjamin Moore Thunder stands as its name suggests, enveloped in mystery and charm, reminiscent of dramatic greys in the heart of a storm. Yet, it's not as intimidating as it sounds!
It falls comfortably into the grey paint color spectrum but leans significantly towards being a greige (put, a blend of grey and beige).
Thunder is like a chameleon with a flair for enhancing other colors in your room.
Benjamin Moore Thunder: Warm or Cool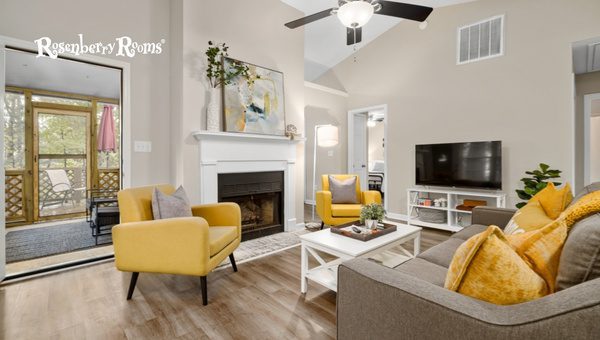 One of the most intriguing aspects of Benjamin Moore Thunder is its seductive dance between warm and cool tones.
This color hovers in the intriguing space where warm beige mingles with cool grey - a delicate balance that charms homeowners and interior designers alike.
In the Warm Or Cool Spectrum
At first glance, Thunder AF-685 might strike you as a simple grey. But, upon closer inspection, you'll spy warmer beige undertones shimmering through like hidden gems.
These warm undertones prevent the color from giving off an icy feel that's often associated with more pure greys. It retains its warmth without overwhelming your space.
How Light Affects Thunder
Leveraging this flexibility becomes simpler if we delve into how various lighting conditions impact this unique color:
Natural Light: In bountiful natural light, you might notice it tends to skew towards being a warm grey owing to those inherent brown undertones.
Artificial Light: When illuminated with artificial lighting, especially soft white LED bulbs which tend to be on the warmer side, our eye perceives it as a cooler grey.
So, in summary, is Benjamin Moore Thunder AF-685 warm or cool? With its expertly balanced undertones, one can safely say it comfortably straddles both so you can enjoy the best of both worlds.
The Undertones and LRV of BM Thunder AF-685
When choosing the perfect shade for a space, a color's undertone is often determined. In the case of Benjamin Moore Thunder, it carries delicate undertones that are fascinating to unveil.
Directly out of the can, you may perceive a pure gray. However, once on your walls, you will marvel at how it subtly reveals stunning beige-brown undertones. This ability to change under different light conditions marks its brilliance.
Complementing these subtle undertones is Thunder's Light Reflectance Value (LRV), a crucial factor when deciding on paint colors.
The LRV articulates how much light the paint will reflect or absorb, graded on a scale from 0 (pure black) to 100 (pure white).
Thunder's LRV stands at around 47.58; this moderately high value implies that it can reflect substantial light without blinding your room.
Rooms painted with Benjamin Moore Thunder retain a comforting natural brightness during daytime and exhibit an intimate aura amid the twinkling city lights or underneath soft artificial beams come nightfall.
Therefore with its flexible undertones and perfect LRV, BM Thunder AF-685 offers a visually appealing color and functional advantages to your space.
Is Thunder Considered Greige?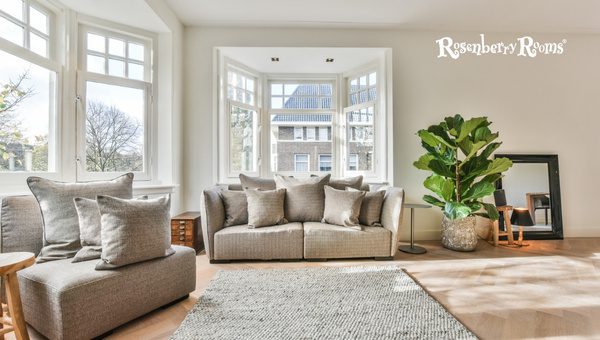 Absolutely, yes! The charm of Benjamin Moore Thunder lies in its unique blend of grey and beige, making it an excellent color choice-worthy of being called 'Greige.'
Understanding Greige
Greige is a fusion of both grey and beige, embraced for its unparalleled adaptability and sophistication. However, don't mistake it as a compromise between the two colors.
Instead, it intelligently intertwines the earthy warmth of beige with the timeless coolness of gray to graft such a distinctive color blend. This winning combination makes it highly sought after by homeowners and designers alike.
How Does Thunder Exhibit Greige?
In varying light conditions, Thunder AF-685 distinctly showcases the robust nature of both colors:
You'll pick up on those pleasing beige-brown undertones in natural light or artificial warm lighting.
Thunder parades more as a classic neutral gray in cooler lighting hues or lower light scenarios.
Thus encapsulating the defining qualities of each 'parent' color elegantly within itself, Benjamin Moore Thunder AF-685 assuredly steps into the sphere of greiges. Embracing this trendy shade can rejuvenate your home for an exceptional aesthetic experience.
BM Thunder and Lighting
Lighting plays an integral role in how a painted wall appears, with different types of lighting - natural or artificial, altering perceptions of color. This shift is especially noticeable regarding adaptable hues like Benjamin Moore's Thunder.
Let's delve into the distinctive ambiance that BM Thunder creates in various conditions.
North-Facing Rooms
Rooms facing north often have cooler, softer lighting throughout the day because they get less direct sunlight.
This light emphasizes the cool tones in paint colors, making grays appear a little bluer. Despite this general tendency, Thunder impressively turns on its charm in these spaces. Its warm undertones counterbalance the cooler light and keep your room cozy and inviting.
Tip: Pair Thunder with warmer-toned furnishings and decor in North-facing rooms for a perfectly balanced aesthetic appeal.
South-Facing Rooms
South-facing rooms are revered for their abundance of warm sunlight. In these spaces, Thunder AF-685 will not lean towards cooler greiges but instead emit more of its warm beige undertones.
Recommendation: Use cool-toned accents against Thunder-painted walls to create interesting contrast and balance.
East-Facing Rooms
The early morning sun casts a crisp, clear light into the east-facing rooms that gradually becomes subdued as the day progresses.
In such spaces, Benjamin Moore's Thunder takes on a more neutrally toned quality during daylight hours, but as evening approaches, it might seem slightly cooler.
Suggestion: Opt for lighter colored furnishings along with metal accents for an overall luxurious vibe.
West-Facing Rooms
West-facing rooms bask in the glory of vibrant afternoon sunlight then relax into more mellow evening hues.
With such varying light conditions throughout the day creating unique atmospheres, Thunder seemingly adapts itself emphatically according to the mood.
During bright afternoons expect it to look somewhat warmer while reflecting subtle grey tones in soft evening light setting.
Idea: Complement BM Thunder walls with both warm and cool-toned accessories for versatility throughout changing lights!
Where you draw from the spectrum of lights nature provides us with - North or South; West or East - rest assured that your quest for tranquility will find fulfillment in every brushstroke of Benjamin Moore Thunder AF-685.
So ready the brushes because every wall is eager to wear AF-685 and become a canvas where wonderful memories can be enjoyed within 4 glistening edges.
Where Can You Use BM Thunder AF-685?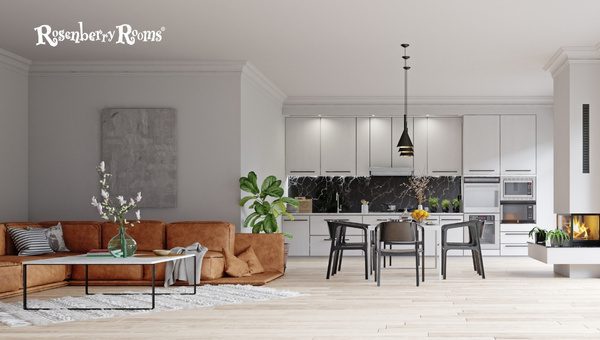 Incorporating Benjamin Moore Thunder into your space is as fun as it is transformative. Its adaptable color profile allows you to use it in various settings.
Walls
Living Room: The calm aura of Thunder can make your living room feel relaxing and inviting. Its warm undertones provide just the right amount of coziness, making it perfect for a space where you entertain guests or unwind with family.
Bedroom: For a tranquil bedroom retreat, envelop your walls with this versatile hue. Paired with crisp white trim, it creates a soothing yet sophisticated backdrop for your sanctuary.
Hallways: As hallways generally receive less natural light, Thunder's middle-range LRV brightens them up effectively without overwhelming them.
Kitchen Cabinets
BM Thunder isn't limited to just the walls! It can serve as an excellent choice for your kitchen cabinets too!
Traditional Styles: Whether painted on richly grained oak or smooth maple, BM Thunder adds depth and intrigue to traditional-style cabinets.
Modern Styles: For those flaunting a more modern aesthetic, pairing these grey-toned cabinets with stainless steel appliances results in a balanced sleek kitchen design that a brighter backsplash color like white subway tiles can offset.
Above all, Benjamin Moore Thunder AF-685 fascinates me with its fluidity. This color unceasingly renews my appreciation for its understated elegance each day by adapting to changing lights and moods while retaining its character.
Explore Further: How To Convert Old Under Cabinet Lights To LED [At No Cost]
Coordinating colors of Thunder AF-685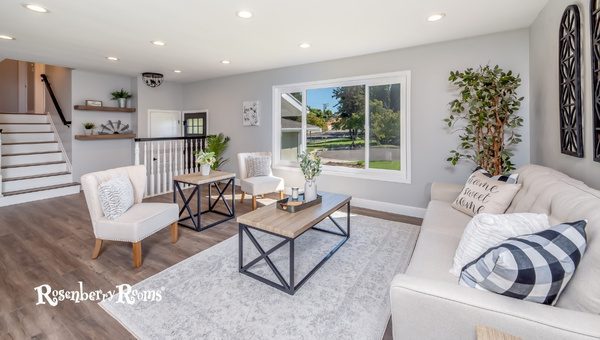 Choosing the perfect coordinating colors for Benjamin Moore Thunder AF-685 unleashes myriad possibilities.
When paired right, it can add depth and harmony to your space. Here are a few suggestions for hues that pair exceptionally well with Thunder:
Benjamin Moore Simply White: This clean, bright shade is the epitome of refined elegance. As a top choice for trim color, its crisp white presence beautifully exudes contrast against the warm grey of Thunder.
Benjamin Moore Revere Pewter: A light gray with warm undertones, Revere Pewter pairs seamlessly with Thunder, serving up an inviting yet sophisticated palette.
Benjamin Moore Hale Navy: For a bolder impact, pair Thunder with Hale Navy. The rich navy blue walls contrasting with Thunder painted trims can create an atmosphere of luxury and stateliness.
Shades of Taupe: Trim colors in lighter shades of taupe can uplift a room painted in Thunder by adding warmth and light to space.
Remember that coordination doesn't merely end at walls and trims. Consider other elements like furniture, decor pieces, rugs, and even the general ambiance you want to establish when selecting coordinating colors.
So now that we've unraveled some gorgeous options for coordinating hues that go hand-in-hand with Benjamin Moore Thunder AF-685, let your imagination run wild to create your personal oasis.
Embrace the neutrality of Thunder's flexibility; it's truly a color designed to complement any design aesthetic you seek.
FAQs About Benjamin Moore Thunder AF-685
What color is Benjamin Moore Thunder AF-685?
This is a grey paint color with interesting warm beige undertones, leaning towards being a greige.
Is Benjamin Moore Thunder AF-685 warm or cool?
This color beautifully balances both - in natural light it leans warmer and under artificial light, it appears cooler.
What are the undertones of BM Thunder AF-685?
Look beyond the initial grey impression and you will see warm beige-brown undertones that truly give this color its unique versatility.
What colors coordinate well with Benjamin Moore Thunder AF-685?
Colors such as Benjamin Moore's Simply White or Revere Pewter and even bold choices like Hale Navy collaborate exceptionally well with Thunder.
Can I use BM Thunder AF-685 in any room ?
Absolutely! Its chameleon-like quality to adapt to all spaces makes it fitting for any room or exterior space you wish to paint.
Conclusion
Without a doubt, Benjamin Moore Thunder AF-685 is a fascinating shade that exudes elegance, tranquility and captivates with its ability to adapt seamlessly across different spaces and lighting conditions.
This remarkable versatility makes it a go-to choice for homeowners and interior decorators searching for the perfect neutral.
So, if you're seeking to create an oasis of calm with enough depth and character, let Thunder be your canvas.
Whether you're creating a serene retreat in your bedroom or designing an inviting living room for family gatherings, remember this spectacular greige has your back!
With Thunder on your walls and the right coordinating colors for accent features, you can trust that the tranquility of your fabulous abode will be thunderous indeed.