Choosing the right bunk bed for your space, whether for your kiddos, a dorm room, or even a guest room, can be tricky. Not only do you need to ensure the bed is safe and sturdy, but the size of a bunk bed must fit perfectly into your space while providing enough comfort to ensure a good night's sleep.
Of course, the widely varying designs and styles available on the market don't simplify this choice! The key is getting accurate measurements and understanding what will work best in the allocated space regarding height, width, and length.
So picture this: you've just found a spot in your home for that new bunk bed you've always wanted. Maybe you're revamping your kids' room or finally finding a solution to accommodate guests during holidays and sleepovers.
Now comes the big question - what size should that bunk bed be? Hold that thought right there! Before you rush off to buy—you know what—let's talk about how to nail down that decision with utmost precision.
What Is The Size Of A Bunk Bed?
Bunk beds typically have a standard size. The width is usually around 39 inches (99 cm), the height is approximately 65 inches (165cm), and the length is around 79 inches (200 cm).
This size may vary slightly depending on the design and manufacturer; therefore, always check the dimensions before purchasing to ensure it fits your space correctly.
What are the Different Sizes of Bunk Beds?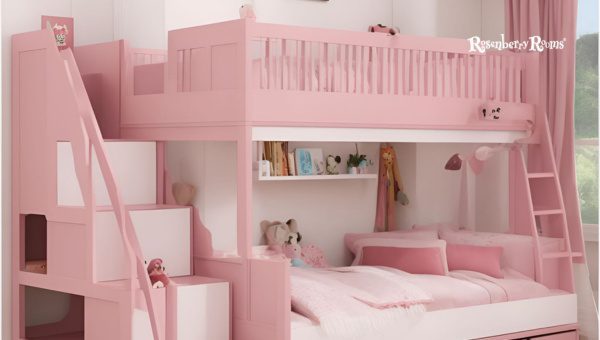 Regarding the perfect bunk bed for your space, size matters. Understanding the different sizes can help you make a more informed choice, whether you're scouting for beds for your twins, setting up a dorm room, or looking to optimize limited space in a small apartment.
Bunk bed sizes differ with each category meant for specific usages and spaces. Here, we'll explore several categories including Twin, Twin XL, Full (or Double), Double XL, and Queen size bunk beds.
Bunk Bed Size: Twin
The smallest size option is the twin bunk bed. Measuring 75'' in length, 38'' in width, and 8'' in depth, – this type of bunk bed is an ideal choice if you work with relatively constrained spaces.
Particularly popular for children's rooms or shared apartments due to their compact nature, they can accommodate standard twin-size mattresses comfortably while leaving ample room to move around them.
Bunk Bed Size: Twin XL
Looking for slightly more legroom than a standard twin? The Twin XL bunk bed might be your best bet! With mattress measurements that read 80'' x 38'' x 8'', the additional five inches, compared to the standard twin, provides extra length, particularly suited for taller kids, teens, and adults.
Bunk Bed Size: Full (or Double)
A Full or Double bunk bed accommodates larger mattresses of dimensions 75'' L x 53'' W x 8'' D. This means more comfort due to increased width as compared to a twin or twin XL size but remains at par when it comes to length with that of a typical twin bed.
This feature makes it perfect if two children share a bunk or if adults need to use them instead of traditional beds.
Bunk Bed Size: Double XL
Want all the width of a full bunk but craving more length? The Double XL it is. At dimensions of 80'' L x 53'' W x 8'' D, this bunk bed size is custom-built for users who enjoy a plentiful space in terms of width and length. It accommodates smaller adults or those who love to stretch out when they sleep.
Bunk Bed Size: Queen
The Queen-sized bunk bed reigns supreme when it comes to size! Boasting mattress dimensions of 80'' L x 60'' W x 8'' D, these beds are designed to provide maximum sleeping room.
Perfect for older teenagers, adults, or guest bedrooms where couples might be staying—this type provides expansive sleeping spaces on both levels.
Read More: Best Age For Bunk Bed [5 Important Things To Know]
Tips for Choosing the Right Bunk Bed Size
Choosing the right bunk bed size becomes much easier once you know what you need. Remember, what had worked perfectly for your friend may not do the same magic in your space!
It's all about optimizing what you have and where you wish to place your stunning bunk bed. Let's delve deeper into key points guiding you through this decision-making process.
Measure the room's dimensions: Before even considering hitting the market to purchase a bunk bed, take out your measuring tape. You need to know precisely how much room you have to spare.
Consider ceiling height: Remember that someone will be sleeping on an elevated platform, and bumping heads on the ceiling isn't fun!
Assess the intended occupants' ages and sizes: This includes height and weight – children can outgrow small-sized beds quickly.
Consider mattress size compatibility: Not all mattresses are created equal, so ensure the bunk bed frames accommodate your preferred size without hassle.
Factor in required space: Will there still be enough room for other necessary furniture after your new addition?
Keep safety in mind: Consider a model with sturdy guardrails and a safe ladder or stairs if it's a children's room.
Review weight capacity: For obvious reasons - check the maximum weight each bunk can handle to avoid any potential mishap.
Opt for built-in storage options: Drawers or shelves under lower bunks can provide additional storage without requiring extra floor space.
Evaluate material and construction: Wooden models radiate warmth while being sturdy; steel ones offer more sleek modern aesthetics – Choose wisely according to desired aesthetics and usage requirements.
Consider future needs and versatility: Maybe investing in a larger bed now makes sense rather than needing an upgrade later. Look if beds can be separated if the need arises in the future!
Having these factors nailed down can simplify your decision massively, leading you to a bunk bed that perfectly fits your room and needs.
What are the Different Frames of A Bunk Bed?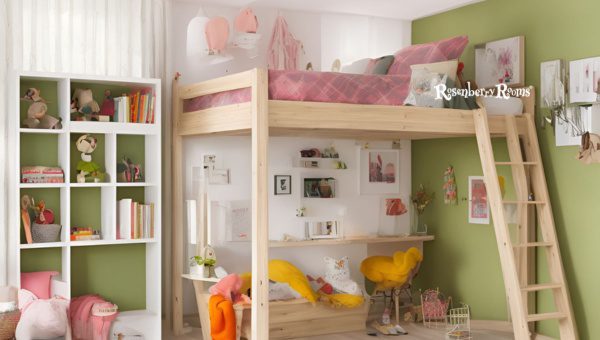 Choosing the right bunk bed is more than measuring the dimensions of your room and selecting a mattress size.
Another significant aspect is the style or type of bunk bed that best complements your needs and interior décor. Your choice will depend on design preference, functionality, number of sleepers, space considerations, and budget.
Bunk beds are typically made from three main materials: wood, metal, or plastic.
Each has its strengths. Wooden frames are durable and robust with diverse designs, while metal frames are lightweight yet sturdy with sleek modern aesthetics. On the other hand, plastic frames have a playful vibe ideal for children's rooms.
Built-In Bunk Bed Frame: Perfect if you want something permanent with a neat finish.
Loft Bed Frame: Provide a multi-functional space below, like a workspace or storage.
Mid-Century Modern Bunk Bed Frame: Stylish geometric patterns with minimalist appeal.
Country Style Bunk Bed Frame: Tradition meets comfort in these rustic-styled beds.
Metal Bunk Beds: Sleek finish ensuring longevity — versatile & fits virtually any décor style.
Standard Bunk Bed Frame: Two beds stacked on top echoing classical design - unpretentious & functional.
Tree House Bunk Bed Frame: A creative option for kids' rooms infused with adventurous spirit.
Trundle Bed Frame: Hidden extra bed underneath for guests; pulls out when needed!
Traditional bunk bed frames are usually made from wood built to last & add aesthetic charm.
Trundle Bunk Bed Frame: Standard bunk bed with an added trundle underneath for maximum sleep spots.
Industrial Style Bunk Bed Frame: Exudes edgy industrial aesthetic featuring metallic finishes & raw elements.
Scandinavian-style bunk bed frames: Simplicity, functionality, and minimalism.
Twin over twin bed bunk style: A classic configuration with twin beds above and below.
Triple Bunk Bed Frame: Three beds stacked up - a boon if you're short on space but not on sleepers!
Rustic Bunk Bed Frame: Cozy with natural materials like rough-hewn logs for an earthy ambiance.
Contemporary Bunk Bed Frame: Clean lines highlighting trending styles are ideal for modern interiors.
Futon Bunk Bed Frame: Combines sleeping space with a convertible seating area - suits small apartments & studios.
L-shaped bunk Bed Frame: Features one vertical stack & another protruding horizontally for a distinctive shape.
Every one of these options varies in terms of style, flexibility, functionality, and even price. Plus, many come with add-ons like ladders or stairs, guard rails, drawers, or under-bed storage—each adding value by enhancing safety or providing additional convenience.
Also Read: 19 Best Places To Buy Kids Furniture Online In 2023 [Trustworthy Stores]
Where to Use a Bunk Bed in Your Home?
Choosing a bunk bed is only half the journey. Once it's set up in your home and sturdy enough to have monkey-like children clambering over it, you'll quickly realize that bunk beds aren't just sleep corners - they're imaginative spaces for kids, efficient placeholders for guests, and pretty nifty hangout spots. Let's explore how you can rock these awesome dual-level frames in different areas of the house.
Hangout Spot
In homes with a premium space, the lower section of a bunk bed can be an absolute lifesaver! It's not just another space to rest your head; it can also double as your favorite hangout spot.
If you've opted for a full or queen-size lower bunk, throw comfy pillows and soft throws on it. Maybe add a portable side table to hold snacks and drinks while watching late-night television or playing video games.
With flexibility in design, many contemporary bunk beds offer options to fold up the bottom bed into a comfortable sofa during the day. This means this corner remains functional even when it isn't bedtime!
Imagine curling up with your favorite book on that plush sofa bunk under layers and warm blankets! In essence, creatively using your bunk bed can transform every lazy Sunday into an indoor vacation right at home.
Guest Room
How often does Aunt Patty randomly show up at Thanksgiving with her trove of questionable casseroles? For many homeowners who frequently host guests but don't have extra bedrooms to spare – placing a stylish bunk bed in one corner of your guest room can do wonders!
A well-made, sturdy wooden or metal frame with plush bedding on each level offers multiple sleeping options without consuming much space—ensuring everyone gets their beauty sleep even if the house is bustling with out-of-towners. Opt for larger sizes like Queen or Double XL if kids and adults may be occupying these spaces.
Dorms
If you've ever stayed in a dormitory, you know that space is premium. With limited square footage, every inch counts. This is where bunk beds are a game-changer! Bunk beds allow college students to maximize their constrained spaces efficiently.
Stacking beds vertically creates more floor room for other essentials like desks, wardrobes, and chill-out spots.
Staring at standard dorm room dimensions, typically 12' x 18', twin or twin XL bunk beds are popular choices; they provide ample rest while leaving much-needed space for studying and recreation.
Also Read: How To Loft A Dorm Bed In 2023? [5 Simple Ways]
Cabins or Vacation Homes
Bunk beds and vacation homes are a match made in heaven! Cozy cabins, lakeside lodges, or beach houses with limited bedroom spaces but the need to accommodate larger families or groups have found an answer in bunk beds.
They allow maximum sleeping capacity with the least spatial requirement. Styles like rustic wooden bunk beds fit beautifully into cabin aesthetics while robust enough for seasonal demands.
Choosing the correct size - Double XL or Queen - can make it more comfortable for adults and kids, enhancing those holiday vibes.
Children's Room
The magic of bunk beds truly shines in a kid's room! Beyond being space-savers - providing room for play areas and study desks - bunk beds also stimulate creativity among children.
Imagine it being a pirate ship one day, a castle on another – fostering imagination and playtime becomes much easier with them in your children's room.
Kids getting their sleeping space fosters a sense of privacy and ownership, which aids in their personality development!
Opting for twin or full-sized bunks with safety railings would be ideal, considering the required safety-to-comfort ratio.
What are the Benefits of a Bunk Bed?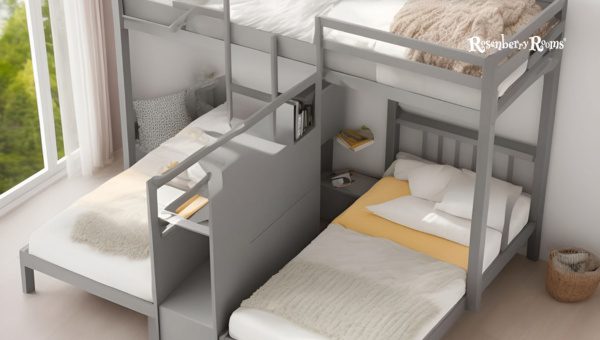 A bunk bed is more than just a dual-level sleeping arrangement. Beyond its apparent feature of providing more sleeping spaces in less square footage, it caters to numerous other benefits, making it an excellent choice for many living situations.
It's a magical piece of furniture that supports better organization, offers multipurpose usage, and encourages bonding moments. Let's delve deeper into what makes bunk beds a practical investment for your home.
Space-saving: This is probably the most obvious one! Bunk beds consume vertical space rather than horizontal, freeing up considerable floor area in your room. This extra space can be utilized for other essential things or left open to prevent a cramped feel.
Sleeps Multiple People: If you routinely host overnight guests or have kids sharing rooms at home, bunk beds allow for more sleep areas without additional room space.
Cost-effective: Purchasing two separate traditional beds can create quite a dent in your budget. Instead, go for bunk beds, which offer two sleeping arrangements at the price of one, and save not just money but precious room space, too!
Play Area Underneath Certain designs leave ample space beneath the lower bunk that can be transformed into a playful nook for kids. It can be your child's private reading corner or their little fort!
Enhanced Social Interaction: Sharing a room fosters companionship among siblings or roommates, encouraging bonding and creating shared memories.
Ideal for Vacation Homes: Space can often be limited in holiday homes, making bunk beds an ideal solution to accommodate more guests comfortably.
Customization Options: Available in various sizes and styles, with different storage options (drawers underneath bunks or stairs), they are highly customizable to suit individual preferences and needs.
Safety Features: modern designs incorporate robust safety features like sturdy rails and secure ladders, assuring a safe sleeping environment.
Guest Accommodations: Bunk beds are an excellent solution for overnight guests in limited spaces. They offer more bed area and are often produced in larger sizes like full or queen to accommodate adults comfortably.
Efficient use of vertical space: Ultimately, bunk beds use vertical space efficiently, freeing the room floor for other uses while maximizing sleep area.
Bunk beds infuse a unique aesthetic appeal to a room. They're fun, cozy, and even nostalgic for adults who remember their childhood sleepovers or shared sibling spaces. Select wisely and enjoy the manifold advantages that bunk beds bring to the table!
How to Install a Bunk Bed?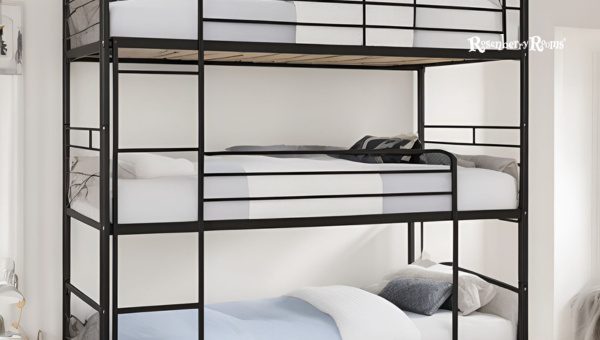 The days of specialty furniture needing professional assembly are long gone. With the right tools, patience, and comprehensive instructions, you can easily set up your brand-new bunk bed in your desired space. Follow these steps to ensure a safe and satisfactory assembly.
Choose the Right Location for the Bunk Bed
Choosing where to place your bunk bed is the first and one of the most crucial steps. You should consider a location that allows easy accessibility and room to maneuver. Having at least 2 feet of space between the top bunk and the ceiling is recommended.
Also, using a ladder or stairs, you should ensure enough floor space for safe ascent and descent. Besides, placing the bed along a wall can provide extra safety for whoever sleeps on the top bunk.
Assemble all the Necessary Tools and Hardware
Before starting the assembly, ensure you have all the necessary tools and hardware ready. Keeping a screwdriver (both flathead and Philips), wrenches, pliers, a measuring tape, and a level tool nearby is handy.
Most bunk beds have specific hardware like screws, bolts, dowels, and slats. This might seem hectic at first glance – yet having everything organized and close to hand will make your assembly process smooth.
Remember that every piece matters: missing even a single bolt can affect the stability of your entire bunk bed.
Read the Manufacturer's Instructions Carefully
After you've got your tools ready, it's time to dive into the assembly instructions provided by the manufacturer. Reading these thoroughly before starting can't be stressed enough - they are designed to guide you through each step of the process, specifically for your type of bunk bed.
Pictures or diagrams will often accompany these instructions, offering visual aid, which can be very helpful in ensuring you're on track.
Lay Out All The Bed Components And Hardware
Laying out all components (like frames, ladders, or safety rails) and hardware (screws or bolts) is an effective way to organize yourself before immersing into assembly work.
Doing this beforehand—ideally in an open space—gives you a good view of what goes where. It also allows for easy access to any component you'll need at any point during assembly. Treat each piece with importance.
Each component has its role, from bearing weight to adding aesthetics or ensuring safety – so dealing carefully with them ensures an overall sturdy build for your bunk bed.
Attach the Bed Frame to the Wall if It's a Wall-Mounted Bunk Bed
When dealing with a wall-mounted bunk bed, stability is paramount. You must securely attach the bed frame to the wall to ensure this.
Start by identifying your wall's sturdy sections—look for studs using a stud finder. This will give you solid anchor points for your bunk bed. Once you've found these, align your bed frame correctly and mark where you plan to drive in the screws.
Drill pilot holes into these marks, position your bunk bed frame against them, and carefully screw it into place, ensuring it remains level.
Also Read: 15 Best Bed Riser Alternatives In 2023 [Tested By Experts]
Assemble the Lower Bunk Frame According to The Instructions
Assembling a lower bunk requires careful attention as it forms a sleeping area and support for the upper bunk. Follow the given instructions meticulously.
Clear enough space in your room for assembly and lay down each part that comes with your kit: side rails, end rails, and slats are common components.
Secure one end rail to each of its respective side rails, typically using bolts or screws, and apply enough torque to guarantee firmness but avoid over-tightening, as this can cause damage.
Repeat this process with the other end rail, securing it similarly to its opposite side rail counterparts. Finish by laying down slats evenly across these erected frames.
Assemble The Upper Bunk Frame According To The Instructions
Similar principles apply when building your upper frame. Following manufacturer instructions exactly is key in ensuring this structure's integrity, which will ultimately bear some serious weight!
Begin the assembly process as we did for the bottom section: side rails linked firmly with their corresponding end pieces once again, be careful not over tighten bolts or screws here while connecting—this can cause unnecessary stress/strain, potentially leading to less stability later down the line if not appropriately addressed.
Install the Safety Rails on the Upper Bunk
Safety is paramount when using a bunk bed. Top bunks can be a little risky, especially for younger children who may be prone to rolling or falling.
That's where safety rails come into play. Usually provided as part of your bunk bed kit, these bars you secure on all sides of the top bunk, acting as protective barricades. To install, you'll use screws or bolts to fasten them firmly around the perimeter of the upper bed.
Ensure these rails extend at least five inches above the mattress to prompt protection against accidental falls and add peace to your night's sleep, knowing everyone is safe.
Attach the Ladder to the Bunk Bed
Reaching that top bunk needs some climbing assistance! This is where a ladder becomes essential. Depending upon your bunk bed design, ladders can either be integrated into one side of the frame or detached, allowing for moving and positioning as required. Your task is simple - secure it carefully.
If detachable, hook it onto the required side at an easy angle enabling effortless access up and down, screwing if needed for extra stability. Integrated ladders need screws tightened enough to hold a person's weight without wobbling.
Make Sure All Screws and Bolts are Securely Tightened
This might seem obvious, but it's often overlooked during assembly: ensure that every single screw and bolt are tightened securely - in every step of building your bunk bed! Loose hardware will lead to an unsteady structure, which may be dangerous.
So, take your time here, possibly using a drill instead of a manual screwdriver for optimum leverage and security. If the kit provides lock washers or other locking hardware, indubitably use it.
Check back periodically because, over time, screws can loosen with movement or weight shifts. Therefore, regular tightening checks ensure long-term stability and safety.
Place the Mattresses on the Bunk Bed Frames
Alright, this is where the comfort factor comes in. You've set up the bunk bed frame; now it's time to place your mattresses.
These should slide smoothly onto both levels of your bunk bed frame. Take note of any instances where it might bunch up or doesn't quite fit – adjustments may be needed if this happens. The mattress should snugly fit within the rim of the frame.
Ensure there is no gap between the edges of the mattress and bunk bed frame, as this could present a safety hazard for users, especially children.
Double-check the Stability and Safety of the Bunk Bed
Safety first! Now that your mattresses are installed don't skip checking for stability. Give your bunk bed a gentle shake and see any movement or wobbling.
Any motion could indicate that not all parts are secured properly, and you'll need to go back and tighten things up.
Check if all safety rails are intact and securely fastened to prevent accidental falls while asleep, particularly on that upper bunk. Look for sharp edges or corners on both frames and ladders; you wouldn't want anyone hurt during use.
Test the Ladder to Ensure It Can Support Weight
Ladders are integral to any bunk bed ensemble—they serve as bridges to those coveted top bunks! It's crucial to test them out by placing weight gradually onto each step before full-blown use to ensure they can bear both children's and adults' weight safely.
Haul yourself up slowly, testing each rung as you do so. If you notice any creaking sounds or bending in response to your weight pressure, this might mean more adjustments or replacements are needed before it's ready for daily use.
Decorate and Personalize the Bunk Beds as Desired
Crafting a comfortable and personalized bunk bed space makes it feel like home. Start with the bedding – engage with your children's input in choosing colors, patterns, or themes that resonate with them.
A 'Fairy Tale' themed bedding might become a big hit for your little princess-loving kiddo, or a 'Space Expedition' design for your future astronaut! To personalize further, curtains sustained by tension rods can be added to create a sense of private quarters.
Hang wall art or posters relevant to their interest on the side of their bunk to reaffirm ownership. Let's not forget about fairy lights! Arranged prudently, these can add an enchanting ambiance while illuminating the space safely.
Educate Children on Bunk Bed Safety Rules
Bunk beds are fun, but they also demand responsibility due to the inherent risks with height and climbing involved.
As parents, you must educate your kids about safety rules: No jumping from bunks; always use the ladder to climb up or down; no pushing or rough-housing on the upper bed; always hold onto the guardrails while climbing – these are just a few tips you should emphasize.
According to American Academy of Pediatrics guidelines, children under six should not sleep in the top bunk. Education aids prevention; hence, devote time to discussing safety measures seriously with your little ones.
Explore More: What Is A Sleigh Bed? [cy] [Different Types And Pros & Cons]
FAQs about the size of a bunk bed
What's the minimum ceiling height for a bunk bed?
Generally, you'll want at least two feet of space between the top bunk and the ceiling to prevent injuries.
Can adults fit comfortably on a bunk bed?
Yes, larger-sized bunks like Queen or Double XL are spacious for most adults.
Can I put different-sized mattresses on a bunk bed?
Usually not, as most bunk beds are designed to accommodate specific mattress sizes. Always double-check dimensions before purchase.
Is there a maximum weight capacity for bunk beds?
Yes, weight limits depend upon the material and construction of the bunk bed; ensure to check this before buying.
Are there custom-size options available for bunk beds?
Indeed! Many companies offer bespoke sizes; however, they may come with increased costs and longer delivery times.
Conclusion
Knowing the right dimensions for a bunk bed is essential in maximizing the effectiveness of your space. With options ranging from Twin to Queen size, it's important to figure out what works best for your needs, considering factors like room size, the age and stature of the intended occupants, and future usability.
Making an informed choice will result in purchasing and investing in comfort and efficient space utilization.
We hope this guide has armed you with all the information you need to navigate the world of bunk beds confidently.