Trying to find that perfect mattress that suits your sleep pattern can feel like striking gold. You've likely come across the name 'Sealy' in your quest, but how about the Sealy Posturepedic Ridgecrest line? This review presents a comprehensive breakdown of what this mattress has to offer.
The aim is not only to provide you with the necessary specifications and features but also to help you determine if it fits your personal comfort preferences and sleep style. So, please sit back, relax, and let's navigate through this crucial decision together.
Do you frequently end up tossing and turning at night? Or are you looking for a good balance between firmness and coziness?
The solution might be the Sealy Posturepedic Ridgecrest mattress. Loaded with superior comfort levels and body-conforming features, this mattress is designed keeping in mind one central figure.
It's all set to enhance your sleep experience. So, whether it's a side sleeper's gentle cushioning need or a back sleeper's spinal alignment requirement, the Sealy Posturepedic Ridgecrest may be just the mattress upgrade you've been looking for.
Overview of Sealy Posturepedic Ridgecrest
The Sealy Posturepedic Ridgecrest is an exceptional mattress option that finely balances comfort, support, and durability.
With a unique combination of individually responsive coils and high-quality foam layers, this mattress looks to provide an inviting sleep environment for all kinds of sleepers.
The Ridgecrest mattress comes in different sizes so that you can select the one perfectly tailored to your needs. It boasts a cooling technology that helps you maintain the right temperature throughout the night.
This model is widely known for its excellent pressure relief capabilities - making it ideal if you frequently experience body pains or discomfort at night.
What are the Key Features of Posturepedic Ridgecrest?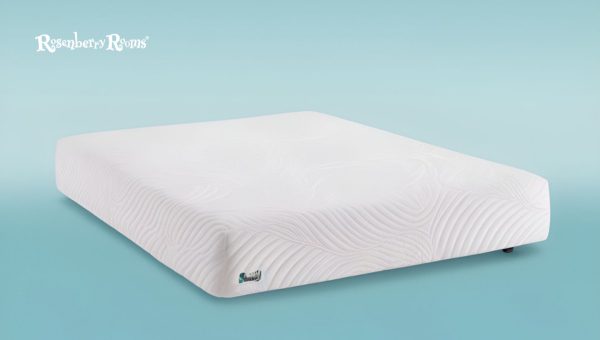 You've arrived at the section you've been waiting for, where we delve into the notable attributes of the Sealy Posturepedic Ridgecrest mattress.
Here lies the essence of our review, examining three essential elements: responsive coils, exceptional pressure relief, and temperature regulation features for cooler nights.
Responsive Coils
The highlight feature that sets Sealy Posturepedic Ridgecrest apart is its responsive coils. The core support comes from Sealy's classic coil system, in which hundreds of individually encased coils flex independently to provide precise support where you need it most.
As these springs respond to your body's varying pressure points, they let you maintain your natural spinal alignment throughout the night.
This not only results in a more comfortable sleep but also mitigates undue stress on your body. Meaning fewer aches and pains as time goes by.
In effect, this flexibility allows your bed to anticipate and accommodate your sleeping movements fluidly - whether you're lying flat or curling up on a cold winter night.
Exceptional Pressure Relief
When it comes to pressure relief, you'll be hard-pressed to find a mattress that does it better than this model.
Constructed with an advanced combination of proprietary memory foam layers and a zoned coil system, the Sealy Posturepedic Ridgecrest works intelligently to distribute weight evenly across its surface.
No matter how you prefer to sleep - be it falling on your back like a log or snuggling up on one side - this mattress ensures optimum comfort by minimizing pressure points, which can otherwise result in pain and discomfort.
This relieves pressure around more susceptible regions, such as hips and shoulders, while providing adequate lumbar support.
Cooler Nights
The discussion about key features would be incomplete without acknowledging how Sealy Posturepedic Ridgecrest facilitates cooler nights' sleep – because nobody wants to wake up sticky and sweaty in the middle of the night.
This mattress is a standout with its SealyChill Gel Memory Foam and Versare inner panel that enhances breathability, maintains optimal moisture levels, and prevents heat buildup.
These features work together to promote airflow and regulate sleep temperature, which means that your mattress stays cool to the touch and comfortable throughout the night, regardless of how hot or cold your room environment is.
You get a sleep surface that's not just comfortable but also works actively to keep you cool - making it an excellent choice for hotter climates or for anyone who tends to sleep hot.
Because let's admit it - when it comes to enjoying a restful night's sleep, cooler really is better.
Benefits of the Sealy Posturepedic Ridgecrest
If you're in the market for a new mattress, it's essential to understand its features and how they can benefit you.
The Sealy Posturepedic Ridgecrest offers several advantages that are designed to provide a comfortable and refreshing sleep experience.
We'll explore each of these benefits to understand how they can contribute to improving your sleep health.
Enhanced Support for Spine and Back
One prominent feature of the Sealy Posturepedic Ridgecrest is its exceptional support system for your spine and back.
It's all about spinal alignment in this model. The responsive coil system adjusts to provide targeted support precisely where you need it the most.
Precisely arranged and solid, they focus on providing support, especially for your hips and torso--two essential components of maintaining proper spinal alignment.
This means no matter what position you sleep in, you will get a supportive foundation that keeps your spine aligned, helping reduce common discomforts such as backache or stiffness when you wake up.
Also Read: Is A Waterbed Good For Back Pain? 2023 [Pros & Cons]
Reduced Motion Transfer for Undisturbed Sleep
If you share your bed with a partner who is a restless sleeper, then motion isolation is a crucial factor to consider while buying a mattress.
The Sealy Posturepedic Ridgecrest has this covered with reduced motion transfer technology, preventing movements from rippling across the mattress surface.
The individually encased coils function independently of each other, keeping motion localized and not spreading it across the bed surface.
This means when your partner tosses, turns, or gets up in the middle of the night, it won't disrupt your slumber, ensuring an undisturbed sleep.
Reinforced Edge Support to Prevent Sagging and Roll-off
No one likes feeling like they're about to roll off their bed during their precious sleep time. This mattress offers enhanced edge support that evenness around the bed's perimeter improves durability over time and firms up the edges for better stability.
The Sealy Posturepedic Ridgecrest has a reinforced edge support system that is specifically designed to combat this issue.
This design element helps prevent sagging at the sides of the mattress, helping you utilize the full surface area of your bed without feeling an imbalance in comfort or support.
Zoned Support for Targeted Pressure Relief
Even weight distribution is critical as it ensures that no single part of your body suffers undue pressure while sleeping.
Every sleeper has different pressure points. For some, it might be their shoulders; for others, their lower back or hips might need more care.
The zoned support feature present in Sealy Posturepedic Ridgecrest addresses this concern efficiently by providing targeted pressure relief based on your body's specific needs.
The strategically positioned coils target your heavier areas like the lower back with firmer support while cushioning lighter areas like your head and feet with softer comfort, ensuring an optimum level of body-contouring comfort.
Durability and Longevity of the Mattress
Durability is a standout feature of the Sealy Posturepedic Ridgecrest. The mattress is designed to stand the test of time, not just in terms of surface wear and tear but also in maintaining its comfort quality over the years.
The reinforced perimeter, resilient coil system, and excellent material construction all play a role in ensuring Ridgecrest's long-term durability.
With proper care and maintenance, you can expect this mattress to deliver consistent performance for years to come.
Breathable Materials for Temperature Regulation
The Sealy Posturepedic Ridgecrest introduces temperature regulation into your sleep experience using its Sealy CoolGel memory foam and breathable cover.
These materials aid in drawing heat away from your body, promoting better airflow throughout the mattress construction.
You won't find yourself waking up sweaty or uncomfortable, adding significantly to a cool, undisturbed sleep throughout the night.
Suitable for Various Sleeping Positions
Whether you are a side sleeper craving pressure relief or a back sleeper requiring ample support, the Sealy Posturepedic Ridgecrest has got your needs covered.
The responsive springs adjust independently to your body while providing targeted comfort in critical areas.
This makes it an excellent pick for different sleeping styles – catering well to side sleepers, back sleepers as well as stomach sleepers.
Read More: Best Sleeping Position For Chiari Malformation 2023 [C5-C6]
Allergen Protection for a Healthier Sleep Environment
For folks sensitive to allergens or concerned about indoor air quality in their bedroom.
The foam used in Sealy Posturepedic Ridgecrest is specially treated with allergen protection that hinders the growth of mold, mildew, and odor-causing bacteria on the mattress itself.
You are making both your nights more comfortable and your mornings fresher.
Resilient and Responsive Innerspring System
At its core stands an impressive responsive coil system, bringing resilience and adaptability right where it matters.
The individually encased coils cleverly react to the weight and contour of your body, offering the perfect balance of cushioning comfort, identifying pressure points, and providing targeted support.
This not only optimizes sleep comfort but also enhances the mattress's overall performance over time.
Quality Construction from a Reputable Brand
Sealy is synonymous with quality sleep products, and with the Posturepedic Ridgecrest line, they further solidify their standing.
They utilize state-of-the-art components while ensuring stringent quality checks throughout the construction process.
This speaks both for Sealy's devotion to its customers as well as its proficiency in delivering value-packed mattresses that stand up to their claims.
In this regard, choosing Sealy Posturepedic Ridgecrest is indeed committing to superior sleep health and satisfaction.
The Style, Dimensions, And Price Details Of Sealy Posturepedic Ridgecrest
Are you having difficulty choosing a mattress due to uncertainties regarding its style, dimension, and price?
With the Sealy Posturepedic Ridgecrest lineup, your concerns about finding the ideal fit are taken into consideration.
The mattress you need depends largely on your room size, sleep habits, and budget. Whether for a compact guest room with a twin bed or a spacious master bedroom with a king-size bed, the Ridgecrest model caters to every individual need.
Its pricing structure complements its wide range of dimensions to offer high-quality comfort at an affordable cost.
| style | dimensions | price |
| --- | --- | --- |
| Twin Long | 38" x 79", $1,77 | $1,77 |
| Full | 53" x 74.5", $1,789 | $1,789 |
| Queen | 60" x 79", $1,799 | $1,799 |
| King | 76" x 79.5", $2,299 | $2,299 |
| Split King | 37.5" each piece (vertically split) x 79.5", $3,558 | $3,558 |
| CA King | 35.5" each piece (vertically split) x 83.5", $2,299 | $2,299 |
The Comfort Factor and Support System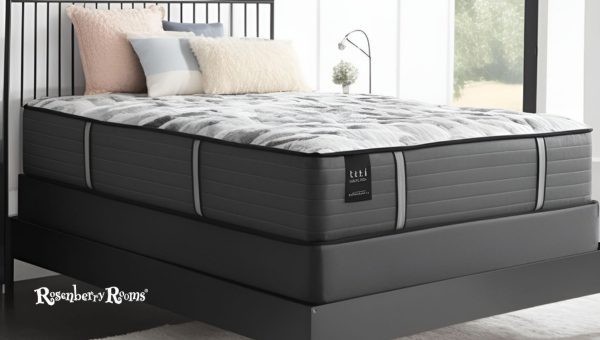 Finding a mattress that checks all boxes of comfort, support, adaptability, and cooling technology can be quite a task, but it's what the Sealy Posturepedic Ridgecrest brings to your bedroom.
Level of Firmness
One of the central aspects to consider when buying a mattress is its level of firmness. Nobody wants a bed so hard it feels like sleeping on a rock. Yet, too much softness might lead to improper spinal alignment.
The Sealy Posturepedic Ridgecrest combines two important materials – innerspring and memory foam.
The innerspring provides sufficient push-back or resistance that keeps your spine aligned, while the memory foam conforms to your body shape for that extra comfort.
The engineered coils adapt seamlessly to your movements. It means you won't feel stuck or have difficulty turning around while asleep.
Underlying all these features is industry-leading cooling technology - SealyChill Cooling Cover. These features work by moderating temperature fluctuations, thus offering you undisturbed sleep throughout the night.
Integral to this mattress is also its Pressure Relieving Foams: layers crafted intricately to distribute your weight uniformly over the mattress surface.
This helps provide relief from pressure build-up, which often leads to body discomforts like backaches or neck pains.
With a balanced level of firmness and a tailored support system, the Sealy Posturepedic Ridgecrest aims at transforming not just how long you sleep but how well you sleep.
Material Analysis and Construction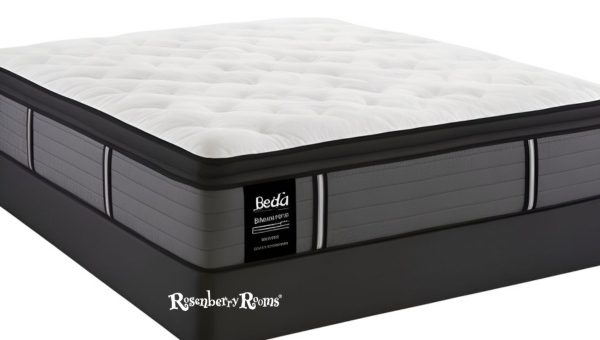 When you're investing in a mattress, it's essential to understand its composition and build. Not only does this contribute to the overall comfort and feel, but it also affects the longevity of the mattress.
The Sealy Posturepedic Ridgecrest stands out by combining multiple types of high-quality materials to ensure optimal support, balance, and durability. Let's delve a little deeper into its structure.
Foam Layers Composition
The foam layers of the Sealy Posturepedic Ridgecrest play a crucial role in defining its comfort level. The mattress utilizes high-density memory foam - an exceptional feature for individuals looking for lighter, more gentle support that comfortably contours around the body, easing pressure spots.
It's designed to allow your joints to rest while distributing your weight evenly. This dynamic material responds to heat and pressure to adapt closely to your body's unique shape, allowing you to sleep with fewer discomforts or disturbances.
A bonus is this foam layer's quality; it's built not just for comfort but also with long-term sustainability in mind.
Over time, you'll find your Ridgecrest maintains its original supportive features without succumbing to wear or sagging like other inferior foams.
Coil System Description
Equally vital is the coil system that forms the core strength of this mattress. Ridgecrest uses individually pocketed coils arranged strategically to provide targeted support where you need it most, such as your shoulders and hips.
These Reactive Coils adjust independently according to your body's profile, giving a customized support level for each sleeper while promoting motion isolation so one partner's movement doesn't disturb the other's sleep.
This unique coil system contributes significantly towards pressure relief as it cushions your body gently yet effectively maximizing restful sleep periods.
These coils enhance airflow throughout the mattress, aiding in temperature control – another nifty aspect ensuring Ridgecrest provides an all-encompassing solution for restful slumber.
Durability and Longevity of Posturepedic Ridgecrest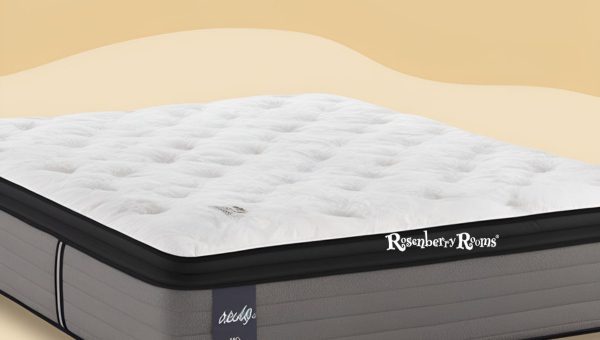 One of the utmost considerations when purchasing a mattress is its lifespan and durability.
A high-quality mattress, like the Sealy Posturepedic Ridgecrest, that can withstand everyday wear and tear for many years is a worthwhile investment.
Now, let's look into the longevity and durability features of this renowned mattress.
Lifespan Projections
A good quality mattress should last between 7 to 10 years, according to most experts. The Sealy Posturepedic Ridgecrest fits right into this category, with its robust build that promises a lifespan extending from 7 to even ten years.
This projection is based on regular usage and normal wear and tear. Factors such as individual body weight, usage patterns (like sitting or sleeping), and climate can also impact the lifespan.
Maintenance Recommendations
Your Sealy Posturepedic Ridgecrest is an investment that you'd want to retain for a long time. Knowing how to maintain your mattress properly plays a crucial role in preserving its life.
Check out these essential maintenance tips to ensure your mattress's optimum performance over time:
Rotate Your Mattress Regularly: This step helps in avoiding depression and softening.
Use a Mattress Protector To safeguard it against spills or stains.
Avoid Jumping Or Standing on The Mattress: It helps avoid unnecessary pressure on it.
Ensure a Supportive Bed Base: A correct bed base retains the structure of the mattress.
Clean Spills Immediately With A Damp Cloth: Quick response prevents permanent staining.
Vacuum The Mattress Surface Periodically: Helps in the eradication of dust mites or allergens.
Keep The Mattress Dry; Avoid Excessive Moisture: High moisture levels can lead to mildew or mold.
Do Not Remove The Mattress Tag: Tags contain necessary information about care guidelines.
Avoid Using Harsh Chemicals or Cleaners: They can deteriorate the mattress materials.
Ensure Proper Airflow in The Room: It aids in moisture evaporation and temperature regulation.
Following Sealy's specific warranty guidelines can add years to your mattress. Thereby ensuring sanitation, repair, or replacement without any additional costs.
The Sealy Posturepedic Ridgecrest is not just about immediate comfort but also about lasting value.
Regular maintenance will help you make sure this holds a primary spot in your bedroom for many quality nights of sleep to come.
So go ahead and consider investing in this durable mattress – your future rested self will thank you.
Explore More: Molblly Mattress Review 2023 [Experience The Best Sleep Ever]
FAQs about Sealy Posturepedic Ridgecrest
What type of sleeper is the Sealy Posturepedic Ridgecrest suitable for?
With its balanced level of firmness, it's aptly suited for side, back, and stomach sleepers.
How is the Sealy Posturepedic Ridgecrest in terms of heat retention?
It excels in temperature regulation with its advanced cooling technology and breathable materials.
Is the Sealy Posturepedic Ridgecrest mattress hypoallergenic?
Yes, it features allergen protection for a healthier sleep environment.
Can I get the Sealy Posturepedic Ridgecrest in different sizes?
Absolutely, it's available in Twin Long, Full, Queen, King, Split King, and CA King sizes.
How does the Sealy Posturepedic Ridgecrest mattress handle motion transfer?
It effectively limits motion transfer, ensuring an undisturbed sleep even if your partner moves during the night.
Conclusion
The Sealy Posturepedic Ridgecrest promises a blend of comfort, durability, and tailored support that may just offer you the best sleep experience yet.
This mattress's unique benefits, such as zoned pressure relief, cooling technology, and reinforced edge support, undoubtedly go a long way in ensuring quality rest for a diverse range of sleeping styles.
Planning to invest in a new mattress shouldn't be challenging; rather it's an investment in your health and wellbeing.
With the right information and quality choices like the Sealy Posturepedic Ridgecrest at hand, choosing your ideal sleep partner becomes more manageable.