Decorating a girl's room is a delightfully creative endeavor. It's an opportunity to create a magical space that blends fantasy and reality, where dreams can be nurtured and creativity encouraged.
One of the fundamental steps in achieving this perfect haven is choosing the ideal paint color. You're not alone if you have ever found yourself standing in a paint store, overwhelmed by the countless swatches.
Thankfully, Benjamin Moore has an impressive and diversified array of colors that will help form the perfect backdrop for that particular room.
Today, I am excited to share my take on some of the best Benjamin Moore paint colors for a girl's room.
Choosing the right shade is more than just picking out a color you like; it's about understanding how that color will interact with the rest of space - how it catches the light at different times of day, how it pairs with furniture, and ultimately how it makes the room feel.
But fret not - whether you're looking for whimsical pastels for a nursery or sophisticated hues for your teenager's retreat, Benjamin Moore has an option for every style and phase.
How to Choose the Best Color for a Girl's Room?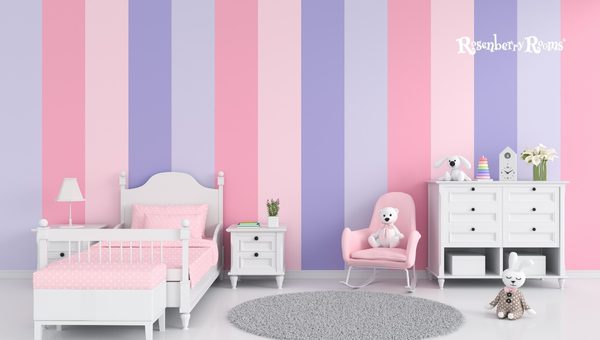 Selecting a suitable color scheme for a girl's room goes beyond personal preference. It's also about enhancing the room's overall aesthetic, complementing existing or planned furnishings, and creating a space that nurtures their personality and interests.
Consider the Room's Size and Natural Light: Rooms with ample natural light can handle darker shades without feeling closed in, while smaller or dimmer rooms benefit more from lighter shades to create an illusion of space.
Match it With Furnishings: Are you working with an already furnished room? If so, ensure your chosen paint color complements the furniture and décor.
Think About Moods: Colors have a significant impact on our moods. Cool tones such as blues or greens can help to create calm and tranquil spaces. Warm colors such as reds or yellows can stimulate creativity.
Ponder Longevity: Your choice should also incorporate longevity considerations; selecting timeless shades over trendy ones ensures your child won't quickly outgrow the room's look.
These are just starting points; customizing and modifying based on your child's unique personality is vital to creating her dream space.
Collaborative Colour Selection
Choosing the paint color for a room transformation should not be a solo task. Involving your child in the process makes it all more enjoyable and personal for her. Here's how you can execute a collaborative color selection.
Engage Your Child
Talk to your child about the colors she likes. Her favorite toys, storybooks, or outfits can inspire. This inclusiveness gives her a sense of empowerment and taps into her creative side.
Ask For Two Color Preferences
Encourage your child to choose two favorite shades. It provides flexibility when integrating furniture and décor into the room scheme.
Nurture Creativity and Personal Expression
Painting their room is an excellent avenue for children to express their personalities. Be open-minded, even when they suggest exciting combinations – an unexpected color blend has the potential for an amazingly unique space.
Bear in mind redecorating should be fun! Use this opportunity to bond with your child while creating a unique haven that reflects her character and spirit.
Incorporating Bold Colours
Daring to use bold colors is a fantastic way to inject life and personality into your child's room. Don't shy away from unconventional color choices; they are an excellent means of reflecting your child's passion and character.
Despite being non-traditional, paints like Benjamin Moore's New Age 1444 or Lido Green 617 can create a stunning impact when used correctly.
Designating a Single Wall for Bold Colors
A great technique to utilize these bold tones without overwhelming the room is through feature walls. Select one wall (preferably the one facing the door) and paint it in a vibrant shade, keeping the rest of the room neutral. This adds depth and interest without compromising the room's aesthetic balance.
Maintaining Balance with Overall Room Aesthetics
While experimenting with bold colors, it's crucial to maintain harmony within the room. Pair your bold choice with softer tones in furnishings or accessories; this will help preserve a tranquil and welcoming atmosphere while allowing the bold statement wall to shine.
Remember, decorating a girl's room with Benjamin Moore colors should be an enjoyable journey of creativity and self-expression.
Installing a Chair Rail – Practicality Meets Aesthetic Appeal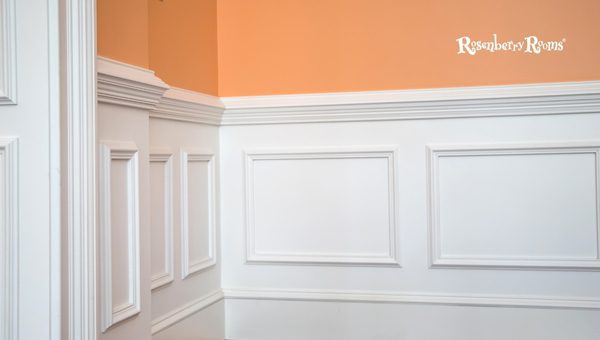 Adding a chair rail can infuse immeasurable charm and sophistication into your child's room, fashioning a timeless look that grows with your child.
Chair rails protect walls from furniture marks and add aesthetic symmetry and character to any space.
Vital Benefits of Chair Rails
1. Design Separation:
The primary benefit is that it offers visual separation. This feature creates an opportunity for dual-toned walls, permitting an exciting mix of colors without overwhelming the room.
For instance, Benjamin Moore Ocean Air 2123-50 above the chair rail and Gray Owl 2137-60 below it could create a classy effect.
2. Added Sophistication:
A beautifully installed chair rail adds instant sophistication and architectural interest to your child's room. It imparts a unique style statement and a sense of luxury subtly.
3. Decorative Possibilities:
Apart from adding dimension, chair rails open up myriad decorative possibilities such as wall paneling beneath or stenciling above – thereby adding personality and accents to your girl's room.
Remember that with these installations, the practicality should walk hand-in-hand with aesthetics—be mindful of your wall size while deciding the height of the rail installation for optimal visual appeal.
To summarize, incorporating a chair rail into your design ideas provides functional protection and decorative enhancement while instilling an enduring charm in your child's private haven.
10 Best Paint Colors For A Girl's Room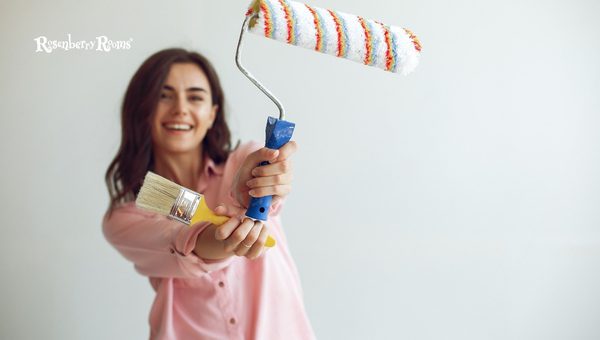 Painting your child's room with the perfect hue can instantly transform the space, providing a backdrop for endless joy, creativity, and tranquility. Let's dive into the world of Benjamin Moore to explore their best paints for girls' rooms.
1. Benjamin Moore Gray Owl 2137-60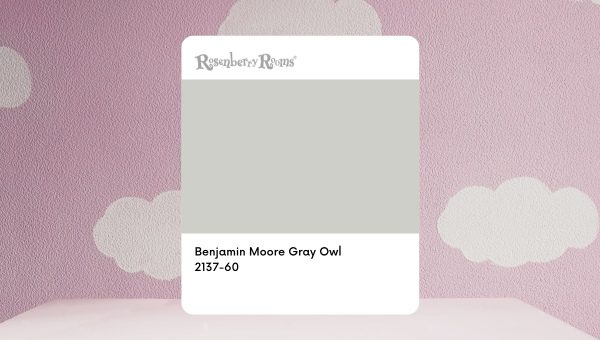 The Gray Owl 2137-60 from Benjamin Moore is a beautifully balanced, sophisticated light-gray shade. This versatile color seamlessly bridges the gap between contemporary and traditional styles.
Versatility: Gray Owl adapts well to various lighting conditions and pairs beautifully with multiple colors, accommodating changes in room decor over time.
Soothing Aesthetic: As a cool neutral shade, it provides a calming ambiance, ideal for creating a serene sleep environment.
Timeless Appeal: While trends come and go, gray remains a timeless choice your child won't quickly outgrow.
2. Benjamin Moore Pink Bliss 2093-70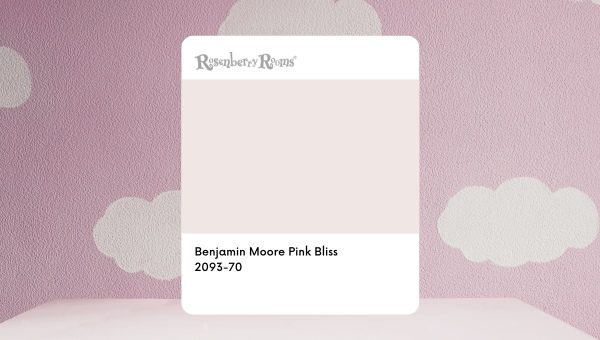 Awash your little girl's room in rosy charm with Pink Bliss 2093-70, an elegant soft pink boasting subtle undertones of peach. This color carries an airy beauty that makes one think of blooming roses on sunny days.
Soft Sophistication: The understated elegance of Pink Bliss offers a sophisticated yet girlish charm.
Light Infuser: Its light tone naturally brightens up spaces, perfect for rooms with minimal natural lighting.
Peaceful Palette: Creating an aura of peaceful serenity is effortless with this gentle shade; betwixt its embrace, dreams find fertile soil.
3. Benjamin Moore Ocean Air 2123-50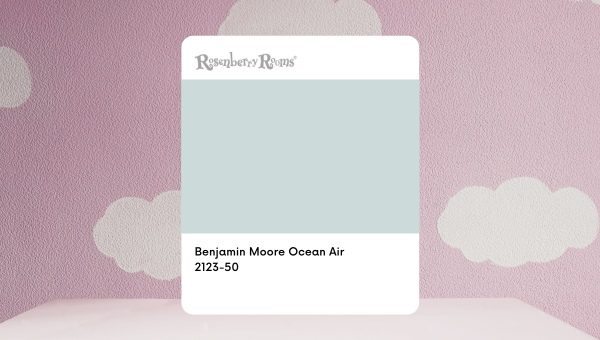 For those inclined towards cooler undertones, consider the tropical freshness exuded by Ocean Air 2123-50 from the Ambiance color collection by Benjamin Moore. This hue brings in soothing retreat-like vibes reminiscent of beachy holidays.
Calm Tranquility: Ocean Air sets forth an atmosphere echoing cool breezy beach days.
Color Depth: Its medium tone depth allows versatility; it can be used as an accent wall color or envelope the whole room without overwhelming it.
Innovative Combinations: Paired with white or pastel-colored furniture or textiles, Ocean Air gives birth to vibrant yet excellent aesthetics lending individuality to your child's space.
This paint shade offers diverse aesthetic values from sophistication to light-hearted charm catering to different personal tastes.
They ensure you and your child enjoy a unique journey while redecorating her room.
4. Benjamin Moore Simply White OC-117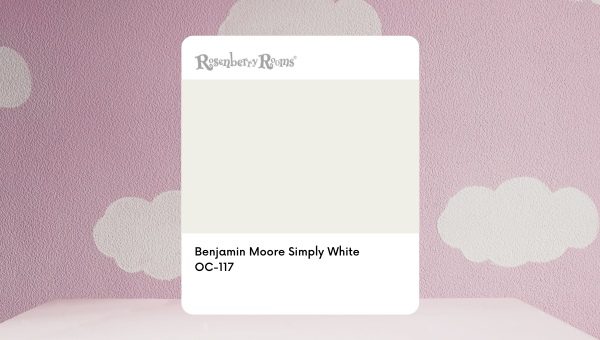 For a clean and crisp look, turn to Benjamin Moore Simply White OC-117. It remains true to its name, offering the tranquil simplicity of pure white with a subtle touch of warmth.
Pure Brilliance: In the spectrum of white shades, Simply White stands out as the purest – neither cool nor warm.
Versatility: It goes well with almost everything as a neutral shade, providing an excellent base for decorating experiments.
Light-enhancer: The beauty of white is its ability to boost luminosity, making spaces appear brighter and more prominent.
Classic Appeal: Embracing this color assures timeless, traditional elegance that gracefully transcends transient trends.
5. Benjamin Moore Limesicle 2145-50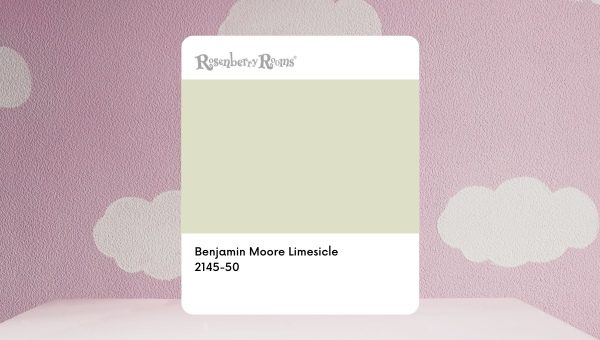 Evoke cheer and energy with the enthusiasm of Benjamin Moore Limesicle 2145-50, a radiant shade that dances between green and yellow in delightful harmony.
Lively Ambiance: Limesicle effortlessly brings a joyful ambiance into the room - like having perpetual spring indoors.
Great for Accenting: Its vibrant hue makes it an excellent choice for accent walls or decorative trims.
Warm Undertones: Despite its brightness, Limesicle's warm undertones promote comfort and warmth.
Creative Combinations: This hue blends beautifully with numerous color families - cool blues or natural greens.
6. Benjamin Moore Portland Gray 2109-60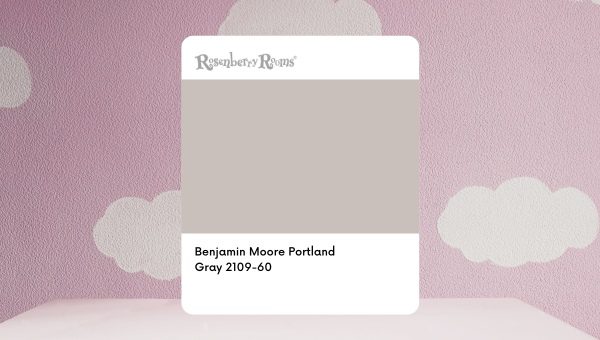 The quiet strength of gray finds beautiful expression in Benjamin Moore's Portland Gray 2109-60. This mid-tone gray offers subtle sophistication while maintaining interest and warmth in the room.
Classic Impact: Portland Gray carries an aura of understated elegance that imbues your child's room with timeless charm.
Depth Enhancing: The medium tone depth enhances aesthetic appeal without overwhelming space.
Balanced Undertone: Unlike many grays that lean towards blue or green, Portland-Gray maintains an inviting warmth aided by its balanced beige undertone.
7. Benjamin Moore Waterfall 2050-50
Let the creativity flow freely like a bubbling brook with Benjamin Moore's Waterfall 2050-50. This bluish-green shade recalls visions of crystal-clear waters under azure skies.
Refreshing Aesthetic: Marrying the calming effect of blue and reviving the energy of green, Waterfall provides a refreshing visual appeal to any girl's room.
Showstopper Shade: Perfect as feature walls or complete coverage, its attention-grabbing pigment will surely mesmerize all who enter.
Vibrant Versatility: Whether paired with pastels for soft contrast or bold hues for lush drama, this versatile shade holds its unique character beautifully.
Irrespective of which color you choose from Benjamin Moore's diverse palette, every hue promises excellent coverage, durability, and longevity.
These qualities ensure your child's walls stay vibrant even amidst markers, crayons, and life's everyday moments.
8. Benjamin Moore New Age 1444
Benjamin Moore's New Age 1444 is a quintessential dark gray shade that exudes sophistication and poise, making it a striking choice for your girl's room.
Known for its chameleon-like quality, this color exhibits different undertones based on lighting conditions and paired colors.
Benefits:
Versatility: The unique ability to morph shades makes it highly advantageous. Paired with cool-toned decor, it adopts bluish undertones, while warmer sets bring out its earthy browns.
Depth: Its darker tone adds depth to any room. It works dazzlingly as a feature wall, providing a dramatic contrast with lighter surrounding walls.
Timeless Appeal: This elegant hue resists fleeting design trends - a room painted in New Age 1444 will always remain in style.
9. Benjamin Moore Lido Green 617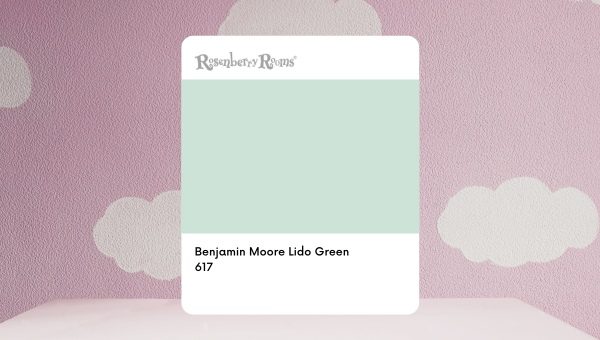 Sprinkle some tropical charm into your child's room with Benjamin Moore Lido Green 617. This refreshing greenish-blue shade invites the carefree vibes of sunny beach holidays indoors.
It captures the tranquil essence of coastal breezes and calm waves lapping against the shore.
Benefits:
Calming Effect: The soothing tones of Lido Green foster a serene ambiance, perfect for a space designed for relaxation and peace.
Fresh Aesthetic: Delivering invigorating lightness akin to a fresh ocean breeze, this painting draws in an airy summer feel year-round.
Color Pairings: Accented beautifully by shades of yellow or coral, this dynamic duo can create a playful yet calming atmosphere.
10. Benjamin Moore Pink Canopy 010
Bathe your daughter's room in delightful playfulness with the enchanting shade of Benjamin Moore Pink Canopy 010.
This vibrant pink hue resonates with childhood innocence and liveliness - an idyllic color choice for your little princess who loves everything pretty and pink.
Benefits:
Positive Vibes: The bright pink tone imbues positivity, perfect for sparking creativity and joy.
Warm Aura: Pink Canopy naturally creates a cozy, inviting environment as part of a friendly color family.
Color Contrasts: Pair it with cool colors like blues or purples to achieve visually stunning contrasts; balance its vibrancy using monochrome or metallic décor pieces.
Selecting the ideal paint color is about understanding your child's preferences; considering factors such as natural light availability; desired ambiance; existing furniture, and scope for future redecoration plans.
All the shades above from Benjamin Moore offer distinct character features promising to make any girl's room visually appealing and emotionally comforting.
FAQs About Paint Colours For A Girl's Room
Which Benjamin Moore paint colors are top choices for a girl's room?
Popular choices include soft pinks like Pink Bliss 2093-70, cool neutrals like Gray Owl 2137-60, and vibrant shades like Lido Green 617.
How can I ensure it doesn't overwhelm the room if I opt for a bold color?
Consider designating a single wall for the bold color (creating a feature wall) and keep the rest of the room in softer, neutral shades.
Are gender-neutral colors appropriate for a girl's room?
Absolutely! Many use grays, blues, or greens like Gray Owl 2137-60 or Ocean Air 2123-50 to create calm and relaxing environments.
Why should I involve my child in selecting her room's color?
Involving your child encourages personal expression and helps foster creativity, making it as much about the journey as the outcome.
Can Benjamin Moore's colors be easily matched with other elements in the room?
Yes! It's all about balance - harmonious hues can complement furniture and decorations to create an inviting atmosphere.
Conclusion
Selecting the perfect Benjamin Moore color for your girl's room is about finding their favorite hue, embracing their unique personality, and inspiring creativity.
It involves comprehending light, balance, harmony, and your child's preferences. From invoking tranquility with soothing tones to sparking joy through playful shades, take this opportunity to create a magical ambiance that mirrors their dreams and fosters growth.
Indeed, curating a dreamy space for your beloved child can initially seem daunting. Rest assured that by selecting colors mindfully, involving your child in the decision journey, incorporating bold shades strategically, and maybe even adding a stylish chair rail - you can confidently transform their room into a vibrant haven they will love.
It's all about combining color psychology, practical application of design principles, and love and joy. Thus spoke the canvas of Benjamin Moore paints – daring you to translate dreams into reality.