Are you on the hunt for the perfect addition to your home's cozy corner but are put off by the price tag of a brand-new Nugget Couch?
Fret not, as we've curated an incredible list of top-notch Nugget Couch dupes that will give you the same comfort and utility without burning a hole in your pocket.
Contemporary living is all about optimizing space, enhancing comfort, and not having to break the bank over it.
So why not indulge yourself with a stylish yet affordable option that offers not just value for money but also checks all boxes on aesthetics, quality, and functionality? Well then, gear up! We've got some amazing options coming your way.
What is Nugget Couch Dupes?
Nugget Couch dupes are essentially replicas of the popular Nugget Couch, often featuring a similar modular and flexible design.
They include multiple foam pieces that can be rearranged into different configurations for lounging, playing, or even building forts.
Designed to optimize space without compromising comfort, these couch dupes are ideal for small living spaces or playrooms.
Why are they loved so much? Because they're affordable yet quality alternatives to the somewhat pricey Nugget Couch.
Also, their covers are typically machine washable, which makes maintenance a breeze. Like the original Nugget Couch, they offer endless opportunities for creative play and relaxation.
Benefits of the Nugget Couch Dupes
Nugget Couch dupes provide a breath of fresh air for those who desire the look, feel, and versatility of the Nugget Couch without having to pay the hefty cost associated with it.
With Nugget Couch duplicates, you gain all the distinctive advantages and benefits that make these seating options such an appealing choice for many households.
Cost-effective: The primary lure of a Nugget Couch dupe is its affordability. You get a similarly functional and comfortable piece of furniture at a fraction of the cost.
Similar aesthetics: Nugget couch duplicates are designed to mimic the same stylish appeal and look as the original ones, often available in several colors and fabrics.
Versatile configurations: Just like their pricier counterparts, these dupes offer multiple layout possibilities. You can convert it into a lounge chair, sleeping pad, or even a child's play fort.
Lightweight design & Portable: These replicas are generally light in weight and easy to move around, handy when you want to switch things up or during cleaning times.
Suitable for limited spaces: Given their compact size when neatly stacked together, they're ideal for smaller spaces or rooms where multipurpose furniture is necessary.
Washable covers: Most come with machine washable covers so you can easily clean out spills or stains - parents, you know what we mean - ensuring longevity and freshness.
Durable construction: Despite being less costly, these dupes do not compromise on quality. They come with durable foam seats that hold up against regular use without losing their shape or comfort level.
Kid-friendly: If there's one demographic that'll love these units more than anyone else – it's kids. These duplicates are typically safe – featuring no hard corners or harmful substances. They also allow for endless hours of imaginative playtime!
These attributes make Nugget Couch dupes an incredibly appealing option for those seeking a functional, space-effective, and cost-friendly solution to their seating and recreational needs.
Next time you're in the market for a new Nugget Couch substitute, remember these points to take into account, and you'll have yourself the best bang for your buck.
12 Best Nugget Couch Dupes
Are you ready to delve into the world of Nugget Couch alternatives? Playful aesthetic, similar function but a lighter price tag - that's precisely what you can expect from these fantastic options.
For those yearning to create a cozy spot for their little ones or to add a soft and trendy touch to their space, hang tight as we take you on this exciting journey.
Betterhood Play Couch Sofa for Kids
Deftly crafted by Betterhood, this unique play couch is an exciting choice for your explorative bunch. Are you looking for beautiful aesthetics combined with an equally impressive utility?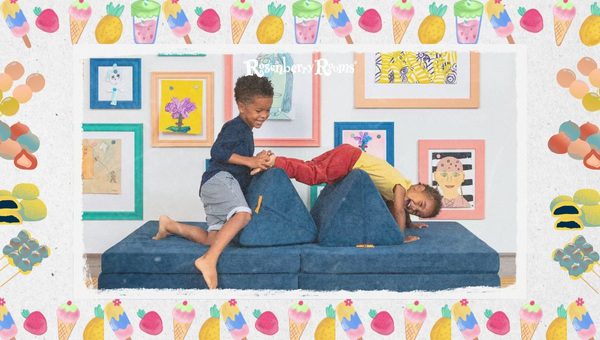 At the reasonable price point of $179-$199, this dupe of the Nugget couch will surely catch your attention.
The Betterhood Play Couch lends itself perfectly as an engaging haven for your children. With its six-piece design, including armrests, bolsters, and seat cushions, it offers unprecedented versatility.
One moment, it's a comfy loveseat in grey polyester upholstery; the next moment - presto! It alters into a fun play mat, revolutionary fort, or multiple cozy chairs.
Your little one's creativity knows no bounds with this versatile piece. Moreover, it's primed for kid-friendly fun, being safe and certifiable.
What more is in store? Keeping it pristine and allergen-free is no ordeal with its machine-washable covers.
And the cherry on top - it's sustainable! Yep, filled with natural rubber sponge, it's not just fun but eco-sensitive too.
Pros
Versatile 6-piece design
Spawns creativity
Safe and kid-friendly
Machine washable covers
Eco-friendly materials
CONS
Restricted color option
Limited room applicability
Seat height might be less appealing for some
Also Read: Futon Vs Sofa Beds 2023 [Is It OK To Sleep On A Futon?]
MeMoreCool Kids Couch
The MeMoreCool Kids Couch stands out for its vibrant selection of colors and its versatility. This adaptable, 8-piece sofa can transition from a comfy lounging space into an imaginative playhouse, transforming your child's room into a multi-functional wonderland.
Assembly is a breeze, thanks to the no-hassle design. Featuring dimensions of 28.3" D x 50" W x 17.1" H, it is compact enough to fit in various corners of your child's room while still providing ample space for playful creativity.
Weighing in at a mere 5.44 kilograms, you'll find it easy to switch locations or reconfigure when desired.
This couch sports a soft and lush polyester fabric that easily wins over little users. And what about those inevitable spills? The removable velour cover invites hassle-free maintenance with its machine washable feature.
The potent combination of durability and safety in this couch's foam core brings peace of mind for parents.
Whether your young ones are using this piece as a fort, play stage, or simply as their preferred reading spot, the MeMoreCool Kids Couch underscores safety and endurance in equal measure.
Pros
Lightweight and portable
Fosters creative use
No assembly required
Variety of color choices
Machine washable cover
CONS
Needs inflation after opening
Limited weight capacity
May show wear with rough use
Jela Kids Couch and Floor Sofa
Perfect for fostering creativity and bolstering family time, Jela Kids Couch and Floor Sofa Modular Furniture is an excellent addition to your living space.
Retailing at $299, this Jela product offers a fantastic symbiosis of comfort, quality, and versatility, styled with impeccable taste.
Made up of a 14-piece set, the flexibility offered by this couch is like no other. Exuding a stunning color of moonlight grey, it stands beautifully against any decor.
Its eco-friendly production material resonates with sustainability lovers, while its CertiPUR-US certification ensures safety standards.
Featuring an assembly-free design that sets up in minutes, the furniture effortlessly reconfigures into a couch or impromptu playhouse, adding a touch of joy to children's play adventures.
Best situated against a wall for stability, this sectional couch measures 28"D x 57" W x 18"H and weighs 30 pounds, light enough to maneuver yet sturdy enough for adult use.
Pros
Robust build quality
Easy assembly-free setup
Eco-friendly construction
Durable CertiPUR-US certified foam
Premium Customer Service
CONS
Limited color options
Higher-end pricing
Requires wall placement for stability
Read More: How To Mix And Match Pillows On A Sofa [2023 Styling Tips]
Kidirect Versatile Modular Kids Play Couch
Priced at $199, the Kidirect Versatile Modular Kids Play Couch is a front-runner in the realm of Nugget Couch dupes.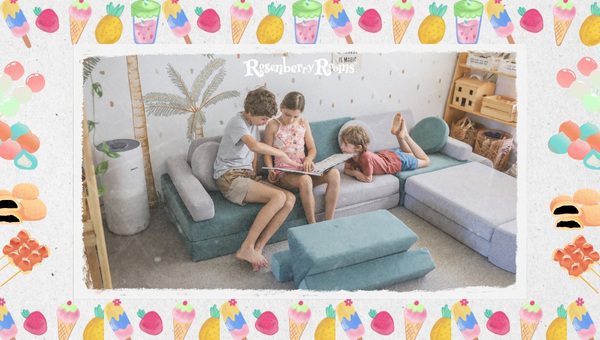 Available in three alluring shades, including a modern Space Grey color, this couch screams versatility and style.
The overall dimensions of this conveniently modular couch are 27.56''D x 59''W x 16.54''H, making it a fit for rooms of various sizes, be it a bedroom, living room, playroom, or nursery room.
Thanks to its rectangular shape, you can effortlessly utilize this couch to construct creative setups like a pirate ship or a comfy reading nook.
One of the prime highlights is its compressed packaging, ensuring safe delivery right to your doorstep.
This couch not only serves as a charming furniture piece but also as an engaging toy set-up, saving space and providing immense creative freedom for your child.
The Kidirect Couch promises durability with its machine-washable fabric and CertiPUR-US certified foam filling that passes safety standards and fire regulations.
It's more than just a piece of furniture. It's an investment in your child's creative development while being a fun addition to any living space.
Pros
Vastly versatile play options
Ensures safe delivery
Space-saving solution
Perfect gift for little ones
Highly durable fabric
Meets several safety regulations
CONS
Limited color options
Requires initial manual shaping
Detail foam might feel stiff initially
Wanan Kids Modular 10-in-1 Playroom Sofa
A perfect blend of functionality and fun, the Wanan Kids Modular 10-in-1 Playroom Sofa puts a fresh spin on comfortable seating.
This contemporary piece can transform any standard room into an interactive family space, promoting imagination and creativity.
Crafted with soft and durable velvet fabric, this sofa is not only easy on the eye but also plush to the touch, making it ideal for your dear ones with sensitive skin. The machine-washable cover makes it incredibly easy to keep clean.
The sofa arrives at you in an efficient compression package, ready to brighten up your space instantly without any tiresome assembly process.
Its versatile modular design allows for multiple configuration options; whether you want a comfy chill-out corner or an imaginative fort, this sofa has got you covered.
This chic convertible sofa, offered in a range of ten exquisite colors (including the sophisticated Grey), is just what you need to elevate your home décor game.
Key Features:
Brand: Wanan
Price: $198
Convertible Type
Dimensions: 28.3"D x 55.1"W x 23.6"H
Upholstery Fabric Type: Velvet
Room Type: Bedroom
Pros
No assembly required
Encourages creative play
Soft and durable fabric
Easily cleaned machine washable cover
Versatile modular design
CONS
Slightly heavy (39 pounds)
Limited height (9.4 inches)
Premium price point
Explore More: Burrow Nomad Sofa Review 2023 [I've Used It For 2 Months]
Milliard Sleek Modular Playroom Sofa + Pillow
This sleek, black beauty by Milliard is a superb alternative if you're on the hunt for Nugget Couch dupes. Priced at an affordable $129, this convertible sofa is available in five impressive colors and is designed to suit any room in your house, particularly the bedroom.
The Milliard Sleek Modular Sofa boasts a clever modular design that is perfect for multiple uses. Whether you want to lounge around or need to set up space for guests quickly, this couch has got you covered.
An additional advantage of this adaptable piece is its plush velour cover, which not only adds a touch of luxury but also can be easily removed and washed - ideal for maintaining a clean and fresh living space.
Safety is paramount with Milliard. The sofa's foam base is tested and certified, ensuring it meets US safety standards. This means you can enjoy peace of mind while relaxing or letting your little ones play on it.
What's more appealing about this brand? They're local! Based in fabulous New Jersey, Milliard offers exceptional customer support, further elevating your purchase experience.
Pros
Highly versatile modular design
Easy-to-clean removable cover
Certified safe foam base
No assembly required
Exceptional customer support
CONS
Limited color selection
Relatively higher seat height
Not accommodate larger spaces
Yourigami Versatile Kids Convertible Play Sofa
Are you looking for an affordable yet stylish play sofa for your kids' room or living space? The Yourigami Kids Convertible Play Sofa might just fit the bill.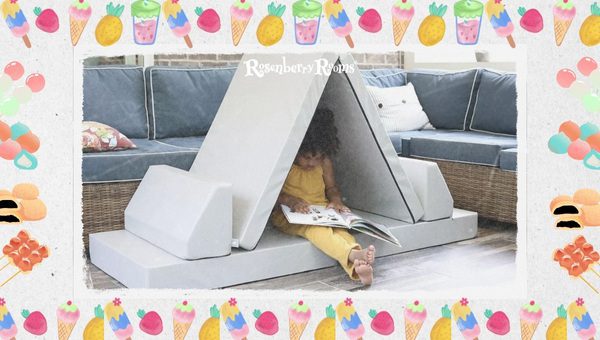 This incredibly handsome Mountain Gray version promises to blend seamlessly with most color schemes, ensuring it meets the aesthetic requirements of your home.
Priced at a competitive $199 and available in five different colors, the Youragami Play Sofa sports a nifty convertible design.
With no assembly required, it saves you from any setup horrors. It's a 4-piece modular set, offering endless scope for creativity when rearranged!
With dimensions of 31"D x 62" W x 8"H and weighing only 21.8 pounds, this unique piece is not just compact but also extremely lightweight – perfect for small spaces and easy to move around.
This sofa is crafted with a removable, machine-washable polyester cover, meaning spills aren't an issue with this beauty around.
The special features don't just stop there. It offers convenient storage options and uses CertiPUR-US certified foam – taking care of comfort and quality in one go.
Its compatibility with the YOURIGAMI Play Castle makes it the perfect addition if you already own that funky piece.
Pros
Expandable cushions
Convenient Storage Options
No Assembly Required
Versatile Modular Design
Compatible with YOURIGAMI Play Castle
CONS
Limited Weight Capacity
Requires Time for Cushion Expansion
Potential Color Fading
Also Read: Burrow Nomad Sofa Review 2023 [I've Used It For 2 Months]
Jela Extended Modular Floor Sofa for All Ages
Couch shopping can be a real task. But what if you could bring home a modular set that is a jack-of-all-trades? The Jela Extended Modular Floor Sofa fits right into this description.
Available in a price range of $229 to $268, this sectional-type sofa set boasts an impressive 10-piece modular design that adapts to your space requirements and comfort.
Crafted using premium and environmentally friendly material, the Jela Extended sofa set redefines versatility with its multiple configuration options.
This means you can set it up JUST the way you like! When we say no assembly is needed, we mean it. The easy setup and even simpler storage will put an end to all those time-consuming furniture assembly trysts.
This CertiPUR-US certified foam sofa isn't just about form and function; there is more than meets the eye.
It encourages family interactions for memorable bonding sessions. Robust yet comfortable, the couch won't buckle under weight until it hits 330 pounds.
But what steals the deal is its durable Snow-Mountain colored suede cover, which spells sophistication while guaranteeing long-term use with machine-wash durability.
When you choose Jela, you're not just choosing a couch but also assuring eco-sustainability.
Pros
10-piece modular design
Eco-conscious premium material
Space-efficient with easy storage
Promotes familial bonding
Spacious with generous seat depth
CONS
Limited color availability
Slightly heavier item weight
Jela Spacious Navy Modular Floor Couch Set
Everyone loves a cozy corner in their home to relax, read, and recharge, and the Jela Spacious Navy Modular Floor Couch Set is just perfect for that.
Priced reasonably at $179 and available in 11 vibrant colors, this dupe of the nugget couch isn't just about aesthetics; it also ticks all the boxes on functionality, comfort, and durability.
Constructed with high-quality eco-friendly material and tested by CertiPUR-US for its performance, durability, and content.
This product certainly boasts quality. With its modular design helping achieve versatile configurations, setting up your dream relaxation corner is a breeze. Storing it away when you crave extra floor space is absolutely effortless.
One standout feature of this sofa set is its capacity to promote family interaction. Given its size of an expansive 56.7" in width and a comfortable seat depth of 28.3", you get ample cozy space to enjoy an evening full of chit-chats, board games, or movie nights.
The couch set offers easy setup as no assembly is required. It arrives at your doorstep nicely packed with clearly modular parts that can easily be assembled or disassembled depending on your preference.
Pros
Excellent value for money
Eco-friendly Material
Family-friendly Design
Easy Assembly
Versatile Configurations
CONS
Limited weight capacity
Dimensions may not suit all
Might be bulky for small spaces
Read More: Article Nordby Sofa Bed Review 2023 [Weeks Later, Am I Still Loving]
MSOBAIW 14-Piece Convertible Toddler Play Sofa
Do you find it challenging to merge playful energy with a spot for relaxation in a common space? Look no further than the MSOBAIW 14-piece Convertible Toddler Play Sofa.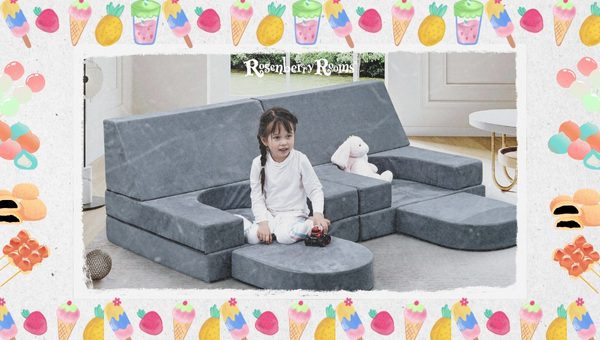 With a delightful light green hue, this versatile product can effortlessly transition from a playful setup into a cozy lounging corner.
Made to stimulate curiosity, it enables your child's inventiveness by providing him or her with endless options for configurations.
This modular kids' sofa sports an easy-to-maintain removable and waterproof cover, ensuring it always remains as clean as new.
It's filled with a high-density rebound sponge that lends unmatched support and comfort for all ages, whether it is naptime or playtime.
Its dimensions of 33x66x20 inches offer ample space for both playing and lounging. You'll also appreciate the fact that you can wipe it clean with a dry cloth - talk about hassle-free upkeep.
Express your love by gifting this to your little one - this piece not only boosts creativity but also doubles up as a comfy cuddle corner after playtime.
Pros
Encourages Imaginative play
Highly Comfortable
Hygienic
Versatility
Maintenance-friendly
CONS
Pricey
Limited color options
Bulky size
FILUXE Modern Convertible Linen Sleeper Sofa
Meet the FILUXE Modern Convertible Linen Sleeper Sofa, a leading player in the world of home comfort.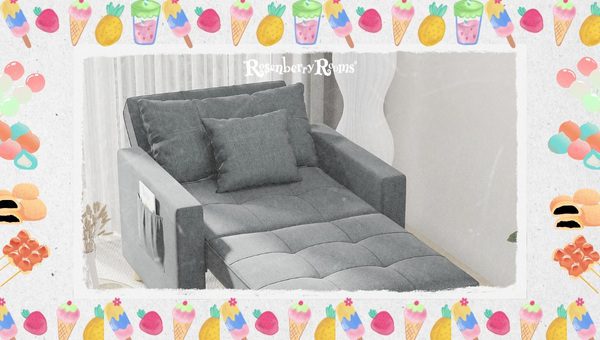 If you're on a quest for a flexible yet chic addition to your lounge or guest room, this beauty will definitely turn heads.
Available at an attractive price of $199, it comes in three subtle yet classy colors perfectly suited to various decor styles.
Built with an emphasis on ergonomics, this convertible couch boasts an adjustable backrest for maximum comfort. FILUXE has implemented a secure hook and loop system complemented with durable zippers to ensure that the product is assembled securely and swiftly each time.
Designed with high-density foam wrapped in premium quality fabric, it offers an experience of pure relaxation and unadulterated comfort.
A key feature of this couch is its foldable design. It's all about convenience and practicality packed into one.
There is no need to stress about assembly; it's ready to use straight out of its packaging. How great would it be as a welcoming gift?
Pros
Deluxe Comfort
Easy Conversion
Secure Assembly
High Durability
No Assembly Needed
Gift-Worthy
CONS
Standard Size Only
Limited Color Options
Might Be Bulky
Explore More: Cozey Ciello Modular Sofa Review 2023 [6 Month With Cozey Ciello]
FAQs About The Best Nugget Couch Dupes
What is a Nugget Couch Dupe?
A Nugget Couch Dupe is an alternative to the original Nugget Couch, offering similar functionality and comfort but at a more affordable price point.
Are Nugget Couch Dupes as durable as the Original?
Yes, many Nugget Couch Dupes are designed with high-quality materials, making them robust, long-lasting, and comparable to the original.
Can I wash the covers of my Nugget Couch Dupe?
Yes, Most dupes come with removable and machine-washable covers for easy cleaning and maintenance.
Are there design options when it comes to Nugget Couch Dupes?
Yes, You'll find various colors, fabrics, and sizes in the market when scouting for your perfect Nugget couch dupe.
Is assembly required for a Nugget Couch Dupe?
Generally, most dupes don't require assembly, or the process is fairly simple with guidelines provided by manufacturers.
Conclusion
In the realm of flexible and stylish home furnishings, Nugget Couch Dupes are truly unrivaled.
They not only offer a practical solution for contemporary living spaces but also promise to take comfort and style to the next level. Their affordability makes them a preferred option for many homeowners.
So, give your living room or kid's playroom the ultimate makeover with a versatile Nugget Couch Dupe.
With numerous options to choose from, you're sure to find something that suits your needs and matches your aesthetic preferences without compromising on quality or breaking the bank.