Have you ever found yourself tangled in thoughts about how to ship a mattress? Moving bulky items like mattresses can be quite a challenging task.
After all, these aren't items you can dump in a box and send off. With that being said, you've clicked on the right article.
We're here to clearly explain all there is to know about the process, putting an end to all your shipping worries.
In today's busy life, we often neglect to consider the complexities involved when navigating such tasks as moving or shipping large household items like mattresses.
So whether you've sold your old mattress online or are planning a big move across the country, this guide has got your back!
Through this blog post, we will lay out insightful tips and proactive strategies that would make shipping a mattress seem like a child's play.
Is It Worth Shipping a Mattress?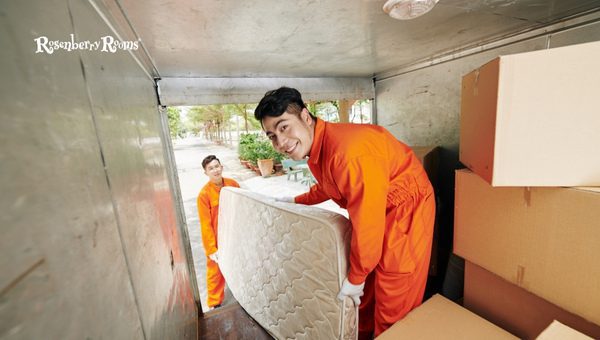 Shipping a mattress may or may not be worth it, depending on various factors. The primary considerations to determine its worth include the destination, quality of the mattress, its original price, and age.
In some cases, the costs of shipping can outweigh the value of the mattress itself, thus making it cheaper to buy a new one at your destination.
If you own a high-quality or pricey mattress that is still in great condition, then shipping might be worthwhile. Always consider these factors before determining whether it's worth shipping a mattress or not.
Also Read: When Is The Best Time To Buy A Mattress In 2023? [Best Months]
How Much Does It Cost To Ship A Mattress?
The cost to ship a mattress typically varies based on the distance and can range from $0.70 to $2.50 per mile. However, keep in mind that additional fees may apply for packaging, labor, or oversized items. It's best to get a quote from multiple shipping providers to determine the most cost-effective option.
Terms can differ from one carrier to another, as well as based on the size and weight of the mattress, so it's crucial to read and understand all details before making a decision.
USPS Retail Ground
One of the popular choices for shipping large and heavyweight items like mattresses in the United States is USPS Retail Ground. For an average cost of $150.35, USPS offers a reliable, economical solution for shipping within the US.
USPS Retail Ground provides a dependable yet budget-friendly option for both businesses and individuals. The service covers all 50 states, including Alaska and Hawaii. Furthermore, it displays a good track record when it comes to handling bulky items.
There are certain weight restrictions to bear in mind; any individual package should not exceed 70 lbs in weight or 130 inches in length and girth combined. Unfortunately, there are no fixed pick-up days, so you need to drop off your mattress at a local post office.
Priority Mail 2-Day
If time is of the essence, then USPS also offers Priority Mail 2-Day at an estimated cost of $181.15. It's an expedited shipping service that guarantees delivery within two business days.
The speed associated with this option makes it ideal if you're in a hurry to get that mattress moved. This service does come with free package pick-up from your home or business location at a convenient date and time, which can be scheduled online.
While slightly more expensive than Retail Ground, Priority Mail 2-Day includes up to $50 insurance for loss or damage and offers tracking facilities.
Despite the higher cost involved compared to Retail Ground services, Priority Mail 2-day adds value by saving time while ensuring safety during transit.
Priority Mail Express 1-Day
If you are looking for immediate delivery, USPS's Priority Mail Express 1-Day service can cater to your needs. Priced at around $482.10, it is the fastest domestic service currently operated by USPS.
As the name suggests, this service ensures overnight delivery to most U.S. locations. But keep in mind that its availability might be restricted to certain addresses.
One of the highlighting features of the Priority Mail Express 1-Day is that it offers up to $100 insurance for most shipments and includes a host of features like return receipt and proof of delivery.
This service operates year-round and also includes holidays and Sundays with no additional charges, making it an excellent choice when you need a mattress shipped promptly.
UPS Ground
Priced at $166.64, UPS Ground is a cost-efficient option when looking at private courier services for shipping your mattress. UPS has an extensive network throughout the United States and is recognized globally for its reliable services.
UPS Ground aims to transport regular-sized packages within one to five business days based on the distance to the destination. This essentially means your mattress should reach its new home within a week.
It boasts detailed tracking that lets you monitor your shipment every step of the way. Furthermore, UPS's offering also includes pickup services from your home or place of business.
Factors such as parcel weight, size, and fragility can influence shipment costs; hence, it is crucial to communicate these details while booking your shipment.
UPS 2nd Day Air
Moving on to another prominent player in the shipping industry, UPS 2nd Day Air service offers expedited shipping, ensuring the package arrives within 2 business days. With an average cost of $563.76 for a mattress, this service gains favor when time is critical.
UPS has an impressive domestic coverage spread across the states, making it convenient for shipping large items like mattresses. Its diligent handling and tracking systems ensure your item stays safe during transit.
It's worth noting that UPS 2nd Day Air provides free package pick-up and does not impose a size restriction, which is advantageous when dealing with oversized items like mattresses. You will also receive a notification about the status and estimated delivery time of your mattress.
UPS Next Day Air
If you are in urgent need to move that mattress ASAP, UPS Next Day Air should be your go-to service. This premium-grade service ensures delivery on the next business day at an average cost of $779.41 for a mattress.
True to its name, UPS Next Day Air lives up to its promise by offering timely deliveries without hindering the safety of your package. The higher cost comes with distinct advantages, including extensive tracking and customer support services throughout shipping.
Similar to the 2nd Day Air service, UPS Next Day Air provides free package pick-up and doesn't charge any additional fees for handling oversized items - an attractive benefit when you're dealing with bulky items like mattresses.
Importantly, this option can provide peace of mind, knowing that your mattress will reach its destination promptly.
FedEx Ground
FedEx Ground is synonymous with trustworthy and affordable shipping throughout the United States. An average cost of $161.54 lets you ship mattresses or similar bulky items across the country effectively.
The FedEx Ground service caters to both businesses and individuals and offers one of the best networks for ground shipping in terms of reliability, efficiency, and coverage. Packages can weigh up to 150 lbs., making it suitable for most standard mattresses.
The pickup locations are prevalent nationwide, which can save you a lot of hassle when you're preparing to ship. The service includes a comprehensive tracking system that updates at every step, ensuring your peace of mind while your mattress is en route.
FedEx Express Saver
If your pocket allows it, the FedEx Express Saver is an excellent choice that combines speed with reliability. For an average payment of about $474.32, it provides three-business-day delivery by 4:30 p.m. to U.S. businesses and by 8 p.m. to residences.
This fast-paced service option may be pricier than other alternatives but offers far quicker delivery times compared to regular ground services.
An additional perk of choosing FedEx Express Saver is that it comes with complimentary packaging offered by FedEx itself. This could help reduce overall costs in case you lack appropriate packaging materials on hand.
While this quick delivery service might be a little heavy on the pocket, its convenience combined with reliable delivery times make this premium service worth considering if time is a crucial factor.
FedEx 2Day
If you're looking for a reliable and quick shipping solution, FedEx 2Day service might be just the thing for you. At an average cost of $593.78, this service ensures your shipment will reach its destination within two business days.
FedEx is recognized internationally for its timely deliveries and exceptional service. With FedEx 2Day, you can expect detailed tracking updates so you'll always know exactly where your mattress is during its journey.
Your package can weigh up to 150 lbs., making it perfect for shipping items like mattresses. Please note that although this option may be more expensive, the peace of mind that comes from knowing your mattress will arrive on time makes up for the added cost.
FedEx Standard Overnight
When it comes to delivering your shipment as quickly as possible, FedEx Standard Overnight stands out as an exceptional choice. For an approximate cost of $738.98, this service promises overnight delivery by the next business day afternoon.
While it might be tempting to dismiss this option due to its comparatively high price tag, remember what's included in the fee—prompt overnight delivery plus top-notch care and handling of bulky goods like a mattress.
FedEx covers extensive areas across the nation, including Hawaii and Alaska (deliveries might take extra time). This express delivery service is ideal when you urgently need to move a mattress interstate or across multiple states.
Keep in mind that even though it's pricey when speed is critical, Standard Overnight saves significant time, making it worth considering.
How To Ship A Mattress?
Figuring out how to ship a mattress can seem like a daunting task. You might be thinking that it's giant, it's awkwardly shaped, and it seems impossible to protect during transit. Don't worry; we're here to help break down this process into manageable steps.
For your ease, we've outlined the most crucial steps to take while shipping a mattress. It starts with getting shipping quotes from reliable carriers, preparing the mattress for shipping, protecting it adequately, and then ensuring its safe delivery at the destination.
Explore More: Do You Tip Mattress Delivery Drivers? 2023 [If So, How Much?]
Getting Shipping Quotes
Initially, you'll need to find out how much it will cost to transport the mattress from its current location to its new home. This begins by getting shipping quotes from various carriers based on your needs and the size and weight of your mattress.
Here are some approximate costs you might encounter for moving a conventional queen-size mattress (60"x80") from New York City to Los Angeles:
USPS Retail Ground: $150.35
UPS Ground: $166.64
FedEx Ground: $161.54
These estimates are based on standard dimensions and weights and are subject to change based on your exact specifications or any additional services requested, like insurance or expedited delivery.
Measure and Prepare the Mattress.
Before you initiate the shipping process, start by taking accurate measurements of your mattress. This step ensures you have precise dimensions — length, width, and height, to provide to the shipping service.
The measurements will play an essential role in not only determining the shipping price but also aiding in the selection of suitable packaging materials. Be careful while measuring; a minor error can impact the total cost drastically.
After measuring, preparing your mattress for shipping is a vital step to avoid any potential stains or damage during transit. Give it a thorough cleaning; vacuum the top and sides, and take care of any existing stains using a mild detergent before moving it onto the packaging.
Ensuring your mattress is clean before shipment not only helps keep it in excellent condition but also prevents unpleasant smells or mold growth during transport.
Purchase Suitable Packaging Materials.
Once your mattress is clean and ready for shipment, buying appropriate packaging materials should be your top priority. High-quality materials are crucial to protect your mattress from harm during its journey.
Mattress-specific bags are widely accessible and come in various standard sizes. They're made with sturdy plastic material that protects against dust, dirt, bugs, and moisture.
If you want additional security from potential tears or holes during transit, consider double bagging or using bubble wrap around sharp edges.
For packing large mattresses, consider buying an over-sized box from specialized moving companies or directly from your shipment courier if they offer one for sale. Check dimensions before purchase so that it fits snugly – you don't want space for shifting around.
In addition to this, secure heavy-duty tape to seal all package openings securely; air-filled packing pillows for extra padding if needed, and permanent marker for labeling— these can all serve as valuable tools.
Remember that careful packaging ensures safe delivery at the destination without any unfortunate damages, so unless you're on a strict budget constraint, don't skimp on these materials.
Wrap The Mattress In Plastic
Now that you've chosen a shipping provider let's move to the second step – prepping your mattress for its voyage.
Keep in mind that if maintained correctly, mattresses can cross long distances without succumbing to wear and tear. The primary task in this regard is wrapping your mattress correctly.
Start by thoroughly cleaning the mattress to ensure it doesn't carry any dirt or debris that could damage it during transportation. Next, wrap the entire mattress with a mattress bag or heavy-duty plastic sheeting.
Ensure there are no exposed surfaces left, as they could attract dust or get stained during transit. Once you've covered the whole mattress, secure the plastic with packing tape to prevent it from moving around or getting torn.
Wrapping your mattress like this will also keep out moisture and likely safeguard against any accidental spills along the way.
Protect The Corners And Edges
After protecting it from dirt, moisture, and damage as a whole, pay some extra attention to arguably one of the most prone-to-damage sectors of your mattress - the corners and edges.
Corners are particularly susceptible because they often bear most of the brunt when items are moved or jostled during transit. Using corner protectors can save you from potential tears or fabric damage.
These corner protectors can be found conveniently at your local moving supplies store or online marketplaces like Amazon. Once installed, these protectors will form a physical shield between the fragile corners/edges of your mattress and any unwelcome contact.
After adding corner protectors, consider wrapping another layer of bubble wrap around each corner for an extra safeguard. This will also help disperse pressure evenly across corners should your cargo come under any strain during transport.
Secure the Mattress in a Box or Bag
Once you have everything ready, the next step is securing your mattress inside a box or a bag. This is vital for preventing any possible damage during transit due to weather conditions, mishandling, or unforeseen situations. Having your mattress securely packaged in a box or bag can provide that extra layer of safety.
You might need assistance to get this done right. First, remove any bedding and fold the mattress as advised by the manufacturer—a foldable mattress can be strapped tight to reduce its size.
Unless you have kept your original mattress bag, purchase a thick, sturdy plastic mattress bag that fits your specific mattress size from local moving stores or online.
Slide the bag over your wrapped-up mattress and secure both ends with heavy-duty packaging tape to make sure there's no opening for dust or water to penetrate.
If you opted for a box instead of a bag, ensure that your wrapped-up mattress fits snugly into its container with little room for movement but not too tight to risk damage.
Label the Package Clearly
Now that solving the 'how' part for packing up and securing your stuff is done, let's move on to the directions--Getting it where it needs to go!
Addressing them accurately is crucial, as incorrect labeling could lead nowhere but to loss. You want to provide clear instructions on where and to whom it should be delivered.
Start by jotting down complete names—no known names or code- inland correct addresses of both sender and recipient on a piece of paper.
Use legible handwriting and black ink; this ensures visibility even from afar. Stick these details onto at least two sides of the packed material using clear packing tape—so that it survives all weather!
Additionally, mention if there are any special instructions like 'Handle with care,' 'This side up,' etc., using large fonts boldly so that it catches one's eye right away.
You want to ensure that all labels remain visible and readable, so avoid placing them on box corners or edges where wear is most likely.
Schedule a Pickup or Drop-Off
The next stage in successfully shipping a mattress involves coordinating the pickup or drop-off of your item. Planning is paramount at this point to ensure that the transportation process goes smoothly.
For pick-up, inform the shipping company of your availability and arrange a convenient date and time when they can come by either your home or business location.
Some carriers provide a specific window of time (usually within business hours), while others grant more flexibility.
In contrast, if you choose to drop off the package, ensure that you have suitable transportation for the mattress. It is bulky. Make sure to choose a day when you can comfortably transport it without rushing.
Most carriers have working hours posted online; be certain that they align with your schedule to avoid unnecessary effort.
Track the Shipment and Ensure Delivery
Once your mattress is on its way, it's crucial to keep track of its journey towards its destination. Generally, upon scheduling a shipment, you'll receive a unique tracking number associated with your package.
With this tracking number in hand, you can monitor its path via the carrier's website. This ability not only allows you peace of mind but also provides transparency in case of any unexpected delays or hiccups along the way.
Ensure delivery by providing explicit instructions about the final location. Mentioning landmarks can facilitate easy identification by delivery personnel. After all, careful tracking and proper communication will contribute substantially towards successful delivery.
Consider Shipping Insurance
Probably one of the most critical protection measures while shipping a mattress is purchasing insurance—especially when dealing with expensive ones that would hit hard financially if something went wrong during transit.
By insuring your shipment, you're protecting yourself against possible damage or loss during the transition— think of unforeseen accidents, natural disasters, and even theft!
And given your mattress's size making it vulnerable to potential rough handling during transit—it might be worth considering this optional coverage.
Different carriers offer different insurance plans going up to various maximum values, so you'll want to base your selection on the estimated worth of your mattress. Remember that having an accurate and recent appraisal of your mattress's value is essential for getting the right insurance coverage.
By doing your part in planning and coordinating this process effectively—shipping a mattress can be easy and hassle-free. Always remember, it's better to be safe than sorry and be prepared for all possible scenarios. That's the way to hassle-free logistics!
What Things To Consider When Shipping Mattresses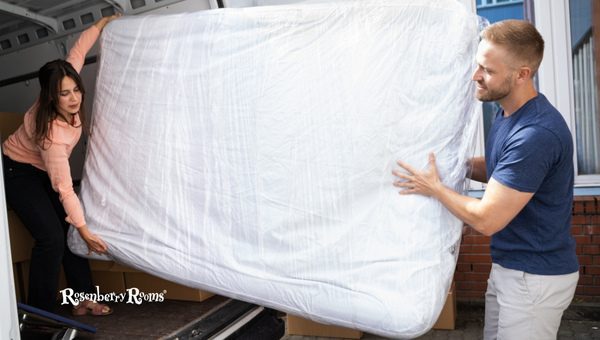 Shipping a mattress can seem like a ton of work, but with proper understanding and careful planning, you can overcome this feat efficiently.
We're here to help you understand the many aspects that go into shipping a mattress. The key objective is to ensure the entire process remains undemanding, affordable, and secure.
Additional Shipping Fees: Shippers often include add-on fees when shipping bulky items like mattresses. Such fees can include fuel surcharges, residential or lift-gate delivery charges, etc., which should be kept in mind while calculating the total cost.
Size and Weight: The size and weight of your mattress directly impact the shipping cost. Be ready with accurate measurements and weight details before requesting quotes from carriers.
Packaging Materials: Secure packaging is crucial for safe transit. Investing in high-quality packing materials like mattress bags, bubble wrap, paper padding, or packing peanuts ensures better protection.
Shipping Method: Choose an optimal method based on priority (Standard mail, priority mail), affordability, reliability, and speed of delivery; keep in mind that each method comes with different pros and cons worth considering.
Destination and Distance: The destination distance will significantly affect pricing; longer distances generally mean higher costs.
Shipping Costs: Make sure to get detailed price quotes from multiple providers, including all applicable charges, to avoid any surprise costs later on.
Insurance: Considering insurance for your shipment can provide peace of mind by covering any potential damage or loss during transit.
Fragile Handling: Ensure that your carrier understands how fragile a commodity a mattress is; discuss handling precautions taken during transit to prevent any potential damage.
Transit Time: If time sensitivity matters to you, inquire about approximate delivery times before selecting the carrier.
Tracking: Always opt for a tracking service that provides real-time updates to ensure your mattress is on the right course.
Return Policy: Don't forget to familiarize yourself with the carrier's policies in case you need to cancel the shipment or if there are any issues upon delivery.
Read More: How To Get A Free Mattress From Amazon? 2023 [Is It Possible?]
FAQs about 'how to ship a mattress?'
Can I ship a mattress through USPS, FedEx, or UPS?
Yes, they are well-equipped to handle large items like mattresses.
Does the local Post Office offer a pickup option for large shipments?
While some carriers like USPS offer pickup options for an additional cost, it's advised to confirm with your local post office.
Should I invest in insurance when shipping my mattress?
It's recommended, especially if your mattress is high-value or fragile, as it covers any potential damage during transit.
Is packing a mattress with plastic wrap enough protection for shipping?
Using plastic wrap can certainly protect against dirt and moisture, but additional packing materials like bubble wrap and corner protection might also be necessary for better security.
Do I need to disassemble my bed frame when shipping my mattress?
Usually, the bed frame and the headboard need to be disassembled and packed separately from the mattress.
Conclusion
Shipping a mattress can be a daunting task without the right guidance. By considering important factors such as shipping costs, insurance, size and weight, and optimal packaging methods, you can ensure the successful transportation of your mattress.
Preparation is key in this process, from getting detailed quotes to tracking your shipment vigilantly. With this comprehensive guide at hand, shipping a mattress will no longer be an intimidating chore but rather a seamless operation. You're now ready to conquer your next big move!