Sleeping comfortably is your primary concern when choosing a mattress. But there's an equally substantial consideration: What is your mattress made of?
Do Beautyrest mattresses have fiberglass? This question has certainly been making rounds in households across America.
Understanding your mattress's construction can help put your mind at ease, especially when it comes to long-term health implications.
Your concerns about fiberglass in mattresses are valid; after all, you spend roughly a third of your life sleeping. With this in mind, let's scrutinize the composition of popular Beautyrest mattresses together.
All About Beautyrest Mattresses
Beautyrest, a flagship brand of the Simmons Bedding Company, has been an integral part of American history since its inception in 1870.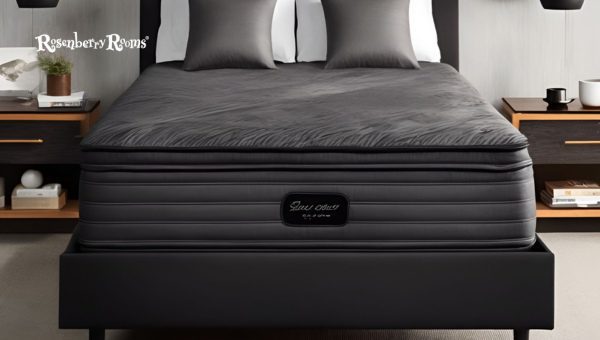 Zalmon G. Simmons, in Atlanta, Georgia, founded this world-renowned retail mattress manufacturer. The company began by producing wooden insulators and cheese boxes, but it wasn't long before they set their sights on mattresses.
Beautyrest shook up the industry when it became the first company to mass-produce woven wire mattresses.
By 1884, the firm had already been reincorporated under the name 'Northwestern Wire Mattress Co. Five years later, this evolved into 'Simmons Manufacturing Company.'
Ambition ran through the Simmons family like a thread. As Zalmon Jr. took charge after 1910, he led a charge toward national business expansion.
The early 1900s marked a period of rapid growth that saw major plant expansions and nationwide advertising campaigns launched from their New York City headquarters.
1925 was a monumental year for Beautyrest when the pocketed coil mattress was introduced to an eager market.
This innovative design quickly gained high-profile endorsements from influential figures like Eleanor Roosevelt and others.
The mid-century era once again saw dramatic changes with the introduction of Hide-A-Bed sofas in 1940 and the pioneering king and queen mattresses' launch in 1958.
With prosperity came challenges ushering corporate changes over time, starting with relocation to Atlanta in 1975, followed by multiple acquisitions during the following decades. Beautyrest acquired Sleep Country USA chain only to sell them three years later in 2006.
The brand continued its streak of innovation with fascinating marketing strategies, including introducing consumers to its products with a bowling ball mattress demonstration illustrating motion separation features.
Financial setbacks led Beautyrest's parent company, Simmons Bedding Company, to file for Chapter 11 bankruptcy protection in 2009, prompting an agreement with Ares Management.
The stellar reputation of Beautyrest came to its rescue when Advent International acquired a majority stake in 2012, securing the company's future.
Further solidifying their place in the market, Beautyrest merged with online bed-in-a-box retailer Tuft & Needle in 2018.
The company rounded out its successes by being renamed Serta Simmons Bedding LLC in 2020, highlighting its long-standing partnership with Serta.
Do Beautyrest Mattresses Have Fiberglass?
Yes, the presence of fiberglass in mattresses has been a topic of heated conversation lately. So, when it comes to Beautyrest, part of a luxurious line from renowned manufacturer Simmons, you naturally want to know: Does it contain fiberglass?
In your quest for healthier living, you'll be glad to hear that not all Beautyrest mattresses contain fiberglass.
According to available information and customer reports, only select models incorporate fiberglass as part of their fire barrier layer.
Simmons employs different materials for different editions. Always check the description or consult with customer service before you make a purchase; specifics may vary between each mattress range.
Also Read: Do Novaform Mattresses Have Fiberglass? [What Buyers Must Know]
Are Beautyrest Mattresses Safe?
Yes, Your safety is a top-of-the-line priority for Beautyrest. Their mattresses are made with CertiPUR-US certified foams, an assurance that your mattress is made without harmful substances like ozone depleters, heavy metals, formaldehyde, or phthalates regulated by the Consumer Product Safety Commission.
This certification also guarantees low VOC (Volatile Organic Compound) emissions for indoor air quality.
A Beautyrest mattress not only ensures a good night's sleep but also a healthier sleeping environment. With Beautyrest, you're sleeping on safe and environmentally friendlier materials.
You can rest easy knowing your health is safeguarded along with your comfort. That's what makes Beautyrest a trusted name in sleep solutions across the country.
What are Beautyrest Mattresses Made of?
You may be curious about what materials are concealed behind the high-quality fabric covering of your Beautyrest mattress.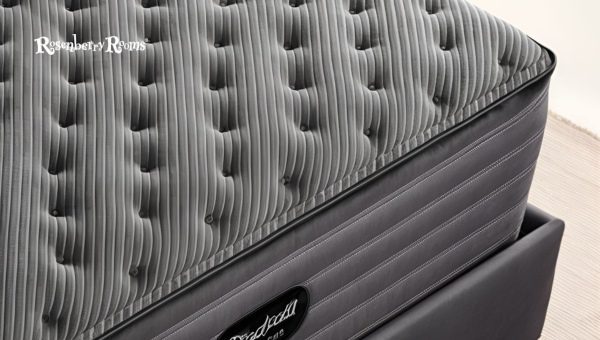 These mattresses have a unique blend of materials designed to provide exceptional comfort and support. The mattress core comprises springs or coils that create the base for the mattress's firmness and support.
Laid on top of this supportive base are several layers of specialized foams, including polyurethane foam and memory foam.
Polyurethane foam makes the core structure, which provides a great balance of comfort and durability. It's designed to ensure that your mattress retains its shape over time.
Memory foam is responsible for contouring your body's unique shape, providing pressure point relief, evenly distributing weight across the mattress surface, and eliminating motion transfer.
It's important to note that all foams used in Beautyrest mattresses meet or exceed the strict standards of CertiPUR-US for content, emissions, and durability.
This means they don't contain ozone depleters, PBDEs or TDCPP (commonly referred to as "Tris"), mercury, lead, heavy metals, formaldehyde, or phthalates.
Beautyrest incorporates high-quality material science innovation into its mattresses. They prioritize not only comfort but also safety standards in every product they manufacture - providing you with top-quality rest in a healthy way.
How do you know if a mattress has fiberglass?
If you own a mattress that's been giving you itchy skin or irritating your respiratory system, chances are high that it may contain fiberglass. So, how do you tell if fiberglass is indeed hidden within your beloved sleeping surface?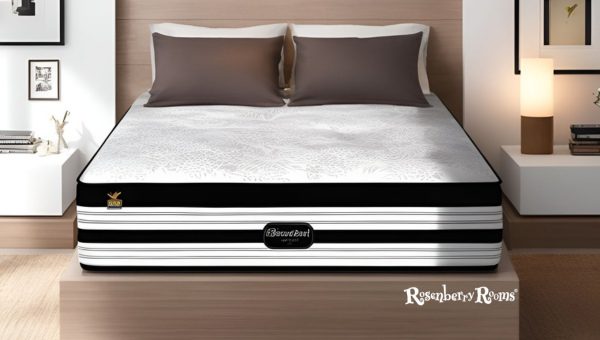 Look closely at the mattress tag. You're looking for specific wording, and if the label mentions something along the lines of "glass fiber" or "fiberglass," bingo, that's your conclusive evidence right there.
This percentage indicates how much of your mattress is composed of this material.
As a side note, never remove the inner cover of a mattress to check for fiberglass. This act alone can unleash airborne glass fibers into your bedroom environment, leading to potential skin irritations and respiratory issues.
Remember that understanding the composition is critical when selecting a new mattress or when dealing with any discomforts related to your current one.
Always read labels and descriptions carefully before making any final decisions - a clear understanding leads to better sleep and better health overall.
Read More: Do IKEA Mattresses Have Fiberglass? [Why Does IKEA Avoid It?]
What Country are Beautyrest Mattresses Made In?
The question of where a product is made often weighs heavily on a buyer's mind. Rest assured, your beloved Beautyrest mattresses are proudly manufactured in the United States and Puerto Rico.
With over 18 facilities spread across these territories, Simmons Bedding Company diligently crafts every Beautyrest mattress with the utmost precision and care.
By purchasing a Beautyrest mattress, you're supporting local workers and economies. American-made goods have long been synonymous with high-quality craftsmanship - and Beautyrest is no exception.
So next time you lay down on your comfy Beautyrest mattress, you can sleep easy knowing it's a homegrown product with top-notch quality.
Is Beautyrest a good brand?
Yes, Beautyrest, in your quest for mattress nirvana, is a notable brand worth considering.
With their impressive heritage dating back to 1870, the focus on craftsmanship and innovation has been unyielding, setting them apart in the bedding industry.
Their mattresses come with a generous 10-year warranty, which goes to show their confidence in the durability and quality of their products.
You receive a risk-free trial of 120 nights to determine if the mattress fits your comfort needs. This means you can sleep soundly on your new Beautyrest bed for over three months before making your commitment.
Beautyrest offers an enviable variety of mattresses catering to diverse sleep needs, so whether you need something firm or luxuriously plush, there's a Beautyrest for you.
The customer reviews line-up adds weight to this affirmation by attesting to the comfort and improved sleep they've experienced. So go ahead and give it a try - it might just be what your sleep routine needs.
What is the Lifespan of a Beautyrest Mattress?
A significant aspect of your mattress investment is how long it will last. On average, a Beautyrest mattress boasts an impressive lifespan of seven to ten years.
This estimate aligns with the industry standard for high-quality mattresses, assuring you a decade or close to restful slumber.
These figures are based on normal use; if you maintain your mattress appropriately, this includes regularly rotating the mattress and ensuring it's adequately supported - your Beautyrest could easily exceed this timeline.
Bear in mind that individual experiences can vary greatly based on factors such as body weight, sleep habits, and even climate. Heavier people may find that their mattresses give in faster than those who weigh less.
It's worth mentioning that all Beautyrest mattresses come with a ten-year limited warranty. This gives you an additional layer of protection for your investment and reaffirms Simmons Bedding Company's trust in their products' durability.
Explore More: 15 Best Mattress Without Fiberglass To Buy In 2023
What are the Benefits of Beautyrest?
When you're contemplating the next mattress to buy, you often muse about comfort and reliability. Pretty high up on that list is Beautyrest, a brand known for its soft, supple mattresses.
But it's not just cloud-like comfort that makes Beautyrest a tough contender in the bedding market; their offering includes features that keep your bed fresh and your sleep restful longer.
Soft, Supple Fiber Mattress: Your sleeping experience becomes heavenly atop a plush surface. The high-quality fiber used in Beautyrest mattresses offers this exact feeling - an embrace of cloud-like softness every time you sink into bed.
Silver-Enhanced For Antibacterial Resistance: Have you ever given thought to how many bacteria we might share our bed with? Well, Beautyrest did. Some of their mattresses include silver-enhanced fibers to create an antibacterial barrier. Silver has natural antimicrobial properties, negating bacterial growth and ensuring your bed remains a hygienic sleep sanctuary.
Mold and Mildew Resistant: There's nothing worse than discovering mold or mildew on your mattress. With Beautyrest, there's no need for this worry – they use materials explicitly designed to resist these uninvited guests.
AirCool Gel-Infused Foam: Do you often wake up because you're sizzling hot? Beautyrest solves this problem with their AirCool Gel-Infused Foam, designed to maintain an optimal sleeping temperature - cozily warm without ever becoming too hot.
Temperature Regulation: The combination of breathable fibers and heat-dissipating materials allows for year-round comfort - warm in winter and cool in summer. The foam's open cell structure ensures continuous airflow while the gel infusion works to dissipate any heat build-up.
Moisture-Wicking Properties: If you tend to sweat while you sleep, moisture-absorbing features in Beautyrest mattresses help maintain a dry, comfortable sleep environment by pulling away excess moisture.
Beyond these highly commendable features, Beautyrest also prides itself on producing mattresses that offer edge-to-edge support, reducing motion transfer, perfect for those sharing beds with partners. The takeaway?
You get to enjoy high-quality comfort and health-conscious features in one package. So, if you are thinking of a new mattress that blends comfort with practicality, Beautyrest may be right up your alley.
How to Choose a Beautyrest Mattress?
Choosing the right mattress can seem overwhelming, especially considering the number of options available in the market.
Yet, your decision becomes straightforward when your sights are set on the specific qualities and features that a Beautyrest mattress provides.
Determine Your Budget - Determine how much you're willing to spend. Prices for a Beautyrest mattress can range based on size, type, and additional features.
Choose Preferred Comfort Level - Beautyrest mattresses offer various comfort levels such as firm, plush, or pillow-top. Decide what you prefer based on your personal comfort needs.
Pick the Right Size - Whether you sleep alone or share your bed, size is crucial. From twin to California king, Beautyrest has multiple options to suit your space needs.
Decide on the Type - There's innerspring for those who prefer bounce and support, memory foam for folks seeking body-contouring abilities, and hybrids that combine elements of both. Pick one that caters best to your sleeping pattern and comfort preference.
Consider Sleep Position - Based on whether you're a back, stomach, or side sleeper, select a mattress with an ideal firmness level.
Assess Special Features - Does it feature temperature-regulating technology? Is it resistant to mold and mildew? Does it absorb motion? Evaluate and prioritize such nifty add-ons while choosing.
Check the Warranty - For peace of mind post-purchase, check how long the warranty lasts and what it covers.
Read Customer Reviews - Gain valuable insight from people who've had real-life experiences with the mattresses you're considering.
Visit a Store – When possible, test out mattresses by laying down on them in-store before buying. Nothing beats direct experience.
Assess Return Policy – Ensure there's a fair return policy just in case things don't work out as expected.
Choosing a Beautyrest mattress surely needs careful evaluation. After all, this one decision could contribute considerably to your comfort and well-being for many years to come.
Also Read: How To Sleep With UTI Discomfort? 2023 [20 Effective Tips]
Is a Beautyrest Mattress a Good Option for Side Sleepers?
You spend much of your life asleep, and your sleeping position is one of the most crucial aspects affecting this precious rest time.
Most mattress brands try to cater to all types of sleepers, but it's good to know which ones genuinely excel at supporting specific sleep styles.
With its pressure-relieving memory foam and supportive pocketed coil technology, Beautyrest mattresses are not just ideal for back sleepers. They are also an excellent choice for side sleepers. Why?
As a side sleeper, you need a mattress that can precisely cradle your body's curves while still providing enough support to keep your spine aligned.
The luxurious memory foam in Beautyrest mattresses is designed to do exactly that - contouring flawlessly to your body and eliminating any pressure points.
Couple this with the pocketed coil system unique to Beautyrest, and you're looking at excellent motion isolation.
If you share your bed with a partner who moves around throughout the night, these mattresses will ensure their movement won't disrupt your zzzs.
So yes, if you're a side sleeper searching for an undisturbed night of sleep on a comfortable, supportive mattress with substantial pressure relief capabilities, look no further than Beautyrest.
FAQs About Beautyrest Mattresses Have Fiberglass?'
Are all Beautyrest mattresses manufactured with fiberglass?
Yes, fiberglass is a common component in Beautyrest mattresses.
What role does fiberglass play in a Beautyrest mattress?
Fiberglass in mattresses serves as a flame retardant, enhancing safety.
Is the fiberglass within Beautyrest mattresses safe and non-toxic?
Yes, fiberglass used in mattress construction is encompassed by other materials, making it safe for everyday use.
Can the fiberglass in my Beautyrest mattress cause any skin irritation or health issues?
Provided the mattress cover remains intact, the contained fiberglass should not pose any health risks.
Can I remove the cover from my Beautyrest mattress to wash it?
It's advised not to remove covers from these mattresses as it could potentially release enclosed fiberglass particles.
Conclusion
Understanding what's on the inside of your mattress is just as crucial as how comfortable it feels.
When it comes to Beautyrest mattresses, they do contain fiberglass, used primarily for safety purposes as a flame retardant.
But don't let this concern you overly - with their mattress cover intact, these particles pose no risk to your well-being.
Enhancing this peace of mind is the comfort-driven design and tailored support that Beautyrest mattresses offer.
Regardless of your sleep position or preference, you're bound to find a Beautyrest mattress that suits you just right.