Sleep is essential for everyone, and nothing is cozier than slipping into a luxurious mattress after a long day.
But with so many brands and types out there, it can be an overwhelming task to decide on the one most suitable for you.
In your search for that perfect blend of comfort and support, you've probably come across two major players in the online mattress world: Casper and Nectar.
Now, you may find yourself torn between Casper, known for its zoned support feature, and Nectar, appreciated for its year-long sleep trial offer. You're probably wondering about the pros and cons of each brand as you weigh your options.
Well, you're in the right place because this comprehensive comparison between Casper vs Nectar promises to provide insights to help inform your decision.
What is Casper Mattress?
Founded in 2014 by a group of five friends, Philip Krim, Neil Parikh, Luke Sherwin, Jeff Chapin, and Gabe Flateman, Casper is now a formidable name in the sleep industry.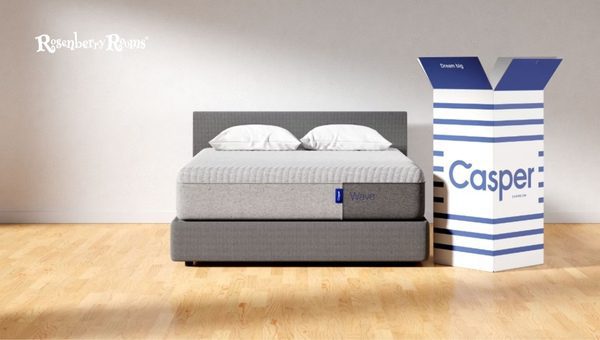 Based in New York City, they started with a vision to redefine sleep culture and focused on delivering high-quality mattresses directly to consumers' front doors.
Casper mattresses are known for quality and comfort. Drawing on extensive sleep research, these smartly designed products deliver enhanced support and cooling features.
Their zoned support feature means their mattresses are softer under your shoulders and firmer under your hips for better spinal alignment, giving you tailored comfort.
In addition to selling online across the US, Casper has expanded its market reach through retail locations nationwide.
They recorded revenues of over $497 million in 2020 alone! This public company has seen significant success and now offers more diverse sleep products like pillows and bed frames alongside its popular mattress range.
Choosing this brand means choosing an innovative design backed by substantial research. Casper strives to transform how we think about sleep one night at a time.
What is Nectar Mattress?
Revolutionizing the mattress industry, Nectar, under the leadership of founder Craig Schweizer and CEO Aayush Phumbhra, has rapidly climbed the ladder of success after starting in 2016.
Earning around 70,000+ five-star reviews and being known for having 4 million happy sleepers speaks volumes about their quality and customer satisfaction.
Nectar has also secured an impressive 107 awards - another testament to their commitment to excellence.
Nectar stands out by putting customer satisfaction at its core. This UK-based company is known for its customer-friendly policies, offering a remarkable year-long sleep trial period, which very few competitors offer.
What separates Nectar's mattresses from others on the market is that they focus primarily on memory foam mattresses.
Memory foam conforms to your body shape, providing a feeling of being cradled as you sleep, which many people find extremely comfortable.
A mix of durability with comfort and extensive sleep trial make a Nectar mattress a great choice for your bedroom.
The Difference Between Casper and Nectar?
In the sea of mattresses poured into the market, it's crucial to know the distinguishing features between Casper and Nectar.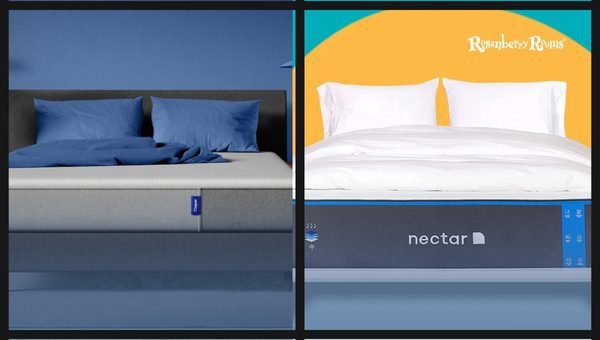 Even though both pack a solid punch within the field, there are certain key differences:
Nectar vs Casper: Material and Feel
Perhaps you're someone who enjoys the hugging feel that memory foam provides as you drift off to sleep.
Nectar's slow-moving memory foam mattress could be your perfect pick. This UK-based company excels in providing mattresses that offer excellent contouring and pressure relief for a unique feel like you're sleeping "in" rather than "on" the mattress.
On the other hand, Casper's balanced foam mattresses offer more responsiveness than traditional memory foam ones.
Designed in the US, these mattresses make an ideal choice for those who crave a mix of plushness and support without too much sinkage.
The perfect balance helps ensure that you are sleeping "on" rather than "in" your bed.
Variety of Mattress Types
The second key difference lies in their range. At the same time, Nectar's primary focus is on quality memory foam mattresses.
Casper broadens its horizons by offering both hybrid and all-foam varieties, catering to a wider customer base with diverse needs.
Feel Firmness
Although both brands feature medium-firm options proving suitable for most sleepers, describing comfort largely depends on personal preferences.
Some users have noted that Casper tends to lean towards a slightly softer feel in comparison to Nectar's medium-firm flavor.
Trial Periods & Warranty
When talking about peace of mind, warranty and trial periods become crucial deciding factors for many customers.
Here is where Nectar drives ahead with an impressive 365-night sleep trial alongside a lifetime warranty. While still competitive in its offering, Casper offers a 100-night trial and a 10-year limited warranty.
So, as you can notice, preferences and individual sleep needs largely govern the choice between these two stellar brands.
Whether you choose Casper's balanced foam offerings or decide to go for Nectar's contouring memory foam, your ticket to dreamland is assured with either choice.
Price Range: Nectar Vs Casper
When looking for a new mattress, price plays a major role in the decision-making process. After all, everyone wants a good night's rest without harming their wallet.
Understanding the difference in costs between Nectar and Casper can be incredibly helpful. Whether you're someone who sees your bed as an investment or someone shopping on a budget, these two brands offer worthy options.
Nectar
Nectar is known for its high-quality memory foam mattresses at affordable prices. Their products do contain some premium elements, such as high-density memory foam and cooling gel, but compared to other brands on the market, Nectar provides great value at lower price points.
The price for Nectar mattresses can vary significantly according to size. The smallest size they offer is a twin-size mattress, which starts from $359 and can go up to $1138 after including extras and add-ons.
What stands out about Nectar is its transparent pricing policy, along with regular promotions and discounts. It means you get to experience sleep luxury without straining yourself financially.
Casper
On the other hand, if we talk about Casper, they've positioned themselves as a premium brand in terms of both product quality and pricing (but compared with other premium brands like Tempurpedic or Sleep Number, they're definitely more accessible).
For instance, their twin-size mattress starts at $895 and can touch heights up to $1,695 based on extras and add-ons.
Their pricing reflects their commitment to advanced design technologies, such as the zoned support feature, which offers different firmness levels where your body needs it most.
Though it could be observed that Casper is relatively pricier than Nectar in outright terms, it's also valid that people who bought Casper mattresses rarely regret their decision.
So, in the end, choosing between Casper and Nectar will involve balancing your budget with your comfort needs. Just remember, a good night's sleep is worth every penny.
Also Read: Does Casper Mattress Have Fiberglass? 2023 [Contain or Not?]
Firmness Options: Casper Vs Nectar
Choosing the right mattress goes beyond just the brand. It involves identifying the level of firmness that suits your sleep style and body contour.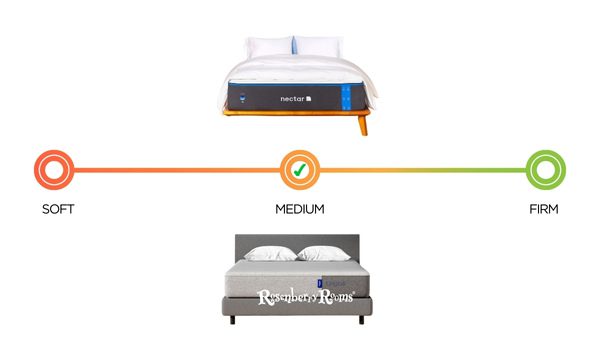 That's where evaluating the firmness options provided by both Nectar and Casper becomes crucial. Whether you're a back, stomach, or side sleeper, understanding the firmness level of a mattress can guide your purchasing decision.
Nectar
Nectar positions its mattresses as medium-firm on the firmness scale, giving them a ranking of about 6 out of 10.
This means that when you first lie down on a Nectar mattress, you'll experience immediate relief as its memory foam cradles your pressure points, enveloping you in a gentle hug.
After the initial plush embrace, the dense transition layer will kick in, delivering the balanced support necessary to prevent undue sinkage.
This excellent blend of plush comfort with steady support makes Nectar mattresses ideal for sleepers who like to switch positions during their sleep without feeling 'trapped' in too soft a setup.
They work exclusively well for back and side sleepers by providing ample spinal alignment while cushioning sensitive areas such as hips and shoulders.
If you're looking for relief from backache or joint pain, then this medium-firm option could be an excellent match for you.
It offers just enough softness for comfort but is still firm enough to provide critical support where it's needed.
Casper
Casper provides more diversity with their offerings by giving two levels of firmness: medium-firm (6) and medium (5), making them versatile options to cater to a wider range of sleeping preferences.
The medium option falls right in the middle of the firmness spectrum; it's not too soft nor too hard. It provides adequate contouring for your body but still has a responsiveness that prevents you from sinking too much into your mattress.
Casper's zones of support are specifically designed to provide softness where you need it, such as at the shoulders, and firmer support under your hips.
It's a great choice for combination sleepers who switch positions throughout the night, be it from back to side or stomach.
The medium-firm option is perfect if you prefer a mattress with more robust support. This mattress brings a bit more 'push-back' feel against the body, which is great for stomach sleepers or those with larger body types who need more substantial support in order to maintain proper alignment.
With both options available, Casper offers flexibility for your unique sleeping style and comfort needs.
Both Nectar and Casper cater brilliantly to various sleep preferences by offering differing firmness levels that mold around your body's requirements.
By understanding your sleeping habits better and gauging the various firmness options offered by these renowned brands, you can find that perfect mattress just waiting to rock you to sleep.
Main Standout Features of Nectar Vs Casper
When comparing top-rated mattresses like Nectar and Casper, it's important to consider their standout features. These are the elements that truly set them apart from the rest.
By looking at these qualities closely, you can decide which mattress offers the comfort and functionality that suits your individual preferences and sleep needs best.
Nectar
Nectar has made a mark in the online mattress industry with its commitment to superior materials and construction that promote quality sleep.
Known for their exceptional pressure relief features, Nectar mattresses offer an ideal combination of comfort, breathability, and support. Let's break down some defining features of this brand:
Thick memory foam: This material is designed to relieve pressure points on your body as you sleep. It contours closely around you to offer excellent support for your neck, shoulders, back, hips, and legs.
Excellent motion isolation: This feature is perfect for those sharing their bed with a restless partner or lively fur friends. You can move freely without worrying about disturbing your partner's sleep.
Breathable covers: These moisture-wicking covers work actively through the night to keep you cool even in hot weather conditions. They help wick sweat away so you can wake up feeling fresh rather than sweaty.
Covers feel smooth to the touch: Nectar's mattress coverings add an extra layer of luxury with their uber-soft feel against your skin. It's just one more way this company aims to give users the most comfortable sleeping experience possible.
365-night sleep trial: One unique offering by Nectar is their generous year-long sleep trial. This allows users ample time to test out the mattress in all four seasons before making a final decision.
Lifetime warranty: In terms of warranty, few companies come close. Nectar confidently backs its products with a lifetime warranty! You can rest easy knowing you're protected for as long as you own the mattress.
Nectar offers flexible payment options to make their products more accessible. This UK-based company has developed a solid reputation over the years and garnered a large base of satisfied customers, which is no surprise given their emphasis on comfort, quality, affordability, and customer satisfaction.
Casper
In your journey to find the perfect mattress, Casper stands as a strong contender. With its diverse range of products and commitment to innovative design, it can potentially tick all your boxes.
Casper's offerings don't stop at mattresses; they encompass sleep essentials like pillows and bed frames, creating a spectrum of options tailored to fit every different need you might have.
Diverse Products: One reason behind Casper's success is its wide selection of products. From pillows that cater to every sleeping position, bed frames that offer robust support, to glow lights for adults and kids alike - there's something for everyone.
Airscape Polyfoam: Have you ever wished for a mattress that cradles your body while keeping you cool all night? Enter Airscape polyfoam. This substance contours to the shape of your body for personalized comfort while promoting airflow and reducing heat throughout the night.
Mattress Cover from Recycled Plastics: Quite impressively, each Casper mattress comes with a cover derived from up to 70 recycled plastic bottles! This testimony to the brand's eco-consciousness helps reduce environmental contamination.
Zoned Support: As mentioned earlier, the zoned support feature means specific areas of the mattress are designed with differing firmness levels to support your body's different parts adequately. It offers softer support for your shoulders and firmer under your hips, assisting in keeping your spine aligned.
100-Night Risk-Free Trial: If you're worried about making an upfront commitment or unsure about how well you'll adapt to a new mattress, worry no more! Casper offers a 100-night risk-free trial that allows you ample time to experience their product fully.
10-Year Limited Warranty: Furthermore, they stand by their product with confidence by offering a decade-long warranty.
Customer Service - Grade A: Casper's commitment to a delightful customer experience doesn't end with selling quality products. They boast an impressive customer service record as well, ensuring your sleep journey with them is smooth and trouble-free.
Choosing Casper means more than just selecting a mattress. You're trusting a brand committed to revolutionizing sleep, dedicated to environmental sustainability, and endeavoring to make your shopping experience as flawless as possible. It's more than just about the "sleep" it's about enhancing your overall lifestyle.
Read More: 10 Best Temporary Beds For Guests To Buy In 2023 [Top Picks]
Performance: Nectar Vs Casper
Performance is one of the critical differentiators that sets a mattress apart, and you might be eager to know how Nectar matches up against Casper.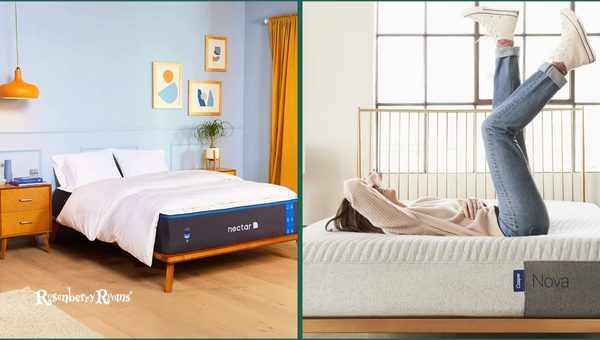 Key factors like motion isolation, edge support, and temperature regulation play a significant role in informing our sleep quality and overall satisfaction with a mattress.
Considering these crucial points, let's dive into a detailed comparison of Nectar and Casper's performance.
Motion Isolation
Motion isolation is an essential criterion for individuals who share their bed. The better the motion isolation, the less likely you are to be disturbed by your partner's nighttime activities.
Nectar's use of luxurious memory foam works wonders in dampening motion disturbance. The dense foam layers absorb movements exceptionally well so that you almost feel like you're sleeping alone, even with another person tossing and turning beside you!
On the other hand, Casper also fares pretty well in this regard due to its responsive transition layer foam. Although it doesn't promise absolute stillness like Nectar does, it still offers sufficient motion separation to ensure undisturbed sleep.
If absolute peace is your priority when sharing the bed, Nectar may come out on top for its superior motion isolation capabilities.
Edge Support
You're probably wondering why edge support is important in a mattress review discussion. Well, strong edge support allows us to sit or lie near the bed's edge without feeling like we'll slide off!
Nectar has reliable edge support because of their high-density polyfoam base that withstands pressure well enough whether you're sitting or lying on it - holding up pretty well!
When compared to Casper - they take advantage of their zoned support system extending right up to the borders of the mattress.
This design ensures an even surface across every inch of sleep space. You have more room to stretch out and no fear of sagging sides – giving Casper an upper hand when it comes to edge support.
Temperature
Another critical factor in mattress performance is how well it regulates temperature. A mattress that sleeps hot can be uncomfortable and disruptive to a good night's sleep.
Nectar mattresses, made from dense and conforming memory foam, tend to retain more heat than Casper mattresses.
Their moisture-wicking cover does help to some extent, but you may still find it sleeps somewhat warm if you're particularly heat-sensitive.
Casper's open-cell foams and an additional layer of breathable Airscape™ foam do a fantastic job of promoting air circulation and keeping the heat at bay.
By looking at these performance aspects of motion isolation, edge support, and temperature regulation – both Nectar and Casper score impressively.
Explore More: Sealy Posturepedic Ridgecrest Review [Pros, Cons, & Verdict]
Pros and Cons of Nectar Mattresses
Before diving into the world of Nectar mattresses, it's a good practice to consider the pros and cons. Your decision will depend on your sleep patterns, preferences, budget, and other specific needs.
Pros
Quality First
Laundry Day Approved
Freebies
Buy Now, Pay Later
Affordable Price Tag
Good For Side And Back Sleepers
Free Shipping And Returns
CONS
Customer disservice
Smell Problem
No springs attached
Lack of breathability
Pros and Cons of Casper
Purchasing a mattress is an essential investment for your health and well-being; understanding the pros and cons of a potential option is vital. Let's delve into the strengths and weaknesses that come with choosing a Casper mattress.
Pros
Mattress types offered
Layers of goodness
Nature-friendly
Good edge support
Suitable for various sleeping positions
100-night trial and 10-year warranty
CONS
May be too firm for some sleepers
Initial off-gassing smell
Potentially higher price point than some competitors
Final Verdict: Nectar or Casper - Which is the Best?
Deciding between Nectar and Casper will primarily depend on your personal sleep preferences, budget, and desired firmness level.
Both these bed-in-a-box foam mattresses bring unique attributes to the table, ultimately leading you toward deep slumber.
Feel and Firmness: While Nectar has a softer feel due to its dense memory foam construction, Casper offers a balanced, neutral foam feel. For those who prefer memory foam and enjoy that feeling of slow sinkage into the mattress, Nectar might be a great fit. However, if you are someone who seeks a responsive mattress that adapts rapidly to movement while maintaining comfort, Casper could be your perfect match.
Cooling: For the hot sleepers out there, temperature regulation is critical. In this department, Casper rises above with its advanced cooling technology, delivering a more breathable sleep than Nectar.
Edge Support & Response: The structural integrity around a mattress's edge can make all the difference for people who love lounging on their bed's edge or those sharing a small bed. Casper mattresses perform exceptionally well in this area with strong edge support and better response time than their Nectar counterparts.
Price: Even though both brands offer high quality at affordable prices, there are differences. At face value, Nectar provides more bang for your buck and often includes free accessories throughout the year, which add to an already compelling pricing advantage. The entry-level variant of the Casper Original is priced slightly lower than the Nectar Mattress, giving budget-conscious shoppers an alternative.
Both mattresses offer excellent features that cater to different sleeping needs. Your choice between the two should hinge on your personal comfort preferences and budget concerns.
With their generous trial periods (Nectar's 365-night vs Casper's 100-night), you have the freedom to test out both mattresses at home before making a long-term decision.
Also Read: Molblly Mattress Review 2023 [Experience The Best Sleep Ever]
FAQs about casper vs nectar
Between Nectar and Casper, which brand offers a longer trial period?
Nectar leads with a generous 365-night trial period compared to Casper's 100-night trial.
Which mattress is better for hot sleepers, Casper or Nectar?
Casper tends to sleep cooler due to its breathable top layer and open-cell foam construction.
Which provides a softer feel, the Nectar or the Casper Mattress?
The Nectar mattress generally has a softer feel due to its dense memory foam layers.
In terms of edge support, which mattress ranks higher, Casper or Nectar?
Typically, users find that the Casper mattress offers better edge support compared to the Nectar.
Between Nectar and Casper mattresses, who offer better payment flexibility?
Both brands offer financing options through Affirm but differ in terms and conditions.
Conclusion
As you sift through information about mattresses, remember that the best choice depends on your personal preferences for comfort, budget, and sleep patterns.
Both Nectar and Casper mattresses are top contenders in terms of quality and customer satisfaction, making it a tough choice.
Knowing the specifics of each mattress can significantly narrow down your options. Through careful consideration of factors like firmness feel, cooling mechanism, price point, and trial period, you can find your perfect match.
Sleep well, knowing both brands are committed to delivering a great sleep experience. Choose wisely, and you'll be rewarded with sweet dreams.