We've all been there. A close friend calls in the spur of the moment, announcing they're in town and they need a place to crash for the night.
Or perhaps you have family visiting for the holidays, and your home doesn't have enough rooms to accommodate everyone.
Suddenly, you find yourself racing against time, thinking about the best temporary beds for guests that you can provide.
Having a comfortable and restful place for your guests to sleep is crucial as it proves your hospitality and shows that you care about their well-being.
But let's be honest here: not everyone has an extra room or a fancy guest suite lurking at their disposal all the time.
And that's completely fine! In situations like these, temporary beds come to your rescue, offering practicality without compromising on comfort or convenience.
We're going to discuss some of the best options available today that are perfect for those unexpected guest visits.
Criteria to Select the Perfect Temporary Bed
Picking the perfect temporary bed for your guests involves keen consideration across multiple aspects. It's not just about what fits into your budget.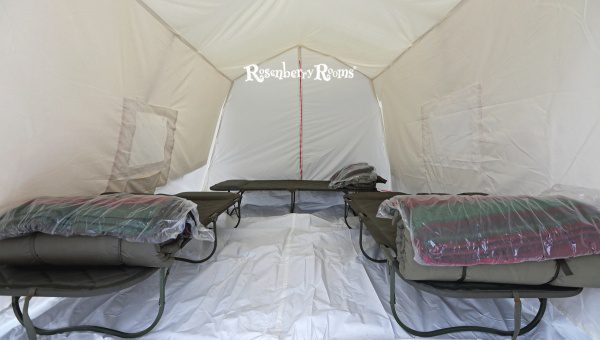 But it's about selecting a sleeping solution that offers the best in material quality, space efficiency and comfort level. Let's take you through these points one by one.
Importance of Material Quality
By no means should you compromise with material quality when choosing a temporary bed for your guests. The quality of the material has deep-rooted effects on the durability and comfortability of the bed.
High-quality materials maximize the durability of the bed, prolonging its lifetime.
Quality materials such as memory foam offer enhanced comfort by contouring to your body shape.
Better quality fabric covers are also crucial to ensure a soft touch and avoid skin irritation.
High-quality air mattresses use tear-resistant PVC, reducing the chances of leaks or deflation during use.
Factoring in Space Requirements
Space is another crucial aspect while setting up a temporary bed; not every home can accommodate large fold-out sofa beds or full-size air mattresses.
Begin with measurements: Evaluate how much space you have available when selecting a bed size.
Consider ease of storage; foldable beds or inflatable beds are excellent choices for homes with limited space.
Prioritize portability: If you're looking to move around your temporary bed frequently, pick lightweight models that are easy to maneuver.
Be mindful that some inflatable beds require an electric pump; hence, adequate access to an electric outlet is needed for inflation and deflation.
Prioritizing Comfort Level
An uncomfortable night's sleep can leave a foul impression on your visitors. Therefore, prioritize the comfort level in your selection process.
Air mattresses or memory foam folding mattresses provide excellent support and conform to body curves for added comfort.
Consider the firmness: This may vary from guest to guest, so opt for models that offer adjustable firmness.
Height is another parameter of comfort. While some people are comfortable with low-profile beds, others may prefer something taller and easier to climb onto, especially older guests.
Look for additional features. A built-in pump in an air mattress or a side table in a folding bed can significantly boost comfort levels.
Selecting the perfect temporary bed involves thoughtful consideration. Prioritizing these factors will not only make your guests' stay more enjoyable, but it'll also maximize the functionality of your space and the longevity of the bed.
Guide to Maintaining Your Temporary Guest Bed
So, you've managed to choose the best temporary bed for your guests, and they've enjoyed a comfortable sleep on it. Now what? It's time for some after-care.
Proper maintenance and storage of your temporary bed are paramount for enhancing its durability and ensuring it remains as comfortable as when it was brand new. Let's delve into this process.
Cleaning Instructions
Keeping your temporary bed clean is not only hygienic but also contributes to its longevity. You can't just douse it with water and soap; you need to follow specific instructions:
Inflatable Beds: Use a mild detergent mixed with water, then lightly rub the solution on the bed using a soft cloth. Rinse with room-temperature water and let it air dry.
Folding Beds: Remove and wash the bedding frequently. For the mattress, spot clean using a damp cloth with mild soap or upholstery cleaner.
Futon Mattresses: Vacuum regularly to remove dirt, dust mites, and allergens. If there's a stain, use a moist cloth or sponge with gentle soap.
Rollaway Beds: Clean these like folding beds - washing bedding often and spot-cleaning the mattress.
Remember
Never soak beds fully in water (unless they're waterproof).
Avoid harsh detergents or bleach as they can damage fabrics
Dry beds completely before storage to prevent mold.
Proper Storage Practices
Adequate storage of your temporary bed will keep it fresh, clean, and resilient, which guarantees continued comfort for your guests.
Here are some tips
Before folding away any bed type, ensure it is completely dry. This prevents mold growth.
For inflatable mattresses, deflate fully prior to storage. Fold gently without forcing into a compact shape.
Store beds in dry areas away from direct sunlight or extreme temperatures as both can result in material degradation.
Where possible, keep folding and rollaway beds covered to protect from dust buildup.
Futons should be rolled tightly and kept in a futon bag or any breathable fabric.
Remember
Don't store inflatable beds inflated as they may lose their shape over time.
Don't put heavy objects on your stored temporary bed.
Check stored beds periodically for any signs of mildew or pests.
The maintenance of your temporary bed is just as important as its initial purchase, so take this guide to heart and extend the life and quality of your temporary guest bed.
10 Best Temporary Beds For Guests
Hosting relatives, friends, or guests can be a daunting task, especially when it comes to providing comfortable sleeping arrangements.
There are various temporary sleeping solutions available with different price ranges, brands, and features.
We've compiled a list to provide the most comfortable and affordable solutions with just the right balance of comfort and practicality. Now, let's dive into our recommendations.
Vonanda Sofa Bed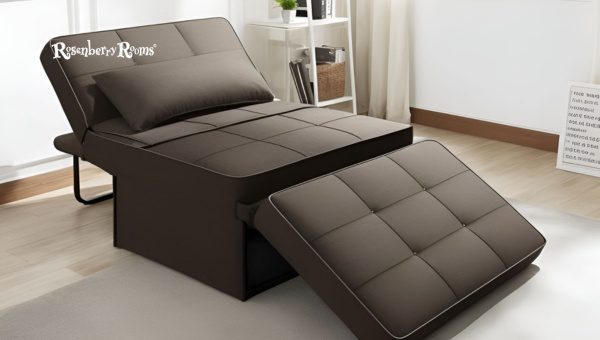 If your goal is to find a temporary bed for guests that don't skimp on comfort or style, the Vonanda Sofa Bed could be just what you're looking for.
Priced between $299 to $359, this multifunctional piece will blend seamlessly into your decor while providing superior functionality. With no assembly required, you can whip it out anytime and fold it away in seconds when not in use.
In concern of dimensions, this sofa bed measures a generous 74" in length and 37" in width when unfolded as a bed, providing ample space for your guest to sleep comfortably.
When folded into a sofa, its seat depth is 29 inches, and the seat height is about 17 inches - excellent dimensions for lounging or casual sitting.
A standout feature here is the solid weight limit of 440 pounds powered by its robust design and frame. Weighing just under 60 pounds itself, it's reasonably easy to move around to fit your needs ideally without causing a major decorating dilemma.
Lightning-fast adaptability backed with soft padding and relatively high back support make the Vonanda Sofa Bed an outstanding choice among temporary beds.
Pros
No assembly required
Superior weight capacity
Dual functionality
CONS
Higher price range
Weighty structure
At first glance or even touch, no one would guess that this stylish sofa could transform into a cozy sleeping sanctuary. Investing in the Vonanda Sofa Bed is synonymous with investing in your guests' good night sleep, making their stay at your place memorable.
Explore More: Futon Vs Sofa Beds 2023 [Is It OK To Sleep On A Futon?]
Coleman Airbed Folding Cot with Side Table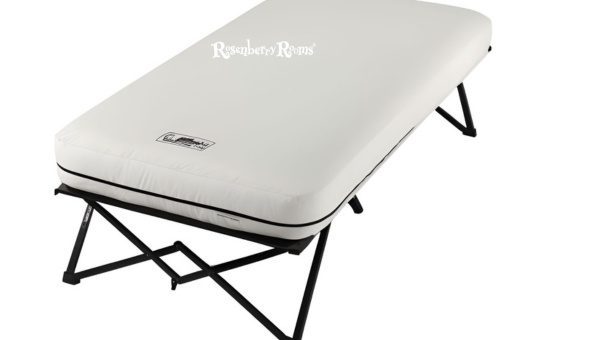 The Coleman Airbed Folding Cot is an excellent choice for a temporary bed, offering comfort and practicality. This cot is priced at $150-$186.
You will love the convenience and versatility of this bed. But before you go ahead and make a purchase, let's dive deeper into the product details.
This folding cot is a product of Coleman, a renowned brand known for its quality outdoor gear. It features a multi-color design that can fit practically any décor style.
The product dimensions are 74 inches long, 23.5 inches wide, and 47.2 inches tall. It's specifically designed for outdoor use but can also be used indoors if you choose.
The Coleman Airbed Folding Cot has an impressive weight capacity of 300 pounds, adequately accommodating adults conveniently.
This model's name is "Airbed Folding Cot," which reflects its unique feature of being both an air mattress and a folding cot.
One of the key components included with this bed is the COT TWIN C001— a system designed to provide optimum support while folding compactly for easy storage and transport.
But what makes it stand out from many other temporary beds is its side table - a perfect spot to keep your phone, glasses, or bedtime reading material.
Pros
Highly portable and foldable
Sturdy with high weight capacity
Added convenience with side table
CONS
Primarily designed for outdoor use
Setup might be slightly complicated
While the Coleman Airbed Folding Cot offers significant benefits like portability and sturdiness, it's primarily designed for outdoor use, which might not fit everyone's needs perfectly.
While it does offer advanced features, such as a side table attachment rendering additional convenience, its setup process could be somewhat complex for some people.
Although the quality is justified, it's priced a bit higher in comparison to other temporary beds on the market.
The Shrunks Inflatable Toddler Bed with Safety Bumpers
As a host, chances are you don't just have adult guests to accommodate. When the little ones are around, finding the right sleeping arrangement is key to ensuring they also enjoy their stay.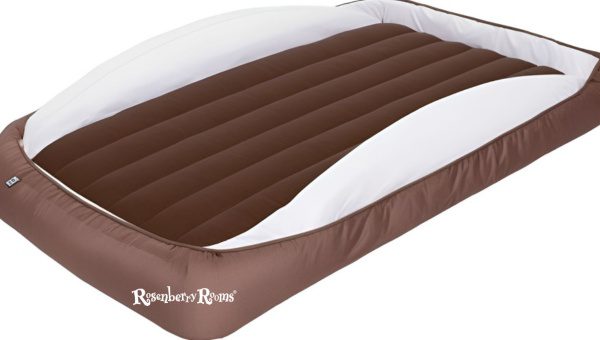 A great solution that caters perfectly to toddlers and kids is The Shrunks Inflatable Toddler Bed with Safety Bumpers. Priced at just $69, this bed is designed with your tiny guests' safety and comfort in mind.
This bed is made by The Shrunks, a company known for their quality child products. It comes in a pleasant brown color that works well for both boys and girls.
Measuring 60 inches long, 37 inches wide, and 9 inches tall, it provides ample space for your little guest to stretch out and sleep comfortably.
Designed specifically for travel use and sleepovers, it weighs less than most toddler beds, making it highly portable.
With an electric air pump included, inflating this comfy bed is straightforward, while a repair patch ensures any minor damages can be fixed without hassle.
This inflatable bed's primary feature lies in the name – safety bumpers. The addition of these bumpers not only provides added security but gives parents peace of mind during bedtime, knowing their child will be safe from accidental falls as they sleep.
Another highlight of this toddler-sized airbed is its weight capacity, which stands at an impressive maximum of 66 pounds. This isn't commonplace among most toddler beds on the market.
Pros
High portability
Distinctive safety features
Hassle-free setup
CONS
Potential air leak issues
Single color option
While The Shrunks Inflatable Toddler Bed with Safety Bumpers shines with pros like its prime portability, unique safety features, and user-friendly setup process, there are a few downsides worth considering.
Its use is primarily confined to young kids and toddlers only, rendering it unhelpful for adult guests. There might also be occasional air leaks that could require patching.
The single-color option limits your choice if you're keen on getting something that matches your home decor.
EnerPlex Air Mattress with Built-in Pump
When it comes to temporary bedding options, the EnerPlex Air Mattress is truly a game-changer. This king-size inflatable bed, priced between $43 and $125, offers innovative features ensuring comfort and convenience for guests of all ages.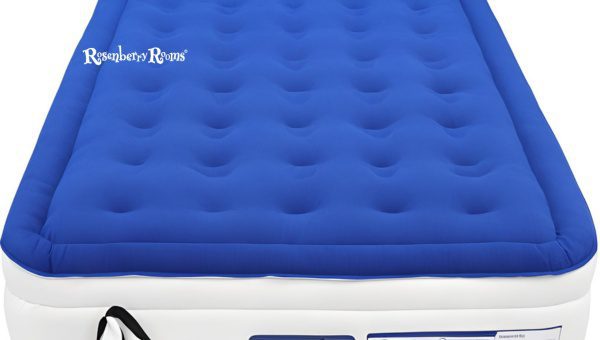 With an adjustable firmness level and portability like no other, you are guaranteed a fantastic sleeping experience each time.
Measuring 80 inches in length, 76 inches in width, and standing at a height of 16 inches when inflated, the EnerPlex air mattress ensures ample space for relaxation.
Whether it's a sleepover for your kid or an unexpected adult guest, this mattress creates comfortable bedding without any hassle.
What sets EnerPlex apart from its competitors is the built-in pump included in the package. Forget manual inflation or buying an extra pump; this product has you covered.
Use the included adapter to inflate or deflate your mattress, adjusting its firmness to your preference rapidly.
Pros
Easy Adjustable Firmness
Built-in Inflation Method
Highly Portable
CONS
More Expensive
Electricity Required
EnerPlex has specifically designed this product as a versatile bed suitable for both kids and adults alike. With negligible weight when deflated, it can be easily moved around as required.
Despite being at a slightly higher price range than some other alternative beds available in the market, one fact worth considering is that immersion into quality always pays off; you bring in convenience, durability, and versatility into your household.
Also Read: How To Inflate An Air Bed 2023? [Inflate Self Or With A Pump]
D&D Futon Furniture Futon Mattresses
If you often have guests or simply need a spare bed that is easy to move around, the D&D Futon Furniture Futon Mattresses might be just what you need.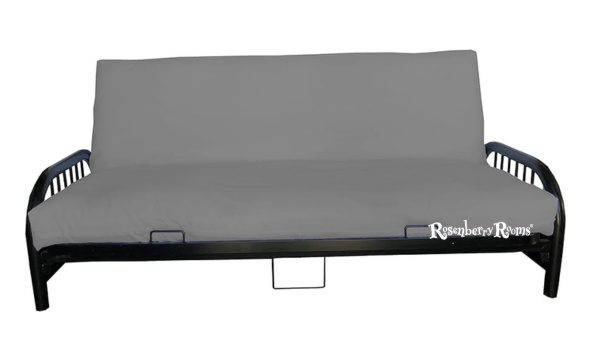 This brand has carved a niche for itself in producing quality futons that serve multiple purposes beyond just sleeping.
This king-sized futon mattress measures 80 by 72 by 3 inches and is available in a sleek, classic black color. It's designed with an attractive tight top style that adds to its aesthetic appeal.
You can buy it at any price point between $86 and $219 depending on the specifications you choose.
The features of this futon mattress are quite remarkable. The ability to roll up and easily transport this mattress sets it apart from many others on the market.
It can be used for sleeping, yoga meditation matting, or even as a floor "tatami" style seating, making it multi-functional.
Further enhancing its comfort level is the cotton batting/foam/polyester batting filling. This ensures your sleep or relaxation time is well-cushioned and extremely cozy.
Apart from being aesthetically pleasing, the D&D Futon Furniture Futon Mattress provides optimal firmness with its cotton filling which results in comfortable bedding perfect for a good night's sleep or quick nap. The mattress fits neatly into a narrow living room space without taking up too much room.
Its care instructions are straightforward: simply spot clean only using any large mattress cover sheet for protection against dirt and stains.
Pros
Comfortable cotton firmness
Easy roll-up transportability
Versatile usage options
CONS
Only spot-cleanable
Firmness may not suit everyone
While the D&D Futon holds several perks, such as being highly comfortable, transportable, and versatile in usage, there are a few potential caveats potential buyers should be aware of. Its cleaning is limited to spot-cleaning a feature that may not appeal to everyone.
Its firmness and the moderate thickness could be a downside for some who prefer softer or thicker alternatives. Given its features and benefits, it presents a compelling option for temporary bedding requirements.
Read More: Futon Mattress Size Guide 2023 [How Are Futons Measured?]
Milliard Deluxe Diplomat Folding Bed
The Milliard Deluxe Diplomat Folding Bed takes comfort and convenience to the next level, all while maintaining a sleek and modern look.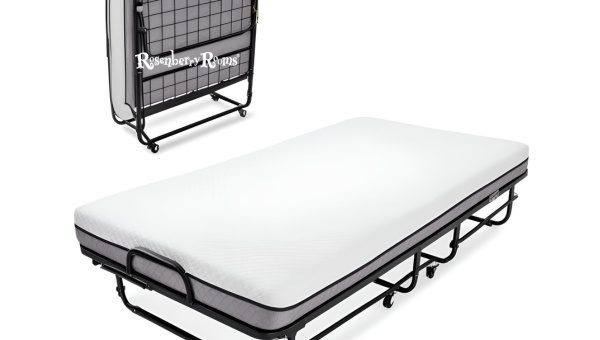 You can purchase this temporary bed for anywhere between $299 and $339, which is relatively affordable for the quality of sleep it can offer.
Several things make the Milliard Deluxe Diplomat Folding Bed stand out. Its dimensions are generous at 75 inches long, 38 inches wide, and 17 inches high. While slightly larger than some single beds, it maintains a compact design when folded up for storage.
The white color of the bed gives it a simple yet elegant aesthetic. This shade can flawlessly mesh with any room décor, making it an excellent option for a guest room.
The Milliard brand has been trusted for its incredible array of top-quality furniture products that cater to different needs.
The primary component included in this product is the folding bed itself. It contains all the necessary elements required for quick assembly, which is undeniably user-friendly.
This bed accommodates guests effortlessly but can also cater well to those who need extra sleeping space in a small apartment or dormitory.
Pros
Easy to assemble
Compact storage design
Elegant white color
CONS
May be too firm
Bulky when fully assembled
This folding bed offers significant benefits such as easy assembly and compact storage design that provide convenience on all levels when catering to temporary guests. Its elegant white shade adds an aesthetically pleasing aspect to any room's interior design.
Its mattress may be too firm for those who prefer softer sleeping surfaces, and despite its compact size when stored away, it can seem rather bulky when fully assembled in smaller spaces.
While the quality is unsurpassable, it carries a slightly higher price point than other temporary beds in the market.
Zearna Air Mattress with Built-in Pump
Welcoming overnight guests can be a breeze with the right temporary bedding solution. The Zearna Air Mattress is designed to help you provide unexpected guests or even camping fellows with surprisingly comfortable sleeping space without cramped quarters.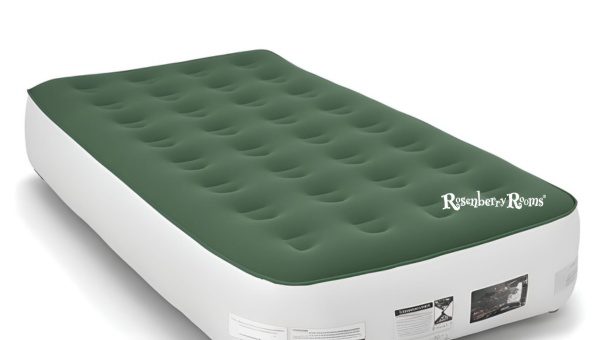 Priced at a very affordable range between $59 to $79, this queen-sized air mattress is a fantastic choice for many.
Zearna's Air Mattress has a uniquely designed non-slip bottom, which guarantees secure and stable sleep throughout the night. The product dimensions are 80 inches long, 60 inches wide, and 16 inches thick, making it spacious enough for a comfortable rest.
The Zearna air mattress can also be used in varying situations – as a camping bed, folding bed, portable travel bed, nap-time bed, or as a temporary guest bed.
The standout feature of this product certainly is its built-in pump. But not just any pump—a whisper-quiet motor that ensures an undisturbed rest by minimizing noise during inflation.
This air mattress includes several components: a user guide to help get you started quickly, two repair patches, a carry bag for easy transport and storage, and of course, the built-in pump that takes away the inconvenience of manual inflation.
While the design and features are remarkable on their own, Zearna also provides certain care instructions that can effectively extend your airbed's lifespan and maintain its optimal condition.
Pros
Offers whisper-quiet inflation
Highly portable
Comes with non-slip bottom
CONS
Limited to manual deflation
Requires cool-down period for pump
The Zearna Queen-Sized Airbed boasts several attractive features like quiet inflation using the built-in pump system, rendering convenience when setting up.
It brings counter-intuitive portability due to its inclusive carry bag. Plus, the non-slip bottom granting stable and secure sleep is a big plus.
It does have some drawbacks, like being confined to manual deflation, that might be a little inconvenient for some users.
The pump necessitates a cool-down period between uses, which could slow down the process of getting your bed ready.
Extreme temperatures can affect its performance—one needs to ensure moderate environmental conditions for best use.
Molblly Folding Mattress
The Molblly Folding Mattress is a versatile and space-saving solution when you're in dire need of an extra bed.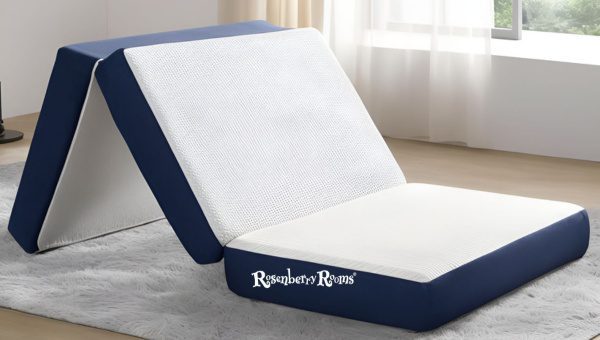 This innovative and smartly designed mattress takes the comfort and convenience of temporary sleeping arrangements to new heights. It's priced at a pocket-friendly range between $59 to $99, offering splendid value for your money.
Designed by Molblly, this mattress carries the reliability of a reputable brand. Available in an eye-pleasing blue color that blends effortlessly into almost any setting.
It can comfortably accommodate adults owing to its generous dimensions of 97 inches long, 66 inches wide, and a thickness of 8 inches.
The top layer style boasts gel for enhanced comfort, while the fill material uses Gel Memory Foam, ensuring that your guests get utmost ease during their sleep.
With this model named RLSZD3TXL, you get a lightweight yet sturdy option that hits all the right notes for temporary bedding needs.
An outstanding feature of this folding mattress is its fantastic portability feature. You can fold it away into a compact size when not required.
The gel memory foam material guarantees maximum comfort and an invigorating sleep experience by evenly distributing body weight and dramatically reducing pressure points.
Pros
Easily Portable
Comforting Gel Memory Foam
Easy Care
CONS
Limited Colors
One-size Fits All
While the Molblly Folding Mattress shines in terms of comfort and portability, it falls slightly short in terms of variety.
It comes only in one color - blue and offers no different size variants. Moreover, the cleaning method is limited to hand washing, which might seem inconvenient for some users.
With its winning combination of comfort and convenience, as well as an attractive price point, this is a temporary bed solution that can genuinely rise to any occasion.
Whether you're accommodating a guest or looking for flexible bedding solutions, the Molblly Folding Mattress stands out as a strong contender.
Explore More: Molblly Mattress Review 2023 [Experience The Best Sleep Ever]
Lazyzizi Folding Mattress
From transforming your living room into a cozy sleep corner to providing a soft landing for guests, Lazyzizi's Folding Mattress ramps up space management with a surprising comfort level. Let's learn all about why this might just be the best temporary bed solution for you.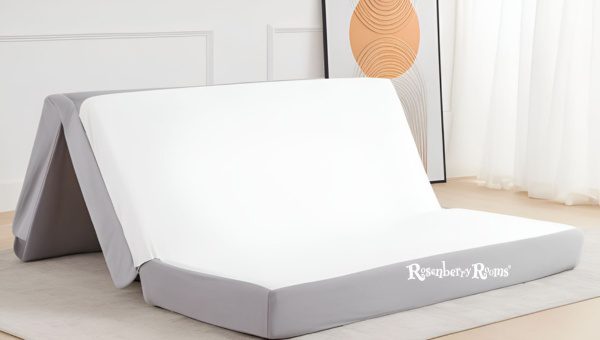 The Lazyzizi Folding Mattress is built with memory foam and comes in a clean white color, providing a comfortable and trendy sleeping environment.
This bed offers dimensions measuring 75 inches long by 25 inches wide by 6 inches thick and weighs a light 13.4 pounds - making it easy to move around the house or during travels.
One of its standout features is its water-resistant quality. Being waterproof allows for an easy cleanup in case of any accidental spills - thus, it is efficient and suitable for both adults and children.
Costing between $87 and $149 depending upon size, it offers the convenience that's generally expected from higher-end models without pulling heavily on your wallet. Adding to this portability is its tri-fold design that can be packed away compactly when not in use.
Pros
Comfortable Memory Foam
Compact Tri-Fold Design
Waterproof Surface
CONS
Comparatively Narrow
Needs Space For Storage
The Pros offer excellent comfort with high-grade memory foam and ease of portability, being easy to fold & unfold as per requirement.
Its waterproof material also adds to this utility list, making it practical during times of surprise spillages or sudden rain episodes if being used outdoors.
Every rose has its thorns, as evidenced by some of the drawbacks of using this folding mattress - one major one being the limited width if you're booking it for a couple of guests. Despite its slim profile, you'll also need to carve out some space to store it when not in use.
Giantex Folding Bed
The Giantex Folding Bed, priced from $199 to $219, is a top-notch temporary bedding solution catering to your need for extra sleeping space for your guests. Let's delve into the details of what makes the Giantex Folding Bed a worthy consideration.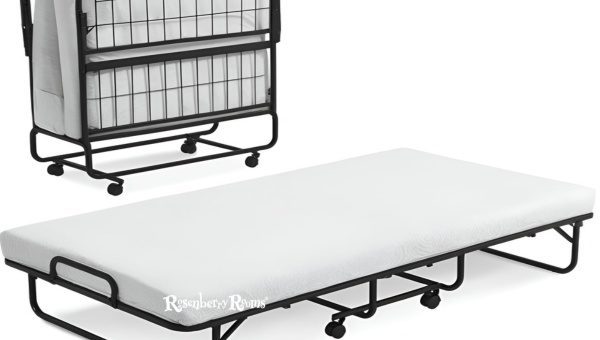 Sporting a clean white color, this folding bed from the reputable brand Giantex is a blend of affordability and quality.
The bed has convenient dimensions of 75 inches in length 38 inches in width and stands tall at 15 inches in height. Its twin size ensures it caters comfortably to both adult and kid guests.
Being portable, removable, and sturdy are some of the key special features that make the Giantex Folding Bed stand out.
It is perfectly designed to be moved around easily and stored compactly if not in use. The ability to remove components as needed adds an extra layer of convenience.
Pros
Highly Portable
Easily Removable
Definitely Sturdy
CONS
A Bit Pricey
Only White Color Available
The Giantex Folding Bed is an excellent addition to any household regularly hosting guests due to its significant advantages like high portability, easy removability, and sturdiness complemented with comfort and convenience at an affordable rate when compared with most traditional beds in the market.
It may fall short in terms of variety with only a white color option available, which might not resonate with everyone's design aesthetics or could easily get stained over time.
Also noteworthy is that bedding like blankets or pillows isn't included in the package, resulting in potential additional costs.
If you are looking for a bed that is easy to set up, durable, and comfortable for your guests, this choice will undoubtedly meet and exceed your expectations.
FAQs about the best temporary beds for guests
What is the most comfortable temporary bed?
The comfort level of a temporary bed can vary. However, brands like Coleman and Giantex offer high-quality air mattresses and folding beds that users often find very comfortable.
How can I quickly set up a guest bed?
You can effortlessly set up a temporary guest bed by opting for foldable cots or inflatable air mattresses, which come with quick setup guides.
Can temporary beds accommodate two adults?
Yes, some models like queen-sized airbeds or larger foldable cots can comfortably sleep two adults.
Are rollaway beds good for guests?
Rollaway beds are often considered an excellent choice due to their portability, comfort and ease of storage after usage.
How is the durability of temporary guest beds?
The durability depends on the quality and brand of the bed; reputable brands tend to offer more durable products that can withstand regular use.
Conclusion
Choosing the best temporary bed for your guests is crucial to ensure they have a comfortable and restful stay at your place.
Comfort does not always mean an elaborate guest room; sometimes, a simple yet substantial solution such as a high-grade airbed or folding cot can make all the difference.
Making sure your guest feels welcome and is able to enjoy sound sleep can indeed showcase your hospitality skills brilliantly.
So go ahead, make an informed decision, and let your guests know how much you value their comfort.