Let me tell you about my experience with the Burrow Range Sofa, a piece of furniture that has truly changed the game for me. When I first came across it, I was skeptical - but after taking the plunge and trying it out for myself, I'm a full-fledged believer.
Now, I'm excited to share my Burrow Range Sofa Review in hopes that this modern piece of living room bliss finds its way into your home as well.
As someone who spends a considerable amount of time lounging at home after long days of work or during weekends binge-watching my favorite series, it was important for me to find a sofa that not only looked great but also provided optimal comfort.
When I finally brought home the Burrow Range Sofa, little did I know that it would become my ultimate cocooning partner and elevate the look and feel of my living room. So let's dive in and explore what makes this sofa so special!
The Key Features of the Burrow Range Sofa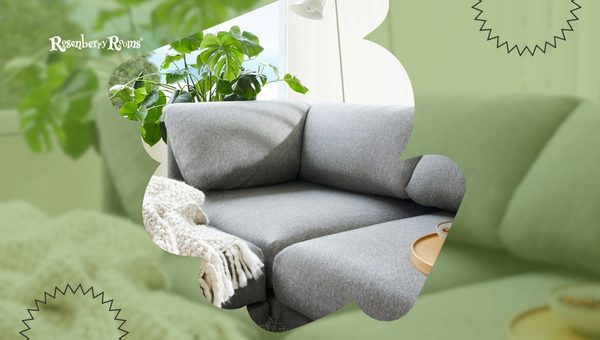 When looking for a sofa, it's important to consider its features, as they can make or break your decision to purchase.
The Burrow Range Sofa offers a variety of standout characteristics that are sure to catch your attention. Let's dive into what makes this sofa stand out from the competition.
Modular and Customizable Design
One of the standout features of the Burrow Range Sofa is its modular design. This allows you to easily mix and match components, creating a custom setup that perfectly suits your space and your preferences.
It's great for those who might need to reconfigure their living room or relocate often – no more wrangling an awkwardly shaped piece of furniture through doorways or up staircases.
With this modular approach, you have the option to choose between different seat heights and lengths, armrest styles, leg types, and even cushion fillings.
Mix and match among these options as much as you'd like! Whether you're working with a small apartment living room or crafting an expansive seating arrangement in a spacious home, Burrow has got your back.
Some examples of configurations include:
Single Seat: A perfect standalone chair
Loveseat: Ideal for smaller living spaces or as additional seating
L-Shaped Sectional: Great for creating corner seating in larger rooms
U-Shaped Sectional: Ample seating for large gatherings
High-Quality Materials and Construction
The Burrow Range Sofa not only looks great but also boasts high-quality construction for longevity. The upholstered fabric is soft yet durable, with stain-resistant options available for those inevitable spills (we've all been there!). Plus, the fabric is free from harmful chemicals – making it safe for both you and your loved ones.
In addition to the stylish fabric choices, this sofa features sturdy frames that promise strong support without compromising on style. Frames are made from kiln-dried hardwood, which ensures minimal warping and structural integrity. All joints are also reinforced, adding even more stability.
The cushion fillings are designed for optimal comfort where you need it most – plush foam for the back cushions and a combination of supportive poly-wrapped foam with innerspring coils for the seat cushions. Talk about sitting in the lap of luxury!
Innovative Built-In Charging System
One feature that truly sets the Burrow Range Sofa apart from other options is its innovative built-in charging system. Say goodbye to unsightly cords snaking across your living room floor, or awkwardly draping your phone over an armrest while it charges.
The Range Sofa incorporates discreet USB ports on the underside of certain seat modules, allowing you to charge your devices with ease. What's even better is that you can choose the location of these charging ports when assembling your sofa – pick a spot that's convenient for you and works best with your seating layout.
Moreover, there's an option to upgrade to Burrow's top-of-the-line Range Motion Collection which features a wireless charging table as part of one armrest module. This fantastic feature allows you to keep all your devices charged without cluttering up your space with cords and cables.
The Burrow Range Sofa provides some incredible features that set it apart from standard sofas on the market. Its modular and customizable design gives you complete control in creating a seating arrangement suitable for any living space.
The high-quality materials used in its construction ensure durability while also providing unparalleled comfort. Additionally, innovative built-in charging options allow you to keep all your devices powered up without sacrificing aesthetics or convenience.
If these features have piqued your interest, head over to Burrow's website today and explore how this remarkable sofa can elevate both form and function in your home!
Assembling the Burrow Range Sofa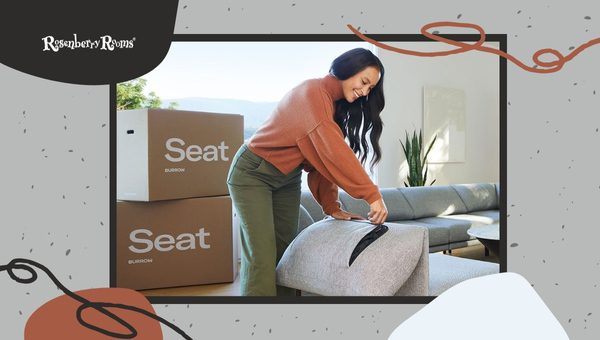 One of the best things about the Burrow Range Sofa is the ease and simplicity of assembly. Gone are the days when you had to call in professional help and spend hours drilling holes or using complex tools just to get your furniture set up.
With Burrow Range Sofa, you can put it together yourself in a flash with minimal fuss – even if you're not a DIY person.
Unboxing the Sofa Components
First things first, let's talk about what comes in the box when your Burrow Range Sofa is delivered. The packaging is carefully thought out, ensuring that all components arrive undamaged and well-organized.
Inside the box, you'll find:
The sofa base(s) - depending on the size configuration you chose
Backrest panels
Seat cushions
Armrests - either two for a single sofa or one for a sectional piece
Legs - Four per base section for single units or four total for a sectional piece
Power outlet kit (if applicable)
Assembly instruction manual
As soon as all parts are accounted for, it's time to get your hands dirty (not literally though – assembling this sofa is quite clean!).
Step-by-Step Assembly Guide
Step 1: Start by unrolling the included assembly instruction manual that comes along with your package. This step-by-step guide provides helpful diagrams accompanied by easy-to-understand descriptions.
Step 2: Lay down a clean blanket or cloth on your living room floor to create a workspace that protects both your new sofa and floor from potential scratching or damage during assembly.
Step 3: Prepare all components by removing any protective wrapping material and laying them out in an organized manner based on their designated location within the assembly process—this will make finding and grabbing each piece much easier.
Step 4: Begin by attaching the legs to the base of the sofa. Each leg is designed to fit into pre-built slots on the couch base for secure and stable support. Simply twist the legs clockwise until tightly secured.
Step 5: If you opted for a sofa with a built-in power outlet kit, now is the time to attach it. Follow the instructions in the assembly manual that detail how to position and secure it using integrated straps underneath the sofa.
Step 6: Attach the seat cushions to each base unit. To do this, slide the designated hooks on the bottom of each cushion into matching brackets on top of each base until an audible "click" can be heard, indicating a successful connection has been made.
Step 7: Install the backrest panels by aligning them with corresponding brackets at the back of each seat cushion—firmly press down until you hear another satisfying "click."
Step 8: Attach armrest(s) to either end of your assembled Burrow Range Sofa or sectional piece. Utilizing integrated locking mechanisms on each side of an armrest, slot onto adjacent brackets found on seat cushions while ensuring that no gaps remain visible between any connected sections.
And just like that, you have successfully assembled your Burrow Range Sofa! Take a step back and marvel at your creation before sinking in for what's sure to be one of many cozy sessions in your new favorite seating area.
With these comprehensive assembly instructions in hand, setting up your new addition should be a breeze and soon enough, you'll be enjoying all those relaxing moments you've always dreamed of having with a Burrow Range Sofa. So go ahead, treat yourself – it's more than worth it!
Comfort Levels of the Burrow Range Sofa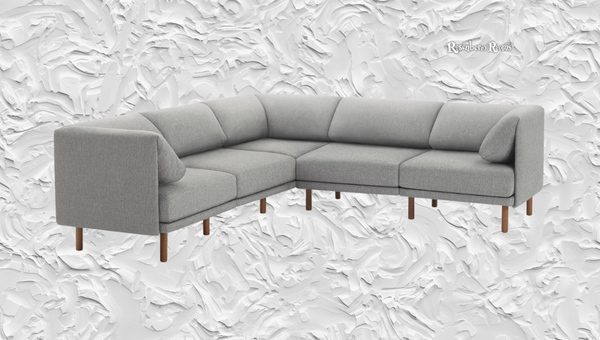 When it comes to sofas, we all want one that not only looks great but makes us feel incredibly comfortable too.
Well, let me tell you about the comfort levels of the Burrow Range Sofa. Honestly, it's like sitting on a cloud! Its comfort can largely be attributed to two key aspects: the seat cushions and support, as well as the backrest comfort.
Seat Cushions and Support
The first thing I noticed when I sat on my new Burrow Range Sofa was just how supportive yet cozy its seat cushions were.
They truly strike that perfect balance between softness and support, something that only a few sofas can boast about. Here's what makes these cushions so comfortable:
Triple-layer foam construction: The cushions contain three layers that are carefully constructed to provide maximum comfort while maintaining their shape over time. These layers include a high-density polyurethane foam for support, a softer memory foam layer for cushioning, and a top layer infused with cooling gel for a pleasant seating experience.
Generous cushion depth: The depth of the seat cushions is just right - ensuring that you won't have to constantly adjust your position when lounging. This feature definitely contributes to an enjoyable seating experience.
No-sag springs: Underneath those incredible foam layers are sinuous steel springs specifically designed to prevent sagging over time. You'll appreciate this feature especially if you've experienced saggy sofas before.
Removable covers: All seat cushion covers are removable and washable! You can keep them fresh and clean without any major effort.
Backrest Comfort
Now let's talk about another key element: backrest comfort. The Burrow Range Sofa has found the sweet spot between providing proper back support and creating a comfy spot for relaxation. So what exactly makes this backrest so amazing? Let me go over all the details:
Pillow-like cushions: The sofa back cushions are overstuffed for a relaxed, plush look and feel. These cushions are quite inviting, making it impossible to resist curling up on the sofa for those weekend Netflix binges.
Bolster pillows included: The Burrow Range Sofa comes with two stylish matching bolster pillows, which only adds to the overall comfort factor. You can either use these as neck support or simply hug them while enjoying your favorite show.
Adjustable cushioning: What makes the backrest even more comfortable is its adjustable nature. Want a more laid-back look and feel? Simply fluff up the cushions and voilà - you now have an ultra-soft backrest heaven!
Ergonomic design: The backrest has been carefully designed with ergonomics in mind, ensuring that it provides proper support to your body when sitting or lying down. Say goodbye to those annoying lower back pains after long lounging sessions!
As you can see, there's no denying that the Burrow Range Sofa truly focuses on comfort in every aspect of its design. From its supportive seat cushions to its adjustable and relaxing backrest, this sofa delivers on all fronts—ensuring that you'll never want to leave your living room again!
Aesthetics and Style of the Burrow Range Sofa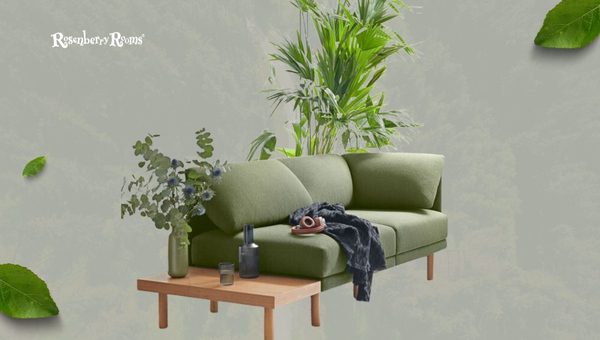 One of the first things that caught my attention when I discovered the Burrow Range Sofa was its minimalistic yet sophisticated design.
The clean lines and subtle details make it easy to incorporate into any living room setting – whether you're going for a contemporary, transitional, or even mid-century modern look. Let's explore their fantastic color options for your style and some tips on matching your home decor.
Color Options for Your Style
The Burrow Range Sofa offers a diverse range of upholstery options that will complement your unique taste. Below are a few standout colors from their collection:
Crushed Gravel: This neutral gray tone works beautifully with any interior design style, providing a calm and versatile base.
Navy Blue: For those who prefer a pop of color, this deep and luxurious navy blue hue adds elegance without overpowering the space.
Brick Red: Make an instant statement with this vivid brick red fabric that exudes warmth and depth.
Ivory: The perfect balance between stark white and creamy beige, ivory effortlessly brightens up your living area while maintaining a sense of coziness.
When it comes to the sofa legs, three finish choices are available: Walnut, Oak, or Black. Picking between these finishes can either seamlessly blend in with your overall color scheme or add an exciting contrasting element.
Matching Your Home Decor
When selecting your Burrow Range Sofa's upholstery and leg finishes, keep in mind how they'll work with existing home decor elements or potential future upgrades.
If you're unsure about picking the right combination, here are some tips to help you blend the sofa harmoniously with your desired aesthetic:
Consider complementary colors: Utilize a color wheel to find colors that complement each other – a useful approach when decorating any space. For example, if your living room walls are painted in a blue shade, an orange-toned sofa can create a stunning contrast.
Neutral = Versatile: Picking a neutral sofa color such as gray, beige, or ivory enables you to play with bolder accents like artwork and pillows without overwhelming the room.
Patterns and Textures: Don't be shy about incorporating patterns and textures into your living area when designing around a solid-colored sofa. Opt for throw blankets or patterned pillows that tie in the room's color palette for a stylish and cohesive look.
Find inspiration online: Platforms like Pinterest or interior design blogs are treasure troves of visual ideas to guide you in selecting color combinations, textures, and furniture arrangements that resonate with your unique style.
Mixing furniture styles: Don't be afraid to combine various styles within your space – as long as they share common elements such as a unified color palette or complementary materials (e.g., wood, metal). Your Burrow Range Sofa can become the anchor point for an eclectic mix of traditional and modern furniture in the same room.
The Burrow Range Sofa's thoughtfully designed aesthetics allow you to unleash your creativity and build an inviting living space that reflects your personality.
From its wide array of color options to blending effortlessly with diverse interior styles – this is truly a versatile piece worth considering for anyone looking to elevate their home decor game.
The Burrow Range Sofa's Ease of Maintenance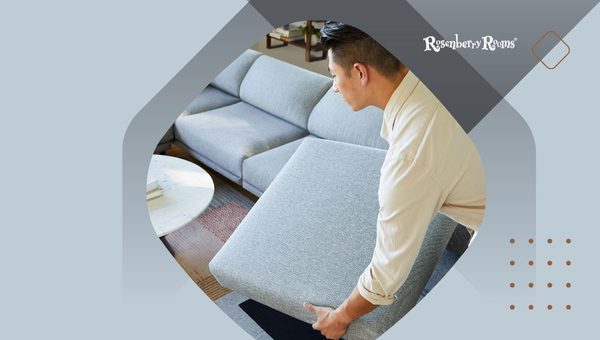 One of the most critical factors to consider when buying a sofa is its ease of maintenance, as it can directly influence the lifespan and appearance of your furniture.
Luckily, with the Burrow Range Sofa, maintaining its pristine condition is a breeze. From stain-resistant fabrics to easily removable cushion covers, let's dive into what makes this sofa so low-maintenance.
Stain-Resistant Fabric Options
When selecting the upholstery for your Burrow Range Sofa, you have several fabric options that are both stylish and highly resistant to spills and stains. These fabric options include:
Olefin Performance: A highly durable and eco-friendly material that's free from harmful chemicals.
Vintage Velvet: As soft as silk but much more durable; perfect for a touch of luxury and resilience.
Brushed Heathered Weave: A classic choice offering maximum comfort and resistance to pilling.
All these materials are carefully engineered to resist everyday wear and tear, including accidental spills that could potentially leave unsightly stains on your sofa.
Moreover, these stain-resistant fabrics ensure that even if you're hosting a party or have kids playing around, you can have peace of mind knowing that your sofa will remain looking clean and fresh.
Removing and Washing Cushion Covers
It is inevitable–over time, cushions collect dust, dirt, sweat, pet hair, or even food crumbs that call for a proper cleaning session now and then.
Fortunately, Burrow designed their Range Sofa with removable cushion covers that make washing them an effortless feat.
To remove the cushion covers:
Unzip the cover at the backside of each cushion.
Gently pull the cover off while ensuring not to damage any seams.
Follow the care instructions specified by Burrow (usually machine washable on a gentle cycle with cold water).
Allow them to air dry completely before replacing them on the cushion to prevent any unintended shrinkage.
This easy process ensures your sofa's cushions remain clean and fresh, contributing significantly to the overall longevity of your furniture.
How to Spot Clean Your Sofa
Sometimes spills are minor and don't require washing the entire cushion cover. In such cases, spot cleaning is your best bet for quick maintenance without dismantling everything. Here's how you can do it:
Blot, don't rub: As soon as a spill occurs, use a clean cloth or paper towel to gently blot the area and absorb any excess liquid. Avoid rubbing in order not to spread the stain or push it deeper into the fabric.
Prepare a mild solution: Mix a few drops of dishwashing soap with cold water in a small container.
Gentle cleaning: Dip a clean cloth or sponge into the soapy solution and wring out any excess liquid. Proceed to dab at the affected area gently.
Rinse: Take another clean cloth or sponge, dampen it with cold water, and blot the area once again, removing any soap residue.
Air-dry: Allow the spot-cleaned area to air dry thoroughly.
By following these maintenance tips with care and consistency, you'll undoubtedly prolong your Burrow Range Sofa's life and enjoy its comfort for years without compromising its sleek aesthetics.
When it comes to ease of maintenance, Burrow clearly made an effort to ensure that users can enjoy their stylish Range Sofas without unnecessary worries or hassles related to cleanliness or stains.
With stain-resistant fabric options, removable cushion covers for quick laundering sessions, and straightforward spot cleaning techniques at hand–keeping your Burrow Range Sofa looking fresh has never been this simple!
Sizing Options and Layout Flexibility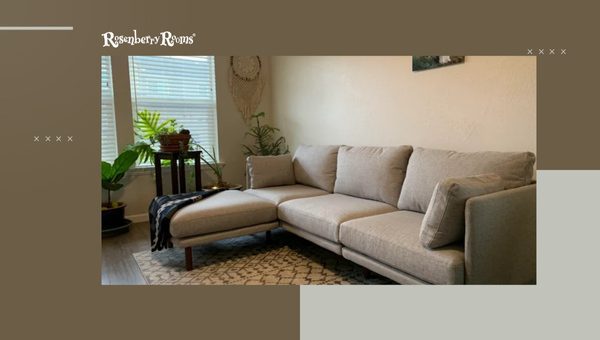 One of the most striking features of the Burrow Range Sofa is its incredible flexibility when it comes to size and layout options.
Understanding that every home is unique, Burrow designed their sofas with lifestyle needs in mind, offering various configurations suitable for any living space. Let's take a closer look at these options:
Single, Loveseat, or Sectional? Finding Your Perfect Fit
Whether you have a compact apartment or a spacious home, finding the right sofa size is essential for both aesthetics and purposes of comfort. With the Burrow Range Sofa, you can select from a variety of sizes based on your needs:
Single Seat: This option is perfect for those with limited space or for those who desire an additional cozy nook in their living area.
Loveseat: As the name suggests, this configuration is perfect for two people to cuddle up on a movie night. It offers ample seating for small spaces or serves as complementary seating to your existing setup.
Sectional: In addition to one-arm seat modules allowing customized layouts, corner modules and chaise lounges further extend the level of customization.
Each configuration is uniquely designed to cater to specific living situations—an excellent option for those with strict space requirements or anyone looking to elevate their home's comfort levels.
Adding or Rearranging Components for Easy Upgrades
One of the most significant benefits of owning a Burrow Range Sofa lies in its modular design. With ease-of-assembly clip mechanisms, you can add, remove and rearrange different components according to your specific requirements. This flexibility distinguishes it from other traditional sofas in the market.
Here are some ways in which you can upgrade your sofa setup:
Extend Your Seating Capacity
As your family grows or if you find yourself frequently hosting social gatherings, upgrading your seating capacity becomes essential. Instead of purchasing a new sofa altogether—which could be both expensive and impractical—you can add additional one-arm seat or corner modules to accommodate your guests easily.
Customize Your Sofa Into a Sectional Configuration
The ability to change your existing layout into a sectional configuration significantly enhances your living area's overall layout. The seamless addition of a chaise lounge or corner module offers more versatility, enabling various conversation arrangements and cozier movie nights.
Rearranging the Layout to Fit Your Space
As much as we all love our living room layouts, sometimes a change is required. With the modular Burrow Range Sofa, rearranging seating becomes as simple as unclipping and moving the pieces around. This feature allows you to adapt to an evolving home life more effortlessly than ever before.
To sum up, the Burrow Range Sofa offers unparalleled customization options when it comes to sizing and layouts. With an easy-to-assemble modular design, you have the power to upgrade and enhance your space at any point in time.
This sense of flexibility not only adds value but also provides that personal touch, ensuring that your Burrow Range Sofa becomes an irreplaceable part of your home life.
Investing in a Burrow Range Sofa - Is It Worth It?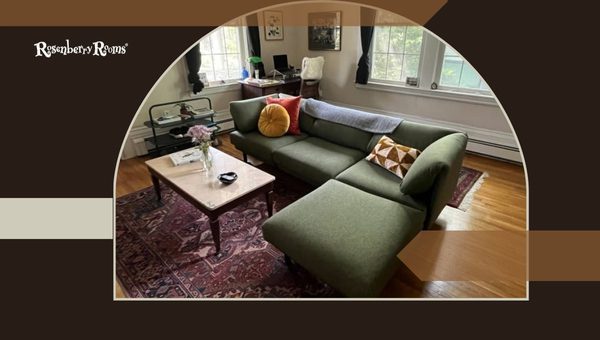 When it comes to buying new furniture for your living space, one of the foremost questions that come to mind is whether or not it's worth the investment. With the Burrow Range Sofa, I can confidently say that this has been one of my best purchases.
However, it's important to look into various aspects such as its competitors and pricing options before making a final decision.
Comparing the Burrow Range Sofa to Competitors
The Burrow Range Sofa stands up admirably when compared to its competitors. Here's a quick rundown of how it fares against other popular sofa options out there:
Comfort: The Burrow Range Sofa consistently receives high marks for comfort in reviews, often noted for its firm yet cozy feel and excellent support. In contrast, other online furniture companies may offer sofas with varying levels of comfort based on their designs and materials. From my personal experience, I've found the Burrow sofa far more comfortable than most other brands I've tried.
Design: This sofa offers an innovative modular design that allows for easy assembly and customization (something not all brands can boast). Additionally, the built-in charging system is a unique feature that sets it apart from competitors.
Setup: Burrow prides itself on providing an easy setup process that takes less than 20 minutes without any tools required. Many other online furniture retailers tend to have more complex assembly instructions or professional help needed, making this another advantage of owning a Burrow Range Sofa.
Sustainability: The materials used in creating these sofas are eco-friendly; from sustainably harvested hardwoods for the frame to non-toxic low-VOC adhesives & stains used within manufacturing. In comparison, not all furniture brands can claim such sustainable practices or products.
Pricing and Financing Options
Now let's address another significant factor: pricing and financing options. Here's a breakdown of the cost and available financing choices for the Burrow Range Sofa:
Pricing: The cost of owning a Burrow Range Sofa starts from approximately $1,195 for the basic loveseat. As you add more modules and features such as an ottoman or additional seating, the price point will naturally increase. However, it's important to remember that you're not only investing in a stylish piece of furniture but also a lasting experience in terms of comfort, durability, and ease of use. And when compared to similar options from competitors, it definitely offers value for money.
Financing Options: To make things even better and financially feasible, Burrow partners with Affirm to offer attractive financing options. This allows you to split your purchase into easy monthly payments over a specified duration (ranging from 3-36 months) with low-interest rates. *Subject to credit check & approval.
Shipping & Returns: Another perk is that Burrow offers free shipping on their sofas within the contiguous United States. They also have a 30-day return policy if you're not completely satisfied with your purchase. It is always comforting to know that the brand stands behind its products and wants customers to be happy with their investment.
Based on my personal experience and various factors discussed here such as comfort, design, setup process, sustainability, pricing, and financing options - I would say that investing in a Burrow Range Sofa is definitely worth it!
With its attention to detail and focus on customer satisfaction, this sofa genuinely stands out from its competitors in the market.
So go ahead - take the plunge just like I did! Bring home a cozy new piece of furniture that effortlessly combines style with functionality while offering optimal value for your money. Trust me; you won't regret it!
FAQs About Burrow Range Sofa Review
Is the Burrow Range Sofa easy to assemble?
Yes, the Burrow Range Sofa is designed for easy assembly, usually taking less than 20 minutes without the need for any tools.
Can I customize my Burrow Range Sofa?
Absolutely! The modular design of this sofa allows for customization, choosing from different colors, fabrics, and additional modules to suit your space.
What makes the Burrow Range Sofa different from other sofas?
The Burrow Range Sofa offers unique features such as a built-in charging system, eco-friendly materials, and quick assembly that sets it apart from competitors.
Does Burrow offer financing options for their sofas?
Yes, Burrow has partnered with Affirm to provide financing options where you can split your purchase into manageable monthly payments over a specific duration with low-interest rates *(Subject to credit check & approval).
What is the return policy on the Burrow Range Sofa?
If you're not completely satisfied with your purchase, Burrow offers a 30-day return policy allowing you to return your sofa within this period.
Conclusion
Choosing the right sofa for your living space can be an overwhelming task, but the Burrow Range Sofa has proven to be a fantastic option that prioritizes comfort, design, and practicality.
It was evident from my personal experience - from assembly to daily lounging - how much thought the Burrow team put into creating this wonderful piece of furniture.
What makes this sofa truly stand out is its unique combination of modularity and customization options, built-in charging system, sustainable materials, easy assembly process, and excellent financing opportunities.
All these factors culminate in an investment that is well worth it. By opting for a Burrow Range Sofa, you are not only elevating your living space aesthetically but also experiencing premium comfort every day.
It's time to welcome home a high-quality piece of furniture that enhances both your style and relaxation. So go ahead - explore the Burrow Range Sofa today! Trust me; you won't be disappointed.