As a self-proclaimed interior design enthusiast, I've spent countless hours researching and testing various furniture brands to find the perfect pieces for my home. In my quest for a stylish yet comfortable sofa, I stumbled upon an intriguing brand that caught my eye – Benchmade Modern.
After scouring through numerous Benchmade Modern sofa review, I decided t o take the plunge and bring one of these beautifully crafted sofas into my living space.
In this blog post, I'll be sharing my personal experiences and thoughts on the Benchmade Modern Sofa, from my initial purchase to how it's held up over time in my home. Join me as we delve into the intricate details of these stunning sofas, and see if they live up to their glowing reviews!
Whether you're looking to upgrade your current sofa or need some guidance on which brand to consider for your new home, this article will give you an honest take on the benefits – and potential drawbacks – of investing in a Benchmade Modern Sofa. Sit back and relax as we embark on this cozy journey together!
Why I Chose Benchmade Modern Sofa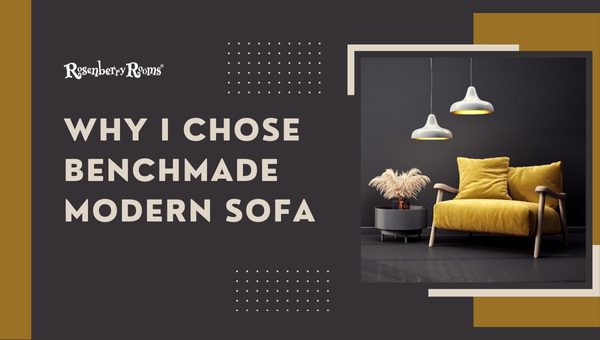 There were several compelling reasons why I chose a Benchmade Modern sofa for my home. First and foremost, their reputation for quality craftsmanship assured me that I would receive a long-lasting, well-built piece of furniture.
The extensive customization options provided me with the creative freedom to design a sofa that catered to my specific needs and preferences, ensuring I wouldn't have to compromise on comfort or style.
The variety of designs and materials allowed me to explore a range of styles that seamlessly melded with my existing home decor while maintaining an air of luxury. These factors combined made Benchmade Modern my go-to choice for the perfect sofa to complete my living space.
Reputation for Quality Craftsmanship
When it comes to purchasing a new sofa, one of the most important factors I consider is its build quality. Benchmade Modern is known for its quality craftsmanship, and this played a significant role in my decision to choose their sofas.
After doing extensive research, I discovered numerous positive reviews praising their products' sturdiness and attention to detail.
Some key factors that helped me understand the level of craftsmanship in Benchmade Modern sofas include:
Handcrafted in the USA: The fact that each sofa is individually handcrafted by skilled artisans right here in the United States gave me confidence in the brand's commitment to quality.
Solid wood frame: A sturdy frame is essential for ensuring the longevity and durability of any sofa. Benchmade Modern uses kiln-dried hardwood frames in their sofas, guaranteeing a robust foundation.
Sinuous spring system: Unlike some cheaper alternatives that use basic spring systems, Benchmade Modern employs an eight-way hand-tied sinuous spring system enclosed with polyurethane foam. This provides ample support while allowing for optimal comfort when seated.
Top-quality materials: From premium graded fabrics to high-density foam cushions, Benchmade ensures that every component used in their sofas meets strict quality standards.
The brand's dedication to using only top-notch materials and employing skilled artisans made me confident that I was choosing a sofa that would last for years to come.
Taking all these elements into account gave me peace of mind knowing that I was choosing a reliable, well-built furniture piece with exceptional craftsmanship from Benchmade Modern.
Customization Options
Another aspect that drew me to Benchmade Modern sofas is their vast array of customization options. With the ability to tailor the sofa according to my preferences and needs, I felt like I had creative control over the final product.
Some of the customization options offered by Benchmade Modern include:
Size: Benchmade Modern allows customers to choose sofa lengths down to the inch, so you can be sure your new furniture piece fits perfectly in your space.
Configuration: You have the option to select various configurations for your sofa – be it a standard three-seater, a sectional, or something entirely different.
Cushion content: From their classic polyfoam to luxurious down blend inserts, you can tailor your couch cushions according to your comfort preferences.
Fabric choice: With an extensive range of fabric types and colors at your disposal, you'll undoubtedly find something that suits both your taste and home décor.
These customization options played a significant role in my decision as I felt the end product would be uniquely tailored just for me.
Variety of Designs and Materials
In addition to providing customization options, Benchmade Modern also offers a diverse selection of designs and materials. This ensures that everyone can find a sofa that suits their unique style and complements their living space. Some of what caught my attention include:
Contemporary designs: Featuring sleek lines and modern aesthetics perfect for any contemporary living space.
Classic styles: For those who appreciate timeless elegance, traditional styles with uncompromised comfort are also available.
Sectionals: If you're searching for flexible seating arrangements, a variety of stylish sectionals will meet your needs.
Eco-friendly materials: For those wanting to incorporate eco-conscious options into their homes, Benchmade Modern offers environmentally friendly fabrics such as recycled polyester.
Stain-resistant fabrics: Kid-friendly and pet-friendly options are available with specially-treated fabrics that resist spills and stains.
The sheer variety of designs and materials presented by Benchmade Modern ensures that everyone can find their ideal sofa, making it an appealing choice for purchasers with diverse tastes and requirements.
When My Sofa Arrived: First Impressions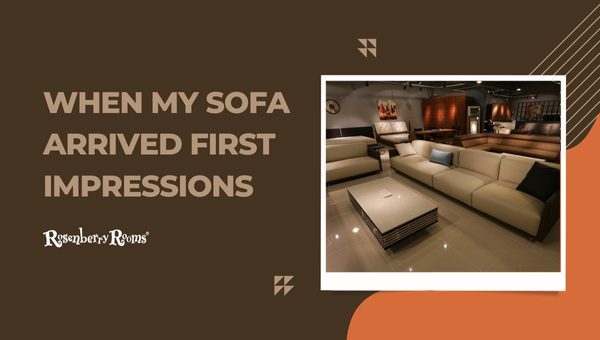 When my Benchmade Modern sofa arrived, I was immediately impressed. The seamless delivery process and careful unboxing revealed a beautifully crafted piece that exceeded my expectations in terms of appearance and quality.
Delivery Process
After much anticipation, the day finally arrived for my new Benchmade Modern sofa to be delivered. The delivery process was a crucial aspect of my overall experience. Thankfully, Benchmade Modern did not disappoint in ensuring I had a seamless delivery experience from start to finish.
Here are some aspects of the delivery process that stood out:
Delivery Lead Time: After placing my order, Benchmade Modern provided an estimated lead time of 6-8 weeks, which is typical for custom furniture. They kept me informed throughout the process and notified me when the sofa was nearing completion.
Communication: I appreciated how Benchmade Modern's customer service team stayed in touch leading up to the delivery day. They provided updates on the production status and ensured I was well-informed about when my sofa would arrive.
Scheduling: Once my sofa was ready for shipping, they reached out to schedule a delivery date that worked best for me. They also gave me a timeframe during which I could expect the delivery truck to arrive on the agreed-upon day.
Tracking: Furthermore, they provided tracking information allowing me to monitor my shipment's progress as it made its way from their facility to my home.
White Glove Service: Benchmade Modern offers white glove service with their deliveries, meaning professional movers bring your new sofa into your home and set it up in your desired location. This hassle-free approach saved me time and effort as everything was taken care of by experienced personnel.
The delivery process went smoothly and left me with a positive first impression of my new Benchmade Modern sofa. The excellent communication from their team and smooth coordination made acquiring this beautiful piece of furniture a truly enjoyable experience.
Unboxing the Benchmade Sofa
The moment of truth had arrived – it was time to unbox my new Benchmade Modern sofa! As the professional movers carefully removed the packaging, I eagerly awaited my first look at the custom piece. I knew that this unboxing experience would set the tone for my overall satisfaction with the product.
Aspects of the unboxing that stood out:
Packaging Quality: The sofa was well-protected in durable packaging materials, ensuring it arrived in pristine condition. It definitely eased my concerns about potential damage during transit.
Initial Setup: With the help of the white glove service, the movers skillfully and efficiently assembled and positioned my sofa as per my request. This eliminated any stress about incorrect assembly or accidentally damaging the piece.
Immediate Thoughts on Appearance and Quality
As soon as my Benchmade Modern sofa was unveiled and placed in my living room, I took a step back to fully assess its appearance and quality. Here are some initial thoughts that crossed my mind:
Design Accuracy: Seeing it in person, I noticed how closely it resembled both the images on their website and also aligned with my expectations. The customization options I selected integrated seamlessly into its design.
Color & Fabric: The fabric color and type were exactly as I envisioned while browsing through their sampling process during customization. Its texture felt high-quality, and the shade perfectly complemented my living space.
Craftsmanship: Taking a closer look at its construction, stitching, and overall structure, it was evident that attention to detail had been given during production. It exuded the quality craftsmanship that one would expect from a luxury furniture brand.
The unboxing process along with my initial impressions on appearance and quality solidified that Benchmade Modern genuinely delivered on their promise of style and excellence. My excitement continued to grow as I prepared to put this gorgeous piece of furniture to use!
The Comfort Factor: Sitting on My Benchmade Modern Sofa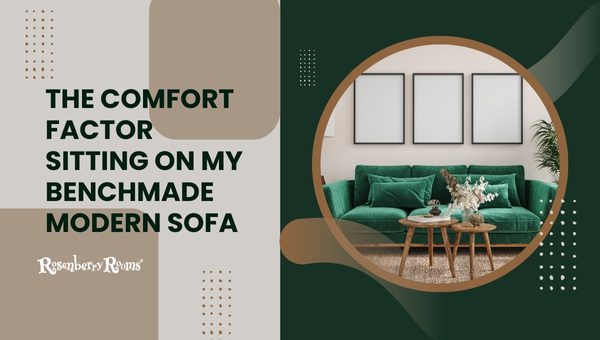 Beyond aesthetics and quality, one of the essential factors to consider when purchasing a sofa is its comfort. After all, it's where I'll be spending hours relaxing, binge-watching shows, or entertaining guests. So, let's see how my Benchmade Modern sofa fares in terms of comfort.
Different Seating Options Available (E.g. Depth and Cushion Types)
With Benchmade Modern sofas, various seating options cater to different preferences and styles. Their customization process involves not only choosing the size and fabric but also selecting seating depth and cushion types for optimal comfort.
Here are the different seating options you can consider:
Choice of cushion depth: Benchmade offers varying seat depths enabling you to choose whether you'd like a more relaxed, deeper seat or a firmer feel with a shallower depth.
Cushion types: The brand provides three main cushion-filling options:
Polyfiber: A standard high-density foam wrapped in fiber padding; this choice offers great support with medium-soft firmness.
Trillium: A down-alternative material that closely mimics the feel of down but is hypoallergenic; it provides plush softness while maintaining its structure over time.
Down blend: Comprising a mix of down feathers and fiberfill wrapped around foam inserts, this option offers luxurious softness with fantastic cushioning.
The availability of these different seating options allowed me to create a customized sofa tailored specifically to my preferred level of comfort, resulting in ideal relaxation whenever I sink into my new Benchmade Modern sofa.
My Personal Comfort Experience
Having sat on and used my Benchmade Modern sofa for some time now, I can share my personal comfort experience. As someone who appreciates a balance of support and plushness, I chose the down blend cushions with a medium-depth seat.
Every time I sit down, the cushions gently envelop me as I sink into the softness — but there's still enough firmness to provide proper support. Additionally, their high-quality foam ensures that the cushions maintain their shape even after extensive use.
Whether I'm lounging with a book or hosting guests for movie nights, my Benchmade Modern sofa has become the go-to spot in our home. Its level of comfort surpasses many other sofas I've previously owned or tried.
How It Compares to Other Sofas I've Used
From cheaper mass-produced sofas to luxurious designer models, I have tried out a fair share of furniture in my quest for the perfect sofa experience. So, how does my Benchmade Modern sofa compare?
The customization options and top-tier materials put it leaps and bounds ahead of any mass-produced variants when it comes to both comfort and quality. Unlike many generic sofas where cushion integrity tends to deteriorate over time, my Benchmade Modern sofa shows no signs of sagging or losing its shape even after continuous use.
When comparing it against some other high-end brands and designer models, my Benchmade Modern sofa still holds its own in terms of quality craftsmanship and aesthetic appeal while maintaining an edge due to its personalization options.
Overall, my Benchmade Modern sofa's superb level of comfort consistently outperforms many other sofas on the market. The exceptional experience it brings has truly transformed my living space into a sanctuary for relaxation and enjoyment.
Breaking Down the Construction and Materials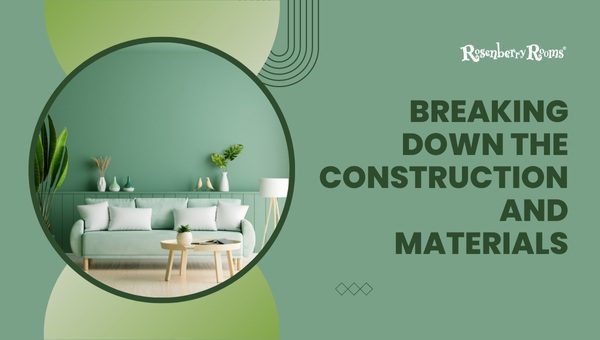 A closer examination of the construction and materials used in creating a Benchmade Modern sofa will help you appreciate its true value and longevity. The brand's attention to detail and commitment to using high-quality materials is apparent in every aspect of its product lineup.
Frame Construction
One cornerstone feature of any long-lasting sofa is undoubtedly the frame. Benchmade Modern understands this and ensures its sofas have a robust, top-quality foundation that will stand the test of time.
Here's an overview of their frame construction:
Kiln-dried hardwood: Benchmade Modern utilizes kiln-dried hardwood (primarily alder) for their sofa frames. This type of wood undergoes a drying process in a controlled environment which eliminates excess moisture, preventing warping or cracking over time. By using hardwood for its frame, Benchmade Modern sofas can maintain structural integrity even after years of use.
Double-dowel joints: To reinforce the stability and strength of the frame, double-dowel joints are employed at critical stress points. This tried-and-tested technique offers a secure connection between wooden components that only improves over time with usage.
Corner blocks: As additional reinforcement, glued and screwed corner blocks are used to keep your sofa frame sturdy and square. These corner blocks help minimize any potential wobbling or instability issues over time.
The outstanding frame construction methods used by Benchmade Modern ensure that their sofas possess durability for lasting enjoyment — making them an investment that will continue to provide comfort for years to come.
Choice of Fabrics, Finishes, and Foam
One primary strength of Benchmade Modern lies in its abundance of customization options, particularly regarding fabrics, finishes, and cushion materials. Carefully selecting the right combination of these elements will not only impact your sofa's comfort but also contribute to its longevity and aesthetic appeal.
My Chosen Combination
For my custom Benchmade Modern sofa, I selected:
Fabric: The Crypton fabric caught my eye due to its stain-resistant features. It is perfect for coping with daily wear while maintaining a sense of luxury.
Leg Finish: I opted for a deep espresso wood finishes for the legs that add an element of sophistication while blending well with my other furniture pieces.
Cushion foam: As mentioned earlier, I chose the down blend cushions for their luxurious softness and support.
How It Works With My Home Decor
The chosen combination has proven to be an excellent choice for my living space:
The Crypton fabric's texture adds depth to the room while maintaining a high-end feel.
The espresso leg finish complements other elements such as wooden accents in my home.
The down blend cushions have received glowing praise from guests who have enjoyed their plush comfort during gatherings.
Ultimately, my customized Benchmade Modern sofa has become a harmonious addition to my home decor, enhancing both functionality and style in my living area.
Quality Indicators
To ensure you're investing in long-lasting furniture, there are key quality indicators that can help determine if your chosen materials will stand up against daily wear:
Fabric durability: Assessing fabric durability involves looking into aspects like double rub count (higher-rated fabrics can handle more friction) or the presence of specialized protective treatments like stain resistance or antimicrobial properties.
Wood finishes: Sturdier finishes are less prone to chipping or scratching and can maintain their appearance over time. Also, ensure the stain or paint used is of high quality and non-toxic.
Cushion foam density: Higher-density foams offer better support and structure over time. Foam wrapped with down or fiberfill adds an extra layer of softness while maintaining overall durability.
By focusing on these quality indicators during the customization process, I've found that my Benchmade Modern sofa has met and exceeded all my expectations, proving it's worthy of the investment made.
Maintenance and Care for My Benchmade Modern Sofa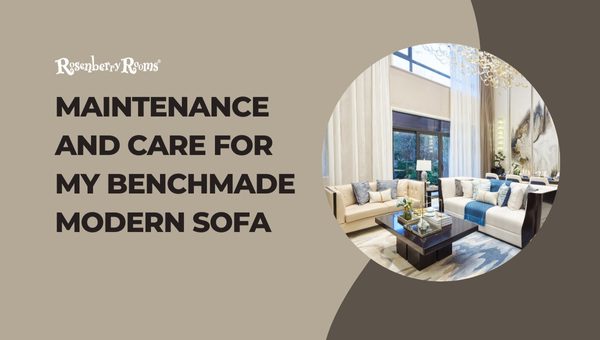 Just like any other piece of furniture, a Benchmade Modern sofa requires regular maintenance and care to keep it in the best possible condition. Proper care and maintenance will ensure your investment stays looking beautiful and comfortable for many years to come.
Here are some tips and recommendations for taking care of your Benchmade Modern sofa:
Recommendations From the Manufacturer
Vacuuming: Regularly vacuum your sofa using a soft brush attachment to remove dust, dirt, or pet hair that might accumulate on the fabric surface. This helps in preserving the fabric's appearance over time.
Flipping cushions: For even wear, it's advisable to frequently flip or rotate seat cushions every few months. This extends their life by distributing pressure points evenly, ensuring they maintain their support and comfort.
Avoiding direct sunlight: To prevent your sofa fabric from fading or discoloring, try to position it away from direct sunlight or excessive heat sources when possible.
Cleaning Methods for Various Fabric Types
Different fabrics may require specific cleaning methods—always refer to the manufacturer's cleaning guidelines before attempting to clean your sofa:
Spot cleaning: For most fabrics, gentle spot cleaning using water-based upholstery cleaners is recommended. Always test a cleaner on an inconspicuous area before using it on a visible spot.
Dry-cleaning: Some delicate fabrics may require professional dry-cleaning services for a thorough cleanse without causing damage.
Crypton fabrics: In the case of Crypton fabrics like mine, you can easily remove liquid spills by blotting them with a clean cloth while more stubborn stains can be cleaned with mild soap and water using a soft brush (following manufacturer guidelines).
Protecting the Frame From Wear-and-tear
Following these critical steps can significantly prolong the life of your Benchmade Modern sofa frame:
Evenly distribute weight: Avoid placing heavy items consistently on one specific spot as it may lead to excessive stress on the frame.
Use furniture pads: Add felt or rubber pads under the sofa legs to protect your floor and minimize friction that could cause wear to both the sofa and flooring.
By following these maintenance and care tips, my Benchmade Modern sofa has continued to look and feel as good as new – a testament to its exceptional craftsmanship when coupled with proper care.
How My Friends and Family Feel About My New Sofa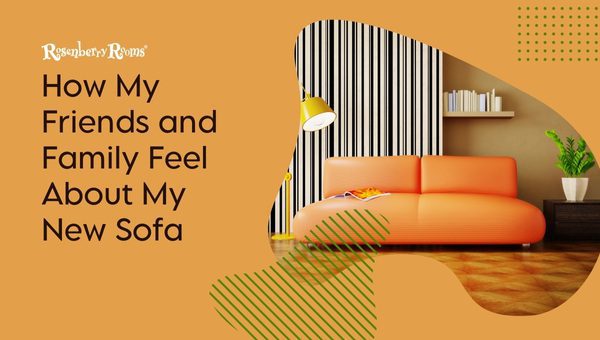 A great sofa should not only offer comfort to its owner but also make a lasting impression on friends and family who visit your home. Since I got my Benchmade Modern sofa, it has been the centerpiece of numerous gatherings, cozy get-togethers, and simple evenings with loved ones.
Here's what my friends and family have had to say about my new sofa:
People's Reactions During Gatherings/events at Home
Comfort: Many have commented on how comfortable the sofa feels, especially when seated for extended periods during movie nights or long conversations. The down blend cushions have truly made an impression, providing each guest with a relaxing experience.
Style: Several friends have complimented the sofa's design and the harmony between its aesthetics and the surrounding space. Its seamless integration into my home decor as well as its understated yet elegant appearance has been widely appreciated.
Quality: Some friends with discerning eyes have noticed the exceptional craftsmanship behind my Benchmade Modern sofa. They've remarked on elements such as sturdy seams, high-quality fabric, and overall build quality that are hard to find in generic mass-produced pieces.
Any Expressed Concerns They Might Have Brought Up Regarding Comfort, Space, or Style
So far there haven't been any significant concerns raised by my friends or family. However, a few guests have mentioned that while they find the down blend cushions incredibly comfortable, they might prefer a slightly firmer cushion option for themselves.
This highlights how personal seating preferences can differ from person to person — but with Benchmade Modern's customization options, there's something available to cater to everyone's tastes!
Overall, my new Benchmade Modern sofa has made a remarkable impact on my living space — not just for me but also for those who visit my home. It has undoubtedly become an inviting centerpiece within our domain where comfort meets style, making it a worthy investment and memorable addition to our family gatherings.
The reactions from my friends and family to my new Benchmade Modern sofa have indeed been overwhelmingly positive! From their delightful expressions when they first saw it, to the numerous praises on how comfortable it feels — it's safe to say that they were genuinely impressed.
Some have even mentioned their admiration for the sofa's elegant design, complementing how well it fits within my home decor. A few of my friends have even jokingly asked if they could take the sofa home with them!
It has been a source of pride knowing that I made an excellent choice by investing in this stunning piece. I've noticed some subtle (and not-so-subtle!) signs of envy as they compare it with their own sofas, often asking me about Benchmade Modern and their customization options.
Ultimately, my Benchmade Modern sofa has undoubtedly become a focal point not just for me, but also for friends and family who visit — leaving them awed, impressed, and in some cases, experiencing a touch of extreme envy!
Assessing Value for Money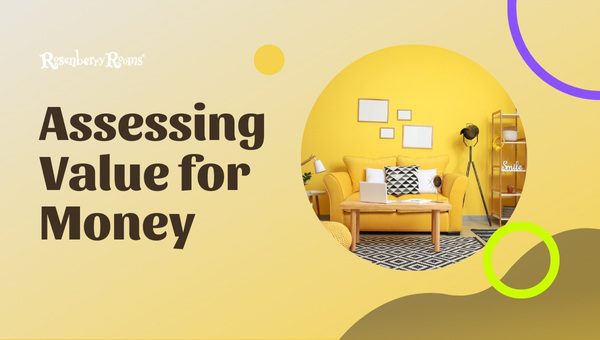 Weighing the cost of a sofa against its quality is an important aspect of smart furniture shopping. With my Benchmade Modern sofa being an investment in both comfort and style, it's crucial to consider whether its advantages truly justify the price.
Comparing Price to Quality
A significant consideration when purchasing a new sofa is the price-to-quality ratio. With a wide range of options available at different price points, it's important to determine whether investing in a higher-priced sofa like Benchmade Modern truly offers a superior experience.
Here's a look at how the cost of my Benchmade Modern sofa measures up against its quality:
How Does It Stand Against Competitors
When comparing my Benchmade Modern sofa to competitors in the market, several key factors come into play:
Craftsmanship: The excellent construction and high-quality materials used by Benchmade Modern place their sofas on par with (or even surpass) those from well-established luxury brands.
Durability: Thanks to the solid kiln-dried hardwood frame and durable fabric options, my Benchmade Modern sofa promises long-lasting use while retaining a showroom-like appearance.
Design Flexibility: The vast customization opportunities offered by Benchmade Modern ensure customers have a product tailored explicitly for their needs — a feature that sets them apart from many competitors with limited personalization options.
Wise Investment for Any Home?
Based on my experience so far and considering its quality, durability, and unique customization options, I'd say that my Benchmade Modern sofa is indeed a wise investment for any home.
Though it may come at a higher price point compared to generic mass-produced sofas, I firmly believe that this investment pays off in terms of long-term satisfaction as well as preventing the hassle often associated with frequent replacement or repair required when opting for cheaper alternatives.
In conclusion, I feel that my Benchmade Modern sofa's value for money has proven to be exceptional; it not only enhances my living space through comfort and style but also promises longevity and durability — an affordable luxury worth indulging in.
Final Verdict: Is the Benchmade Modern Sofa Worth It?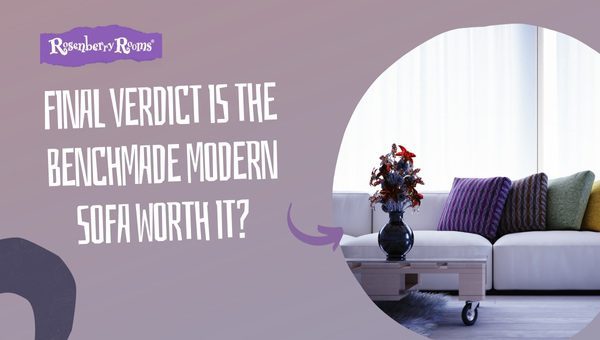 As I reflect on my entire experience with the Benchmade Modern sofa, I can confidently say it was a worthwhile investment.
This luxurious and comfortable piece of furniture has become an integral part of my living space, impacting not only the aesthetics but also providing lasting satisfaction.
Reflecting on Long-term Satisfaction Factors:
Upholstery Durability/resilience: The upholstery fabric's durability has been impressive, effortlessly standing up to everyday use, spills, and stains. Even with pets around the house, my Benchmade sofa has been able to maintain its appearance and integrity.
Length of Owning This Piece(s) vs. Hassle/Disappointment: Choosing a high-quality, customizable sofa like Benchmade Modern means enjoying longevity without the constant turnover or disappointment experienced when cheaper furniture options fail to meet expectations.
Overall Experience: From exceptional customer service and customization options to expert craftsmanship that supports lasting comfort, my journey with Benchmade Modern sofas has been gratifying. The impact their sofa has had on my living space is undeniable – elevating both style and functionality while enriching life at home in a truly meaningful manner.
Would I Recommend the Brand?
Looking back on all the factors discussed above – fit, appearance, quality materials, personalization options, and positive feedback from friends and family – I wholeheartedly recommend Benchmade Modern as a reliable and worthy investment for any home.
So if you're in search of a beautiful sofa that doesn't compromise on comfort or quality while offering tailored customization to suit your taste and needs, Benchmade Modern checks all the boxes as an excellent choice for those willing to invest in crafting long-lasting lounge-worthy spaces they'll cherish for years to come.
FAQs About Benchmade Modern Sofa Review
How customizable are Benchmade Modern sofas?
Benchmade Modern sofas provide options for fabric, cushion depth and filling type, size, configuration, and leg finishes to cater to your preferences.
What cushion types does Benchmade Modern offer?
They offer poly-fiber, Trillium, and down blend cushion filling options. Each provides a different balance of support and softness to suit your comfort preferences.
Are Benchmade Modern sofas eco-friendly?
Benchmade Modern offers environmentally-friendly fabric options such as recycled polyester, contributing to a more sustainable choice for your home furnishings.
How do I maintain my Benchmade Modern sofa?
Regular vacuuming, flipping cushions, and following recommended cleaning methods for specific fabrics will keep your Benchmade Modern sofa looking great over time.
Is my Benchmade Modern sofa pet-friendly?
Stain-resistant Crypton fabrics are available that resist spills and stains while being easy to clean, making it practical for households with pets.
What services are included in their deliveries?
Benchmade Modern offers white glove delivery service which includes professional movers unpacking, assembling, and placing your new sofa in its desired location in your home.
Does Benchmade Modern offer sectional sofas?
Yes, they offer various stylish sectional options suitable for those who prefer flexible seating arrangements.
Conclusion
In conclusion, the 'Benchmade Modern Sofa Review present a comprehensive view of the product's merits and demerits. My experience with the Benchmade Modern sofa has truly been exceptional. The vast array of customization options and top-quality materials have allowed me to design a sofa perfectly tailored to my preferences and living space.
The delivery process and Benchmade's attentive customer service further contributed to a seamless experience from start to finish.
Moreover, the sofa's impeccable craftsmanship is evident in its structural integrity and overall quality. From enjoying cozy evenings at home to hosting friends and family, my Benchmade Modern sofa has become an integral part of my everyday living experience.
Its comfort, design, and durability have managed to exceed expectations when compared with other high-end furniture brands.
Based on my personal journey with Benchmade Modern, I wholeheartedly recommend their sofas for anyone looking for well-crafted furniture that combines aesthetics, customization possibilities, luxury materials, and enduring value – all in one stellar package.