You know that feeling when you walk into a room, and you just can't help but grin from ear to ear? That's exactly how I felt the first time I laid eyes on the Burrow Field Sofa.
Stylish, comfortable, and oh-so-versatile, this lovely piece of furniture has been sitting pretty in my living room for weeks now—and it's about time I share my thoughts with all of you in the Burrow Field Sofa review!
For those unfamiliar with this gem, Burrow is a furniture company that's made waves in the market with its innovative designs and premium quality products.
As someone who's always hunting for a touch of uniqueness in home decor, stumbling upon Burrow was quite a treat! Without further ado, let's dive right into the ins and outs of this uber-cool sectional masterpiece.
The Magic in the Design: A Closer Look at Burrow Field Sofa's Aesthetics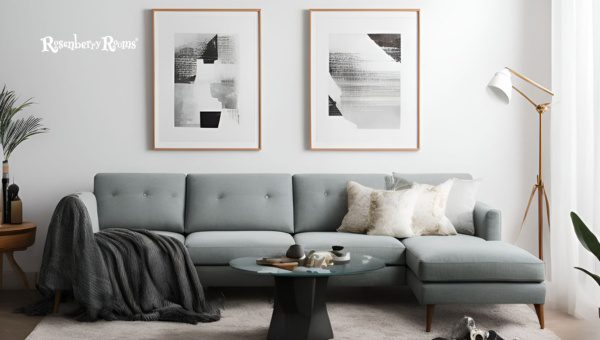 When you first set eyes on the Burrow Field Sofa, it's hard not to fall in love with its design. There are two major elements that make this couch stand out from the crowd—its timeless style and the perfect blend of minimalism and comfort.
Let's delve into these aspects for a clearer understanding of what makes this sofa so visually appealing.
Timeless Style and Chic Finish
One of the key features that set the Burrow Field Sofa apart from other couches is its utterly timeless appeal. This sofa has been designed with clean lines, flaunting a sleek silhouette that looks luxury packed into simplicity!
This minimalist approach ensures that the sofa fits seamlessly into any living space without being too overpowering or detracting from your existing decor.
Furthermore, the chic finish offered by Burrow adds a touch of sophistication to this already stunning piece. When it comes to fabric options, they have you covered—choose from soft and cozy performance velvet, family-friendly performance chenille, or classic and easy-to-clean performance tweed. And don't forget about color selection; they have a range of hues sure to complement any palette.
Here is a quick glance at the different fabric and color combinations available:
| Fabric | Colors Available |
| --- | --- |
| Performance Velvet | Bottle Green, Navy Blue, Brick Red, Rose |
| Performance Tweed | Dark Grey, Light Grey |
| Performance Chenille | Beige |
With these numerous options at hand, you can rest assured that your sofa will fit right in with your preferred aesthetic, whether it's a modern loft or an elegant country home.
The Perfect Combination of Minimalism and Comfort
As I mentioned earlier, the Burrow Field Sofa isn't just about being visually appealing—it's also an oasis of comfort. What sets this sofa apart from others is the perfect harmony between its minimalist design and undeniable coziness.
Right off the bat, you'll notice that instead of an excessively deep seat, Burrow has opted for a more moderate depth to ensure you're supported and comfortable without feeling swallowed by the couch. The seat cushions made with alternating layers of polyurethane foam and memory foam, strike an incredible balance between support and plushness.
Additionally, the back cushions are filled with a blend of polyester fibers and a down alternative. This thoughtful combination offers a delightful sinking sensation that never compromises on form or support—meaning it looks just as inviting even after hours of lounging on it.
Not only do these details contribute to exceptional comfort, but they also help maintain the elegant minimalism we've come to love about this sofa.
From the slim armrests to its understated base (available in both metal chrome or wood finish), Burrow has crafted a piece that embodies true luxury without shouting it from the rooftops.
What sets the Burrow Field Sofa above its counterparts is the rare balance struck between brilliant aesthetics and lavish comfort.
With its timeless appearance, chic finish, and consciously chosen materials––all carefully woven into an effortlessly simple design––it's no wonder I find myself coming home each day eagerly anticipating sinking into every inch of my beloved sofa!
Customization Galore: How to Make the Burrow Field Sofa Your Own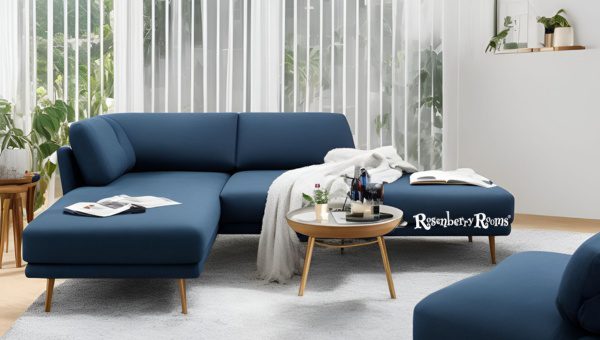 One of the most striking features of the Burrow Field Sofa is its impressive range of customization options. It's no news that every individual has unique preferences when it comes to home decor and comfort; the good folks at Burrow understand this well.
In this section, we'll explore various possibilities that allow you to make your sofa truly yours.
Selecting the Right Fabric and Color
To begin with, let's discuss the fabric options available for our beloved Burrow Field Sofa. The company offers three distinct fabric types for its sofas:
Performance fabrics - These are stain-resistant, pet-friendly materials that are perfect for those of us who either have young children or delight in entertaining guests frequently.
Leather - A classic choice for many, Burrow offers top-grain Italian leather that is both sleek and supple. Leather sofas often lend an air of sophistication to any room they're in.
Olefin Fiber- This sustainable option is made out of recycled materials, making it an environmentally conscious pick without compromising on quality.
Now that you're aware of your fabric choices, it's time to settle on a color that matches (or contrasts) your room's aesthetics perfectly.
Burrow offers a variety of shades to choose from—whether you prefer soft neutrals like Ivory or Beige or love to go bold with shades like Brick Red or Navy Blue, there is a hue for everyone in their palette.
Configuring Your Sectional Configuration
Now comes the exciting part—configuring your sectional layout! With Burrow Field Sofas' modular design, creating a configuration catering specifically to your spatial needs and aesthetic preferences becomes a straightforward task.
There are multiple ways you can arrange your sofa by combining different units called "seating modules." These modules include:
Armless Seat: An essential piece for expanding your sofa, the armless seat allows you to add more length or a corner unit.
Corner Seat: Designed to turn your sofa into an L-shaped or U-shaped sectional, these corner seats make efficient use of cramped spaces.
One-Arm Seat: Ideal for providing ample seating options without taking up too much space, one-arm seats serve as a great bookend for other seating modules.
Ottoman: Although not part of the sectional configuration per se, ottomans are versatile accessories that can be used both as footrests and as makeshift tables when required.
Here's a general guideline one should take note of while determining their sectional configuration:
Start with an arm – Choose either a left-arm or right-arm sofa module, depending on where you'd like to start your sectional layout.
Expand and configure – Pick from armless seats, corner seats, and/or one-arm seat modules according to your desired sofa size and shape. Make sure you're aware of how much wall space you have before going wild with configurations!
Complete with another arm – Cap off the run of the sectional by adding another one-arm seat module at the end.
Remember, it's crucial you try different arrangements before zeroing in on one. After all, your Burrow Field Sofa will likely become a focal point in your living room.
Take into account factors like room dimensions, furniture angles, and even how much sunlight reaches the area before making a decision.
Assembly Made Easy: How to Set Up Your Burrow Field Sofa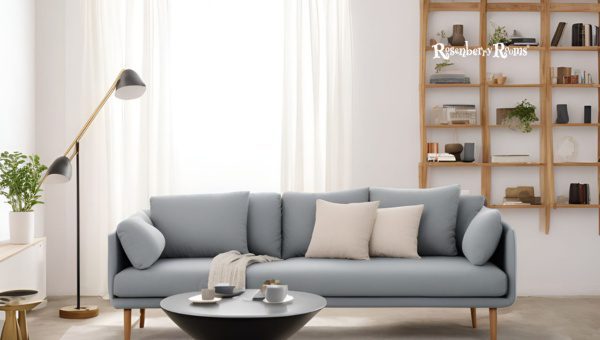 When it comes to furniture assembly, most of us conjure up images of missing parts, unclear instructions, and never-ending frustration.
Well, worry not my friends! The fine folks at Burrow have made the assembly process a breeze for their gorgeous Field Sofa. Now let's delve into how they've done just that.
Burrow's Ingenious Modular Design Approach
One of the things I absolutely adore about the Burrow Field Sofa is its unique modular design. This might sound fancy, but what it essentially means is that every component comes in separate, easy-to-assemble pieces. This not only makes for a hassle-free assembly experience but also provides unparalleled flexibility for arranging the sofa sections as per your room's layout.
As your preferences and living space evolve over time, you may find yourself rearranging or changing things up. Maybe you move to a new home with an entirely different floor plan!
The modular design allows you to easily reconfigure your sofa so that it continues to blend effortlessly with your evolving lifestyle.
Unboxing and Assembling in a Snap
Alright, enough talk. Let's dive into those delightful details that make unboxing and assembling this beautiful piece of furniture an enjoyable affair.
Easy Delivery: Believe it or not, my Field Sofa was delivered in compact boxes right to my door without any hiccups! Say goodbye to struggling with bulky packages through hallways and around tight corners.
Unpacking – No Tools Needed: Each box contains clear instructions on where its components fit within your intended configuration. And guess what: no need for any extra tools (yup—no screwdriver or Allen wrench required)!
Click 'N' Lock Bliss: To assemble each seat module and armrest fully labeled on the frame start by placing these pieces side by side making sure to align the connectors (designated as "A," "B," etc.) with their corresponding counterparts. You'll find the connection a breeze with Burrow's unique Click 'N' Lock design, which allows for an easy and secure clamping system. To lock it down, flick the switch on your connector—it's that simple.
Finishing Touches: Last but not least, be sure to slip those inviting memory foam seat cushions, down alternative back cushions, and stylish tapered wooden legs onto your freshly built sofa. Double-check the cushion placement: they should align smoothly with the sofa's overall design.
Accessorize: Now that your Field Sofa is ready to shine, consider sprucing it up with some cozy throw pillows or an ottoman from Burrow's versatile accessory range.
I can't even begin to express how painless and straightforward setting up my Burrow Field Sofa turned out to be.
On a scale of one to "ugh, why was I so worried about this?"—I'd give it an "easy peasy lemon squeezy"! So whether you're a DIY-savvy individual or a self-confessed furniture assembly rookie like me, rest assured—you've got this in the bag!
If you're on the hunt for a chic yet practical sofa solution that can adapt and grow alongside your needs—and comes with incredibly user-friendly setup instructions—the Burrow Field Sofa should be right at the top of your list. Best wishes on your couch-shopping journey!
Sink into Luxury – Assessing the Comfort Factor of Burrow Field Sofa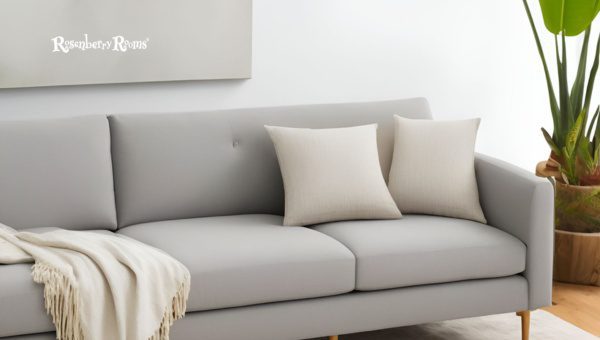 One of the foremost priorities when it comes to choosing a sofa is comfort. After all, you'll likely be spending hours upon hours lounging on it with your loved ones.
So, how does the Burrow Field Sofa stack up in terms of providing maximum coziness? Let's break down some of its key features that cater specifically to the comfort-seeking crowd.
Cushions that Contour to You with Thoughtful Fillings
Right off the bat, one thing I must praise about this sofa is its dedication to providing a premium experience through its choice of high-quality fillings. The cushions feature two distinct types of filling materials for an optimal sitting experience – memory foam seat cushions and down alternative back cushions.
Memory Foam Seat Cushions
Burrow knows that a comfortable sofa starts with exceptional seating, and that's why they opted for memory foam seat cushions. This material contours to your body as you sit down on it – a feature I really appreciated during those long movie marathons or binge-watching sessions.
The memory foam offers excellent support while giving in just enough to conform to your unique shape, ensuring you have fewer pressure points or discomfort as you lounge on it.
Plus, these seat cushions are extremely durable and maintain their form much longer than traditional foam fillings.
Down Alternative Back Cushions
When it comes to backrests, too much rigidity might end up causing more discomfort rather than offering support. That's where Burrow's incredibly soft down alternative back cushions step in.
Made from eco-friendly materials designed to mimic down bunch fibers, these plush backrests provide an ideal balance between support and coziness—a detail I couldn't help but notice when sinking into my new favorite spot on the sectional.
And with its hypoallergenic properties, allergy sufferers can fully relax without worrying about any unwarranted sneezing fits.
The Supportive Stance with Sinuous Spring Suspension
Now that we've covered the cushion fillings, it's time to take a look at the support structure within the sofa. Beyond just talented cushion engineering, Burrow also knows a thing or two about crafting a durable foundation for your relaxation time.
The Burrow Field Sofa features sinuous spring suspension, which essentially consists of sturdy metal springs that zig-zag across the interior frame of the sofa.
This not only provides crucial lumbar support, but it also evenly distributes your body weight – a factor that eliminates any uncomfortable pressure points and prolongs the life of your seat cushions.
And as I soon discovered while entertaining friends and family on game nights, this resilient system ensures there are no dips or slumps in the seating area over time.
If you're someone who values impeccable comfort mingled with an aesthetic edge, the Burrow Field Sofa is an investment worth considering.
With its thoughtful combination of memory foam seat cushions and down alternative back cushions providing unparalleled coziness and support, paired with sinuous spring suspension ensuring even weight distribution, this high-quality sofa delivers on its promise of luxury.
So go on— give yourself (and your guests) an unprecedented comfort experience as you laze away on this stunning piece of furniture designed for both form and function.
The Pricing Game – Comparing Cost and Value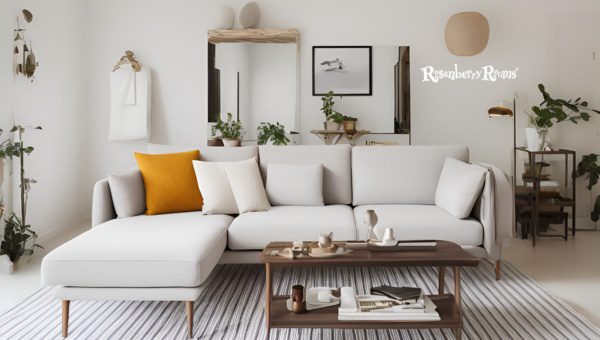 Of course, the million-dollar question on everyone's minds is the cost. How much should one expect to shell out for a fabulous Burrow Field Sofa? Honestly, it's not exactly a budget-friendly option. However, believe me when I say that it's worth every penny!
Let's go through what makes this investment worthwhile.
Weighing the Investment on Quality and Customizability
First and foremost, you're paying for quality. The Burrow Field Sofa comes in a range of fabric options — from performance fabrics that showcase luxury and resist everyday wear, to eco-friendly textiles engineered for durability. These quality materials ensure that the sofa looks as good as new for years to come.
Next up is customizability. The configuration options will spoil you when it comes to choosing between different seating arrangements and sizes. Want an L-shaped sectional? No problem! Need more legroom? Go ahead and throw a chaise lounge into your design! The world is your oyster with countless exciting ways to customize your sofa layout.
Let's not forget the extras. We're talking about USB ports ingeniously integrated into the design, and elegantly discreet storage compartments in ottomans (which can be purchased separately) — all contributing to an uber-cool and accommodating place to lounge around.
Price-wise, you can expect to spend anywhere between $1,395 for a simple loveseat configuration up to $4,990 for multi-seater sectional sofas. Though this might sound steep initially, remember that when it comes down to investing in quality home furnishings, potential long-term savings outweigh upfront expenses.
To sum it all up: The Burrow Field Sofa may not be considered a bargain; however, comparing cost versus value paints a different picture altogether. With exceptional quality materials & customizable features combined with unique extras designed to elevate your living space—the price starts feeling a lot more justified.
Burrow's Commitment to Eco-Friendliness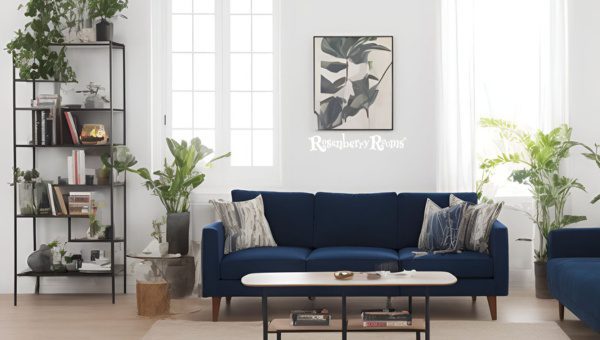 With the increasing awareness surrounding climate change and the need for sustainable living, it's refreshing to see a company that takes eco-friendliness seriously.
Burrow is a brand conscious of its environmental footprint—something that's evident in its materials, manufacturing processes, and overall product presentation.
This is not just another furniture manufacturer churning out pieces without concern for the planet; this is a brand with an ethical backbone.
Sustainable Materials
Burrow prides itself on using sustainable materials throughout their entire product range—including the Field Sofa. Here are some of Burrow's noteworthy practices when it comes to sustainability:
Certified Wood: The frames used for the Field Sofa come from sustainably managed forests, which have been certified by the Sustainable Forestry Initiative (SFI). This attests not only to their responsible sourcing but also to high ecological and environmental standards.
Green Pillow Fill: Each sofa cushion is made with post-industrial recycled materials, contributing to reducing waste while maintaining the highest level of quality and comfort.
Eco-friendly Packaging: Burrow's packaging incorporates corrugated cardboard made from over 60% recycled material supporting efforts towards reducing deforestation.
Ethical Shopping Experience
In addition to sustainable materials, Burrow offers a seamless ethical shopping experience through:
Transparent Practices: Openness with customers about their manufacturing process, partnerships with organizations committed to ethical supply chains like SFI.
Carbon Neutral Deliveries: The partnership with carbonfund.org allows each delivery of the Field Sofa to be carbon neutral.
Responsible Practices: By producing modular designs that are easily adaptable (instead of completely replacing furniture), they contribute toward cutting down on waste produced by fast-furniture trends.
Undoubtedly, when one invests in a Field Sofa, they can be assured they're making an environmentally conscious choice.
The understanding that responsible practices don't have to compromise quality or comfort is something more companies can learn from Burrow, and it's this commitment to eco-friendliness that really sets the Field Sofa apart from the competition.
Unwinding in Style - The Extras that Make a Difference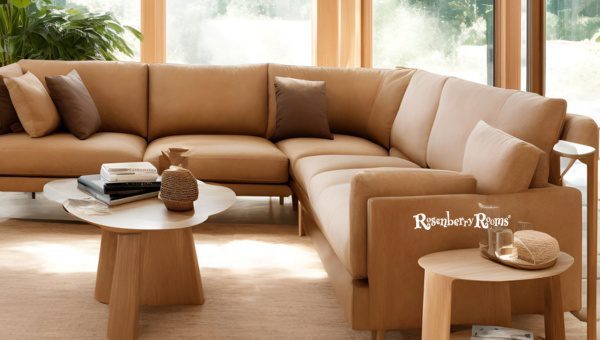 One of the most delightful aspects of owning a Burrow Field Sofa is enjoying the little extras that elevate the furniture beyond just being a comfortable place to sit.
These thoughtful features make all the difference when it comes to maximizing your relaxation and enhancing your overall experience with this fantastic sofa. So let's take a look at some of these classy perks that set the Burrow Field Sofa apart from its competition.
Integrated USB Charger for Those Lazy Days On the Couch
We've all experienced those ultra-lazy days where we just want to sprawl out on our sofa and binge-watch our favorite TV series or scroll through social media on our phones.
And there's nothing more frustrating than having to pause your relaxation session because your phone or tablet's battery is running low.
Enter the Burrow Field Sofa and its ingenious built-in USB charger port!
That's right, this marvelous couch has an integrated USB charging port discreetly tucked away in one of its armrests. It's an incredibly convenient feature that allows you to charge your device without ever leaving your comfortable nest on the sofa!
No more fumbling with messy power cords or awkwardly positioning yourself near an outlet—just plug in and charge on, all while staying cozy and undisturbed.
Adding on Additional Accessories like to Throw Pillows and Ottoman
The Burrow Field Sofa doesn't stop impressing with just a comfy seat; it can be easily accessorized to suit your personal style and polish up your living space even further.
Throw Pillows
Liven up boring monotonous sofas with some gorgeously designed throw pillows. Available in a variety of colors, patterns, and textures, these little beauties can help you customize both the look and feel of your sofa—and give it that extra touch of warmth and comfort.
But the best part is that these throw pillows aren't just pretty; they're also functional. Crafted with a mix of feather and down, they provide excellent support for your neck, shoulders, and back as you relax on your Burrow Field Sofa.
Ottoman
Ahh, the humble ottoman—a must-have accessory for any sofa setup. With the Burrow Field Sofa's matching Ottoman, your lounging experience gets even better! Its sleek design perfectly complements the sofa, making it seem like an extension of the couch itself, rather than an afterthought add-on.
Not only does it serve as a convenient footrest to kick up your feet after a long day at work, but it can also double up as extra seating for guests or be topped with a tray to convert it into a stylish side table.
To sum it up, the Burrow Field Sofa goes above and beyond in providing not just aesthetically pleasing and comfortable furniture but also smartly thought-out extras that enhance your everyday living experience. With these fabulous bonus features, you may never want to leave your couch again!
Would I Recommend the Burrow Field Sofa?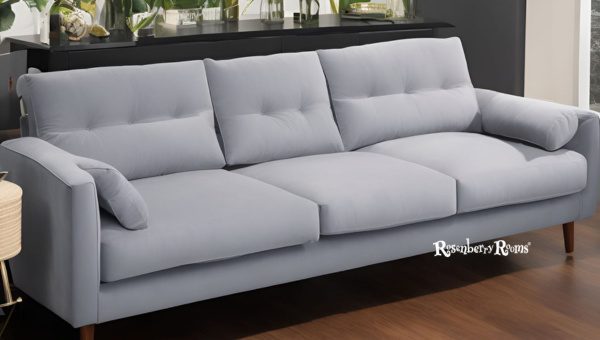 As with any substantial purchase, it's crucial to weigh the pros and cons before sealing the deal. After extensive research and actively using it in my living space, I feel confident in sharing my perspective on whether the Burrow Field Sofa is a worthy investment.
Weighing the Pros and Cons, Tuned to Individual Lifestyle Needs
Pros:
High-quality materials and craftsmanship: The Burrow Field Sofa is made with top-notch materials that are built to last. The sturdy hardwood frame, upheld by sinuous spring suspension, ensures both comfort and durability.
Customizability: This sofa offers multiple configurations, fabric choices, and colors—allowing you to create a piece of furniture that reflects your unique style.
Ease of assembly: The modular design simplifies the assembly process significantly (no tools required!). Additionally, this will come in handy if you move or decide to reconfigure your sectional later on.
Sustainability: Being eco-friendly is one of Burrow's key commitments; their use of sustainably sourced materials makes this sofa an ethical choice.
Modern features: Integrated USB charger? Talk about convenience! Alongside other accessories like throw pillows or an ottoman, these little extras make a world of difference.
Cons:
Price point: While the quality of construction and design justify the cost for many buyers, some might find it beyond their budget.
Might not fit every room size or layout: Customizable as they are, not all sectional configurations will work for every living space.
Personally speaking (and keeping in mind individual lifestyle needs), I would recommend the Burrow Field Sofa wholeheartedly.
High-quality craftsmanship combined with customization options makes this sofa stand out from run-of-the-mill furniture pieces available in stores. I find that the company's commitment to sustainability is also a big selling point for me, as it provides peace of mind knowing that my purchase aligns with my values.
Sure, the price point may be less appealing to some, but considering the overall experience, I believe it to be a reflection of the sofa's worth. Just remember to carefully assess your space requirements before making a decision on which configuration is best suited for you.
In the end, whether it's hosting game nights or cozying up with my favorite book, the Burrow Field Sofa has never let me down—a fact that makes me all the more eager to share its merits with others!
FAQ About Burrow Field Sofa Review
How easy is it to assemble and disassemble the Burrow Field Sofa?
The Burrow Field Sofa has an easy assembly process, thanks to its modular design. This allows effortless setup and rearrangement without any tools needed.
How comfortable is the Burrow Field Sofa for long-sitting sessions?
Equipped with plush memory foam seat cushions and supportive sinuous springs, the Burrow Field Sofa scores high in comfort for extended lounging sessions.
Is the fabric durable and easy to clean on this sofa?
Yes, the Burrow Field Sofa's fabric is highly durable and stain-resistant, making cleaning a breeze with little maintenance required.
Can I customize my Burrow Field Sofa according to my preferences?
Absolutely! The sofa can be fully customized in terms of fabric, color, armrest style, leg finish, and sectional configuration—allowing you to create a sofa that truly fits your style.
How much does a Burrow Field Sofa cost?
Depending on your chosen customization options, a Burrow Field Sofa can range from around $1,395 to upwards of $3,000—reflecting its premium quality materials and construction.
Conclusion
My Burrow Field Sofa review experience has been nothing short of fantastic. This stylish and comfortable piece of furniture not only serves as a focal point for my living room but also caters beautifully to those much-needed moments of relaxation.
The customization aspect is the cherry on top, letting me express my personality through tailored design preferences.
When it comes to durability, design, and comfort—Burrow certainly knows what they're doing. The Field Sofa clearly demonstrates their commitment to quality and attention to detail that any homeowner would appreciate.
So if you're in the market for a stunning and cozy addition to your home, look no further than this sleek modular gem!