Ever found yourself searching for that perfect piece of furniture, the one that's stylish, comfortable, and perfectly suited to your personal taste? Well, it just so happens that I recently stumbled upon the Floyd Sectional Sofa, and let me tell you, this is the real deal!
In my Floyd Sectional Sofa review today, I am here to share all you need to know about this trendy and cozy seating option for your living space.
All right, let's face it – finding a gorgeous sofa that fits seamlessly into your home design while offering supreme comfort is no small feat.
As a seasoned pro in the furniture world with several trial-and-error purchases under my belt (sad but true), I consider myself well-versed in what works and what doesn't. So when I came across this beauty known as the Floyd Sectional Sofa – I knew I couldn't keep it a secret!
Rave-worthy Features of the Floyd Sectional Sofa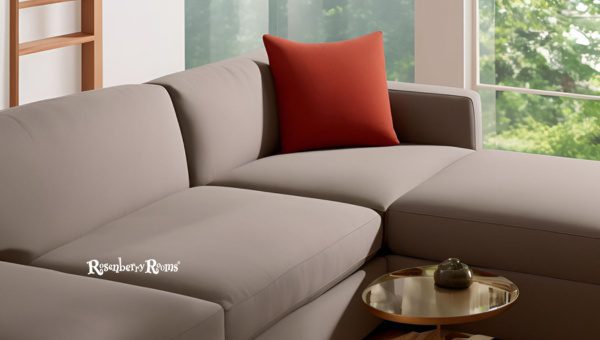 When it comes to furnishing your living space, you want to ensure you're investing in pieces that not only look great but also stand the test of time.
Thankfully, the Floyd Sectional Sofa ticks all these boxes and more! Let's dive into some outstanding features that make this sectional sofa a must-have addition to any home.
Sleek, Modern Design for Every Home
One of the most striking aspects of this sectional sofa is its minimalist design. With its clean lines and minimal protrusions, the Floyd sofa can effortlessly blend into a variety of interior styles – be it modern, classic, or even transitional spaces.
The sofa has a low profile which adds a touch of contemporary elegance to any room while maximizing your floor space. You'll notice that it doesn't have any visible screws or brackets, giving the piece an uninterrupted flow – perfect for maintaining visual harmony in your space.
Furthermore, you can choose from several textile options when customizing your Floyd Sectional Sofa. There's a selection of durable and stain-resistant fabrics available: The starter kit includes upholstery fabric swatches to help you find the perfect match for your home aesthetic.
Sturdy Construction and High-Quality Materials
Design alone is never enough; functionality and durability are equally important considerations when selecting the right furniture for your home. Thankfully, with Floyd Sectional Sofa, you get both - a sturdy construction crafted from high-quality materials guaranteed to stand up against daily use.
Frame Construction
The skeleton of this sofa is essentially comprised of natural timber wood frames rendered from locally sourced birch plywood. This ensures stability while providing excellent resistance against warping or cracking over time—consequently delivering an impressively long-lasting frame structure.
Legs & Attachments
Complementing its durable framework are thick steel power-coated legs that mount effortlessly onto the frame using sturdy attachment points. These legs provide a solid foundation for the sofa to withstand repeated use without compromising on structural integrity.
Cushions
The cushioning in Floyd Sofa is no less magnificent than the frame and construction. Prepared from high-density foam, these cushions offer excellent support, making them perfect for both lounging and long movie marathons. They are also wrapped with a layer of Dacron for added plushness and longevity.
Fabric & Upholstery
The fabric options available for this sectional sofa are all selected with durability in mind, ideal for daily usage and busy households alike. With easy-to-clean materials, you can worry less about spills and stains – knowing your Floyd sofa can handle it all.
Assembling the Floyd Sectional Sofa with Ease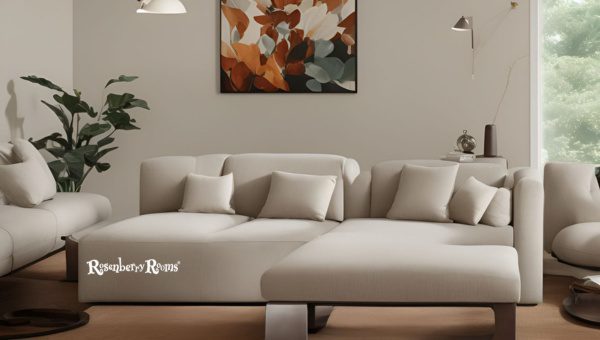 One of my primary concerns when it comes to purchasing furniture is the assembly process. After all, no one wants to spend hours trying to decipher complicated instructions or struggle with an overwhelming number of parts.
This is where the Floyd Sectional Sofa truly shines – offering a quick and hassle-free experience that will have you enjoying your stylish new sofa in no time!
Comprehensive Setup Instructions Included
Right from the get-go, Floyd makes it incredibly simple for even the most novice furniture assembler. The sectional sofa comes with easy-to-follow and comprehensive setup instructions, complete with clearly labeled diagrams for each step:
Begin by identifying all parts – this includes the base, cushions, backrests, and legs.
Attach the legs to the base using provided hardware and tools.
Secure the backrests to the base using clips or velcro straps (depending on your configuration).
Add cushions for a plush seating experience.
Each component is conveniently marked with coded tags – making it easy to reference during setup and taking out any guesswork from the process. Not to mention, their customer support team is just a call or email away if you need assistance.
I also discovered that their official website has helpful assembly videos available, making it even more effortless to follow along at your own pace.
Swift Modular Assembly Process
A noteworthy aspect of Floyd's design philosophy is their dedication to creating modular furniture pieces that can effortlessly evolve along with your needs and living space:
The sectional sofa comes in three main components: The Base, The Extension, and The Ottoman.
These sections easily attach using stringently tested steel fastening mechanisms.
You have the ability to add or remove pieces as desired, allowing for a seamless transition from a cozy corner sofa to a stunning centerpiece or even a spacious chaise lounge.
The beauty of this modular design is that it allows you to quickly and simply put together your new Floyd Sectional Sofa without breaking a sweat. In fact, I was able to unbox and fully assemble my sofa in well under an hour – yes, really!
Also, if you ever decide to switch things up or get creative with your space's aesthetic, changing the configuration of your Floyd Sectional Sofa is a breeze. No need to spend money on additional furniture or struggle with weighty components because the sections can be painlessly separated and reconfigured as needed.
Here's another neat little bonus - when moving homes (or even rooms), disassembling your Floyd sofa is just as straightforward. The parts are manageable enough that packing it up for transport is no problem at all!
So, not only did I find myself enjoying the chic look and remarkable comfort of my new Floyd Sectional Sofa but also how stress-free it was setting up and knowing that future adjustments would be equally simple. This streamlined assembly process truly sets Floyd apart from other furniture manufacturers I've encountered – making me an instant fan.
Customizing Your Floyd Sectional Sofa Experience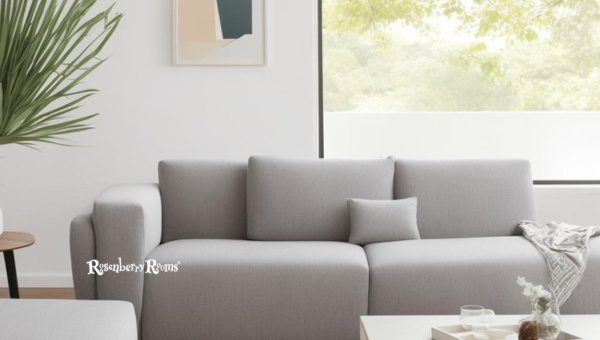 One of the things that I absolutely adore about the Floyd Sectional Sofa is the bespoke touch it offers. With numerous configurations and color options, you can easily tailor your sofa to suit your specific needs and tastes. Let me take you through some of the main details that'll help you customize your very own Floyd Sectional Sofa.
Mix and Match Configurations to Suit Your Space
The Floyd Sectional Sofa is designed with a modular system in mind, making it extremely versatile. Various module combinations are available, allowing you to handpick the ideal configuration for your room layout. Here are a few examples of possible arrangements:
Corner sectional: This popular L-shaped configuration consists of a left and right section - ideal for maximizing space or elegantly defining areas in an open-plan living room.
U-shaped sectional: With an additional armless section at its center, this arrangement comfortably accommodates large families or those who love entertaining guests.
Straight sectional: Featuring two or more joined sections without any corner pieces, this configuration provides ample seating along a straight line – perfect for narrow rooms, lofts or home offices.
Just like a puzzle, you can add or remove pieces as needed to create various configurations ranging from smaller loveseats to sprawling sectionals, offering infinite possibilities depending on your lifestyle.
Choosing from an Array of Stunning Colors
Another way to personalize your Floyd Sectional Sofa is by selecting from their range of beautiful fabric colors that cater to various styles and preferences. The current lineup includes six chic shades:
Tweed: A timeless option featuring subtle flecks – perfect for those looking for an understated yet sophisticated look.
Azure: A bold blue hue that adds an eye-catching pop of color to any space.
Mustard: A warm and inviting shade that infuses life into neutral interiors.
Ochre: A rich amber tone, ideal for complementing eclectic, bohemian, or contemporary settings.
Lunar: This versatile light gray offers a fresh look that harmoniously blends with any color scheme.
Graphite: A classic dark gray elicits elegance and depth – perfect for anchoring minimalist or monochromatic décors.
Each fabric option is made from high-quality, durable materials designed to stand the test of time while feeling plush and inviting.
My experience in customizing the Floyd Sectional Sofa has been nothing short of delightful. The various configurations and vibrant color selection have enabled me to mix and match my sofa arrangements according to my evolving needs and tastes. To explore more about customizing your very own sofa, head on over to Floyd's website.
The Floyd Sectional Sofa's modular design combined with its stunning color options is a game-changer. Whether you're searching for a sleek modern vibe or yearning to make a statement with bold pops of color - this sofa delivers.
So go ahead, and experiment with different layouts and hues to create a truly unique living space that reflects your individuality.
My Personal Experience with the Floyd Sectional Sofa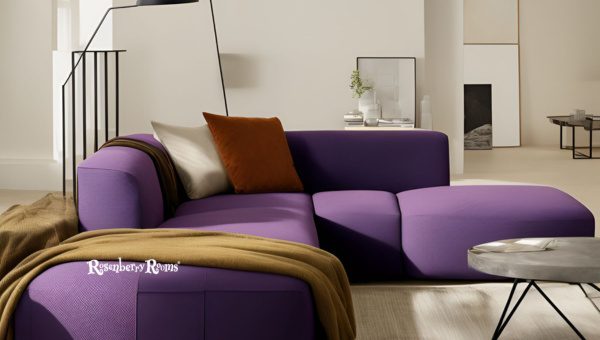 Being a keen researcher and avid furniture enthusiast, I decided to dive deeper into learning all about the Floyd brand before making my purchase decision.
Upon visiting their website, I was intrigued by their meticulous attention to detail in creating amazing products that combine aesthetics with functionality.
So naturally, when I finally purchased my very own Floyd Sectional Sofa drum roll – I couldn't have been more excited!
Pride of Place in My Living Room
As soon as the sofa arrived at my doorstep, it was crystal clear how different the unpacking and assembly experience was compared to countless other furniture pieces I'd had in the past. Everything was organized meticulously and came with easy-to-follow instructions.
Within just a few hours, which included quite a few snack breaks (guilty), I managed to assemble the sectional sofa single-handedly. And trust me; this is not a common occurrence!
Putting aside the hassle-free setup process for a minute, let's talk about space configuration! The beauty of this sofa lies in its modular design. It allowed me the flexibility to easily arrange my living room layout by adding or removing sections as needed.
Moreover, should you feel like experimenting or if you're due for an upgrade – Floyd offers an expansion kit available for purchase on their website.
But what good is a sofa without comfort? As I lounged on my new prized possession, it felt like sitting on cloud nine. The plush cushions provided excellent support while being soft enough to sink into and unwind after a long day. The upholstery features beautiful woven patterns and feels absolutely amazing to touch.
One important aspect of owning a gorgeous sofa is keeping it clean! Luckily for me (and you), maintaining the pristine condition of our beloved Floyd Sectional Sofa is a breeze – thanks to its removable cushion covers that can be easily washed.
Here is a quick rundown of my personal experience with the Floyd Sectional Sofa:
Easy assembly with minimal effort
Modular design for flexible layout configurations
Exceptional comfort with plush cushions
High-quality fabric and materials for lasting durability
Low-maintenance, removable covers for effortless cleaning
The Floyd Sectional Sofa has undoubtedly earned its place as the focal point in my living room and made a huge impact in transforming the overall aesthetic of my home. If you're on the fence about investing in this beauty – take my word for it, you won't regret it!
Keeping Your Floyd Sectional Sofa Pristine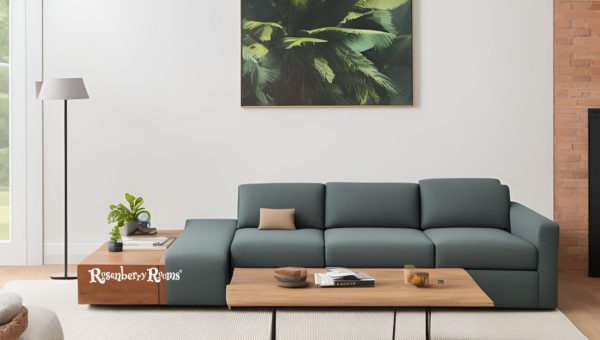 A stylish, comfortable couch needs to be accompanied by a clean conscience. That's where maintaining and caring for your Floyd Sectional Sofa comes into play.
Rest assured, my friends – it's a lot easier than you may think! In this section, I'll share some helpful tidbits for keeping your cherished sofa in top-notch condition.
Effortless Maintenance and Care Tips
Now that you've experienced the bliss of lounging on your Floyd Sectional Sofa, it's only fair that you return the favor and provide some TLC to keep it looking fresh and new. Here are my tried-and-true care tips for giving your sofa the attention it deserves:
Vacuum regularly: A simple, routine vacuum once a week ensures that pesky dust particles don't find a forever home within the fibers of your cushion fabric. It also prevents unwanted build-up from settling deep onto your sofa.
Rotate cushions: To maintain their shape and longevity, it is advised to rotate cushions from time to time (approximately every 4-6 weeks). This swap helps distribute wear evenly and keeps those beloved cushions from losing their supportive vibe.
Spot clean promptly: Accidents happen, but there's no need to panic! Spot cleaning is easy with the removable cushion covers for light spills or stains – just follow the recommended manufacturer guidelines found on the tag of your cushion cover.
Professional cleaning: For deeper or stubborn stains that cannot be cleaned at home (we've all had our fair share of wine spills), schedule periodic professional cleanings to keep your fabrics looking fresh and new.
Use upholstery protector: If possible, consider applying an upholstery protector spray before using your sofa extensively. This product can help extend fabric life by providing resistance against spills and stains.
Shield from direct sunlight: This might sound trivial but remember to shield your sofa from direct sunlight, as exposure could lead to discoloration and textile damage.
Keep pets in check: Ensure that your furry friends follow the house rules – no scratching or biting the sofa (unless you find little teeth marks aesthetic)!
With these care tips, you can easily maintain the pristine state of your beloved Floyd Sectional Sofa while forging an everlasting bond. After all, a well-cared-for sofa isn't just luxurious; it's also a testament to your impeccable taste and attention to detail.
FAQs About Floyd Sectional Sofa Review
How easy is it to assemble the Floyd Sectional Sofa?
The Floyd Sectional Sofa features a modular design and comes with comprehensive assembly instructions, making the setup process a breeze. You can put it together swiftly without any hassle.
Can I customize my Floyd Sectional Sofa's configuration and color?
Yes! The Floyd Sectional Sofa offers a variety of configurations to suit your space, and it also comes in an array of stunning colors, allowing you to find the perfect combination for your home.
What materials are used in the construction of the Floyd Sectional Sofa?
The sofa is made of high-quality materials, featuring a sturdy powder-coated steel frame and durable upholstered cushions made from stain-resistant fabric.
How do I maintain my Floyd Sectional Sofa's appearance and cleanliness?
The upholstered cushions are designed for easy cleaning. Simply follow the care and maintenance tips provided by the manufacturer to keep your sofa looking pristine.
Is the Floyd Sectional Sofa comfortable for long periods of sitting?
Absolutely! The sofa's luxurious cushions provide long-lasting support. This ensures optimum comfort even during extended periods of sitting or lounging.
In Conclusion
To sum it all up, the Floyd Sectional Sofa is certainly worth considering for anyone looking to upgrade their living space with a stylish piece of furniture that also prioritizes comfort. Its sleek, modern design, high-quality materials, and easy assembly make it an excellent choice for any home.
Moreover, the ability to customize configurations and colors allows you to truly make this sofa your own. With simple maintenance and care instructions provided by Floyd, you've ensured a lasting investment that will keep your living room inviting for years to come.
In this review, I've shared my personal experience with the Floyd Sectional Sofa along with various FAQs and essential information about its design and materials. I hope this comprehensive overview helps you in making an informed decision when considering your next sofa purchase.
If you ask me, I highly recommend giving the Floyd Sectional Sofa a try. The combination of style, comfort, and durability truly won me over!