I've always been one to advocate for a well-furnished and personalized living space – one that fits my unique style and taste. However, I'm also someone who values flexibility and cost-efficiency.
It took some time, but I finally realized that the solution to this conundrum was right in front of me – working with the best furniture rental companies.
With a plethora of options out there, choosing the right furniture rental company can become quite overwhelming. Luckily for you, I've done the legwork and compiled a list of the 11 best furniture rental companies to make your life easier.
These gems will cater to your every need, ensuring you find stylish and comfortable furnishings without breaking the bank!
Why Renting Furniture is a Smart Choice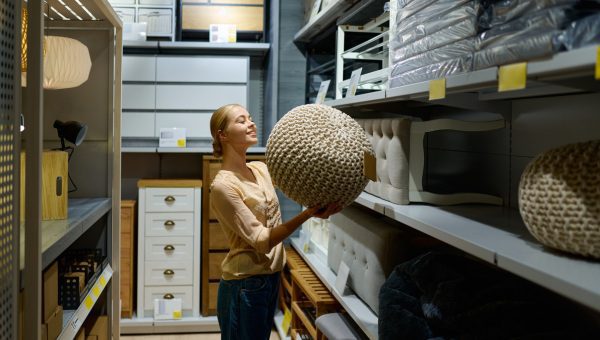 When it comes to outfitting your living space, renting furniture might not be the first thing that comes to mind. However, with evolving lifestyles and increasing demands for flexibility in modern times, more people are resorting to renting furniture as a practical and hassle-free solution.
Here are some of the main reasons why renting furniture can prove to be a smart choice for you.
Temporary Living Situations
One of the most significant advantages of renting furniture is the ability to outfit temporary living situations seamlessly. Whether you're moving for a short-term job assignment, attending college, or hosting out-of-town guests, it makes sense to rent your furnishings.
With flexible rental terms provided by most furniture rental companies, you can efficiently manage your time and finances without having to buy or transport bulky items.
Cost-effective Solution for Changing Styles
We all know that our tastes and preferences evolve with time – especially when it comes to personalizing our living spaces. However, keeping up with trends can be quite expensive when buying new furniture pieces every time you feel the need for change.
On the other hand, when you elect to rent your furniture, it's easy and cost-effective to swap out your items as often as you'd like.
Month-to-month plans offered by many rental companies give you complete control over how long you use each piece of furniture without incurring additional charges. This feature allows you the freedom to experiment with different styles until you find one that truly reflects your personality.
Environmentally Friendly Option
Believe it or not, opting for rented furniture is an environment-friendly choice too! Our planet is continuously bombarded with excessive production of goods leading to increased carbon footprints and waste generation.
In such circumstances, choosing pre-owned or rented items can actively contribute toward reducing pollution caused by manufacturing processes.
Furthermore, many rental companies have committed themselves to adopting sustainable practices - using eco-friendly cleaning and repair solutions, and promoting recycling initiatives. As a result, you not only reduce your own carbon footprint but also support companies that share similar values.
By renting furniture, you participate in a shared economy concept that promotes sustainable living and helps save our precious natural resources.
Factors to Consider Before Choosing a Furniture Rental Company
There's more to choosing the right furniture rental company than simply finding one with your favorite pieces. Several factors play a vital role in ensuring a seamless experience, from fitting your budget to accommodating your unique taste.
Let's explore the key considerations that will help you find the ideal furniture rental company for your needs.
Budget and pricing plans
First and foremost, it's essential to determine how much you're willing to spend on renting furniture. In doing so, you'll have a better idea of which companies offer the most value for your money. Keep an eye out for:
Flexible pricing plans: Most furniture rental companies provide various pricing plans according to the length of the lease – whether it be short-term or long-term – as well as individual items or full-package deals. It's essential to find a plan that aligns with both your budget and requirements.
Rent-to-own options: Some companies offer rent-to-own plans where you can eventually purchase the rented items after a certain duration, thus making it a more cost-effective option in the long run.
Additional fees: Always read the fine print and get a detailed breakdown of all extra costs (if any) before signing up, including delivery fees, assembly charges, insurance coverage, or damage repair waivers.
Selection and style variety
One of the beauties of renting furniture is having access to an array of styles without committing long-term. It's important that the company offers options in tune with your aesthetic preferences:
Wide selection: The best furniture rental companies will boast an extensive inventory that caters to various tastes and budgets.
Trendy and updated styles: You don't want outdated furnishings in your living space! Ensure that the company continuously updates its offerings by keeping up with industry trends.
Customization options: Some providers allow clients to customize their rental experience by selecting specific furniture pieces, colors, and materials. This level of customization can truly make your space feel like home.
Delivery, assembly, and customer service
Ultimately, the success of your furniture rental experience hinges on the overall convenience offered by the company. Pay close attention to these aspects:
Speedy and reliable delivery: You shouldn't have to wait forever to receive your rented furnishings. Top-notch companies will guarantee a swift delivery process so you can enjoy your new space sooner.
Professional setup: Assembly can often be complex and time-consuming. A great furniture rental company will frequently offer assembly services to ensure that everything is assembled correctly -saving you both time and headaches.
Customer service: A responsive and reliable customer support team is vital should you experience any issues during your rental tenure. Whether it's a damaged item or an incorrect piece making its way into your package – great customer service can make a world of difference.
My Top Picks for the Best Furniture Rental Companies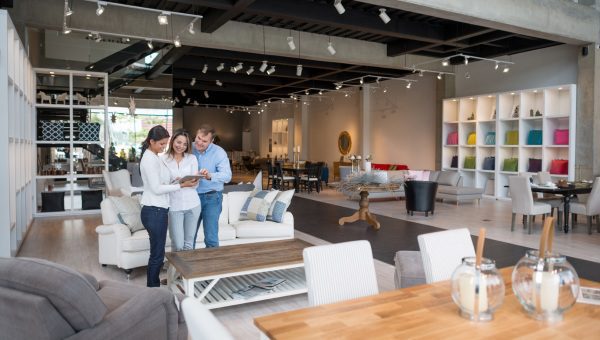 I know what you're thinking – "With so many options available, how do I narrow down my choices?" Worry not, as I have your back! After comparing what these rental companies have to offer in terms of affordability, convenience, and style, I've handpicked my top 3 favorites. Read on to find out more about each of them.
1. CORT
CORT is a name that often comes up when discussing the best furniture rental companies in the market. Known for its wide range of furniture collections and top-notch customer service, this company certainly deserves its place on this list.
Flexible lease terms: With plans ranging from one month to three years or more and prorated monthly rates depending on the duration you choose, CORT allows you maximum flexibility.
Bundles: CORT offers various pre-designed furniture packages that cater to different room styles and configurations.
Availability: CORT has a nationwide presence, with more than 140 showrooms across the US. Exceptional customer service: From their professional support staff to efficient delivery solutions, CORT's team ensures a seamless rental experience.
2. Feather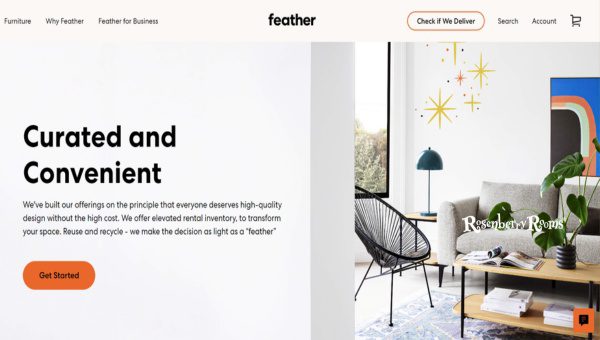 Another popular choice is Feather, an innovative brand that aims to make furniture rental hassle-free and enjoyable. Feather focuses on sustainable practices by sourcing high-quality reusable items for its catalog.
Eco-friendliness: By keeping its inventory in circulation for as long as possible and recycling old pieces responsibly when the time comes, Feather helps reduce landfill waste.
Attractive options: Feather offers stylishly designed furniture pieces that are both functional and fashionable.
Membership plans: With their annual Feather membership, you can access lower monthly rates (free deliveries are also included!).
Swapping: Feather allows you to swap out items throughout your entire rental period, which helps keep your space looking fresh and updated.
3. Brook Furniture Rental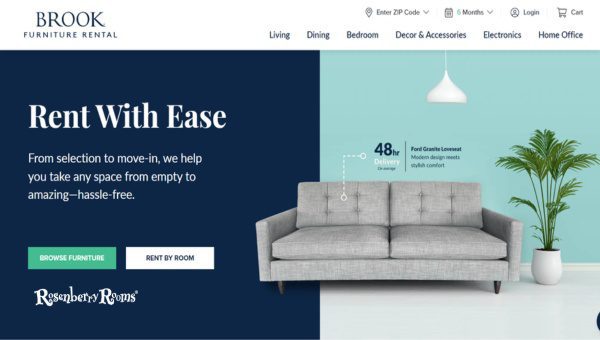 If you're after a more personalized touch, Brook Furniture Rental might be the right choice for you. They cater to individual preferences with their versatile furniture offerings and exceptional customer support.
Diverse inventory: Brook's vast selection caters to various styles, like Modern, Classic, Transitional, and more. You'll definitely find something that matches your taste.
Customizable packages: With Brook's easy-to-navigate website, you can build your own package or choose from their pre-designed ones.
Flexibility: Apart from offering flexible rental terms to fit your needs (starting as low as three months), Brook also has an option for residents who would like to rent-to-own.
In-home consultation: Available in select locations, you have the chance to seek professional advice from a friendly design expert at no extra cost.
When it comes to choosing the perfect furniture rental company for you, consider factors like location availability, customization options, pricing structure, and style preferences. With my top picks – CORT, Feather, and Brook Furniture Rental – you're bound to find one that suits your needs perfectly. Go on and give them a shot; there's no time like the present!
4. Aaron's
Aaron's is one of the top furniture rental companies in the US, known for offering a wide range of attractive and high-quality furnishings. Flexible lease terms, affordable monthly payments, and a "no credit needed" policy make Aaron's an excellent choice for those who need to furnish their homes quickly and conveniently.
Flexible Leasing: With Aaron's, you have the option to lease furniture for a short or long-term period, depending on your needs. This feature allows you to switch up your furniture without hassle.
Affordable Payments: They have a monthly payment plan that suits any budget. You can choose from basic or premium furniture packages.
No Credit Needed: If you have no credit history or poor credit, Aaron's still works with you through their "no credit needed" policy.
Browse through their collection on their website: Aaron's Furniture Rental
5. Rent-A-Center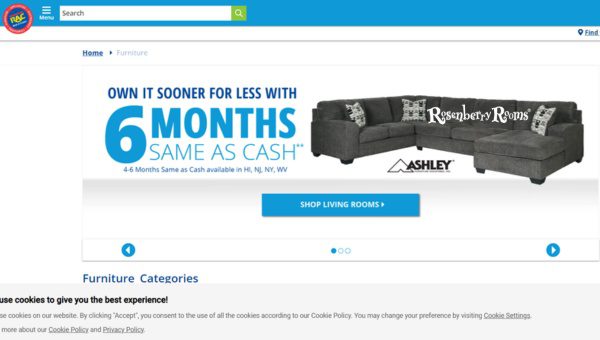 Rent-A-Center is another fantastic option among the best furniture rental companies in the US. They provide a wide selection of stylish and functional furniture pieces at competitive prices, ensuring that every customer has access to excellent design without breaking the bank.
Lease-to-Own Option: Rent-A-Center provides lease-to-own options allowing you to pay off your furniture over time and eventually own it outright.
No Long-Term Contracts: This company doesn't require long-term contracts, so customers can return items when they no longer need them or upgrade to newer styles as desired.
Same-day Delivery & Set-Up: Rent-A-Center offers same-day delivery and professional set-up services, making it easy for you to enjoy your new furnishings immediately.
Experience Rent-A-Center by visiting their website: Rent-A-Center Furniture Rental
6. AFR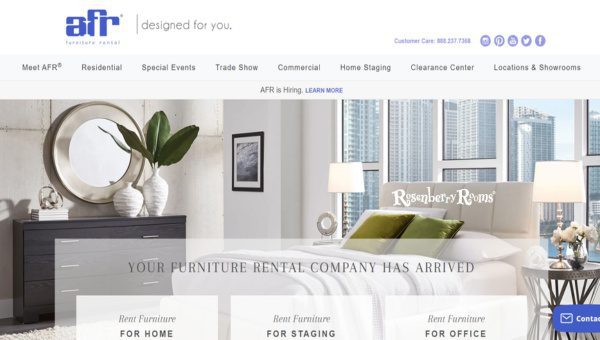 AFR, also known as American Furniture Rental, has been in the business for over four decades and offers a full range of rental services. They specialize in providing furniture rentals for various purposes: residential, commercial, and staging solutions.
Residential Furniture: AFR's residential furniture section includes a diverse collection of high-quality pieces suitable for any living space.
Commercial Furniture: If you need to furnish office spaces or corporate events, AFR can cater to your specific requirements.
Home Staging Solutions: AFR's extensive range of stylish furniture is perfect if you're in the real estate business and looking to stage homes.
AFRevents is an exciting service that they offer within their domain. This service caters to special events like weddings, corporate gatherings, or custom exhibits.
Get started by visiting their website: AFR Rentals
7. Oliver Space
Oliver Space has made its mark in the world of furniture rental by providing a seamless and hassle-free experience for those looking to furnish their homes. Here's what sets them apart:
Designer-curated Collections
Oliver Space offers a fantastic selection of high-quality furniture that's handpicked by their in-house design team.
Their collections include everything from minimalist to mid-century modern designs, allowing you to curate spaces that best suit your style.
Bundling Options
They offer bundles tailored for specific rooms, which saves you both time and money.
Bundle options include living room, dining room, and bedroom selections with various price points.
White-glove Service
Oliver Space truly stands out with its white-glove delivery service, ensuring that all your furnishings are professionally assembled and installed at no extra cost.
8. Casa One
Casa One is another excellent option for those seeking flexible furniture solutions. Here's why they rank high on our list:
Vast Variety
Casa One boasts an impressive catalog of over 4,000 stunning pieces that cater to a wide range of styles and budgets.
Their website also offers a 3D design tool to help you visualize the way your space would come together.
Short or Long-term Rentals
They cater to both short-term (minimum 1 month) and long-term rentals, providing options suitable for anyone's needs.
The longer your rental term, the lower your monthly fees become!
Helpful Add-ons
Casa One ensures that all bases are covered by offering additional services like renter's insurance (for a small monthly fee) and flexible lease transfers.
9. Conjure
If innovative online platforms pique your interest, Conjure is the furniture rental service for you. They have some great features worth considering:
Curated Collections
Conjure provides an eclectic mix of designer-curated collections featuring high-quality furniture and home accessories.
Their rental catalog consists of a variety of trusted brands.
Swap, Buy, or Return
With Conjure's "NETFLIX for Furniture" model, subscribers can swap pieces as often as needed.
If you fall in love with a piece, there's an option to buy it, or you can return it whenever you're done.
Serve & Protect Plan
Conjure offers a service plan that covers any damages to furniture during your rental term to ensure peace of mind.
10. Fernish
Fernish is focused on sustainability and offering millennials an adaptable solution for their ever-changing lifestyles. Here's what they bring to the table:
Eco-friendly Options
Fernish takes care to source furniture that is environmentally friendly by reusing and refurbishing items, reducing waste.
They even donate returned items to non-profit organizations if they cannot be refurbished.
Flexible Rentals
Renting terms range from 3-12 months with easy extension options.
You can swap out your furnishings during your rental period as many times as necessary - perfect for those who enjoy experimenting with different styles!
Furniture Subscriptions
Subscribe to their all-inclusive furniture packages and get access to trendy pieces suitable for your living space at affordable monthly prices.
11. The Everset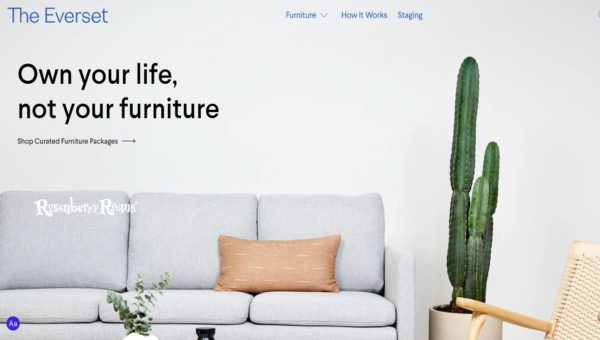 With modern design solutions backed by stellar customer support, The Everset delivers on all fronts when it comes to furniture rentals:
Wide-ranging Collections
The Everset offers unique, stylish, and functional furniture & home décor selections to breathe new life into your space.
You can either choose from pre-designed room packages or create customized sets tailored to your tastes.
Straightforward Pricing
No hidden fees - The Everset offers a simple, transparent pricing model without cryptic add-ons or extra charges like security deposits.
Convenience & Flexibility
Your rental subscription comes with complimentary delivery, assembly, and pickup services.
Swap furniture anytime during the rental period and enjoy a seamless experience without worrying about moving or storage hassles.
These 5 best furniture rental companies have proven to be excellent choices for anyone looking to upgrade their living spaces confidently. The exciting journey toward cultivating a beautiful home has never been easier!
FAQs About Best Furniture Rental Companies
What factors should I consider when choosing the best furniture rental company?
When selecting a furniture rental company, consider factors such as pricing, contract flexibility, variety and quality of products, and customer reviews to ensure a satisfactory experience.
Are there any benefits to renting furniture instead of buying?
Renting furniture offers several advantages, including financial flexibility, convenience in relocation, and the ability to change your home's aesthetic without committing to long-term ownership.
How does the delivery process work with furniture rental companies?
Most rental companies handle delivery and setup as part of the service. This typically includes transporting items to your location and arranging them according to your preferences.
Can I rent individual pieces or complete sets from these companies?
Yes, you can generally choose between single items or whole sets according to your needs. Furniture rental companies cater to a range of preferences for furnishing specific rooms or entire apartments.
Is it affordable to rent furniture for an extended period?
Each company offers different pricing structures for extended rentals. Some offer discounted rates if you commit to a longer rental period, while others may charge monthly fees that can be more cost-effective than outright purchasing in some cases.
Conclusion
The world of furniture rental has grown exponentially in recent years, providing us with more choices and flexibility than ever before. It's now entirely possible to create that perfect, tailored living space without committing to hefty investments or long-term agreements.
By working with the best furniture rental companies on this list, not only can you save some serious dough, but you'll also embrace a more sustainable lifestyle and maintain your freedom to adapt as life changes.
So go ahead and spruce up your home or office with rented furniture from these fantastic companies. With their wide array of stylish and affordable options catering to varying tastes and needs, you're certain to find the perfect items that will amplify your space's overall vibe!