If there's one thing I absolutely love, it's finding that perfect piece of furniture that fits seamlessly into my home.
That's why I'm particularly excited to share my recent experience with the Burrow Coffee Table in today's post: "Burrow Coffee Table review." I had heard great things about this brand and was eager to try it out for myself.
In this review, I'll share my honest thoughts on the design, functionality, and overall quality of this coffee table. So whether you're looking for a stunning accent piece for your living room or just interested in knowing more about this increasingly popular brand.
I've got you covered. Keep reading as I unravel the mystery behind the Burrow Coffee Table and see if it lives up to its hype.
The First Impression: Unboxing the Burrow Coffee Table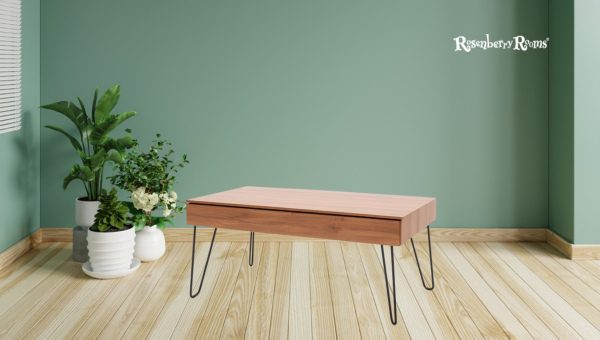 When I finally received my much-anticipated Burrow Coffee Table, I couldn't wait to unpack it and set it up in my living space.
In this section, I'll take you through my experience of unboxing this highly praised piece of furniture. We'll discuss the packaging and delivery details, along with my initial thoughts on its design and materials.
Packaging and Delivery Experience
The very first thing that stood out to me was how securely packaged the Burrow Coffee Table was. Wrapped neatly in a thick layer of protective foam, it was great to see that care had been taken to ensure the table arrived without any damage.
To provide a detailed overview of the packaging used by Burrow, let me share the following points:
Sturdy outer box: It's no surprise that a well-built piece of furniture needs a robust protective layer. The table came in a strong, double-layered box that kept it safe during transit.
Protection from scuffs: To prevent scratches and scuffs during delivery, each part of the table was individually wrapped with plastic wrap.
Additional corner protection: Corners are usually the most susceptible to chipping, so it was reassuring to see each corner fitted with extra foam protection.
An organized layout: All parts were neatly arranged in a systematic manner within their respective slots in the box.
Shipping-wise, my package arrived within the specified delivery window mentioned on their website. I appreciated getting tracking updates via email along with handy assembly instructions for when my table arrived.
I was highly satisfied with the packaging and delivery experience provided by Burrow.
Initial Thoughts on Design and Materials
As soon as I started unboxing the Burrow Coffee Table, one thing became quite clear — this is altogether a premium product right from its design to its construction material.
I chose Burrow's Bento Coffee Table, which is known for its sleek, elegant design and customizable options. Here are some standout features of the table that caught my eye:
Quality materials: Constructed with solid hardwood and aesthetically pleasing veneers, the Burrow Coffee Table is undoubtedly built to last.
Clean, modern lines: The simple-yet-stylish design of the table can seamlessly complement various interior styles.
Thoughtful options for customization: On their website, Burrow provides multiple choices in terms of color and finish combinations — I went for a walnut finish which beautifully matched my existing decor.
Upon first glance, I also noticed the high level of craftsmanship achieved by Burrow. For instance:
The edges were smooth and well-sanded, showing no signs of cuts or inconsistencies.
The wood grain was visually appealing with a consistent pattern across each panel.
All pre-drilled holes aligned perfectly, indicating good quality control.
My first impression of the Burrow Coffee Table was nothing short of impressive. From its elegant design to thoughtful packaging and premium quality construction materials, it was clear that I had made the right choice.
And now that we've covered the unboxing experience, next up is discussing the actual assembly process — stay tuned!
Assembly Made Easy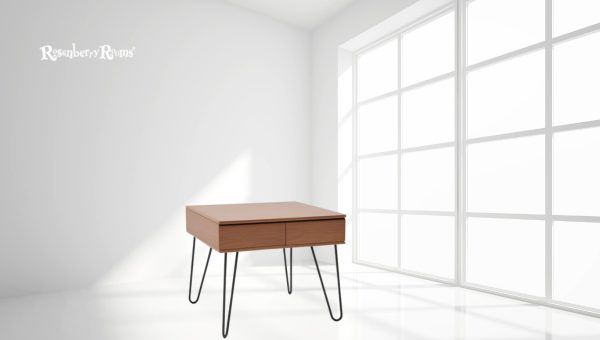 Let me start by mentioning that when it comes to furniture assembly, I'm your average homeowner with a basic toolkit and limited patience for confusing instructions.
So, I was pleasantly surprised to find that the Burrow Coffee Table came with user-friendly, detailed step-by-step instructions. From the moment I opened the box, it was apparent that I was in for a hassle-free experience.
Detailed Step-by-Step Instructions
Organize all parts and tools: The first thing I noticed about the instruction manual was its well-organized layout. Each component was clearly labeled and numbered, making it easy for me to cross-reference what I had with what was displayed in the manual. It came with an inventory list detailing all necessary parts and hardware too, which is a real-time-saver!
Attach table legs: Each leg had precise markings indicating which corner of the table it belonged to. Aligning them properly took no time at all. Utilizing my ratchet screwdriver, (not included), I swiftly secured each leg using the provided screws.
Secure central support beam: One of my favorite features of this coffee table is its central support beam included for added stability. This component effortlessly locks into place with sturdy interlocking brackets before being further reinforced by screws.
Install storage compartment (if applicable): Depending on which version you've ordered (Standard or Storage), you may have an extra step as part of your assembly process. My Burrow Coffee Table came complete with a built-in storage compartment; lining up magnetized doors created a seamless interface between separate sections.
The entire assembly process took me no more than 30 minutes from unboxing to completion - talk about efficiency!
Durability and Structural Integrity During Assembly
Throughout the assembly of my coffee table, several factors impressed upon me its well-engineered design and durability:
Materials: The Burrow Coffee Table is made with a combination of solid hardwoods, engineered wood, and sturdy metal brackets. The use of these high-quality materials ensures that the table is not only visually stunning but built to withstand daily wear and tear.
Support System: As mentioned earlier, the addition of a central support beam solidifies the structure while providing additional support to ensure your table withstands heavier objects and accidental impacts.
Precision Manufacturing: The expertly crafted pieces fit together perfectly–no having to force ill-fitting components together! Even the screw holes aligned perfectly, showcasing its precision manufacturing.
Standalone Stability: Each leg features an adjustable leveling foot to level your table evenly on different floor surfaces. This stable foundation prevents any wobbling or unnecessary movement.
Watchful Assembly: To test its structural integrity, I took note during assembly of any potential weak points or areas prone to damage over time. It gave me peace of mind knowing that each component was designed with durability in mind from the start!
With all this in mind, outlasting even my most ambitious DIY coffee table attempts, the Burrow Coffee Table assembly couldn't have been more effortless!
While some furniture pieces can be frustrating or downright intimidating to put together, this coffee table provides a stress-free experience with clear instructions and well-designed parts for an end result that will undoubtedly impress any homeowner.
Design Style and Aesthetic Appeal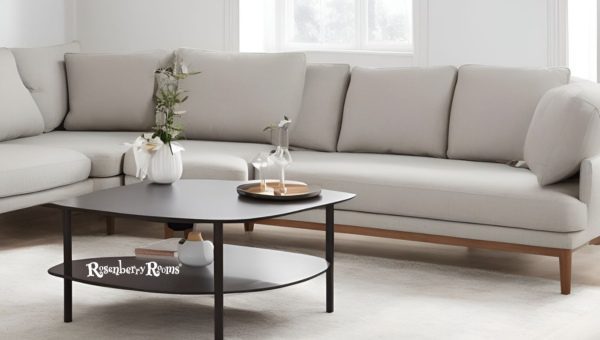 One of the most notable aspects of the Burrow Coffee Table is its design style and aesthetic appeal. In today's world, where we are constantly exposed to various design styles, it's important for a piece of furniture to stand out from the crowd. And that's precisely what the Burrow Coffee Table achieves with its impressive design choices.
Color Options to Match Your Living Space
Before diving into the specific design styles available, let's talk about the ever-important color options. After all, no one wants a mismatched coffee table that clashes with their living space. The great thing about the Burrow Coffee Table is that it has several different finishes to choose from:
These options allow you to perfectly match your coffee table with your existing furniture and décor preferences. The easy pairing of these versatile colors ensures this beautiful statement piece transitions seamlessly into any living room style.
Modern, Minimalist, or Rustic? Find Your Perfect Match
The very idea of finding your perfect match among countless design trends and aesthetics can be quite a challenge. However, that's precisely what sets the Burrow Coffee Table apart from others on the market – its ability to effortlessly embody multiple design styles.
While exploring this multipurpose piece further, I discovered three primary design choices within its aesthetic: Modern, Minimalist, and Rustic. Let's examine each one briefly:
Modern: With clean lines and well-defined corners combined with smooth edges and practical features like built-in storage, this table effortlessly embodies a modern vibe suitable for contemporary homes. Its focus on functionality without sacrificing an iota of beauty makes it ideal for city dwellers or anyone looking to spruce up their living room with an up-to-date décor essential.
Minimalist: For those who prefer simplicity in their furniture designs, the minimalist character trait of the Burrow Coffee Table is the perfect solution. Achieving a delicate balance between aesthetics and functional utility, this table showcases decluttered details, like concealed storage space and hidden hardware. The resulting look is both clean and sleek, providing an invitation to anyone seeking peace within their surroundings.
Rustic: Finally, the Burrow Coffee Table also provides a nod to rustic charm by incorporating certain elements typical of this design style. Utilizing wood materials for its construction and offering warm color options like walnut and light oak, this coffee table radiates hominess and warmth reminiscent of rustic settings or farmhouse-style abodes.
By embodying all these design styles effortlessly, the Burrow Coffee Table can truly cater to almost any preference or desired aesthetic while simultaneously adding that extra touch of elegance to your space.
Functionality Meets Style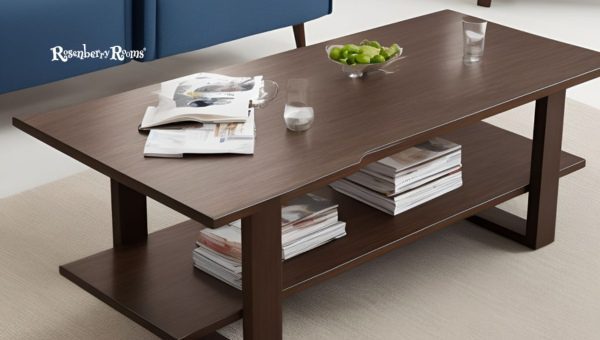 When it comes to choosing the ideal coffee table for your living space, you want one that goes beyond aesthetics and provides true practicality.
The Burrow Coffee Table isn't just a pretty centerpiece; it's designed to cater to your everyday needs while maintaining a pleasing appearance. Let's dive into its built-in storage solutions and some of the ways in which this table can be utilized for various occasions.
Built-in Storage Solutions
One of the most prominent features of the Burrow Coffee Table is its cleverly designed storage options. The sleek design manages to incorporate these without adding unnecessary bulk or taking away from its visual appeal:
Hidden Storage Compartment: One feature that immediately caught my eye was the hidden storage compartment that sits just below the tabletop surface. This compartment is covered by a panel that can be detached or slid aside, providing quick access to any items stored underneath. It's perfect for stashing away remote controls, coasters, magazines…whatever clutter you might want out of sight!
Spacious Lower Shelf: In addition to hidden storage, this coffee table also boasts a spacious lower shelf for both practical and decorative purposes. Utilize it as an additional space for extra items like books or display pieces such as succulents and candles - the choice is yours!
Cable Management: If you're tired of tangled cords ruining the look of your living space, fret not! The Burrow Coffee Table features discreet cable management cutouts so you can easily keep your wiring organized and out of sight.
Versatile Use for Different Occasions
The versatility of this coffee table truly sets it apart from others on the market:
Entertainment Hub: Inviting friends over for a movie night or hosting a game night with family? The Burrow Coffee Table transforms into an entertainment hub with ease. As mentioned earlier, take advantage of cable management features by setting up gaming consoles, streaming devices, or even a mini projector for a seamless entertainment experience.
Adapting to Seasonal Trends: With the changing weather and holidays come fresh decorating opportunities. The minimalist design of the Burrow Coffee Table allows it to adapt beautifully to each season. For example, dress it up with cozy winter knits and candles, or lighten the look with bright vases and fresh flowers in spring.
Special Occasions Setting: Hosting a dinner party or celebrating an important milestone? Highlight the moment by utilizing your Burrow Coffee Table as a special occasion centerpiece. Try setting up a dessert station complete with an elegant cake stand, delicate treats, and decorative elements such as confetti and table number holders.
Comparing the Burrow Coffee Table to Competitors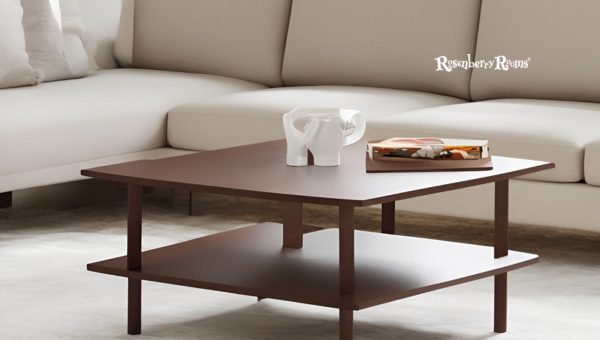 When it comes to investing in a coffee table for your living space, it's essential to compare different options available in the market.
In this section of my Burrow Coffee Table review, I'll dive into a comparison of the Burrow Coffee Table with some of its competitors, focusing on price points and unique features each brand offers.
Price Point Evaluation
The Burrow Coffee Table sits at a mid-range price point compared to other coffee tables in the market. Priced at $395 (accurate as of October 2021), it is affordable while still maintaining quality and style. To give you a better understanding, let's compare the cost of the Burrow Coffee Table to some popular alternatives:
IKEA LACK - Priced at an incredibly affordable $29.99, this simple coffee table does the job without any frills. This option is excellent for those on a tight budget but lacks longevity and distinctive design elements.
CB2 Smart Round Marble Brass - Offering a premium option with marble and brass materials, this chic, round coffee table costs around $329.
West Elm Reeve Mid-Century Oval - With its sleek, mid-century modern design, this West Elm option is priced at $399 for those looking for more sophistication.
Comparing these prices shows that although you might find cheaper or more expensive options out there, Burrow offers an excellent combination of quality, functionality, and affordability.
Features Comparison Between Brands
When considering your next coffee table purchase, it's crucial to compare not only the price points but also key features that make each brand stand out:
Burrow:
Integrated storage: The Burrow Coffee Table is equipped with cubbies on both sides for convenient storage solutions.
Durable materials: Made from sustainably sourced hardwood plywood and sturdy steel legs, the table is built to last.
Easy assembly: The Burrow Coffee Table can be quickly assembled without any tools, saving both time and effort. See the Burrow website for more details.
IKEA LACK:
Affordable: As mentioned earlier, the IKEA LACK serves as one of the most budget-friendly options out there.
Easy setup: The LACK coffee table is designed for simple assembly, even for those with limited experience.
Limited styles and materials: Compared to other tables on this list, it lacks standout design elements or high-quality materials. See the IKEA website for more details.
CB2 Smart Round Marble Brass:
West Elm Reeve Mid-Century Oval:
Distinctive design: The West Elm option features an elegant mid-century modern style that suits a variety of interiors.
Premium materials: Made from solid wood and walnut veneer, it showcases both quality craftsmanship and sturdiness.
Additional shelf space: A built-in lower shelf provides extra storage space to keep your living room clutter-free. See the West Elm website for more details.
The Pros and Cons of Choosing the Burrow Coffee Table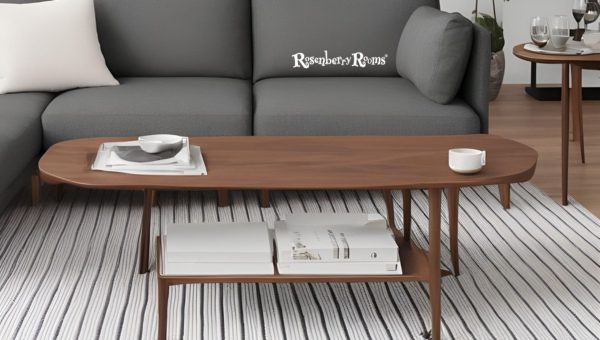 Like any other piece of furniture, there are always pros and cons to consider when deciding whether to make a purchase.
With that in mind, I've listed some aspects of the Burrow Coffee Table that stood out to me - both positively and negatively - to provide you with a comprehensive view before you decide whether or not it's the right fit for your home.
What I Loved Most about the Table
High-Quality Materials: The first thing that impressed me was the quality of materials used in crafting this coffee table. The solid hardwood frame provides a sense of durability, while the table's surface is made from a sturdy, scratch-resistant material that's easy to clean.
Easy Assembly: Another aspect I appreciated is how user-friendly the assembly process was. The clear instructions made it simple to put together, taking just under an hour from start to finish.
Built-in Storage: If you're like me and love having extra hidden storage spaces at home, then this feature will surely excite you. The Burrow Coffee Table comes with a built-in storage compartment beneath the tabletop, helping keep your living area clean and clutter-free.
Personalization Options: Fitting seamlessly into various design styles is essential for any piece of modern furniture. Thankfully, Burrow offers different leg styles - solid wood or metal - as well as various color finishes, allowing you to choose what suits your interior design perfectly.
Durable Design: Durability is key when selecting furniture pieces for everyday use. With its solid construction materials and thoughtful design, this coffee table seems built to last for years without losing its appeal.
Points for Improvement and Considerations
While there were several features I loved about this coffee table, there are still a few points worth considering when weighing up whether it's right for you.
Pricing: One of the cons I found is the pricing. The Burrow Coffee Table's price point may be considered steep by some, especially when compared to similarly designed products on the market. However, it's essential to consider the table's high-end materials and robust design when evaluating the value for money.
Stock Availability: Another drawback was that occasionally, popular styles or finishes can become temporarily out of stock due to high demand. This can result in a longer wait period before receiving your coffee table. It's always best to check their website for current availability before planning your purchase.
Size & Weight: Depending on your space requirements and personal preferences, you might find the table slightly larger than desired or somewhat heavy for easy maneuvering; it's always important to carefully assess measurements before making an order.
Unique Aesthetic Features: Although Burrow offers several customization options, some may crave even more unique style features - such as intricate leg patterns or specialized fixtures - which aren't available in their current range.
There are various pros and cons to the Burrow Coffee Table that one should take into account before making a purchase decision. From its high-quality materials and easy assembly to built-in storage and personalization options, there are plenty of features that stand out as positives.
However, pricing points, stock availability concerns, size & weight considerations, and limited unique aesthetic options might be seen as drawbacks by some potential buyers.
The key factor is weighing what is most important for you in a coffee table and deciding whether the investment is worth it based on how well it matches your needs; ultimately providing you with a piece of furniture that complements both your style preferences and functional requirements effortlessly.
The Sustainability of the Burrow Coffee Table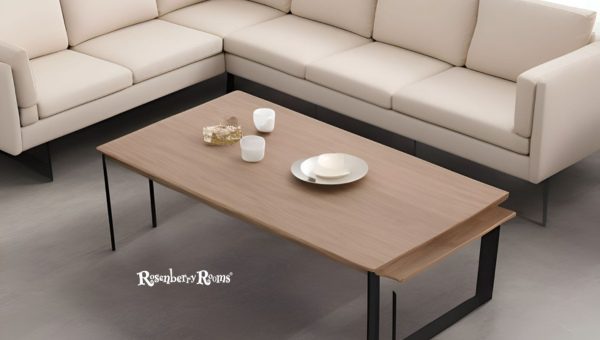 When it comes to investing in a piece of furniture, it's essential to consider the environmental impact of such a decision. That's why I'd like to take a closer look at the sustainability aspects of the Burrow Coffee Table in this section.
From eco-friendly features you'll appreciate to the brand's social responsibility initiatives, let's dive deeper into what makes this coffee table a responsible choice.
Eco-friendly Features Worth Noting
Sustainably-sourced materials: First and foremost, the Burrow Coffee Table is constructed using sustainably sourced materials. According to their website, their wooden components are made from Forest Stewardship Council (FSC)-certified hardwoods, ensuring that these trees are grown and harvested in an environmentally and socially responsible manner. This should give you some peace of mind knowing that your purchase isn't contributing to deforestation.
Powder-coated steel construction: The table's steel base is coated with an eco-friendly powder that is free from volatile organic compounds (VOCs). VOCs are commonly found in traditional paint and coatings and can be harmful to both human health and the environment. The powder coating provides a clean finish without releasing these toxic chemicals.
Greenguard Gold Certified: Another important aspect worth noting is that Burrow furnishings, including their coffee tables, have been certified Greenguard Gold. This certification ensures low chemical emissions from products, helping to maintain healthy indoor air quality.
The Brand's Social Responsibility Initiatives
Not only does Burrow have an environmentally responsible approach towards its furniture production but also advocates for important social causes through various initiatives.
Neighborhood Project: In 2020, after COVID-19 hit small businesses hard, Burrow created the Neighborhood Project. This initiative is aimed at supporting these struggling businesses and encouraging people to shop locally. It's a unique and commendable effort that showcases the brand's desire to build a stronger community in these challenging times.
One Million Trees Initiative: Furthermore, Burrow has taken up the noble cause of planting one million trees in an effort to offset their carbon footprint. They've partnered with the non-profit organization Eden Reforestation Projects to achieve this goal. For every coffee table and other furniture item purchased on their website, they plant native trees in developing countries like Madagascar, Nepal, Haiti, Indonesia, and Mozambique. This initiative not only helps offset carbon emissions but also creates job opportunities resulting in reducing extreme poverty.
Supporting Sustainability Through Collaboration: Burrow collaborates with various sustainable brands and organizations to promote conscious consumerism. By partnering with like-minded companies that share its commitment to sustainability stewardship, Burrow strengthens its influence as a leader in eco-friendly and ethical furniture production.
From the Greenguard Gold certification down to Burrow's key partnerships for conscious consumerism, there's no doubt that sustainability is at the core of this brand's values.
By choosing a Burrow Coffee Table for your living space, you are not only investing in a high-quality piece of furniture but also contributing towards a greener and more socially responsible world.
I am thoroughly impressed by the eco-friendly features and social initiatives that the Burrow Coffee Table and its brand have to offer.
As we move toward a future where making informed decisions around environmental impact is more important than ever before, it's refreshing to see companies like Burrow leading by example.
This stylish coffee table not only serves as an aesthetically pleasing centerpiece for any contemporary living space but also represents sustainable practices you can truly feel good about.
FAQs About Burrow Coffee Table Review
Where can I purchase the Burrow Coffee Table?
The Burrow Coffee Table can be purchased directly from the Burrow website or at select retailers.
What materials is the Burrow Coffee Table made of?
The table is made from durable hardwood and powder-coated steel for a high-quality finish.
Does the Burrow Coffee Table require assembly?
Yes, it is shipped in parts with step-by-step instructions for an easy assembly process.
Is the Burrow Coffee Table suitable for households with children or pets?
Due to its sturdy construction and well-rounded corners, the table is suitable for families with kids and pets.
Do I need any special tools to assemble the Burrow Coffee Table?
No special tools are needed; everything required for assembly comes included in the packaging.
Conclusion
My experience with the Burrow Coffee Table has left me thoroughly impressed. Not only is it a stylish and well-built piece that looks beautiful in my living room, but it also effectively balances functionality with an aesthetically pleasing design.
I'm confident in its durability and long-lasting quality, which makes me feel at ease knowing it will withstand the test of time (and a busy household).
With all that said, I hope this "Burrow Coffee Table review" has helped provide a clearer understanding of what you can expect from this item. Ultimately, I would highly recommend the Burrow Coffee Table to anyone searching for that perfect centerpiece to accent their living space.
It's worth investing in a high-quality piece like this one that combines modern design with practicality to elevate your home's atmosphere and make your daily life just a little bit simpler – and more stylish!