There's nothing quite like the open road, a night sky full of twinkling stars, and the cozy comfort of your RV to make you feel right at home.
Yet, there's one crucial element often overlooked when cruising highways and byways – the RV mattress. After a day full of adventure, you need the best RV mattress of 2023to ensure that you wake up fresh and revitalized each morning.
It's easy to underestimate how heavily your overall RV experience depends on this seemingly trivial component.
Picture this: you've just spent a day hiking through breathtaking landscapes or fishing in serene lakes, soaking up nature in all its majesty. It's been exhilarating but exhausting.
Now, nothing sounds sweeter than collapsing into a bed that cradles your tired body as you slip dreamward.
That's why choosing the right RV mattress is so pivotal—it shapes not only critical rest but forms part of precious memories formed on these road-bound escapades.
10 Best RV Mattresses of 2023
When traveling in your RV, it's important to feel as comfortable as you are at home. This is why having the right mattress for your recreational vehicle makes all the difference. Let's delve straight into one of the top picks for the best RV mattress of 2023.
Brooklyn Bedding Signature RV Mattress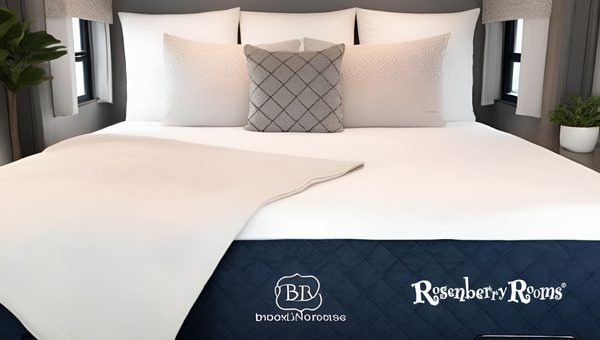 The Brooklyn Bedding Signature RV Mattress is a force to be reckoned with when considering RV mattresses in 2023.
Priced between $999 to $1,199, this versatile mattress comes in multiple sizes such as Short Queen (60x74), Olympic Queen (66x80), RV bunk size (42x80), RV King (70x80), and Short King (72x75), allowing you to select a size that fits perfectly with your comfort needs and vehicle size. The product dimensions are 80"L x 72"W x 11"Th for the king-size version.
This mattress features a durable design that combines multiple fill types like hybrid, coils, and foam. All are employed in an intricate blend to give you restful nights and rejuvenating mornings.
Its construction type is a hybrid with an encapsulated coil design that results in superior motion isolation. With its gel top offers improved breathability and extra comfort.
The carefully paired top-of-the-line foams provide perfect pressure relief and contouring comfort, making every night on the road feel like sleeping on clouds at home.
Pros
Exceptional Pressure Relief
Superior Motion Isolation
Blend of Buoyancy & Breathability
CONS
High Price Point
Not For Everybody
This excellent mattress from Brooklyn Bedding offers a mix of luxurious comfort, durability, and diversity, perfect for your RV.
Regardless of the minor cons, this mattress comes out on top, given its top-of-the-line features and benefits.
If you're looking for an excellent investment in a durable and versatile mattress, then the Brooklyn Bedding Signature RV Mattress should be high on your list. After all, a good night's sleep after a long journey is invaluable.
Also Read: 10 Best Mattress For Migraines In 2023 [Tips for Avoiding]
DynastyMattress Mattress for RV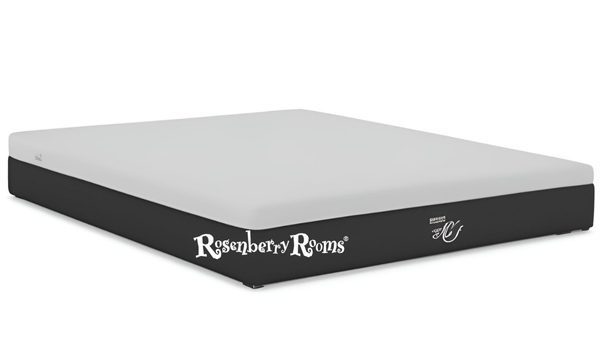 If you're in search of comfort and durability combined, the DynastyMattress for RV, priced between $349 and $459, is a winning pick.
This mattress is offered in several sizes starting from RV-Queen-USA-(60x75) to Queen, Short Queen, King, King RV, and Short King RV (72x75), catering to a range of customer needs in terms of dimensions suitable for different RV models.
The DynastyMattress is specially tailored with memory foam that assures remarkable pressure relief after a long journey.
It also boasts long-lasting durability thanks to its top-flight construction materials and measures at 75"L x 60"W x 10"Th.
Known for its gel-top style, this mattress goes the extra mile to ensure advanced comfort throughout your slumber. The model is tinged with a subtle shade of White Brown, giving it an elegant finish.
The distinct feature of this mattress is its machine-washable polyester cover. It makes maintenance a breeze as you can throw it into the washing machine without worrying about potential damage to the overall build.
Pros
Advanced Pressure Relief
Superior Durability
Easy Maintenance
CONS
Specific Size Restrictions
Limited Color Options
You can make an informed decision if the DynastyMattress is indeed the best fit for your RV lifestyle. Not only does it offer top-notch comfort but also beneficial features such as hassle-free maintenance and exceptional pressure relief.
Dreamfoam Bedding Gel Memory Foam Mattress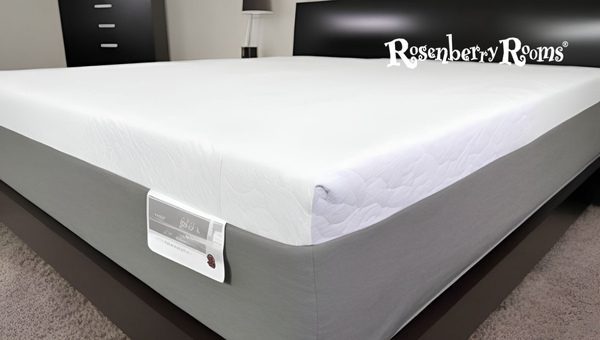 The Dreamfoam Bedding Gel Memory Foam Mattress has been lauded for its triple-layer composition that alloys pressure relief and optimum cooling.
Priced between $219 to $799, this mattress is available in a variety of sizes, including Twin, Twin XL, Full, Full XL, Queen, Short Queen, King, and California King. This exquisite California King version measures 84"L x 72"W x 12"Th.
You are crafted with a durable gel-infused memory foam layer for pressure relief complemented by two additional layers of comfort foam to maximize breathability and personal comfort.
It's the type of mattress that keeps you cool in the summer and cozy warm in winter. Speaking of design specifics, it features a tight-top style and an appealing color that matches your RV interior seamlessly.
Pros
Optimum Pressure Relief
Outstanding Durability
Enhanced Temperature Regulation
CONS
Requires Break-in Period
Heavy to Move Around
The Dreamfoam Bedding Gel Memory Foam Mattress, despite its minor cons, delivers significant comfort value compared to many mattresses available on the market today.
Suppose you desire a mix of maximum comfort, price value compatibility, and lasting durability from your investment. In that case, this product rises as a profound contender in the best RV mattresses category for 2023.
Also Read: 10 Best Mattress Toppers for Side Sleepers 2023 [Top Picks]
Helix Midnight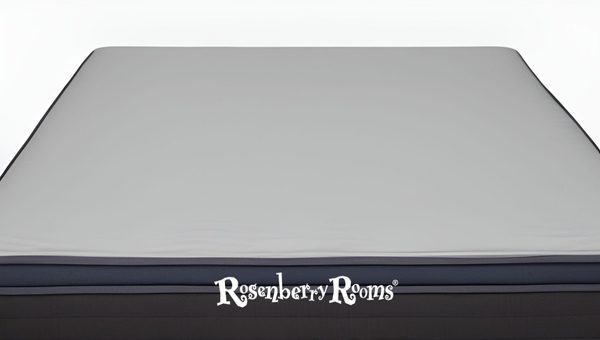 The Helix Midnight is an excellent choice when it comes to shopping for an RV mattress in 2023. Its price range spans from $702 to $1,311, and scores high on performance and aesthetic appeal.
The hybrid design of the Helix mattress offers next-level support by merging foam layers with individually wrapped coils - a perfect guarantee for sound sleep.
Available in sizes like Twin, Twin XL, Full, Queen, King, and California King, it gives you plenty of options to match your RV space requirements.
With its key features, including exceptional pressure relief and supreme body contouring thanks to its memory plus foam layer and individual coils, this mattress promises an exceptional sleeping experience that falls just right on the spectrum of soft and firm.
One noteworthy aspect of the Helix Midnight mattress is a 100-night sleep trial offer. This allows you to test out your new mattress for a considerable time before deciding if it's the perfect fit for you. If that doesn't impress you yet, it also comes with a fascinating 10-year warranty!
Born out of their Arizona factory from US-rolled steel and premium materials, it stands as a testament to quality craftsmanship, making you remember sleeping under the stars was never so comfortable.
Fast US shipping ensures speedy delivery while providing expedited production options if needed. Moreover, their financing package rolled out at 0% makes this quality mattress an affordable luxury.
Pros
Splendid Pressure Relief
Secure Financing Options
Fast US Shipping
CONS
Requires Break-in period
Somewhat Heavy
Elfreda RV Mattress
The Elfreda RV Mattress is an excellent pick if you are looking to achieve the perfect balance between comfort, quality, and price. It ranks high among the best RV mattress options for 2023 due to its design that prioritizes your comfort.
Priced at $188 - $468, this mattress is reasonable, offering a range of size options, including Twin, Full, Queen, Short, Queen, and King.
This broad spectrum ensures that it caters to every unique space requirement of your campervan. The dimensions for the Short Queen size are 74"L x 60"W x 12"Th.
The mattress is made with a core fill material of memory foam, which perfectly contours to your body, providing exceptional pressure relief after those long travels.
Coupled with a breathable pillow top designed to improve air circulation while providing added plushness, this mattress makes sure that you have a good night's sleep regardless of the weather outside.
Equipped with pocketed coils, the Elfreda RV Mattress offers great motion isolation – no more waking up due to partner movements or slight vehicle trembles.
Pros
Exceptional Pressure Relief
Superior Motion Isolation
Budget-friendly
CONS
Only Hand-Washable
Limited Color Option
Considering everything discussed about this product, it advocates itself as an affordable yet feature-laden option that doesn't compromise on quality.
With its carefully crafted spec list catering majorly towards optimal sleep comfort and quality – Buying the Elfreda RV Mattress could be a pivotal upgrade for your mobile crib.
Also Read: 6 Best Feather Mattress Topper For Extra Comfort In 2023
LUCID RV & Camper Memory Foam Mattress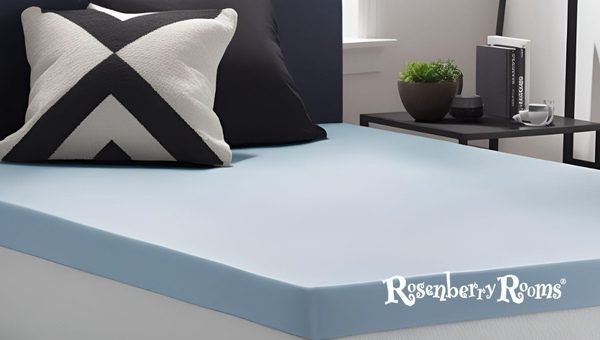 Worried about restless nights interrupting your idyllic RV trips? If so, we've got good news: the excellent LUCID RV & Camper Memory Foam Mattress could be the ideal solution for you.
This mattress is available in multiple sizes, including Twin, Twin XL, Full, Full XL, Queen, Short Queen, King, and California King. It's a versatile choice that caters to a wide range of RV dimensions. The California King size measures at 83"L x 71"W x 10"Th.
It's not just about the size or dimension. This LUCID mattress boasts an array of striking features that make it stand out from the crowd.
Filled with gel memory foam and standard memory foam and topped with a Euro-style top, it presents a pleasant mix of firmness and softness.
Further adding to its allure is its white color, which gives it an elegant look—an appreciated aesthetic feature after long days on dusty roads!
One of the critical attributes is its crafting using soft, cooling materials that are hypoallergenic—ideal for sensitive skin and also possess moisture-wicking properties.
Pros
Hypoallergenic for Sensitive Skin
Enhanced Breathability
Optimum Pressure Relief
CONS
High-End Price Range
Size Might Not Fit All
Let me highlight its main benefit: It offers ultimate pressure relief due to its unique design—boosting your chances of diving into uninterrupted slumber night after night in your moving home.
Be it warm summer nights or chillier ones as you traverse varying landscapes, this LUCID mattress is designed to offer you comfortable rest throughout your journey.
Zinus Foam and Spring RV Mattress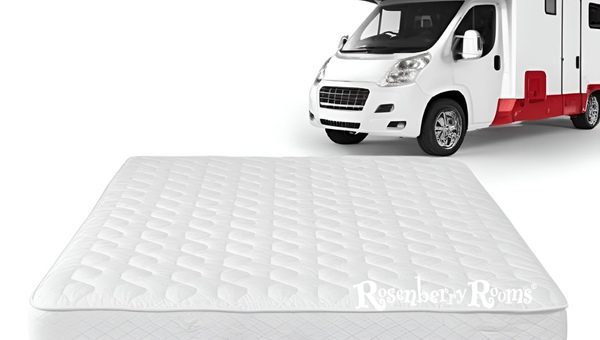 Priced between $176 and $224, the Zinus Foam and Spring RV Mattress is a budget-friendly option with durability and comfort in mind.
Available in several sizes, from Narrow Twin to Queen, this mattress offers flexibility according to your needs.
As we dive deep into the features of this short queen (74"L x 60"W x 8"Th) mattress, you'll get the full picture of what makes it a standout choice.
The Zinus mattress is endowed with a breathable fill material constituted of memory foam. Memory foam is an excellent material for RV mattresses as it contours the body, assuring fantastic support while providing top-notch comfort levels.
This mattress comes with a tight top, a feature often preferred for being firm and supportive compared to other styles. Clad in a crisp white color, this mattress does more than offer comfort; it adds to your RV's aesthetic appeal.
Pros
Budget-Friendly
Excellent Durability
Breathable Memory Foam
CONS
Limited Thickness
Requires Spot Cleaning Only
After thorough consideration and research on customer feedback from various sources, it's clear that the Zinus Foam and Spring RV Mattress ticks many boxes where quality intersects with affordability for an RV mattress in 2023.
While its limited thickness may be less appealing to some users if you are looking for a pocket yet durable option offering consistent support.
Also Read: 14 Best Floor Mattress For Peaceful Sleep In 2023 [Top Picks]
GhostBed RV Mattress
GhostBed RV mattress is a leading contender in the RV mattress market. Priced within reach at $749 to $899, options are available in Short Queen and Short King sizes.
GhostBed certainly lives up to expectations in delivering comfort wrapped up with durability.
This comfortable camper mattress packs a solid punch with its product dimensions of 75"L x 72"W x 10"Th, making it the right fit for most RVs.
Embedded with gel memory foam, the GhostBed screams comfort coupled with durability. The plush top style design of the GhostBed is crafted to deliver sheer comfort for every sleep likelihood.
The white-colored mattress has a distinct look that fits into any RV design seamlessly. The pocketed coil type further enhances the comfort and longevity of this magnificent wonder.
Pros
Exceptional durability
Optimum support with pocketed coil
Comforting gel memory foam
CONS
Hand wash only instructions
Premium price tag
The biggest advantage offered by GhostBed is its approach towards combining superior material with unmatched craftsmanship.
Designed using decades of sleep science research and armed with a mission to offer everyone better nights on the road, GhostBed promises not only sweet dreams but also investment value.
Explore More: 6 Best Wool Mattress Topper Of 2023 [Price, Sizes & Features]
Molblly RV & Camper Gel Memory Foam Mattress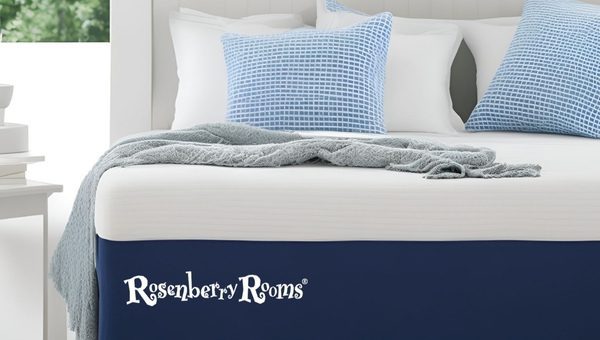 Making your RV feel like a moving home is the aim, and having the right mattress, like the Molblly RV Gel Memory Foam Mattress, is crucial. You want to bring the same level of comfort you get at home along on every adventure.
Deemed as the perfect blend of comfort and durability, this 10-inch California King mattress is designed from high-quality Jacquard fabric, offering breathability to improve airflow while ensuring optimum pressure release during sleep. This mattress turns your snooze button off once it's bedtime.
With prices ranging from $149 to $299, various sizes available include Twin, Twin XL, Full, Queen, King, and California King - something for every type of recreational wanderer or family size.
A distinct feature of this mattress is its fill material- gel memory foam. This exclusive design is not only comfortable but keeps you cool throughout the night, so no more restless nights due to overheating or discomfort.
It also incorporates a continuous coil distribution system designed for even weight distribution, which greatly advantages those with back problems.
Don't be overly enthused without considering its care instructions –hand wash only. This may give you pause if you're hoping for easy-care solutions.
Pros
Highly durable
Sleep cooler
Optimum pressure relief
CONS
Hand wash only
Possibly too firm for some sleepers
This Molblly Gel Memory Foam Mattress offers much-needed support along your travels yet takes into account essential considerations such as health and quality rest.
As an investment in your road trip adventures and well-being alike, it's indeed worth considering in 2023.
Best Price Mattress For RV Camper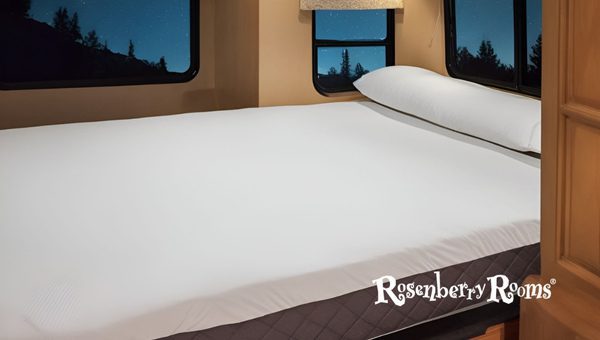 When it comes to maximizing comfort without breaking the bank, the Best Price Mattress For RV Camper easily ranks as a top contender in 2023.
Ranging from $92 to $276, this accessible mattress is available in numerous sizes, such as Twin, Twin XL, Full, Full XL, Queen, Short Queen, King and California King.
The memory foam material of the mattress provides optimal support and relief for pressure points. Its 10-inch thickness ensures enough cushion while maintaining structure for your body during your slumber. The plush top gives an added layer of softness that contributes to a more luxurious sleeping experience.
Beyond its functional features, this mattress also introduces an innovative "green tea infusion" element. This unique addition aims to promote a sense of calm and relaxation - vital ingredients for a good night's sleep.
The sturdy jacquard cover protects the mattress while offering additional surface comfort. It also follows easy-care instructions that involve simple hand-washing practices. The product dimensions recorded are 84"L x 72"W x 10"Th.
Pros
Budget-friendly
Pressure Relief
Simple Care Requirements
CONS
Limited Thickness
Singular Color Option
Despite its minor limitations in aesthetics and cleaning options, the Best Price Mattress For RV Camper certainly delivers when it comes to affordability, variety of sizes, and comfort imparted by its memory foam constitution.
Every detail of this excellent value-for-money RV mattress prioritizes providing you with quality rest at an affordable price range - making it noticeably stand out among other mattresses in the market.
So, it's definitely worth considering if you're seeking high-standard sleep on the road without denting your wallet too much.
Read More: How To Arrange Pillows On A Bed 2023 [10 Bed Makeover Ideas]
FAQs about The best RV mattress
What makes a good RV mattress?
A good RV mattress should offer comfort and durability, be the correct size for your vehicle, and provide great body support.
Can I use a regular mattress in my RV?
It's possible but not always ideal, as regular mattresses might not fit the unique dimensions of an RV space.
Are memory foam mattresses suitable for an RV?
Absolutely! Memory foam mattresses provide excellent support and comfort, making them a fine choice for your RV.
How often should I replace my RV mattress?
It's recommended to replace your RV mattress every 5-7 years for optimal comfort and hygiene.
How do I clean my RV mattress?
Most brands recommend spot cleaning with mild detergent or using a vacuum cleaner.
Conclusion
A restful journey is pivotal to the exceptional RV experience, which is why choosing the right mattress is crucial.
Whether it's the luxurious comfort of the Brooklyn Bedding Signature RV Mattress or the affordable allure of the Best Price Mattress For RV Camper, you have splendid options to consider in 2023.
Picking out an RV mattress that's right might seem daunting, but with a little research and understanding your preferences, you're well on your way to scoring dream-worthy sleep under starlit skies. Enjoy your travels, and may each journey bring new adventures.