Are you seeking a convenient and comfortable sleeping solution? Well, you've landed in the right place! We're going to explore some of the best floor mattresses that could revolutionize your sleep time. A floor mattress isn't just a simple piece of bedding; it's much more than that!
A top-notch floor mattress can save your day during an unexpected guest's arrival or make those camping nights dream-worthy.
Its versatility extends beyond standard use - be it yoga sessions, movie nights, or transforming tight spaces into cozy sleeping corners.
Countless options are crowding the market, so how do you determine which is the perfect one for your needs? Stick with us as we carefully unravel these soft sleep sanctuaries.
14 Best Floor Mattress For Peaceful Sleep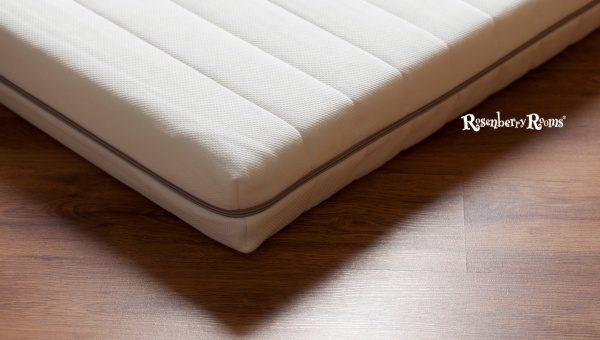 Unwind, relax, and drift into the sweet world of dreams with an ultra-comfy floor mattress. Whether you're an enthusiastic camper, someone expecting guests, or just someone looking to transform any space into a haven for restful sleep – it's all about having the right floor mattress!
DR.FUTON Japanese Floor Mattress
Have you ever dreamt of a floor mattress that combines comfort, convenience, and aesthetic appeal all into one fine package?
Well, the DR.FUTON Japanese Floor Mattress is here to turn your dreams into reality. This mattress is crafted with thoughtfulness to ensure an unhindered sleeping experience.
Material: The mattress comprises 100% pure cotton. It's not only soft and cozy but also ultra-durable, promising sweet dreams for years.
Aesthetic Appeal: Available in four attractive colors, including Silver Grey, Black, Dark Grey, and Navy Blue, it can seamlessly blend with any room decor.
Convenience: One thing you'll love about this mattress is its unrivaled convenience. You can roll it up swiftly when not in use and tie it up with the provided bandages to save space. Easy storage means an easy life!
Optimal Comfort: Mesmerizing softness coupled with ultimate durability makes this mattress a must-have for every household. It delivers exceptional comfort that will help you wake up rejuvenated every morning.
Also Read: Futon Mattress Size Guide 2023 [How Are Futons Measured?]
Emoor Japanese Futon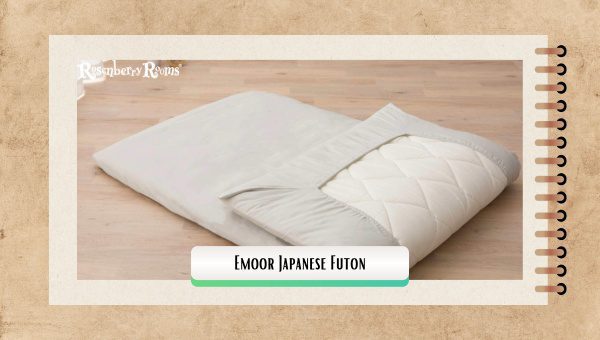 Experience authentic Japanese simplicity and elegance at its best with the Emoor Japanese Futon. Here are the key features that make this futon absolutely irresistible.
Material: Like a true Japanese futon, it is made of 100% pure cotton, ensuring durability and immense comfort for users.
Structure: With a unique 3-layer structure, it delivers unparalleled support to aid in perfect sleeping posture.
Thread Count: Boasting a 200 thread count, expect luxurious softness that's soothing to your skin.
Comfortable Sleep: This thick and well-insulated cotton futon ensures complete comfort during sleep, aiding in sound slumber. It exudes an authentic Asian vibe, transforming your room into a calm sanctuary.
Exmoor is synonymous with quality, and this beautifully designed futon embodies that very ethos most seamlessly.
Milliard Tri-Folding Mattress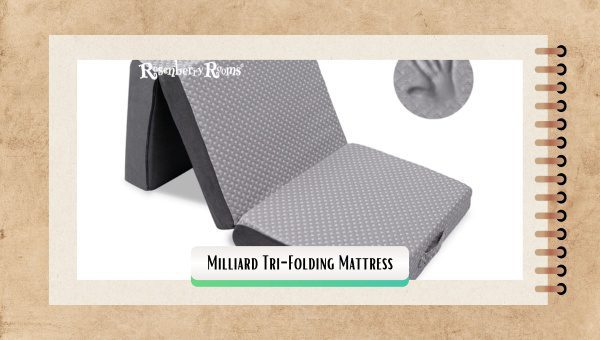 Milliard Tri-Fold mattress is undeniably synonymous with luxury. It packs in some alluring features guaranteed to facilitate a peaceful snooze:
Memory Foam: Not just any foam but a high-density 3lb luxurious memory foam, offering superior body support.
Design & Convenience: The tri-fold design makes this mattress highly portable. Take it camping or toss it in your car for convenient sleep accommodations on the go.
Quality Check: Milliard is known for its deep care towards quality. As such, this mattress promises incredible durability besides comfortable support.
Washable Cover: Dirt happens! Thankfully, the cover of this tri-fold mattress is easily removable for washing, ensuring you're sleeping on not just a cozy but also a clean surface.
With the Milliard Tri-Fold mattress, you can expect relaxation at its finest, accompanied by practicality that's matchless!
FULI Japanese Traditional Shiki Futon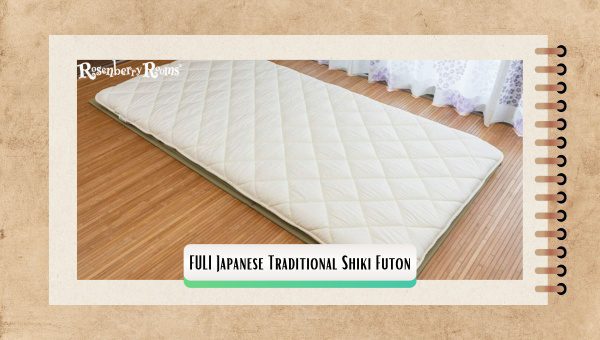 Are you in search of a floor mattress that is steeped in tradition and comfort? Look no further than the FULI Japanese Traditional Shiki Futon.
A testament to Japanese craftsmanship, this luxurious futon has become a popular pick for sound sleep enthusiasts.
Traditional Design: You'll appreciate the way it incorporates the essence of traditional Japanese Futons without compromising modern conveniences.
Material: Made from 100% pure cotton, it is soft and smooth to the touch, guaranteeing comfortable nights.
Structure: The 3-layered structure ensures adequate support while maintaining an optimal firmness level for unmatched comfort.
Imagine getting a perfect balance of style, tradition, and luxury in tune with your sleep time. Get ready to indulge in serene slumbers with the FULI Traditional Shiki Futon!
BETTER HABITAT Portable Floor Mattress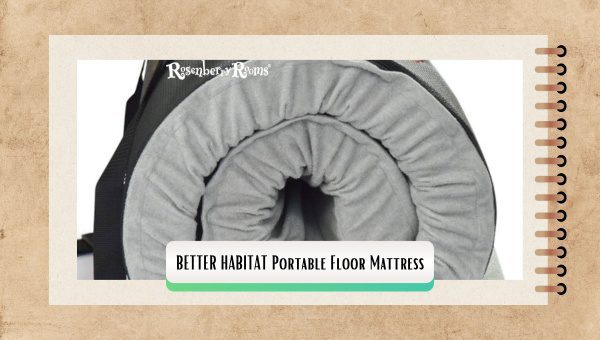 If you're questing for a floor mattress that effortlessly combines functionality with excellent comfort, then BETTER HABITAT Portable Floor Mattress might be your finish line.
Let's delve deeper into what makes this mattress stand out:
Portability: You can roll it out in seconds- turning any space into a comfortable sleeping area or packing it up equally quickly, freeing up space wherever needed.
Waterproof: Crafted with water-resistant memory foam, this mattress ensures longevity despite accidental spills or damp environments.
Quality Certified: The CertiPUR-US certified memory foam subdues concerns about harmful substances, ensuring safety along with comfort.
Size Variety: It comes in two sizes: Single (75" x 25" x 3") and Twin (75" x 36" x 3"), offering different users flexibility in choice.
Accelerate towards a more convenient life dotted with restful dreams by bringing home a BETTER HABITAT Portable Floor Mattress!
JEAREY Floor Mattress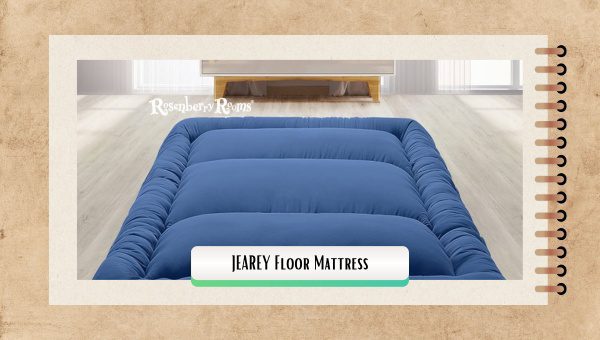 Welcome to a mattress that changes the way you perceive comfort. The JEAREY floor mattress is a deep sleep sanctuary engineered to provide you with maximum convenience in a stylish package.
Material: The power of 100% polyester gives this mattress its remarkable softness and breathability.
Comfort: Fluffiness and comfort go hand in hand on this one. KEAREY's fluffy texture caresses your body contours, providing optimal support and facilitating quality sleep.
Variety: Looking to spruce up your interior décor? You've got four chic color options: Grey, Black, Army Green, and Navy.
Size Range: This mattress caters to all your size needs with twin size (39" x 80"), full size (54" x 80"), queen size (60" x 80"), and short queen (60" x 75") versions available.
Futon Shop Shiki Futon Mattress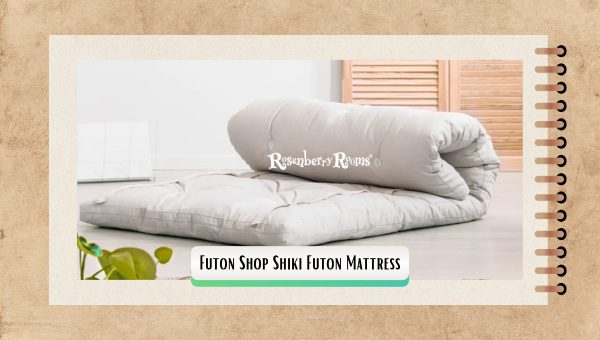 The Futon Shop Shiki Futon Mattress takes the concept of eco-friendly products up another notch!
Material: Organic Cotton and PLA fiber intertwine, forming exquisite layers of breathable materials, ensuring lightweight yet robust construction.
Certifications: This one is USDA-certified – something you rarely come across! Additional certification from OEKO-TEX standards ensures that harmful substances are kept at bay.
Hypoallergenic Properties: Worried about allergies? No need to fret! The natural organic composition makes it hypoallergenic - so it's entirely safe for any use without any fear of allergies!
The thoughtfulness that went into designing the Shiki Futon Mattress was to present you with a healthier sleeping option without sacrificing comfort. Experience restful nights alongside promoting environmental sustainability with this fantastic choice!
Futon Shop Pure Comfort Natural Cotton Mattress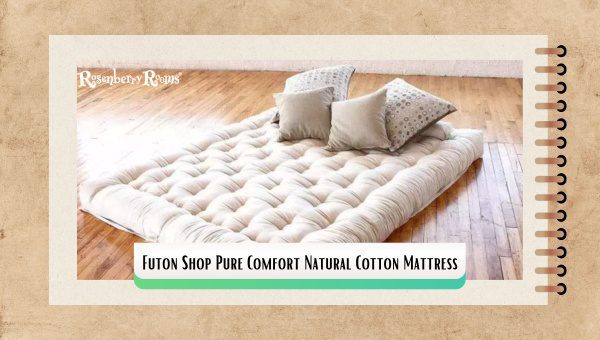 Your search for a comfortable and eco-friendly mattress ends with the Futon Shop Pure Comfort Natural Cotton Mattress.
This remarkable product has been designed keeping in mind all the elements that constitute a peaceful sleep.
Key Features of this mattress include:
Temperature Regulation: This feature ensures you stay cool during warmer nights and warm during colder ones, ensuring your sleeping comfort isn't compromised.
Pressure Relief: The 733 individually wrapped micro coils offer exceptional pressure relief, assuring you get up every morning feeling refreshed, without any body aches or stiffness.
Dust Mite Resistant: You'll love its dust mite-resistant quality, guaranteeing a hygienic and allergy-free sleep environment.
Anti-microbial and Eco-Friendly: The mattress is eco-friendly by construction and possesses antimicrobial properties, ensuring healthy indoor air quality.
Invest in the Futon Shop Pure Comfort Natural Cotton Mattress for its unique combo of comfort & health!
Explore More: Futon Vs Sofa Beds 2023 [Is It OK To Sleep On A Futon?]
Milliard Folding Mattress with Washable Cover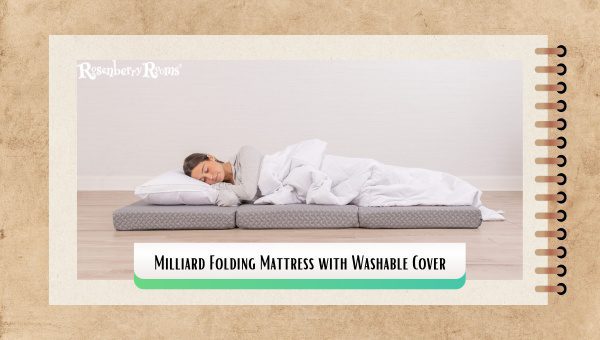 Imagine having a mattress that not just ensures superior comfort but is also super convenient to use - well, that's exactly what the Milliard Folding Mat offers. This 4-inch floor mattress has been expertly designed to cater to all your sleeping requirements.
Variety of Sizes: Catering to individual requirements, it's available in five unique sizes – Single, Cot, Twin, Full, and Queen.
Comfort Level: If you are a back or stomach sleeper who weighs over 130 pounds, this mattress provides the perfect balance of support and cushioning for undisturbed sleep.
Easy-To-Clean Cover: The bonus? It comes with a washable cover, making your cleaning chores way more convenient!
Quality Material: Constructed from polyfoam and encased in bamboo-derived jacquard fabric, this mattress perfectly blends durability with comfort.
With these unique features, the Milliard Folding Mattress ensures quality sleep and complete peace of mind.
NeuType Futon Mattress Sleeping Mat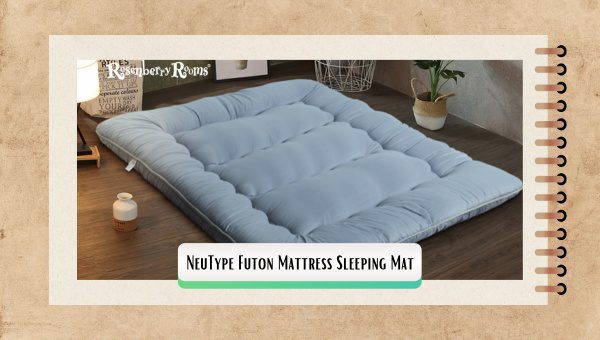 The NeuType Futon Mattress Sleeping Mat is a versatile addition to your home. Its design invites comfort, ensuring a good night's sleep anywhere and anytime. Here are its unique features:
Adjustable Sizes: The mattress is available in Twin, Full, and Queen sizes. It caters to all body types and sleeping styles.
Generous Trial Length: With a 100-day trial, NeuType allows you plenty of time to decide whether this is the mattress for you.
Thickness: At 4 inches thick, it strikes the perfect balance between firm support and cozy softness.
Weight: The mattress weighs under 230 pounds, making it easily portable across rooms.
Supportive Comfort: Back and stomach sleepers who weigh over 130 pounds can sink into its welcoming surface. It offers enough support to align your spine correctly while providing comfort.
Folding Foam Bed by Futon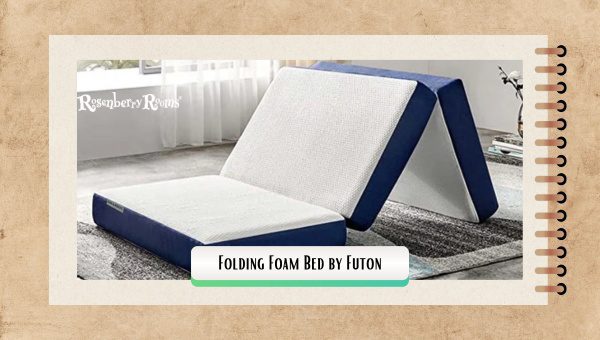 The Folding Foam Bed by Futon is the essence of practical luxury. This haven made out of foam weary eyes yearn for has some stand-out features:
Smooth foldability: This feature makes it a perfect choice for those less spacious rooms or sudden guest scenarios. It opens up into a comfy mat in seconds.
Ultra-comfortable: It's plush and inviting and guarantees an excellent night's sleep with its high-quality foam filling.
Portable: Its lightweight nature makes it ideal for quick storage or transport needs. It is especially beneficial when camping becomes a spontaneous adventure!
Dust Mite Resistant: Say goodbye to sneezy nights! This mattress fends off dust mites, ensuring you a peaceful sleeping environment.
So be ready to bid farewell to restless nights with this floor mattress that perfectly marries practicality with plush comfort!
Willpo Memory Foam Camping Mattress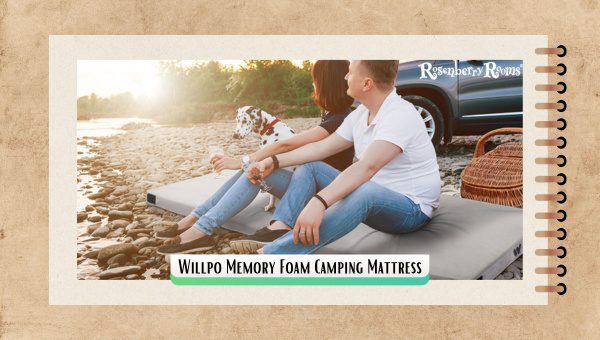 Do you love camping but dislike the discomfort that comes with sleeping on a hard surface? The Willpo Memory Foam Camping Mattress is here to change your camping game!
Material: This camping mattress has a core of memory foam that provides excellent cushioning and support, allowing for a carefree slumber under the stars.
Portable Design: It's incredibly compact when rolled up, making transportation a breeze when traveling to your favorite outdoor location — or even for storing away at home.
Multi-purpose: Beyond just camping, you can use it for overnight guests, yoga, or outdoor activities. Diversity in use is one of its salient features.
Long-Lasting Comfort: This mattress ensures lasting comfort because the high-density memory foam does not lose its shape over time.
In the world of camping mattresses, Willpo stands out with its durable quality and ease of transport. Enjoy your upcoming adventures while resting comfortably on this reliable floor mattress!
BetterHabitat SleepReady Portable Floor Mattress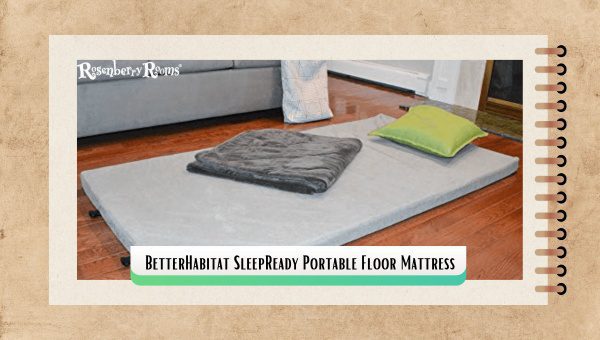 Are you in search of a premium quality floor mattress that delivers comfort without compromising durability? We present to you the BetterHabitat SleepReady Portable Floor Mattress!
Easy Setup: Roll this mattress out, and voila! It's SleepReady in seconds.
High-Quality Material: Constructed using CertiPUR-US Memory Foam, it's guaranteed to provide a comfortable sleep surface that molds to your body shape while providing ample support.
Water-Resistant Cover: It comes with a water-resistant cover that's simple to remove and wash — hygiene-sorted!
Astonishing Sizes: Available in both single (75" x 25" x 3") and twin (75" x 36" x 3") sizes. This gives you plenty of options to select according to your needs.
With BetterHabitat's SleepReady Portable Floor Mattress, you're choosing a complete package of comfort, convenience, and cleanliness. So why not take a step towards better sleep today?
Key Points for Choosing a Floor Mattress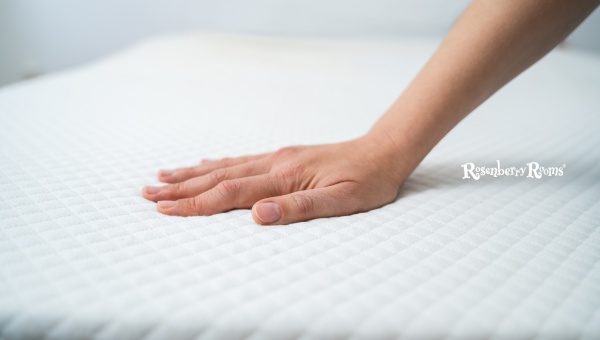 We all understand that a good night's sleep is critical for maintaining our overall health, mental alertness, and mood balance. One of the essential elements influencing the quality of our sleep is the mattress on which we rest.
Specifically, if you're considering a versatile floor mattress, there are several crucial factors to consider before making your decision. This guiding light will help you navigate your buying journey.
Size: The mattress's size should be apt for your room space. It needs to accommodate anyone who might use it while also being easy to store.
Thickness: Mattresses come in various thicknesses, but generally, thicker ones tend to be more comfortable as they provide better support to your body.
Material: Different materials provide different comfort levels. Common materials include memory foam, polyurethane foam (PU), and latex foam. Your choice here depends on personal preference.
Firmness: The firmness should align with your sleeping position preference; side sleepers usually prefer softer mattresses, while those who sleep on their back or stomach might favour a firmer one.
Durability: Look for something durable that lasts long. High-density foams generally promise longevity.
Portability: If you intend to move it around frequently or use it for camping or travel, search for a lightweight and portable option.
Maintenance: Ease of cleaning and maintenance is essential. Look if the mattress comes with removable covers that can be machine washed.
Allergies: Those with allergies should lean towards hypoallergenic materials such as natural latex or particle foams certified against harmful substances.
Budget: Consider how much you're willing to spend without compromising comfort and quality.
User Reviews: Always glance through user reviews; first-hand experiences offer invaluable insight into product performance over time.
Return Policy: A favorable return policy offers a safety net, especially for online purchases.
Purpose: Identify whether it would be used for guests, camping, yoga sessions, or just lounging.
Temperature Regulation: Special gel-infused foams or open-cell structure foams help in maintaining body temperature.
Warranty: An extended warranty period generally indicates high confidence in product quality by manufacturers.
Compatibility: Check if the mattress is compatible with all floor types to avoid any unpleasant surprises.
Noise: Foam mattresses usually don't make noise; still, user reviews can elucidate any such issues.
Safety: Safety standards like CertiPUR-US certification can ensure low VOC emissions and the absence of harmful substances.
Trial Period: Some companies offer trial periods. This can be useful for making sure the product meets your expectations.
Odor: Most new mattresses have a mild odor that disappears after a few days of airing out.
Brand Reputation: Well-established brands are dependable and often provide better customer service and product quality.
Choosing a perfect floor mattress involves careful consideration of the points above. It's not just about having somewhere to rest but about guaranteeing you (and possibly your guests) tranquil nights and delightful mornings!
Read More: What Is The Best Mattress Size For Platform Bed In 2023?
FAQs about best floor mattress
What's the advantage of a floor mattress over a traditional one?
Floor mattresses are compact, easy to store, transportable, and versatile in use - perfect for small spaces, unexpected guests, or camping trips!
Can a floor mattress really provide the same comfort as a regular mattress?
Yes! A well-chosen floor mattress can offer comparable support and comfort. Plus, materials like memory foam even contour to your body shape.
Is it hard to clean and maintain a floor mattress?
Not at all! Many floor mattresses come with removable covers that you can toss in the washing machine.
Are there hypoallergenic floor mattresses available?
Definitely! You can find options made of hypoallergenic materials like natural latex, ideal for allergy sufferers.
Can sleeping on a floor mattress be bad for my back?
If you choose the right firmness level for your particular sleep habits plus look for good quality supportive foam, a floor mattress should not negatively affect your back.
Conclusion
Choosing the right floor mattress can be a game-changer for facilitating optimal sleep and peace of mind. With their versatility, convenience, practicality, and comfort, floor mattresses have gradually become an essential household need rather than just an accessory.
Whether you're planning a camping trip, preparing for guests, needing a cozy corner for movie nights, or looking for a portable sleeping solution - there is a floor mattress model catered to your needs!
Don't forget to examine potential options considering all the points we outlined above. Keep in mind your specific requirements in terms of size, firmness preference, budget limitations, and allergies while deciding.
Make sure to check user reviews about real-world experiences with the model you're considering. Remember that the goal here is not just to find a mattress but to find your perfect cozy retreat!