Imagine spending your night tossing and turning, unable to find the comfiest spot on your mattress. Sure, you could go out and buy an entirely new mattress, but that's a costly investment.
There's a simpler and less expensive solution: investing in the best wool mattress topper. With its unique blend of comfort and support, a wool mattress topper might be exactly what you need to transform your sleep experience.
But why wool, you may ask? For starters, wool is a natural fiber known for its outstanding durability and breathability; plus, its softness not only enhances your sleeping experience but also adds years to your old mattress's life span as well.
Not all products are curated equally, though. So, let's look at what makes one stand out among others so you can make a more informed decision for your purchase.
Are Wool Mattress Toppers really comfortable?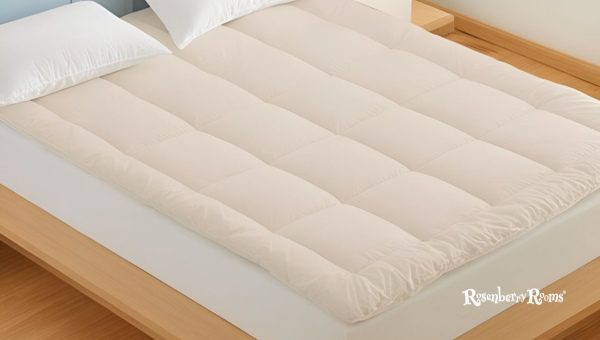 Yes, wool mattress toppers are very comfortable. They have natural temperature-regulating properties, helping you stay warm in winter and cool in summer.
Wool is hypoallergenic dust mite resistant, and it naturally wicks away moisture from your body, enhancing your sleep quality. It also cushions your body well, thus reducing pressure points while you sleep.
6 Best Wool Mattress Toppers
Wool mattress toppers offer a unique blend of comfort and support, naturally enhancing your sleep environment.
Our selection of the top six wool mattress toppers will showcase the range of options available to fit your exact needs and preferences.
Whether you're looking for hypoallergenic qualities, temperature regulation, or pressure relief, these top-notch selections promise to transform your current mattress into a dream haven.
Handmade natural Wool Mattress Topper by PlushBeds
While cracking our list as the first option, this handmade natural wool mattress topper comes with a promising 1-year warranty plus free shipping inwards – so you have one less thing to worry about.
The construction involves purely natural materials that are not only comfortable but also commitment-worthy. After all, who doesn't love an eco-friendly solution for more restful nights?
Also Read: Rumpls New Merino Wool Blanket Review 2023 [Months of Testing]
Features of this Wool Mattress
The fill involves purely virgin wool – free from any chemicals - ensuring that you're saying yes to an eco-conscious product.
You can enjoy sleeping on this soft and pressure-relieving texture, which nests you in utmost comfort.
The 3-inch loft thickness is substantial enough for decent contouring and support.
Enclosed is a 400-thread count cover, adding a lush surface feel.
The fabric used is GOTS-certified organic cotton, assuring top-of-the-line quality materials.
An advanced construction technique makes sure the temperature remains regulated all year round - no more waking up feeling too hot or cold.
The moisture-wicking quality promotes breathability and stops overheating, reducing those midnight wake-up calls.
It's naturally allergen-resistant, providing relief and protection for allergy sufferers.
With non-toxic, cruelty-free materials at play, there's the assurance given about safety in various domains.
For those with specific sensitivity issues regarding certain chemicals – rest easy knowing safe use has been confirmed for you.
The felt care in the handcrafted approach directly coming out from California is the cherry on top! You can also order custom handmade orders to address particular needs, ensuring there's a fit for everyone.
Research shows that wool bedding can improve sleep quality by maintaining a stable body temperature and managing moisture content.
Many studies indicate that wool bedding can enable people to have a longer, deeper sleep, reducing waking up during the night and thus enhancing daytime alertness and mood.
Price, Sizes, and weight
Taking into consideration all the terrific features and benefits this wool mattress topper offers, you may be wondering about the price tag that comes with it.
The Handmade Natural Wool Mattress Topper by PlushBeds ranges from $464 to $843, promising a fair value for the premium quality it delivers.
This versatile topper is available in various sizes, catering to different bed structures, including Twin, Twin XL, Full, Queen, King, and California King.
Depending on the size you select, the weight also varies respectively, ensuring justifiable consistency overall.
The beauty of this variety is that there's a perfect fit for everyone. Whether you're looking to revamp your single bed or aiming for more comfort on a king-sized haven - PlushBeds has got you covered! It's worth mentioning here that investing in a high-quality wool mattress topper like this one can extend the life of your existing mattress besides improving your sleep quality.
| Size | Dimension | Weight | Price |
| --- | --- | --- | --- |
| Twin | 38" x 75" | 12.5 lbs | $464 |
| Twin XL | 38" x 80" | 13.5 lbs | $489 |
| Full | 54" x 75" | 17 lbs | $649 |
| Queen | 60" x 80" | 20 lbs | $674 |
| King | 76" x 80" | 24.5 lbs | $843 |
| Cal King | 72" x 84" | 24 lbs | $843 |
MyMerino Wool Topper by Sleep & Beyond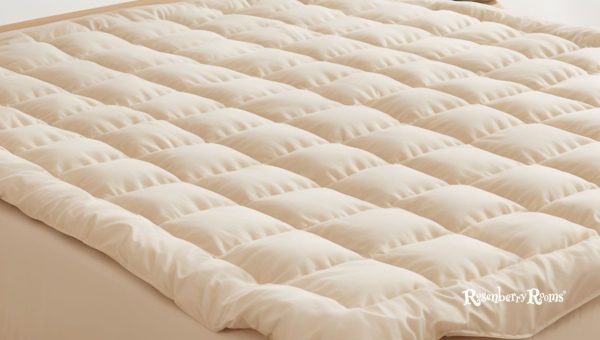 The MyMerino Wool Topper by Sleep & Beyond is a higher-end sleeping solution tailored to enhance your sleep comfort.
Nestling in the world-renowned category of organic Merino wool mattress toppers, this product boasts unbeatable quality and comfort for all types of sleepers.
Besides carrying the prestigious international certifications that reflect its superior organic manufacturing, it also features an attractive 1.5-inch thickness, which is optimal for providing a cushiony yet supportive surface to sleep on.
Key Features of MyMerino Wool Topper
This exceptional wool mattress topper comes with numerous features designed to guarantee you ultimate comfort and high-quality rest every night.
Thickness: 1.5 inches
Cover Material: Encased in 270TC certified organic cotton percale
Filling: Utilizes certified organic superfine merino wool
Comfort: Ideal for all-year-round use
Packaging: Eco-friendly, reusable cotton packaging included
Certification: Verified by 3rd party to meet leading organic industry certifications
Warranty: Backed by a 5-year manufacturer warranty
Benefits of MyMerino
The MyMerino wool topper isn't just a sumptuous addition to your bedding - it also carries incredible benefits. Let's take an in-depth look at what this premium wool mattress topper has to offer.
Ultimate Comfort: With its 1.5-inch thickness and plush top, the MyMerino topper excels in delivering ultimate comfort that transforms your sleep experience by molding it perfectly to your body.
Effective Pressure Point Relief: Best for side sleepers or anyone suffering from joint pains, this topper is designed for optimal pressure redistribution, easing any discomfort in areas like shoulders, hips or spine.
Organic Merino Wool: Lauding a filling made from superb organic Merino wool means you're sleeping on a surface that's not only environmentally friendly but also gentle on the skin - triggering no allergies or problems associated with synthetic fibers.
Superior Temperature Regulation: Natural merino wool has an intrinsic temperature-regulating ability, meaning it can keep you warm during cold winter nights and cool during hot summer nights, leading to restful sleep all year round.
Ideal for Allergy Sufferers: Wool is resistant to mold, mildew, and dust mites - common triggers for allergies. Thus, allergy sufferers can rest assured (literally and figuratively) that they will have a comfortable night's sleep, concluding with waking up restful and refreshed.
Helpful for Arthritis and Fibromyalgia Patients: The pressure-relieving abilities of the MyMerino topper can significantly ease the pain and discomfort associated with conditions like arthritis and fibromyalgia.
Efficient Moisture Wicking: The natural composition of merino wool includes fantastic moisture-wicking capabilities. This feature helps maintain a dry sleeping environment even if one tends to sweat throughout the night.
Long-lasting Durability: With proper care, this topper promises exceptional durability, lasting for years without thinning out or losing its cozy feel.
Wool Excels in Bedding: Wool has established its place in the bedding industry due to its amazing qualities, from providing unparalleled comfort to improved sleep. Hence, the MyMerino topper stands out as an excellent investment for any bedroom.
With a MyMerino wool mattress topper, you're investing in better sleep quality. Its monumental benefits guarantee a perfect fusion of luxury and functionality that will elevate your sleep experience.
Price and Size MyMerino Wool mattress
The MyMerino Wool Topper by Sleep & Beyond is available in various sizes, catering to different bed specifications accommodating everyone from a single sleeper to a family-sized setup.
With prices that range from $299 to $369, you're sure to find a size that perfectly matches your needs—be it twin, twin XL, full, queen, king or California king.
Tailored not only for comfort but also for the highest quality standards, the price reflects the value received in a superior sleep experience beyond compare—a timeless investment for your restful nights and bright mornings.
| Size | Price | Dimensions |
| --- | --- | --- |
| Twin | $299 | 39x76in |
| Twin XL | $309 | 39x81in |
| Full | $319 | 54x76in |
| Queen | $339 | 60x80in |
| King | $369 | 76x80in |
| Cal King | $369 | 72x84in |
Wooly 3" Organic Wool Mattress Topper by Naturepedic
Are you often restrained in your sleep due to discomfort or temperature changes? Consider a solution from Naturepedic, their popular product: the Wooly 3" Organic Wool Mattress Topper.
Designed with satisfaction in mind, this topper offers a luxurious sleep experience that will likely exceed your expectations.
This mattress topper combines organic materials and innovative design features aimed at enhancing your comfort throughout the night, every night.
Key Features and Benefits
The key features include:
Luxurious 300TC Organic Cotton Fabric: This high thread count fabric gives the topper a silky touch that's soft against your skin. Organic cotton is cultivated without harmful pesticides or other chemicals, ensuring you are not exposed to potential allergens while you sleep.
Soft and Fluffy Pillowtop Feel: Naturepedic took time to ensure their wool mattress topper had a fluffy appeal, similar to a pillow-top mattress. This feature can transform your firm mattress into one that is softer, offering more comfort by relieving pressure points and adding plushness.
Moisture-Wicking Capability: One standout feature of this wool mattress topper is its ability to wick away moisture. It helps keep you dry throughout the night, even if you are someone who tends to sweat during sleep.
Temperature Regulation: Made of wool, this material naturally adapts according to body temperatures, ensuring an agreeable sleeping environment all year round. It retains heat when it's cold and dispels it when temperatures rise.
Free from Harmful Chemicals: Naturepedic ensures that all its products, including the Wooly 3" Organic Wool Mattress Topper, do not contain any harmful chemicals. You can rest easy knowing that the product touching your skin for hours each night doesn't have any toxic constituents.
The Wooly 3" Organic Wool Mattress Topper offers benefits that extend beyond just your direct sleeping experience.
The absence of synthetic fibers and chemicals contributes to a more sustainable and eco-friendly product. In addition, it comes with a specialized design to distribute your body weight evenly across the mattress.
Sizing and Pricing
When investing in a mattress topper of this caliber, it is essential to ensure that it fits your bed's dimensions correctly.
Thanks to Naturepedic's commitment to catering to a wide range of customers, the Wooly 3" Organic Wool Mattress Topper is available in multiple sizes—from Twin to California King.
So whether you've got a single bed or you're sharing an ample space, there's an option that suits your needs.
With prices ranging from $749 for smaller sizes to $1,199 for larger variations, this mattress topper might initially seem like a significant investment.
When considering its durability, the luxurious comfort it offers, and the organic materials used in its construction—it seems more like a wise investment made in favor of better sleep and overall well-being.
| Size | Price | Size (inches) |
| --- | --- | --- |
| Twin | $749 | 38" x 75" x 3" |
| Twin XL | $799 | 38" x 80" x 3" |
| Full | $899 | 53" x 75" x 3" |
| Queen | $999 | 60" x 80" x 3" |
| King | $1,199 | 76" x 80" x 3" |
| Cal King | $1,199 | 72" x 84" x 3" |
MyTopper Wool Topper by Sleep and Beyond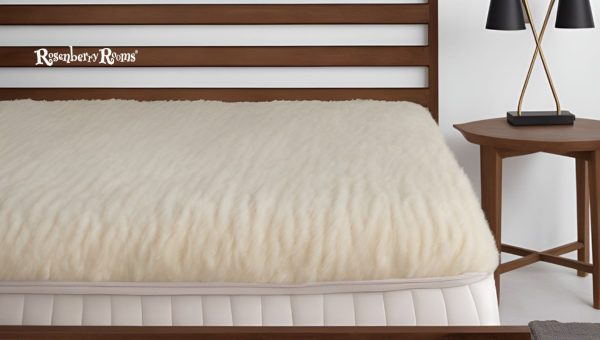 Imagine being cradled to sleep by a bedding solution that doesn't just promise comfort but delivers it- all year round! Allow us to introduce MyTopper Wool Topper by Sleep and Beyond.
Crafted highly consciously, this topper not only amplifies your overall sleep experience but simultaneously takes great care of your health.
the Benefits of MyTopper Wool Topper
Dive beneath the sheets of comfort with this plush mattress topper. It stands tall with a 1.5" loft filled with 100% washable wool, enveloped in natural cotton percale—a perfect blend of superior comfort and durability.
Year-Round Comfort: Gift yourself the ease of comfort at any time of the year. This magical mattress topper keeps you warm amidst winter chills and cool during the summer heat. Say goodbye to seasonal mattress hassles!
Unparalleled Durability: The durability that comes with proper care is representative of a worthwhile investment you make for healthful slumbers.
Shropshire Wool: The use of Shropshire wool adds a plush vibe to the surface. This wool variety is ethically sourced from sheep bred in the U.K. and is known for its healthy curls and minimal piling ability—ensuring longevity despite regular use.
Pressure Relief: Turning into various positions throughout the night can cause discomfort or lead to pressure points on your body. These soft waves cushion your body efficiently, resulting in better pain-free sleep.
Dry & Comfortable Environment: The breathability aspect aids in maintaining a dry and comfy sleep environment. It's capable of wicking away moisture naturally, allowing air flow techniques that regulate temperature - giving you luxury-wrapped slumbers!
Outperforming Other Bedding Fibers: Thanks to every thoroughly thought detail from materials to design, MyTopper indeed outperforms other bedding fibers. Its easy-to-clean nature and resilience against regular use make it a standout choice.
Beyond the fascinating benefits, the MyTopper inculcates another noteworthy feature – it's washable! This makes maintaining hygiene a breeze, enabling you to enjoy clean and fresh bedding every time. Plus, its natural dust mite resistance properties contribute to an allergy-free sleeping environment.
Standout Features of MyTopper
Just as a coin has two sides, so does our splendid MyTopper Wool Topper by Sleep and Beyond. You've caught a glimpse of its stunning benefits already; it's time to flip the coin and explore its impressive features that offer you an unparalleled bedtime experience every night.
The unique set of specifications it brings specializes in delivering the much-needed reinvention your sleep routine needs.
Superior Loft: With a thickness standing at 1.5", MyTopper promises plush comfort that follows your body's contours. This perfect loft bears testament to the cushiony softness that awaits to cradle you into sweet slumbers.
Machine Washable: Ease of maintenance is what most users seek while opting for bedding solutions. In this aspect, MyTopper takes an edge with its machine-washability. You can easily keep it clean and fresh without any professional help.
High-Quality Material: Quality speaks through the materials and craftsmanship involved, and that's where 100% washable wool filling makes all the difference. This particular feature ensures exceptional thermal regulation while promoting sole hygiene by being easily washable.
Natural Cotton Percale Cover: Cocooning each wool fiber is a 270TC pure cotton percale cover, adding another layer of comfort to your mattress. This natural cover promotes breathability for those warm nights while remaining gentle against your skin.
Eco-Conscious Packaging: The eco-friendly reusable packaging it comes with upholds the brand's commitment to creating a greener planet, reaffirming its dedication to sustainability.
Assured Longevity: Lastly, nothing encourages trust more than a solid assurance of longevity; hence, Sleep & Beyond offers a 5-year manufacturer warranty on MyTopper!
MyTopper goes way beyond regular bedding essentials. It eliminates the fuss about caring for it while ensuring consistent performance with a long-lasting lifespan.
The decision to incorporate the MyTopper Wool Topper into your daily sleep routine is a step closer to experiencing comfort and tranquility like never before.
Choosing the Perfect MyTopper Size, price, and weight
Everyone has a unique set of preferences when it comes to choosing the right bedding. The size, price, and weight of your topper play a major role in decision-making, especially when you're seeking something that aligns ideally with both your bed size and budget.
With MyTopper Wool Toppers by Sleep and Beyond, the brand's thoughtful range caters to every budget bracket ranging from $139 to $329. Not only does it help you invest without feeling a pinch, but it also offers various size options so you can find your perfect fit!
Insert your sizing chart here to help readers make a more informed purchase decision. A little tip: Don't forget to consider the weight as well - choose according to your convenience for handling and maintaining it.
| Size | Price | Weight | Dimensions |
| --- | --- | --- | --- |
| Crib | $139 | 2.5 lbs | 28x52 inches |
| Twin | $249 | 5 lbs | 39x76 inches |
| Twin XL | $259 | 5 lbs | 39x76 inches |
| Full | $279 | 6 lbs | 54x76 inches |
| Queen | $299 | 8 lbs | 60x80 inches |
| King | $329 | 10.5 lbs | 76x80 inches |
| Cal King | $329 | 11.5 lbs | 72x84 inches |
Alpaca Wool Mattress Toppers by Avocado
Alpaca Wool Mattress Toppers by Avocado is a dreamy addition to your bed. The topper is filled with 100% natural Alpaca wool, appreciated for its lightness, softness, and superior insulating properties.
You'll be rewarded with a comfortable sleep no matter the weather - enabling warmth in winter and coolness in summer.
This mattress topper boasts not just an organic wool component but also a layer of crisp, breathable organic cotton for additional comfort and durability. It effortlessly stays comfortably in place and provides an additional layer of luxury to your mattress.
The Alpaca Wool Mattress Topper by Avocado has earned the prestigious Global Organic Textile Standard (GOTS) certification. These standards guarantee that every stage of production, from harvesting raw materials to packaging the final product, meets strict environmental and social criteria.
By choosing this mattress topper, you're not only improving your sleep but also endorsing sustainable products that are thoughtfully crafted and ethically made. Moreover, adding this layer atop your mattress can significantly boost its lifespan, saving you money in the long run.
Explore More: Do You Need A Mattress Protector In 2023? [Factors To Consider]
Size and price of Alpaca Wool Mattress
Choosing the right size for your Alpaca Wool Mattress Topper by Avocado is crucial to enjoying its full benefits.
Avocado offers a variety of sizes to suit every need, whether you have a compact single bed or a spacious King or Cal King.
The prices for these luxurious mattress toppers range from $549 to $999, making this addition to your bedtime an investment in your comfort and well-being. You truly can't put a price tag on a good night's sleep!
| Section | Size | Price |
| --- | --- | --- |
| Twin | 38" x 75" | $549 |
| Twin XL | 38" x 80" | $609 |
| Full | 54" x 75" | $719 |
| Queen | 60" x 80" | $829 |
| King | 76" x 80" | $999 |
| California King | 72" x 84" | $999 |
MyWoolly Latex Mattress Topper from Sleep & Beyond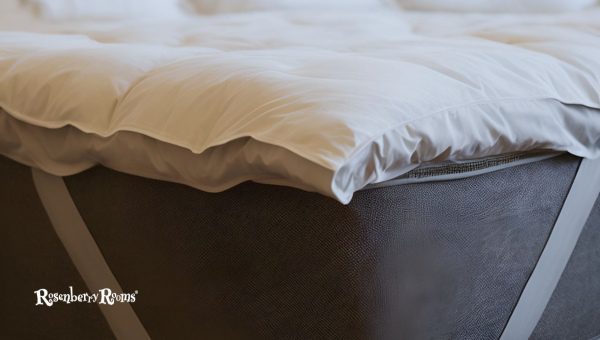 The MyWoolly Latex Topper from Sleep & Beyond redefines your sleep experience. This 3-inch topper, crafted from 100% natural wool and latex, snugly fits onto your existing mattress, instantly adding comfort and support.
With a focus on ecologically friendly materials and production methods, MyWoolly is Oeko-Tex certified, assuring you of its high quality and safety standards.
Main Aspects:
Composition: The topper uses 100% natural wool and latex fillings.
Certification: It is Oeko-Tex certified, demonstrating eco-friendly manufacturing standards.
Category: This product falls under MYBEDDING's range of mattress pads and toppers.
Additional Features:
The filling includes top-grade Shropshire wool fibers combined with natural latex noodles, ensuring the utmost comfort.
The MyWoolly topper features a 270-thread-count cotton percale cover that's also made from all-natural materials for ultimate breathability.
Its distinctive design not only provides comfortable sleeping conditions but also ensures durability with its unique hand-tufting method.
With the MyWoolly Mattress Topper, you can enjoy enhanced sleep quality in an ecologically responsible package that aligns with modern lifestyle demands.
Benefits of the MyWoolly Latex Topper
Sleeping soundly is about more than just a comfy bed; it's about creating an environment that supports your health and well-being. Here's how the MyWoolly Latex Topper accomplishes these:
Hypoallergenic: One of the top benefits of this topper is that it's suitable for those with chemical sensitivities and allergies. It doesn't contain synthetic fibers that can trigger allergy symptoms, making it an excellent choice for sufferers.
Four Season Comfort: The unique blend of wool and latex delivers year-round comfort. No matter the weather outside, this topper helps regulate your body temperature, keeping you cozy in winter and cool during summer.
Moisture-Wicking: Unlike synthetic materials that trap moisture, causing discomfort or coldness during sleep, the MyWoolly topper has natural moisture-wicking properties. You don't have to worry about night sweats disrupting your slumber; this mattress will keep you comfortably dry.
Reduced Motion Disruption: Have you ever been woken up by a restless partner? This topper reduces motion transfer on the bed's surface, which translates into less tossing and turning throughout the night.
Pressure Point Relief: This topper has been designed with your body in mind - offering relief for pressure points by perfectly molding to your unique body shape as you sleep. This leads to each part of your body receiving balanced support while alleviating common causes of pain and discomfort.
Natural Comfort: The MyWoolly topper utilizes superior Shropshire wool fibers paired with latex noodles that conform to your body's contours, providing a comfortable sleep surface.
The MyWoolly Latex Topper by Sleep & Beyond goes beyond providing a simple comfort upgrade. Its thoughtful design brings together the durability of latex with the natural insulating, hypoallergenic, and moisture-wicking properties of wool. This combination results in a product that takes into account your health and comfort all year round.
Feature of the MyWoolly Latex Topper
A wool mattress topper is a fantastic way to add luxury and comfort to your bed, and the MyWoolly Latex Topper by Sleep & Beyond offers more than just that. This high-quality item is more than just a mattress cover; it's an investment in your sleep health.
Coupled with an intriguing mix of innovative features and carefully thought-out design, the MyWoolly Latex Topper provides exceptional sleep comfort while maintaining its commitment to eco-conscious production.
It boasts a 3-inch loft providing ultimate sleeping comfort. Imagine sinking into a plush, comfortable surface every night as you drift away into dreamland.
The fill is constituted by 4000gsm Shropshire wool batting and natural latex noodles for optimal cushioning. This particular blend offers improved body support while maintaining breathability for a cool, relaxed sleep.
Unique layered fill: This feature provides specialized loftiness at the top, middle, and bottom parts of the mattress, ensuring every area is complemented with specific GSM (grams per square meter) and materials required for superior comfort.
You'll absolutely adore being wrapped in its 100% natural 270 thread count cotton percale cover, delivering smoothness against your skin that enhances your overall sleeping experience.
Along with superior quality production comes ethical consciousness. Every MyWoolly Latex Topper you purchase has been ethically and eco-consciously produced, enabling you to make responsible choices as a consumer.
Rest assured in knowing there are no harmful emissions in production, proving it's not just about making quality products but also considering their environmental impact.
Keeping convenience in mind, elastic straps are included to ensure a secure fit onto any mattress. No worries about constant adjustments; once fitted it stays put!
The bordering details add another level of delight. With its 100% hand-tufted, five-inch border, you're getting an element of craftsmanship that's rare in today's market.
Even the shipping is eco-friendly! The topper is sent to you via vacuum-pressed shipping, which reduces environmental impact.
Last but not least, the MyWoolly Latex Topper comes backed with a 5-year warranty for your peace of mind.
Couple these features with benefits such as pressure relief, improved sleep quality, and luxurious comfort, and you have an exceptional mattress topper right at your fingertips.
It's time to change the way you sleep with a MyWoolly Latex Topper. Its unique family-friendly materials and distinctive comfort style make this topper a worthy investment for any household.
Price and size
When it comes to price and size, the MyWoolly Latex Topper by Sleep & Beyond offers a wide range. The prices run from $449 to $699, ensuring there's an option that suits every budget.
No matter if you're looking for a twin or California king size, the MyWoolly Latex Topper caters to all! Plus, with its exceptional build quality and luxurious sleeping experience, this mattress topper offers great value.
Not only that, but these mattress toppers are also notably durable - a true long-term investment for your comfort.
| Section | Size | Price |
| --- | --- | --- |
| Twin | 39x76in | $449 |
| Twin XL | 39x81in | $489 |
| Full | 54x76in | $549 |
| Queen | 60x80in | $599 |
| King | 76x80in | $699 |
| Cal King | 72x84in | $699 |
Read More: Best Time To Buy A Sleep Number Bed In 2023
FAQs about the best wool mattress topper
What's the main benefit of a wool mattress topper?
A wool mattress topper offers exceptional comfort while enhancing your mattress's durability. Its natural temperature-regulation properties make it ideal for use all year long.
Can a wool mattress topper help with allergies?
Yes, wool is hypoallergenic, repelling dust mites and bacteria, which makes it an excellent choice for allergy sufferers.
Do wool mattress toppers get hot in summer?
No, wool is known for its breathability and ability to wick away moisture, ensuring you stay cool in the summer and warm in the winter.
How often should I replace my wool mattress topper?
If cared for properly, a high-quality wool mattress topper can last up to 10 years before needing replacement.
Is a wool mattress topper easy to clean?
Most wool mattress toppers can be spot-cleaned easily and are typically resistant to stains and odors due to their natural properties.
Conclusion
Selecting the best wool mattress topper can turn your bed into a haven of comfort while serving a vital role in upgrading your sleep quality. Its temperature-regulating abilities, along with the luxurious softness and increased lifespan for your mattress, make this investment an all-around win.
So, go ahead and let the power of nature enhance your sleep, granting you the rejuvenation you need for an active day ahead.