Are you redecorating or thinking about sprucing up your living space? Choosing the right color can be overwhelming with everything on the market.
Yes, you might consider bold colors, but they can quickly go out of style. Instead, why not consider gray greige paint colors? They give your home a timeless appeal and create a warm and cozy atmosphere.
Considered by many as the best gray greige paint colors, these shades are known for their unique ability to blend with almost anything.
Whether it's your sleek modern furniture or antique decorative pieces, gray greige has a special way of pulling everything together nicely. Plus, this hue is incredibly versatile, fitting into any room regardless of style or purpose.
What are Gray Greige Paint Colors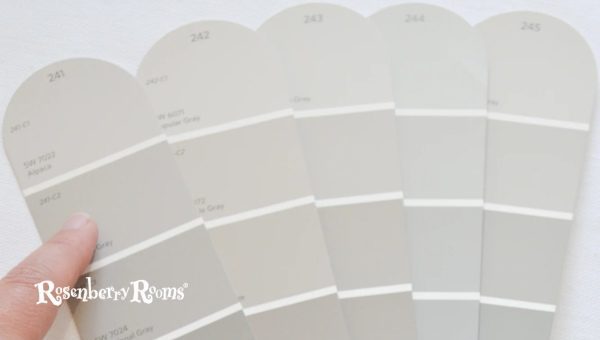 Gray Greige paint colors are popular, versatile hues combining the best gray and beige shades. Greige can range from lighter to darker tones, allowing for a broad spectrum of use in interior design.
It exhibits the soothing and neutral characteristics of gray with the warm, natural undertones of beige. This makes it ideal for those seeking a soft, welcoming color that correlates with almost any decor.
Being a hybrid color, Gray Greige is an excellent option for any room as it can complement a variety of color schemes and styles. This blend creates a rich, modern feel that adds elegance to any space.
Why Did You Choose Gray Greige Paint Colors?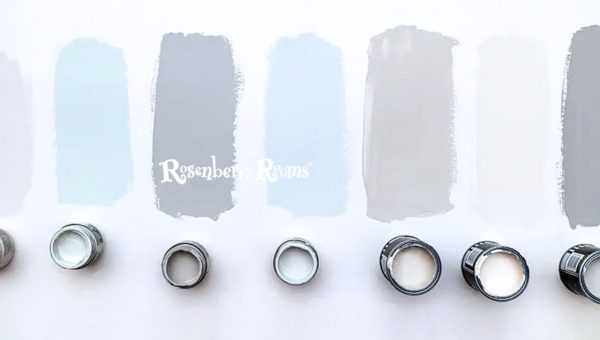 Gray Greige paint colors are a versatile choice for a few reasons. Firstly, they perfectly compromise between warm and cool tones, depending on whether they skew more towards gray or beige.
The subtle, warm undertones create a serene and inviting environment, while the gray offers a modern and sophisticated touch.
Secondly, Greige is highly adaptable to different lighting conditions – appearing more gray in natural light while leaning towards beige in artificial lighting. This makes it suitable for spaces with varying light levels throughout the day.
Thirdly, Greige colors blend seamlessly with most color palettes and materials, complementing contemporary and traditional styles. Therefore, choosing Gray Greige paint colors adds an element of sophistication while ensuring flexibility in design.
24 Best Gray Greige Paint Colors In 2023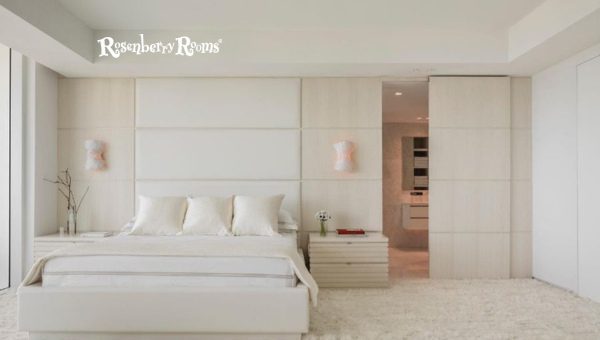 Nothing adds life and personality to your rooms like a splash of color. When choosing paint, the possibilities seem endless. Yet, among the many hues, gray greige stands out for its elegance and flexibility. Let's explore some of the best gray greige paint colors available.
Sherwin Williams Colonnade Gray 7641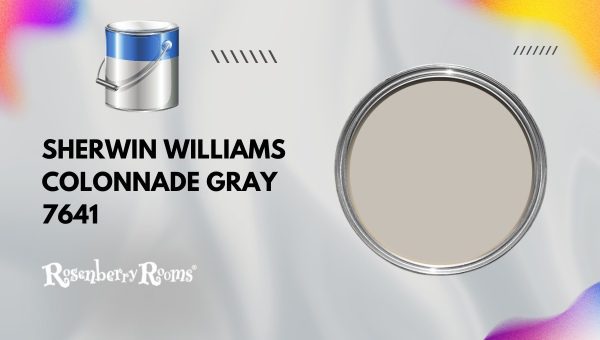 Sherwin Williams Colonnade Gray 7641 is a warm gray greige paint color that walks the line ideally between gray and beige. It shines in contemporary as well as traditional spaces.
Its Light Reflectance Value (LRV) is 53, reflecting moderate light, making your rooms feel more spacious yet cozy. Its warm undertones keep your space from looking too cold, especially in areas with less natural light.
Kitchens, living rooms, or bedrooms painted with Colonnade Gray 7641 wonderfully pair with white trims or dark wood furniture, creating an elegant ambiance.
Paired with cool blues or greens, it stands out and exhibits its warmer side. On the other hand, pairing it with darker greiges can truly bring out its lighter aspect.
Benjamin Moore Classic Gray OC-23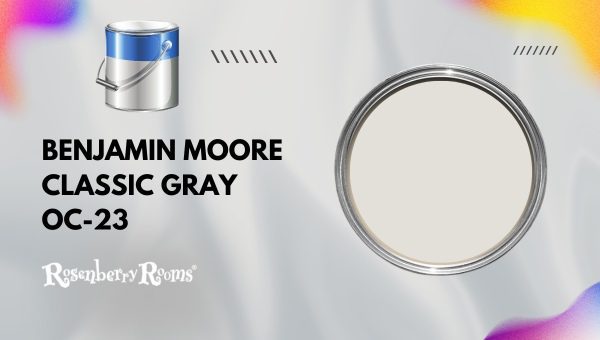 If you're a fan of lighter shades of gray greige, the Benjamin Moore Classic Gray OC-23 will surely win your heart. Its LRV is around 73.67 - quite high compared to other shades - reflecting more light and giving an illusion of openness.
Classic Gray OC-23's warm undertones add a cheerful yet calm vibe to your living space. It holds just enough punch to make it not too stark but not murky.
This shade goes well in almost every room due to its versatile nature. You can pair it with pure white trims for a chic and modern aesthetic or blend it with wood textures for a rustic charm.
Whether used in personal spaces like bedrooms or social areas like dining rooms and living rooms - Benjamin Moore Classic Gray OC-23 sets the classic and timeless mood.
Also Read About Sherwin Williams Eider White SW 7014 [Paint Color Review]
Sherwin Williams Mindful Gray 7016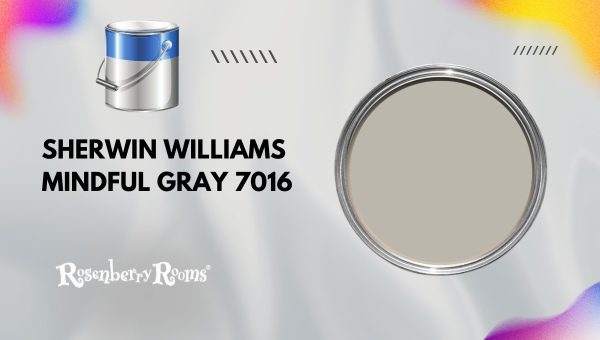 Sherwin Williams Mindful Gray 7016 is a coveted gray greige that leans more towards the gray end, straddling the fine line between cool and warm shades.
While the undertones are warmer, it doesn't appear too beige. This paint color slots into neutral territory, making it a great choice for interiors.
The Light Reflectance Value (LRV) is around 48, denoting that this color is in the mid-light range. Therefore, your rooms will feel brighter and more open/homely without starkness.
Mindful Gray 7016 has a poised elegance that goes well within a sundry of spaces - your kitchen, living room, or bedroom. Paired with white trims or wainscoting invokes an inviting warmth, standing out impressively against colder elements such as steel appliances or concrete countertops.
Benjamin Moore Pale Oak OC-20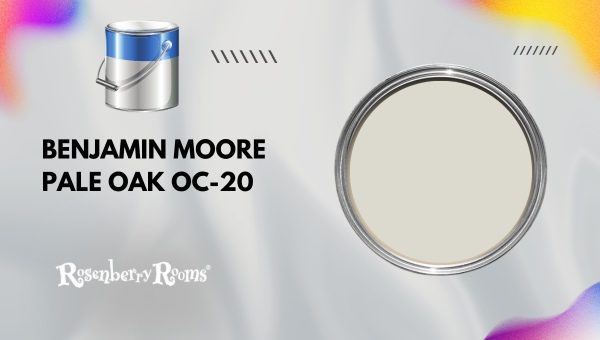 A lighter approach to gray greige paint colors is proudly represented by Benjamin Moore's Pale Oak OC-20. Primarily leaning on the beige side while infused with cool gray undertones makes it look incredibly calm and sophisticated.
It is an excellent choice for those who prefer soothing hues but want bolder character than off-white colors offer.
Its light reflectance value (LRV) stands at 68.64 – quite high, translating into substantial light reflection, resulting in an illuminated space especially conducive to smaller apartments/rooms where you'd like an appearance of square footage.
Pale Oak OC-20 is universally good for almost all rooms and styles – modern kitchens with stainless steel appliances and darker cabinets, more traditional living areas with antique accessories, or even cozy bedrooms lending to a relaxing oasis in your home.
Sherwin Williams Silverplate SW 7649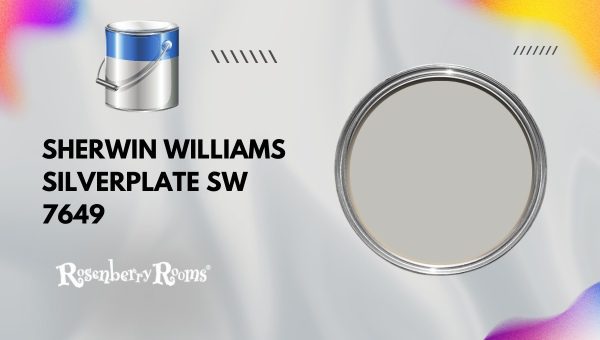 Delve into the perfect cool and light gray blend, Sherwin Williams Silverplate SW 7649. This shade of greige carries a unique character that adds depth to your interiors. With an LRV of 53, it balances light and dark hues, showcasing a predominantly gray tone with a touch of beige undertones.
Pairing beautifully with warm and cool hues, this versatile color can grace any room in your home. If you're aiming for modern elegance, couple Silverplate with pure white trims or navy blue accents. For a rustic look, harmonize it with warm wooden textures.
While it maintains its integrity across various lighting conditions, it takes on a lighter visage in areas with ample natural lighting. Conversely, this color leans more toward its deeper gray tones in spaces illuminated by artificial lights or dim sunshine.
Sherwin Williams Pavestone SW 7642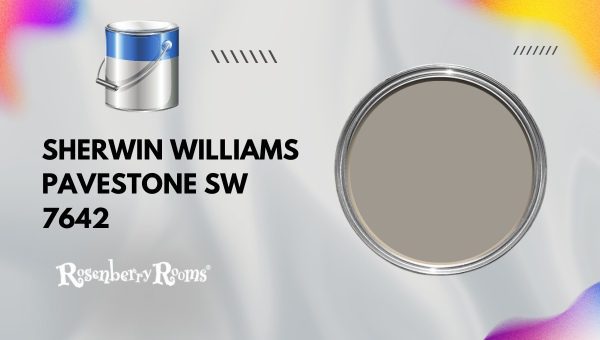 Embrace natural beauty paired with refined sophistication by choosing Sherwin Williams Pavestone SW 7642. This greige shade connects gracefully to the earthy tones of stone and soil. Its moderately high LRV of 32 means that while it still reflects a considerable amount of light, it's also rich and welcoming.
Pavestone savors its warmer side but never forgets its gray roots. Spaces that receive lots of natural sunlight see this color bloom into an inviting beige-like hue, while artificially lit spaces reveal a cozier gray undertone.
Blending gracefully with darker wood finishes and crisp whites, Pavestone brings out the best in traditional-style decorations and modern designs.
Adding Pavestone to your kitchen or living room walls can create an inviting aura where warmth and sophistication combine to welcome everyone who steps in.
Sherwin Williams Dorian Gray SW 7017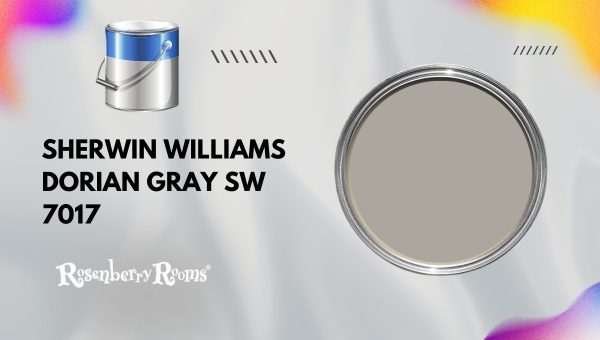 Are you looking for a paint color that is strong but not overwhelming? Sherwin Williams Dorian Gray SW 7017 could be your perfect match.
It's a medium-dark gray paint color with slight green undertones, making it rather soothing. This earthy shade has an LRV of 39, which means it absorbs light, giving any room a cozy vibe.
Dorian Gray is best paired with white trim or accents to contrast and highlight its sophisticated depth. Use it in rooms with abundant natural light to keep the environment bright despite the darker tone.
Try it on your living room walls for a warm and earthly atmosphere, or use it as an exterior color for timeless curb appeal.
Sherwin Williams Repose Gray SW 7015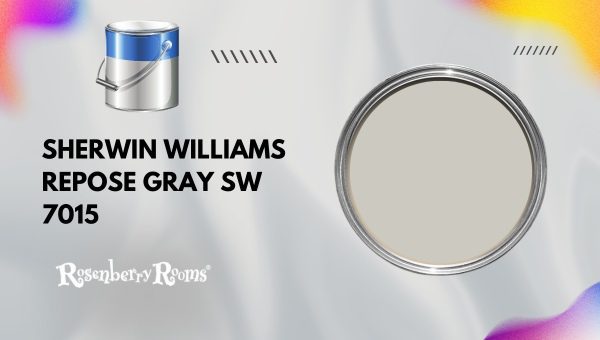 In contrast, Sherwin Williams Repose Gray SW 7015 is a light to medium tone of gray greige that leans more towards gray with subtle brown undertones. Its LRV of around 58 strikes an ideal balance between creating mood and reflecting adequate light.
Repose Gray is a transformative paint color that changes subtly depending on the time of day and lighting conditions; one moment might appear more gray, while the warm beige undertone shines through at another time.
It can be used in high-traffic areas such as hallways and kitchens where durability is key. Pair it with cool whites or light oak for a stylish blend. Its brilliant appearance could also create an airy, tranquil atmosphere in bedrooms or bathrooms.
Benjamin Moore Balboa Mist OC-27
If you seek a fresh and calm color for your walls, then Benjamin Moore's Balboa Mist OC-27 is your best bet. With a high light reflectance value (LRV) of about 65.53, this paint reflects more light and inspires an airy ambiance in any room.
Balboa Mist OC-27 flaunts the perfect blend of gray and greige. Beige undertones prevent it from being a pure gray while adding a slightly cool hue stops it from seeming too warm. This unique equilibrium allows it to work well in multiple lighting atmospheres.
The flexibility of Balboa Mist OC-27 allows you to use it in any part of your house—think living rooms with large windows, cozy kitchens, home offices, or even bedrooms that yearn for tranquility.
Pair this sophisticated shade with crisp white trims or boldly with black accents for drama. It works harmoniously with natural wood tones as much as metallic finishes.
Explore More: Benjamin Moore Kendall Charcoal HC-166 [Paint Color Review]
Behr Tranquil Gray DC-007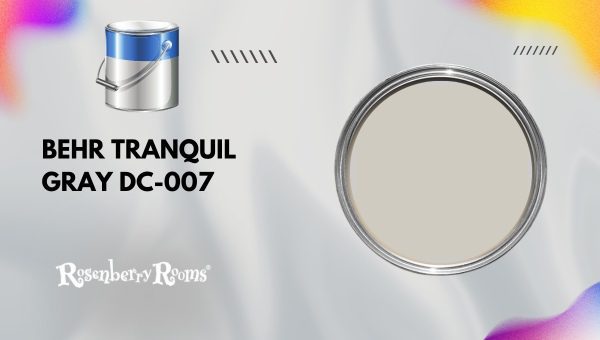 For those seeking subtleness with depth, Behr Tranquil Gray DC-007 serves as an excellent choice. It may be described as "tranquil" for its soothing properties - but don't be mistaken; this shade has character!
While some grays can appear rather cold or stark, Tranquil Gray breaks away from that stereotype by introducing soft beige undertones beach into its mix, resulting in a warmer outcome—a greige! The LRV is 60; therefore, while classified as gray greige paint color – it's pretty comfortable within various schemes.
Tranquil Gray is peaceful and dynamic, whether paired against white cabinetry in kitchens or comfortable furniture in living rooms. If rustics or industrial styles are your trends - this color compliments bare brick walls and raw wood with uncanny ease.
The understated elegance of Behr Tranquil Gray DC-007 enables you to incorporate it into many design themes.
Its understated warmth, yet grey sophistication, allows it to star as the main color or play the perfect supporting role amidst more vibrant hues. This paint offers a blanket of tranquility, aptly named and delivered!
Sherwin-Williams Alpaca 7022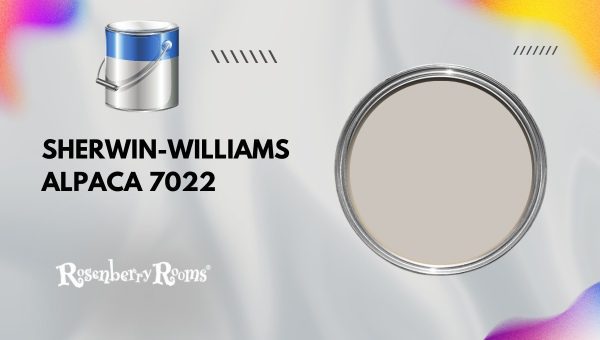 Sherwin-Williams Alpaca 7022 gracefully captures the essential elements of gray greige, embodying a serene balance between gray and beige.
It has a Light Reflectance Value (LRV) 57, meaning it softly reflects light, creating a vibrant yet relaxing ambiance.
Alpaca offers a warm and natural vibe, making it popular among designers. Ideal for your bedroom or living room, this paint color can create an inviting space where you can unwind after a long day.
This versatile neutrality of Alpaca complements various colors and décor styles. It pairs well with lighter hues and wooden textures, enhancing the room's overall design without overpowering.
Alpaca sets off beautifully against crisp white trims or accessories. Try pairing it with Sherwin-Williams Pure White for a modern aesthetic appeal or with Sherwin-Williams Tricorn Black for dramatic contrast.
Valspar Cadet Gray 4001-2A
Valspar Cadet Gray 4001-2A is another magnificent choice in gray greige paint colors. It presents a warm middle ground between gray and beige with an LRV of 23.485 - striking an excellent balance between light reflection and depth.
What sets Cadet Gray apart is its soft, unassuming nature that adds charm to any space without being overbearing. Whether it's your bedroom or living room, it can grant an air of peacefulness and sophistication.
Cadet Gray beautifully enhances rustic designs; imagine it enveloping your reading nook laden with comfy throws or accentuating antique furniture in your parlor.
If you want to give your rooms an extra character boost, pair Cadet Gray with vibrant purples or blues, or go for monochromatic décor by combining different shades within the same color family.
Sherwin-Williams Anew Gray 7030
Sherwin Williams Anew Gray 7030 is a medium-dark gray greige paint color with an LRV of 47, translating to a balanced mix of lightness and depth.
This mid-toned greige offers a perfect fusion of gray with a subtle earthy warmth added by the touch of beige.
Ideal for modern living rooms, bedrooms, or even commercial spaces, the Anew Gray 7030 coordinates well with an array of furnishing styles. It creates an intriguing contrast that draws attention when paired with dark-toned furniture.
This shade does well in both natural as well as artificial lighting conditions. It may exhibit more gray in direct sunlight and lean towards warmer beige under incandescent lighting.
Benjamin Moore Revere Pewter HC-172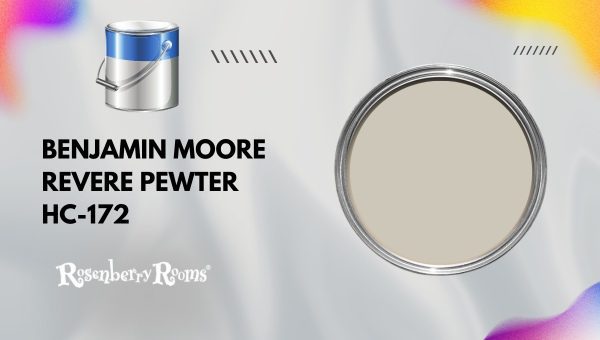 Regarded as one of the top picks among interior designers, Benjamin Moore's Revere Pewter HC-172 is more than just another gray greige paint color.
With an LRV rating of 55.05, this delightful greige infuses spaces with calmness and elegance while reflecting adequate light. It's particularly remarkable for small or moderately lit rooms where you want warm neutrality.
Possessing an exquisite balance between cool grays and warm beige undertones, this versatile shade has gained popularity for its compatibility with many color schemes.
Effortlessly blending with bright and bold colors like deep blues and emerald greens - to softer pastels like blush pink or serene blue - Revere Pewter HC-172 carries a varied palette.
This Benjamin Moore classic is worth considering whether you're aiming for a traditional decor style or love contemporary design aesthetics.
Benjamin Moore Gray Mist 962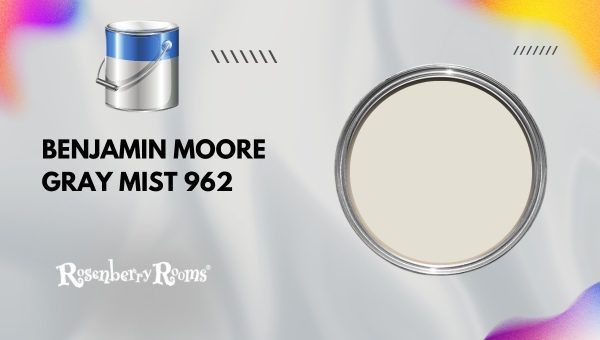 The Benjamin Moore Gray Mist 962 is one of the best gray greige paints with its light undertones and supreme versatility. An LRV of 72.83 ensures a well-lit space that gives an airy feel while retaining warmth through its subtle beige nuances.
This soft, timeless color provides a vibrant ambiance. It creates a calming effect, perfect for communal areas such as living rooms and personal spaces like bedrooms or home offices.
Its chameleon-like quality allows it to adapt to different lighting conditions beautifully - more gray in natural light and subtle beige undertones in artificial.
Harmonizing magnificently with white trims or dark wood accents, the Gray Mist provides a degree of sophistication to your décor.
Gray Mist ensures flexibility - working magically with bolder furniture colors. From modern, sleek designs to traditional décor elements, this versatile shade is a designer favorite.
Sherwin Williams Tinsmith Sw 7657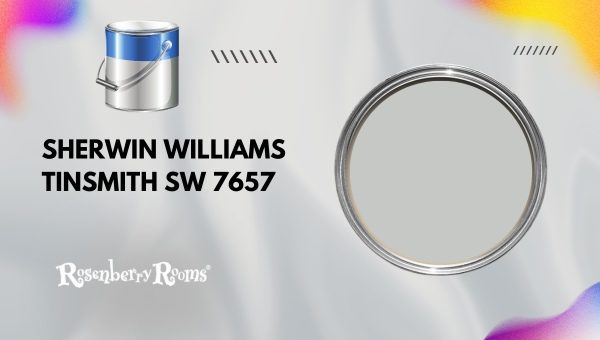 Sherwin Williams Tinsmith Sw 7657 is another popular gray greige paint color that imparts a hidden charm to your living space. Displaying cool undertones with a discreet hint of green, this shade leans more towards the gray palette.
With an LRV of 57, this mid-toned hue is soothing without being too overwhelming. It can add depth and richness to smaller spaces without making them feel cramped or gloomy.
Tinsmith Sw 7657 works phenomenally well in many parts of the house due to its adaptability across varied room styles - modern minimalistic designs or vintage styles full of antiquity.
Contrarily complementing warmer materials like wooden accents or brick finishes, Tinsmith provides the perfect backdrop for bright-colored upholstery or soft pastel accessories for just the right pop in your room's aesthetic.
Sherwin Williams Worldly Gray Sw 7043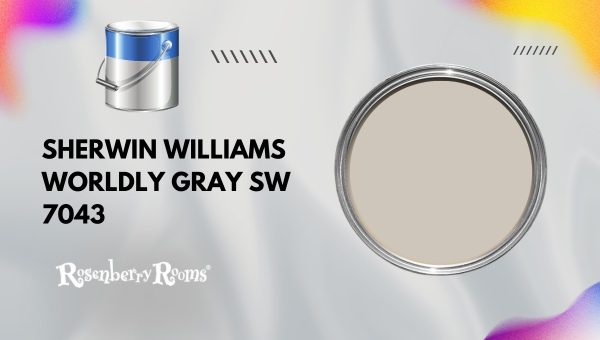 Sherwin Williams Worldly Gray SW 7043's primary attraction lies in its neutrality. With an LRV (Light Reflectance Value) of 57, this paint color occupies a mid-to-light range on the brightness scale.
A soft, versatile greige, this nuanced hue brings a sense of warmth and comfort to any room without overwhelming the senses. It skews toward gray with slight beige undertones that become more prominent as natural light shifts throughout the day.
Worldly Gray SW 7043 effortlessly pairs with various architectural elements. Whether you have white trims or rich mahogany antiques, it gracefully accentuates these features and adds depth to your space. It is also a beautiful backdrop for bold accents or eclectic furnishing choices.
Its ability to adapt makes Worldly Gray perfect for use all around the home. Consider using it in areas where you need a calm, relaxed ambiance, like bedrooms or home offices.
Sherwin Williams Big Chill Sw 7648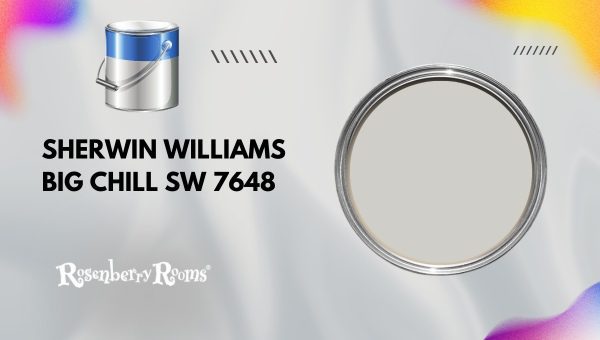 Opting for Sherwin Williams Big Chill SW 7648 is like enveloping your room in serenity. It leans more towards gray while subtly incorporating undertones of beige.
With an impressive LRV of 62, this muted greige variant reflects ample light, creating an airy and open atmosphere.
Big Chill Sw 7648 is surprisingly versatile despite being such a subtle color. While it's ultimately cool-toned when exposed to natural light, artificial light brings out its warm aspect – a testament to its true greige nature.
Big Chill shines with dark accents, be it ebony furniture or charcoal cushions - providing stunning contrast while maintaining harmony. Its subdued character allows brighter colors and accent pieces to pop without looking too stark or dramatic.
From kitchens that seek an inviting aesthetic to living rooms that want a balance between warm coziness and cool modernity, Big Chill makes an ideal choice for anyone willing to experiment with greige.
Read More: 15 Best Behr Light Gray Paint Colors In [Premium Choice]
FAQs About best gray greige paint colors
Why are gray-green paint colors so popular?
Gray-green paint colors are popular due to their versatility. They perfectly balance warm and cool tones that complement any decor style.
Are gray-green paint colors suitable for small spaces?
Absolutely! Lighter shades of gray and greige can make a small space appear larger and more open due to their high light reflectance value.
What color furniture goes well with gray greige walls?
Gray Greige walls pair beautifully with almost all colors, but white and dark wood furniture tend to stand out the most.
Is gray greige a good color for bathrooms?
Yes, gray-green colors can create a serene, spa-like atmosphere in bathrooms, making them feel luxurious and relaxed.
Does gray greige work well in low-light rooms?
The warm beige undertones of gray greige paint can counteract the dullness often associated with low-light rooms, making them seem more inviting.
Conclusion
Finding the perfect paint color isn't always easy, but opting for gray greige can make the process less daunting.
It's a versatile option that beautifully straddles the line between warm and cool undertones, quickly adapting to varying light conditions and complementing virtually any interior design style.
So whether it's about setting a relaxed vibe or creating a sophisticated space, diving into the world of gray greige might provide the inspiration and solution you seek. After all, your perfect shade is out there waiting to transform your home into a haven of stylish comfort!