Considering a refresh of your home's color palette? Look no further. In this Benjamin Moore Kendall Charcoal HC-166 Color Review, we will examine a shade with homeowners and professional designers falling head over heels for its captivating allure.
Providing a sophisticated edge to any space, you'll find that this hue perfectly encapsulates the essence of modern chic.
And don't worry – we're not about to inundate you with complex lingo or advanced terms. We understand the importance of making information simple and palatable.
So, let us guide you through why Benjamin Moore's Kendall Charcoal might be the transformative color you've been hoping to brush onto your walls. So sit back, relax, and get ready to be inspired!
An Overview of Benjamin Moore Kendall Charcoal HC-166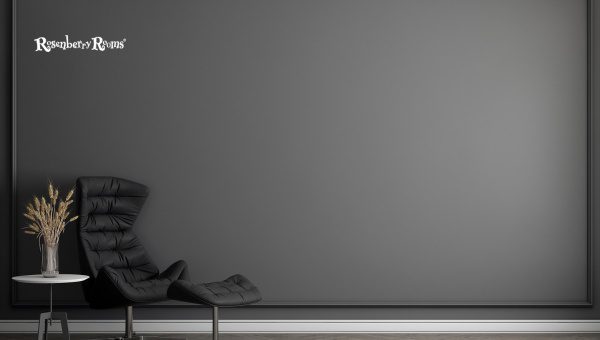 Boasting elegance and edginess, Benjamin Moore's Kendall Charcoal HC-166 leans toward the chic side of the color spectrum.
This deep, robust shade of grey offers a striking balance between drama and sophistication. Its rich hue exudes an understated intensity that fits comfortably in numerous contexts – from creating a statement wall to acting as the base color for an entire room.
While it delivers a powerful punch of color, Kendall Charcoal maintains a remarkable level of softness, preventing it from overpowering your overall theme. Essentially, this hue enables you to make a strong style statement elegantly.
Defining Color Characteristics
Understanding a color's characteristics empowers you to make informed decisions when choosing the right shade for your home.
Let's delve into the specific traits of Benjamin Moore Kendall Charcoal HC-166, including its Light Reflectance Value (LRV), undertones, and whether it leans warm or cool.
LRV of Kendall Charcoal and its Impact
The LRV refers to the amount of light that a color reflects. Kendall Charcoal has an LRV of 14.61, classifying it as a deep color.
This means it absorbs more light than it reflects, creating a moody atmosphere with a sense of depth. You may find rooms painted in this hue feel cozier and more enclosed, offering an air of intimacy.
Therefore, carefully use light-absorbing colors like Kendall Charcoal in smaller spaces lest they feel overwhelming.
Identifying Kendall Charcoal Undertones
Undertones are subtle hues beneath the main shade that surface in different lighting conditions or when contrasted with other colors.
Kendall Charcoal sports cool undertones intertwined subtly with hints of blue and green, providing this rich gray shade with added depth and complexity.
By focusing on these undertones, you can pair Kendall Charcoal with other colors —such as blues or greens— that exhibit similar subtle hues for a harmonious color scheme.
Is Kendall Charcoal Warm or Cool?
Despite its name suggesting an association with warmth —as charcoal is predominantly black warmed by brown— Kendall Charcoal is indeed a cool-toned color.
As mentioned earlier, its undertones are an amalgamation of blue and green shades, giving this gray paint its distinctive cool character.
This characteristic makes the hue versatile to pair with other shades while adding sophistication and depth to any room it graces.
Armed with knowledge about LRV, undertones, and temperature, here should provide you with an enhanced understanding of Benjamin Moore's Kendall Charal HC-166 shade.
Henceforth, these key features will play instrumental roles while deciding on color schemes for various spaces throughout your home.
Explore More: Benjamin Moore Moonshine OC-56 [2023 Paint Color Review]
Harnessing the Power of Kendall Charcoal - In and Out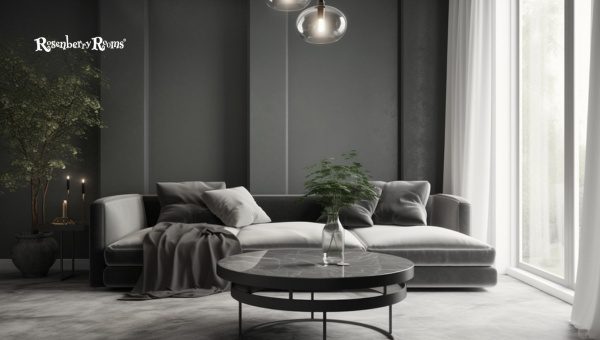 Benjamin Moore's Kendall Charcoal HC-166 is not just a gorgeous shade to use within your home. Its charm extends to exterior applications, too, offering a touch of sophistication to your outdoor living areas. Let's take a detailed look at the versatility of this enchanting hue both inside and outside your home.
Versatility Inside Your Home
Kendall Charcoal is an excellent choice if you're looking to imbue your indoor spaces with warmth and depth.
Due to its low LRV, it can make large spaces feel cozier and more intimate
It is a cool-toned color that pairs well with other cool shades, including blues and greens. It contrasts beautifully with warmer colors, making it highly versatile when creating harmonious color schemes.
Ideal Interior Uses for Kendall Charcoal HC-166
This rich gray hue makes a bold statement as an accent wall color in living or dining room settings.
Kendall Charcoal is an intriguing choice for cabinets, especially when contrasted with lighter wall colors. It's enjoyed popularity in kitchen design lately due to its ability to impart depth and grandeur.
This shade could be perfect for painting interior doors as well. With white walls or lighter-gray walls surrounding them, these doors could add an impressive statement.
Captivating Locations for this Color in Your House
The study or home office would be an excellent location for Kendall Charcoal; its deep intensity promotes focus and seriousness.
It imparts stately elegance when used in hallways framed by wainscoting or similar molding features.
Don't forget the staircase! Painting the steps or railings in this shade could astound you by its charm.
Kendall Charcoal complements elements like marble countertops, white porcelain sinks, metallic fixtures (mainly silver ones), textured wooden furniture, and concrete floors.
If you have many natural elements incorporated into your interior design, such as wooden furniture or lots of sunlight streaming through windows – consider levering the power of this color towards enhancing those features.
Strong Exterior Presence - Kendall Charcoal
Now that we've explored how Kendall Charcoal HC-166 can enhance your home's interiors, let's examine how it translates as an exterior paint selection.
Kendall Charcoal is a remarkably resilient shade that competently grapples with the challenge of exterior settings.
Its deep richness does not quickly fade under intense sun exposure, and it holds up firmly against changing weather conditions, making it an excellent candidate for all-year-round exterior identity.
How Does it Perform as an Exterior Paint?
If you aim to create an imposing and elegant frontage for your home that stands out, consider opting for Kendall Charcoal with absolute confidence. Here are some of its notable exterior applications:
Facade: A facade painted in Kendall Charcoal instantly transforms the look of a home, infusing sophistication and elegance, which can comfortably sit within traditional or modern design schemes.
Shutters: Kendall Charcoal shutters against a lighter siding can make your windows 'pop,' creating a visually appealing contrast.
Exterior doors: A front door painted with this shade imparts an optimal level of refinement and charm – add a bit of mystery to your entranceway!
Trim: It provides an exciting alternative to standard white trim or black accents.
And when applying Benjamin Moore's exterior paints-- rest assured. Considering their high quality, they're designed for ultra durability and longevity in resisting peeling, cracking, and blistering. Pas, this is particularly important when contemplating a darker color like Kendall Charcoal HC-166.
The Paramount Need for Sampling
Regarding home improvements, paint colors should never be finalized based solely on how they appear on a digital screen or paper sample.
Although this first impression can guide your choices, the ultimate decision should come only after personal experience with samples in your home. Thus, the need for sampling before settling on your final choice of color is paramount.
Reasons Sampling Paint is Crucial to a Successful Project
Accurate Color Representation: A sample lets you view the actual finish and sheen of the paint instead of relying on virtual images or glossy paper reproductions.
Lighting Evaluation: Given that colors transform under different light sources, having a sample painted directly on your wall enables understanding exactly how Kendall Charcoal HC-166 would appear within your space at varying hours of the day.
Color Harmonization: With sampling, discovering how a new shade would interact with existing elements like flooring, trim work, and furnishings becomes seamless.
Time-Saving Cost Effectiveness: Avoiding potential dissatisfaction after completing the painting process altogether – sampling Kendall Charcoal can prevent needless repainting jobs, saving time and money.
Customizing Aesthetics: Last but not least - working with samples empowers homeowners to understand whether Kendall Charcoal aligns with their envisioned aesthetic or the mood they hope to evoke from their space.
Taking time to evaluate paint samples isn't just important —it's vital— claiming an influential role in determining project success.
So do yourself a favor: don't skip this crucial step when considering transformational shades like Benjamin Moore's Kendall Charcoal HC-166 for the next home revamp.
Also Read About Benjamin Moore Thunder AF-685 [2023 Review: Warm or Cool]
Complementing Benjamin Moore Kendall Charcoal – Trim Choices
Kendall Charcoal HC-166 makes a powerful statement, but its charm is only elevated when paired with the right trim color.
Its versatility and depth serve as an excellent base for trims that pop or blend seamlessly. Choosing the perfect trim largely depends on the mood you wish to set in your space.
Radiant Whites: Pairing Kendall Charcoal with brilliant whites offers a crisp, high-contrast look. This combination allows your walls to stand out while also brightening the room. Take inspiration from Benjamin Moore's range of white paints and consider Super White (OC-152) or White Dove (OC-17) for a well-defined, contemporary aesthetic.
Soothing Grays: For a more subtle and understated style, consider pairing Kendall Charcoal with lighter grays like Revere Pewter (HC-172) or Edgecomb Gray (HC-173). Both these grays have warm undertones that balance well with cooler Kendall Charcoal.
Subdued Blues: Find tranquility by matching Benjamin Moore's Kendall Charcoal with blues with similar undertones; it subtly hints at an oceanic theme. Choose colors such as Van Deusen Blue HC 156 or Newburyport Blue HC 155 from their Historical Collection.
By assessing your space and individual style requirements, along with the furniture and fixtures in mind, you can select the most compelling trim color to accompany Kendall Charcoal HC-166.
If you aim for contrast or continuity, remember to involve other design elements; textures, forms, fixtures - their interaction within your chosen color scheme will ultimately dictate the overall coherence of your space's visual narrative.
Comparisons with Similar Colors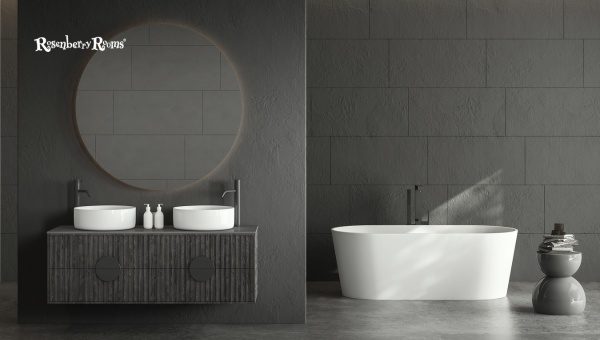 When picking a color like Kendall Charcoal, comparing it with similar shades is beneficial. This way, you can truly understand the unique characteristics of this shade and see how well it might fit into your space.
Color Closest to Benjamin Moore Kendall Charcoal HC-166
One color that closely resembles Benjamin Moore's Kendall Charcoal is Sherwin Williams' Gauntlet Gray (SW 7019).
Both are rich gray tones that can bring depth and drama to a room. However, Gauntlet Gray has warmer undertones than Kendall Charcoal's cool blue-green hues.
While they might look quite similar at first glance, using them in the same space may show a noticeable contrast due to their differing undertones.
Read More About Benjamin Moore Classic Gray OC-23 [2023 Review: Warm or Cool?]
Best Alternatives – A Look at Similar Shades
Here are some alternatives if you're looking for shades similar - but not identical - to the beautiful Kendall Charcoal:
Sherwin-Williams Iron Ore (SW 7069): A trendy, rich gray-black color making waves among homeowners lately.
Benjamin Moore Chelsea Gray (HC-168): A slightly lighter gray compared to Kendall Charcoal, making it versatile and popular.
Behr Dark Pewter (PPU18-04): Another stunning alternative offering a blend of charcoal and pewter.
Each alternative offers its unique flavor while remaining within the same general color family as Kendall Charcoal.
Comparing colors should always be part of your decision-making when choosing paint colors for your home.
It helps you better understand each hue's uniqueness and gauge its compatibility with the existing elements in your space.
FAQs About Kendall Charcoal HC-166
What type of spaces can Kendall Charcoal be used in?
Kendall Charcoal is versatile and can be used in interior and exterior settings, adding depth, elegance, and a touch of drama.
How does Kendall Charcoal compare with other similar shades?
While similar to deep-toned grays, Kendall Charcoal stands out due to its cool-blue green undertones, making it unique yet versatile.
What is the Light Reflectance Value (LRV) of Kendall Charcoal?
With an LRV of 14.61, Kendall Charcoal is considered a deep color that absorbs more light than it reflects.
What are some ideal pairings with Kendall Charcoal for interior design?
Considering its cool undertones, it pairs exceptionally well with blues and greens and contrasts beautifully with warmer colors.
Does Kendall Charcoal work well for small spaces?
Due to its low LRV making spaces feel cozier, care should be taken when using this shade in smaller rooms to avoid feeling overwhelmed.
Conclusion
Benjamin Moore's Kendall Charcoal HC-166 is a captivating choice for those seeking to add depth, drama, and elegance to their spaces.
Its cool undertones lend it a distinct allure that helps create harmonious color schemes or stunning contrasts with warmth.
Whether you confine this exquisite shade to an accent wall, bring it alive on your kitchen cabinets, or coat your exterior in its richness - Kendall Charcoal is bound to transform your home with its sophistication and modern edge. The possibilities are endless with this enchanting gray!