You get a unique feeling of delight when you walk into a room that's just freshly painted in a calming, beautiful hue.
This is the delight that the Benjamin Moore Wind's Breath OC-24 delivers resoundingly. This review focuses on this exceptional color and why it could be missing in your interior design puzzle.
A lot of thought goes into picking the right color for any space, and rightly so. Aptly chosen colors reflect your style and personality and infuse each room's atmosphere.
Wind's Breath OC-24 by Benjamin Moore offers an elegant simplicity and versatility you will surely appreciate.
So sit back and let's navigate through this comprehensive Benjamin Moore Wind's Breath OC-24 color review to uncover its various attributes.
Shedding Light on Benjamin Moore Wind's Breath OC-24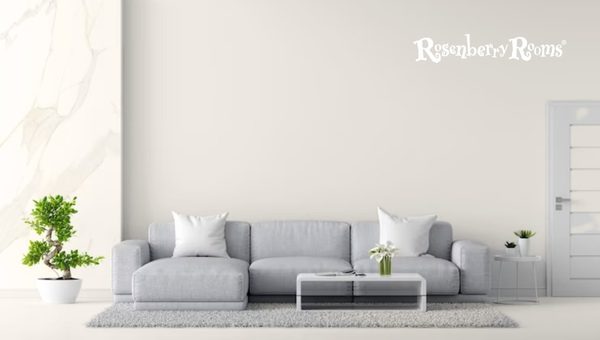 Wind's Breath OC-24 by Benjamin Moore, with an alternate name of 81, is a soft white beige that blends effortlessly into any space.
Known for its crisp, peaceful effect, this light beige is not entirely warm or cool—it bridges the gap beautifully. Its sheer elegance can subtly transform your room into a soothing haven. The accents and undertones
It elevates in each light and speaks volumes of its distinctive versatility. Particularly popular in spaces seeking a neutral touch, Wind's Breath OC-24 helps promote an atmosphere of tranquility.
A Peek into LRV and Its Role in Color Perception
Benjamin Moore Wind's Breath OC-24 is a popular shade of paint known for its unique blend of warm and cool undertones, giving off a soft, airy feel. The color lies within the off-white palette with a bit more subdued technique.
As for the LRV (Light Reflectance Value), it stands at 69.59. This mid-spectrum LRV makes it flexible in terms of lighting and space usage. It's perfect for brightening rooms, reflecting a substantial amount of light.
This paint color is ideal for various settings, traditional or contemporary, due to its soothing and calm streamlining neutrals. It's a great option if you're looking to create a cozy and serene atmosphere in your living space.
The Identity of Undertones in Wind's Breath OC-24
Subtle yet distinct beige undertones characterize Benjamin Moore Wind's Breath OC-24. While it appears as a modest off-white at first glance, you will notice a gentle blend of beige emerging from underneath.
These beige undertones give Wind's Breath OC-24 a warm and welcoming essence, making it perfect for creating a cozy, inviting space.
Despite having these warmer hues, Wind's Breath OC-24 also carries a hint of coolness to its palette, further adding to its versatile charm.
So, if you're looking for an off-white paint color with added depth and understated elegance, Benjamin Moore Wind's Breath OC-24, with its beige undertones, could be the perfect choice.
Its adaptability works well in various interior decor styles and lighting conditions with an assurance of a comforting ambiance.
Determining Warm or Cool Tone Preference for Different Spaces
When considering the tone of Benjamin Moore Wind's Breath OC-24, it is regarded as a warm paint color. This is primarily due to the subtle beige undertones present in its composition.
However, it is not overly warm. Its beauty lies in the perfect balance between cool and warm hues, emitting soothing airiness.
This attribute makes Wind's Breath OC-24 a versatile color choice, as it harmonizes with warmer and cooler color schemes in your interior decor.
So, while often categorized as a warm color because of its beige underpinnings, it can also beautifully complement cool-toned spaces.
This balanced temperature and its gentle brightness make Benjamin Moore Wind's Breath OC-24 an ideal choice for creating a cozy and inviting environment.
Read More: Benjamin Moore Wickham Gray HC-171 [Paint Color Review]
Where You Can Use OC-24 in Your Interior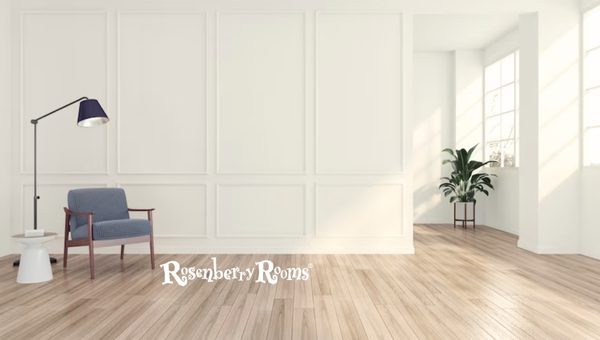 When deciding on the perfect paint color, the house interior is often the first place homeowners start. With its calming hue and versatile nature, Benjamin Moore's Wind's Breath OC-24 can be a game-changer in your home's interiors. Let's dig into a few specific spaces where this color can shine.
The Living Room: With its tranquil ambiance, Wind's Breath OC-24 creates a peaceful atmosphere, making it ideal for living rooms. Consider it for large open spaces as well; the light reflectance value (LRV) of 69.59 ensures it brightens up even the darkest corners.
Home Office: Warm tones stimulate focus and productivity; Wind's Breath is an eye-catching choice for your home office. The hue's balmy undertones subtly promote calmness and concentration, which could boost your efficiency while working from home.
Bedroom: Are you looking for serenity in your bedroom? Wind's Breath has got you covered with its soothing undertones of beige that ensure restful sleep - key to rejuvenating both body and spirit.
Kitchen/Dining Area: The tenderness instilled by Wind's Breath OC-24 works beautifully in kitchens and dining areas, too. Pairing it with contrasting cabinets or countertops creates a harmonious blend to compliment any culinary creations you whip up.
Hallways and Entryways: Hallways and entryways serve as transitional areas leading to more personal spaces—what better way to introduce visitors to your abode than with the soft embrace of Benjamin Moore's Wind's Breath?
Remember to consider your space's light source when choosing paint. Natural light accentuates colors differently than artificial ones – see how the color looks at different times of day before committing! Always consult a professional decorator or designer familiar with lighting effects if needed.
Where You Can Use OC-24 in Exterior Spaces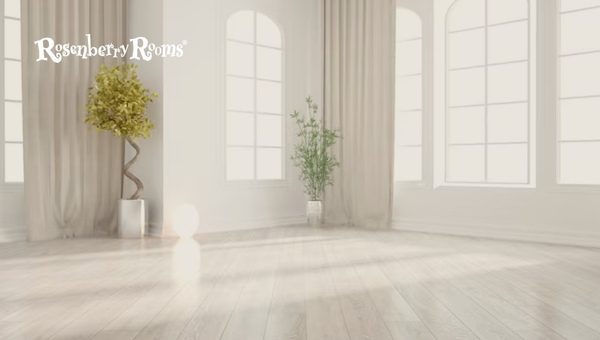 The versatility of Benjamin Moore's Wind's Breath OC-24 is evident indoors and in exterior spaces. Its exceptional ability to blend seamlessly with various elements makes it a coveted choice for several outdoor surfaces. Let's look at where you can apply this color:
Deck Areas: Spruce up your deck with Wind's Breath OC-24 for a simple, elegant touch. This color pairs perfectly with natural elements like wood and stone, lending the eyes an exquisite, easy finish.
Exterior Walls: If you want to give your home a fresh, contemporary facelift, painting the exterior walls with Wind's Breath OC-24 could be an ideal option. It exudes subtle elegance while complementing various architectural styles seamlessly.
Garden Sheds or Gazebos: Paint your garden shed or gazebo with this neutral tone to harmonize your green spaces. It perfectly complements any garden's varied shades of greens and blossoms.
Trim and Moldings: Use Wind's Breath OC-24 on trim and moldings, as this color pairs well with bolder hues on siding or walls. It gives a sophisticated finish that can highlight these details without overshadowing them.
Benjamin Moore's Wind's Breath OC-24 is more than just an interior paint—its potential reaches beyond the confines of indoor walls through expansive exterior spaces, embodying a remarkable blend of style and harmony.
So, whichever outdoor space you consider upgrading - patio, porch, or pergola -this intriguing color could be worth exploring.
Lighting And Cardinal Directions
Choosing the perfect paint color for your home is no less tasking than steering your interior design in the right direction.
Alongside picking an exceptional color like Benjamin Moore Wind's Breath OC-24, understanding how lighting drastically affects its appearance is also essential. Ideal light conditions can bring out the best in this delightful shade.
Whether you place it on an exterior facade or accented interiors, Wind's Breath interacts differently with various lighting scenarios and cardinal directions. Here are valuable insights into how this color behaves as per different room orientations:
North-facing Rooms
North-facing rooms have the unique characteristic of being cooler and murkier. Sunlight isn't always directly pouring into these spaces, which leads to a softer effect of colors.
The Benjamin Moore Wind's Breath OC-24 can imbibe warmth with its beige undertones, making these rooms appear more inviting.
South-facing Rooms
South-facing rooms bask in abundant natural light throughout the day, bringing any color to life beautifully.
Applying Wind's Breath in these bright areas can create a warm and serene atmosphere that complements the luminosity superbly.
East-facing Rooms
Morning-lit spaces are quite intriguing due to their changing lighting conditions. These rooms get the most direct sunlight in the morning, which changes to cooler light as the day progresses, making colors look different at different times.
`Wind's Breath develops a charming depth in east-facing rooms while maintaining consistency across varying brightness levels.
West-facing Rooms
With most of their sunlight exposure during afternoons and evenings, west-facing rooms mirror the ambiance of sundown atmospheres—the hues are deeper and warmer.
At this moment, painting your west-facing room in Wind's Breath will infuse it with consistent warmth throughout sunrise-to-sunset transitions.
Benjamin Moore's Wind's Breath OC-24 is a splendid neutral display that suits various lighting scenarios effortlessly, exhibiting spectacular effects in response to varying lighting conditions.
Whether you have a north, south, east, or west-facing room, this versatile color can evoke a sense of calm and sophistication regardless, making it the great paint choice your abode deserves.
Explore More: Benjamin Moore Super White OC-152 [Paint Color Review]
Best Matching Colors
While Wind's Breath OC-24 is incredibly versatile, it pairs particularly well with specific colors that help enhance its unique properties. Let's take a look at some of them.
Each pairing offers a different aura to your space, from rich contrasts to subdued harmonies. The key is examining each room's purpose, layout, décor elements, and lighting conditions while finalizing the perfect companion for Benjamin Moore Wind's Breath OC-24.
Why Getting a Sample is Crucial Before Committing
Opting into a lifetime commitment can seem daunting in any circumstance - paint color included. Depending on surrounding elements and lighting, different colors' subtleties can dramatically change a room's feel.
Viewing Wind's Breath OC-24 from a screen or paint chip may not give you the full idea of what it would look like on your walls.
Acquiring an actual sample allows you to test the color in your space among your belongings, bringing light to how it might alter under varying conditions.
So before taking the plunge, treat yourself to a sample. It's an essential step that helps you make well-informed decisions you won't regret.
One Similar Color of Wind's Breath OC-24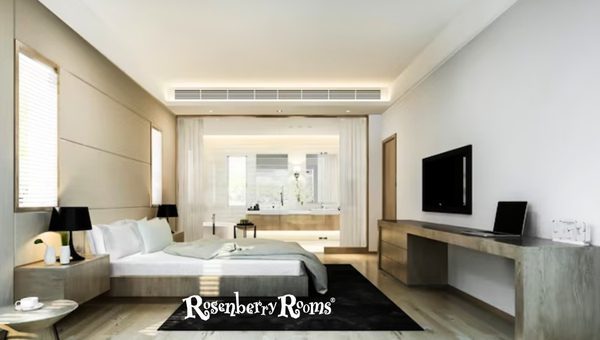 Hushed Hue 1520 is another versatile neutral from Benjamin Moore that shares similarities with Wind's Breath OC-24.
It's a slightly lighter shade than Wind's Breath, imparting an elegant, understated vibrancy. Like Wind's Breath, it brings a not-too-warm yet not-too-cool element to any space.
Hushed Hue 1520 can help brighten and invigorate the room in spaces with low lighting or limited natural light.
The color maintains its integrity in different lights, bringing warm elegance without dominating the room. Try this for a change from Wind's Breath if you seek a slightly brighter yet beautifully balanced palette.
Also Read About Benjamin Moore Decorator's White OC-149 [Color Review]
FAQs About Wind's Breath OC-24
What kind of spaces would Wind's Breath OC-24 look best in?
Wind's Breath OC-24 offers the perfect balance for most spaces, whether trying to create a serene bedroom, sophisticated living room, or welcoming kitchen.
Can Wind's Breath OC-24 be used in exterior painting projects?
Absolutely! Its neutral tone suits various architectural styles and landscapes, adding a touch of elegance to your home's exterior.
How does Wind's Breath OC-24 compare to other popular white paints?
Compared to stark whites or cool grays, Wind's Breath brings a warmer touch to your palette without overpowering the space with color.
Does Wind's Breath OC-24 pair well with wooden finishes?
Especially light-tone woods like pine or oak! The warm beige undertones in Wind's Breath enhance the natural grain and warmth of wood beautifully.
Is Benjamin Moore's Wind's Breath a good color for small rooms?
Yes! Its light reflectance value (LRV) of 69.59 makes it an excellent choice for small spaces as it helps reflect light and make the space appear larger.
Conclusion
The subtleness of Benjamin Moore Wind's Breath OC-24 makes it an eye-catching option for diverse interiors and exteriors.
From wall paint to trimmings and accents, it presents a phenomenal choice that effortlessly creates an inviting space. The beautiful color exudes tranquility while offering a warm, neutral backdrop for your distinctive decor.
Every house turns into a harmonious sanctuary with the right color. And if you're up for that timeless, serene vibe, nothing might serve you better than the subtle elegance of Benjamin Moore Wind's Breath OC-24.