It's no secret that choosing the right paint color can be both exciting and intimidating. With countless options on the market, where do you even start?
Today, I'm here to simplify your decision-making process by reviewing a personal favorite – Benjamin Moore Moonshine OC-56.
Renowned for its sophistication and versatility, this color certainly warrants thorough consideration.
Benjamin Moore Moonshine OC-56 has garnered significant accolades in transitional interior design trends and continues to captivate homeowners with its understated elegance.
As a color expert, I've witnessed how effectively this hue can transform spaces, catalyzing enchanting atmospheres subtly and seamlessly.
Striking an optimal balance between bold and muted tones, BM Moonshine is truly something special to add to your palette consideration list.
Benjamin Moore Moonshine OC-56
Also known affectionately as "Moony" in certain circles, Benjamin Moore's Moonshine carries a Light Reflectance Value (LRV) of 68.28, situating it comfortably in the mid-range reflectivity spectrum.
It belongs to the Yellow / Green-Yellow Hue Family. This might seem peculiar for a paint color primarily called "gray," but bear with me.
The Color Details
The color composition of MOONY includes subtle undertones of yellow and green, alleviating the common misconception that it's your typical cool-toned gray paint.
Instead, Moonshine OC-56 is an enchanting blend of warm and cool undertones that imparts a soothing yet striking effect on any space it graces.
This unique fusion produces a versatile neutral that works harmoniously with warm and cool palettes. When under bright natural light, Moony leans towards a more silver-gray tone - quite beguiling!
However, this chameleon-like color subtly shifts toward its warm side under artificial lighting or in dimly lit spaces.
Why Choose Moonshine?
Why choose Benjamin Moore's Moonshine over hundreds of other grays? Versatility! Not only does it lend itself well to modern and traditional styles, but its chameleon-like ability to shift tones based on lighting provides an ongoing visual interest.
Moony covers you regardless of your preferred decor style or interior light conditions! So why not consider adding this intriguing shade to your design palette?
Undertones and LRV of BM Moonshine OC-56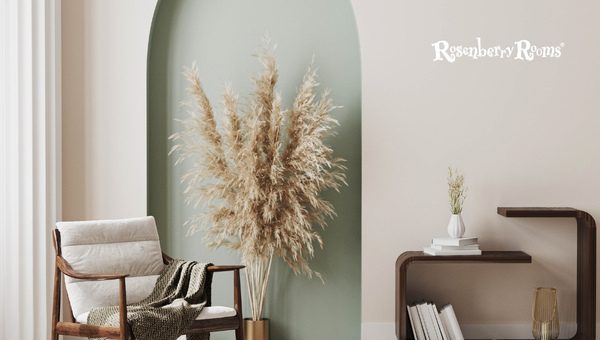 The charm of Benjamin Moore's Moonshine OC-56 lies in its subtle undertones and versatile LRV. Providing an intriguing mix of hues, this paint color truly stands out in many grays.
Undertone
When it comes to undertones, Moonshine OC-56 is a unique blend. Contrary to most grays, which carry cool blue or purple undertones, this shade nests subtle hints of yellow and green beneath its warm gray surface.
This uncommon mix complements warm and cool color palettes, making it a versatile addition to any interior design project.
LRV
The Light Reflectance Value (LRV) measures the percentage of light a paint color reflects. The higher the number, the more light it reflects.
Moonshine OC-56 has an LRV score of 68.28% - which places it squarely in the mid-light range. In practical terms, this means that while it won't dramatically brighten up your room like a white or cream shade, it won't engulf your space in darkness.
Essentially, Moonshine's balanced LRV makes it an excellent neutral backdrop for rooms of all sizes and lighting conditions - from dark north-facing rooms that receive limited natural light to bright south-facing spaces washed with sunlight throughout the day.
With its assortment of undertones and flexible LRV rating, Benjamin Moore's Moonshine is a distinctive blend worth considering for adding depth and character to your spaces.
BM Moonshine OC-56 is a Warm Or Cool paint color?
Let's delve deeper into one of the most frequently asked questions: Is BM Moonshine OC-56 a warm or cool paint color?
One might instinctively label Moonshine as a calm color due to its gray designation. However, it's not that straightforward. This color exists in a unique realm where warm and cool undertones coalesce harmoniously.
The interplay of Warm and Cool Tones
Contrary to popular belief, Moonshine isn't your archetypal cold-toned gray. It carries subtle undertones of yellow and green, blending yellow's warmth with green's coolness. The result? An intriguing mix that offers us the best of both worlds!
Lighting's Influence on Color Perception
The way we perceive color varies with light conditions. Bright natural daylight draws out the cool silver-gray undertone, giving Moonshine a chilly vibe.
However, under artificial lighting, you'll notice a distinct shift towards its warmer side—a softer, warmer version that's downright captivating.
Moonshine OC-56 is an exemplary instance where one can't merely label it as 'warm' or 'cool'. This adaptive paint color ensures day-long visual interest in varying light conditions lending any room an elegant flow from dawn until dusk.
To sum up, Benjamin Moore's Moonshine OC-56 is an engaging blend of warm and cool tones that adapts seamlessly to different lighting, making it a versatile choice for any home decor scheme.
Where You can use Moonshine OC-56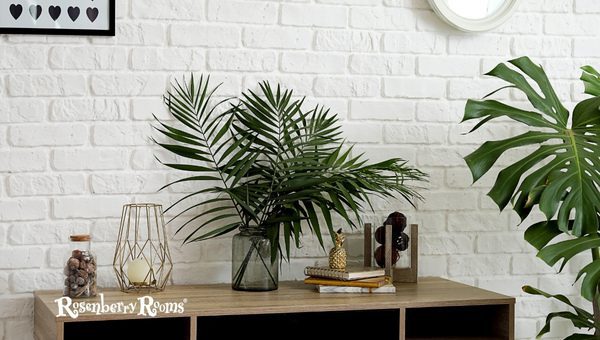 AS WE MENTIONED, Moonshine OC-56 is a chameleon that lends itself to nearly any space you can imagine. Let's delve into some possibilities:
Living Room
We spend most of our leisure time in the living room, so creating the ideal atmosphere is critical. You want to walk in and immediately feel relaxed, right? Here's how Moonshine can help:
Moonshine's mid-toned LRV makes it a prime choice, irrespective of your room's size or lighting conditions.
It effectively bridges traditional and contemporary styles, allowing you to play with furniture and accent choices.
Its warm/excellent combination is calming and perfect for unwinding after a long day.
Kitchen
Choosing the right color palette for your kitchen can significantly influence your cooking experience just as much as selecting the proper utensils. Moonshine opens up an exciting palette for exploration:
Neutral tones like Moonshine provide an excellent backdrop for all sorts of kitchen appliances—stainless steel or colored.
Because it leans warm or cool depending on lighting conditions, you'll find that it suits diverse cabinet materials like natural wood or glossy modern finishes.
Cabinets
Speaking of cabinets, they aren't always front of mind compared to more open spaces around your home. But let me tell you - paint them with Benjamin Moore's Moonshine, and you'll notice the difference!
If you want to create a serene ambiance in your room—I recommend painting cabinets with Benjamin Moore's effortless shade.
Good news for existing hardware—it pairs well with silver/chrome and brass/gold fixtures.
I've gone over three possibilities here, but seriously—the sky's the limit when it comes to places where this color would be an enchanting fit.
Basement
Another Level of Elegance: Moonshine's subtle, cool undertones can deliver a touch of polished refinement to a basement without overpowering it. This paint shade's calming effect transforms a typically undervalued and overlooked area into an inviting relaxation station.
Illuminating Qualities: Despite often getting less natural light than rooms above ground, a basement-wearing Benjamin Moore Moonshine OC-56 can benefit from its generous LRV.
Versatile Combination Options: It pairs well with darker floorings often found in basements such as concrete or tile.
Bedroom
Relaxing Sanctuary: The soft, neutral quality of Moonshine OC-56 induces tranquility, making it ideal for bedrooms. After a hectic day, you'd appreciate the soothing vibe this color emanates as you drift off into peaceful slumber.
Design Options: Whether for minimalist, boho-chic, or eclectic aesthetics, this versatile color accommodates various decorative styles.
Coordinating Colors: Pairing it with soft whites for trims and crisp, vibrant decor tones brings out Moonshine's best.
Bathroom
Ideal for Bathrooms: Benjamin Moore's Moonshine illuminates bathrooms beautifully thanks to its high reflectance value and neutral base. Its serene ambiance makes morning routines feel less rushed and more calming.
Size Matters Not: Whether powder rooms or master bathrooms equipped with vanity areas and soaking tubs, MOONY fits them all perfectly.
Tiling Compatibility: It goes flawlessly with contemporary grey tiles and classic whites.
Dining Room
Warm Welcome: Refresh your dining space and make meals memorable with the elegant simplicity of BM Moonshine. Its warmth brings an inviting vibe that promotes lively conversations and relaxation alike.
Decor Compatibility: This color pairs splendidly with natural wooden accents in tables or chairs for that sought-after rustic style or steel embellishments if industrial vibes are your thing!
Whether used on walls or incorporated subtly in decor pieces, using Benjamin Moore's MOONY effectively enhances the aesthetic value without sacrificing comfort. No wonder it remains a favorite among design enthusiasts and professionals alike.
A Guide to Light Bulbs for Benjamin Moore Moonshine OC-56
Selecting the right bulbs for your lighting fixtures is just as important to truly bring out the beauty of Benjamin Moore's Moonshine OC-56. The type of bulb you choose can drastically alter the look and mood of a room.
Incandescent Bulbs: Incandescent bulbs cast a warm, yellowish light that brings out the yellow undertones in Moonshine, making your room feel cozy and inviting. These traditional light bulbs are best for living areas and bedrooms.
LED Bulbs: Compared to incandescents, LEDs give off a cool, blue light that enhances the cooler gray tones of Moonshine. These light bulbs are energy-efficient and make rooms look vibrant and crisp. Ideal for spaces like kitchens or bathrooms where task-focused visibility is paramount.
Compact Fluorescent (CFL) Bulbs: CFLs offer balanced illumination, with warmer color temperatures bringing out the green-yellow hue in Moonshine while cooler ones play up its gray aspects. Perfect for versatile spaces that require different moods at different times.
Halogen Bulbs: Halogen bulbs emit bright white light similar to natural daylight, displaying Moonshine in its most "accurate" or neutral state by allowing warm and cool tones to appear distinctly.
The ideal bulb type depends on your preference and how you wish to display Benjamin Moore's lovely Moonshine OC-56 shade in your space.
Remember, each bulb will enhance different hues within this color, so don't be afraid to play around until you find the perfect match.
Best Trim Colors with Moonshine OC-56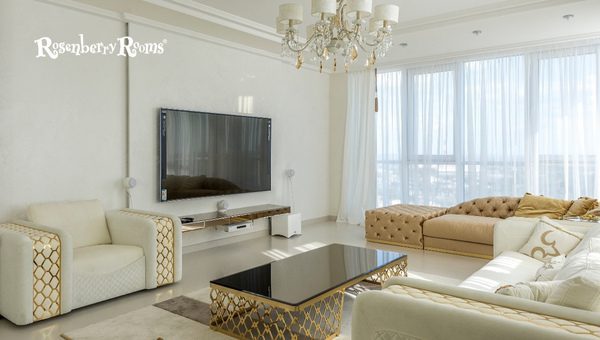 When painting your interior or exterior trims, your chosen gradient creates an appealing contrast.
Benjamin Moore White Dove OC-17: Pairing BM Moonshine with "White Dove OC-17" is a foolproof option. This popular color softens the cool tones in Moonshine and imparts a refined look to the room. It's an all-around win!
Benjamin Moore Decorator's White CC-20: Another intriguing combination is teaming up BM Moonshine with "Decorator's White CC-20". This more excellent shade of white pairs perfectly with the minty undertones of OC-56, creating an elegant and poised aesthetic.
Benjamin Moore Chantilly Lace OC-65: The last but certainly not least combination that garners attention is BM Moonshine blended with "Chantilly Lace OC-65". This pair offers a fresh, polished look that works wonders in modern interiors.
Each of these whites adds a refreshing touch to the beautiful backdrop of Benjamin Moore's Moonshine, bringing out an aura of sophistication and serenity in your space.
Make sure to test all these trim combinations alongside any furniture or fixtures before getting down to painting - this ensures you're delighted with your overall palette! After all, patience is vital when curating your perfect home transformations!
Lighting and Cardinal Directions
In interior design and decorating, light and direction are integral to how a paint color appears in your space.
Even Benjamin Moore's Moonshine OC-56 is no exception to this rule. Here's some detail on how MOONY performs in rooms with different orientations:
North-Facing Rooms
North-facing rooms are notoriously tricky to decorate due to the quality of light they receive. Generally, these spaces don't get a ton of direct sunlight, resulting in more relaxed, bluer lighting conditions throughout most of the day.
Moonshine OC-56 in north-facing rooms tends to lean into its cooler side giving more importance to its gray tones. However, it still holds onto its innate gentleness avoiding the starkness that may occur with cooler grays.
South-Facing Rooms
On the contrary, south-facing rooms bask in warm and abundant sunlight for most of the day. This directional orientation can make colors look more generous and more vibrant.
With Benjamin Moore Moonshine OC-56, it takes on a warmer personality as its green-yellow undertones spring to life under all the natural sunlight pouring into these spaces. It's as if Moonshine starts beaming!
East-Facing Rooms
The light quality in east-facing rooms changes dramatically throughout the day; the morning sun brings warm, bright light that shifts to cooler as we move towards the evening.
Moonshine shines its versatility here, playing off beautifully with changing lights, shifting from gentle brightness to calm coolness as afternoon approaches.
West-Facing Rooms
West-facing rooms boast warm afternoon light that can enrich colors further. This warmth will tug at MOONY's subtle yellow undertones giving off a slightly creamier hue during those golden late-afternoon hours. It also magnifies the extraordinary nature of this color when mornings are less shiny.
By understanding how different lighting conditions affect your preferred paint color around your home, you can wield this knowledge to enhance your space decoratively and effectively.
Remember, while I tell about this information based on generic lighting conditions observed over many homes assessed, diverse variables such as climate, surrounding environment, window size, or type can sway actual paint performance.
Therefore, testing it across multiple walls at various times is a must practice before deciding on a final color choice.
Is Moonshine OC-56 Good for Interior or Exterior Applications?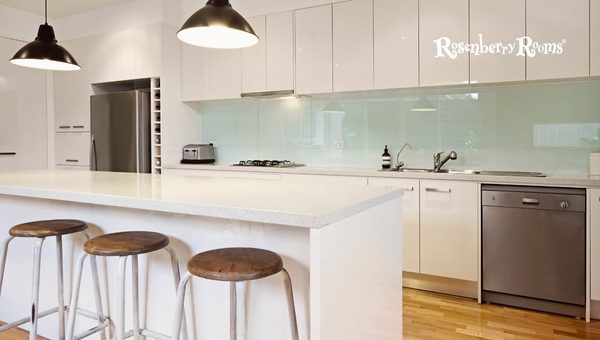 This versatile color is an excellent choice for interior and exterior projects, giving each space its unique charm.
Interior
Moonshine OC-56 is the perfect selection for creating a tranquil setting inside your home. This color is remarkable for injecting serenity into living spaces, inviting you to relax and recharge.
It works exceptionally well in the main communal areas like the living room or dining space, owing to its immense versatility that pairs seamlessly with warm and cool accessories.
Furthermore, it's an excellent bedroom choice due to its soothing undertones, creating a peaceful environment conducive to rest.
Exterior
On exteriors, it sings an equally enchanting tune. Whether setting an elaborate scene on your home's facade or blending seamlessly with the traditional charm of shingles and sidings, Moonshine OC-56 provides dynamism without being obtrusive.
The undertones of green-yellow in this color soften the exterior, harmonizing your home with natural surroundings - lush greens or serene blues of a coastal environment.
Remember – colors often appear lighter under bright sunlight, but fear not! With its delightful depth and dimensionality, MOONY never loses its character – making it a splendid pick for your exteriors.
Sampling: A Wise Move Before Settling on Paint Color
A sample allows you to decide based on practical insight, not just an informed guess. Yes, sampling is vital before sealing the deal on any paint color.
Why so? For several reasons. Viewing how color interacts with your interior and exterior spaces' unique lighting conditions is invaluable. Following are some compelling reasons that will convince you of this viewpoint:
Adaptability with Light: As I've mentioned repeatedly, colors change their visual appeal under varying light conditions. Observing a sample on your wall at different points across the day allows you to anticipate the day-to-night transition without remorse later.
Color Coordination: The charm of any room depends significantly on how harmoniously all elements coexist. Placing a swatch near permanent features like flooring or furniture visually assesses whether the color integrates or clashes.
Practicality: Paint can't be returned! Acquiring several gallons just to be dissatisfied after application is frustrating and costly.
The cost and time needed for sampling are minimal compared to rectifying unnecessary paint color mishaps.
Always remember that testing colors in your space is crucial when choosing a paint shade like Benjamin Moore's versatile Moonshine OC-56.
Coordinating Colors of Moonshine OC-56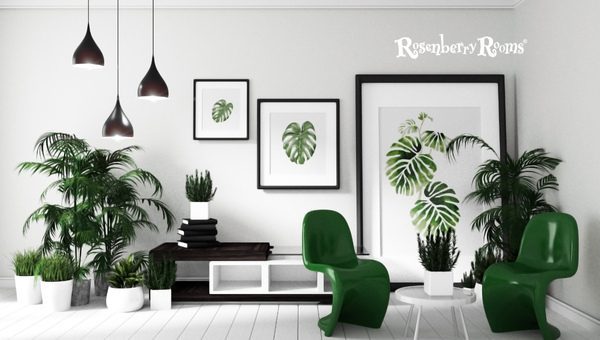 Moonshine OC-56's unique blend of undertones makes it versatile enough to pair strategically with other colors. Here are some favorites:
Remember, the aesthetics you aim to achieve should guide your color pairings. While my suggestions aim towards traditional balanced-looking designs, trial, and invention are vital in finding combinations that make your space uniquely yours.
Testing swatches on your walls will give you an authentic feel for how each color will impact your area.
FAQs About Moonshine OC-56
What is Benjamin Moore Moonshine OC-56?
Moonshine is a highly versatile neutral gray paint from Benjamin Moore that features warm and cool undertones.
How does Moonshine OC-56 look under different types of lighting?
Under bright natural light, Moonshine leans towards silvery-gray, whereas, under artificial or low lights, it subtly shifts towards its warm side.
Can Moonshine OC-56 be used on exterior walls?
Yes, its versatility makes it suitable for both interior and exterior applications.
Which colors coordinate well with Benjamin Moore's Moonshine OC-56?
Moonshine pairs well with Ivory White 925, Soft Sand 2106-60, Metropolis CC-546, and Hazy Skies OC-48.
Is Moonshine OC-56 famous for modern or traditional styles?
The chameleon-like adaptability of Moonshine makes it an excellent choice for either modern or traditional design styles.
Conclusion
Having explored the beauty, versatility, and adaptability of Benjamin Moore's Moonshine OC-56, it becomes clear that this beautiful hue truly offers a unique approach to neutral colors.
Whether seeking to infuse your space with a calming ambiance or add depth with a timeless gray palette, you can never go wrong with this shade.
Its ability to adjust to its context - changing subtly across lighting conditions and alongside companion colors - sets it apart as an intriguing choice for any design venture.
Choosing a paint color is more of an adventure than a daunting task. In Moonshine OC-56's case, it presents an opportunity for exploration and experimentation, essential aspects of design that play into creating beautiful spaces.
It's ultimately about finding colors that make your space look good and 'feel right' for you, embodying your unique personality and aesthetic tastes.
Here's to hoping our little journey through the world of Moonshine has left you inspired and more confident in your color choices.